Aluminium Camera Tripod with Transverse Center Column, 72 inch /185cm T254A3+BH-28L (S211) with 360 Degree Ball Head, 10kg Load Capacity
Free shipping to eligible country
Free Shipping Worldwide. 30 Day No Reason Return. K&F Concept Camera Tripod features Detachable Monopod 360° Ball Head, Carry Bag. Portable, Sturdy, Easy to set up.

KF09.079V1

SKU:

KF09.079V1

112.99

https://www.kentfaith.com/KF09.079_kf-concept-72-inch-camera-tripod-s211-transverse-center-column-aluminium-professional-dslr-tripod-with-360-degree-ball-head-quick-release-plate-detachable-monopod-10kg-load-for-travel-and-work
Description
* 【Transverse Center Column】Central column moves from 0 to 180 degrees, can be rotated 360°horizontally, to realize panorama shooting.
* 【Convenient & Flexible】4-section column legs with quick release flip-locks allows you to adjust the working height from 23.6'' to 72'' in seconds; Tripod legs can be adjusted in three levels of opening angle to stabilize on varying grounds and incline levels.
* 【Detachable Monopod】This tripod can be quickly disassembled with the central axis screw and transform into a monopod, providing an alternative way of shooting with ease.
* 【360°Panorama & Ball Head】The specially designed 28mm ball-head can rotate 360° and get free angles, allowing you to get the perfect shot and amazing panorama every time.
* 【Portable】:4lbs / 1.8kg tripod weight and 22.04lbs / 10kg maximum load weight; It can be folded to 19.29'' compact storage size and easily carried with bag.
Shipping
Free shipping to eligible country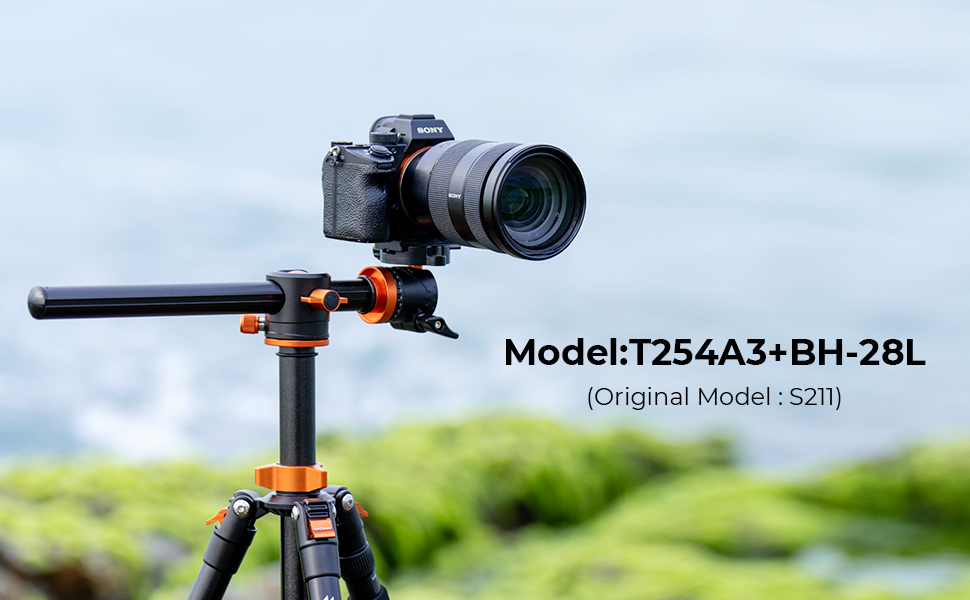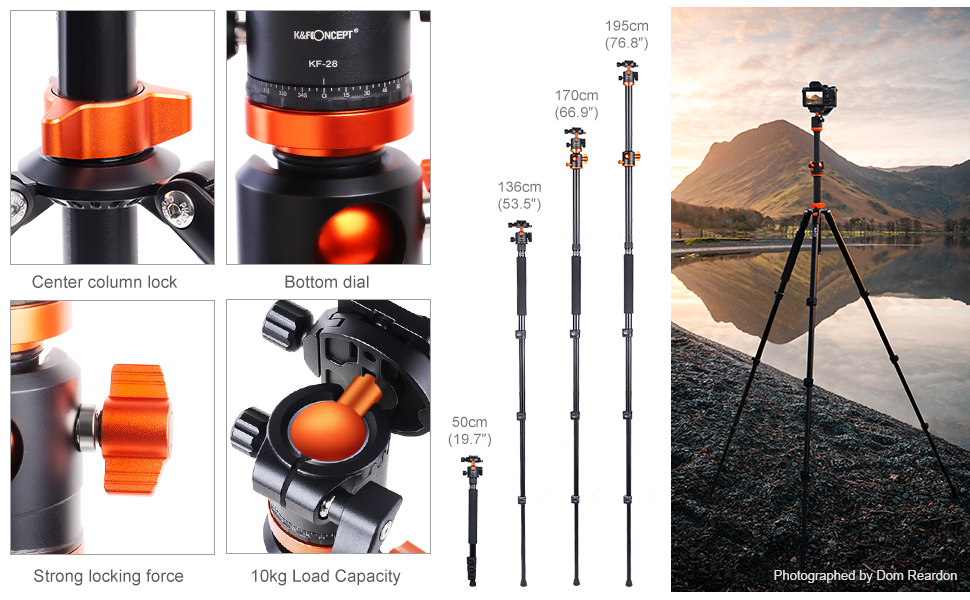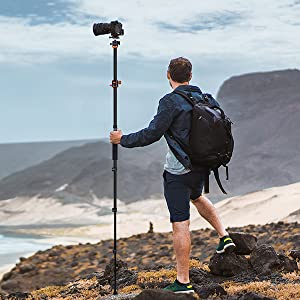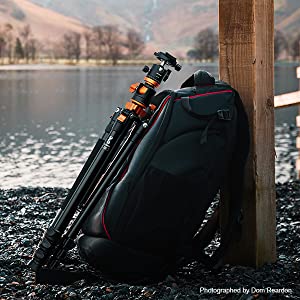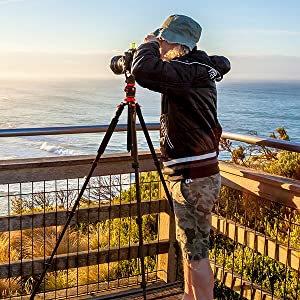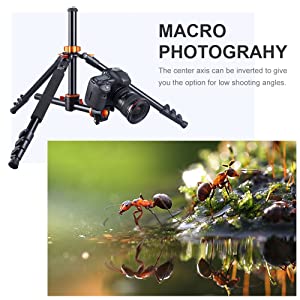 Lowest Angle Shooting
Lowest angle shooting, macro shooting, and special photography can be achieved through inverted central axis.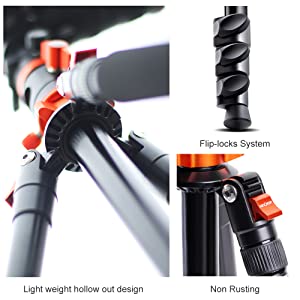 Quick Flip Leg Lock
Pull button tube lock, to achieve rapid release lock, simple operation reducing set the time of the tripod to meet the needs of outdoor photography in a variety of scenes.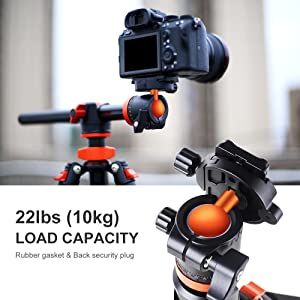 KF-28 Metal ball head
The low center of gravity ball head has strong strong locking force and can be rotated 360 degrees to improve camera activity range.
| | | | | |
| --- | --- | --- | --- | --- |
| | | | | |
| | | | | |
| | | | | |
| Rating | 68 reviews. | 128 reviews. | 48 reviews. | 78 reviews. |
| Price | $112.99 | $105.99 | $119.99 | $125.99 |
| Model | KF09.079V1 | KF09.085 | KF09.096 | KF09.086 |
| Load Capacity | 10kg/22.05lbs | 10kg/22.05lbs | 10kg/22.05lbs | 10kg/22.05lbs |
| Maximum Working Height | 1830mm/72.05" | 1700mm/67" | 1920mm/75.59" | 2385mm/93.90" |
| Minimum Working Height | 600mm/23.62" | 560mm/22" | 615mm/24.21" | 690mm/27.17" |
| Folded Length | 490mm/19.29" | 430mm/17" | 500mm/19.69" | 570mm/22.44" |
| Weight | 1835g/4.05lbs | 1690g/3.7lbs | 1845g/4.07lbs | 2000g/4.41lbs |
| Materials | Magnesium aluminum alloy | Magnesium aluminum alloy | Magnesium aluminum alloy | Magnesium aluminum alloy |
| Leg Lock Type | Flip Lock | Twist Lock | Twist Lock | Twist Lock |
| Leg Diameter | 16-25mm/0.63-0.98" | 13-25mm/0.51-0.98" | 16-25mm/0.63-0.98" | 16-25mm/0.63-0.98" |
How Does this Compare to a Carbon Fibre Tripod by Gitzo?
purchased this tripod to take long exposure shots of the sea. For fun, I took the same shots with my husband's Gitzo carbon fibre tripod.

In terms of equipment, I mounted a Canon 6D Mark II with a Marumi 6 stop ND filter. I took exposures of around 10-30 seconds in winds of 12 mph gusting to 16mph. Yep, I checked the wind speed!

My feeling is that the biggest difference between the two tripods is the weight in transit. Carbon fibre is lighter than aluminium but in actual use both tripods are rock solid.

I should say that because the Gitzo is over £600, the K&F is exceptional value for money. I found it sturdy, well constructed, and I really liked the fact that the main tripod column has another hidden column inside it like some sort of Russian doll. It took me some time to figure out where it was but once I did I was very satisfied with myself. :-) Once you pull it out, it can be rotated transversely so as to mount your camera in portrait mode. Brilliant!

Suffice to say that I couldn't tell the difference between the seascapes I took with this K&F tripod and the Gitzo, which just goes to show for the hundredth time that it's not the gear you have but the skill you have that matters.

As for micro movements affecting camera shake, I believe that both tripods in real world use probably had about the same. In the end, it came down to my ability to use them.

I've included some shots of the K&F tripod because I feel so strongly about this product that I think it's important to show off the build quality. I really like it. For the money, it's an absolute winner.
03/08/2022
Camera mounting screw too long - otherwise good tripod
The 1/4 20 camera mounting screw is too long (or the plate is too thin) to properly secure on my Nikon Z bodies and grip accessories. When tightened all the way, the plate would spin. Easy fix was to add a washer. Otherwise excellent travel tripod with many options.
08/04/2021
High quality and beautifully made tripod.
I researched various tripods before deciding on this one and I'm pleased that I did. The tripod folds up neatly and comes with a carry case which has reflective material on it. The tripod itself is very sturdy and well made. I like that it can be used as a monopod. The quality and design of this tripod is fantastic. The different configurations make it really versatile for lots of different shots. The height of this tripod is perfect for overhead work too. I can't praise the quality and design of this tripod enough.
15/08/2022
Tall and strong!
Excellent tripod with super smooth action gimbal head. Originally thought I might not like the thumb screw adjustments (as opposed to the turnbuckles on a conventional unit) however, they are great and very easy to use. Even in its fully extended state the tripod is stable and does not exhibit any buckling tendencies. The leg extension clamps are positive and clamp very well. The overall feel of this tripod is one of exceptional quality, particularly considering the price. It has a flexible screw head which allows the tripod to screw into my projector without any issues. It comes complete with a carrying case.
01/08/2022
Great value for money and very versatile!
This product looks great when you get it out of the box, it comes in a nice padded carry case with handles and a shoulder strap. It comes with basic instructions that give the user the required info to be able to use all features of the tripod.

The tripod itself is very stable and feels extremely well made. The aluminium construction is nice, but does add a little weight, though for the functionality it's a small sacrifice.

A single leg is detachable allowing for the conversion to a monopod, which as per the images, can be used with the ball head mount. This can be done with no tools required, which gives great flexibility when on location, as it doesn't require extra gear to be carried.

Towering over me at around 2m tall when fully extended or when reconfigured the centre post can be mounted upside down. The horizontal arm allows for the perfect position for top down shooting or macro photography, giving a reasonable reach with good stability.

Overall I am very impressed with this tripod and would definitely recommend it, especially when compared to competitors offerings, which generally have a much higher price point. K&F have produced a great product that is a pleasure to use.
25/06/2022
I love this tripod!!!
I've already purchased K&F Concept Tripod and it is a trusted tripod brand for me!I am adding this tripod because I need a tripod that can take an overhead shot for the unboxing or craft recording.What's great about this tripod is that not only, it can take an overhead shot for unboxing review recordings, but it is also a great tripod and turns into a monopod if you need to.I've uploaded sample pictures of the overhead shot.1. Closer overhead shot - you can set this on (see picture)2. If you need to set the tripod up off the table, you can also do that! (see picture)3. Well... not to mention, it is also a great tripod if you want to take the photo.4. You can also change the ball head if needed. This is really premium quality!Again, I love this product and I wish many people can find this tripod for their photography
07/10/2020
Quality and does the job.
This is my first tripod so I don't have anything to compare. But right out of the box I could feel the quality in the material, the tripod not giving out this wiggly feeling but rather strong. I wants a tripod to scan my film so I would love if it can rotate around in various angle, and this one did just that. The tripod is quite heavy to me, so this definitely probably be staying at home, I may try to hike with it. If I did, I will definitely update you guys.
10/09/2020
A very nice, well built and designed prosumer tripod that offers a lot of value for the price.
I have been shooting for about 12 years now, and after going thru some really bad tripods, I had to end up with a $600 Manfrotto Carbon fiber which I LOVE.This tripod for its price is VERY close to a high end one. Super light, quite as close as my Carbon Fiber manfrotto, very smooth movement on the head, easy to set up, open, and close. It closes down so tiny, than it is amazing fro traveling.The option of having one of the legs a a monopod is magnificent, you have two in one.I feel the legs could be a little weak in my opinion, but understand they are made from aluminum and this is a tripod under $200 which could deliver as much as any other tripod from a good brand on the $400give or take.I feel I am going to give a little rest to my Manfrotto to avoid over use, and take this on traveling, if something happens, I am not losing $600.
07/07/2020
Tripod 72"
Love my new tripod so easy to use I have the fold back instead of the screw for the legs so many combinations for the tripod to use. love the way I can get close up when I take macro photos my other tripod not a K&F only allowed me to get within a few feet.
07/07/2022
I use it with a camera
Cause it's Rock... F'n... Solid.Legs open quickly and stay where you put them. Everything slides in and out smoothly. The post is great. You can whip it out and aggressively move it around while the legs keep everything stable and balanced. And the balls are awesome! They're silky smooth so be careful! You might get whacked upside the face by the post if you don't screw that knob and grip those balls right. It's pretty tough so don't be afraid to toss it into the back of the van and treat it like a discount rental. When you're done just toss it down the basement or lend it out to all your friends.Well, enough about me. Let's talk about the tripod...
30/12/2021
K&F Concept Professional Camera Tripod Model KF09.086& KF09.102
K&F Concept Lightweight Travel Tripod Model KF09.086
K&F Concept Lightweight Travel Tripod for DSLR and SLR Model KF09.086
Tripod General
Load Capacity
10kg/22.05lbs
Maximum Working Height
1830mm/72.05"
Max Height without Center Column
1390mm/54.72"
Minimum Working Height
600mm/23.62"
Folded Length
490mm/19.29"
Weight
1835g/4.05lbs
Materials
Magnesium aluminum alloy
Tripod Head
Ball Head
Color
Red/Black
Bubble Level
Tripod Legs
Leg Lock Type
Flip Lock
Leg Positions
Independent Leg Spread
Leg Sections
4
Leg Diameter
16-25mm/0.63-0.98"
Feet Features
Tripod Center Column
Center Column Features
Transverse Center Column, Center Column Inversion
Center Column Sections
2