Lightweight Overhead Travel Tripod 22lbs/10kg Load Capacity 94"/240cm with Detachable Monopod & Extension Arm for Canon Sony Nikon DSLR SLR T254A8+BH-28L (SA254T1)
Terms
Coupon Terms
Terms and Conditions:
Coupons are valid for a limited time only. Kentfaith reserves the right to modify or cancel coupons at any time.
You must purchase the qualifying items added to your Cart when the coupon is in effect for the discount to apply.
If you later modify or cancel the subscription or delivery date for the qualifying item, the discount will not apply.
The coupon applies only to qualifying items displaying the coupon offer.
If you buy more than one item from the same coupon, the maximum discount amount of the coupon will be equal to either the percentage discount off or the face value of the coupon on one eligible item. The coupon may only be used on www.kentfaith.com.
The promotion is limited to one coupon per customer.
If you return any of the items purchased with a coupon, the coupon discount or value may be subtracted from the return credit.
To
United States
Expedited Shipping
3-5
business days
K&F Concept SA254T1 lightweight overhead travel tripod, 94"/2.4m 22lbs/10kg load, features 360° Ball Head & Quick Release Plate for DSLR SLR. Stable & easy to set up.

KF09.086

SKU:

KF09.086

119.99

https://www.kentfaith.com/KF09.086_k-f-sa254t1-lightweight-compact-tripod-for-canon-nikon-camera-professional-dslr-photography-93inch-aluminium
Description
* 【Transverse Center Column】SA254T1 Central column moves from 0 to 180 degrees, can be rotated 360°horizontally, to realize panorama shooting.
* 【Strong Stability】The weight of tripod is 2kg. 25mm large diameter aluminum alloy tube,the load capacity can reach 22.04lbs (10kg), provide security and stability support for your dslr camera.
* 【Detachable Monopod】 It can be turned into a lightweight monopod or walking stick alone to make your photography more diverse.
* 【360° PANORAMA】The 28mm large KF-28 metal ball head provide 10kg load capacity, it can be rotated 360 degrees, helping to expand dslr camera activity range when panoramic shooting.
* 【EASY SET UP】 4 sections tube leg and the max diameter is 25mm; Spiral type locking knob allows you to adjust the working height in seconds; The height without column reaches 67.7'' and the height with 2 sections center column is 93.9'',making standing shooting easier.
Shipping
To
United States
Expedited Shipping
3-5
business days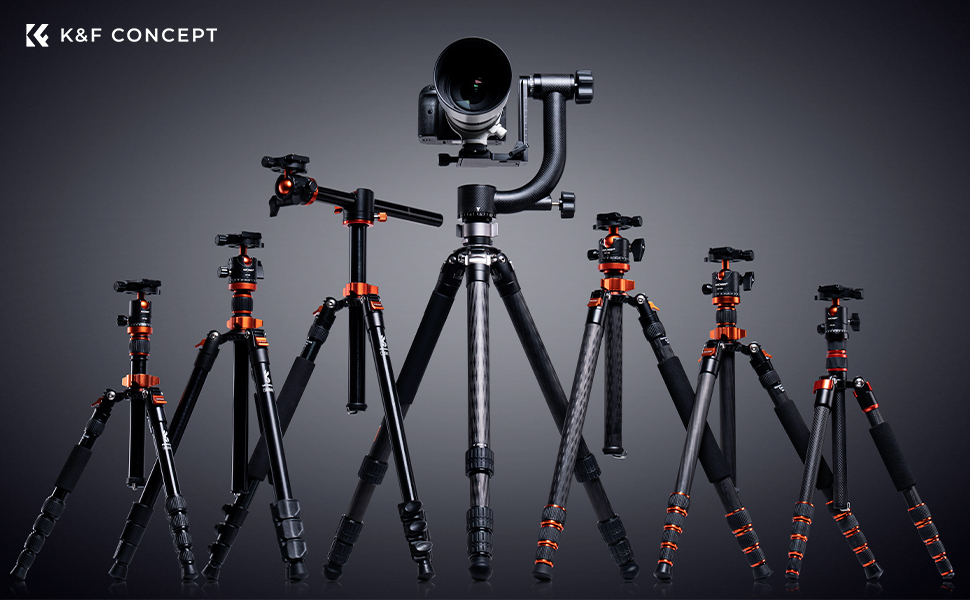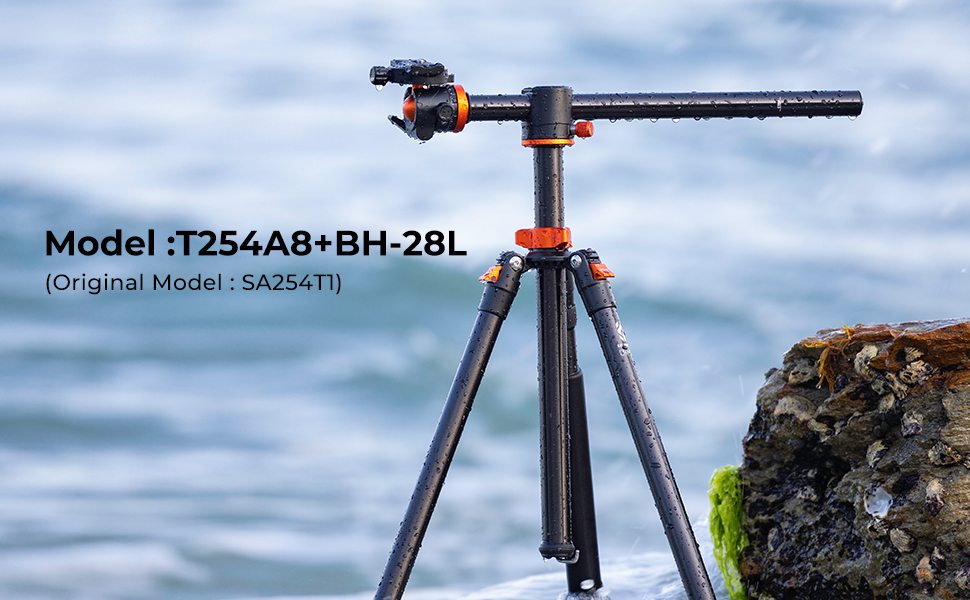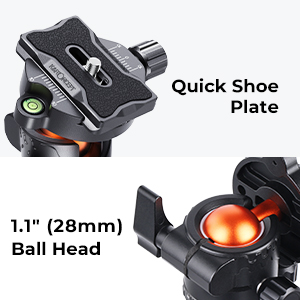 KF-28 Metal ball head
The low center of gravity ball head has strong strong locking force and can be rotated 360 degrees to improve camera activity range.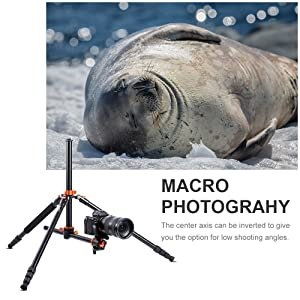 Lowest Angle Shooting
Lowest angle shooting, macro shooting, and special photography can be achieved through inverted central axis.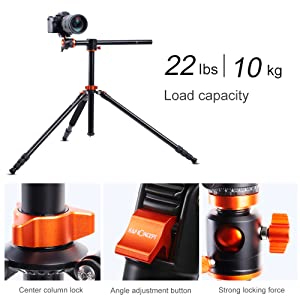 Transverse center column
The center column can be used vertically or horizontally. Horizontal 360 ° rotation, so that photographers can realize panorama shooting.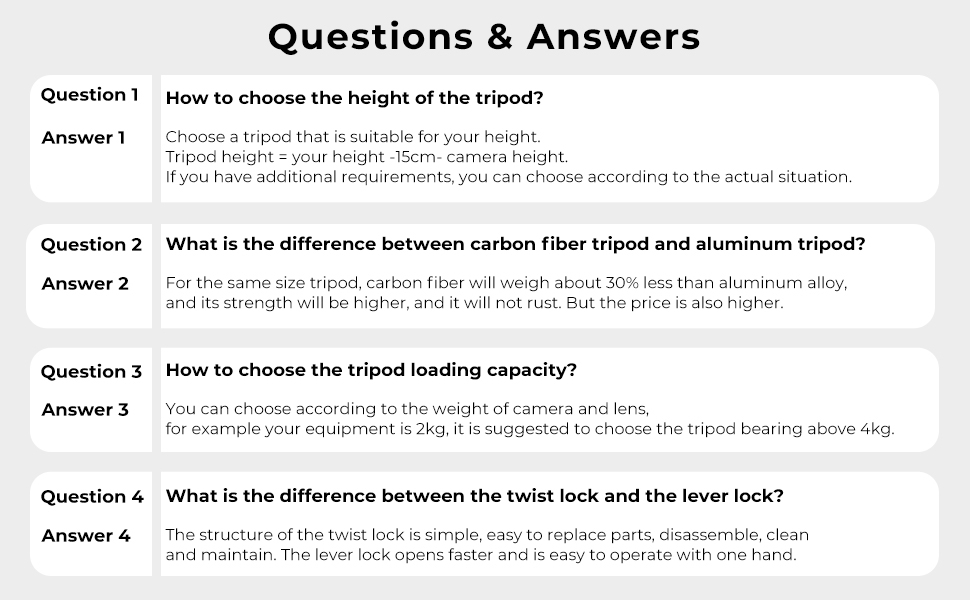 Rating

95 reviews.

129 reviews.

69 reviews.

49 reviews.
Price

$209.99

$119.99

$185.99

$109.99

$192.99

$119.99

$195.99

$125.99

Model
KF09.086
KF09.085
KF09.079V1
KF09.096

Load Capacity

10kg/22.05lbs
10kg/22.05lbs
10kg/22.05lbs
10kg/22.05lbs

Maximum Working Height

2385mm/93.90"
1700mm/67"
1830mm/72.05"
1920mm/75.59"

Minimum Working Height

690mm/27.17"
560mm/22"
600mm/23.62"
615mm/24.21"

Folded Length

570mm/22.44"
430mm/17"
490mm/19.29"
500mm/19.69"

Weight

2000g/4.41lbs
1690g/3.7lbs
1835g/4.05lbs
1845g/4.07lbs

Materials

Magnesium aluminum alloy
Magnesium aluminum alloy
Magnesium aluminum alloy
Magnesium aluminum alloy

Leg Lock Type

Twist Lock
Twist Lock
Flip Lock
Twist Lock

Leg Diameter

16-25mm/0.63-0.98"
13-25mm/0.51-0.98"
16-25mm/0.63-0.98"
16-25mm/0.63-0.98"
All Reviews
Image

All Star

5 Star

4 Star

3 Star

2 Star

1 Star
Long, light and stable
Finally a tripod that doesn't give you a back, but allows you to take pictures at eye level.
The 90° boom is a real highlight. Stable enough for an SLR with a large travel lens.
The orange anodized color makes a very valuable impression.
This tripod is well thought out.
Ground-level camera work, repro shots and taking a panoramic picture overhead, everything becomes child's play.
With a little practice, assembly or conversion can be done very quickly.
11/03/2023
Great product for reasonable price
This is my first tripod with the ability to make flat-lay photos.
The tripod has a massive quality, I feel it will last long.
The delivery was fast and TAX free because of the European warehouse.
Great deal.
26/02/2023
Fully adjustable and extremely useful for my needs
I need to take pictures of various products and graphic items that either sit against backgrounds or lie flat as tabletop photography, and this is an excellent tripod because I can just pick it up and adjust it easily in an infinite number of configurations to suit the angles necessary for a variety of subjects. Very happy with how it secures the phone so there is no vibration to distort the image. Just strong and stable enough, yet easy to manage and rearrange in seconds.
14/02/2023
Awesome Giant of a Tripod
Awesome tripod,
I tried it as soon as it arrived and was amazed at how tall it is when full extended,
The quality is amazing and it's super sturdy, comes with a real nice carry bag too,
K&F manufacture some really nice products, I'd have no problem purchasing in the future, highly recommend this tripod for quality.
08/02/2023
Heavy and wobbly
Well, I do not use a camera tripod that often and when I do, I like a good one. I had a project that I needed to raise a camera over a corn field, which will not happen any time soon now since this is on its was back to Amazon.The design is brilliant and versatile, since I was spending the money on a tripod to replace all of my $35 or less tripods and the added height. This looked like the cat's meow. Especially considering it was direct competition for my bog pod, this looked like it was going to be even more stable and easy to set up. The bog pod has zero center support or locks short of the legs.However, the problems appeared in the actual construction. The locks, were a bit of of a bother to loosen up, the legs stuck while sliding out, and it was WOBBLY! I traced the wobble back to the rubber feet. This thing would bounce back and forth like a spring. I tried it on several surfaces with and without a camera, I also tried putting weight on the hook, no effect,If it was constructed slightly better the only thing I would not have liked was the monopod. Coming in at 5' 10" the top adjustment for height was to low (below my waist) for me to easily set it up. I had to move away from the view finder to reach it and once tightened, it was to high or to low. I use a lot of bipod so the idea behind adjusting the legs is pretty strait forward, but it appeared to be to much to adjust. A pity.It weighed in more than I thought it would compared to the specs. While heavy may be horrible for carrying long distances I thought perhaps it would survive minor wind gusts.I wish it would have worked, its versatile nature is very appealing and I have yet to find another brand offering anything similar.
31/01/2023
Quality product
I'm very happy with the high quality of this product. I hope it will remain through the years. This version is HUGE. Of course you should not use it fully extended, since the lightest wind would move the camera. But I ordered this one because I'm very tall, and as a basic rule the tripod height (without extending the middle column) should match mine (chin-level). So far I'm very happy with this product. Thank you.
11/01/2023
A very good strudy product.
Very good product.
14/11/2022
Practical All-in-One Tripod
I was browsing YouTube for the perfect all-in-one tripod that would fit my needs and this was exactly what I was looking for. It's very easy to set up even without me reading the manual and feels very sturdy (I'm using it with a mirrorless camera so I can't say if it's the same thing for heavy cameras though!)

It also comes with a tripod bag which is very convenient. Overall, I'm very happy with this purchase.
11/11/2022
Amazing!!!!!
Excelente producto, escuche críticas sobre el, pero para el precio que tiene esta excelente. La gente por todo se queja y no saben apreciar lo que es un buen producto.
10/11/2022
Should include a sand bag for kore support
Good for home projects
09/11/2022
These images belong to KENTFAITH end users.
K&F Concept Professional Camera Tripod Model KF09.086& KF09.102
K&F Concept SA254T1 Lightweight Overhead Travel Tripod | KF09.086
K&F Concept Lightweight Travel Tripod Model KF09.086
Tripod General
Load Capacity
10kg/22.05lbs
Maximum Working Height
2385mm/93.90"
Max Height without Center Column
1720mm/67.72"
Minimum Working Height
690mm/27.17"
Folded Length
570mm/22.44"
Weight
2000g/4.41lbs
Materials
Magnesium aluminum alloy
Tripod Head
Ball Head
Color
Orange/Black
Bubble Level
Tripod Legs
Leg Lock Type
Twist Lock
Leg Positions
3
Independent Leg Spread
Leg Sections
4
Leg Diameter
16-25mm/0.63-0.98"
Feet Features
Can be reversed 180° and folded
Tripod Center Column
Center Column Features
Transverse Center Column, Center Column Inversion
Center Column Sections
2