94"/2.4m Overhead Camera Tripod aluminum video Tripod Transverse Center Column 22lbs/10kg Load with Detachable Monopod for DSLR SLR, T254A8+BH-28L (SA254T1)
Terms
Coupon Terms
Terms and Conditions:
Coupons are valid for a limited time only. Kentfaith reserves the right to modify or cancel coupons at any time.
You must purchase the qualifying items added to your Cart when the coupon is in effect for the discount to apply.
If you later modify or cancel the subscription or delivery date for the qualifying item, the discount will not apply.
The coupon applies only to qualifying items displaying the coupon offer.
If you buy more than one item from the same coupon, the maximum discount amount of the coupon will be equal to either the percentage discount off or the face value of the coupon on one eligible item. The coupon may only be used on www.kentfaith.com.
The promotion is limited to one coupon per customer.
If you return any of the items purchased with a coupon, the coupon discount or value may be subtracted from the return credit.
To
United States
Expedited Shipping
3-5
business days
K&F Concept SA254T1 lightweight overhead travel tripod, 94"/2.4m 22lbs/10kg load, features 360° Ball Head & Quick Release Plate for DSLR SLR. Stable & easy to set up.

KF09.086

SKU:

KF09.086

135.99

https://www.kentfaith.com/KF09.086_k-f-sa254t1-lightweight-compact-tripod-for-canon-nikon-camera-professional-dslr-photography-93inch-aluminium
Description
* 【Transverse Center Column】SA254T1 Central column moves from 0 to 180 degrees, can be rotated 360°horizontally, to realize panorama shooting.
* 【Strong Stability】The weight of tripod is 2kg. 25mm large diameter aluminum alloy tube,the load capacity can reach 22.04lbs (10kg), provide security and stability support for your dslr camera.
* 【Detachable Monopod】 It can be turned into a lightweight monopod or walking stick alone to make your photography more diverse.
* 【360° PANORAMA】The 28mm large KF-28 metal ball head provide 10kg load capacity, it can be rotated 360 degrees, helping to expand dslr camera activity range when panoramic shooting.
* 【EASY SET UP】 4 sections tube leg and the max diameter is 25mm; Spiral type locking knob allows you to adjust the working height in seconds; The height without column reaches 67.7'' and the height with 2 sections center column is 93.9'',making standing shooting easier.
Shipping
To
United States
Expedited Shipping
3-5
business days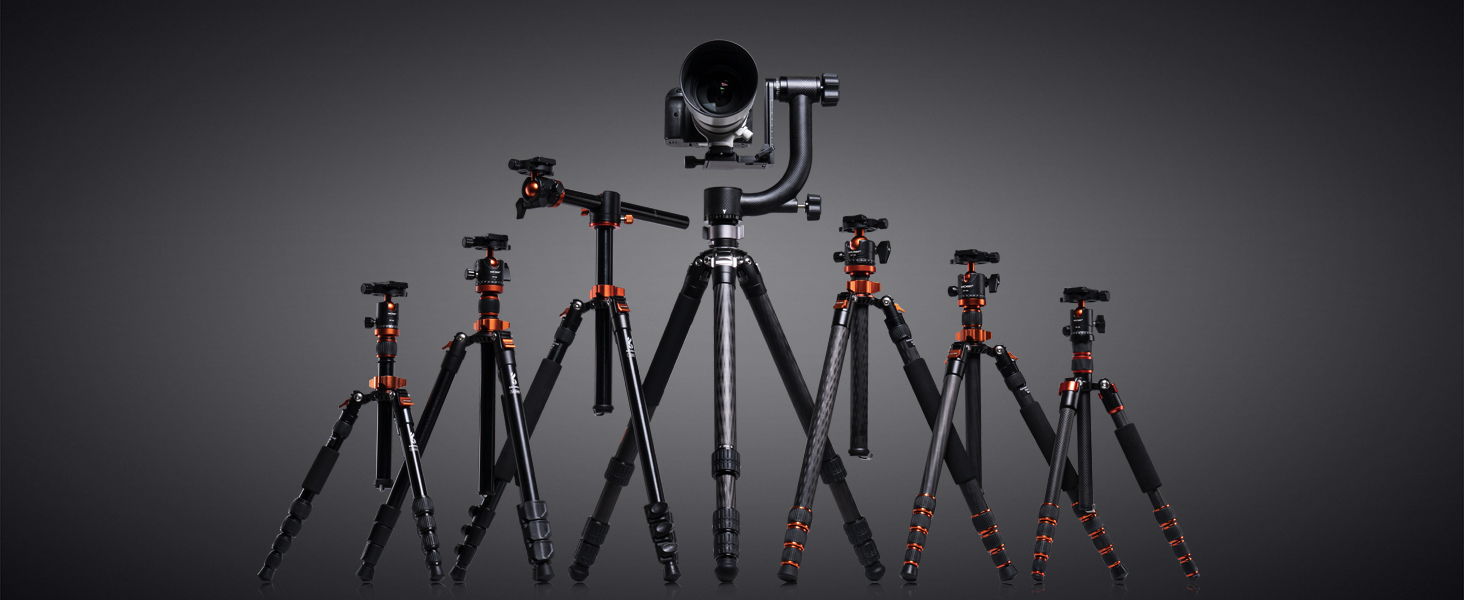 Maximum height 2.38m
360°panoramic shooting
Overhead shooting
Low angle creative shooting
Inverted shooting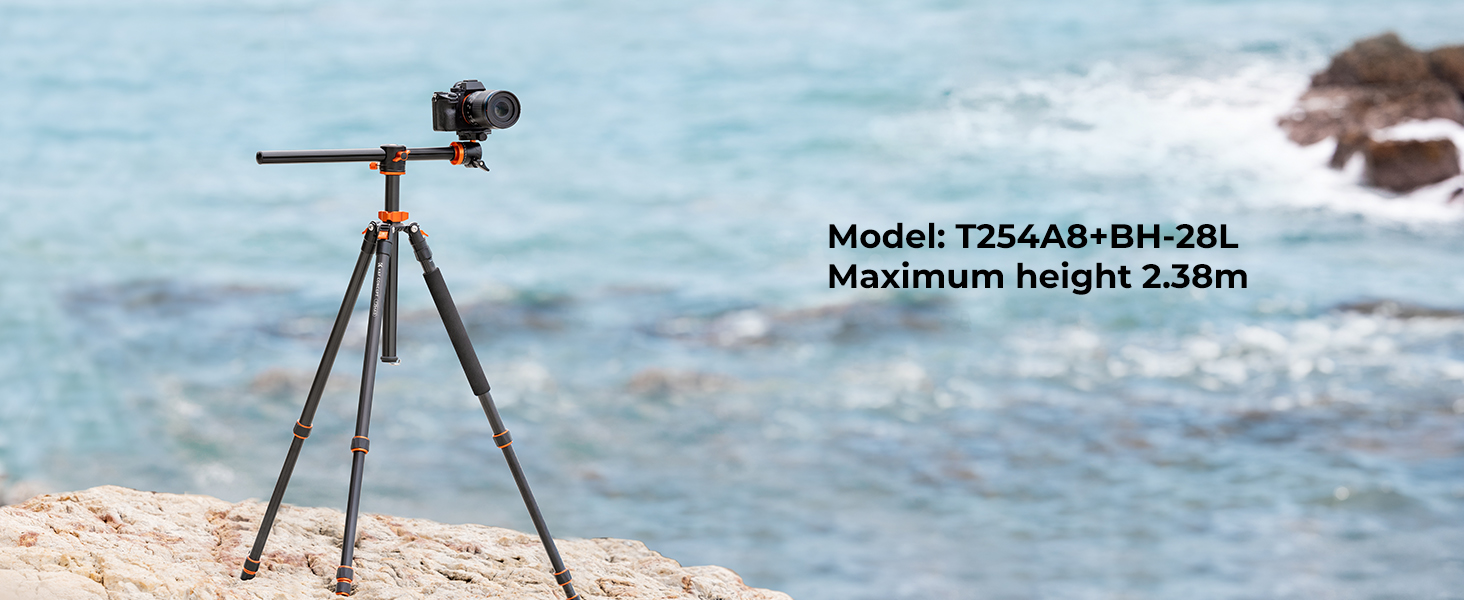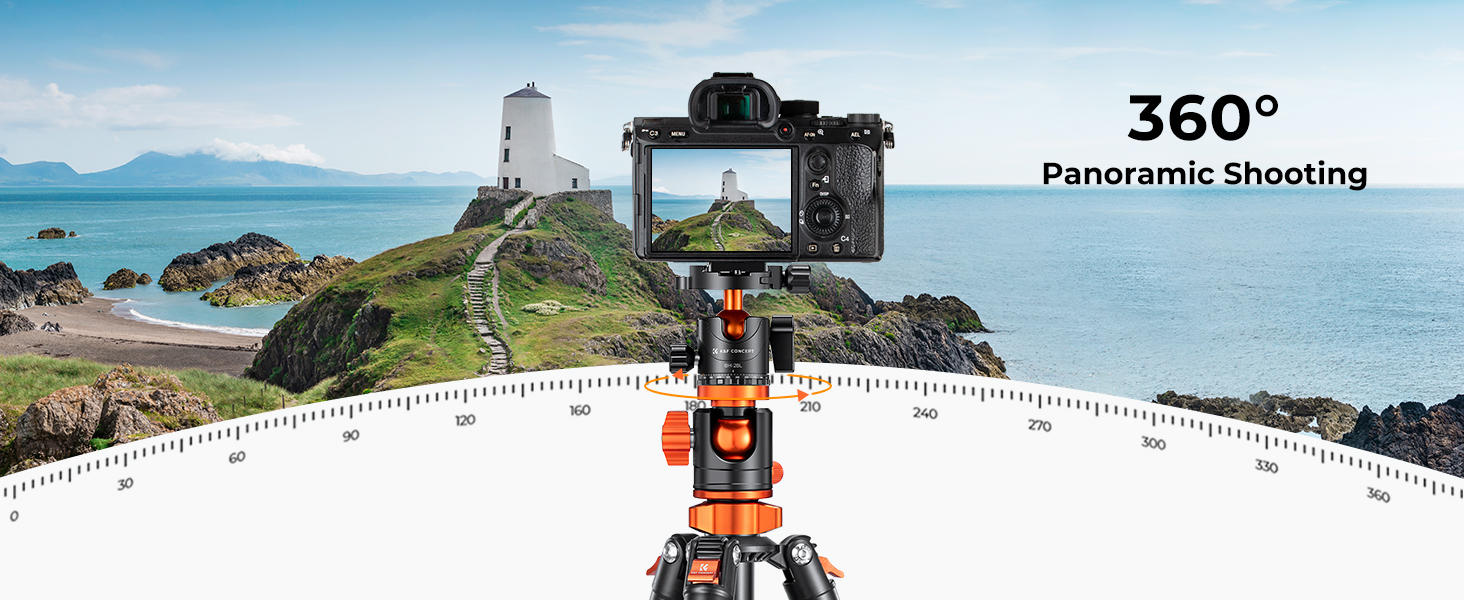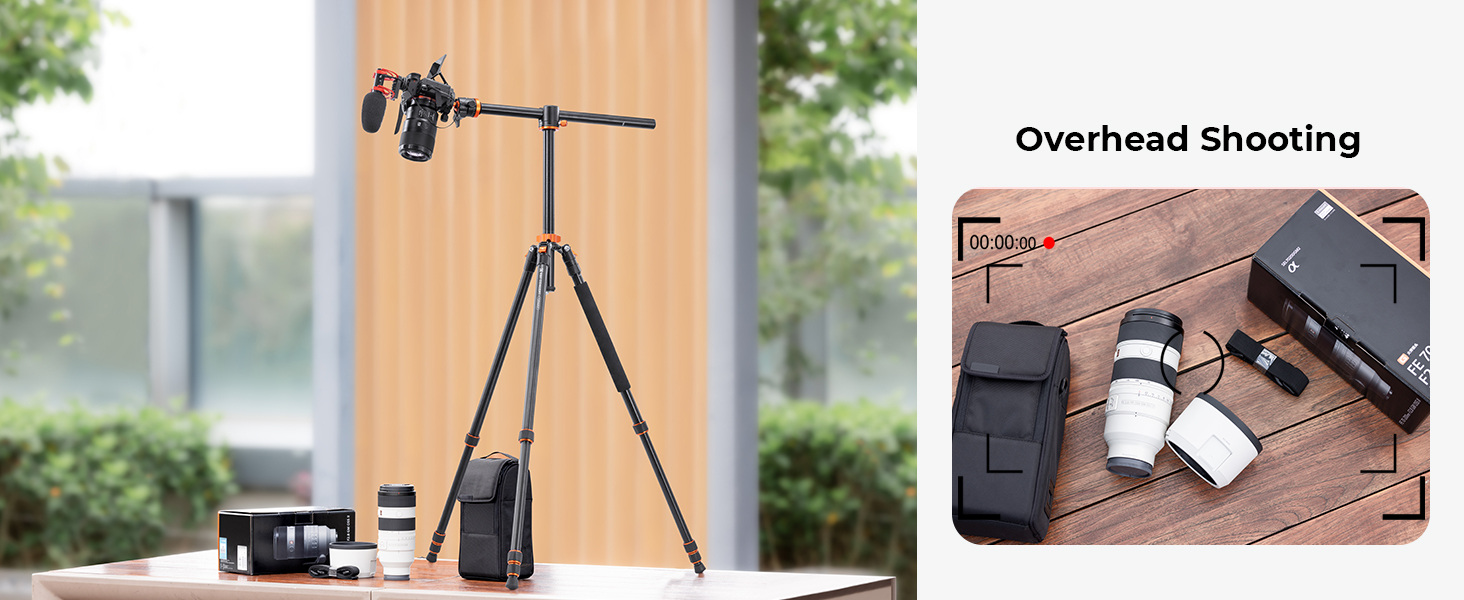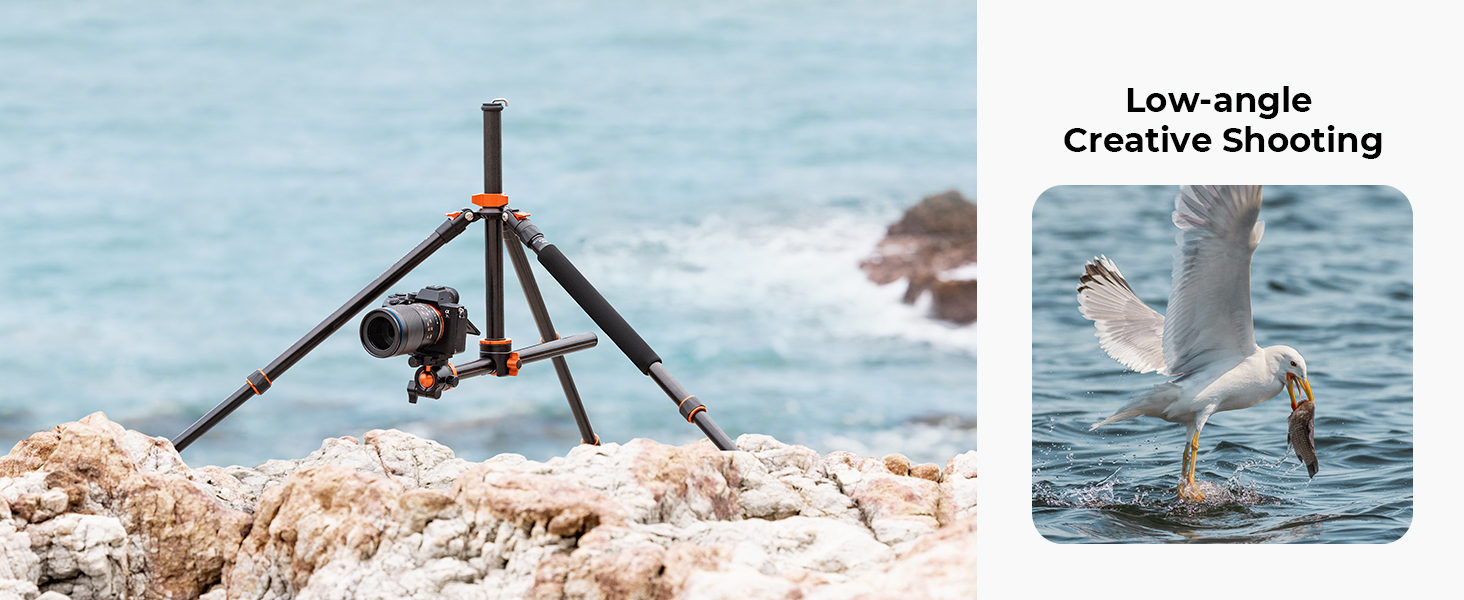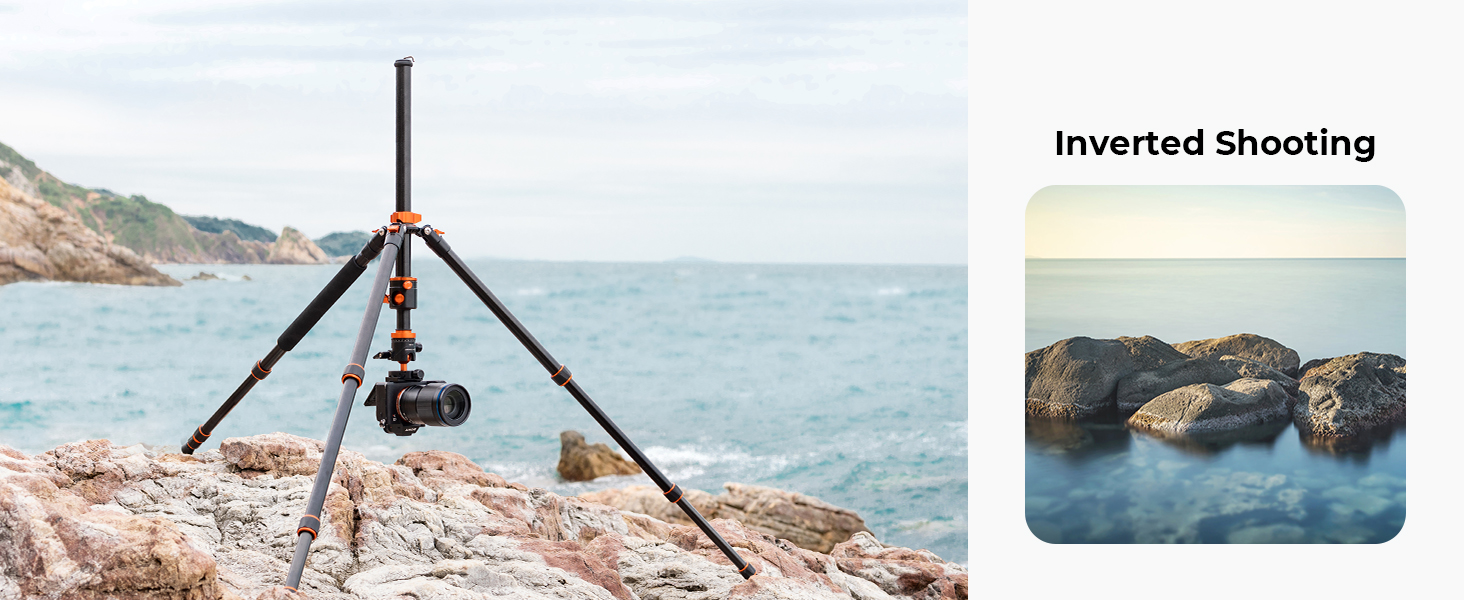 Previous
Next
Fast horizontal placement
28mm center column
360°horizontally
360°rotatable perfect
Multi functional accessory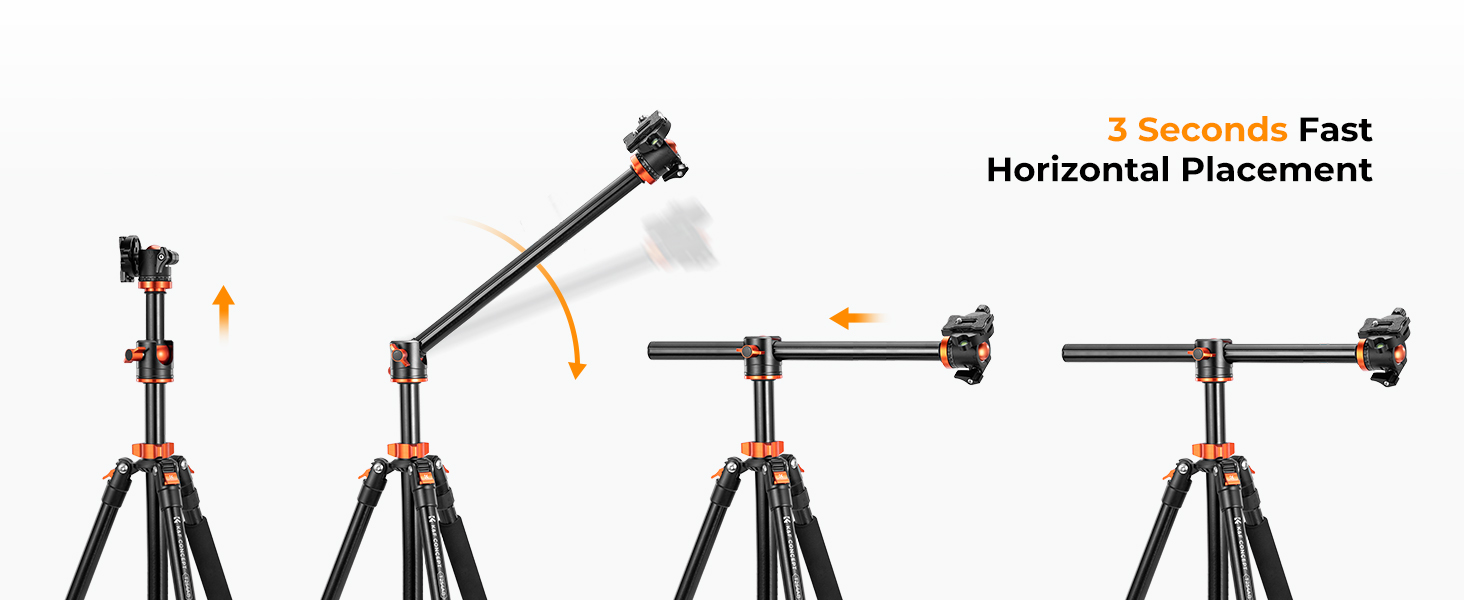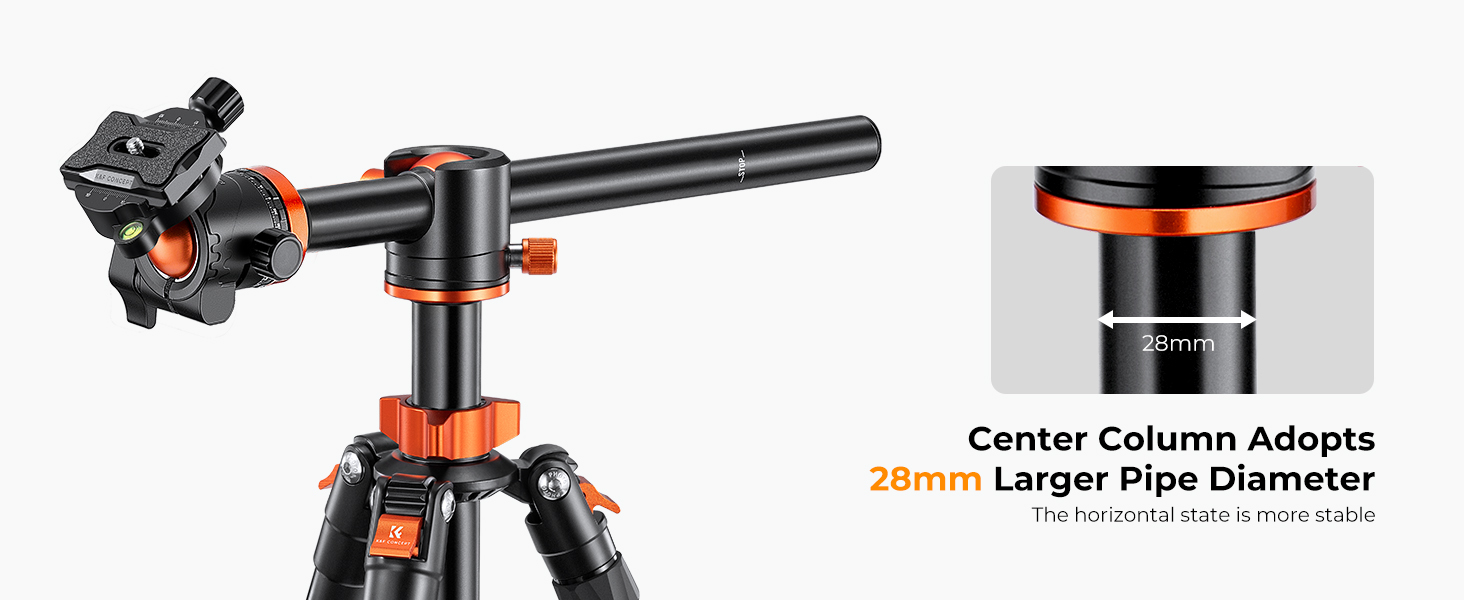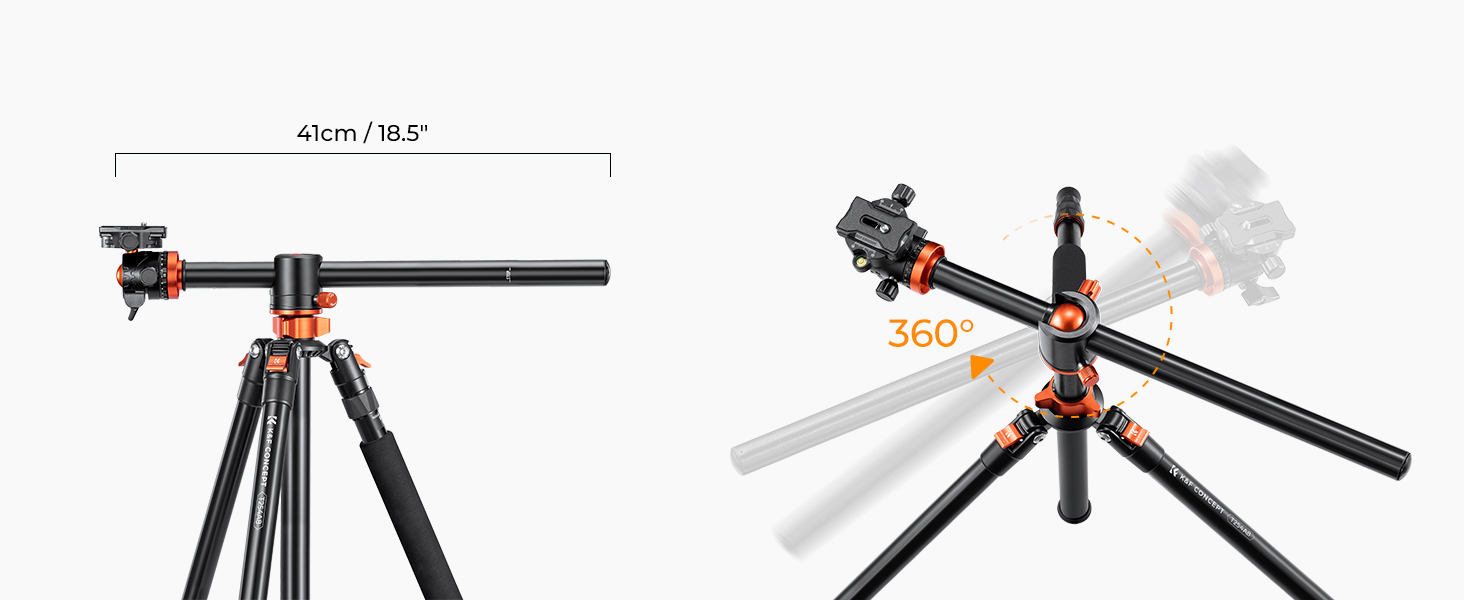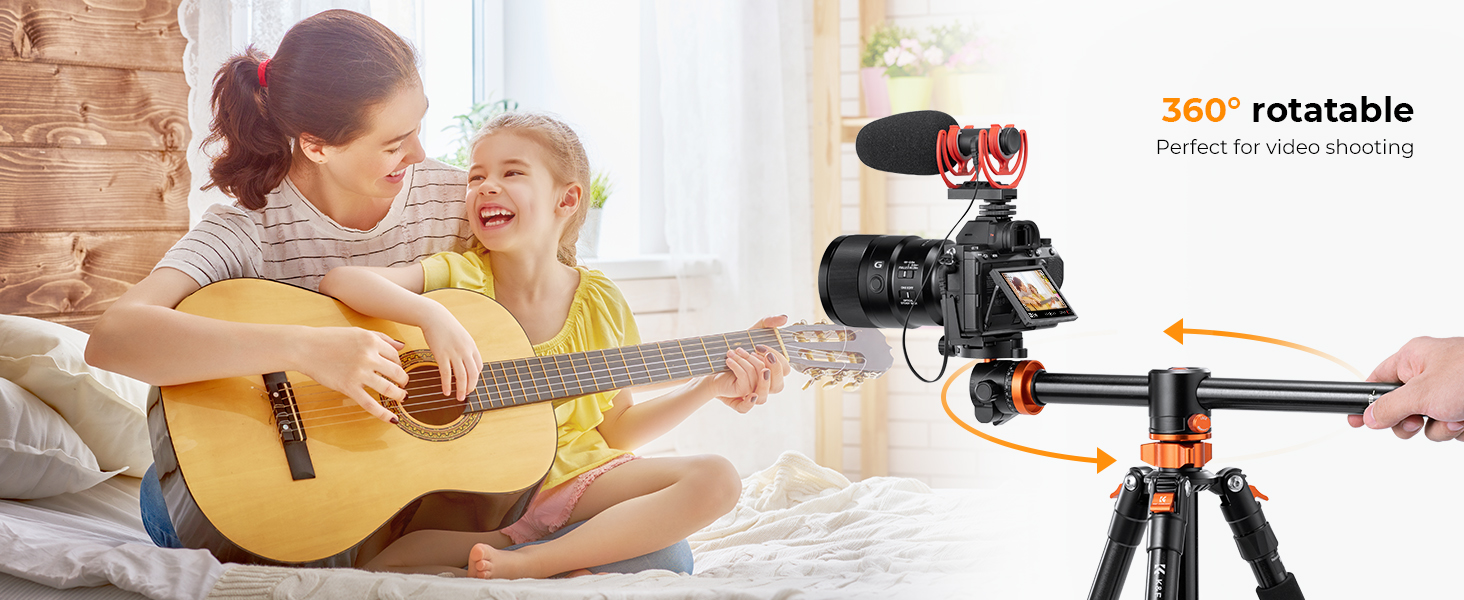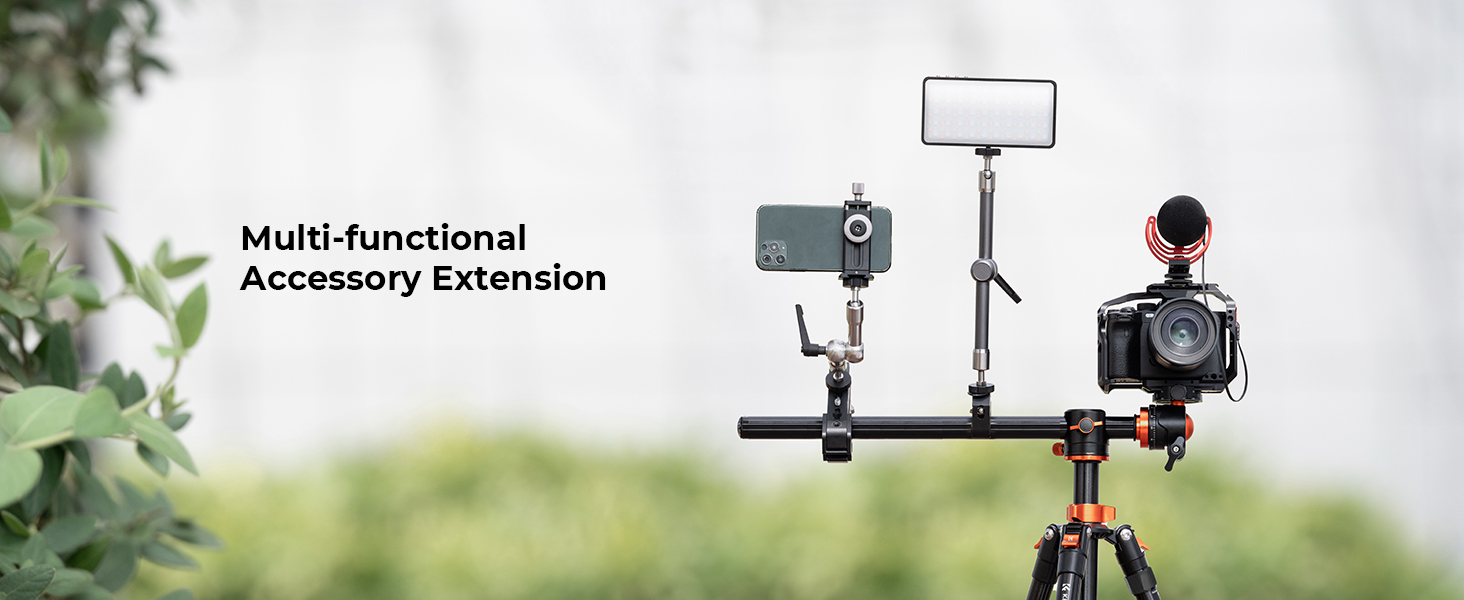 Previous
Next
Rating

137 reviews.

54 reviews.

69 reviews.

69 reviews.

82 reviews.
Price

$209.99

$135.99

$166.99

$108.99

$192.99

$119.99

$139.99

$107.99

$129.99

$89.99

Model
KF09.086
KF09.087V2
KF09.079V1
KF09.119
KF09.124

Load Capacity

10kg/22.05lbs
10kg/22lbs, 5kg/11lbs (Extension Arm)
10kg/22.05lbs
10kg/22lbs
12kg/26.4lbs

Maximum Working Height

2385mm/93.90"
2000mm/78"
1830mm/72.05"
2300mm/90.6"
1980mm/78"

Minimum Working Height

690mm/27.17"
590mm/23.2"
600mm/23.62"
665mm/26.2"
560mm/22"

Folded Length

570mm/22.44"
500mm/19.7"
490mm/19.29"
540mm/21.3"
430mm/17"

Weight

2000g/4.41lbs
1831g/4lbs
1835g/4.05lbs
2022g/4.46lbs
2145g/4.73lbs

Materials

Magnesium aluminum alloy
Magnalium Alloy
Magnesium aluminum alloy
Aluminum alloy
Aluminum alloy

Leg Lock Type

Twist Lock
Flip Lock
Flip Lock
Flip Lock
Twist Lock

Leg Diameter

16-25mm/0.63-0.98"
23mm/0.91", 25mm/0.98" (Extension Arm)
16-25mm/0.63-0.98"
16-25mm/0.63-0.98"
13-25mm/0.51-0.98"

Tripod Head Type

Ball Head
Ball Head
Ball Head
All Reviews
Image

All Star

5 Star

4 Star

3 Star

2 Star

1 Star
Long, light and stable
Finally a tripod that doesn't give you a back, but allows you to take pictures at eye level.
The 90° boom is a real highlight. Stable enough for an SLR with a large travel lens.
The orange anodized color makes a very valuable impression.
This tripod is well thought out.
Ground-level camera work, repro shots and taking a panoramic picture overhead, everything becomes child's play.
With a little practice, assembly or conversion can be done very quickly.
11/08/2023
The Most Versatile Tripod
I love this tripod. It will provide with anything that needs to be possibly get done with a tripod. The horizontal bar rhelpful with all types of photography styles. I would recommend buying this tripod.
04/08/2023
Great!
This really is a good quality tripod! It's durable, easy to pack/travel with, and it's easy to switch functions. I definitely recommend if you are looking to buy a tripod that you wont have to replace for a while.
01/08/2023
Light weight and easy to use.
If your a one person band and like talking pictures and videos this is an ideal tri-pod especially for use with a cellphone/ smartphone
30/07/2023
Not light weight
But best stand I've ever bought. Its versatility is its selling point. I loved the horizontal arm on it because you can attach your go-pro on it, while taking pictures.

You can dissemble the center column and use it as a monopod on holidays. Just buy a separate tripod foot to screw it on. It really works amazingly. I did this and forgot the monopod stand in the Bahamas:(
28/07/2023
Amazing Tripod
This has everything one would need to Do suitable Work w/o the weight. It has the Swing out mount that allows for 360 degree and Top down as well a Monobar.
27/07/2023
K&F Concept Tripod
Bought this in 2021 as I was Looking for a Tripod that Allowed me to Do Top Down videos and all the ones I was looking at were quite expensive and just happened to see this one on Sale and decided to Purchase it and I've been using it ever sense, what I found interesting is that it's an Arca Swiss style mount allows for different types of Mounted plates.
27/07/2023
One of the Best!
very sturdy and tall! but beware: you can pinch your finger in the leg...
26/07/2023
Quality tripod, robust and very-very high
I'm a part-time photographer, I mainly do architecture and interior photography, but whenever I can I like to look for locations for landscape, nature, long exposure and night photography.
Buying a tripod online without being able to test it is risky, but 3 or 4 years ago I started trusting the K&F Concept brand and to date they have not disappointed me. I have a backpack, filters, led lights, even other travel tripods that I love. So I decided to try this model that also has an incredible working height.
I still need to find the ideal day to try it on a long exposure photo of the milky way, but from what I've tried so far it seems like a perfect tripod for everything and at a fairly reasonable price.
I like it because just extending the legs puts the camera at eye level (I'm 1.93m), and just picking up the last section of each leg puts the camera at an excellent height for taking indoor photos (1 ,40m approx). In addition, it has a central column with two sections that, in addition to gaining height, can be turned 90 and left completely horizontal. As you can see in one of the photos, the fully extended and vertical tripod reaches the height of a mini-basketball basket (approximately 2.40 m). The head is very fluid and I find it perfectly usable for tracking and panning for video.
It features 4 sections on each leg, plus one of the legs can be easily detached and used as a monopod. The head is resistant and supports SLR cameras with professional lenses, up to 10 kg, in my case with my heaviest camera and lens, it doesn't even get messy.
In other brands it would not be unusual for them to ask you for twice the money to have the same thing. Highly recommended.
16/07/2023
I love this tripod
Very sturdy, super tall. Never had an issue.
13/07/2023
These images belong to KENTFAITH end users.
K&F Concept Professional Camera Tripod Model KF09.086& KF09.102
K&F Concept SA254T1 Lightweight Overhead Travel Tripod | KF09.086
K&F Concept Lightweight Travel Tripod Model KF09.086
Tripod General
Load Capacity
10kg/22.05lbs
Maximum Working Height
2385mm/93.90"
Max Height without Center Column
1720mm/67.72"
Minimum Working Height
690mm/27.17"
Folded Length
570mm/22.44"
Weight
2000g/4.41lbs
Materials
Magnesium aluminum alloy
Color
Orange/Black
Bubble Level
Tripod Legs
Leg Lock Type
Twist Lock
Leg Positions
3
Independent Leg Spread
Leg Sections
4
Leg Diameter
16-25mm/0.63-0.98"
Feet Features
Can be reversed 180° and folded
Tripod Center Column
Center Column Features
Transverse Center Column, Center Column Inversion
Center Column Sections
2
Tripod Head
Tripod Head Type
Ball Head