Carbon Fiber Tripod with Phone Mount & Detachable Monopod 67"/1.7m Max Height 22lbs Load Lightweight Travel Tripod for Canon Sony Nikon SLR DSLR
Terms
Coupon Terms
Save 10% with this coupon
Terms and Conditions:
Coupons are valid for a limited time only. Kentfaith reserves the right to modify or cancel coupons at any time.
You must purchase the qualifying items added to your Cart when the coupon is in effect for the discount to apply.
If you later modify or cancel the subscription or delivery date for the qualifying item, the discount will not apply.
The coupon applies only to qualifying items displaying the coupon offer.
If you buy more than one item from the same coupon, the maximum discount amount of the coupon will be equal to either the percentage discount off or the face value of the coupon on one eligible item. The coupon may only be used on www.kentfaith.com.
The promotion is limited to one coupon per customer.
If you return any of the items purchased with a coupon, the coupon discount or value may be subtracted from the return credit.
Buy 2 get 5% off, Buy 3 get 10% off, buy 6 get 20% off
Free shipping to eligible country
K&F Concept Carbon Fiber Tripod Top Seller. Free Shipping Worldwide. 30 Day No Reason Return. 67"/ 22lbs Camera Tripod features Lightweight, Wide Compatibility, Convenient&Flexible, Monopod Mode.

KF09.093

SKU:

KF09.093

139.99

https://www.kentfaith.com/KF09.093_kf-sa255c1-67inch-carbon-professional-tripod-monopod-with-360-degree-ball-head
Description
* 【Lightweight & Portable】K&F Concept D255C4+BH-28L (old model SA255C1) Carbon Fiber Tripod tube made of quality Carbon Fiber weighs only 2.93lbs, measures 16.53" long when folded, super lightweight, and compact with a loading capacity of up to 22.04lbs / 10kg, making it ideal for indoor and outdoor photography.
* 【High Compatibility】The quick release 1/4"; screw of the carbon fiber tripod is suitable for most cameras, DSLR cameras, projectors, telescopes, etc; Your phone can be connected via an extra phone mount as well.
* 【Convenient & Flexible】D255C4+BH-28L Carbon Fiber Tripod features a 25mm tube diameter and 5-section legs with spiral type locking knob, which allow you to adjust the working height from 20.47"to 68"; in seconds; this Carbon Fiber Tripod legs can be adjusted in three levels of opening angle to stabilize on varying grounds and incline levels.
* 【Monopod Mode】D255C4+BH-28L Carbon Fiber Tripod can be converted to a monopod in seconds: Loosen the knob and Pull out the center column that the center column can be used as a monopod.
* 【Shooting Flexible】K&F Concept D255C4+BH-28L Carbon Fiber Tripods are available in a variety of shooting styles, specially designed ball-head can rotate 360° and inverted shooting allows you to shoot static landscapes from a low angle to achieve a marvelous shooting experience.
Shipping
Free shipping to eligible country
Sale
Buy 2 get 5% off, Buy 3 get 10% off, buy 6 get 20% off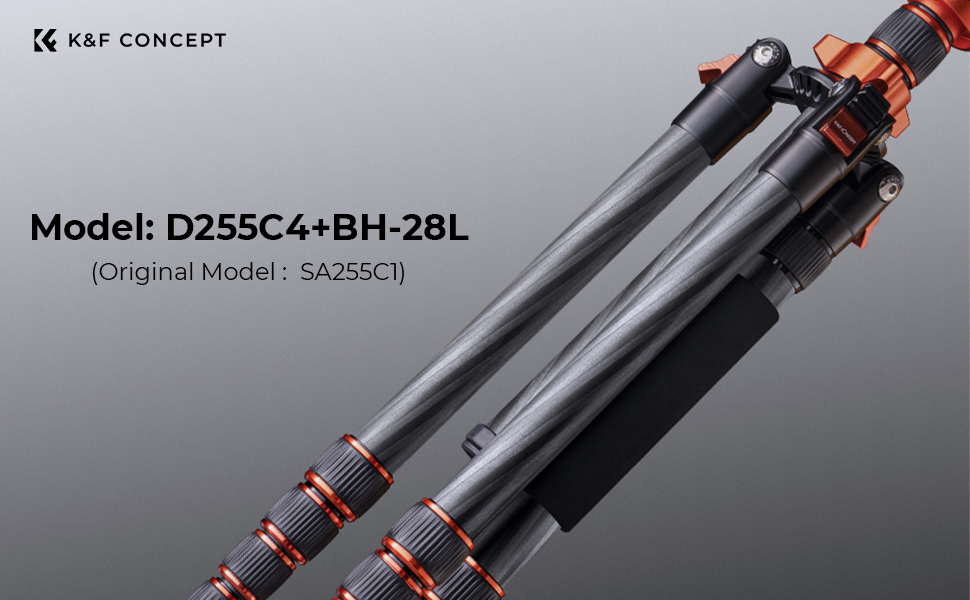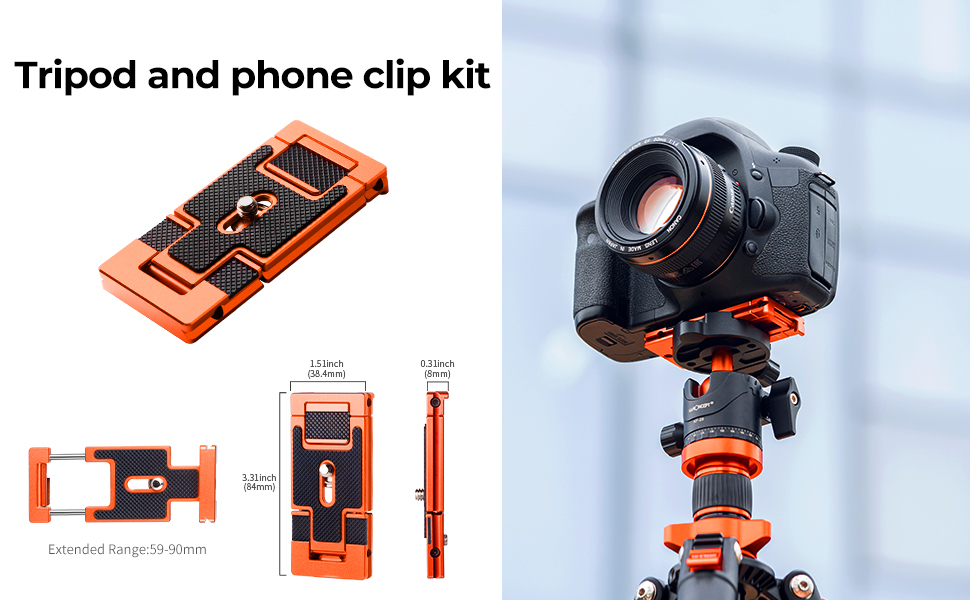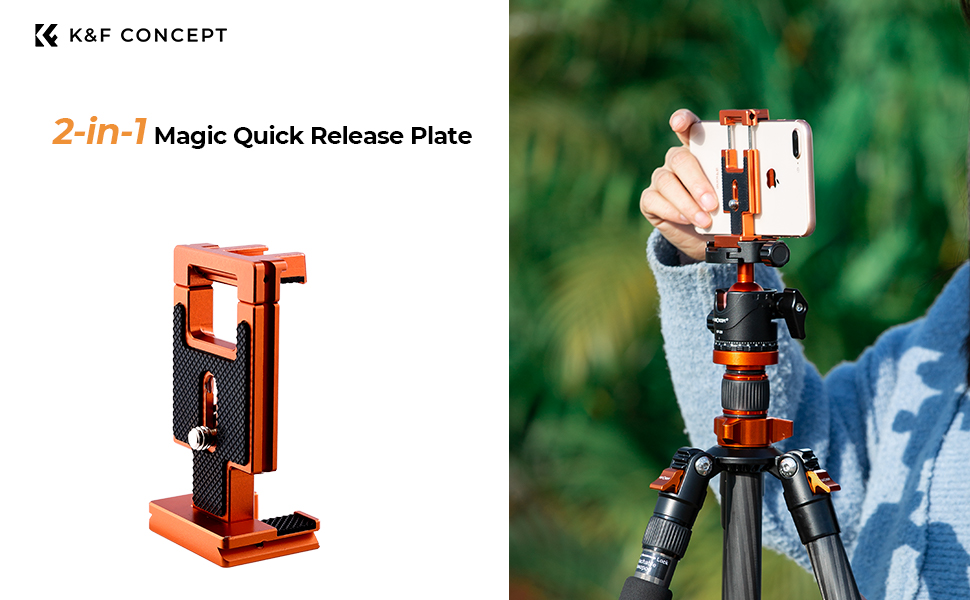 K&F Concept 68" Carbon Fiber Camera Tripod, Professional Lightweight Compact Tripod
Compact and Lightweight
---
The travel tripod is foldable,the folded size is 16.53"/42cm, allows the tripod to easily enter hand luggage or backpack, and carry on the plane. It only weighs 2.93lbs/1.33kg and the load capacity is 22.04lbs/10kg. Lowest Angle Shooting
---
Lowest angle shooting, macro shooting, and special photography can be achieved through inverted central axis. Stability Improvement
---
Comes with a hook which can hang sandbag or other heavy objects to increase the stability.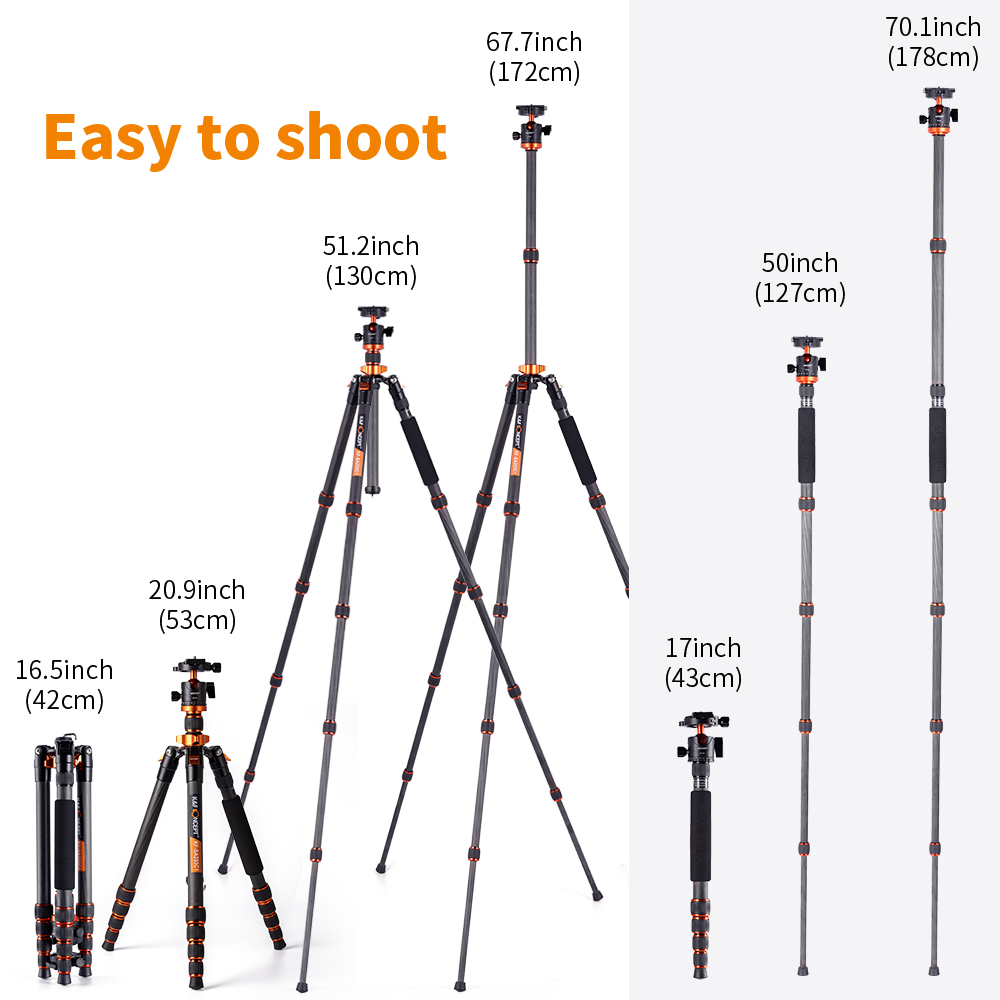 Detachable Monopod
This tripod can be quickly transform into a monopod,the Max monopod height up to 70.1 inch.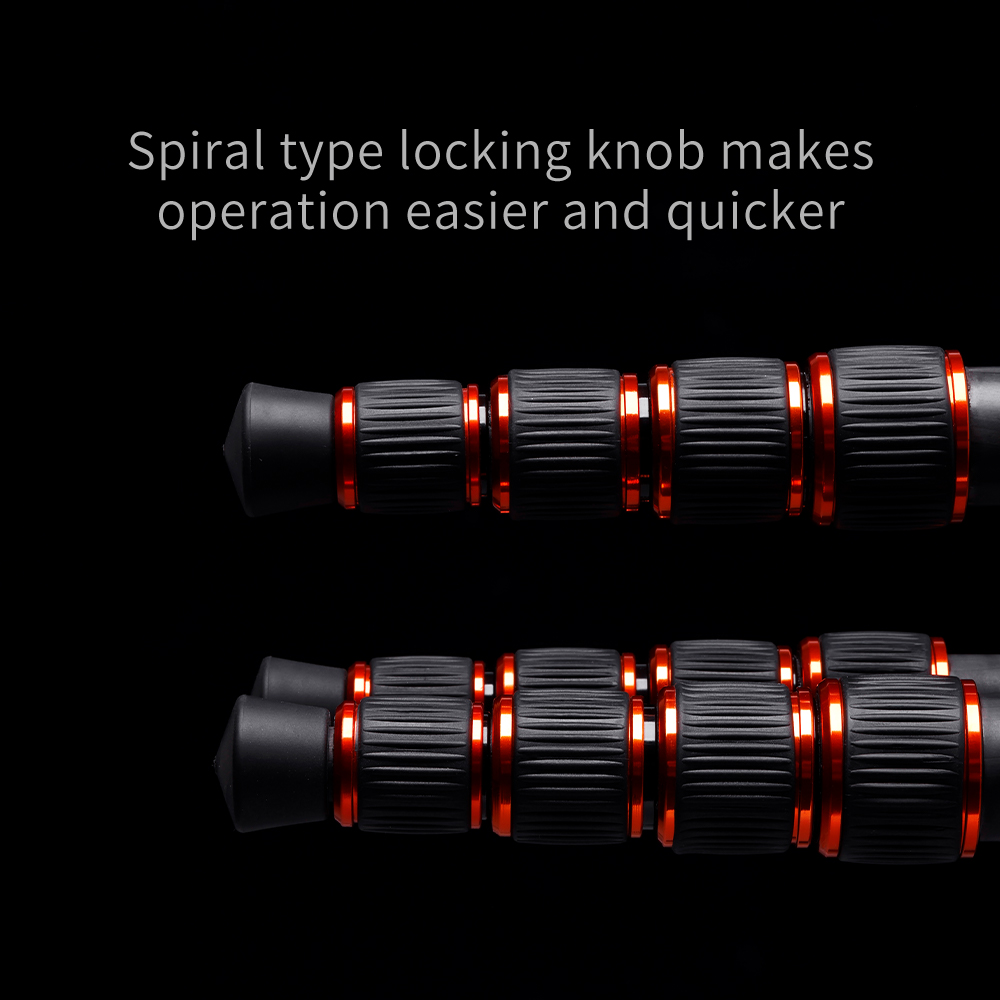 Metal Spiral Locking
The metal spiral locking knob on the leg is better for locking strength. Release clockwise and tighten counterclockwise.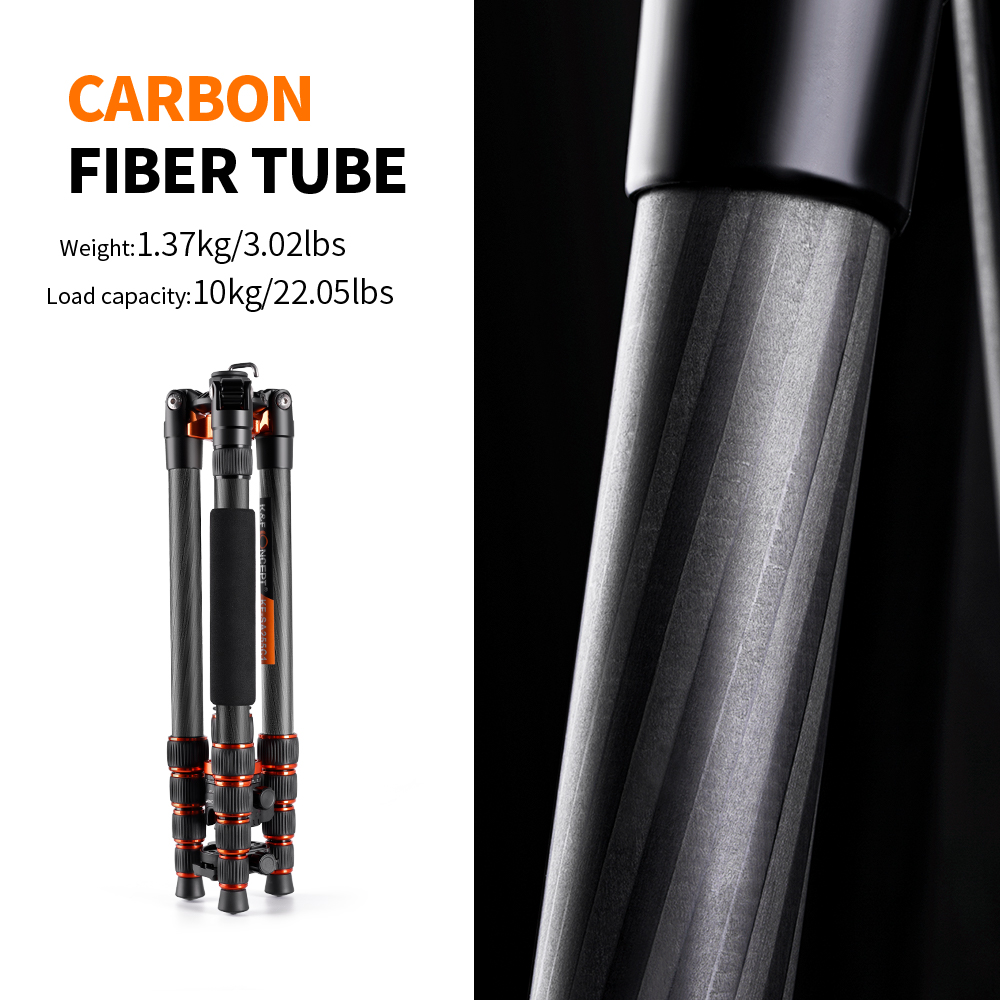 Quality Carbon Fiber
Use high-quality carbon fiber materials to reduce item weight while maintaining strong stability.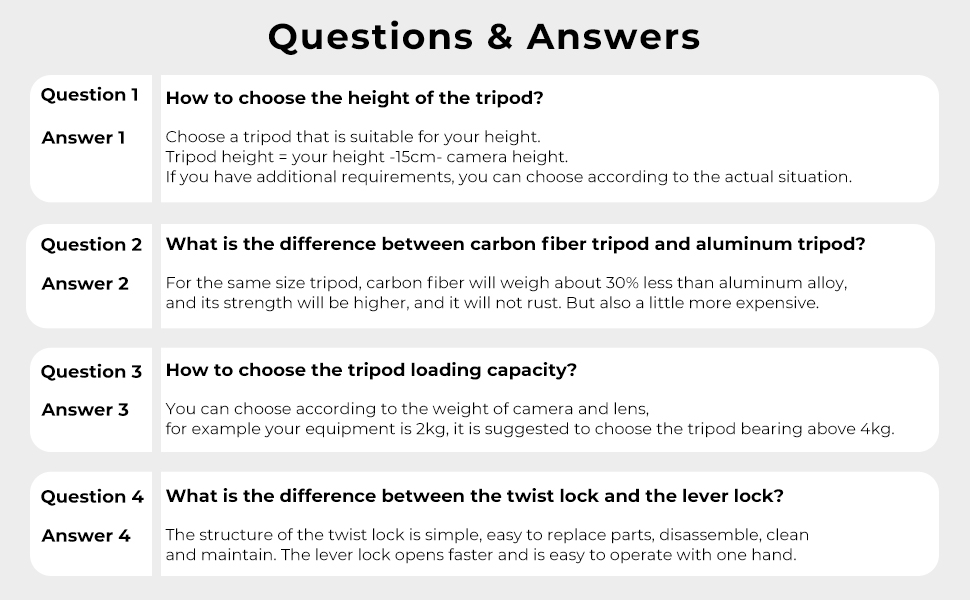 | | | | | |
| --- | --- | --- | --- | --- |
| | | | | |
| | | | | |
| | | | | |
| Rating | 91 reviews. | 139 reviews. | 14 reviews. | 161 reviews. |
| Price | $139.99 | $119.99 | $129.99 | $155.99 |
| Model | KF09.093 | KF09.077V2 | KF09.109 | KF09.010 |
| Load Capacity | 10kg/22.05lbs | 8kg/17.6lbs | 10kg/22.05lbs | 10kg/22.05lbs |
| Maximum Working Height | 1720mm/67.72" | 1520mm/59.84" | 1600mm/63" | 1680mm/66.14" |
| Minimum Working Height | 530mm/20.87" | 460mm/18.11" | 535mm/21.06" | 445mm/17.52" |
| Folded Length | 420mm/16.54" | 350mm/13.78" | 410mm/16.14" | 500mm/19.69" |
| Weight | 1325g/2.92lbs | 1013g/2.20lbs | 1346g/2.97lbs | 1507g/3.32lbs |
| Materials | Carbon Fiber | Carbon Fiber | Carbon Fiber | Carbon fiber |
| Leg Lock Type | Twist Lock | Twist Lock | Flip Lock | Twist Lock |
| Leg Diameter | 13-25mm/0.51-0.98" | 10-22mm/0.39-0.87" | 16-25mm/0.63-0.98" | 16-25mm/0.63-0.98" |
Amazingly light, compact and stable.
Even though I read the reviews, I was still surprised by the compact size and weight of this tripod. The components are all quality, it's well made. I'm 6'1" (185cm) tall and use a Pentax K1 with battery grip and 24-70mm f2.8 lens. It's a tall, heavy camera setup. My immediate concern was that the tripod will be too short and if I flip the camera vertically the tripod might fall over. To my surprise, fully extended, the camera viewfinder is almost too high for me. This places the lens over the heads of most people if you're in a crowd and most DSLR cameras have a tiltable LCD screen for viewing anyway. Its also quite stable for its weight. Horizontal or vertical, the camera was in no danger of falling. I wouldn't risk it on a windy day though.
On the ballhead there are 3 separate knobs to lock rotation, ball tilt and camera base plate. All very solid. The baseplate also has a really nice bubble level and a compass that will help you align the tripod to North for astrophotography.
If you're a hiker or traveler, I highly recommend this for the price / performance ratio.
01/08/2021
Great height, versitile light weight sturdy tripod! Value for money!
I am a professional architecture and interior photographer and also do videography. Was looking for a tripod that is light yet stable and sturdy (since my equipment can be heavy i.e. tilt shift/telezoom lenses, and expensive). This K&F tripod ticked all the boxes and the price point is perfect.
This tripod has an excellent and smooth quick release system which is important for me especially when moving from location to location during the critical lighting window for outdoor shots.
The tripod's height is impressive and it can be extended with an option to attach additional weight at the centre of gravity point to make it even more secure.
I personally prefer twist locks for the tripod legs, although this is definitely a matter of personal preference. The legs can also be extended outwards using the quick release clip to have an even lower height. This may be particularly helpful when trying to get a lower vantage point for artistic reasons, such as when focussing on the foreground.
Would definitely reccomend as a studio or outdoor tripod or even for events and travel! Carbon fiber tripods are ideal for travelling.
16/06/2021
Great weight!
Good sturdy tripod and like the phone fixture plate, that's class!!
16/05/2022
Great lightweight tripod
I also own a manfrotto tripod but wanted something lighter, this does the trick perfectly but only time will tell how the build quality will last
11/05/2022
Amazing little tripod.
Amazing little tripod for the money. Yes it is not as large or robust as the more expensive alternatives but it's size and weight make it ideal for those places you just can't get the bigger tripods. And it is much easier to carry around with its own bag. The addition of the smart phone adapter is brilliant and the colours make it a good choice for Sony camera enthusiasts.
10/05/2022
Very sturdy, solid, great features
As a professional outdoor photographer, I was hoping this lightweight, multi-function pod would fit into the quiver. It didn't. Instead on maybe the fifth or sixth use, while deep in a heavily forested canyon on the Oregon coast, some silly little ring broke and made it so the leg wouldn't telescope back in. I had to hike all the way out with the thing catching on every vine and branch. When I contacted seller I was hopeful of resolving the issue. Then weeks went by with no further contact. So it would appear I'm left with a bipod, utterly useless to me. shop elsewhere!
03/03/2022
A great travelling / hiking tripod
I've had this for a few weeks and have used it on a couple of hill walks in the Peak District. The tripod is really light yet sturdy and so make it ideal for strapping onto my backpack. The only issue I've had (and it's minor) is that one of the feet nearly came off - it has unscrewed without my knowledge and might have dropped off had I not noticed. I'll probably hit it with some Loctite to stop it happening again.

Overall, highly recommended - I really like K&F products and this is another great item
18/02/2022
It suits my requirements
Ok tripod
18/02/2022
Easy setup
Easy to put together! Attached camera and have already made 2 videos
15/02/2022
Landscape Photography with the K&F Concept SA255C1 Carbon Fibre Tripod (Review)
SA255C1 Vlog Tripod SEE THE UNSEEN
How to assemble center column
Tripod General
Load Capacity
10kg/22.05lbs
Maximum Working Height
1720mm/67.72"
Max Height without Center Column
1300mm/51.18"
Minimum Working Height
530mm/20.87"
Folded Length
420mm/16.54"
Weight
1325g/2.92lbs
Materials
Carbon Fiber
Tripod Head
Ball Head
Color
Orange/Black
Bubble Level
Tripod Legs
Leg Lock Type
Twist Lock
Leg Positions
Independent Leg Spread
Leg Sections
5
Leg Diameter
13-25mm/0.51-0.98"
Feet Features
Can be reversed 180° and folded
Tripod Center Column
Center Column Features
Center Column Inversion
Center Column Sections
2