Carbon Fiber Camera Tripod Compact Tripod 67"/170cm 10kg/22lbs Load Capacity with Metal Ball Head,Quick Release Plate,Detachable Monopod D255C4+BH-28L (SA255C1)
Terms
Coupon Terms
Terms and Conditions:
Coupons are valid for a limited time only. Kentfaith reserves the right to modify or cancel coupons at any time.
You must purchase the qualifying items added to your Cart when the coupon is in effect for the discount to apply.
If you later modify or cancel the subscription or delivery date for the qualifying item, the discount will not apply.
The coupon applies only to qualifying items displaying the coupon offer.
If you buy more than one item from the same coupon, the maximum discount amount of the coupon will be equal to either the percentage discount off or the face value of the coupon on one eligible item. The coupon may only be used on www.kentfaith.com.
The promotion is limited to one coupon per customer.
If you return any of the items purchased with a coupon, the coupon discount or value may be subtracted from the return credit.
To
United States
Expedited Shipping
3-5
business days
K&F Concept SA255C1 Carbon Fiber Tripod Top Seller. Free Shipping Worldwide. 30 Day No Reason Return. 67"/ 22lbs Camera Tripod features Lightweight, Wide Compatibility, Convenient&Flexible, Monopod Mode.

KF09.093

SKU:

KF09.093

132.99

https://www.kentfaith.com/KF09.093_kf-sa255c1-67inch-carbon-professional-tripod-monopod-with-360-degree-ball-head
Description
* 【Lightweight & Portable】For Landscape Photography, D255C4+BH-28L (old model SA255C1) Carbon Fiber Tripod tube made of quality Carbon Fiber weighs only 2.93lbs, measures 16.53" long when folded, super lightweight, and compact with a loading capacity of up to 22.04lbs / 10kg, making it ideal for indoor and outdoor photography.
* 【High Compatibility】The quick release 1/4"; screw of the carbon fiber tripod is suitable for most cameras, DSLR cameras, projectors, telescopes, etc; Your phone can be connected via an extra phone mount as well.
* 【Convenient & Flexible】D255C4+BH-28L Carbon Fiber Tripod features a 25mm tube diameter and 5-section legs with spiral type locking knob, which allow you to adjust the working height from 20.47"to 68"; in seconds; this Carbon Fiber Tripod legs can be adjusted in three levels of opening angle to stabilize on varying grounds and incline levels.
* 【Monopod Mode】D255C4+BH-28L Carbon Fiber Tripod can be converted to a monopod in seconds: Loosen the knob and Pull out the center column that the center column can be used as a monopod.
* 【Shooting Flexible】K&F Concept D255C4+BH-28L Carbon Fiber Tripods are available in a variety of shooting styles, specially designed ball-head can rotate 360° and inverted shooting allows you to shoot static landscapes from a low angle to achieve a marvelous shooting experience.
Shipping
To
United States
Expedited Shipping
3-5
business days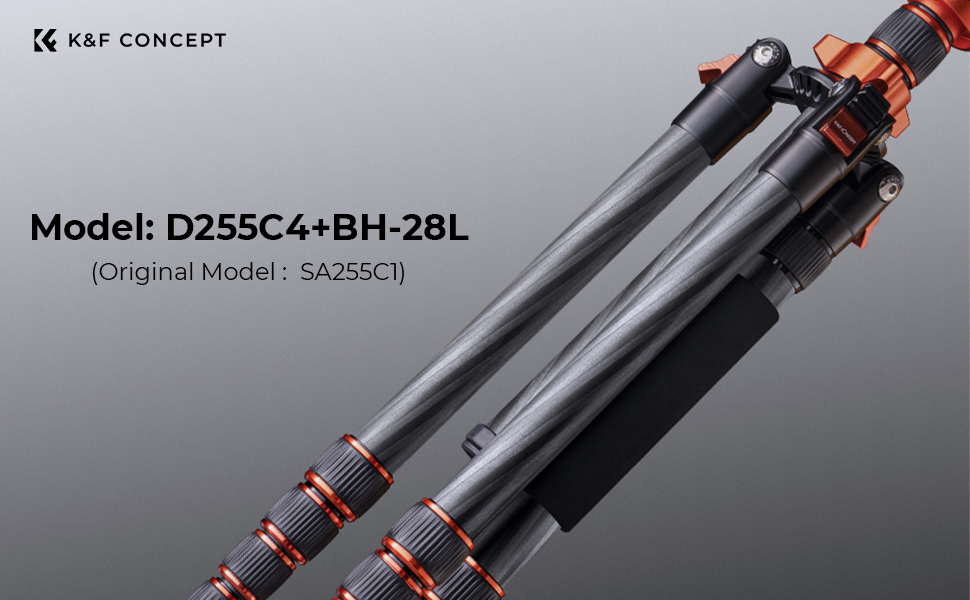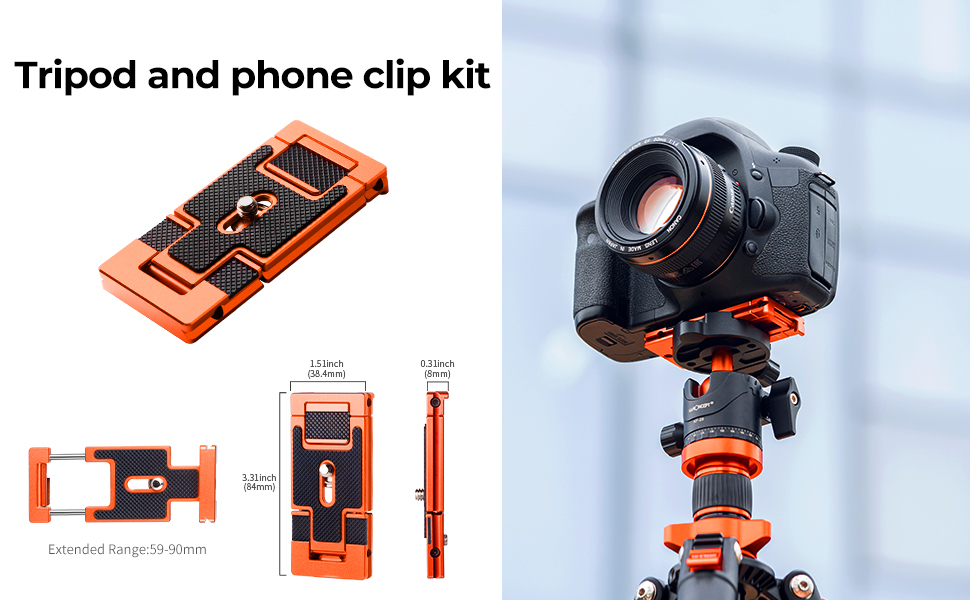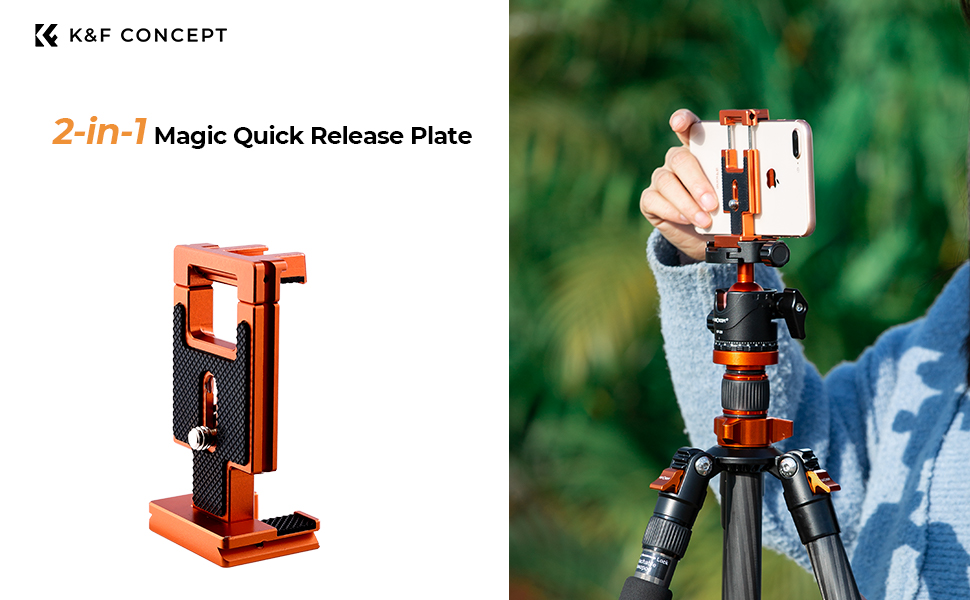 K&F Concept 68" Carbon Fiber Camera Tripod, Professional Lightweight Compact Tripod
Compact and Lightweight
---
The travel tripod is foldable,the folded size is 16.53"/42cm, allows the tripod to easily enter hand luggage or backpack, and carry on the plane. It only weighs 2.93lbs/1.33kg and the load capacity is 22.04lbs/10kg. Lowest Angle Shooting
---
Lowest angle shooting, macro shooting, and special photography can be achieved through inverted central axis. Stability Improvement
---
Comes with a hook which can hang sandbag or other heavy objects to increase the stability.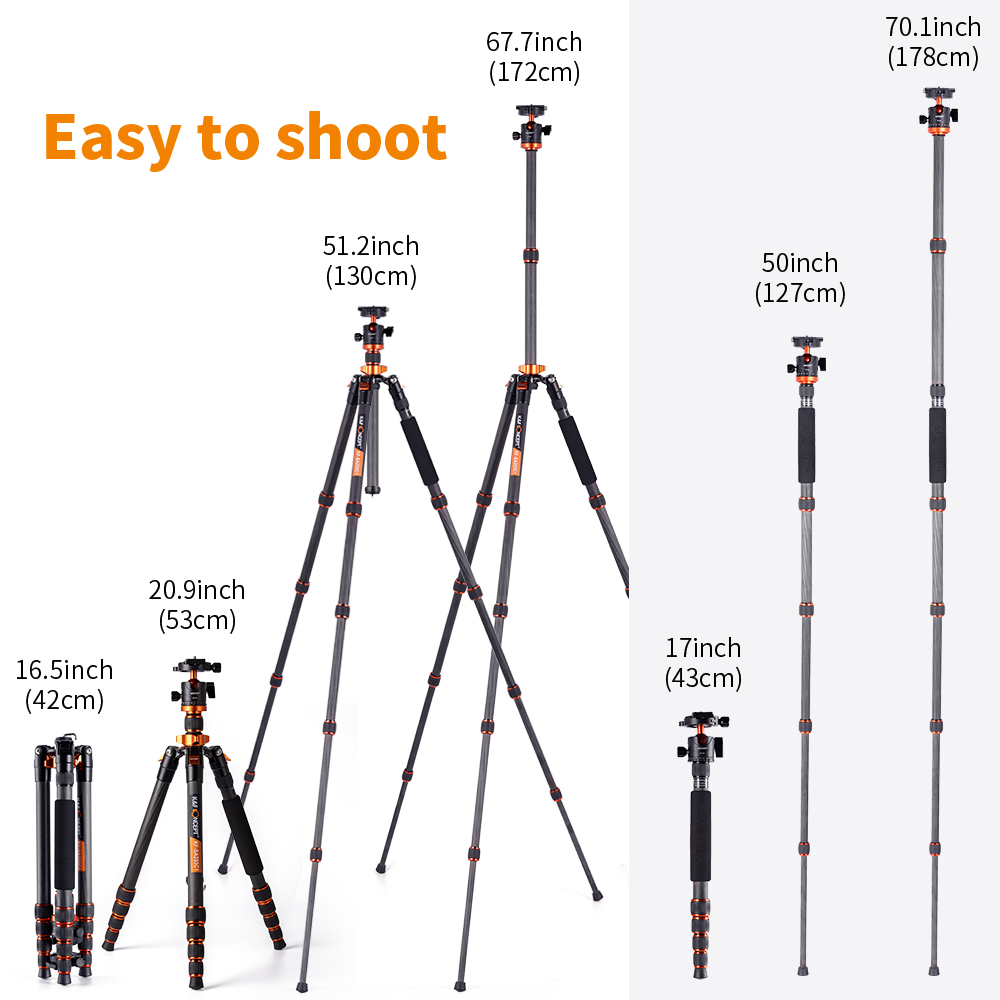 Detachable Monopod
This tripod can be quickly transform into a monopod,the Max monopod height up to 70.1 inch.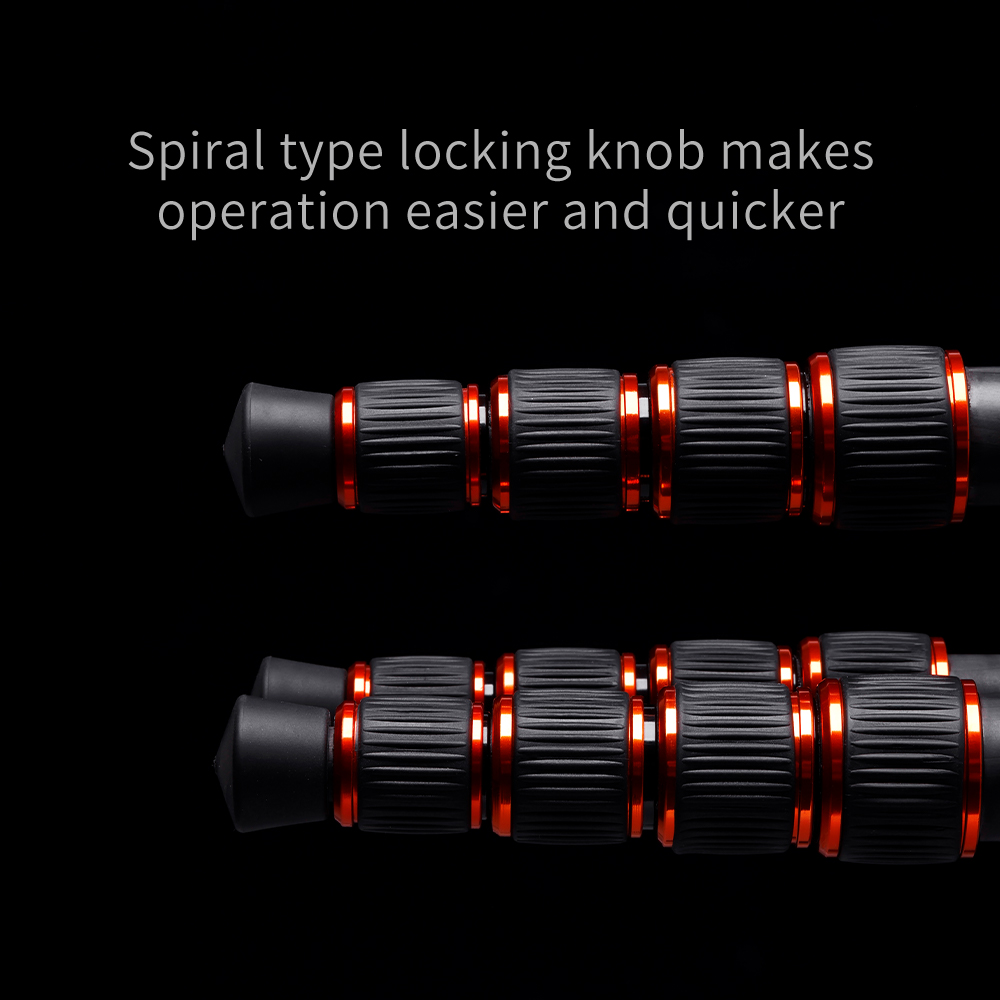 Metal Spiral Locking
The metal spiral locking knob on the leg is better for locking strength. Release clockwise and tighten counterclockwise.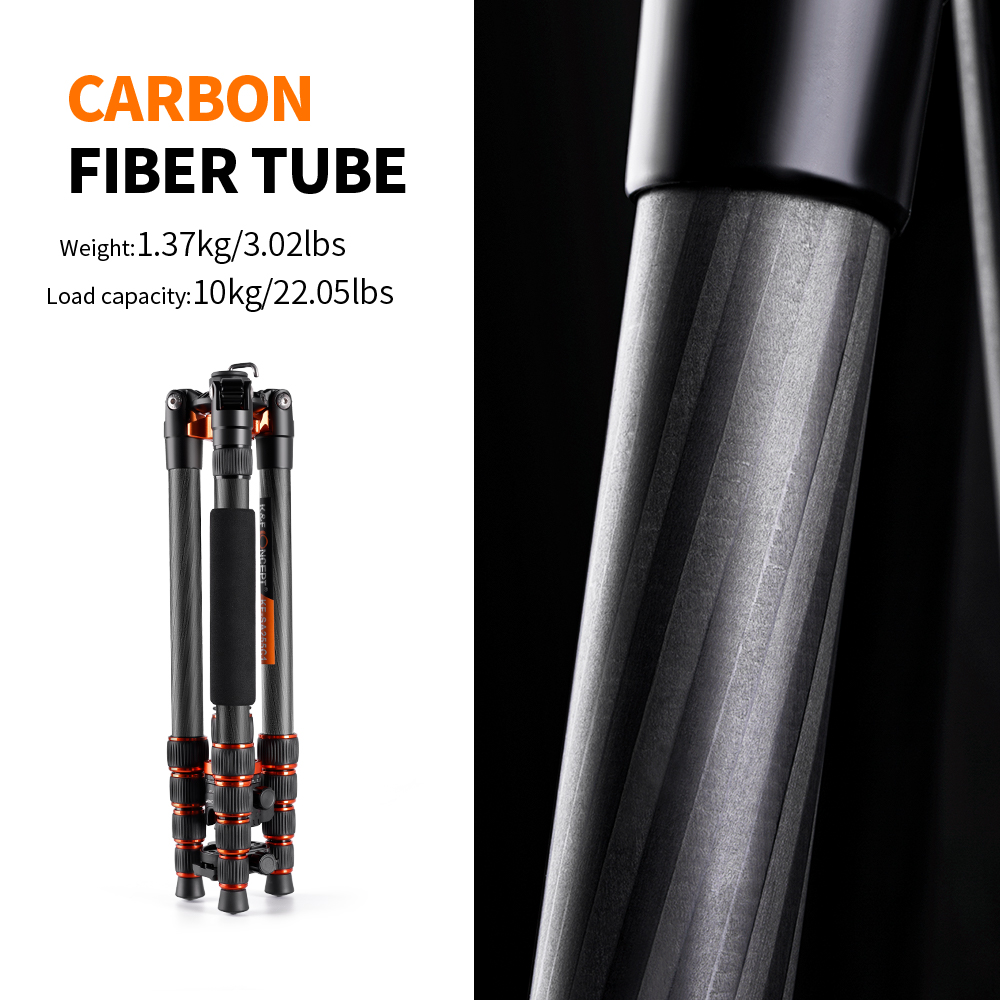 Quality Carbon Fiber
Use high-quality carbon fiber materials to reduce item weight while maintaining strong stability.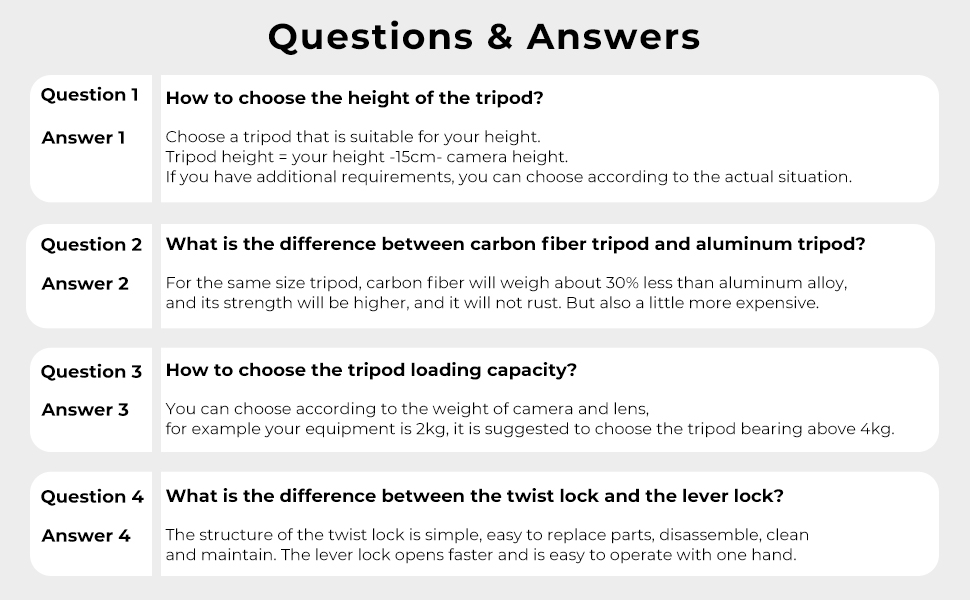 Rating

66 reviews.

102 reviews.

12 reviews.

63 reviews.
Price

$199.99

$132.99

$195.99

$113.99

$259.99

$125.99

$239.99

$129.99

Model
KF09.093
KF09.077V2
KF09.109
KF09.010

Load Capacity

10kg/22.05lbs
8kg/17.6lbs
10kg/22.05lbs
10kg/22.05lbs

Maximum Working Height

1720mm/67.72"
1520mm/59.84"
1600mm/63"
1680mm/66.14"

Minimum Working Height

530mm/20.87"
460mm/18.11"
535mm/21.06"
445mm/17.52"

Folded Length

420mm/16.54"
350mm/13.78"
410mm/16.14"
500mm/19.69"

Weight

1325g/2.92lbs
1013g/2.20lbs
1346g/2.97lbs
1507g/3.32lbs

Materials

Carbon Fiber
Carbon Fiber
Carbon Fiber
Carbon fiber

Leg Lock Type

Twist Lock
Twist Lock
Flip Lock
Twist Lock

Leg Diameter

13-25mm/0.51-0.98"
10-22mm/0.39-0.87"
16-25mm/0.63-0.98"
16-25mm/0.63-0.98"
All Reviews
Image

All Star

5 Star

4 Star

3 Star

2 Star

1 Star
Large, versatile, lightweight and sturdy tripod! Value for money!
I am a professional architectural and interior photographer and also do videography. I was looking for a lightweight but stable and sturdy tripod (because my equipment can be heavy, ie tilt and telephoto lenses, and expensive). This K&F tripod ticked all the boxes and the price is spot on.

This tripod has an excellent quick release system, which is important to me, especially when moving from location to location during the critical lighting window for outdoor shots.

The height of the tripod is impressive and it can be extended with an option to attach additional weight to the center of gravity to make it even safer.



Personally, I prefer twist locks for tripod legs, although that's definitely a matter of personal preference. The legs can also be extended outwards using the quick release clip to have an even lower height. This can be particularly useful when trying to achieve a lower vantage point for artistic reasons, such as when focusing on the foreground.

Highly recommend as a studio or outdoor tripod or even for events and travel! Carbon fiber tripods are ideal for travel.
14/02/2023
Ligero, firme y de calidad
Es todo lo que esperaba. Es ligero y pequeño. Se siente y se ve resistente y durardero. Las gomas de las patas estan perfectas para evitar que resbale, son lo suficientemente duras para que no se desgasten y lo suficientemente blandas para que tengan buen agarre. El cabezal se siente firme y de buena construcción. Los tubos se ven y se sienten firmes.
Tuve un problema con la primera entrega, me enviaron la caja del modelo SA255C, pero dentro venia el SA254 (aluminio), el servicio de devolucion de amazon funciono muy rapido y sin ningun problema. Siempre me ayudaron y siguieron el proceso completo tanto de devolucion como el de reenvío.
11/02/2023
A good value for a travel tripod
Bought this as a "throw-away" tripod for my last journey to eastern Europe with the idea that if needed, it could be left behind. It's cheaper than my regular carbon-fiber tripod though not quite as sturdy but a lot lower cost. It comes complete with a smart-phone clamp and quick-release place and folds up quite nicely. Even comes with the proper wrenches. However, the feet unscrew easily and one must constantly make sure they down come out. There are a few other little things that easily loosen but they are minor and if you are aware, you shouldn't have issues.One thing I like is that this tripod extends a little higher than my other small travel sticks but, like other than my larger tripod, there's no easy way to get the camera near to the ground other than upside-down which looks great in an ad, but has always been a PIA in practices. IMO, when the legs can go nearly to the ground, the column should be able to be split so that one doesn't have to carry a short center column nor try to work the camera glass-awkward.
02/02/2023
Light weight
Great in general - However the head bolt is stuck in to the head and not the tripod so mounting another head is out of the question without obtaining a secondary bolt.
01/02/2023
Very good with 2 small weaknesses
I bought the carbon tripod because I finally wanted a ball head :-). The tripod is incredibly light and remains very stable. The screw caps can be easily opened and then securely fastened again. The camera sits perfectly on the ball joint and is then super adjustable. The fixing screws are easy to move and yet very easy to fix.

When the camera is attached to the ball head mount with the plate, the spirit level is on the side of the screen, where it suits me. BUT the wheel to fix the plate is then on the side of the lens. With my Sigma, however, the rotary knob is almost on the lens. There are only tenths to hundredths between the rotary knob and the lens.

Otherwise the tripod is a recommendation:

- Weight
- stability
- size
- flexibility
- rapid deployment
29/01/2023
I HAVE NOT RECEIVED THIS PRODUCT YET YOUR SHIPPING PARTNER HAS UPLOADED THIS AS DELIVERED
I have not yet received this product yet your shipping partner has updated the product has been delivered. To add to the troubles, the contact information for the shipping partner is unavailable and I have not received any phone calls or messages regarding the same
11/12/2022
Mrs
Absolutely love my new tripod! I have just started out in photography and a carbon fibre tripod was suggested to me by a professional photographer. So glad I listened to her advice and bought this one. Very handy as folds up into a carry bag and is lightweight.
08/12/2022
Fast deliver
Fast delivery, good sound quality, good shopping experience
10/10/2022
This tripod...
Checked all my boxes and did not disappoint me. I am happy I spent a little more to get this unit.
04/09/2022
Great tripod
Compact and easy to use
28/08/2022
Landscape Photography with the K&F Concept SA255C1 Carbon Fibre Tripod (Review)
SA255C1 Vlog Tripod SEE THE UNSEEN
How to assemble center column
Tripod General
Load Capacity
10kg/22.05lbs
Maximum Working Height
1720mm/67.72"
Max Height without Center Column
1300mm/51.18"
Minimum Working Height
530mm/20.87"
Folded Length
420mm/16.54"
Weight
1325g/2.92lbs
Materials
Carbon Fiber
Tripod Head
Ball Head
Color
Orange/Black
Bubble Level
Tripod Legs
Leg Lock Type
Twist Lock
Leg Positions
Independent Leg Spread
Leg Sections
5
Leg Diameter
13-25mm/0.51-0.98"
Feet Features
Can be reversed 180° and folded
Tripod Center Column
Center Column Features
Center Column Inversion
Center Column Sections
2