67"/1.7m Carbon Fiber Tripod 22lbs Load Lightweight Travel camera Tripod with Phone Mount for SLR DSLR, D255C4+BH-28L (SA255C1)
Terms
Terms and Conditions:
Coupons are valid for a limited time only. Kentfaith reserves the right to modify or cancel coupons at any time.
You must purchase the qualifying items added to your Cart when the coupon is in effect for the discount to apply.
If you later modify or cancel the subscription or delivery date for the qualifying item, the discount will not apply.
The coupon applies only to qualifying items displaying the coupon offer.
If you buy more than one item from the same coupon, the maximum discount amount of the coupon will be equal to either the percentage discount off or the face value of the coupon on one eligible item. The coupon may only be used on www.kentfaith.com.
The promotion is limited to one coupon per customer.
If you return any of the items purchased with a coupon, the coupon discount or value may be subtracted from the return credit.
To
United States
Expedited Shipping
3-5
business days
K&F Concept SA255C1 Carbon Fiber Tripod Top Seller. Free Shipping Worldwide. 30 Day No Reason Return. 67"/ 22lbs Camera Tripod features Lightweight, Wide Compatibility, Convenient&Flexible, Monopod Mode.

KF09.093

SKU:

KF09.093

148.99

https://www.kentfaith.com/KF09.093_kf-sa255c1-67inch-carbon-professional-tripod-monopod-with-360-degree-ball-head
Description
* 【Lightweight & Portable】For Landscape Photography, D255C4+BH-28L (old model SA255C1) Carbon Fiber Tripod tube made of quality Carbon Fiber weighs only 2.93lbs, measures 16.53" long when folded, super lightweight, and compact with a loading capacity of up to 22.04lbs / 10kg, making it ideal for indoor and outdoor photography.
* 【High Compatibility】The quick release 1/4"; screw of the carbon fiber tripod is suitable for most cameras, DSLR cameras, projectors, telescopes, etc; Your phone can be connected via an extra phone mount as well.
* 【Convenient & Flexible】D255C4+BH-28L Carbon Fiber Tripod features a 25mm tube diameter and 5-section legs with spiral type locking knob, which allow you to adjust the working height from 20.47"to 68"; in seconds; this Carbon Fiber Tripod legs can be adjusted in three levels of opening angle to stabilize on varying grounds and incline levels.
* 【Monopod Mode】D255C4+BH-28L Carbon Fiber Tripod can be converted to a monopod in seconds: Loosen the knob and Pull out the center column that the center column can be used as a monopod.
* 【Shooting Flexible】K&F Concept D255C4+BH-28L Carbon Fiber Tripods are available in a variety of shooting styles, specially designed ball-head can rotate 360° and inverted shooting allows you to shoot static landscapes from a low angle to achieve a marvelous shooting experience.
Shipping
To
United States
Expedited Shipping
3-5
business days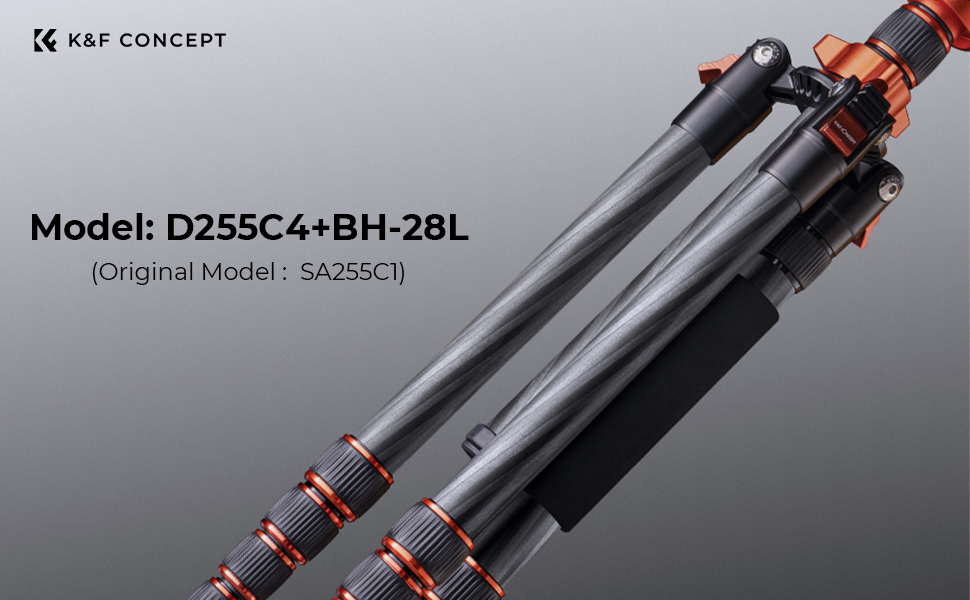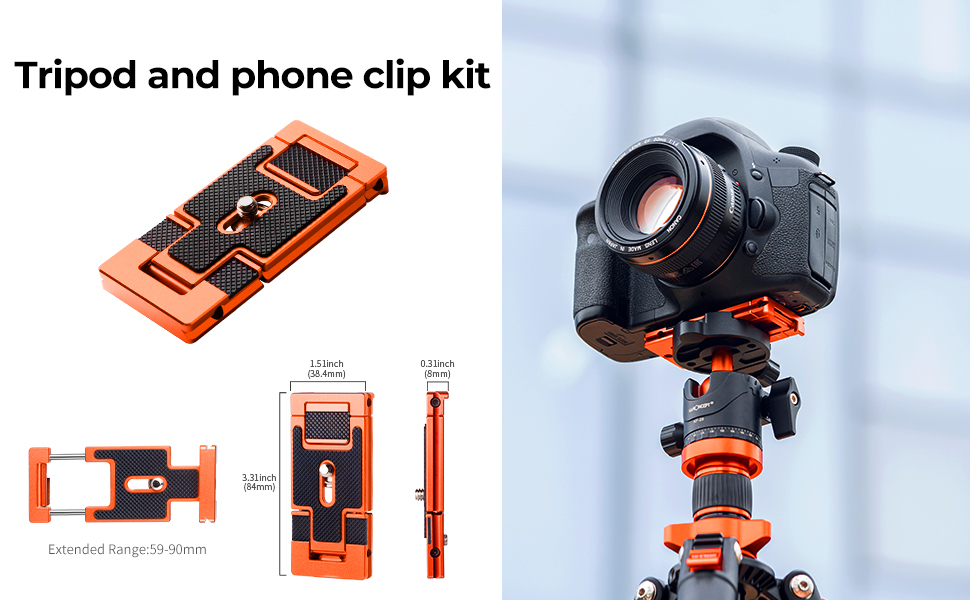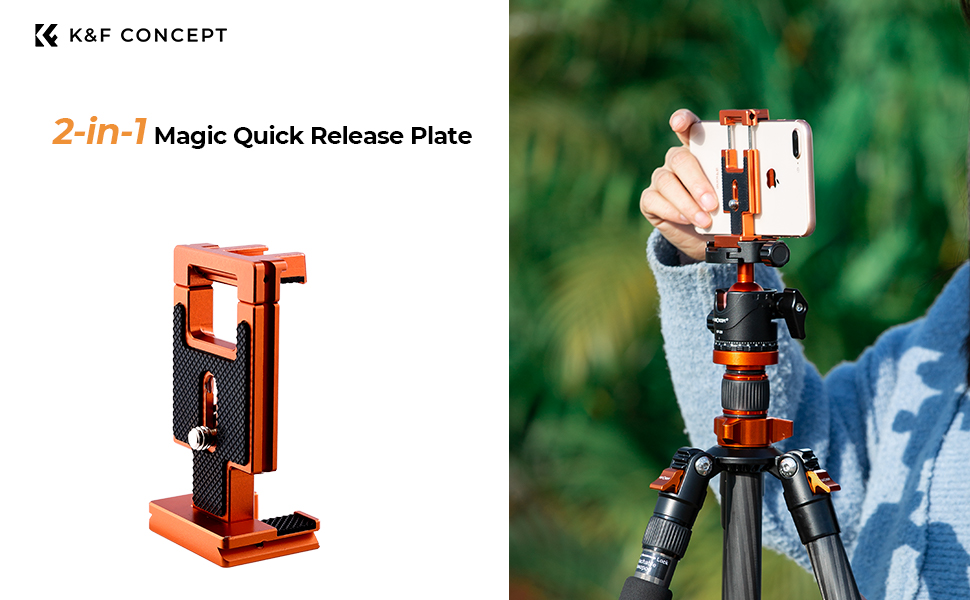 K&F Concept 68" Carbon Fiber Camera Tripod, Professional Lightweight Compact Tripod
Compact and Lightweight
---
The travel tripod is foldable,the folded size is 16.53"/42cm, allows the tripod to easily enter hand luggage or backpack, and carry on the plane. It only weighs 2.93lbs/1.33kg and the load capacity is 22.04lbs/10kg. Lowest Angle Shooting
---
Lowest angle shooting, macro shooting, and special photography can be achieved through inverted central axis. Stability Improvement
---
Comes with a hook which can hang sandbag or other heavy objects to increase the stability.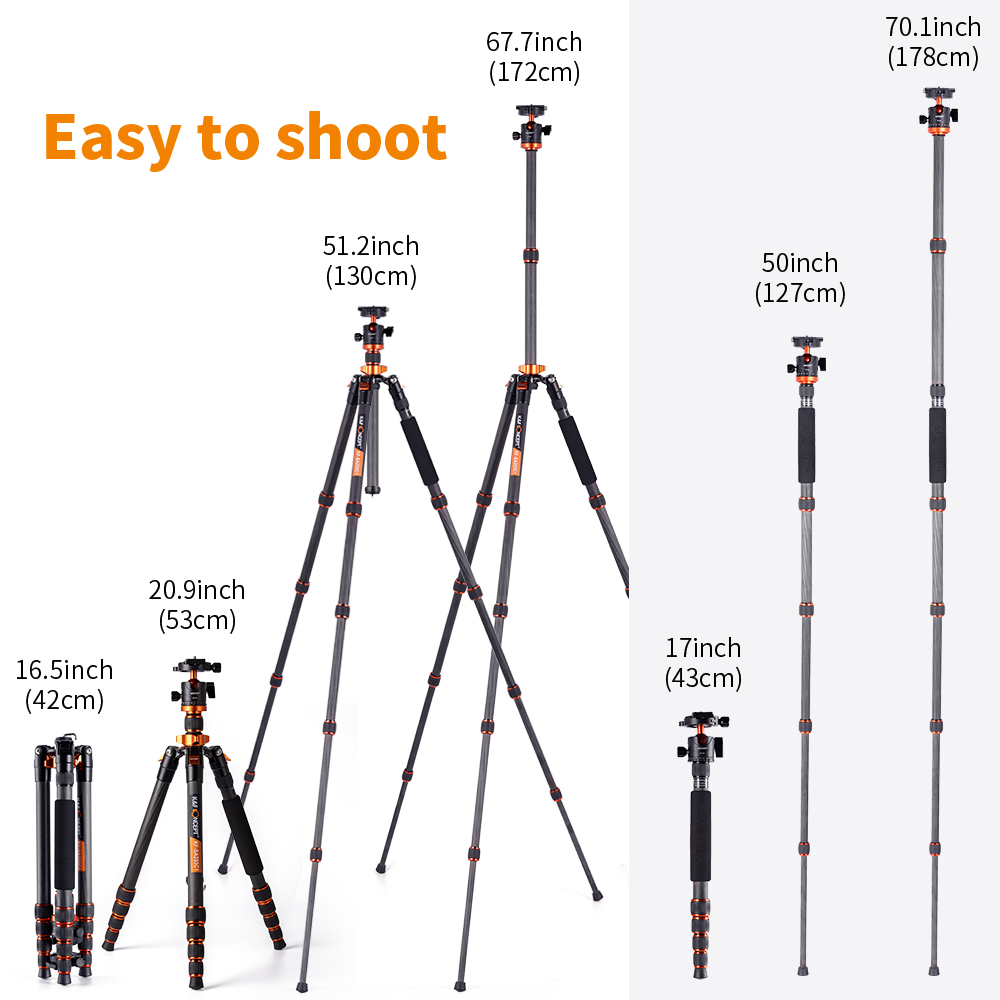 Detachable Monopod
This tripod can be quickly transform into a monopod,the Max monopod height up to 70.1 inch.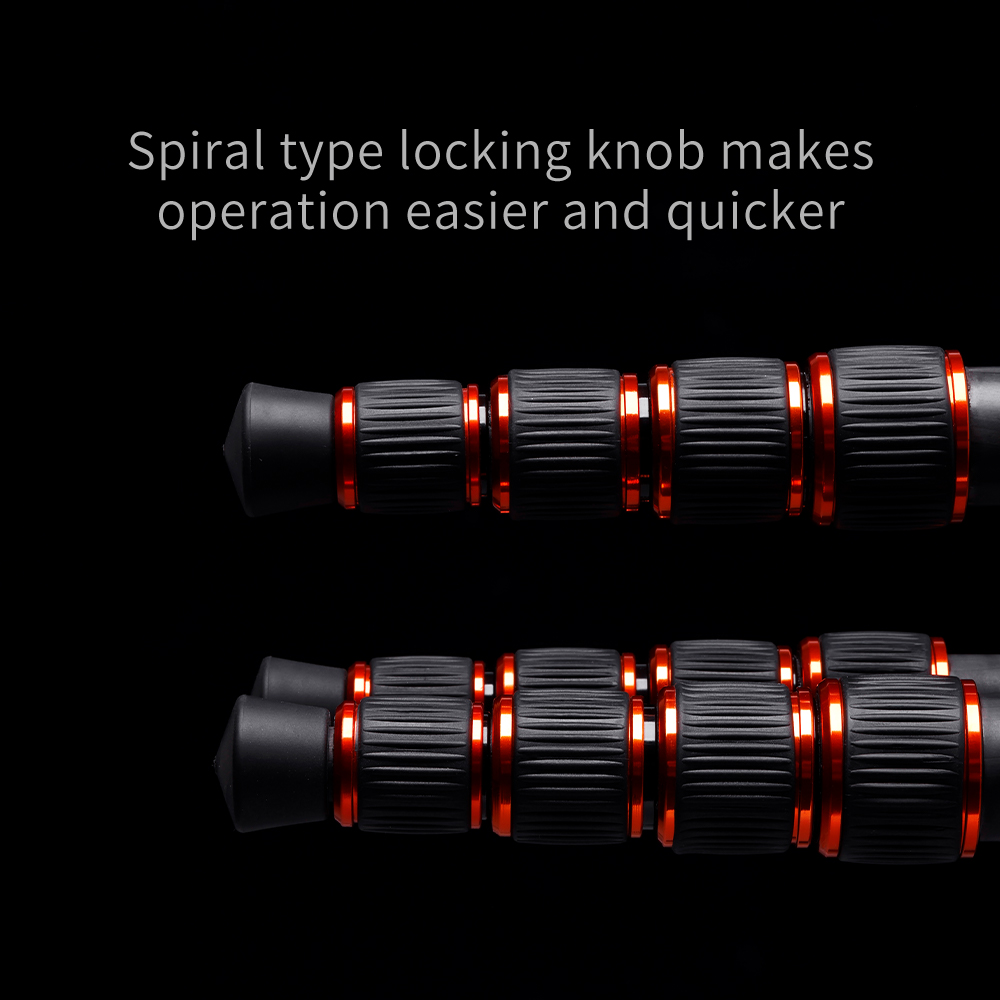 Metal Spiral Locking
The metal spiral locking knob on the leg is better for locking strength. Release clockwise and tighten counterclockwise.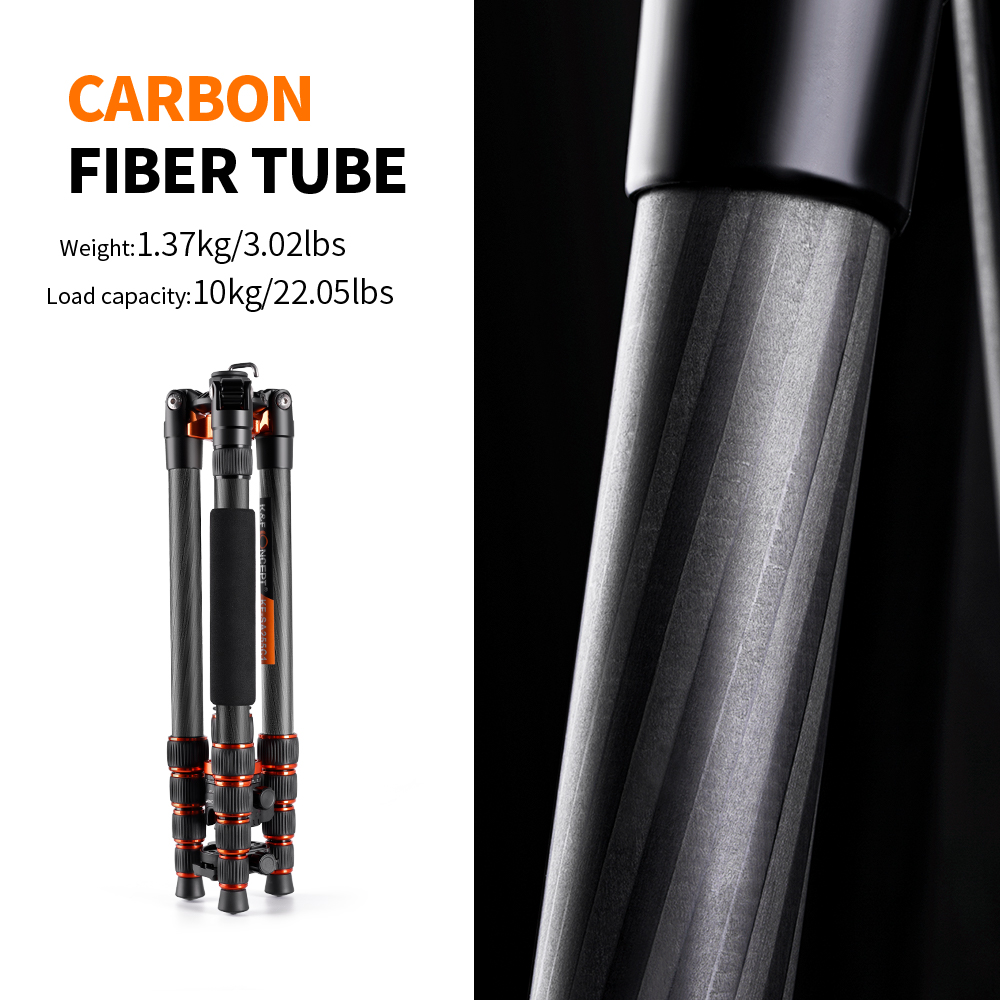 Quality Carbon Fiber
Use high-quality carbon fiber materials to reduce item weight while maintaining strong stability.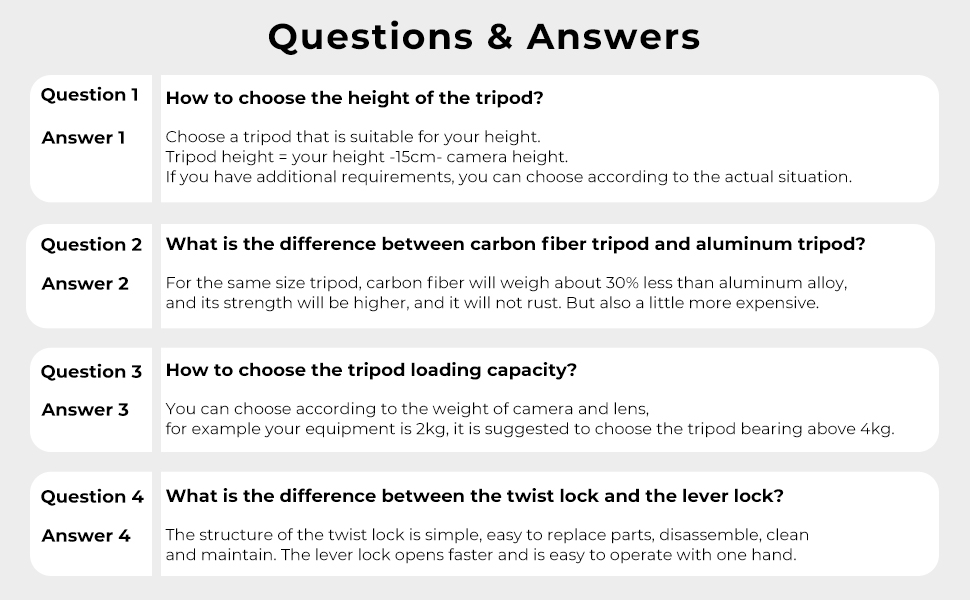 Rating

75 reviews.

123 reviews.

25 reviews.
Price

$199.99

$148.99

$189.99

$115.99

$259.99

$129.99

Model
KF09.093
KF09.077V2
KF09.109

Load Capacity

10kg/22.05lbs
8kg/17.6lbs
10kg/22.05lbs

Maximum Working Height

1720mm/67.72"
1520mm/59.84"
1600mm/63"

Minimum Working Height

530mm/20.87"
460mm/18.11"
535mm/21.06"

Folded Length

420mm/16.54"
350mm/13.78"
410mm/16.14"

Weight

1325g/2.92lbs
1013g/2.20lbs
1346g/2.97lbs

Materials

Carbon Fiber
Carbon Fiber
Carbon Fiber

Leg Lock Type

Twist Lock
Twist Lock
Flip Lock

Leg Diameter

13-25mm/0.51-0.98"
10-22mm/0.39-0.87"
16-25mm/0.63-0.98"
All Reviews
Image

All Star

5 Star

4 Star

3 Star

2 Star

1 Star
Very good with 2 small weaknesses
I bought the carbon tripod because I finally wanted a ball head :-). The tripod is incredibly light and remains very stable. The screw caps can be easily opened and then securely fastened again. The camera sits perfectly on the ball joint and is then super adjustable. The fixing screws are easy to move and yet very easy to fix.

When the camera is attached to the ball head mount with the plate, the spirit level is on the side of the screen, where it suits me. BUT the wheel to fix the plate is then on the side of the lens. With my Sigma, however, the rotary knob is almost on the lens. There are only tenths to hundredths between the rotary knob and the lens.

Otherwise the tripod is a recommendation:

- Weight
- stability
- size
- flexibility
- rapid deployment
29/08/2023
Large, versatile, lightweight and sturdy tripod! Value for money!
I am a professional architectural and interior photographer and also do videography. I was looking for a lightweight but stable and sturdy tripod (because my equipment can be heavy, ie tilt and telephoto lenses, and expensive). This K&F tripod ticked all the boxes and the price is spot on.

This tripod has an excellent quick release system, which is important to me, especially when moving from location to location during the critical lighting window for outdoor shots.

The height of the tripod is impressive and it can be extended with an option to attach additional weight to the center of gravity to make it even safer.



Personally, I prefer twist locks for tripod legs, although that's definitely a matter of personal preference. The legs can also be extended outwards using the quick release clip to have an even lower height. This can be particularly useful when trying to achieve a lower vantage point for artistic reasons, such as when focusing on the foreground.

Highly recommend as a studio or outdoor tripod or even for events and travel! Carbon fiber tripods are ideal for travel.
14/08/2023
Heavy, but sturdy
Overall it is a great tripod and would recommend it. This is my second purchase of this brand and this time around it seems the legs were stuck. Two of the three legs required me to forcibly extend the sections. It was like the tightening part was stuck to the portion below, not allowing the leg to extend. Once I pulled out the whole section, moved the tightening ring up, it worked fine.
20/07/2023
Great lightweight carbon tripod for a steal.
Very nice super light carbon tripod for a great price. Everything works as it should and is a bargain at $150. Just don't expect it to be super secure in high wind. The additional Arca cell phone clamp has saved the day a couple times. I'm super happy with my purchase.
18/07/2023
lightweight and very versatile tripod
I am very satisfied with the K&F Concept 172 cm carbon tripod. It convinces in all its aspects. Even the travel bag is a very high quality and durable material. The fabric can even be cleaned with a damp cloth to remove dirt.
The tripod itself is ultra-compact and super lightweight. The tripod legs fold up completely so they reduce to a minimum overall length for storage and transport.
On the other hand, the telescopic elements can be extended to an incredible height of over 1.70 m.
The stand is very stable and can be adjusted accordingly on all three legs. The orientation of the tripod in the scales can be easily seen via an integrated display.
The ball joint proves to be extremely practical and is easily adjustable and stable in place.
The quick release plates are excellent. Whether for a camera or a high-quality smartphone. The tripod is well suited to both and ready to use in no time.
The tripod is excellent in price and performance and worth every penny.
16/07/2023
Excellent Product
Well-built and far less money than so-called name brands … although K&F is becoming a name brand itself. I have never been disappointed with any bearing the K&F name. Recommend.
16/07/2023
Surpassed all expectations!!
Great quality, easy adjustments, light weight, and works with a variety of photography equipment.
12/07/2023
Great tripod
I could not spend a ton of money for a tripod, but I wanted something that would hold up and that was fairly lite. So far this has fit the bill really nice. It is lite and sturdy when I am doing my landscape photography. It is easy to use and packs up nice and small for attaching to my Mindshift Photocross 10 sling bag. For someone on a budget that can't spend $200+ on a tripod, this will do the trick very well.
10/07/2023
Love it!
Amazing weight, sturdiness and delivery. Worth the price!
08/07/2023
Good deal
This thing works great and doesn't weigh a ton.
Good value for the money.
06/07/2023
Landscape Photography with the K&F Concept SA255C1 Carbon Fibre Tripod (Review)
SA255C1 Vlog Tripod SEE THE UNSEEN
How to assemble center column
Tripod General
Load Capacity
10kg/22.05lbs
Maximum Working Height
1720mm/67.72"
Max Height without Center Column
1300mm/51.18"
Minimum Working Height
530mm/20.87"
Folded Length
420mm/16.54"
Weight
1325g/2.92lbs
Materials
Carbon Fiber
Tripod Head
Ball Head
Color
Orange/Black
Bubble Level
Tripod Legs
Leg Lock Type
Twist Lock
Leg Positions
Independent Leg Spread
Leg Sections
5
Leg Diameter
13-25mm/0.51-0.98"
Feet Features
Can be reversed 180° and folded
Tripod Center Column
Center Column Features
Center Column Inversion
Center Column Sections
2