Carbon Fiber Vlog Phone Tripod SLR DSLR Camera Tripod with Phone Mount 67"/1.7m 22lbs Load Lightweight Professional Travel Tripod, D255C4+BH-28L (old model SA255C1)
Free shipping to eligible country
Brand:

K&F Concept

ONLY $138.99 Carbon Fiber Tripod. Free Shipping Worldwide. 30 Day No Reason Return. K&F Concept 67" 22lbs Camera Tripod features Lightweight, Wide Compatibility, Convenient&Flexible, Monopod Mode.

KF09.093

SKU:

KF09.093

139.99

https://www.kentfaith.com/KF09.093_kf-sa255c1-67inch-carbon-professional-tripod-monopod-with-360-degree-ball-head
Description
* 【Lightweight & Portable】Tripod tube made of quality Carbon Fiber weighs only 2.93lbs, measures 16.53" long when folded, super lightweight, and compact with a loading capacity of up to 22.04lbs / 10kg, making it ideal for indoor and outdoor photography.
* 【High Compatibility】The quick release 1/4" screw is suitable for most cameras, DSLR cameras, a projector, and telescope, etc; Your phone can be connected via an extra phone mount as well.
* 【Convenient & Flexible】25mm tube diameter, 5-section legs with spiral type locking knob allows you to adjust the working height from 20.47"to 68" in seconds; Tripod legs can be adjusted in three levels of opening angle to stabilize on varying grounds and incline levels.
* 【Monopod Mode】Can be converted to a monopod in seconds: Loosen the knob and Pull out the center column that the center column can be used as a monopod.
* 【Shooting Flexible】Tripods are available in a variety of shooting styles, specially designed ball-head can rotate 360° and inverted shooting allows you to shot static landscapes from a low angle to achieve a marvelous shooting experience.
Carbon Fiber Tripod
67" Portable Carbon Fiber Travel Tripod 22lbs Load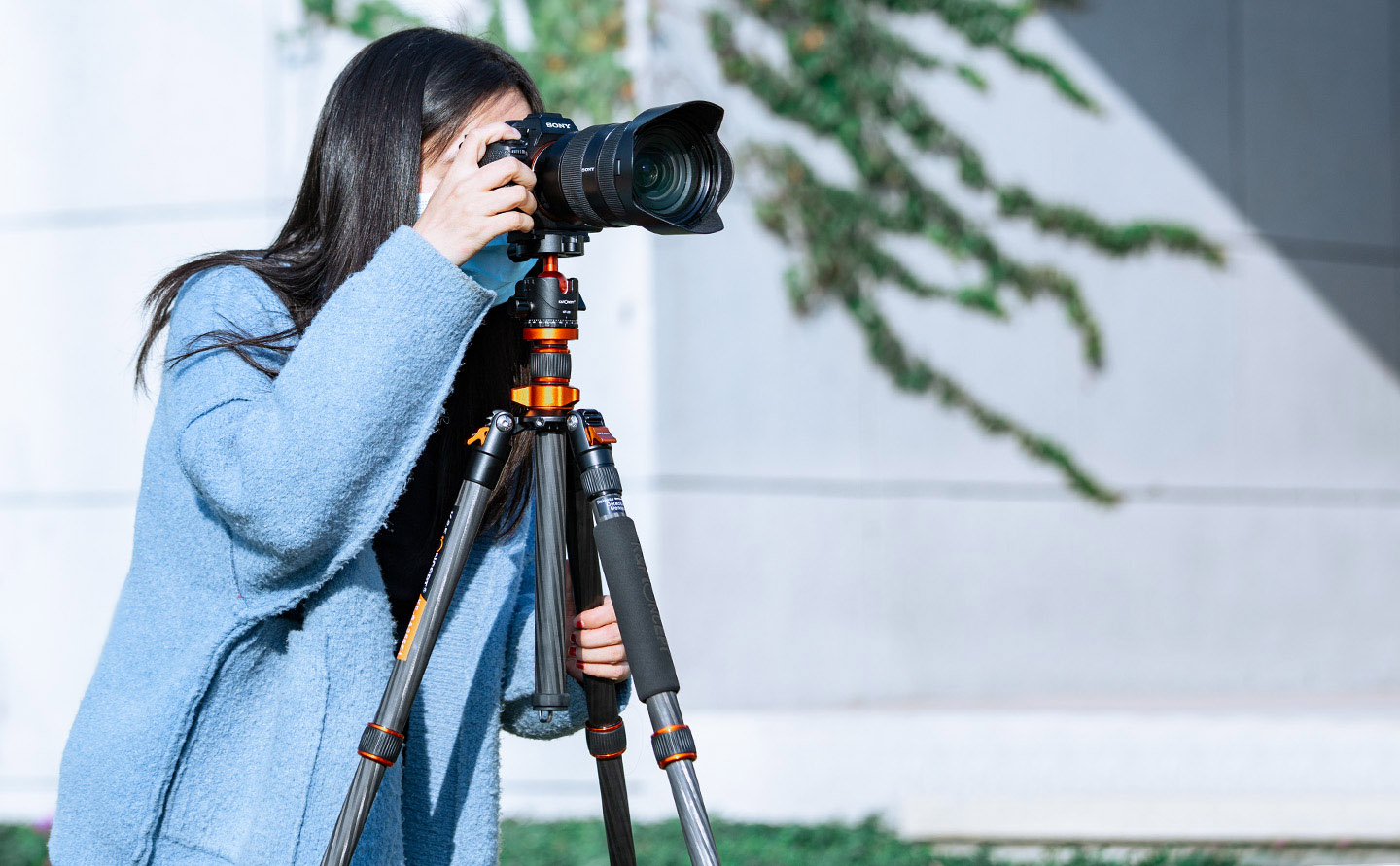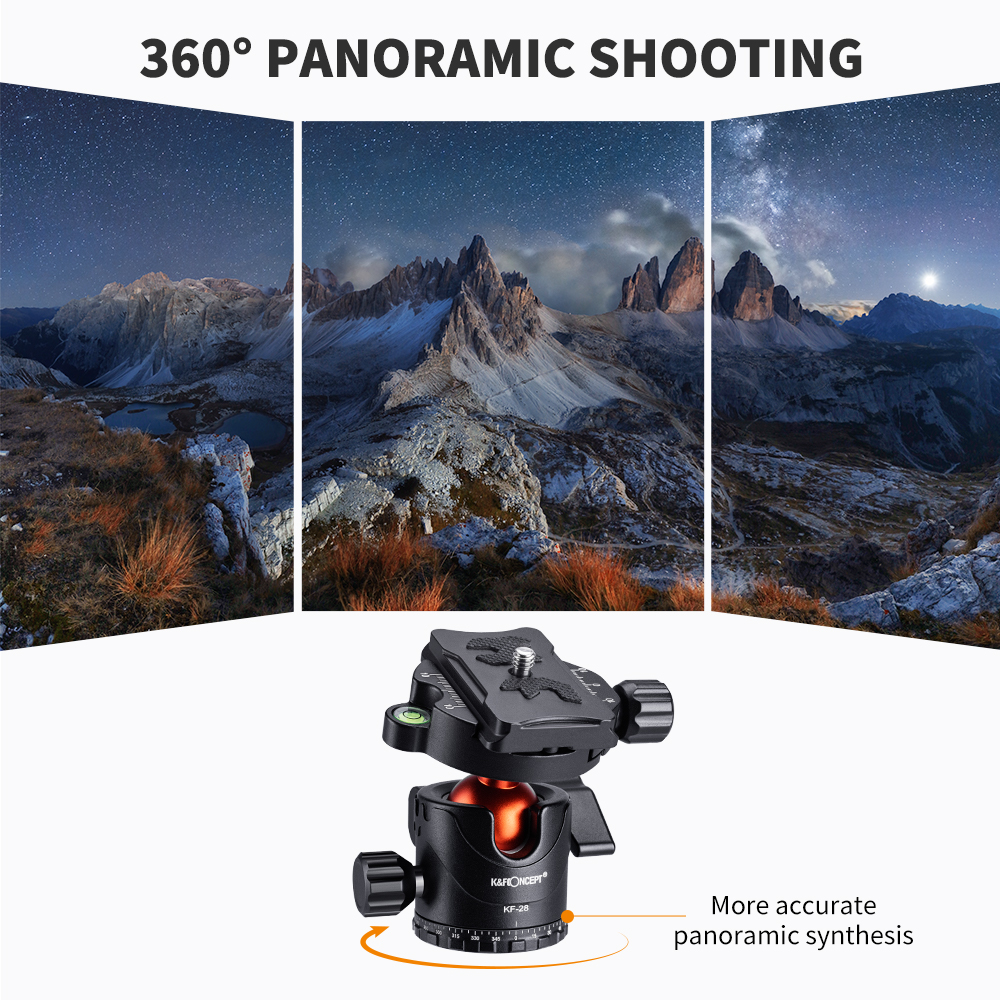 360° Panoramic Shooting
Ball-head can rotate 360° and get free angles, allowing you to get the perfect shot and amazing panorama every time.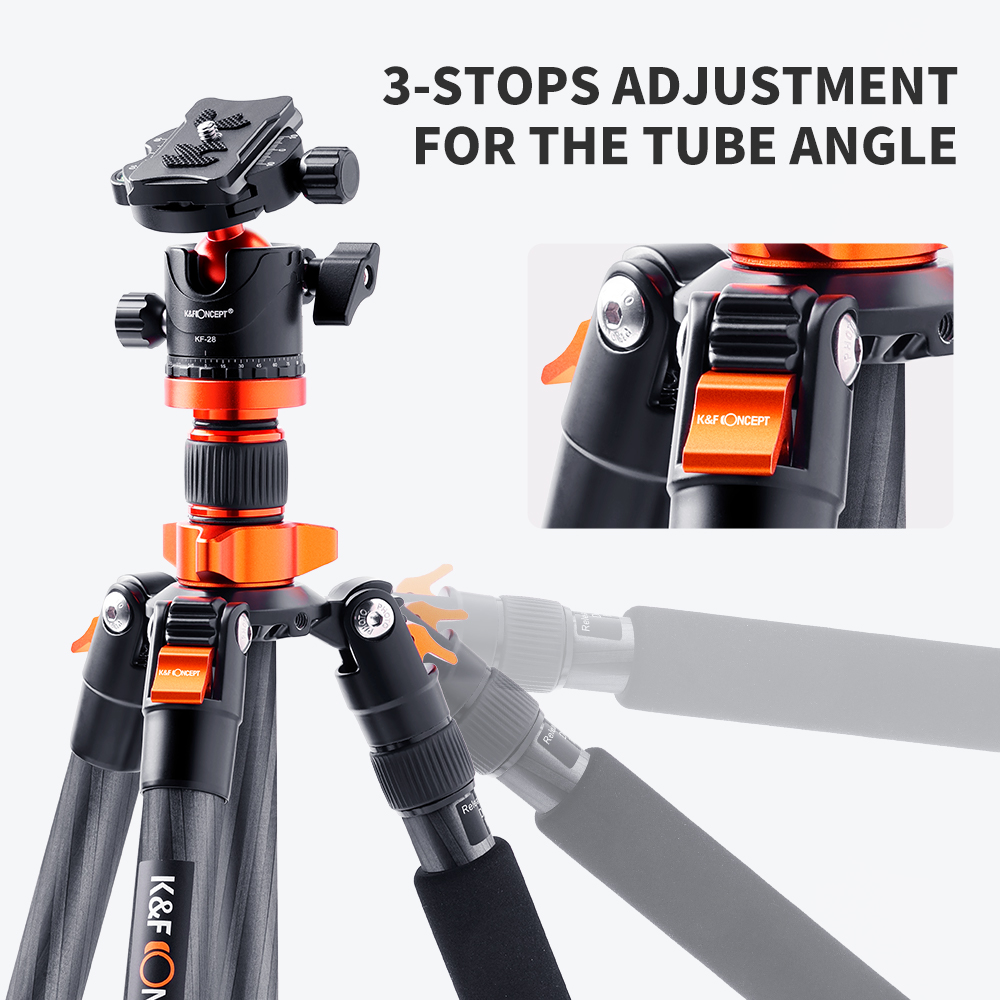 3-stops adjustment
Tripod legs can be adjusted in three levels of opening angle to stabilize on varying grounds and incline levels.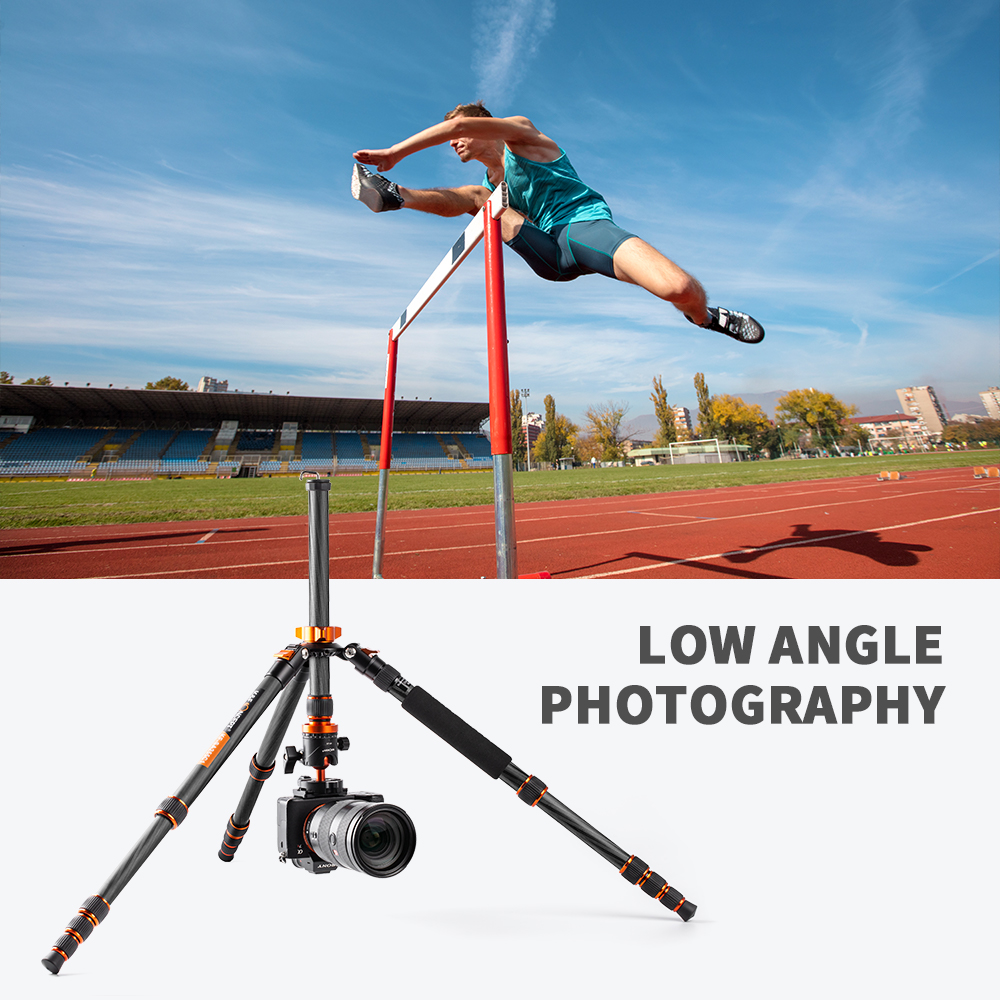 Lowest Angle Shooting
Lowest angle shooting, macro shooting, and special photography can be achieved through inverted central axis.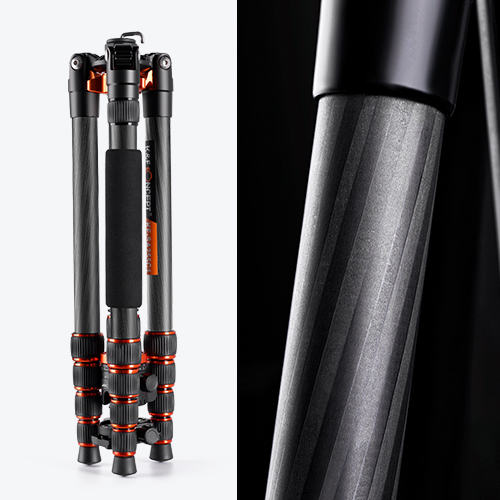 Quality Carbon Fiber
Use high-quality carbon fiber materials to reduce item weight while maintaining strong stability.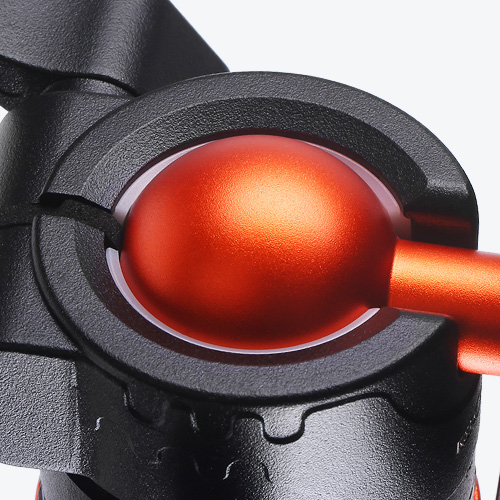 1.1"(28mm) Ball Head
Loading capacity up to 22.04lbs / 10kg,making it ideal for indoor and outdoor photography.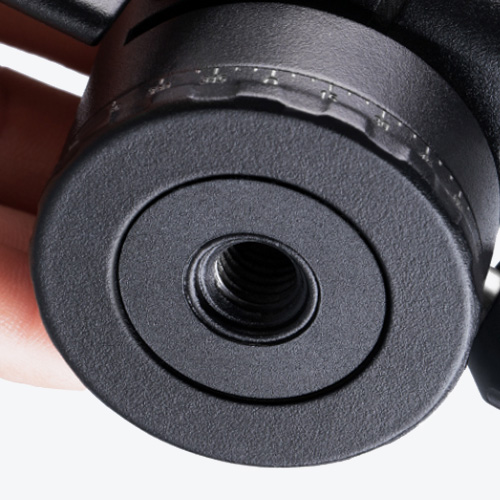 3/8 Screw
Universal specifications compatible with all tripods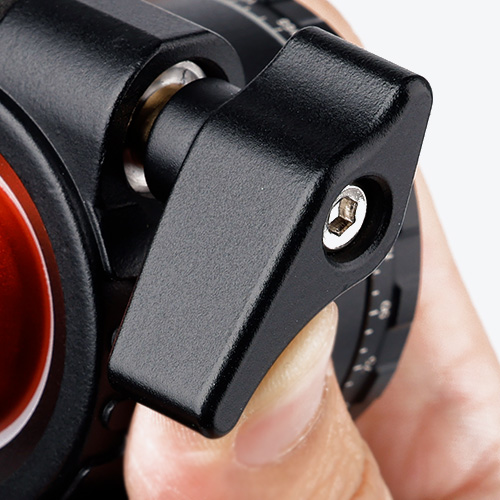 Locking Knob
Quickly adjust the position, the lock degree is stronger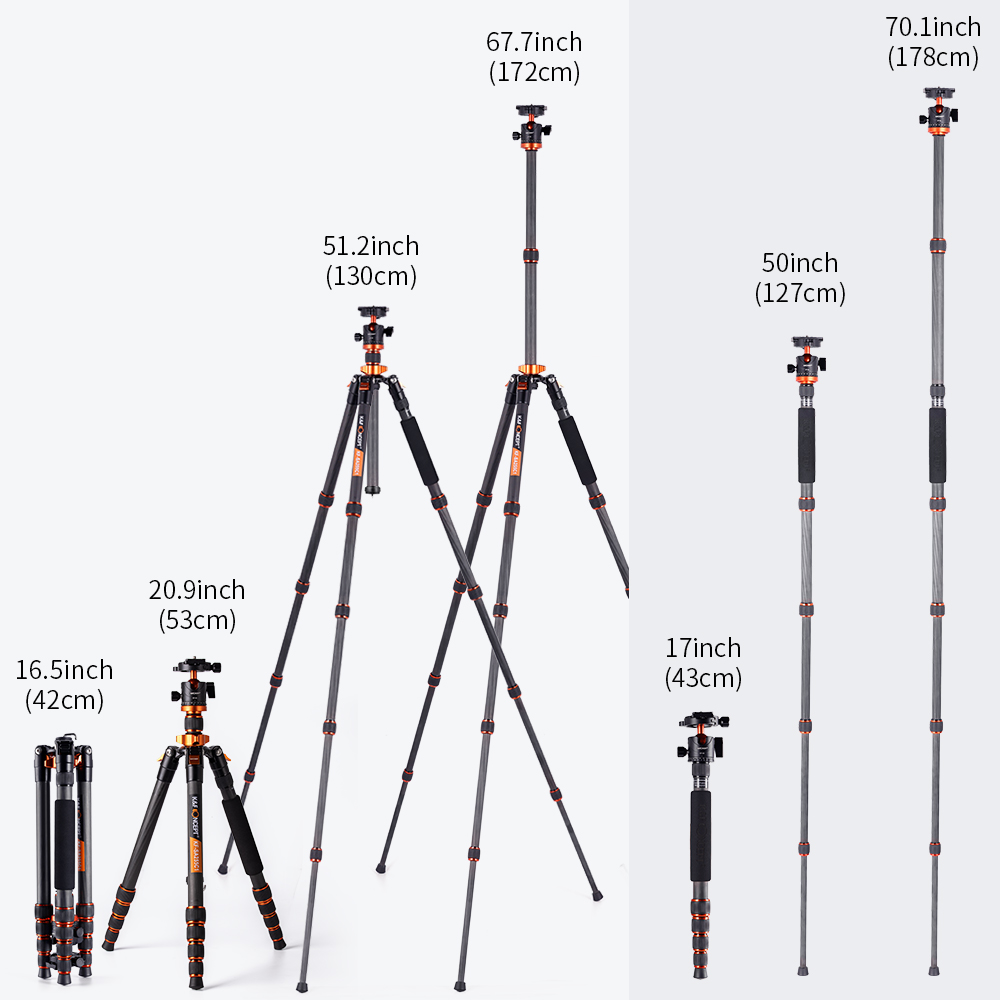 Easy to shoot
This tripod can be quickly transform into a monopod,the Max monopod height up to 70.1 inch.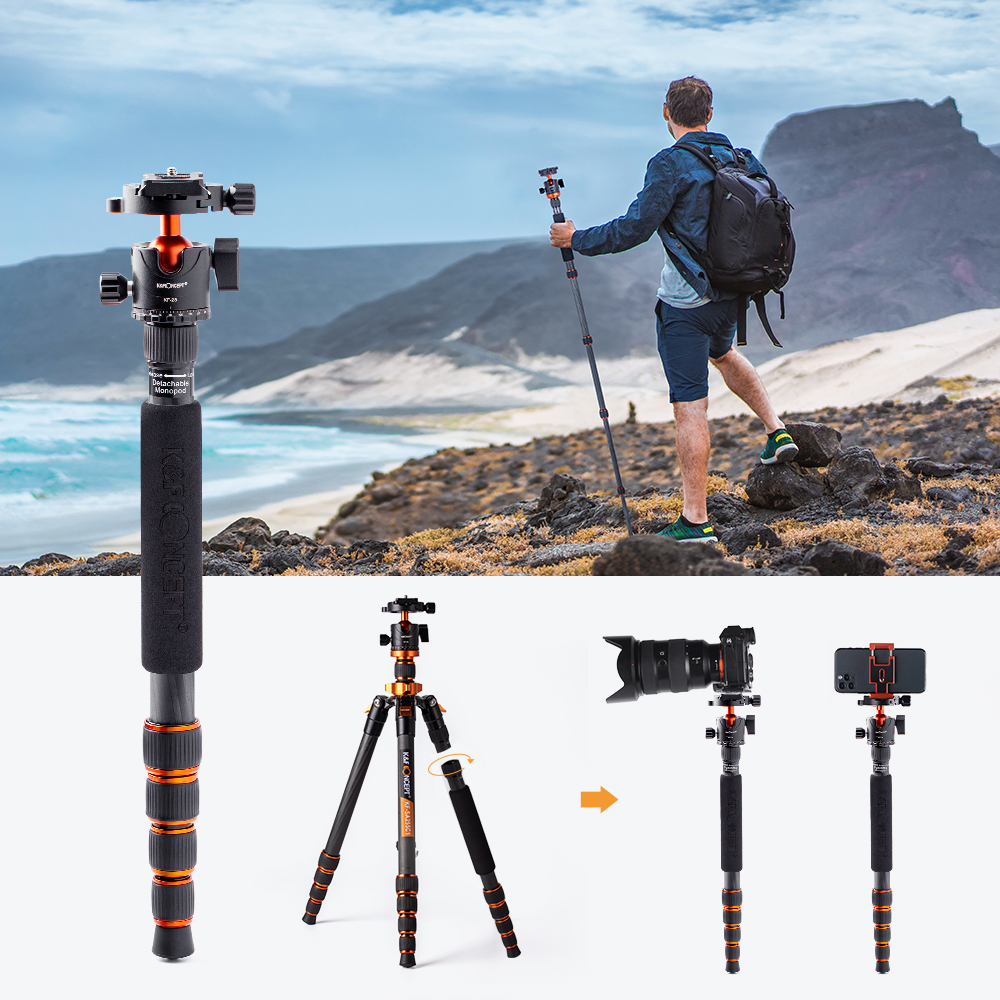 Detachable Monopod
Transform into a monopod, providing an alternative way of shooting with ease.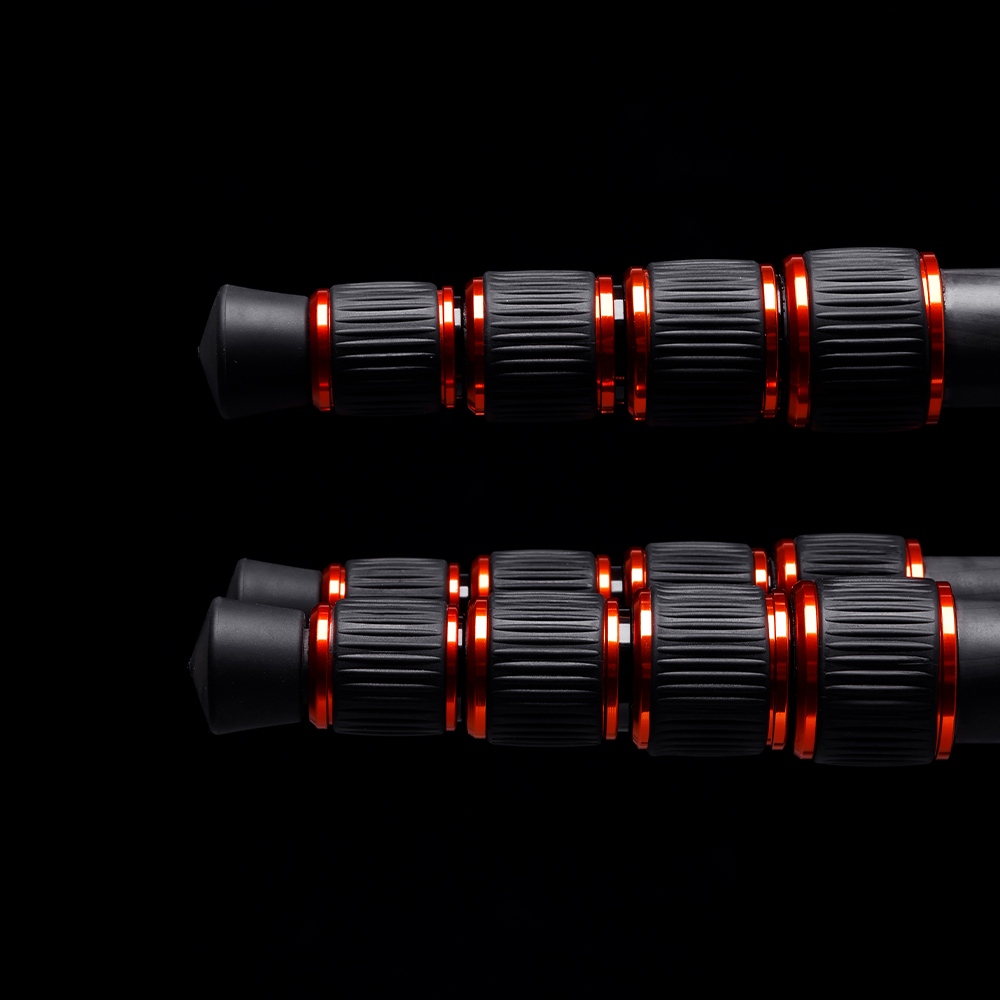 Metal Spiral Locking
The metal spiral locking knob on the leg is better for locking strength. Release clockwise and tighten counterclockwise.
1/4" screw
Install into your camera just like normal quick release plat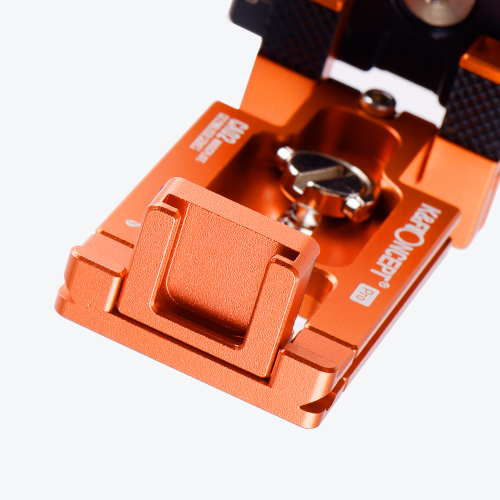 Cold shoe holder
Can fix the microphone,camera light and other equipment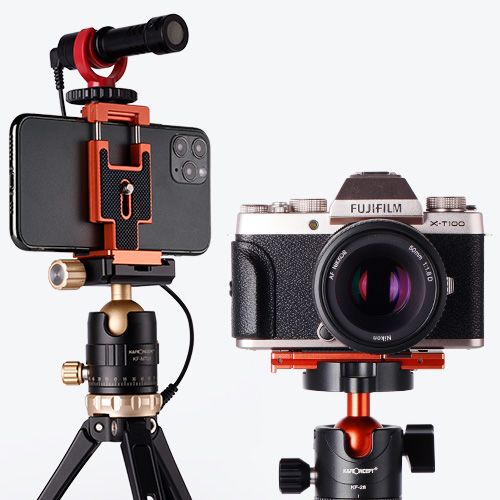 Phone and camera
Can switch between two modes without affecting the use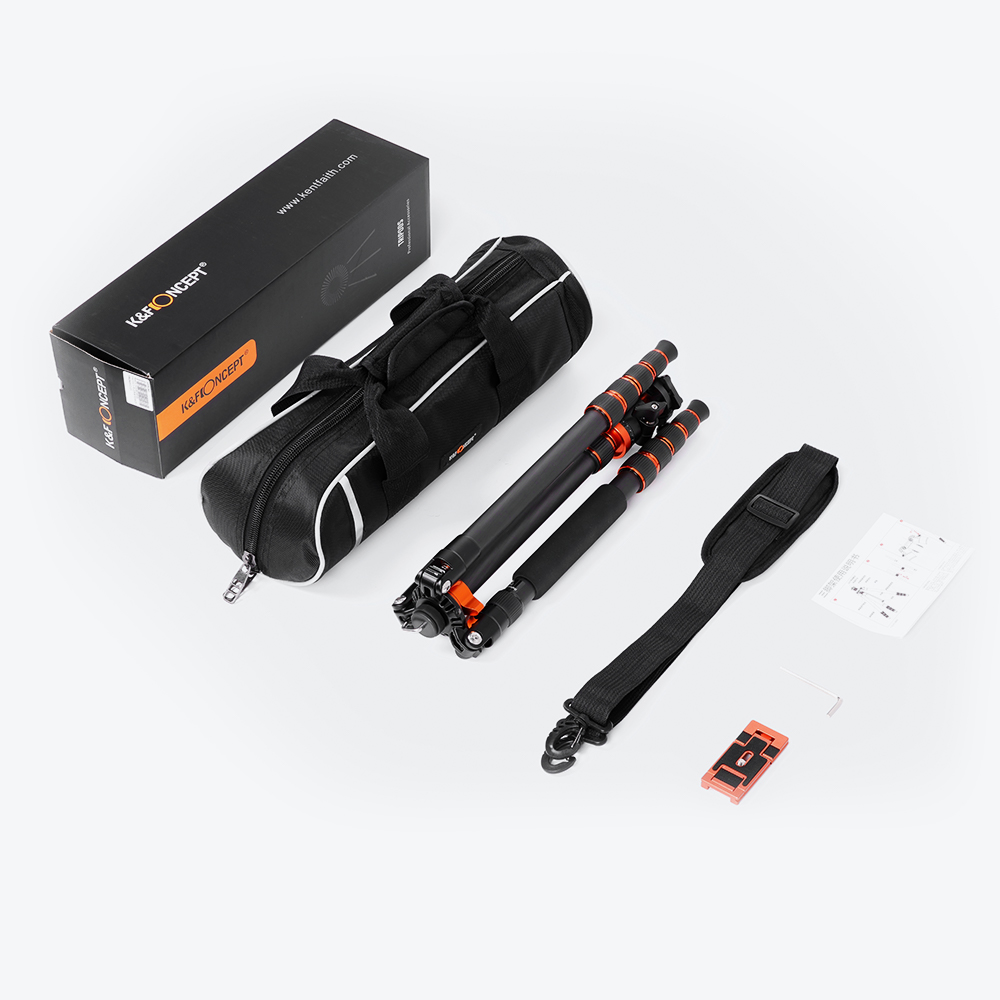 Packing list
Sturdy packaging prevents damage in transit
Rating

73 reviews.

161 reviews.

113 reviews.

15 reviews.

0 reviews.
Price

$279.99

$139.99

$279.99

$155.99

$221.99

$119.99

$239.99

$199.99

$499.99

$469.99

Model
KF09.093
KF09.010
KF09.077V2
KF09.095
KF09.102

Load Capacity

10kg/22.05lbs
10kg/22.05lbs
8kg/17.6lbs
10kg/22.05lbs
20kg/44lbs

Maximum Working Height

1720mm/67.72"
1680mm/66.14"
1520mm/59.84"
1640mm/64.6"
1700mm/67"

Minimum Working Height

530mm/20.87"
445mm/17.52"
460mm/18.11"
580mm/22.8"
550mm/21.7"

Folded Length

420mm/16.54"
500mm/19.69"
350mm/13.78"
490mm/19.3"
630mm/24.8"

Weight

1325g/2.92lbs
1507g/3.32lbs
1013g/2.20lbs
1710g/3.77lbs
2.14kg/4.7lbs

Materials

Carbon Fiber
Carbon fiber
Carbon Fiber
Carbon Fiber
Carbon Fiber

Leg Lock Type

Twist Lock
Twist Lock
Twist Lock
Twist Lock
Twist Lock

Leg Diameter

13-25mm/0.51-0.98"
16-25mm/0.63-0.98"
10-22mm/0.39-0.87"
19-28mm/0.75-1.1"
22-32mm/0.87-1.2"
Amazingly light, compact and stable.
Even though I read the reviews, I was still surprised by the compact size and weight of this tripod. The components are all quality, it's well made. I'm 6'1" (185cm) tall and use a Pentax K1 with battery grip and 24-70mm f2.8 lens. It's a tall, heavy camera setup. My immediate concern was that the tripod will be too short and if I flip the camera vertically the tripod might fall over. To my surprise, fully extended, the camera viewfinder is almost too high for me. This places the lens over the heads of most people if you're in a crowd and most DSLR cameras have a tiltable LCD screen for viewing anyway. Its also quite stable for its weight. Horizontal or vertical, the camera was in no danger of falling. I wouldn't risk it on a windy day though.
On the ballhead there are 3 separate knobs to lock rotation, ball tilt and camera base plate. All very solid. The baseplate also has a really nice bubble level and a compass that will help you align the tripod to North for astrophotography.
If you're a hiker or traveler, I highly recommend this for the price / performance ratio.
01/08/2021
Great height, versitile light weight sturdy tripod! Value for money!
I am a professional architecture and interior photographer and also do videography. Was looking for a tripod that is light yet stable and sturdy (since my equipment can be heavy i.e. tilt shift/telezoom lenses, and expensive). This K&F tripod ticked all the boxes and the price point is perfect.
This tripod has an excellent and smooth quick release system which is important for me especially when moving from location to location during the critical lighting window for outdoor shots.
The tripod's height is impressive and it can be extended with an option to attach additional weight at the centre of gravity point to make it even more secure.
I personally prefer twist locks for the tripod legs, although this is definitely a matter of personal preference. The legs can also be extended outwards using the quick release clip to have an even lower height. This may be particularly helpful when trying to get a lower vantage point for artistic reasons, such as when focussing on the foreground.
Would definitely reccomend as a studio or outdoor tripod or even for events and travel! Carbon fiber tripods are ideal for travelling.
16/06/2021
K&F Tripod
Very well made and will easily hold a tablet's weight . . . also easy to set up and adjust height and tilt, as needed.
05/01/2022
The Head Wobbles
The head of this tripod doesn't secure tightly down. I've been trying for days and I just can't get a sturdy lock.
13/12/2021
Great but...
They cheaped out on the plastic leg extension locking sleeve inserts. Tightening screw came off too lightly glued mount. Legs extended out the shaft breaking the too britle insert.Little glue and time I repaired it. And I like it.
10/12/2021
Landscape Photography with the K&F Concept SA255C1 Carbon Fibre Tripod (Review)
Tripod General
Load Capacity
10kg/22.05lbs
Maximum Working Height
1720mm/67.72"
Max Height without Center Column
1300mm/51.18"
Minimum Working Height
530mm/20.87"
Folded Length
420mm/16.54"
Weight
1325g/2.92lbs
Materials
Carbon Fiber
Tripod Head
Ball Head
Color
Orange/Black
Bubble Level
Tripod Legs
Leg Lock Type
Twist Lock
Leg Positions
Independent Leg Spread
Leg Sections
5
Leg Diameter
13-25mm/0.51-0.98"
Feet Features
Can be reversed 180° and folded
Tripod Center Column
Center Column Features
Center Column Inversion
Center Column Sections
2