Portable Travel Tripod 76"/1.9m 22lbs/10kg Load w/ Detachable Monopod & Panoramic Ball Head for DSLR SLR Canon Sony Nikon Cameras, T254A4+BH-28L
To
United States
Expedited Free Shipping
3-5
business days
Free Shipping Worldwide. 30 Day No Reason Return. K&F Concept 76" 22lbs Camera Tripod Compact & Flexible Transverse Center Column Metal Ball Head Super Stable.

KF09.096

SKU:

KF09.096

119.99

https://www.kentfaith.com/KF09.096_focuser-series-sa254t3-aluminum-alloy-tripod-can-be-folded-back-and-detachable-one-leg-plastic-screw-lock-die-casting-tripod-die-casting-leg-connector-angle-button-and-central-axis-lock-with-orange-new-appearance-with-kf-28-head
Description
* 【K&F Concept Brand New Design & Patented】Axis horizontal: The 90-degree central pillar system can not only extend vertically but also move horizontally, which provides you with amazing possibilities during shooting, especially for products and macro photography.
* 【Compact & Portable】 The tripod legs can be folded 180 degrees for transportation, and the package size can be reduced to 50 cm. The camera tripod with ball head weighs only 1.84KG, which is very light and compact.
* 【Wide Height Ranges】 The camera tripod can be adjusted from 61cm to 192cm in a few seconds. If there is no center column, the tripod can extend to 142.5cm, which is very stable and flexible.
* 【360° Large Ball Head】 K&F camera tripod with a 28mm large ball head ensures the stability of the pantilt; The non-oil damping new design allows the camera to rotate smoothly and accurately; With a 360-degree scale at the bottom of pantilt platform, it's easier to take panoramic photos and give more stunning effects compared to the ultra wide-angle lenses.
* 【Quick Foot Locking System】 With a spiral foot tube quick locking system, foot legs can be loosened or tightened by rotating 1/2 turn with one hand. The screw buckle is wrapped in soft rubber to provide a comfortable feel and an anti-slip effect.
Shipping
To
United States
Expedited Free Shipping
3-5
business days
SA254T3 76" Aluminum Camera Tripod
Provide security and stability support for your DSLR camera.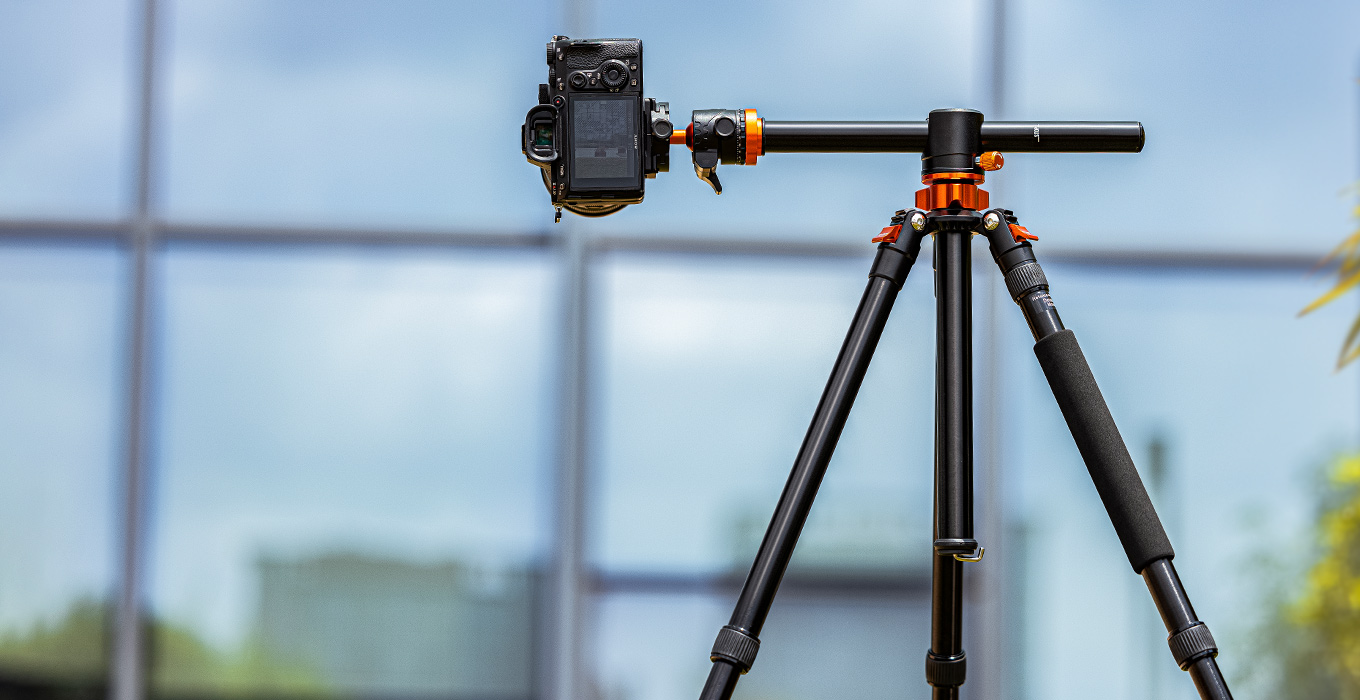 360° Panoramic Shooting
Ball-head can rotate 360° and get free angles, allowing you to get the perfect shot and amazing panorama every time.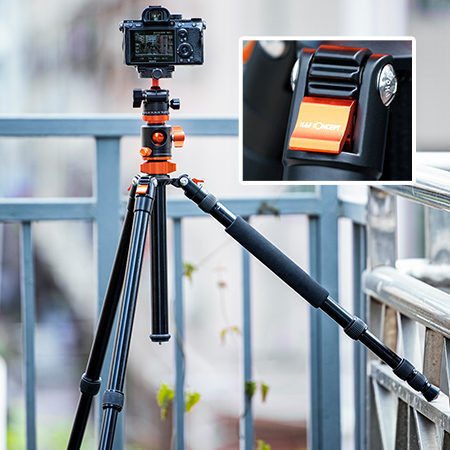 3-stops adjustment
Tripod legs can be adjusted in three levels of opening angle to stabilize on varying grounds and incline levels.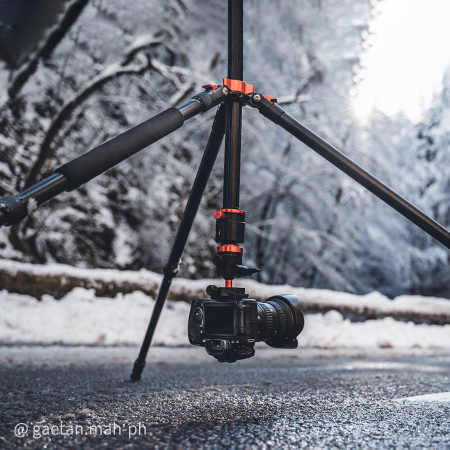 Lowest Angle Shooting
Lowest angle shooting, macro shooting, and special photography can be achieved through inverted central axis.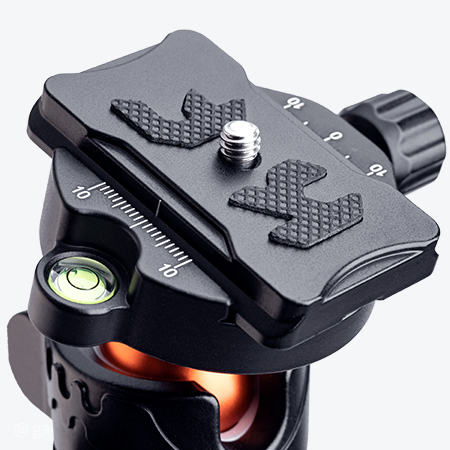 Quick Release Plate
All aluminum magnesium alloy with forged technology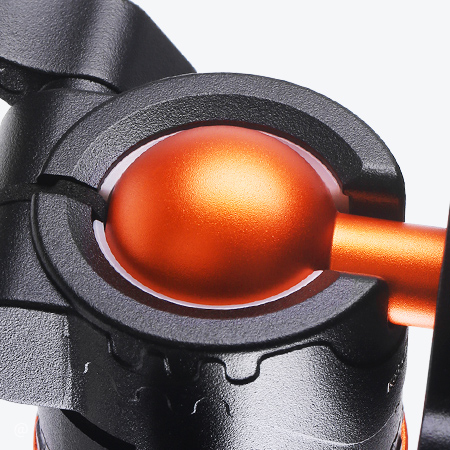 1.1"(28mm) Ball Head
Loading capacity up to 22lbs / 10kg, making it ideal for indoor and outdoor photography.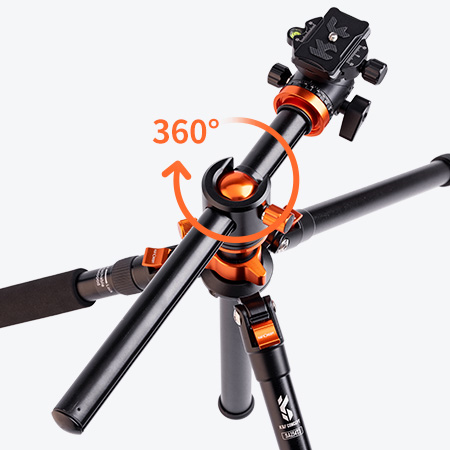 Central axis rotation
360° horizontal rotation makes photography creation one more possibility
Gravity hook system
Can hang heavy objects to increase the stability of the tripod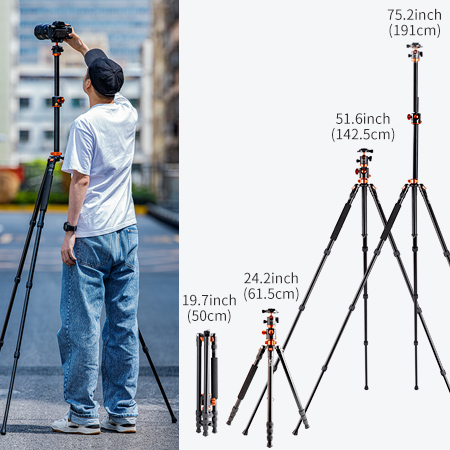 Easy to shoot
Can meet more shooting height requirements, the maximum height can reach 75.2inch (191cm).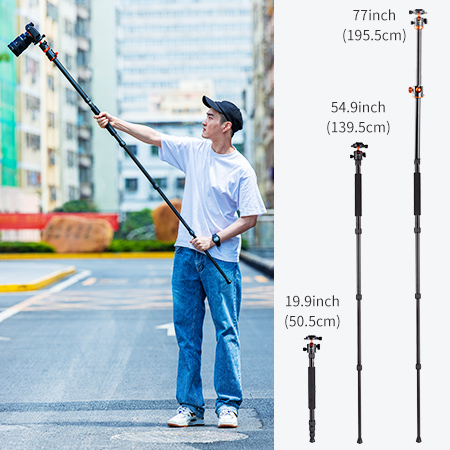 Detachable Monopod
Transform into a monopod, easily provide another shooting method, the maximum height is 77inch (195.5cm).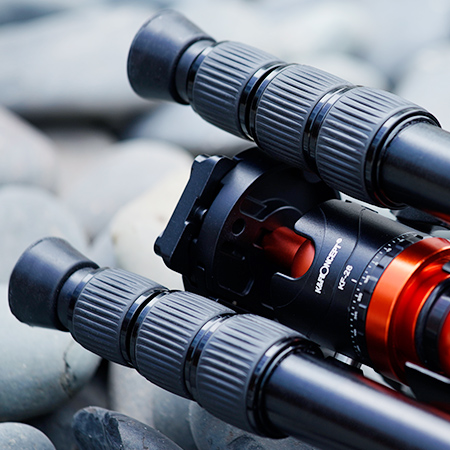 Metal Spiral Locking
The metal spiral locking knob on the leg is better for locking strength. Release clockwise and tighten counterclockwise.
| | | | | |
| --- | --- | --- | --- | --- |
| | | | | |
| | | | | |
| | | | | |
| Rating | 22 reviews. | 217 reviews. | 83 reviews. | 92 reviews. |
| Price | $119.99 | $99.99 | $112.99 | $125.99 |
| Model | KF09.096 | KF09.085 | KF09.079V1 | KF09.086 |
| Load Capacity | 10kg/22.05lbs | 10kg/22.05lbs | 10kg/22.05lbs | 10kg/22.05lbs |
| Maximum Working Height | 1920mm/75.59" | 1700mm/67" | 1830mm/72.05" | 2385mm/93.90" |
| Minimum Working Height | 615mm/24.21" | 560mm/22" | 600mm/23.62" | 690mm/27.17" |
| Folded Length | 500mm/19.69" | 430mm/17" | 490mm/19.29" | 570mm/22.44" |
| Weight | 1845g/4.07lbs | 1690g/3.7lbs | 1835g/4.05lbs | 2000g/4.41lbs |
| Materials | Magnesium aluminum alloy | Magnesium aluminum alloy | Magnesium aluminum alloy | Magnesium aluminum alloy |
| Leg Lock Type | Twist Lock | Twist Lock | Flip Lock | Twist Lock |
| Leg Diameter | 16-25mm/0.63-0.98" | 13-25mm/0.51-0.98" | 16-25mm/0.63-0.98" | 16-25mm/0.63-0.98" |
BUY THIS TODAY
I will get straight to the point. If you can't afford a Manfrotto tripod but you want something that can do similar things, just buy this Tripod. Seriously. I'll even go one step further and say, even if you can afford a more expensive tripod, you should give this one a shot!

The tripod comes with a carrying case, and while it can extend for over 72" (The specs say 72' but it actually can stand taller depending on the angle of the legs), it can still be relatively compact when folded down. Made out of Aluminum, it's pretty light considering the size and functionality. The legs unfold and lock in position using easy to release clamps that make adjusting the angle pretty quick. The legs are also adjustable for height, of course, and have rubberized pointy ends for a stable set up.

The tripod has a stable ball head that that locks tightly and still, allows you to move the head in 360 degrees for a very smooth movement and is perfect for those smooth pan shots. You are also able to adjust the resistance for faster or slower pans. The tripod is also equipped with a quick release plate and a bubble level to help you get straight shots.

The central column of the tripod can be tilted at a 90 degrees angle and can also be reversed and mounted from the bottom for macro shots or any scenes that you want to capture from below. There is also a little hook at the end of the central column for you to hang sandbags or other weights to help make the tripod more stable.

As all this was not enough, one of the legs of the tripod can be separately detached and converts your rig into a monopod with a rubberized handle.

This is highly recommended and I will be looking at more of this company's products because I am really impressed with the quality. I have already ordered a wireless lav mic from them.
12/01/2022
Versatile
Absolutely perfect
11/05/2021
Great product
Great value for money I lost the button in the first 5 minutes but the tripod works great.
04/05/2021
Amazing & High quality
AMAZING!!! This was such a great buy, I use it daily so I strongly recommend purchasing this tripod!Great sturdiness and versatility, not to mention very cheap price.
03/05/2021
Nice tripod good value
Simple to use, works well for amateur tourist photos holding your camera or phone.Super light to carry and can fit into a standard backpack.Quite stable across different surfaces.
17/04/2021
Great tripod
Great tripod however came without the Bluetooth clicker, I don't know how to contact the seller either
15/04/2021
Excellent tripod with every feature you need. Great value for money.
For my first tripod I wanted something cheap but one that had all the run-of-the-mill features. I'm glad this one had every small detail: spirit level, phone holder attachment, easy adjustment in 3-dimensions, bag (a little flimsy, but it works), 3 different height adjustments (4 including extending just the camera holder), screw to attach camera.The only complaint would be that it's a little light and flimsy. However, given the price it's perfect.
07/04/2021
Great value for money
For the price, this is an excellent tripod - nice and sturdy. The remote works well linked to an iphone.
02/04/2021
Value for money
Great tripod for the price. Good value for money.
27/03/2021
Good for the job at hand
Now I have 2 tripods, would have preferred to only purchase the iPhone attachment that attaches to the tripod. However it is good for the job at hand.
23/03/2021
A
For how to install the center column, please refer to this video https://youtu.be/3BvJKWNElRg.
A
For how to install the foot locking system, please refer to this video https://youtu.be/jZb6Fn6T_u0.
A
To hold telephoto lens, it is recommended to use a tripod mount ring additionally for better balance. Meanwhile, it is better to hang some heavy thing to the hook to lower the center of gravity on this tripod to make it more sturdy and less prone to vibrations.
K&F Concept Brand New Design & Patented
Tripod General
Load Capacity
10kg/22.05lbs
Maximum Working Height
1920mm/75.59"
Max Height without Center Column
1425mm/56.10"
Minimum Working Height
615mm/24.21"
Folded Length
500mm/19.69"
Weight
1845g/4.07lbs
Materials
Magnesium aluminum alloy
Tripod Head
Ball Head
Color
Orange/Black
Bubble Level
Tripod Legs
Leg Lock Type
Twist Lock
Leg Positions
Independent Leg Spread
Leg Sections
4
Leg Diameter
16-25mm/0.63-0.98"
Feet Features
Can be reversed 180° and folded
Tripod Center Column
Center Column Features
Transverse Center Column, Center Column Inversion
Center Column Sections
2