62"/1.6m Professional Carbon Fiber Tripod 15kg/33lbs Max Load,Compact & Portable,with 360° Ball Head & Detachable Monopod,A255C2+BH-35L
Terms
Terms and Conditions:
Coupons are valid for a limited time only. Kentfaith reserves the right to modify or cancel coupons at any time.
You must purchase the qualifying items added to your Cart when the coupon is in effect for the discount to apply.
If you later modify or cancel the subscription or delivery date for the qualifying item, the discount will not apply.
The coupon applies only to qualifying items displaying the coupon offer.
If you buy more than one item from the same coupon, the maximum discount amount of the coupon will be equal to either the percentage discount off or the face value of the coupon on one eligible item. The coupon may only be used on www.kentfaith.com.
The promotion is limited to one coupon per customer.
If you return any of the items purchased with a coupon, the coupon discount or value may be subtracted from the return credit.
New customer gift package
To
United States
Expedited Shipping
3-5
business days
Buy now in the K&F Concept Camera tripods ► 30 Day No Reason Return ► Carbon Fiber Tripod ► Fast Shipping From US Free ► 15kg/33lbs Load

KF09.103

SKU:

KF09.103

169.99

https://www.kentfaith.com/KF09.103_professional-carbon-fiber-tripod-15kg-33lbs-max-load-156cm-61-4-quot-max-height-compact-portable-with-360-ball-head-detachable-ball-head-a255c2-bh-35l
Description
* 【High-End Carbon Fiber Material】The aerospace manufacturing-grade carbon fiber material is used, making each leg tube of the tripod more rigid, strong and stable, at the same time, corrosion resistance and abrasion resistance have also been greatly improved. The upgraded materials make this tripod weigh only 1.3kg/2.9lbs, it can easily follow photographers to more unique environments such as mountains, deserts and fields and more.
* 【Easy to Adjust-Portable】Control the 5-section legs through the metal knob lock system, it can make the working height of the tripod from 48cm/18.8'' to 156cm/62'' in a few seconds, which can meet about 90% of the photographic height requirements. When the legs are closed, the length is 49cm/19.2"; When the legs are open in stage 3, close to 90º, and the central column touching the ground the tripod height is 35cm/13.7".
* 【360°Panoramic Ball Head】K&F Concept exclusive 35mm metal ball head provides a safe bearing capacity of 15kg/33lbs, the oil-free damping design can meet the needs of extremely smooth 360°panoramic shooting; the bottom of the gimbal has a 360° horizontal scale to improve the positioning accuracy. Equipped with a high-compatibility quick-release system that can be used with most Arca-Swiss quick-release plates; 1/4" screw is suitable for most cameras, DSLR cameras, projectors and telescopes, etc.
* 【Detachable Monopod】If you are a journalist or broadcaster and need to track various large-scale live events, sports events or concerts; or if your subject is always in constant motion, such as shooting wild animals or indoor pet photography: At this time, you can quickly remove the monopod and install the ball head, then you can capture all kinds of photos or videos with high flexibility. The working height of the monopod can be switched between 47cm/18.5''-140cm/55'', which is flexible and portable, helping you to break through the obstacles of crowds and the limitations of space scenes. Sometimes, it can also be used as a trekking pole.
* 【Low-Angle Photography】The quick-release central axis design allows you to complete the upside-down installation of it in seconds. Through the inversion of the central axis, the height of the tripod can be lowered closer to the ground, and the overall center of gravity becomes lower, thereby effectively reducing shaking, which is helpful for shooting excellent macro effects of plants, flowers, animals, insects, etc., or satisfying other more creative photography ideas.
Shipping
To
United States
Expedited Shipping
3-5
business days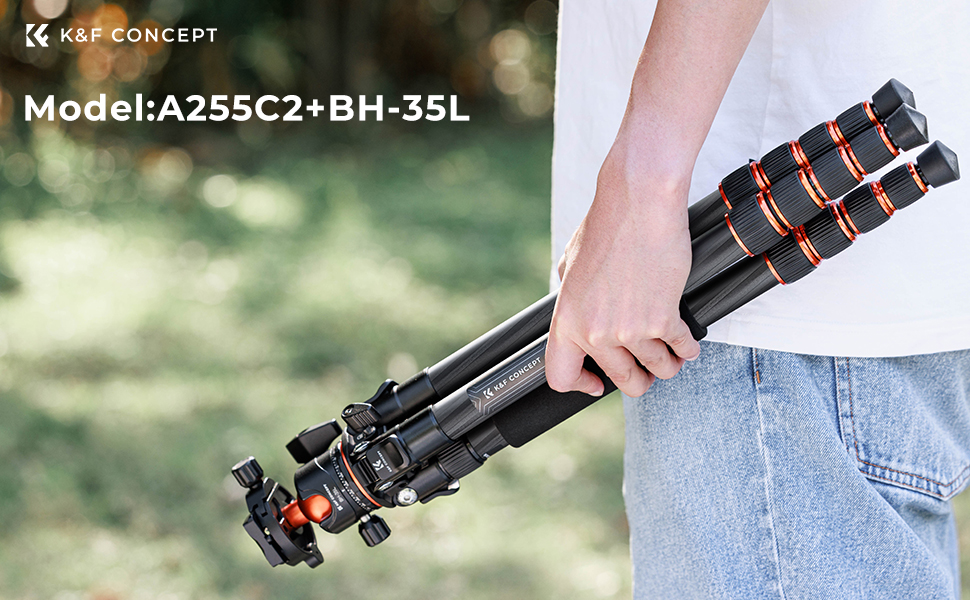 K&F Concept Professional Carbon Fiber Tripod A255C2+BH-35L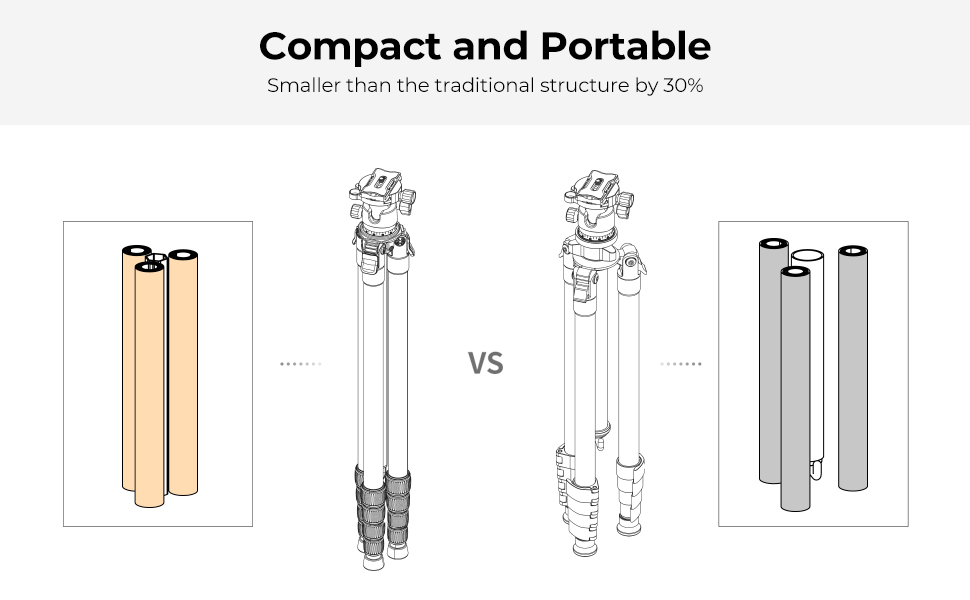 Compared to traditional camera tripods, K&F Concept A255C2+BH-35L tripod features a special center column which decreases the volume of the tripod by 30%. Easy to carry with one hand.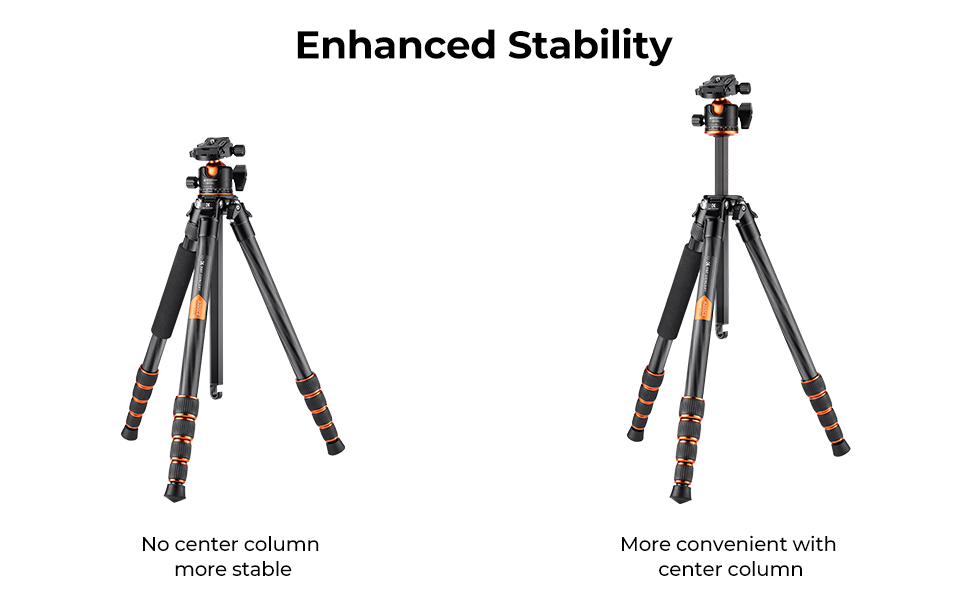 This tripod has two forms, with and without the center column. With the center column, the tripod is more convenient. Without the center column, the tripod is more stable.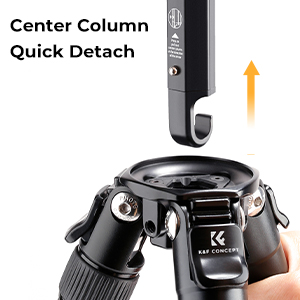 To help catch the perfect scene, the center column can be detached quickly through the locking knob.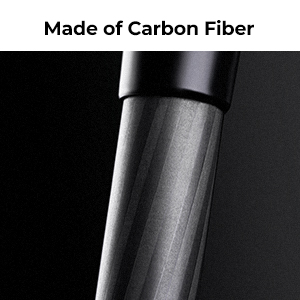 Cabon Fiber material makes the tripod lighter and stronger than aluminum tripod. The tripod with ball head weighs only 1.3kg/2.9lbs.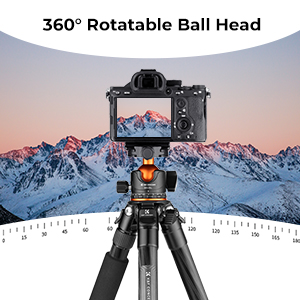 360° rotatable ball head helps to shoot grand landscape easier. A max load capacity of 15kg/33lbs, meets most photographers' need.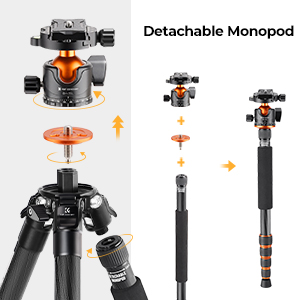 The tripod can be easily turned into a monopod or walking stick alone to make your photography more diverse.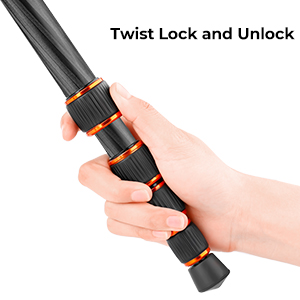 The tripod can be adjusted easily and quickly by one hand through the smooth yet secured twist locks of the three legs.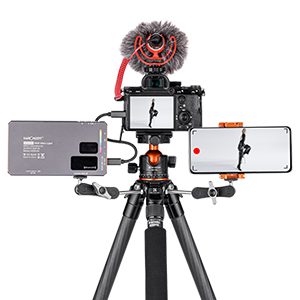 The tripod has 1/4" two extra interfaces, which allow magic arm, phone clip, etc. to be mounted.
Rating

35 reviews.

66 reviews.

22 reviews.

62 reviews.
Price

$253.99

$169.99

$199.99

$137.99

$259.99

$129.99

$304.99

$189.99

Model
KF09.103
KF09.093
KF09.109
KF09.098

Load Capacity

15kg/33lbs
10kg/22.05lbs
10kg/22.05lbs
15kg/33.07lbs

Maximum Working Height

1560mm/61.4"
1720mm/67.72"
1600mm/63"
1750mm/68.90"

Minimum Working Height

480mm/18.9"
530mm/20.87"
535mm/21.06"
540mm/21.26"

Folded Length

490mm/19.3"
420mm/16.54"
410mm/16.14"
585mm/23.03"

Weight

1323g/2.9lbs
1325g/2.92lbs
1346g/2.97lbs
1395g/3.08lbs

Materials

Carbon Fiber
Carbon Fiber
Carbon Fiber
Carbon Fiber

Leg Lock Type

Twist Lock
Twist Lock
Flip Lock
Twist Lock

Leg Diameter

13-25mm/0.5-0.98"
13-25mm/0.51-0.98"
16-25mm/0.63-0.98"
16-25mm/0.63-0.98"
All Reviews
Image

All Star

5 Star

4 Star

3 Star

2 Star

1 Star
Great tripod/monopod at a great price. It's everything as advertised
this is a great mid-weight, stable, in-expensive rig, solid enough for most normal camera and light astrophotography set ups, and light enough you can pack it in with you to remote locations.
10/03/2023
Cheap price but outstanding value
This tripod is an outstanding value. The fit and finish is good to excellent. The mechanics of movement of all the moving pieces is smooth and easy to operate.
09/03/2023
Light weight and sturdy
Super portable, easy to operate. Highly recommended.
09/03/2023
LOVE this tripod!!!
The tripod is very lightweight, compact, easy to use, and inexpensive. I use it with my Nikon. HEAVY! But this tripod handles the weight easily.
09/03/2023
Light and easy to carry
Very light easier to use and carry. If it's really windy and you have a heavy camera, weigh it down
27/02/2023
Great price. Steady. Tall. Light weight. Highly versatile for hiking.
For a cheap carbon fiber tripod, this has exceeded my expectations by a huge margin. I got this tripod for my DSLR camera to do some backcountry photography. One thing that I noticed is that one of the legs can be removed and used as a monopod or even as a trekking pole. I purchased one tripod and found the detachable pole to be very sturdy and comfortable to hold over long distances. That's when I realized I could save weight in my backpack by not having to carry extra trekking poles.
18/02/2023
Lightweight, very portable...sufficient for most slr, mirrorless applications.
Lightweight, very portable...sufficient for most slr, mirrorless applications...., a sandbag is in order. All ion all, great product for the price.
18/02/2023
Multifunction Tripod
This tripod is sturdy, it is a little heavier than expected. it take sometime for me to get used to it without handle in the dark. in essence, it is still a very affordable with quality product. i like it can be monopod, it help a lot to reduce the weight.
14/02/2023
You will not regret this tripod
I've been using this kf concept tripod for about a month now. Man, I love this tripod! It's lighter, cheaper. The only thing I liked better about the Benro was that the legs seemed faster, but I have a feeling these guys will probably see this review and consider making some adjustments there. It's just that you need more turns to loosen/tighten the legs. Not a huge deal but a faster tripod is more of pleasure to use. Everything was kind of stiff at first but it's all nice and fluid now. Nice and sturdy even in windy conditions. I love it and recommend it.
13/02/2023
There are no faqs for this product.
Tripod General
Load Capacity
15kg/33lbs
Maximum Working Height
1560mm/61.4"
Max Height without Center Column
1325mm/52.2"
Minimum Working Height
480mm/18.9"
Folded Length
490mm/19.3"
Weight
1323g/2.9lbs
Materials
Carbon Fiber
Tripod Head
Ball Head
Color
Orange, Black
Bubble Level
√
Tripod Legs
Leg Lock Type
Twist Lock
Leg Positions
Independent Leg Spread
√
Leg Sections
5
Leg Diameter
13-25mm/0.5-0.98"
Feet Features
Can be reversed 180° and folded
Tripod Center Column
Center Column Features
No-center-column form for enhanced stability
Center Column Sections
1