62''/1.6m Aluminum Tripod Detachable Monopod with Quick Release Plate, Ball Head and Compact Travel Carrying Bag SA254M1 for DSLR K254A1+BH-28L (SA254M1)
New customer gift package
To
United States
Expedited Shipping
3-5
business days
Free Shipping. 30 Day No Reason Return. K&F Concept Heavy Duty Camera Tripod with Detachable Monopod 360° Ball Head & Carry Bag 22lbs Load. Compact & Portable.

KF09.084

SKU:

KF09.084

79.99

https://www.kentfaith.com/KF09.084_kf-concept-sa254m1-62-dslr-camera-tripod-lightweight-and-compact-aluminum-detachable-monopod-tripod-with-360-panorama-ball-head-quick-release-plate-for-travel-and-work
Description
* 【Compact & Portable】Quality military magnesium aluminum alloy,corrosion resistance; tripod with ball head weighs only 3.35 lbs, it can be 180°reflexed and folded to 16.5'', easy to put it in a backpack or suitcase when travel.
* 【360° PANORAMA】The weight of tripod is 1.52kg. The 28mm large KF-28 metal ball head provide 10kg load capacity, it can be rotated 360 degrees, helping to expand dslr camera activity range when panoramic shooting.
* 【Detachable Monopod】 It can be turned into a lightweight monopod or walking stick alone to make your photography more diverse.
* 【EASY SET UP】 4 sections tube leg and the max diameter is 25mm; With powerful and quick flip leg lock allows you to adjust the working height in seconds; The height without column reaches 48.8'' and the height with 2 sections center column is 62'',making standing shooting easier.
* 【Multi-Angle Shooting】Spring self-locking foot tube angle adjustment button, just press and release to quickly adjust the opening and closing angle of the three legs; can help you achieve lowest angle shooting, macro shooting, and other special photography through inverted central axis. Note: two types of quick-releasing plates will be shipped randomly.
Shipping
To
United States
Expedited Shipping
3-5
business days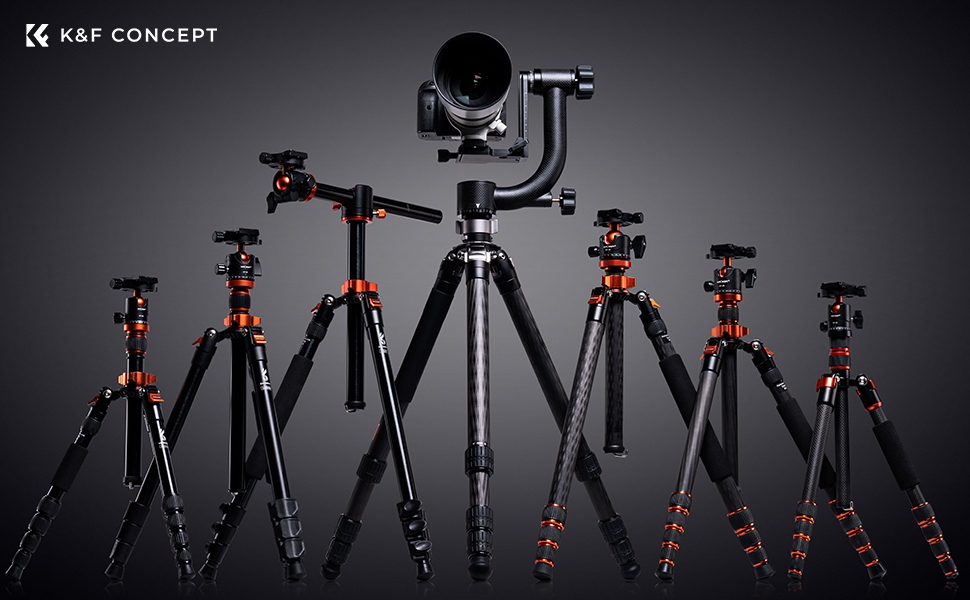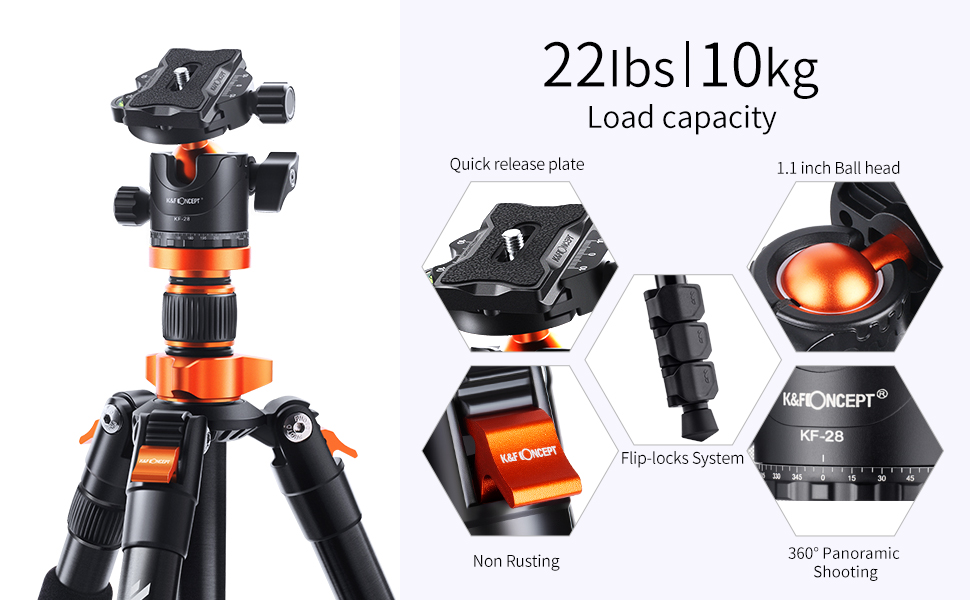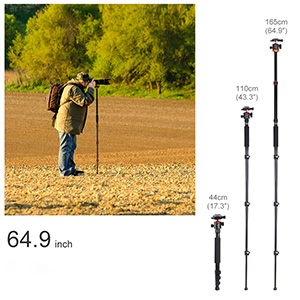 Monopod Conversion
AS a monopod or walking stick alone to make your photography more diverse.
The needs of high-angle tilt shooting and low-angle shooting can be satisfied by the monopod.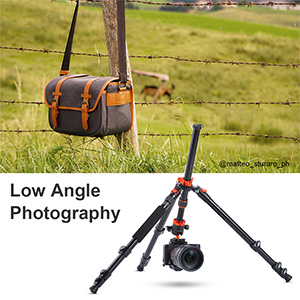 Lowest Angle Shooting
Lowest angle shooting, macro shooting, and special photography can be achieved through inverted central axis.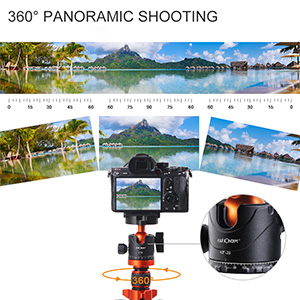 KF-28 Metal ball head
The low center of gravity ball head has strong strong locking force and can be rotated 360 degrees to improve camera activity range.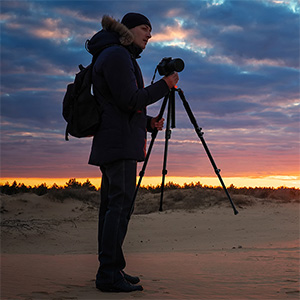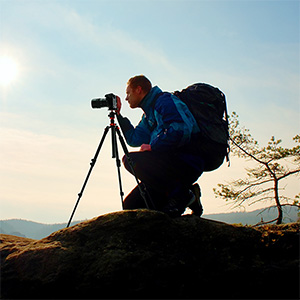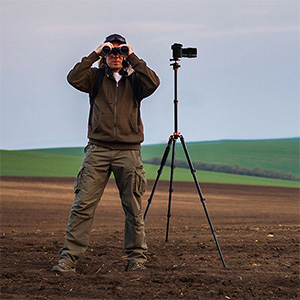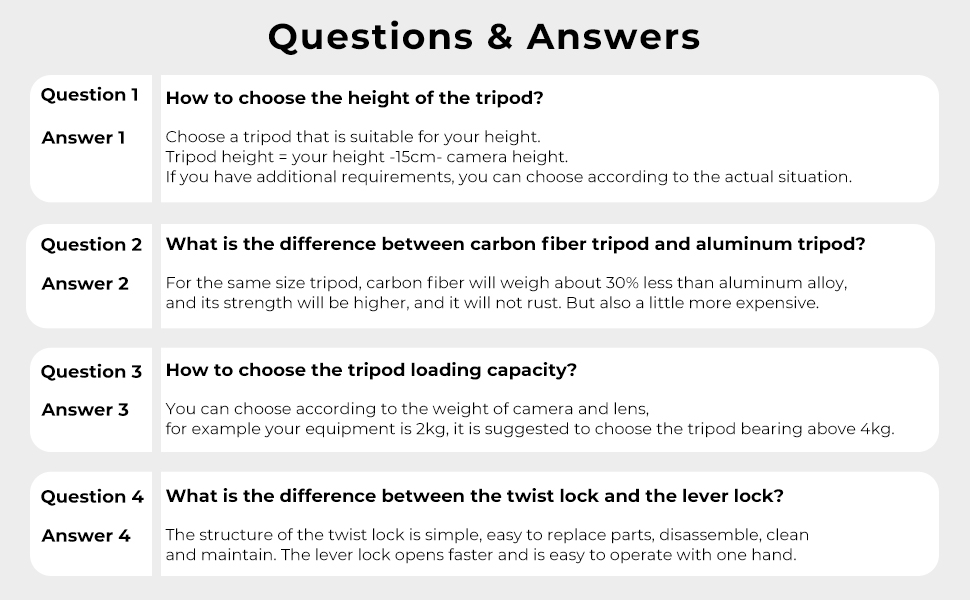 Rating

49 reviews.

85 reviews.

131 reviews.
Price

$119.99

$79.99

$189.99

$87.99

$182.99

$87.99

Model
KF09.084
KF09.083
KF09.087

Load Capacity

10kg/22.05lbs
10kg/22.05lbs
10kg/22.05lbs

Maximum Working Height

1580mm/62.20"
1710mm/67.32"
2000mm/78.7"

Minimum Working Height

510mm/20.08"
520mm/20.5"
580mm/22.83"

Folded Length

410mm/16.14"
420mm/16.54"
480mm/18.90"

Weight

1547g/3.41lbs
1500g/3.3lbs
1440g/3.17lbs

Materials

Magnesium aluminum alloy
Magnesium aluminum alloy
Magnesium aluminum alloy

Leg Lock Type

Flip Lock
Twist Lock
Flip Lock

Leg Diameter

16-25mm/0.63-0.98"
13-25mm/0.51-0.98"
14-23mm/0.55-0.91"
All Reviews
Image

All Star

5 Star

4 Star

3 Star

2 Star

1 Star
High quality on an accesible price
Amazing quality its more like a very expensive tripod. very sturdy and light, 1 detachable leg witch u can use as a monopod, smooth ball head with bubble level, legs with clips for fast extending, hook to hang your bag.perfect size for travel, al in 1 im very inprest about it and this price
26/10/2022
Alright for starter tripod
This is my 2nd tripod. I havent been able to justify spending money on one of the more spendy setups. This one feels sturdy but the stops on the legs for the angles feel cheap and so does the shaft the connects to the base of the camera and to the legs, it will actually come apart if you are not careful.
22/10/2022
Good tripod for a good price
I've had a lot of tripods and gone through some of them pretty quickly , this one is really robust. You can pretty much put it through anything and it'll keep your camera steady. Recommended if you're not wanting to spend a small fortune
17/10/2022
Amazing Tripod to work with.
The features listed on description are accurate and works well. With it's light weight made it easy to put it on my backpack without adding a lot of weight (see photos)The quick flip leg lock allows you to truly adjust the working height in no time.The lightweight monopod made selfie photography more fun.I tried every thing the tripod had to offer in less than one week and was very happy with it.I'm not a professional photographer, but tripod makes me look and feel like one. Thank you K&F Concept, looking for more products from you.
04/10/2022
stable and light weight
The tripod can be adjusted very high and the damping effect is obvious. The operation is simple and clear, and the material is excellent. A very good product, with a high-grade packaging and easy to use! Take out the tripod from the box and hold it in your hand, and you will feel that the material and manufacturing process of the tripod are indeed much better than the cheap feet bought before. Test and try out various functions of the tripod according to the product manual. The height of the tripod is easy to adjust. The stability is particularly good when the camera is installed, and it can effectively prevent the image texture damage caused by the tremor when shooting videos. PTZ adjustment is also very convenient. Overall I feel very satisfied.
30/09/2022
Great sturdy product for a boom arm application
Nicely built. Sturdy for a boom arm application with a small dslr. I'll buy another.
28/09/2022
Degree in Engineering
An amazing tripod, very stable, with equally fantastic features, my only problem is the lack of instructions on how to use it, for example: how to change it to me a monopod

But once you have figured it out, wow its just a fantastic piece of equipment and I think well worth the price
16/05/2022
Very good tripod/monopod
Upgraded my old tripod to this new design and I'm pretty pleased with it. I bought a K&C Concept tripod two years ago, it was more of a traditional design, which worked really well for me past two years. However, that was a little bulky, even when folded and in its bag, so it was harder to bring it during travelling. I checked for newer tripod design and saw this so I gave it a try, and it was much better design than its predecessor. When this tripod is folded, and stores in its carrying bag, it's only about 20 inches long. The carrying case is also well padded, so it's easier to wear on my shoulders. The tripod itself also weight much lighter, provides much better portability. I like the new ball head design, it's easier and faster to securely attach/remove my Canon DSLR onto it and easier to rotate it 360 degrees during photoshoot. It can also be changed into a monopod quickly by pulling up the center stick. The three legs looks smaller, but they are sturdier and can be locked/unlocked faster. The orange metal pieces on the tripod also make it looks much nicer and more attractive than those standard one color tripod out there. Overall, it was a really upgrade for me.
01/08/2021
Robust and professional tripod
Started a photography course so tripod needed. Easy to use and comes with monopod so very flexible.
09/05/2021
Bien construis
Il est solide et très pratique.
03/05/2021
These images belong to KENTFAITH end users.
How to assemble center column
How to assemble tripod leg
Tripod General
Load Capacity
10kg/22.05lbs
Maximum Working Height
1580mm/62.20"
Max Height without Center Column
1140mm/44.88"
Minimum Working Height
510mm/20.08"
Folded Length
410mm/16.14"
Weight
1547g/3.41lbs
Materials
Magnesium aluminum alloy
Tripod Head
Ball Head
Color
Orange/Black
Bubble Level
Tripod Legs
Leg Lock Type
Flip Lock
Leg Positions
3
Independent Leg Spread
Leg Sections
4
Leg Diameter
16-25mm/0.63-0.98"
Feet Features
Can be reversed 180° and folded
Tripod Center Column
Center Column Features
Center Column Inversion
Center Column Sections
2