64"/1.6m Lightweight Aluminum Travel Tripod Compact Vlog Camera Tripod Flexible & Portable 17.6lbs/8kg Load with Portable, for DSLR Cameras K234A0+BH-28L
New customer gift package
To
United States
Expedited Shipping
3-5
business days
Free Shipping. 30 Day No Reason Return. K&F Concept camera tripod features Compact & Portable body, 360° PANORAMA, Reversible Center Column for Macro Photography, EASY SET UP, High Compatibility.

KF09.101

SKU:

KF09.101

69.99

https://www.kentfaith.com/KF09.101_lightweight-travel-tripod-compact-vlog-camera-tripod-flexible-portable-63-quot-1-6m-17-64lbs-8kg-load-with-portable-monopod-for-dslr-cameras-bi234m
Description
* 【Compact & Portable - Perfect for Travel, Vlog & Work】Quality military magnesium-aluminum alloy, corrosion resistance; tripod with ball head weighs only 2.56 lbs/1.16kg, it can be 180°reflexed and folded to 390mm/15.35", easy to put in a backpack or suitcase when travel.
* 【360° PANORAMA】The 28mm large KF-28 metal ball head provide 17.64lbs/8kg load capacity, it can be rotated 360 degrees, helping to expand DSLR camera activity range when panoramic shooting.
* 【Reversible Center Column for Macro Photography】K&F Concept BI234M tripod has a reversible center column, so you can get even closer to the ground if needed. This feature is specially designed for macro photography.
* 【EASY SET UP】 4 sections tube leg and the max diameter is 22mm; With powerful and quick flip leg lock allows you to adjust the working height in seconds; The height without column reaches 1160mm/45.67" and the height with 2 sections center column is 1630mm/62.99", making standing shooting easier.
* 【High Compatibility】The quick release 1/4" screw is suitable for most cameras, DSLR cameras, a projector, and telescope, etc; Your phone can be connected via an extra phone mount as well.
Shipping
To
United States
Expedited Shipping
3-5
business days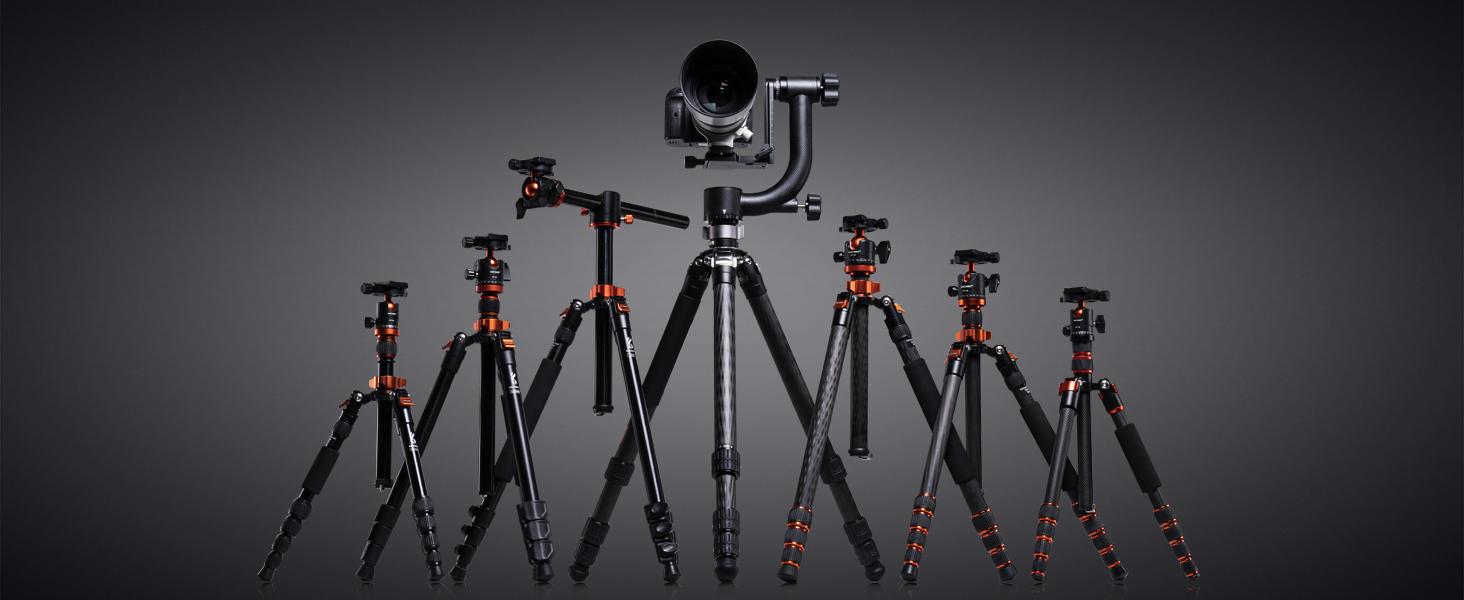 Lightweight Aluminum Travel Tripod
Ultra-portable:folds to 39cm
Ultra-light:weighs only 1.24kg
Max load capacity 17.6lbs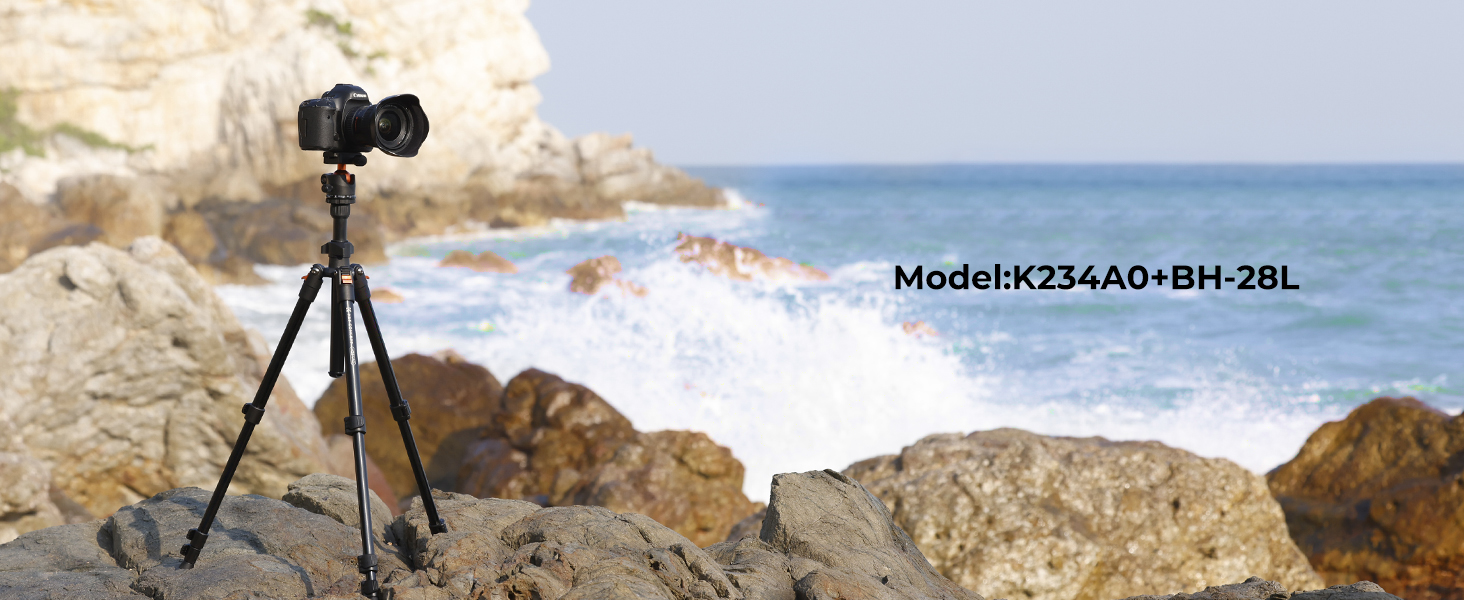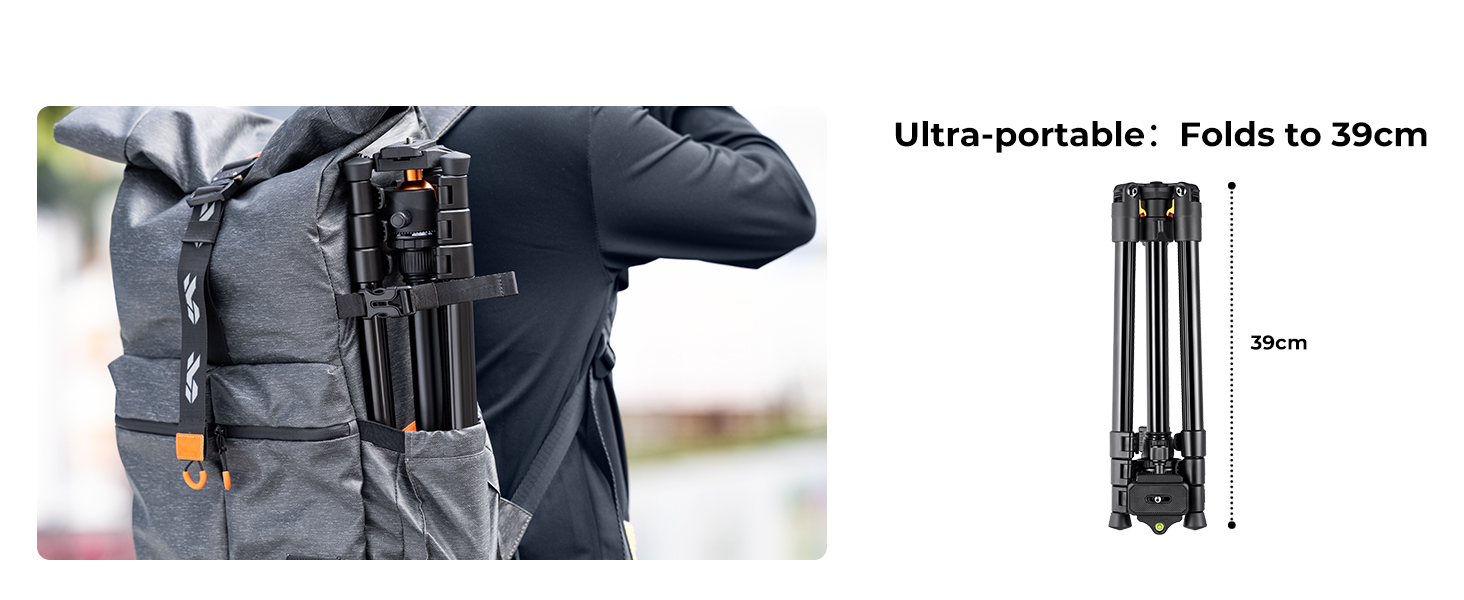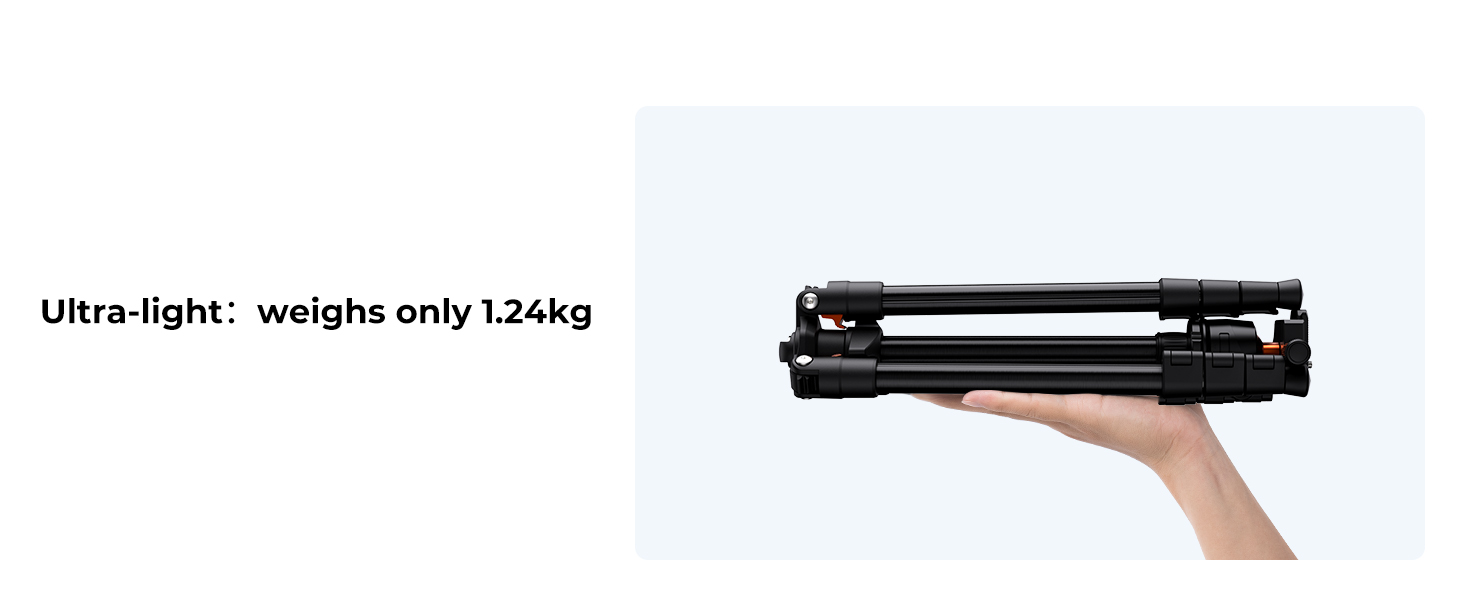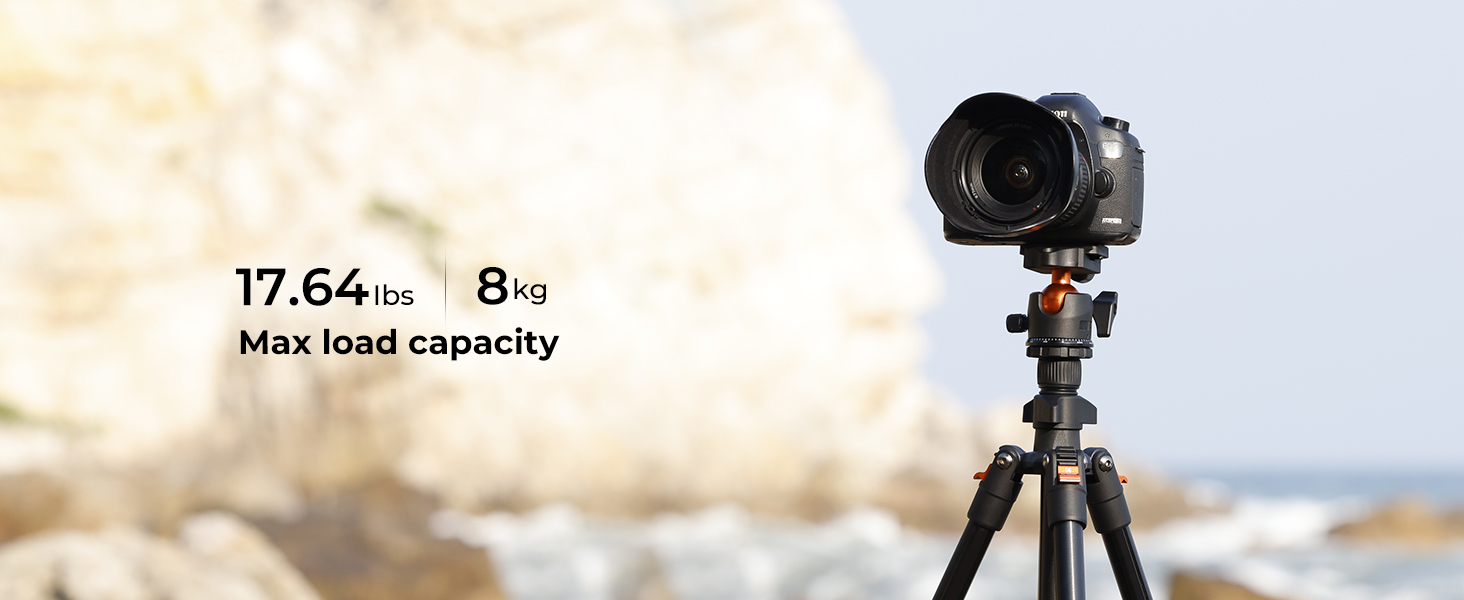 Previous
Next
360° panoramic shooting
Overhead shooting
Low-angle creative shooting
Inverted shooting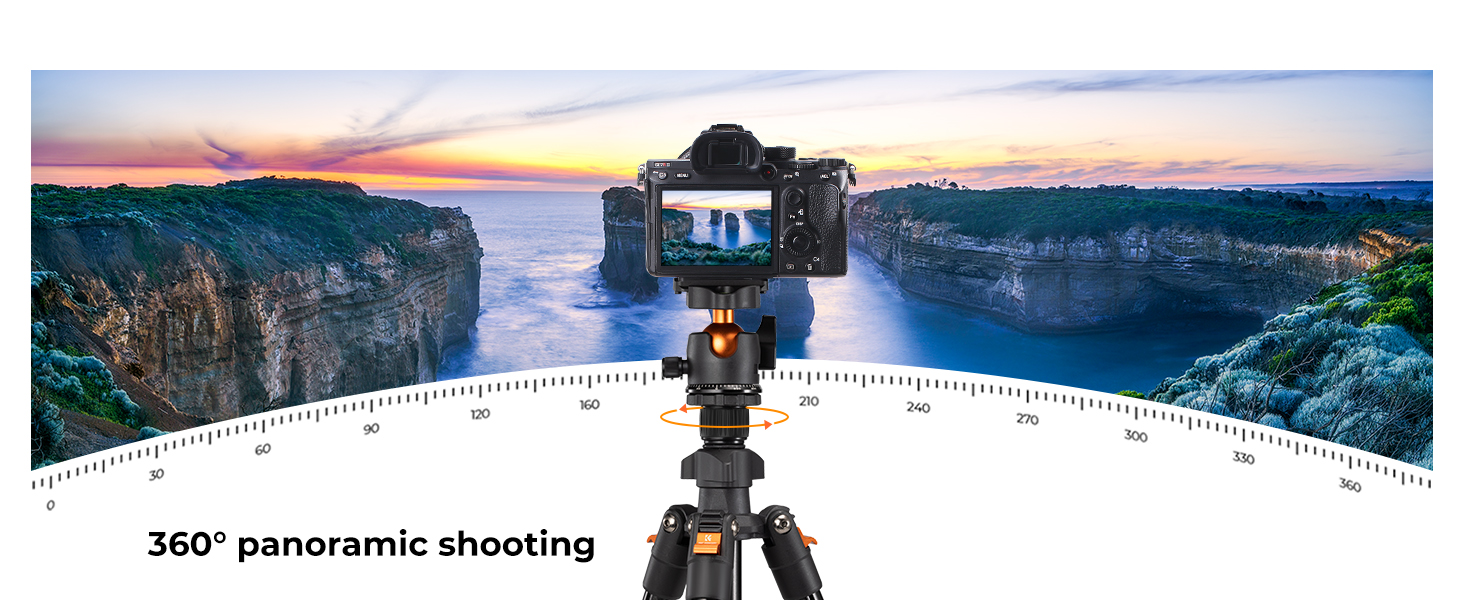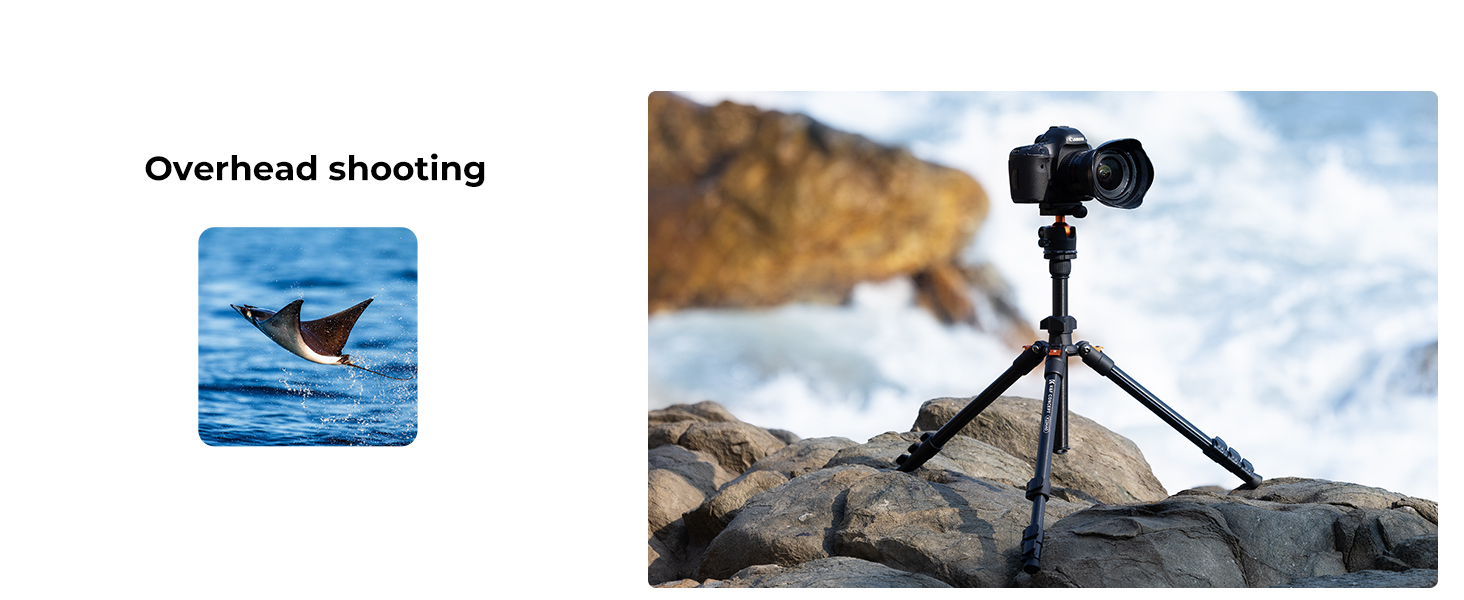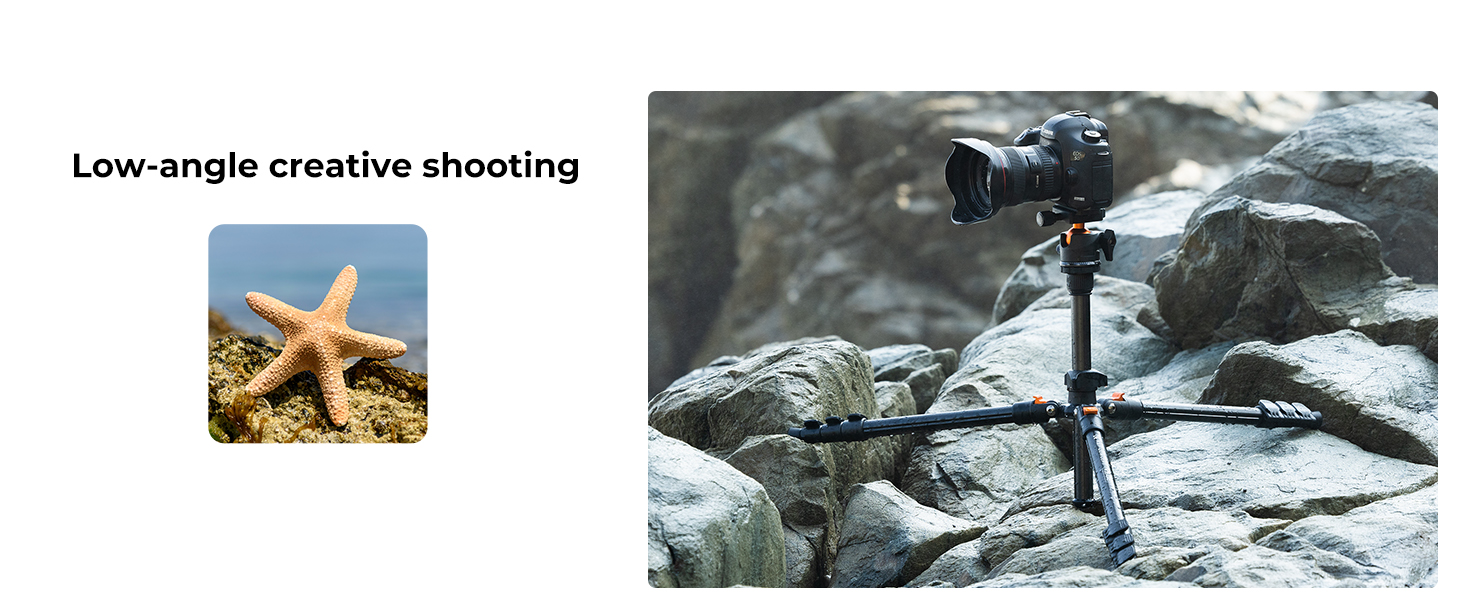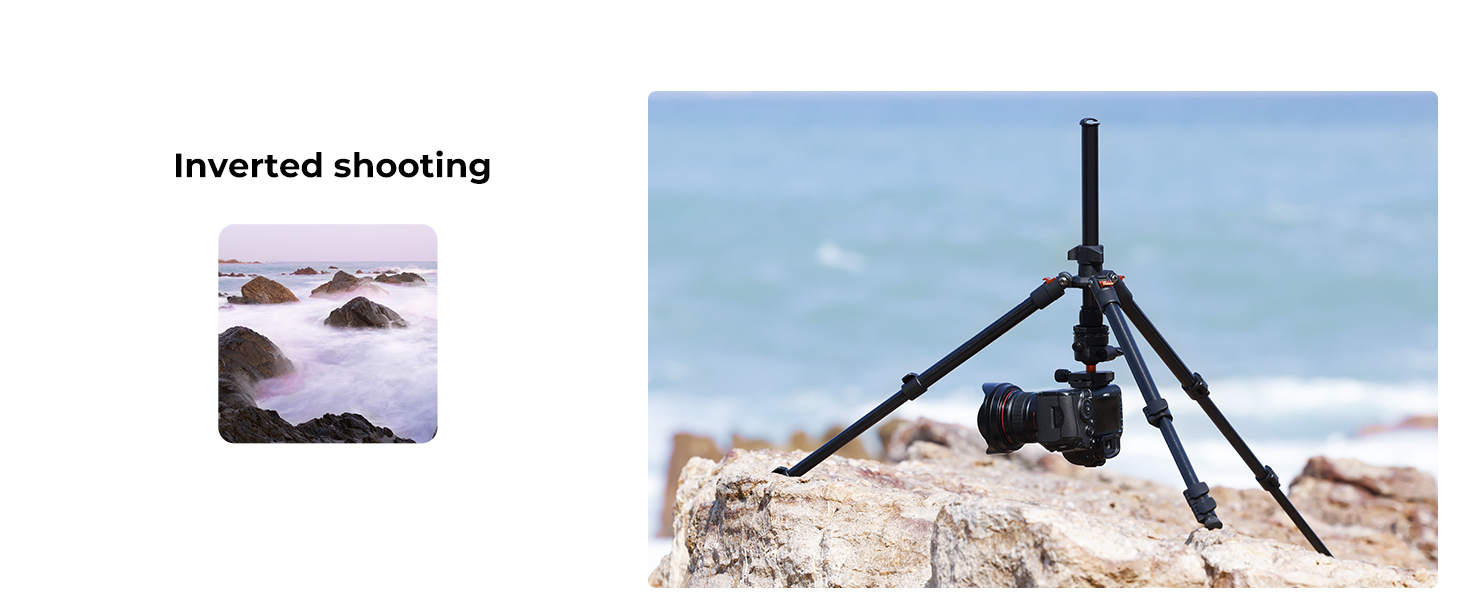 Previous
Next
All Reviews
Image

All Star

5 Star

4 Star

3 Star

2 Star

1 Star
Steady for Canon
Use this as a webcam tripod for my DSLR. The minimum height might be a bit high, but it allows you to reverse the orientation of the mount and have a more grounded viewing angle
25/04/2023
Works well
Had to upgrade the tripod due to the heavy lens, just bought the Tamron 150 600 and am impressed. It's big enough and the ball head is nice. I was concerned about the difficulty of tightening the weight to stabilize the weight from other reviews, but I have no problems at all. For the price it works well and no problems at all. I've had it for a few weeks now and was disappointed with how the legs would slide on hard surfaces, after trying to remove the metal dots on the leg ends I discovered that turning the rubber feet all the way out hides the metal dots on grass or just screw the rubber out again to expose the dots, now i'm happy again.
20/04/2023
Sturdy and stands above the rest of my tripods!
This is the tallest and most durable tripod I've bought for outdoor photo shoots. Since the photos and descriptions on the product page are detailed and show what the tripod can do, I'll focus on the un-highlighted functions and features that I appreciate about the K&F S210 Concept tripod. This tripod includes a KF-28 pan head and holds my Sony Mirrorless AIII camera with a long G telephoto lens attached. The 1/4-inch screw in the Arca-Swiss quick-release plate for holding all of my previous mounting adapters. The wide spread and thick tubular metal legs even allow me to hold my camera gear almost to the ground with its long legs and red metal spring loaded adjusters. This tripod uses metal components except for the rubberized texture on the legs for the twist-lock mechanism. This is comfortable and provides support for quick setup, and the foam-covered leg can be twisted and rotated to form a tripod with an extension tube. These leg extension mechanisms do not catch cords or clothing like the traditional plastic flip clips. For storage and transport, it folds down to under 20 inches and weighs just over 4 pounds. This tripod can be stowed in my backpack or strapped to the outside. Most tripods provide an inferior bag made of flimsy fabric with a small, fragile zipper and an uncomfortable strap. Since K&F Concert Concept also makes high-quality photo backpacks (I can speak from experience as I own one of their backpacks), the company gives you a great tote bag that's worth $30 alone. The bag has a durable exterior and thickly padded surfaces hidden between the gray thick fabric layer and black nylon interior that easily cleans from the tripod feet when dirty. On the top of the bag there is a reflective strip that is 2.5 cm wide and goes around the bag. I wasn't aware of this until I was on an evening shoot and the light caught the bag.
18/04/2023
Quickly set up and stowed away
wanted a quality tripod for long exposures and am very happy with it. I left it on the shore while the tide came in and the water didn't shake it, and the photos turned out beautifully. I've also used it for product photography and can get a nice angle. It's quick and easy to set up and store away
16/04/2023
Perfect travel tripod
I had a ranger that I lost and replaced with this one. Overall it's ok. It's slightly longer than the Ranger and heavier to pack. The bullet adjustment levers took a little getting used to and struggle to engage with the weight of a large lens. Overall good value for money and does what you need.
13/04/2023
Smile Hold it! hold it!
I've had several tripods in my life, but none have been as quiet as the K&F Concepts 78-inch 360-degree ball head tripod. After reading the attached documentation (1 small piece of paper), I went to YouTube and watched some videos on the tripod. Ken Franks website was also very informative. So far I have found no "disadvantages" s.Tripod. I took photos in every position imaginable, even tried hanging the camera upside down and got some great close-ups of ants, bugs, spiders and yes even grass. Life in the south at this particular time depends on the weather. I can't wait to get out there and do some landscapes and see the results. If you are looking for a tripod for your camera that is great quality without breaking the bank I would highly recommend this tripod. I have the 78" version as I'm 6ft 3" tall. Ken has other styles and sizes. Look at her. You won't go wrong!
12/04/2023
Nice travel tripod for the money
Without the ball head I would give 5 stars. It doesn't lock down well with a spotting scope or a heavy lens and camera body on it. I ended up buying a Neewer pan/tilt head which luckily fits the K&F tripod nicely. Other than that, it's a decent device. Just keep in mind that it's a travel tripod and won't give you a solid mount that's impervious to wind or manual adjustments. For that, I keep looking for that elusive, affordable tripod.
11/04/2023
Best deal for the price
Aside from buying some ultra-pro gear, which is a bit of overkill, this unit handles everything tripod-related, and if you buy the full version, the accessory includes a small spirit level, so no more shaky horizons or unwanted converging verticals available. You can also get the best shots to start with instead of running around with unsquare images in photo software afterwards. Mainly aluminum apart from some plastic latches and rubber feet so doesn't get loose and wobbly too quickly like those cheap generic badged tripods. Also comes in a cute tote bag with adjustable straps. Couldn't fault it.
10/04/2023
Solid, globally stable, light
K&F Concept Camera Tripod K234A7 + BH-28L + Extension Arm Kits I only uploaded 1 of the 2 videos and preferred the second one in which I explain how and where to put the different parts as the manufacturer includes a slim guide as on the photo shown. Assemble the pieces by looking at the various presentation photos, it would be 4 stars for this particular one but the tripod is worth the 5 stars. The supplied short pole is 30cm long, while the closed stand reaches 50cm. How I use the tripod is very easy to use and see the various reviews for more measurements and opinions on how well it works. Just saying I use it with Tamron 150/600 G2 on Nikon D7200 and Celestron Ultima 80 Spotting Scope both on the head ball that comes with it and the gimbal to replace it but only on a smooth tripod without the extension pole that I use have not tried. Relatively light excellent transport bag with reflective insert and shoulder strap with padded shoulder strap. The head comes with a one-for-all attachment and is of the Arca-Swiss compatible type.
09/04/2023
Good budget, light tripod.
needed a cheap, lightweight (similar) tripod for a sudden trip as I had to walk quite a bit and this seemed to fit well. The head pivots easily, is easy to adjust and locks firmly into place with no issues. The plate mount is Arca-Swiss compatible so I had no trouble swapping plates on all my gear which was a bonus. The legs insert quickly and lock very securely. They are relatively robust for the small cross-section. Some reviews mention that the tripod isn't very stable, and when the center tube is fully extended with a heavy lens/camera I can confirm that there is some (albeit relatively minor) wobble. However, I had small problems with smaller MFT devices, especially when the tube was lowered. Using a guy rope and attaching the tripod via the spring hooks kept the tripod stable in high winds on the side of a very exposed mountainside. I haven't had time to use the tripod for any length of time so I can't confirm its long term durability but I'm fairly confident that it will withstand reasonable abuse no doubt time will tell. Is it as good as my Manfrotto? Of course not, but it's less than 1/5 the price and 1/3 the weight, I would buy one again if it ever got stolen.
07/04/2023
A
hi,excluding extension tube.
Show more
How to assemble center column
How to assemble tripod leg
Tripod General
Load Capacity
17.64lbs/8kg
Maximum Working Height
63"/1.6m
Max Height without Center Column
1160mm/45.67"
Minimum Working Height
400mm/19.68"
Folded Length
390mm/15.35"
Weight
2.56 lbs/1.16kg
Materials
Magnalium Alloy
Tripod Head
Ball Head
Color
Orange/Black
Bubble Level
Tripod Legs
Leg Lock Type
Flip Lock
Leg Positions
Independent Leg Spread
Leg Sections
4
Leg Diameter
13-22mm/0.51-0.87"
Feet Features
Can be reversed 180° and folded
Tripod Center Column
Center Column Features
Center Column Inversion
Center Column Sections
2