Lightweight Portable Travel Tripod Flexible Vlog Tripod 1.6m/63" 8kg/17.64lbs Load with 360° Ball Head for Canon Nikon Sony DSLR SLR Cameras
To
United States
Expedited Free Shipping
3-5
business days
Free Shipping. 30 Day No Reason Return. K&F Concept camera tripod features Compact & Portable body, 360° PANORAMA, Reversible Center Column for Macro Photography, EASY SET UP, High Compatibility.

KF09.101

SKU:

KF09.101

69.99

https://www.kentfaith.com/KF09.101_lightweight-travel-tripod-compact-vlog-camera-tripod-flexible-portable-63-quot-1-6m-17-64lbs-8kg-load-with-portable-monopod-for-dslr-cameras-bi234m
Description
* 【Compact & Portable - Perfect for Travel, Vlog & Work】Quality military magnesium-aluminum alloy, corrosion resistance; tripod with ball head weighs only 2.56 lbs/1.16kg, it can be 180°reflexed and folded to 390mm/15.35", easy to put in a backpack or suitcase when travel.
* 【360° PANORAMA】The 28mm large KF-28 metal ball head provide 17.64lbs/8kg load capacity, it can be rotated 360 degrees, helping to expand DSLR camera activity range when panoramic shooting.
* 【Reversible Center Column for Macro Photography】K&F Concept BI234M tripod has a reversible center column, so you can get even closer to the ground if needed. This feature is specially designed for macro photography.
* 【EASY SET UP】 4 sections tube leg and the max diameter is 22mm; With powerful and quick flip leg lock allows you to adjust the working height in seconds; The height without column reaches 1160mm/45.67" and the height with 2 sections center column is 1630mm/62.99", making standing shooting easier.
* 【High Compatibility】The quick release 1/4" screw is suitable for most cameras, DSLR cameras, a projector, and telescope, etc; Your phone can be connected via an extra phone mount as well.
Shipping
To
United States
Expedited Free Shipping
3-5
business days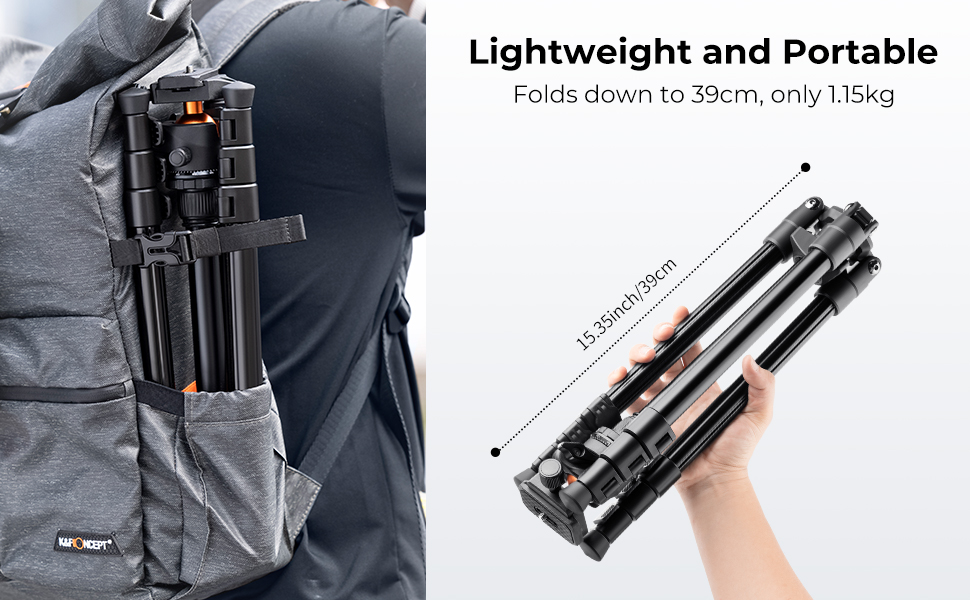 ·Lighter and compact: The versatile tripod with head weighs only 1.15kg, folded only 39cm, easy to put in your travel backpack and luggage.
·Macro Shooting: By folding the central column, you can turn the tripod upside down and the camera gets a lower angle, so you can shoot plants and insects directly on the ground or do other creative shots.
·Make Your Hands Free for Long Exposures: With the K&F Concept K234A0, the camera tripod can be adjusted to a maximum working height of 163 cm, so that you can take better pictures with long exposures or in the dark.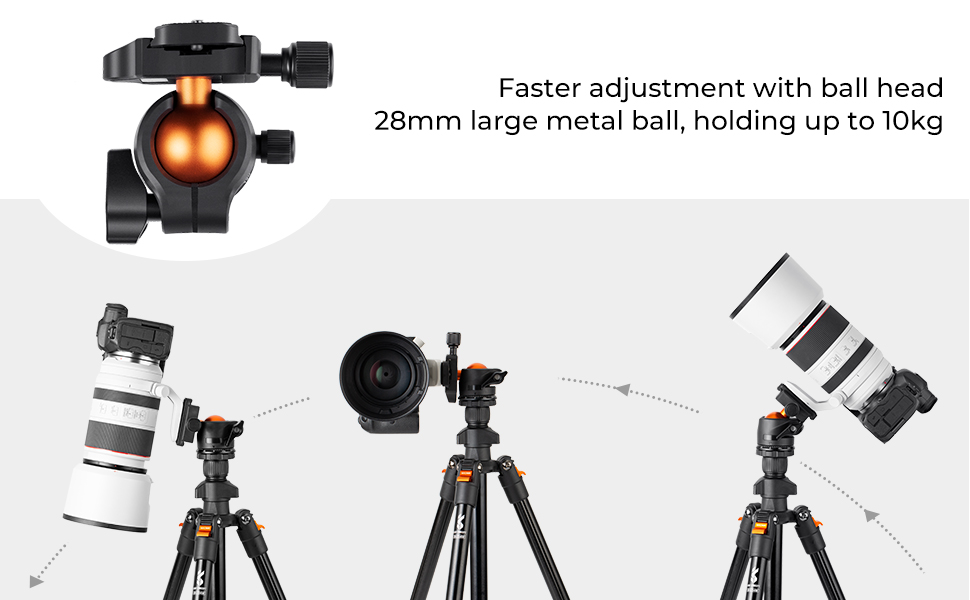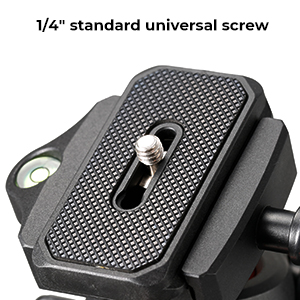 Height Compatible
With a standard 1/4'' thread you can attach digital cameras, SLR cameras, video recorders and telescopes.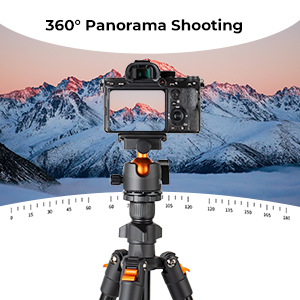 360° Metal Ball Head
With 360° scale at the base of the head, it allows you to adjust the angle and panorama button to get the best angle and panoramic picture.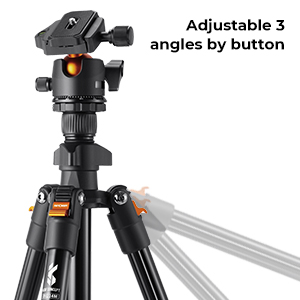 Flexible Angle Adjustment
You can use the tripod angle adjustment knobs to find the best position for shooting.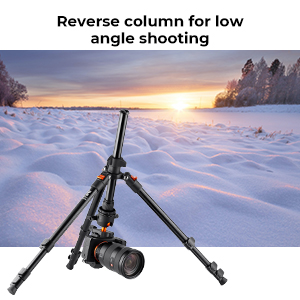 Macro Function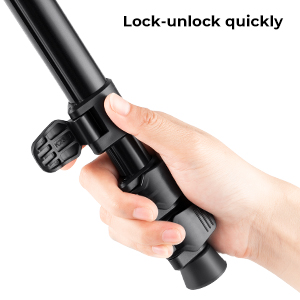 Lock-unlock Quickly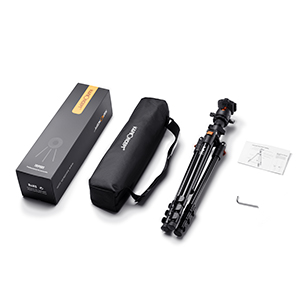 Product List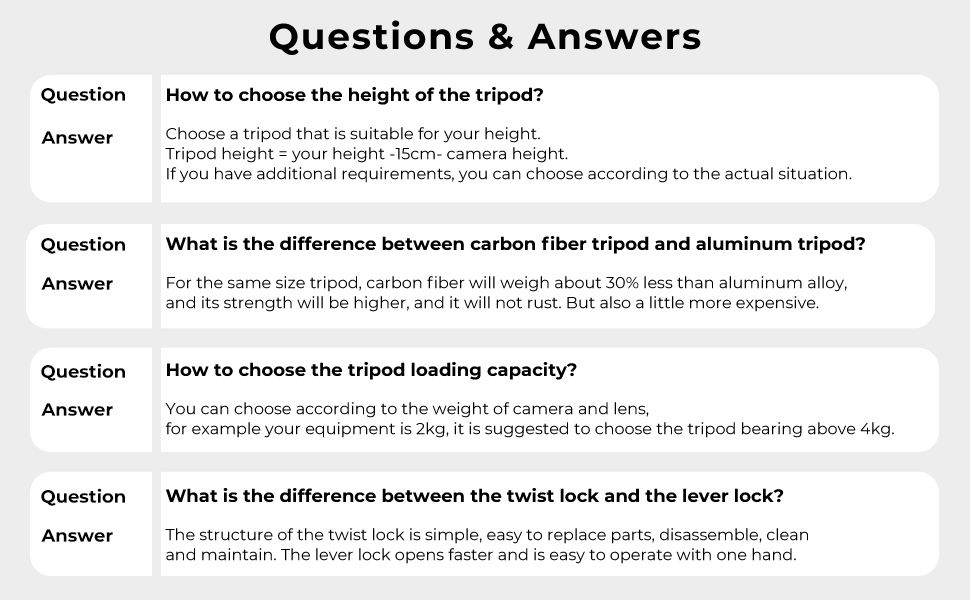 Lightweight tripod!
This tripod impressed us for its lightness, really really light, it is ideal for anyone who plans a lot of trips and wants to take this tripod everywhere, its super compact size makes it the best friend of bags, backpacks and hand luggage. Excellent folding handle that allows a comfortable grip for short trips without having to store the tripod and thus having it always ready for use and without always fighting with the legs to find a comfortable grip. This tripod makes readiness for use one of its main features, in fact the clip release of the legs, which we prefer over the screw ones, makes it very quick to prepare, from closed and stored in the backpack to completely open with the machine in position in less than 30 seconds, you'll never miss a moment again.
27/08/2022
Good budget, lightweight tripod.
I needed a cheap, light(ish) tripod for a sudden trip as there was a fair amount of walking involved and this seemed to fit the bill nicely.

The head is smooth to pan, easy to adjust and locks tightly with no issues. The plate mount is arca-Swiss compatible so had no issues swapping plates on all my gear which was a bonus.
The legs are quick to deploy and lock up very securely. They're relatively sturdy for the small cross section.

Some reviews mention that the tripod isn't very stable and with the centre tube fully extended with a heavy lens/camera I can confirm that there is a definite (although relatively small) amount of wobble. However with smaller MFT gear I had little issues, especially when the tube is dropped lower. Using a guy rope and pegging the tripod down via the sprung hook kept the tripod rock steady in high wind on the side of a very exposed mountain slope.

I've not had time to use the tripod for an extended period so I can't attest to its long term durability but I'm fairly confident it'll stand up to some reasonable abuse, no doubt time will tell.

Is it as good as my Manfrotto? Of course not, but it's less than 1/5th the price and 1/3rd of the weight, I'd buy another again should this one ever get stolen.
10/08/2022
Light weight and steady.
Inexpensive, mobile phone and camera holder, easy to carry and lots of adjustment options. I am completely satisfied.
03/01/2022
Sturdy and Stands above the rest of my tripods!
This is the tallest and most durable tripod I have purchased for outdoor photo shoots. Since the photos and descriptions on the product page are thorough and show what the tripod is capable of doing, I will focus on the functions and features not highlighted that I appreciate about the K&F S210 Concept tripod.
This tripod includes a KF-28 swivel head and holds my Sony Mirrorless AIII camera with an attached lengthy G telephoto lens. The 1/4 inch screw in the quick release Arca swiss plate to accommodate all my previous mounting adapters.
The wide spread and thick metal tube legs even allows me to hold my camera equipment with it long legs and almost to the ground level thanks the red metal spring loaded adjusters. This tripod uses metal components except for the rubberized texture on the legs for the twist locking mechanism. This is comfortable and provides grip to quickly setup and the foam covered leg can twist and turn to form a tripod with extension tube. These leg extension mechanisms do not catch cords or clothing like the traditional plastic flip clips.
For storage and transport it folds to under 20 inches and weighs slightly over 4 pounds. This tripod can be stored in my backpack or on the outside lashed. Most tripods give a low quality bag made of thin fabric with small breakable zipper and an uncomfortable strap. Since K&F concert concept also makes high quality photography backpacks ( I can speak from experience since I own one of their backpacks) the company gives you an awesome carry bag that is worth $30 by itself. The bag has a durable exterior and has thick padded surfaces that is hidden between the grey thick fabric layer and interior black nylon that is easy to wipe clean if dirty from the tripod feet. The top of the bag features a reflective stripe that is an inch wide that goes around the bag, I was not aware of it until I was at an evening shoot and the light caught the bag.
04/09/2022
Works well
I had to upgrade tripod because of heavy lens just purchased tamron 150 600 and I'm impressed. Its plenty tall and the ball head is nice.had a worry from other reviews that it's hard to tighten to stabilize the weight but I have no issues at all.for the price it works well and no issues at all. I've had it for a few weeks now and was disappointed how the legs would slide on hard surfaces, after trying to remove the metal points on leg bottoms I discovered turning the rubber feet all the way out will conceal the metal points.if outdoors in grass or dirt just screw the rubber back out to expose the points ,now I'm happy again.
23/07/2022
Solid, globally stable, light
K&F Concept Camera Tripod K234A7 + BH-28L + Extension Arm Kits I uploaded only 1 of the 2 videos and I preferred the second where I explain how and where to insert the various pieces since the manufacturer attaches a lean manual as shown in the photo. assemble the parts by looking at the various presentation photos, it would be 4 stars for this particular but the tripod is worth the 5 stars. The short rod supplied is 30 cm long while the closed stand reaches 50 cm. How I use the tripod is very simple to use and other measures and opinions on how well it works can be found in the various reviews, I just say that I use it with Tamron 150/600 G2 on Nikon D7200 and Celestron Ultima 80 spotting scope both on head ball supplied and on Gimbal to replace it but only on smooth tripod without the extension rod that I have not tried. Relatively light weight excellent transport bag with reflective insert and shoulder strap with padded shoulder strap. Head equipped with attachment for anything and is of the Arca-Swiss compatible type.
06/07/2022
Perfect travel tripod
I had a Ranger which I lost and replaced it with this. Overall it is fine. It is a tad longer than the Ranger and harder to pack. The levers of adjusting the ball took some getting used to and have trouble locking in with the weight of of large lens. Overall a good value and does what you need it to do.
29/08/2022
Broken clip
One of the clip was broken on arrival, the actual tripod otherwise feels good, a replacement spare part has been organized
26/08/2022
Fantastic tripod
Love everything about the tripod. Exactly as described. A little heavier than I thought it would be. Takes some practice to use but still would highly recommend.
06/08/2022
Steady tripod
I bought the tripod because it made a fairly stable impression in the product images can confirm this impression after delivery; The tripod is really solid. So you can also attach larger cameras to it stable. Even in the wind or on uneven surfaces, it holds well; The height is optimally adjustable; All in all a great tripod for leisure and work. The carry bag also makes it easy to carry and store.
03/08/2022
There are no faqs for this product.
How to assemble center column
How to assemble tripod leg
Tripod General
Load Capacity
17.64lbs/8kg
Maximum Working Height
63"/1.6m
Max Height without Center Column
1160mm/45.67"
Minimum Working Height
400mm/19.68"
Folded Length
390mm/15.35"
Weight
2.56 lbs/1.16kg
Materials
Magnalium Alloy
Tripod Head
Ball Head
Color
Orange/Black
Bubble Level
Tripod Legs
Leg Lock Type
Flip Lock
Leg Positions
Independent Leg Spread
Leg Sections
4
Leg Diameter
13-22mm/0.51-0.87"
Feet Features
Can be reversed 180° and folded
Tripod Center Column
Center Column Features
Center Column Inversion
Center Column Sections
2