100x100mm Square Black Diffusion Filter Kit Black Diffusion 1/4 Filter + Filter Holder
Buy 99$-9$, 199$-25$, 299$-39$, 599$-100$
New customer gift package
Free shipping to eligible country
Buy KENTFAITH 100x100mm square black diffusion filter kit black diffusion 1/4 filter + filter holder online, worldwide free shipping and 30 days return guarantee.

SKU.1915

SKU:

SKU.1915

116.99

https://www.kentfaith.com/SKU.1915_100x100mm-square-black-diffusion-filter-kit-black-diffusion-1-4-filter-filter-holder
Buy 99$-9$, 199$-25$, 299$-39$, 599$-100$
Description
* 【 Dream Cinematic Effect】This black diffusion 1/4 effect filter could soften the wrinkles, freckles and pores of facial skin, making it more delicate, plump and gorgeous. The hazy film effect can be better realized, showing dreamily effect. Recommending use it in video shooting and portrait photography.
* 【28 Multi-Layer Coatings】Both sides of glass with waterproof, scratch-resistant and oilproof coatings, easy for cleaning. Without any negative influence for the image quality.
* 【Import Optical AGC Glass】K&F Concept black diffusion 1/4 filter Made by Japanese AGC optical glass , multi-coatings reduces the transmittance to 84%, effectively reduces reflection of filter surface.
* 【Metal Filter Holder】Allows creative use of light correction or special effects. Just swipe through different filters to take beautiful and colorful photos. This filter holder can be equipped with adapter rings of various sizes.
* 【Kit Includes】This square black diffusion kit includes 1x 100x100mm square black diffusion 1/4 filter + 1x metal filter holder + 1 x Filter Carry Case + 8 x Filter Adapter Rings (49/52/58/62/67/72/77/82mm).
Shipping
Free shipping to eligible country
Sale
Buy 99$-9$, 199$-25$, 299$-39$, 599$-100$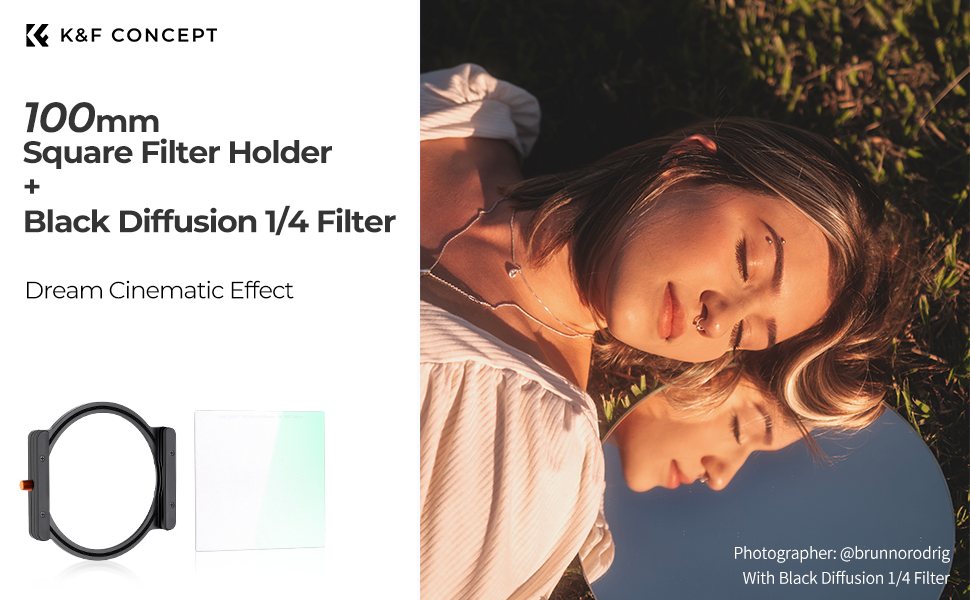 K&F Concept Square Black Diffusion 1/4 Filter Kit + 8 x Adapter Rings + 1x Mental Filter Holder with Carrying Case
• Reduces highlights and lowers glare.
• The surface high-tech film is waterproof, scratch-resistant, and oil-proof, protects the black diffusion filter from all around, and extends the service life.
• Imported Japanese AGC optical glass with double-side polishing technology ensures high definite image quality.
• Soften wrinkles, blemishes, and pores while maintaining skin tone values, making wrinkles less noticeable.
• Creates a soft quality of light and pastel effect, delicate and hazy cinematic effect, provides a soothing effect on skin tones.
• Uses the K&F Concept nanometer coating process to protect the filter effect between two pieces of glass, dosen't affect image quality.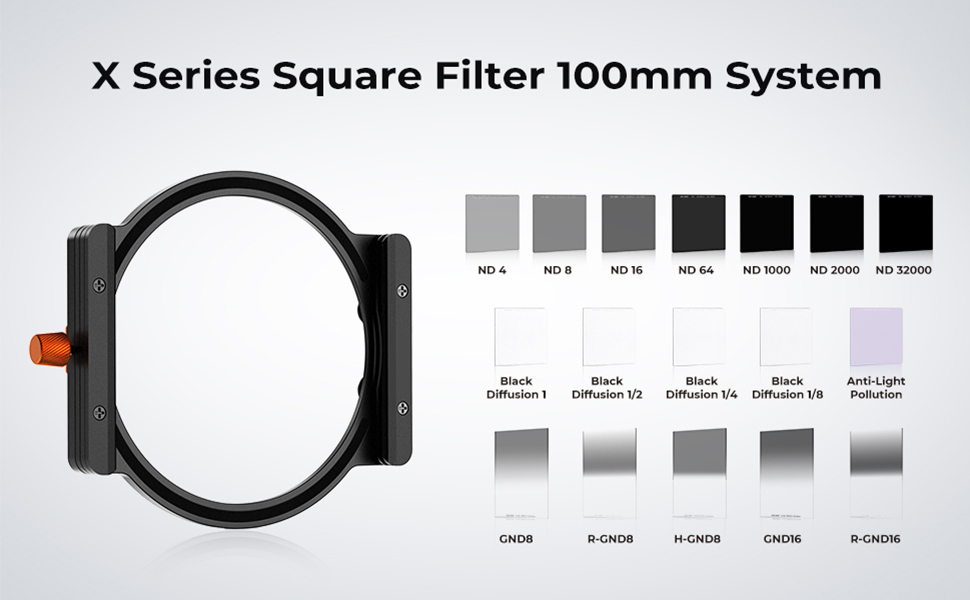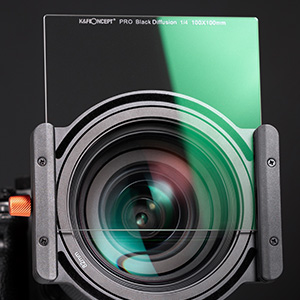 28 Multi-Layer Coated
With 28-layer nano-coating for added sharpness and durability.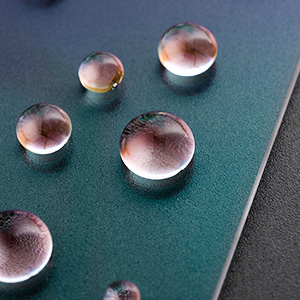 Waterproof & Scratch Resistant
Waterproof, low-reflection and easy to clean thanks to the exclusive K&F Concept nano-coating.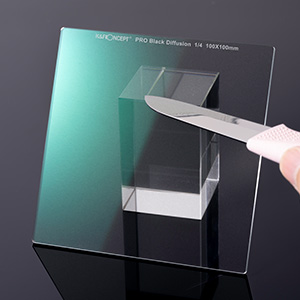 Scratch-resistant coating
Each side with anti-scratch nano-coating for better protection.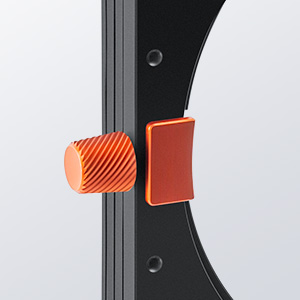 Locking Button
The mount rotates 360 degrees and features a lock to lock the filters in a single position.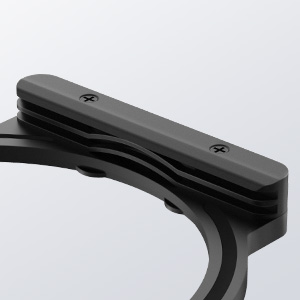 Ultra Thin Filter Holder
The bracket thickness is only 9mm. New design makes 100x100mm filters easier to insert and remove. Up to 2 rectangular filters (100x100mm or 100x150mm) can be used simultaneously.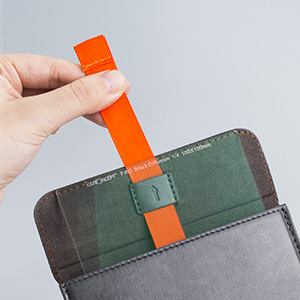 PU filter bag
The PU filter bag offers you perfect protection for the rectangular filter.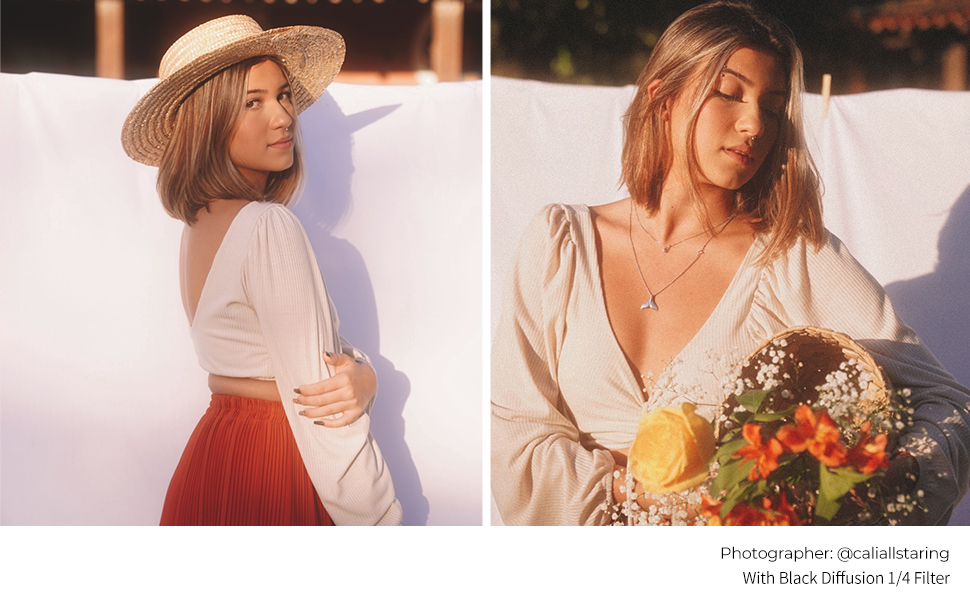 There are no reviews for this product.
There are no faqs for this product.