100x100mm Square Black Diffusion Filter Kit Black Diffusion 1/4 Filter + Filter Holder
Buy 99$-15$, 199$-30$, 299$-50$, 599$-120$(Black Friday Price)
Free shipping worldwide
Buy now in the K&F Concept Nano X Square System Kit ► 30 Day No Reason Return ► Black Diffusion 1/4 Filter ► Fast Shipping From US Free ► Nano X Series

SKU.1915

SKU:

SKU.1915

116.99

https://www.kentfaith.com/SKU.1915_100x100mm-square-black-diffusion-filter-kit-black-diffusion-1-4-filter-filter-holder
Buy 99$-15$, 199$-30$, 299$-50$, 599$-120$(Black Friday Price)
Description
* 【 Dream Cinematic Effect】This black diffusion 1/4 effect filter could soften the wrinkles, freckles and pores of facial skin, making it more delicate, plump and gorgeous. The hazy film effect can be better realized, showing dreamily effect. Recommending use it in video shooting and portrait photography.
* 【28 Multi-Layer Coatings】Both sides of glass with waterproof, scratch-resistant and oilproof coatings, easy for cleaning. Without any negative influence for the image quality.
* 【Import Optical AGC Glass】K&F Concept black diffusion 1/4 filter Made by Japanese AGC optical glass , multi-coatings reduces the transmittance to 84%, effectively reduces reflection of filter surface.
* 【Metal Filter Holder】Allows creative use of light correction or special effects. Just swipe through different filters to take beautiful and colorful photos. This filter holder can be equipped with adapter rings of various sizes.
* 【Kit Includes】This square black diffusion kit includes 1x 100x100mm square black diffusion 1/4 filter + 1x metal filter holder + 1 x Filter Carry Case + 8 x Filter Adapter Rings (49/52/58/62/67/72/77/82mm).
Shipping
Free shipping worldwide
Sale
Buy 99$-15$, 199$-30$, 299$-50$, 599$-120$(Black Friday Price)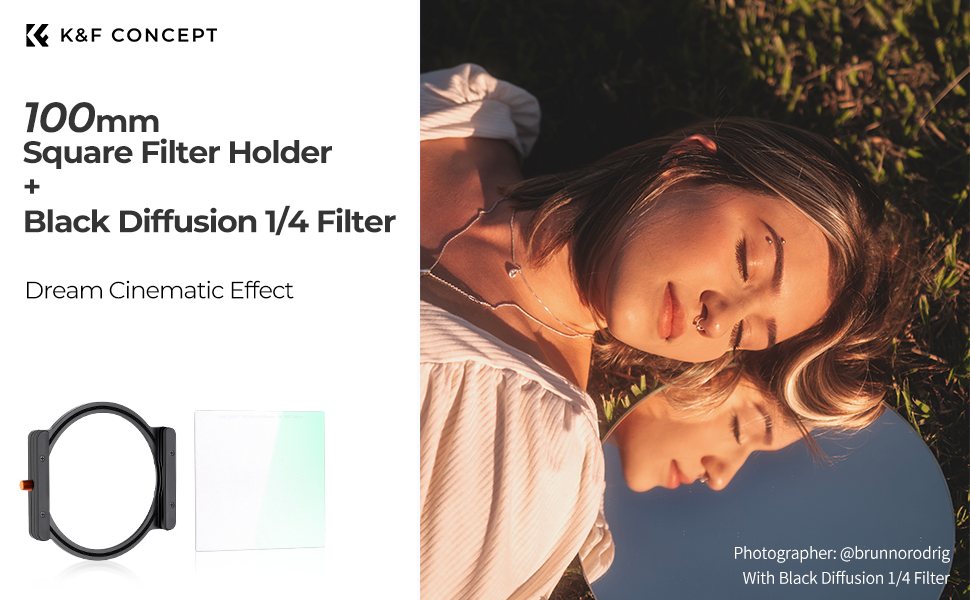 K&F Concept Square Black Diffusion 1/4 Filter Kit + 8 x Adapter Rings + 1x Mental Filter Holder with Carrying Case
• Reduces highlights and lowers glare.
• The surface high-tech film is waterproof, scratch-resistant, and oil-proof, protects the black diffusion filter from all around, and extends the service life.
• Imported Japanese AGC optical glass with double-side polishing technology ensures high definite image quality.
• Soften wrinkles, blemishes, and pores while maintaining skin tone values, making wrinkles less noticeable.
• Creates a soft quality of light and pastel effect, delicate and hazy cinematic effect, provides a soothing effect on skin tones.
• Uses the K&F Concept nanometer coating process to protect the filter effect between two pieces of glass, dosen't affect image quality.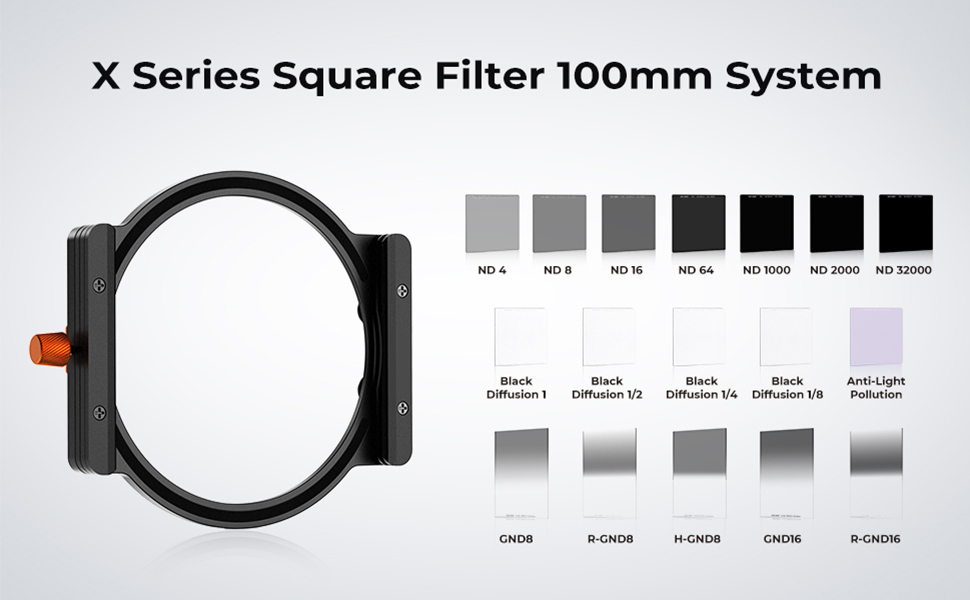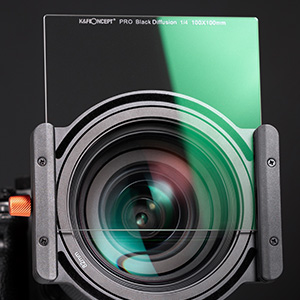 28 Multi-Layer Coated
With 28-layer nano-coating for added sharpness and durability.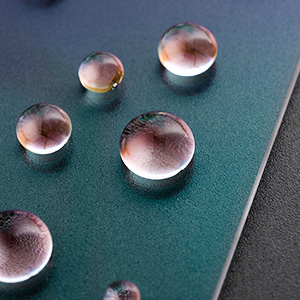 Waterproof & Scratch Resistant
Waterproof, low-reflection and easy to clean thanks to the exclusive K&F Concept nano-coating.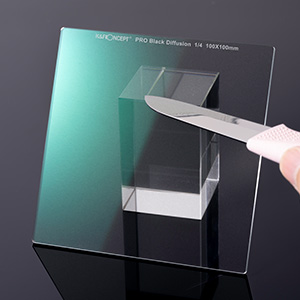 Scratch-resistant coating
Each side with anti-scratch nano-coating for better protection.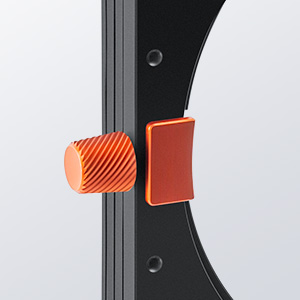 Locking Button
The mount rotates 360 degrees and features a lock to lock the filters in a single position.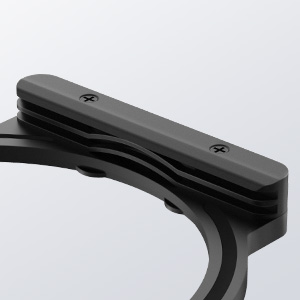 Ultra Thin Filter Holder
The bracket thickness is only 9mm. New design makes 100x100mm filters easier to insert and remove. Up to 2 rectangular filters (100x100mm or 100x150mm) can be used simultaneously.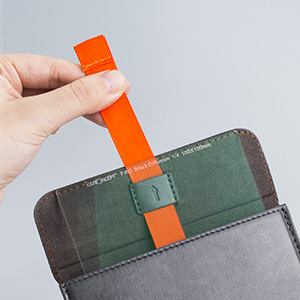 PU filter bag
The PU filter bag offers you perfect protection for the rectangular filter.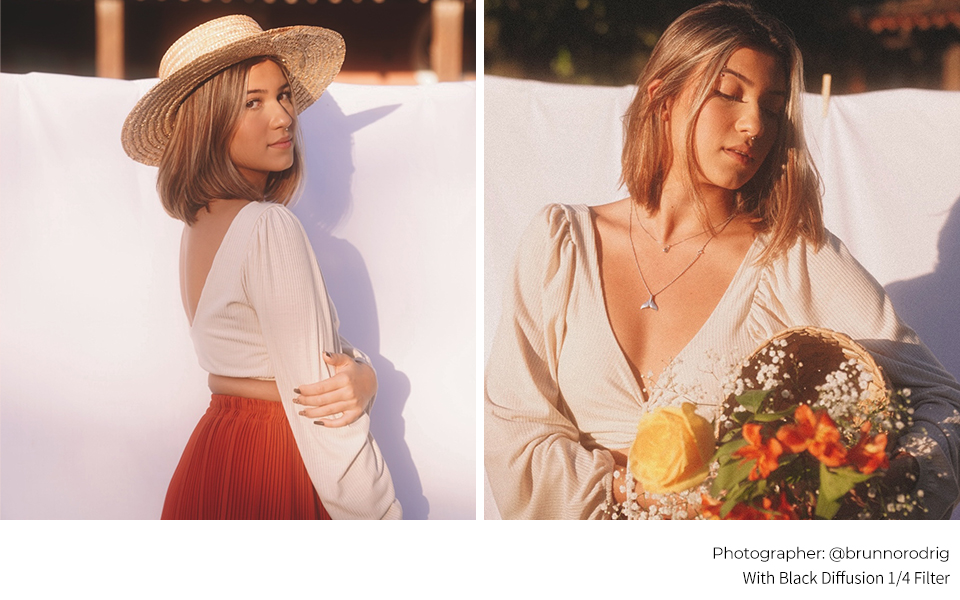 All Reviews
Image

All Star

5 Star

4 Star

3 Star

2 Star

1 Star
High quality for good price
High quality lens and leather cases, nice packaging design.
An 55mm adapter would be very welcome to use the filters on my wide Zeiss lens as well.
I added only 4 stars, because the holder's screw thread is loose and wobbly even on the K&F UV filter attached on my lens.
26/11/2023
Briljante kwaliteit
Deze filters zijn een absoluut hoogtepunt, overtuigend goede kwaliteit, alles past perfect, alles is hoogwaardig verpakt en beschermd en veilig beschermd voor transport in mooie koffers. De eerste tests zijn veelbelovend, maar ik heb momenteel geen geschikt motief om de volledige sterkte van de filters te testen, maar ik heb er alle vertrouwen in dat er uitstekende en overtuigende foto's mee kunnen worden gemaakt.
14/07/2023
Topkwaliteit tegen een eerlijke prijs
Ik wilde altijd al een gradiëntfilter van hoge kwaliteit hebben. En ik heb hem gevonden. Het filter zit stevig in de houder, de filterhouder is eenvoudig op de lens te monteren. Alles perfect. Zeer goede kwaliteit. Alles voelt van hoge kwaliteit aan, volledig van metaal en het gradiëntfilter, dat van glas is, is goed gemaakt. Bovenkant
11/07/2023
Excellent product
This has got to be onc of the best value for money filter sets on the market. With all the adaptor rings this works on all 3 of my camera's lenses which means no purchasing separate filters. Filter slides in and our with ease but has good enough resistance that you arnt worries about the glass falling out. Very good hydrophobic properties and quick to insert or remove. Allowed me to capture the above image around midday sun.
10/07/2023
Grote waarde, kwaliteitsproducten
Twijfelde of ik dit of een ander merk zou kopen. Voor dezelfde kwaliteit zouden filters minstens twee keer zoveel hebben gekost. Mijn enige minpunt zou zijn dat de filterhouder iets steviger zou kunnen zijn.
10/07/2023
Top quality
Bought this to replace the cheap graduated filter set which provided terrible pictures. First thought as soon as you open the boxes is how well everything is presented and the build quality. All metal parts precisionally made. The graduated glass is of high quality. The pouch looks like leather and has an easy pull tab to gain access to the filter. The filter folder can rotate on the adapter. This is sprung loaded and is easy to attache and remove on the adapter. Anyone looking for good quality and value should consider this kit.
03/05/2023
A great budget-friendly option for filters
A few years ago, I started beefing up my camera equipment. I had a Canon 5D Mark IV camera body, but didn't have great glass. So, I started my gear journey by upgrading my lenses. I now have four amazing lenses including a 70-200, 24-70, 100mm Macro, and a Wide Angle lens. After I finalized my collection of lenses, I started looking at accessories I needed to accompany those lenses and came up with a short list of items that included high-quality filters. The problem I had was that I needed to be able have filters that works with all my lenses. Buying filters for each one of your lenses can get really cost prohibitive. So, one solution I found was to get a square filter with step-down rings. K&F Concept has a great option for this type of set-up so I gave it a try.

About a month ago, I shot photos at a wedding on a mountaintop in Tennessee. It was in the middle of the afternoon and the sun was super bright at the location of the ceremony. The venue was huge and I wanted to pack my camera bag somewhat light so that I didn't have to struggle with tons of equipment. The square filter set from K&F concept was perfect for this type of work. The kit is lightweight and it makes it possible to use the one filter for several different sizes of lenses. During this wedding I was working with an 82mm lens and a 77mm lens as my primary glass. At the ceremony site, I had to quickly swap lenses and reapply the filter in order to get the shots the couple wanted. I found gaps in the ceremony where I could quietly and quickly change lenses and attach the filters without disturbing the event. It worked perfectly and even though some people might consider it cumbersome, I thought it was a lot easier than having to swap lenses and then screw filter into each lens.

When using these filters, I shot exclusively in RAW, but did not perceive any color cast from the filters. The mount is solid and the filter is well-protected by the soft lining in the case. It's very easy to attach the mount to the lenses and in my opinion is actually easier to work with than individual filters.

I do feel like the lens adapter could fit a little more snuggly onto the camera lens, but I'm definitely not complaining about that and it is certainly not a dealbreaker. It's just a tweak that could make the product even better than it already is.

One of the most appealing features of this product is its price. At $73, it's much more budget-friendly than purchasing a single ND1000 filter. This is a great set-up for beginners and professionals alike.
02/05/2023
There are no faqs for this product.
Do You Know How Your K&F Concept Filters be Produced? | One-day Tour in Production Line
Use Square Black Mist Filter for ASTROPHOTOGRAPHY? | K&F Concept Black Mist Filters