5" LCD Panda Video Baby Monitor with Night Vision Camera Temperature Monitoring 2 Way Talk Lullaby Vox Function Connect Up to 4 Cameras US Power Plug
Out Of Stock
Product Unavailable
No Cancellation Fee
Buy 99$-9$, 199$-25$, 299$-39$, 599$-100$
New customer gift package
Free shipping worldwide
Brand:

KENTFAITH

Free Shipping. 30 Day No Reason Return. K&F baby monitor features 5" big screen, temperature monitoring, long standby time, two-way audio, clear night vision.

GW50.0031US

SKU:

GW50.0031US

129.99

https://www.kentfaith.com/GW50.0031US_5-inch-panda-lcd-video-baby-monitor-with-night-vision-camera-temperature-monitoring-dual-audio-function-lullaby-vox-function-can-be-extended-to-4-cameras-us-standard
Buy 99$-9$, 199$-25$, 299$-39$, 599$-100$
Description
* Smart Temperature Monitoring - With smart temperature monitoring technology, the built-in temperature sensor on the baby camera will send alert to the parent unit. Baby monitor with temperature sensor helps keep your little one cozy and let them enjoy the right temperatures in their room.
* 5" LCD 720p HD Display Screen - The 5" display of 720p high resolution shows your adorable baby's body in full view - no movement is over-sighted. Need more detail? The camera zooms up to 4 times.
* Clear Night Vision - The video baby monitor with night vision provides crisp, clear footage and automatically switches to the Infrared Night Vision. Our video baby monitor uses infrared night vision tech to capture vivid footage even in dim conditions.
* No WiFi No APP - Trusted by families all over the world, each K&F Concept monitor is transmitted via secured internal 2.4GHz channel with FHSS technology, so you can rest assured that you're the only one who can hear and see your baby.
* Whole-Room Coverage - Pan the camera 355 Degree to see corner-to corner and tilt 70 Degree to see floor to ceiling. If your baby escapes the crib, you'll be able to see it all happening. Move the baby camera around easily with the buttons on the LCD display. Get a clear and stable live-stream from anywhere in your home with wireless range coverage of up to 984ft/300m. Baby Monitors are on the list of Top 10 Baby Must-Haves For First-Time Parents, Best Gifts for New Moms.
Shipping
Free shipping worldwide
Sale
Buy 99$-9$, 199$-25$, 299$-39$, 599$-100$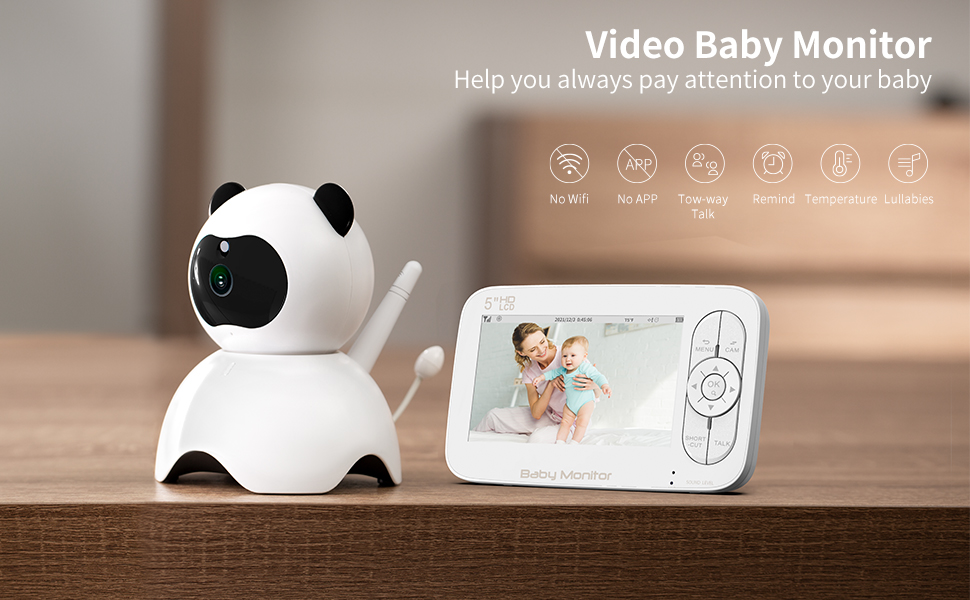 Baby monitor with camera-a good helper for mothers to take care of the baby
Baby monitors with cameras give parents a sense of security and make daily life with toddlers easier.
The large 5-inch 720P high-definition display is more detailed than previous baby monitors, showing you clear baby photos.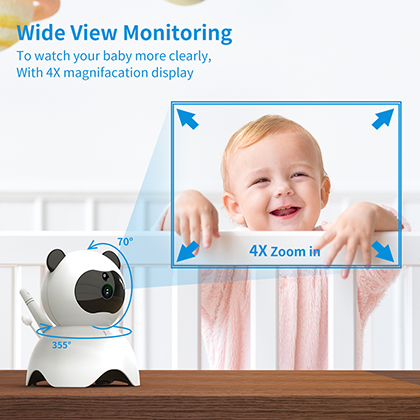 Large 5-inch LCD display:
The 5-inch high-definition 720p resolution color large screen, the picture is clear, 355 ° rotation, you can see your baby from all angles. The 65° wide-angle camera captures a wider field of view.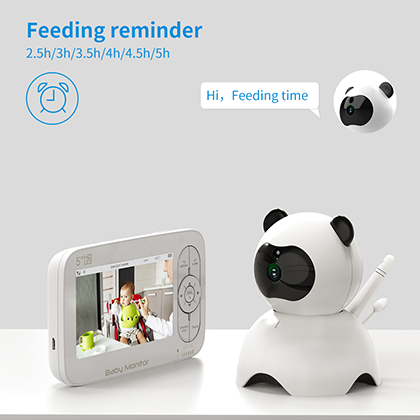 Feeding alarm reminder:
This function reminds you to feed your baby on time. You can set the time freely.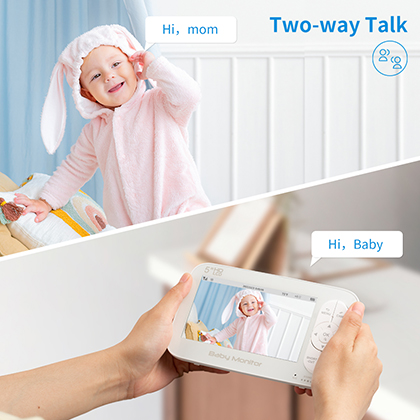 Two-way audio:
The integrated microphone and speaker ensure simple and real-time communication, and you can have a peaceful conversation with your child from a distance by just pressing a small button.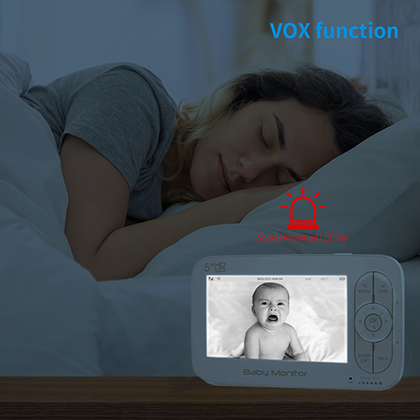 Voice control mode:
VOX is a voice-activated switch, usually used to turn on the screen when there is noise in the baby room, and turn off the screen when the baby room is quiet.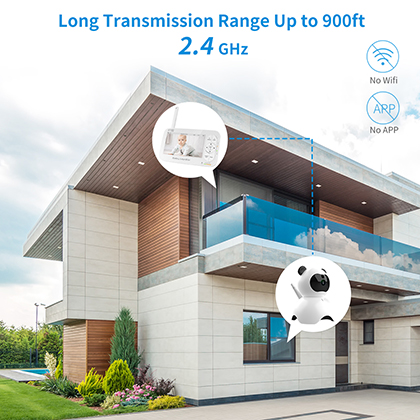 Excellent coverage:
-No WiFi baby monitor is a reliable choice for 100% privacy and security.
-Range up to 300M: Thanks to the secure connection and high-resolution color screen, your baby can not only hear but also see-Ideal for homes and gardens.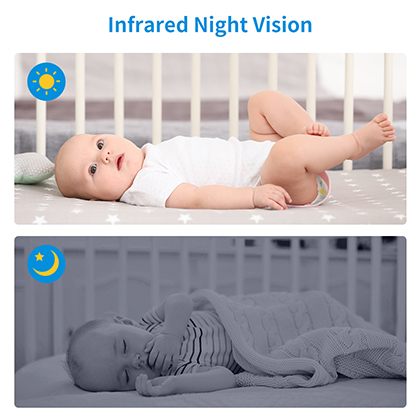 From day to night:
-Equipped with infrared light, automatic switching between day and night mode, you can also look after your baby at night.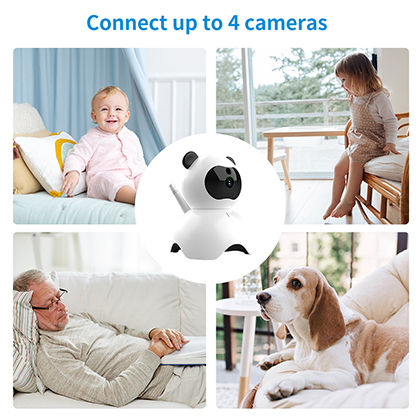 Connect up to 4 cameras:
Can connect 4 cameras at the same time to detect babies in different rooms.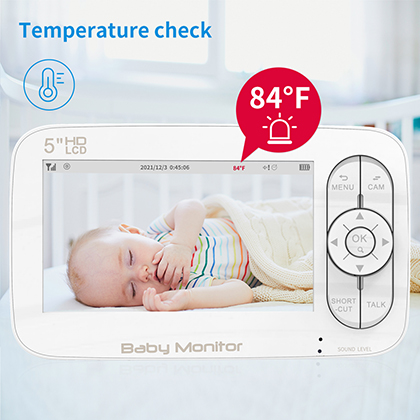 Temperature monitoring:
-Monitor the nursery temperature in real time throughout the day.
-When the temperature is higher or lower than the setting, it will notify you.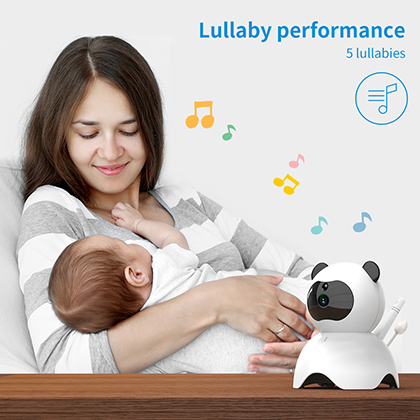 sleep well:
You are too busy, the built-in lullaby will help your baby calm down and lull them to sleep.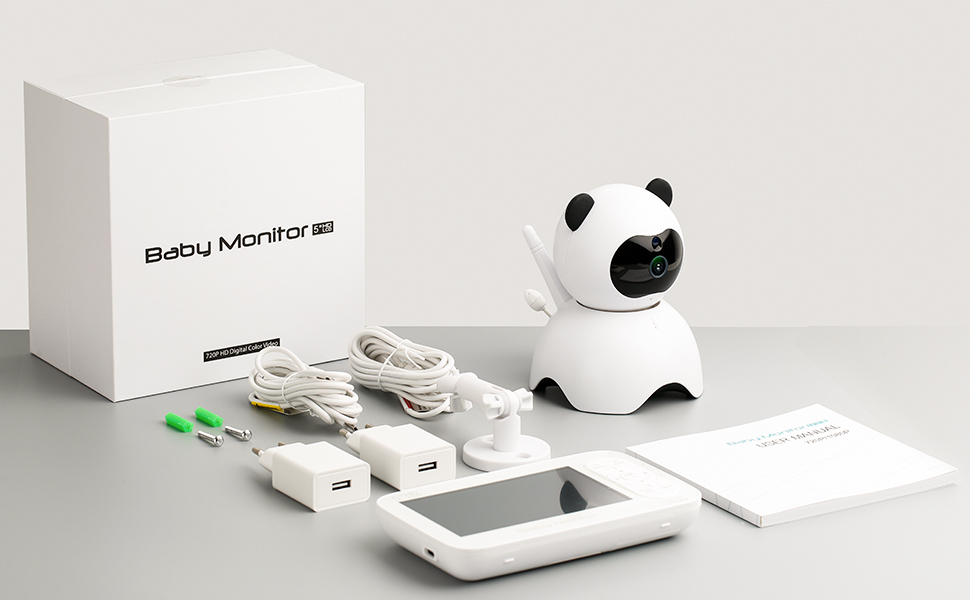 Camera*1, receiver*1, AC adapter*2, English manual*1, installation kit*1
| | |
| --- | --- |
| model | BM-5APD101 |
| Camera resolution | 1280*720 |
| screen size | 5.0 inch |
| Screen material | IPS |
| transfer method | 2.4G FHSS |
| Night vision | support |
| Night vision distance | 5M |
| Two-way intercom | support |
| Crying detection | support |
| Regular breastfeeding | support |
| temperature check | support |
| Lullaby | 5 songs |
| Transmission distance | Outdoor 300M, indoor 30M |
| Camera shaking head angle | X-axis 355°, Y-axis 120° |
| battery capacity | 2000mAh |
| Battery life | 8-12H |
| product weight | 120g |
| Package weight | 780g |
| Product Size | 10*8*8cm |
| Package dimensions | 15.2*11.7*19.4cm |
| Package Contents | Camera*1, receiver*1, power supply*2, English manual*1, installation kit*1 |

Rating

44 reviews.

206 reviews.

156 reviews.
Price
$129.99
$96.99

$259.99

$89.99

Model
GW50.0031US
GW50.0027US
GW50.0032US

Screen Size

5"
4.5"
4.3"

Video Resolution

1280*720
1280*720
800*480

Battery

2000mAh
2300mAh
2600mAh

Pan Tilt

√
√
√

Zoom

4
1
4

Infrared Night Vision

√(invisible)
√(invisible)
√(invisible)

Connect Up To

4
2
2

Night Light

×
×
√

Lullaby

5
8
5

Temperature Sensor

√
√
√
All Reviews
Image

All Star

5 Star

4 Star

3 Star

2 Star

1 Star
Best Monitor
A little pricey, but great quality. This is the only good baby monitor I found that DOES NOT require wifi. We love it. It's so easy to use.
10/12/2021
Our favorite
We searched and searched for a good monitor with a large screen. This was perfect. The camera is fantastic, has a good range and is easily adjusted.
21/11/2021
My favorite baby monitor!
I bought this after our different monitor stopped working. I LOVE the large screen on the parent unit along with all the cool features this device has. The camera rotates effortlessly and is crystal clear. Definitely recommend this baby monitor.
18/11/2021
Surprisingly has a lot of features.
This monitor surprised me with its features. Good quality.
03/10/2021
Love the large screen
I bought this baby monitor to replace my old Motorola one that no longer kept a charge. I love the much larger screen. It has many more features than I am used too or that I need. There is a Sound Activated Screen; which I did turn off. If you leave the Sound Activated Screen on - the parent unit will go dark until it detects sound again or until you push a button. This does save battery life but I like the keep the screen on at all times for peace of mind. Also so far I have had it unplugged with the screen constantly on for up to 3 hours (about the length of a nap) and the battery has worked out great.
21/08/2021
First time mom, love this thing!
I love this camera! This is my first baby and it was important to me that it didn't connect to the internet because of all the weird hacking videos online! This one is perfect for in home. If you are a working mom and want to check on the babies remotely I don't recommend it. However I wanted to say I hate charging things and the battery life on this thing is really good!
17/08/2021
Super helpful
This came in handy. I feel reassured now that I have it and haven't had any issues with it. The only thing I didn't like was the automatic night vision light. My room is pretty dim because I use black out curtains and that makes the camera pick up "night" time. But it's not a big issue because I can still see and hear my baby.
11/08/2021
Multiple uses not just in a nursery.
I was loaned one to use when our entire tiwn was suddenly receiving 8 inches of water in only a few hours in early June 2021. I plugged it in and hung it near the sump pump and had monitor by bedside to keep an eye on water and how the sump pump was handling it all. It prevented me from having to constantly go up and down basement stairs to see if the sump pumpWas still on. I keep it there now all the time to see how things are in basement when it rains now and it is a real life saver so I ordered me the exact one my nephew loaned me. Well worth the $. The night vision was perfect and I just kept it plugged in but the monitor I have taken outside the house and it continues to work fine on the battery and battery life is great.
29/07/2021
Great Battery Life!
I forget to plug this in all the time, and it only woke me up one time when the battery was low. It had been on max everything for hours before it was nearly empty. Best monitor setup I've had yet.
18/07/2021
Does it's job!!
We are happy with it, it gets pretty good range. Love that it doesn't require wifi or Bluetooth, it's very simple to use and install.
26/04/2021
There are no faqs for this product.
Baby Monitor
Screen Size
5"
Video Resolution
1280*720
Battery
2000mAh
Pan Tilt
√
Zoom
4
Infrared Night Vision
√(invisible)
Connect Up To
4
Night Light
×
Lullaby
5
Temperature Sensor
√