58mm Variable ND Filter ND2-ND400 (9 Stop) Lens Filter Waterproof Scratch Resistant Nano-X Series
Free shipping to eligible country
Free Shipping & 30-Day No Reason Return. K&F Concept ND Lens Filter is made of Japan-made top optical glass and can be adjusted 360 degrees. Waterproof and Scratch Resistant.

KF01.1461

SKU:

KF01.1461

50.99

https://www.kentfaith.com/KF01.1461_kamp-f-concept-hd-putter-58mm-nd2-nd400-12-stop-variable-nd-filter-adjustable-waterproof-scratch-resistant-for-camera-lens-nano-x-ii
Description
* Putter Design to Adjust 9 Stops - Designed with a putter, K&F Concept variable ND filter can be adjusted by 9 stops from ND2 to ND400. Each stop is marked on frame conveniently for 360° rotated to adjust the stop, multi-scene application.
* Optical Glass Construction for Clarity - This ND filter is made of Japan-made top optical glass, effectively reduced reflection from the filter itself and glaring, ensuring a high-quality image and does not affect your images in any way.
* Nanotec Coating - Both glass sides of K&F Concept ND filter are multi-coated by the state of art Nanotec coating technology, so the filters are waterproof, oil-proof, and scratch-resistant, protecting your camera lens for an outdoor shooting.
* No Vignetting & Dark Corner - For the filter designed with ultra wide-angle design, the ultra slim frame only 7.4mm, supporting in 16mm telephoto and wide angle lens no vignetting , due to the different in lens type and focal length so this filter might be met dark"X" cross , this isn't quality problem , it can disappear via rotating the filter.
* 30-Day No Reason Return - Please verify your camera's lens thread size before ordering. Your camera's lens thread size will be marked somewhere on the lens barrel or printed underneath your lens cap. This number is always preceded by a "ø" (diameter) symbol.
Shipping
Free shipping to eligible country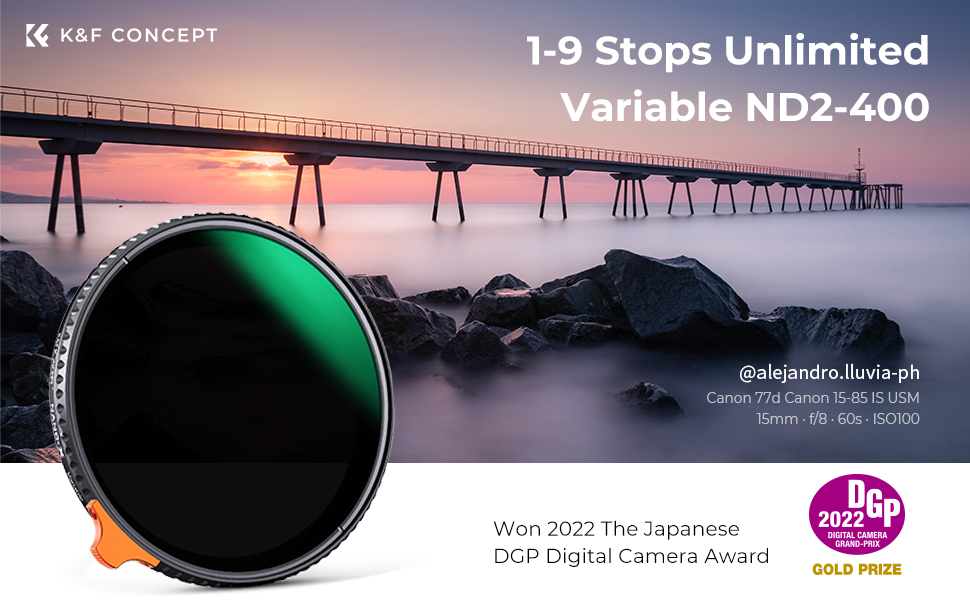 K&F Concept Variable ND2-ND400 Filters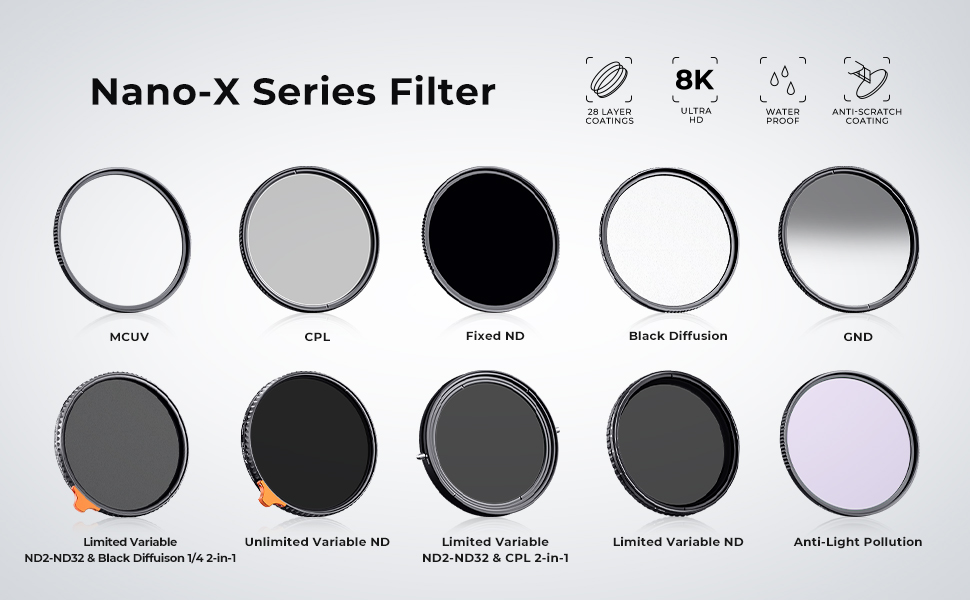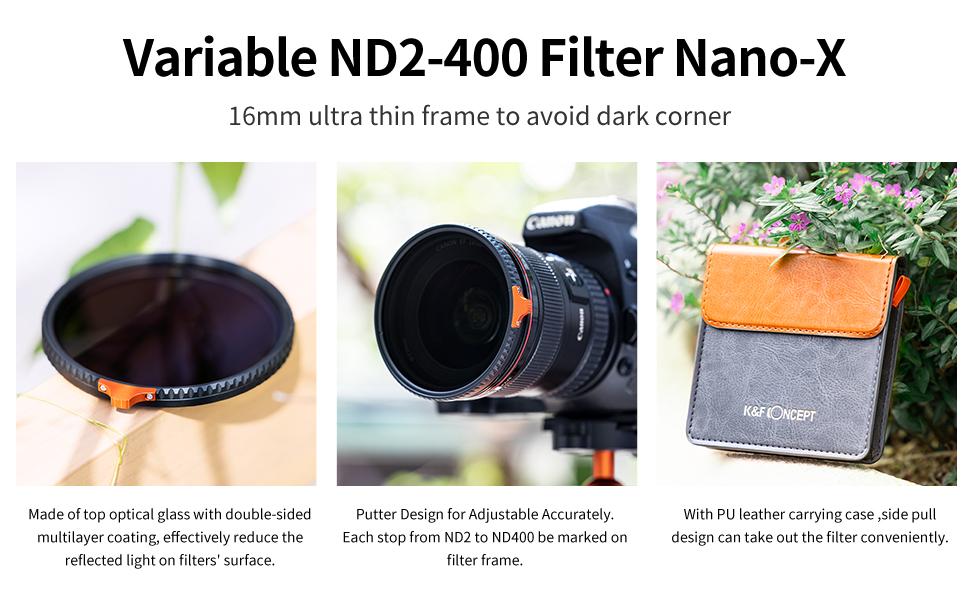 Q&A
---
Q1: How does ND2-400 work?
A1: Two sets of polarizers with high transparency are used to control the amount of light entering the lens through the filter.
---
Q2: Can the original lens cap be used for ND2-400?
A2: In order to prevent vignetting, the ND2-400 is designed with an ultra-wide angle structure. The front port diameter of the filter is one size larger than the original aperture of the lens, so the lens cap needs to be one size larger than the lens aperture. For example, the 77mm ND2-400 Need to use 82mm lens cap.
---
Q3: Does ND2-400 have a color cast?
A3: Due to the use of polarizing film to control the amount of light entering, color cast is a common phenomenon among all adjustable NDs on the market. KF relies on mature manufacturing technology and fine coating technology to minimize the polarization effect of the polarizing film.
---
Q4: Does ND2-400 have vignetting?
A4: Using Nikon Z 7 and Nikor 14-30mm Sline test, 14mm vignetting is not obvious, 16mm has no vignetting.
---
Q5: Does ND2-400 have a cross shadow?
A5: The maximum aperture of an ultra-wide-angle lens below 24mm will have a slight cross shadow in the 1-5 gear dimming. The longer the focal length used, the smaller the effect of the cross shadow. There will be obvious cross shadows and vignetting in the large gear of dimming. If you continue to rotate the shadows, the shadows will disappear naturally, which is a physical phenomenon and not a product problem.
---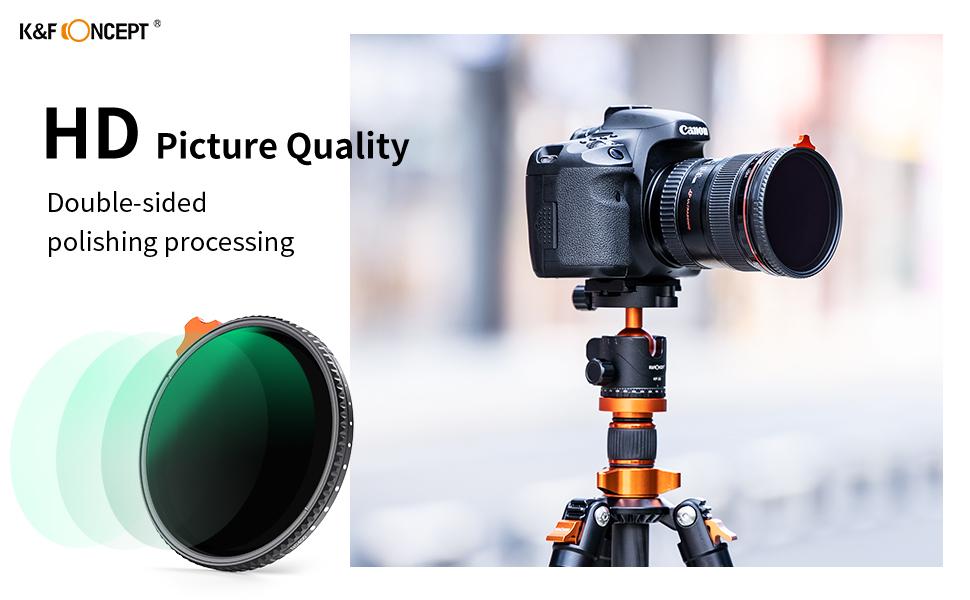 Functions of ND2-400
1. Under the premise of ensuring the best iso and not changing the aperture, the shutter speed can be freely changed according to the desired effect
2. Under the premise of maintaining the same shutter speed, a large aperture exposure can be used to create a blurred background effect
3. Even with a shutter speed of 1/8000 sec, the maximum aperture of F1.4 or F1.2 may cause overexposure. In this case, the ND2-400 can easily eliminate overexposure and retain highlight details.
4. Adjustable ND has more applicable ranges and applicable scenarios. If you pursue the ultimate picture quality, it is recommended to choose a fixed value ND.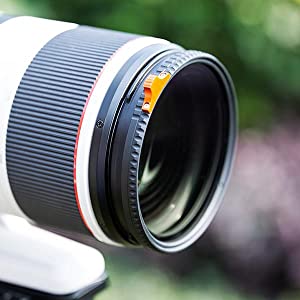 unique push rod design, easy to adjust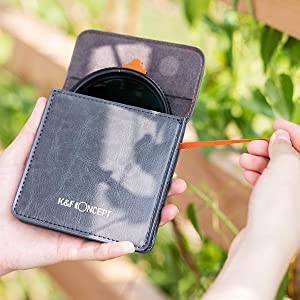 Filter pouch included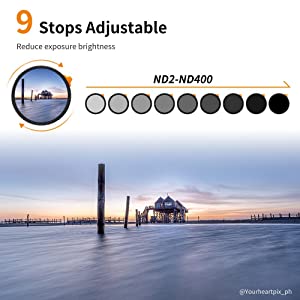 9 stops can be adjusted for different scenarios

Rating

23 reviews.

0 reviews.

65 reviews.

2 reviews.

20 reviews.
Price

$69.99

$50.99

$64.99

$79.99

$65.99

$67.99
$45.99
Model
KF01.1461
KF01.1849
KF01.1322
KF01.1811
KF01.1075

Reflectivity

0.2%
0.2%
0.2%
0.2%
0.2%

Series

Nano-X series
Nano-X series
Nano-X series
Nano-X series
Nano-X series

Recommended Scenes

Video Shooting/Landscape Photograhy
Video Shooting/Landscape Photograhy
Video Shooting/ Landscape Photography
Video Shooting/ Landscape& Potrait Photograhy
Video Shooting/Landscape Photograhy

Function

Light reduction effect
1 Second Switch/No X cross/Light reduction effect
Remove glare/No X cross/ Light reduction effect
Soft highlight/No X cross/Light reduction effect
No X cross/Light reduction effect

Stops

0.3 to 2.7(1 to 9 Stops)
0.3 to 1.5(1 to 5 Stops)
0.3 to 1.5(1 to 5 Stops)
0.3 to 1.5(1 to 5 Stops)
0.9 to 2.1(3 to 7 Stops)

Filter Material

Japanese AGC Glass
Japanese AGC Glass
Japanese AGC Glass
Japanese AGC Glass
Japanese AGC Glass

Multi-Coating

28 layers
28 layers
28 layers
28 layers
28 layers

Waterproof

√
√
√
√
√

scratch-resistant

√
√
√
√
√

HD

√
√
√
√
√

Size

58mm
58mm

Transmittance

∕
∕

Antireflection

√
√

Filter Thickness

9.3mm
7.3mm

Ring Material

Aviation aluminum alloy
Aviation aluminum alloy
Love the versitality of this
I absolutely LOVE this filter. It stays on my zoom on my camera all the time!

The handle to change filter level is easy, the filtering itself looks great and lets you get that perfect shot without switching filters. We took a trip this weekend and this filter never left the lens. If you take pictures outdoors, do yourself a favor and pick this up. No fiddling with any filters in your bag. Just turn dial it in and go.
01/06/2021
Muy buen filtro variable
Perfecto
27/01/2022
Me siento satistecho por la compra de este filtro
El filtro es de buena calidad y llena las espectativas deseadas.
23/10/2021
Up your Outdoor Photo game
Quality materials doesn't feel cheap connects to lense super smooth and transitions filter effortlessly but with enough force needed that it won't slip on its own. The raised selector on dial makes it easy to manipulate while running camera without having to search for filter dial. If you are in market for ND filter don't hesitate on this one.
05/10/2021
Variable ND Filter ND2-ND400 (9 Stop) Lens Filter Waterproof Scratch Resistant Nano-X II Series
Do You Know How Your K&F Concept Filters be Produced? | One-day Tour in Production Line
How to check your lens size
Filter
Reflectivity
0.2%
Series
Nano-X series
Recommended Scenes
Video Shooting/Landscape Photograhy
Function
Light reduction effect
Stops
0.3 to 2.7(1 to 9 Stops)
Filter Material
Japanese AGC Glass
Multi-Coating
28 layers
Waterproof
√
scratch-resistant
√
HD
√