86mm Variable ND Filter ND2-ND400 (9 Stop) Lens Filter Waterproof Scratch Resistant Nano-X Series
Terms
Terms and Conditions:
Coupons are valid for a limited time only. Kentfaith reserves the right to modify or cancel coupons at any time.
You must purchase the qualifying items added to your Cart when the coupon is in effect for the discount to apply.
If you later modify or cancel the subscription or delivery date for the qualifying item, the discount will not apply.
The coupon applies only to qualifying items displaying the coupon offer.
If you buy more than one item from the same coupon, the maximum discount amount of the coupon will be equal to either the percentage discount off or the face value of the coupon on one eligible item. The coupon may only be used on www.kentfaith.com.
The promotion is limited to one coupon per customer.
If you return any of the items purchased with a coupon, the coupon discount or value may be subtracted from the return credit.
Buy 99$-15$, 199$-30$, 299$-50$, 599$-120$(Black Friday Price)
To
United States
Expedited Shipping
3-5
business days
Free Shipping & 30-Day No Reason Return. K&F Concept ND Lens Filter is made of Japan-made top optical glass and can be adjusted 360 degrees. Waterproof and Scratch Resistant.

KF01.1904

SKU:

KF01.1904

116.99

https://www.kentfaith.com/KF01.1904_86mm-variable-nd-filter-nd2-nd400-9-stop-lens-filter-waterproof-scratch-resistant-nano-x-series
Buy 99$-15$, 199$-30$, 299$-50$, 599$-120$(Black Friday Price)
Description
* Putter Design to Adjust 9 Stops - Designed with a putter, K&F Concept variable ND filter can be adjusted by 9 stops from ND2 to ND400. Each stop is marked on frame conveniently for 360° rotated to adjust the stop, multi-scene application.
* Optical Glass Construction for Clarity - This ND filter is made of Japan-made top optical glass, effectively reduced reflection from the filter itself and glaring, ensuring a high-quality image and does not affect your images in any way.
* Nanotec Coating - Both glass sides of K&F Concept ND filter are multi-coated by the state of art Nanotec coating technology, so the filters are waterproof, oil-proof, and scratch-resistant, protecting your camera lens for an outdoor shooting.
* No Vignetting & Dark Corner - For the filter designed with ultra wide-angle design, the ultra slim frame only 7.4mm, supporting in 16mm telephoto and wide angle lens no vignetting , due to the different in lens type and focal length so this filter might be met dark"X" cross , this isn't quality problem , it can disappear via rotating the filter.
* 30-Day No Reason Return - Please verify your camera's lens thread size before ordering. Your camera's lens thread size will be marked somewhere on the lens barrel or printed underneath your lens cap. This number is always preceded by a "ø" (diameter) symbol.
Shipping
To
United States
Expedited Shipping
3-5
business days
Sale
Buy 99$-15$, 199$-30$, 299$-50$, 599$-120$(Black Friday Price)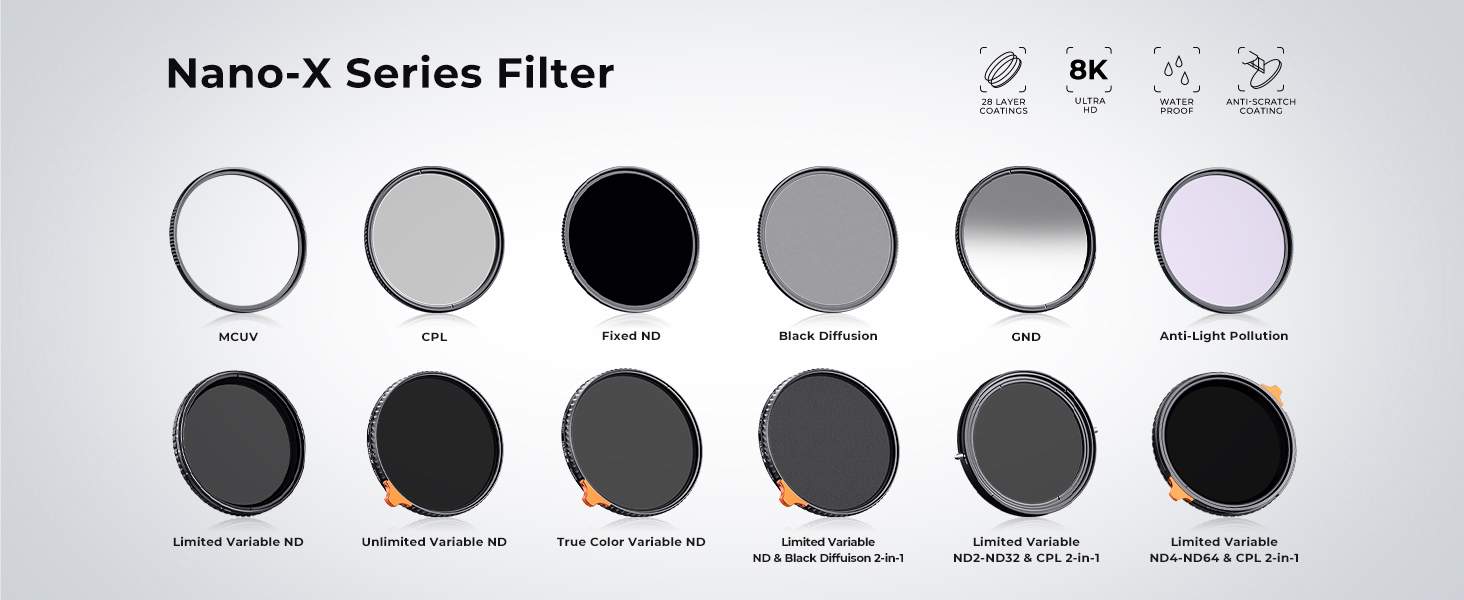 All Reviews
Image

All Star

5 Star

4 Star

3 Star

2 Star

1 Star
No lens cap will fit except….
If you know who this brand cap is it will fit this filter. I just so happen purchase much lens from a buyer who included this cap with it and it totally fits perfectly. But your normal cap will not.

Anyway I love the filter it does a great job just be aware of the cross viniette.
20/05/2023
Surprising
I was afraid I would have problems being a variable ND with rare effects, and zero problems. Neither on the corners, nor at ND400, the truth is that a pleasant surprise for its price. It may have a little green tint, but with a correction of nothing in the Premiere I fixed it, between 5 and 10 points on the dye tab towards magenta and you're done. Highly recommended, you just need to have a cap like the ND2 and ND32 models that are the ones I usually use.
20/05/2023
Excellent photographic performance and material care
I got to try this filter for my Sigma 17-50, and the result is really amazing. The product looks great in its really great quality packaging and easy to carry in your bag.
The photographic performance is at a high level at a low price. I find the tongue very interesting, it allows you to have better grip during work.
18/05/2023
K&F Variable ND Filter Good Landscape Filter
I purchased the K&F Concept Variable ND Filter Neutral Density ND2-ND400 (9 stops) with Rotating Ring to be able to use a fast ND with different densities.
The packaging is very well done, solid and space-saving container. The glass filter is light and the ring to increase/decrease the density is smooth. It has no end stop lock.

To test it best I tried it with three different lenses on the Nikon D750 camera (full frame): 20mm, 35mm and 85mm.
- 20mm: in the photos taken with the filter there is no particular loss of sharpness, it introduces a slight hot dominant that can be easily solved in post-production. As far as the X-shape problem is concerned, it is quite marked using the filter beyond the marked ring. Instead, using it within the marked marking, the problem is little present. See image attached.
- 35mm: in the photos taken with the filter there is no particular loss of sharpness, it introduces a slight hot dominant that can be easily solved in post-production. As far as the problem is concerned, X-shape is not as marked as in the previous one, but there is a vignetting especially in the use with maximum effect. See image attached.
- 85mm: in the photos taken with the filter there is no particular loss of sharpness, it introduces a slight hot dominant that can be easily solved in post-production. As far as the X-shape and vignetting problem are concerned, they are not relevant. See image attached.

Optically, the filter is well made and provides excellent results, but I would have preferred a start and end run with lock in order to avoid possible mistakes. Also considering that K&F produces other types of filters but with magnetic connection, I think it could be a further plus for this filter.

The price/performance ratio is correct based on the performance provided.

I attach more photos of the packaging and two shots to the sea.
16/05/2023
Excellent Variable ND filter
Quality, Glass, stop selection. Excellent filter optically superior, image quality, and light control superb.
14/05/2023
Superb Professional Filter
Very surprised by the quality of the filter, it's from the professional nothing to say. The materials are good and the glass super. The adjustment wheel is very smooth and makes it easy to change the density of the filter. No need to have 4 different filters. possibility to shoot video in full day at the largest aperture. I love it!
It also comes with its small carrying case which is very sturdy and makes it easy to carry without fear of scratching
11/05/2023
ND2-400 K&F Concept 77mm filter
K&F Concept is synonymous with quality. I already had other filters in kit, albeit quite old and with several years of service behind me. By virtue of my imminent photographic journey, I decided to opt for something new, always relying on them. I will tell you in detail what, in my opinion, are the pros and cons of this new product of theirs.
First of all, the packaging is really great: the box is made of very strong cardboard, impossible even to fold, and then the magnetic opening is very pleasant. The filter is stored in a leatherette case with magnetic closure and not plastic, which gives the product a finish that we can call 'premium'. Inside, wrapped in a protective bag, the filter. It is a fairly heavy piece, already to the touch it gives a great impression. The body is made of aluminum, the glasses are of excellent finish. Very thin (and this is good because this reduces any loss of sharpness), waterproof and scratch-resistant. Very pleasant (and very useful!) the orange little thing you need to change the intensity of the filter itself: the only drawback is not having a limited stroke during rotation, but it's not a big deal, since the limitations ND2 and ND400 are indicated right on the end of the filter itself. In any case, the filter was built in such a way that, even if you go beyond the limits, the annoying 'X' shadow does not show up. For the time being, I had the opportunity to try it only in the city on a somewhat ugly day, in the coming days I hope to integrate this review of mine with other shots in the mountains.
Who is the filter addressed to? Surely for those who love landscape photography or for those who want to do long exhibitions in the city (remaining within the limits of 9 stops): of course, the product is not the cheapest on the market, but that's enough try it for a while to understand that it's worth every penny you spend. I'm not a photography
10/05/2023
Not an I-phone for all of your pictures. The tried and true camera photos.
One doesn't have to. The lense filters enhance your hard work with great satisfaction.
08/05/2023
I feel satistecho about buying this filter
The filter is of good quality and fills the desired expectations.
07/05/2023
A WOW! filter
This is a great product. The packaging is super and it sets onto the lens excellently. I love it!
05/05/2023
There are no faqs for this product.
SKU0887 Variable ND Filter Showcase