4.3" Screen Video Baby Monitor with 12H Rechargeable Battery, Soft Color Comfort Lights Lullaby, VOX, Gimbal Function US Power Plug
New customer gift package
Free shipping to eligible country
Brand:

KENTFAITH

Free Shipping. 30 Day No Reason Return. Baby Monitors are on the list of Top 10 Baby Must-Haves For First-Time Parents, Best Gifts for New Moms.

GW50.0032US

SKU:

GW50.0032US

89.99

https://www.kentfaith.com/GW50.0032US_4-3-inch-baby-monitor-with-replaceable-18650-battery-with-colorful-comfort-lights-support-lullaby-vox-gimbal-function-u-s-standard
Description
* Comfort Lights of 3 Colors - K&F Concept is the best company for new parents. When the baby is crying, the comfort light will automatically light up to give the baby a sense of security. The comfort light is designed on the back of the camera and will not stimulate the baby's glasses;
* Long Battery Life - K&F Concept baby monitor is powered by 18650 Rechargeable Battery, the longest battery life is 12H, if there is no electricity in emergency, you can also replace the battery;
* View the entire baby room-the baby camera monitor lens can be panned 355° to capture all corners of the space, and tilted 90° to view floor to ceiling. If your baby escapes from the crib, you will be able to see all this happen. Use the buttons on the LCD screen to easily move the baby camera.
* Don't worry about night time-the automatic night vision function provides black and white images on the video baby monitor at night, allowing you to see your child clearly even in a dark room. The red dot or red light emitted by the camera will not cause any interference to your baby.
* Stable Signal Transmission- K&F Concept baby monitor features stable signal transmission, even through thick walls. If you're living in a two-story house, this baby monitor is the perfect choice for you. You can always calm your baby with your voice wherever you may be. Baby Monitors are on the list of Top 10 Baby Must-Haves For First-Time Parents, Best Gifts for New Moms.
Shipping
Free shipping to eligible country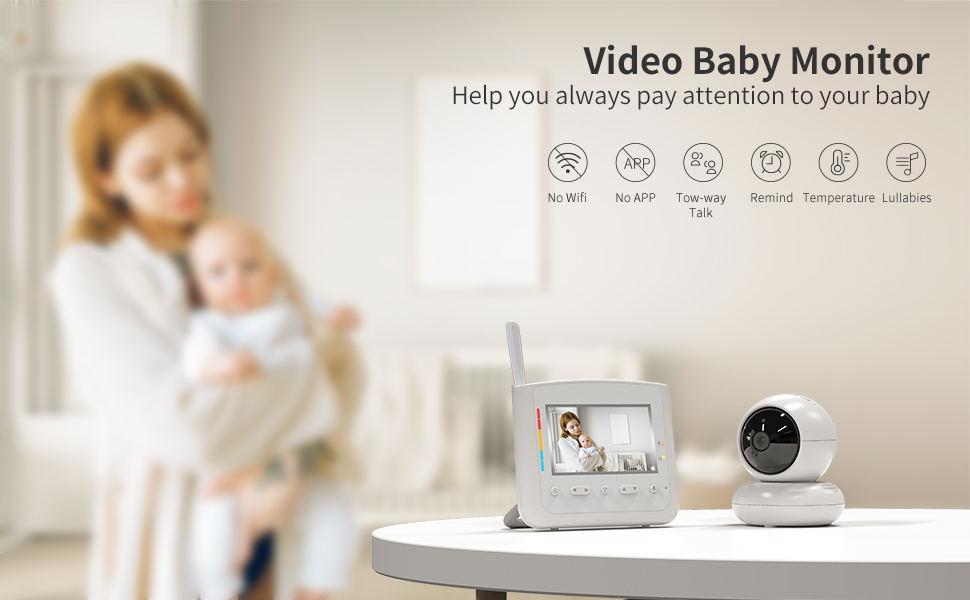 Do you worry every time your little angel makes the slightest movement on his/her bed?
Do you want to know exactly when a newborn baby falls asleep or when a baby wakes up and needs your hug?
Are you worried about all the stories of hacked baby monitors?
Well, it seems that this completely safe and hacker-free baby monitor is all you need!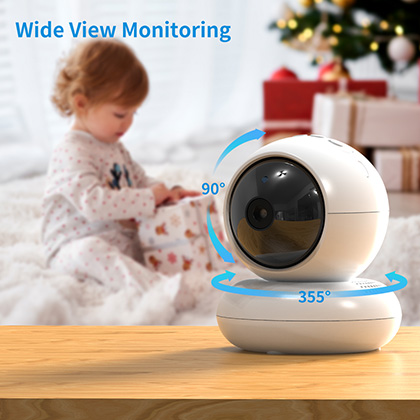 4.3 inch LCD display
The large 4.3-inch high-definition color screen, the picture is clear, 355 ° rotation, you can see your baby from all angles. The 90° wide-angle camera captures a wider field of view.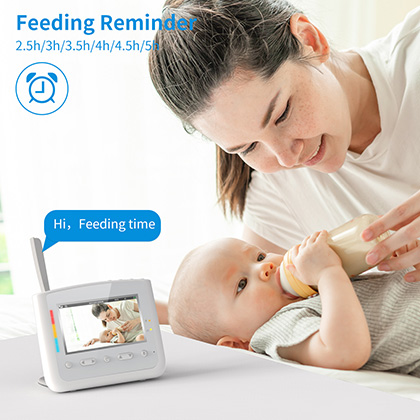 Feeding alarm reminder
This function reminds you to feed your baby on time. You can set the time freely.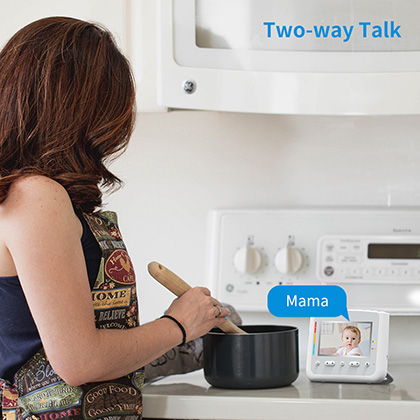 Two-way audio
The integrated microphone and speaker ensure simple and real-time communication, and you can have a peaceful conversation with your child from a distance by just pressing a small button.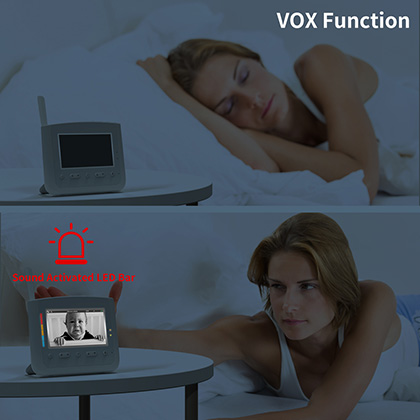 VOX voice control mode
VOX is a voice-activated switch, usually used to turn on the screen when there is noise in the baby room, and turn off the screen when the baby room is quiet.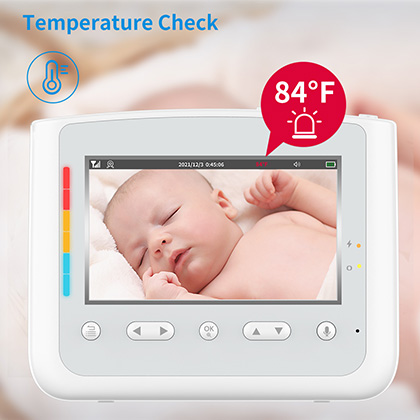 Temperature monitoring
-Monitor the nursery temperature in real time throughout the day.
-When the temperature is higher or lower than the setting, it will notify you.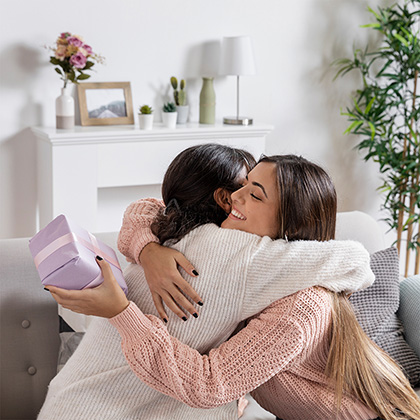 The ideal gift for novice mothers
The K&F baby monitor is an ideal gift for mothers' birthdays, Christmas, Children's Day and other special days.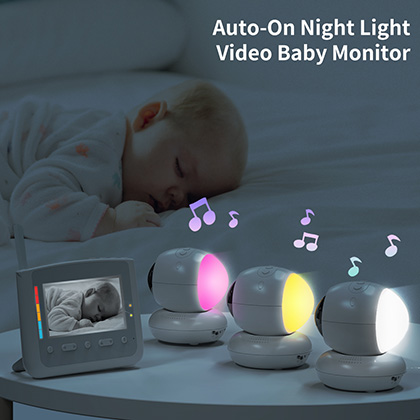 Night lights and lullabies
There are three colors of night lights for you to choose from, which can play 5 songs with white noise, which is very suitable for night lights in children's rooms, creating a wonderful sleeping atmosphere.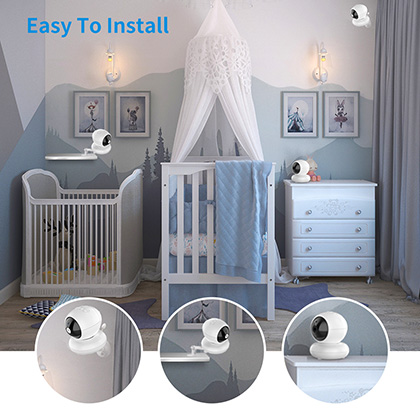 Easy to install
The product can be placed flat on a flat surface, such as a table, or installed anywhere in the room using an installation kit. It is convenient for you to observe your baby's every move from any angle.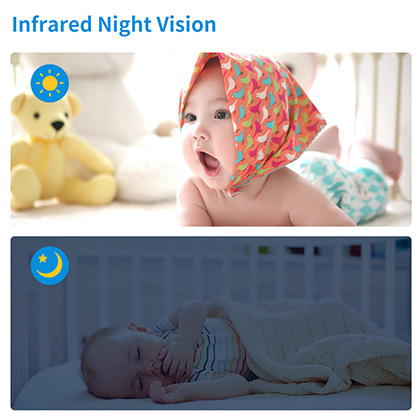 HD night vision
This high-definition baby monitor has a full-HD camera that can provide clear baby images during the day and night. Make sure you can clearly see your baby at any time.

Rating

156 reviews.

206 reviews.
Price

$259.99

$89.99

$96.99
Model
GW50.0032US
GW50.0027US

Screen Size

4.3"
4.5"

Video Resolution

800*480
1280*720

Battery

2600mAh
2300mAh

Pan Tilt

√
√

Zoom

4
1

Infrared Night Vision

√(invisible)
√(invisible)

Connect Up To

2
2

Night Light

√
×

Lullaby

5
8

Temperature Sensor

√
√
All Reviews
Image

All Star

5 Star

4 Star

3 Star

2 Star

1 Star
Spotty signal
We have thick walls. sometimes it will work and other times it will not connect. Really annoying and I ended up buying a wifi moniter.
12/12/2021
My Favorite Monitor!
Great monitor that it allows you to rotate, talk, add music all at the screen you watch from.Things that would make this monitor great....Better distance. I loose connection about 30-40 feet outside my back door.Make the base of this rechargeable as well... If you use this only inside it is fine. I would love to be able to take the whole thing with us out and about, but have to have an outlet for the base.Overall for nap time inside, this is so much better than nothing!!!!
20/10/2021
Love this monitor! But…
I love this monitor! It works great and the picture and sound quality is pretty good. The camera tilting and panning is awesome. The battery life is pretty good, as well. This monitor is fantastic.
11/10/2021
Great and efficient
I purchased this as a first time mom. Really love the quality of the camera whether it's day or night time it's very clear. The zoom option is also helpful when wanting to check on baby much closer up. I really like that the camera plugs into the wall because I can move it to whatever area of the house I want to if needed. Would definitely recommend.
05/10/2021
Best for babies and elderly that need 24/7 care
The range is perfect! Caregiver can work outside while my mother is napping. Garden of flowers were being neglected due to fear of going outside and leaving her alone. Now, the camera and sounds alert and increase safety.
04/10/2021
Great Non-Wifi baby monitor
Great quality, great battery life, absolutely love that is Non-Wifi so I'm not constantly losing signal unlike with my old baby monitor that required wifi. The price is also good.
03/10/2021
Don't waste your time or money!!
Don't waste your time and money. The monitor would not pair to the camera.
24/09/2021
Saved My Life!!
This baby monitor is being used to watch my husband as he sleeps. He had open heart surgery a week ago and cannot put his arm above his head. This saved my life running up and down 17 stairs to check on him. The picture is vibrant and clear, and it truly is worth every penny.
19/09/2021
Missing the camera!
I was so excited to get this baby monitor to start sleep training my 6 month old in his crib. I got my package today and it literally didn't even have the camera in it, just the monitor and cords. So obviously after I realized this I wanted to return it but the manufacturer is so hard to contact and Amazon will not help you in the process. Biggest waste of money!!! Please save your money and buy from a different brand!
17/09/2021
Awesome deal!
Great product especially for the price. Not sure why people buy more expensive ones! I wish the battery would last more than one day, but not a huge deal
14/09/2021
There are no faqs for this product.
Baby Monitor
Screen Size
4.3"
Video Resolution
800*480
Battery
2600mAh
Pan Tilt
√
Zoom
4
Infrared Night Vision
√(invisible)
Connect Up To
2
Night Light
√
Lullaby
5
Temperature Sensor
√