Astronomical telescope suitable for children and beginners, astronomical refracting telescope with 70mm aperture and 300mm focal length, portable travel telescope with tripod, smart phone holder and Bluetooth remote control
Free shipping to eligible country
Buy KENTFAITH astronomical telescope suitable for children and beginners, astronomical refracting telescope with 70mm aperture and 300mm focal length, portable travel telescope with tripod, smart phone holder and bluetooth remote control online, worldwide free shipping and 30 days return guarantee.

KF33.036

SKU:

KF33.036

73.99

https://www.kentfaith.com/GW50.0036_astronomical-telescope-suitable-for-children-and-beginners-astronomical-refracting-telescope-with-70mm-aperture-and-300mm-focal-length-portable-travel-telescope-with-tripod-smart-phone-holder-and-bluetooth-remote-control
Description
* [The most suitable telescope for children and beginners] This telescope meets all the needs of beginners. It is equipped with a 3X Barov teleconverter and two eyepieces, H20mm and H6mm. Children can obtain magnifications from 15X to 150X. Whether watching the stars and moon at night or observing the planets, this telescope is the best helper for children and beginners in astronomy;
* [Large aperture] 70mm aperture and 300mm focal length provide more light and clearer images, even beginners can get clear images. The larger the aperture, the larger the field of view, and the clearer the image;
* [Wireless control] The telescope package includes a smart phone holder and a Bluetooth remote control, which can easily explore the nature of the world through the screen and take stunning images;
* [Upgrade a variety of accessories to bring a better experience]: Add a moon mirror for observing the moon, filter part of the light so that the picture will not be overexposed, 1.5X erect mirror and 3X Barlow mirror increase the magnification of the stargazing telescope, It is easier to focus on the moon and stars. The 5X24 starfinder with mounting bracket can easily help you find the observation target. With the mobile phone holder, the stargazing telescope is easier to observe, take pictures and share with your smartphone;
* [Easy to assemble and disassemble] Very easy to assemble and disassemble, don't worry about any installation problems. Even for first-time users, children and beginners can install it by themselves without any tools;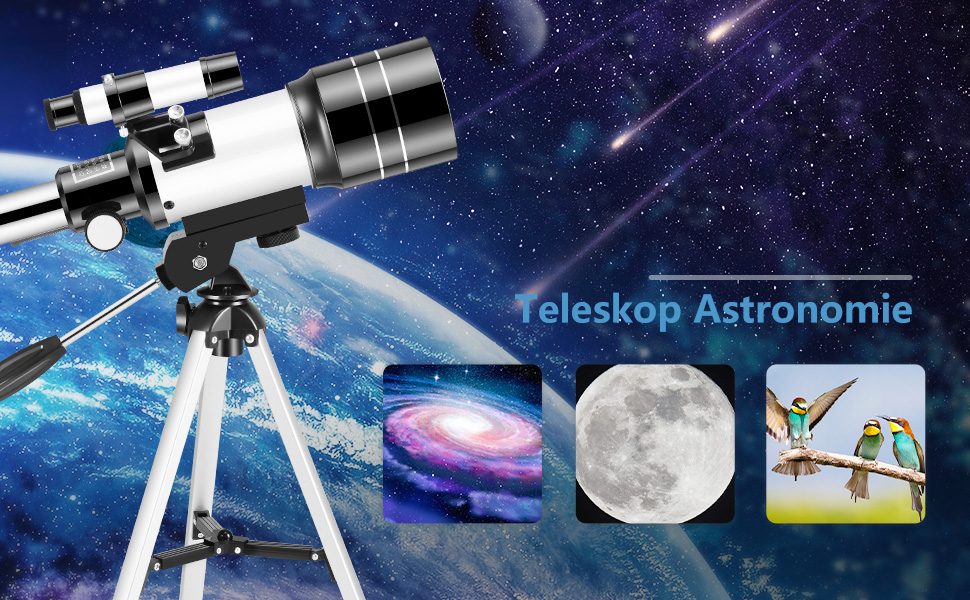 The telescope astronomy for children and adults is the best gift to teach people to explore nature and life.
With the 300x70mm refractor telescope, moon and earth objects can be observed very well. You can quickly set up without tools and easily find your object.
The telescope for children is perfect for beginners to explore the wide sky of moon, planets, clusters and fog and enjoy distant landscapes such as mountains, flowers, birds and wild animals.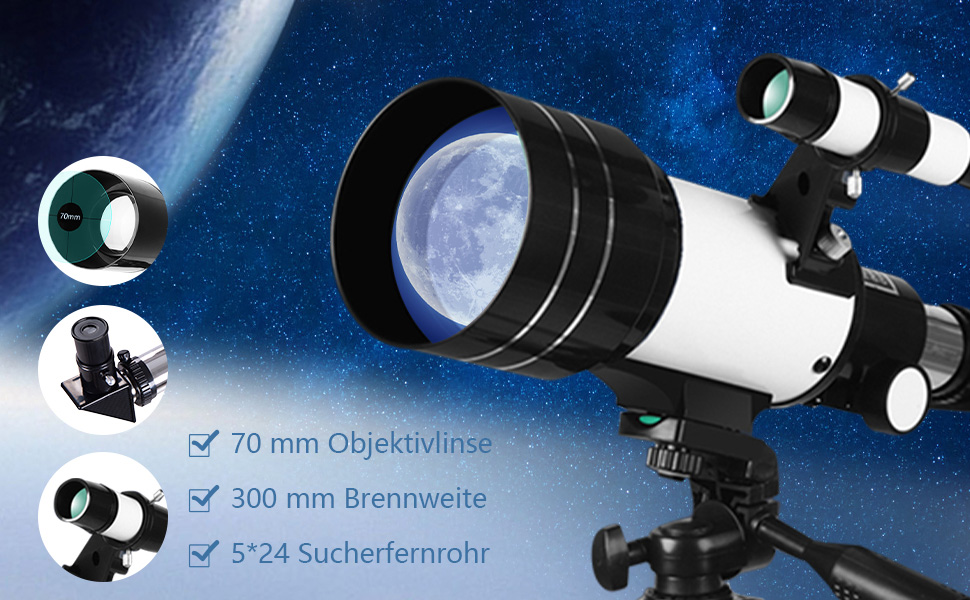 Excellent optical quality
300 mm focal length and 70 mm eyepiece: Our telescope astronomy uses fully paid optical glass with a high transmission layer to obtain high resolution images and more details that offer you excellent light permeability and colour fidelity, reduce chromatic aberration and sharp and clear images with vivid colors.
5*24 Searchpipe with mounting position: On the left side of the 70mm Target Distance Pipe there is a 5*24 Searchpipe with which you can find the stars or flying birds more comfortable.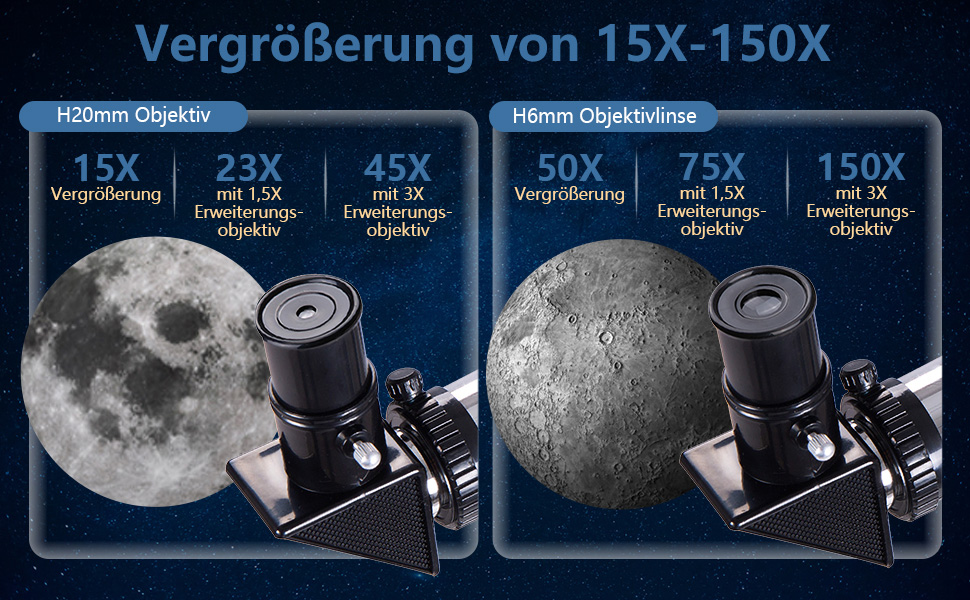 This is the ideal telescope for beginners in astronomy... You will receive 15X, 23X, 45X, 50X, 75X and 150X enlargements with adjustable performance for maximum details.
The 70-mm telescope is equipped with two interchangeable eyeglasses (H20mm and H6mm) and two 1,5X and 3X expansion lenses, you can enjoy different sizes from 15X to 150X:
With 15X and 23X magnification you can easily find celestial bodies like the moon.

At 45X and 75X you will start to see some details.

With 150X magnification you get the perfect performance for precise vision.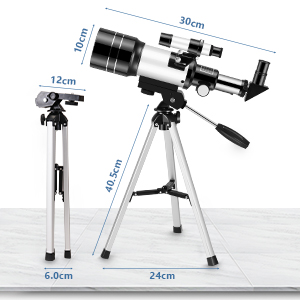 Easy to install
The installation of the telescope is very simple. As long as you follow the instructions, you can install all the accessories in ten minutes. No extra tools are needed. You can explore the universe at any time.

Let's start our space adventure!
HOW TO USE
Open the tripod.
Place the telescope tube onto the tripod mount.
Insert the finder scope, eyepiece and 1.5X Erecting Eyepiece Adjust the focus knob to view the clear image.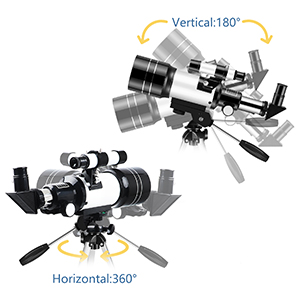 The telescope astronomy is equipped with a tripod and the 360-degree rotating design allows a complete observation. There is a 360-degree rotating head so that you can align the telescope astronomy in any direction... ideal for children and adults.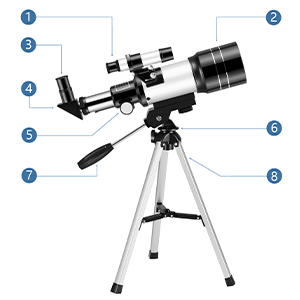 1.5*24 Search tube with mounting holder
2. Lenses
3. Eyeglasses
4.90-Diagonal mirror
5. Focus button
6. Attachment button for lens seat
7. Adjustment lever
8.Aluminium alloy tripod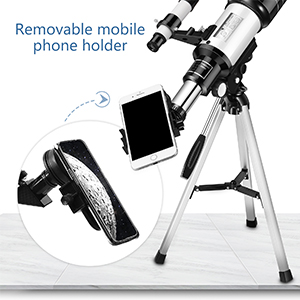 The telescope astronomy can provide clear pictures of the moon, planets and some distant stars. In addition, you can also place your phone on the connected phone holder to view and take photos, take great photos and share them with your family.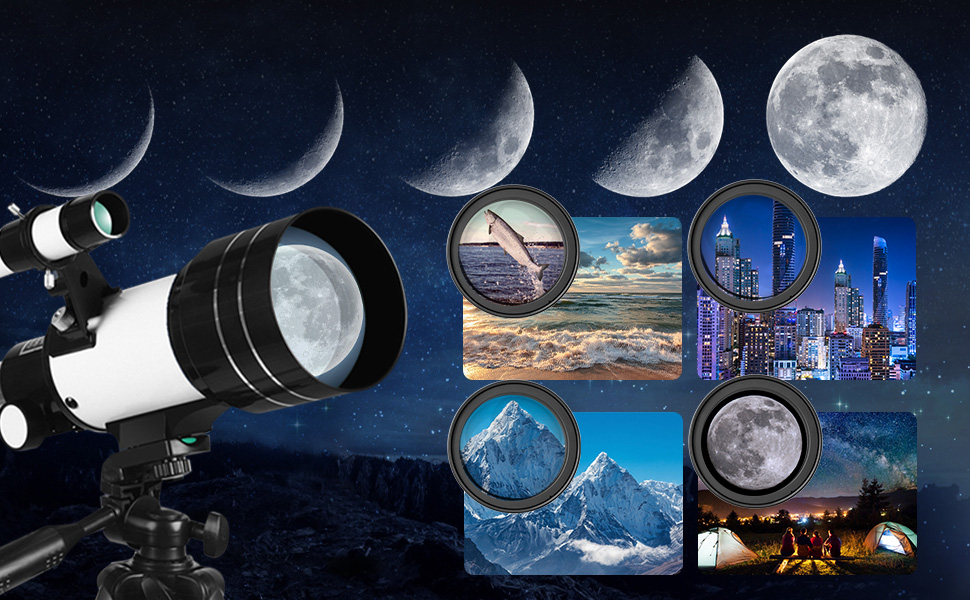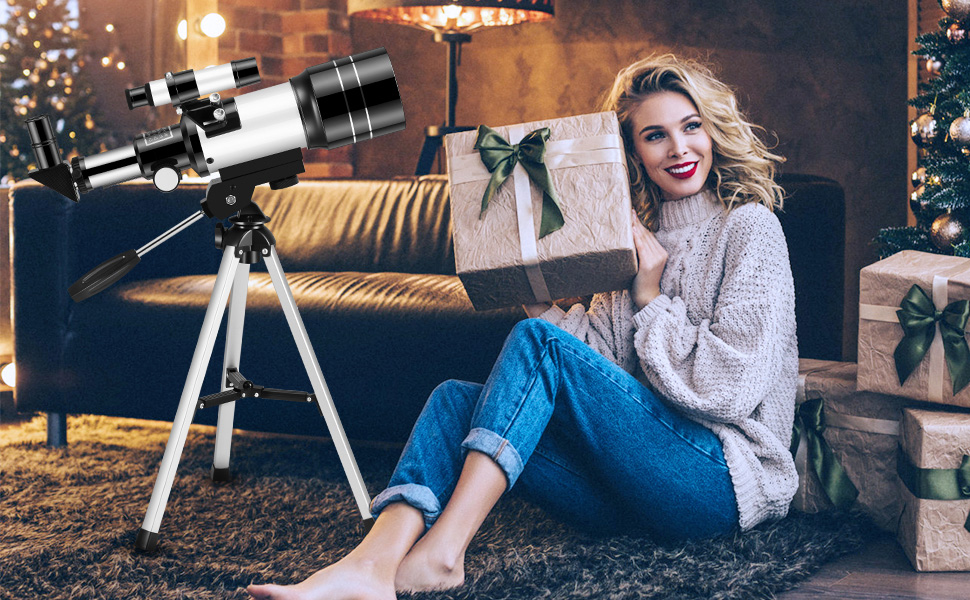 That my 5 yr old grandchild can easily use.
Simple and easy to use for my 5 yr old. Love it.
18/10/2021
Amazing for kids / Beginners
We bought this for our daughter on her 8th birthday and she loved it as soon as she saw it. Very easy to assemble and kids have fun learning exploring the sky. Will recommend it for kids and youngsters..
16/10/2021
Great service, great product.
Very easy to assemble, great for some star gazing. Overall satisfied with everything on this product and company.
16/10/2021
Great first telescope
I bought this for my 10 year old because he loves space. This telescope is easy for him to use without help and he absolutely loves it!
16/10/2021
Really happy I got this
Super easy to set up. My 9year old did it himself and is in love with it and loves the color
11/10/2021
My 5 year old loves this
I'm not a big fan of space but my son is. We got this for him for his 5 year birthday and he fell in love. We put it together as soon as he opened it in the middle of his party and was able to see the moon pretty up close. It was amazing and it works very good for the prize. I definitely recommend this for all the space lovers out there.
08/10/2021
it's a great product for kids and beginning adults
easy to assemble and works great for kids and beginning adults
07/10/2021
Great telescope for beginners
Seller had fast shipment as promised and product arrived just as expected. Great beginner telescope! Would recommend this to anymore just wanting to explore
06/10/2021
Perfect starter telescope for kids!
My son was so happy to receive this! He really enjoys this telescope. Great value for money!
05/10/2021
Easy to assemble and use
I could not believe how easy this telescope is to set up. I use it mainly to view the moon. I am beginning to start taking pictures with the camera adapter, but I have a s21 Ultra, so it was a little difficult to get the camera adapter aligned with the correct lens. With persistence I was able to get it aligned correctly. I have not had time to take pictures yet, but I will post some when I have time
02/10/2021
A
Yes, the width of the equipped mobile phone adapter can be adjusted to fit any type of mobile phone.
A
This telescope is suitable for children over 6 years old, astronomy beginners and adults.