Bluetooth 5.0 Wireless Earbuds, Bluedio T Elf 2 True Wireless Headphones In-Ear Headphones with Charging Case, Mini Car Headphones with Built-in Microphone for Work/Sports, 6H Playtime, LED Indicator
99$-15$ / 199$-30$ / 299$-55$ / 599$-120$
New customer gift package
Free shipping to eligible country
Brand:

KENTFAITH

Buy KENTFAITH bluetooth 5.0 wireless earbuds, bluedio t elf 2 true wireless headphones in-ear headphones with charging case, mini car headphones with built-in microphone for work/sports, 6h playtime, led indicator online, worldwide free shipping and 30 days return guarantee.

GW53.0066

SKU:

GW53.0066

25.99

https://www.kentfaith.com/GW53.0066_bluetooth-5-0-wireless-earbuds-bluedio-t-elf-2-true-wireless-headphones-in-ear-headphones-with-charging-case-mini-car-headphones-with-built-in-microphone-for-work-sports-6h-playtime-led-indicator
Description
* 【Bluedio T Elf II -- New Touch】- The Bluedio 5.0 T-Elf 2 earbuds have improved connection and operation functions, introducing touch. This way, switch songs, adjust volume, pause playback, answer or hang up calls, all at the touch of a finger.
* 【More Powerful 6mm Drivers】- T-Elf 2 wireless earbuds use 6mm drivers, no longer the generation 5mm drivers, to bring you better and clearer sound quality.
* 【EASY-LINK & FAST PAIRING】- The Bluetooth earbuds are equipped with one-step pairing technology. Take the left and right earbuds out of the charging case and the earbuds will pair with each other. LED indicators let you know the pairing status of the headset and the battery status of the charging case at any time.
* 【Up to 35 Hours Working Time】- The charging case can hold about 5 full charges, and each charge can be used for about 5-6 hours (twice the playback time of similar earbuds on the market). 10 minutes of charging, about 1 hour of use, about 1 hour of charging to take the headset battery from dead to full, and the charging case in just 2 hours.
Shipping
Free shipping to eligible country
Sale
99$-15$ / 199$-30$ / 299$-55$ / 599$-120$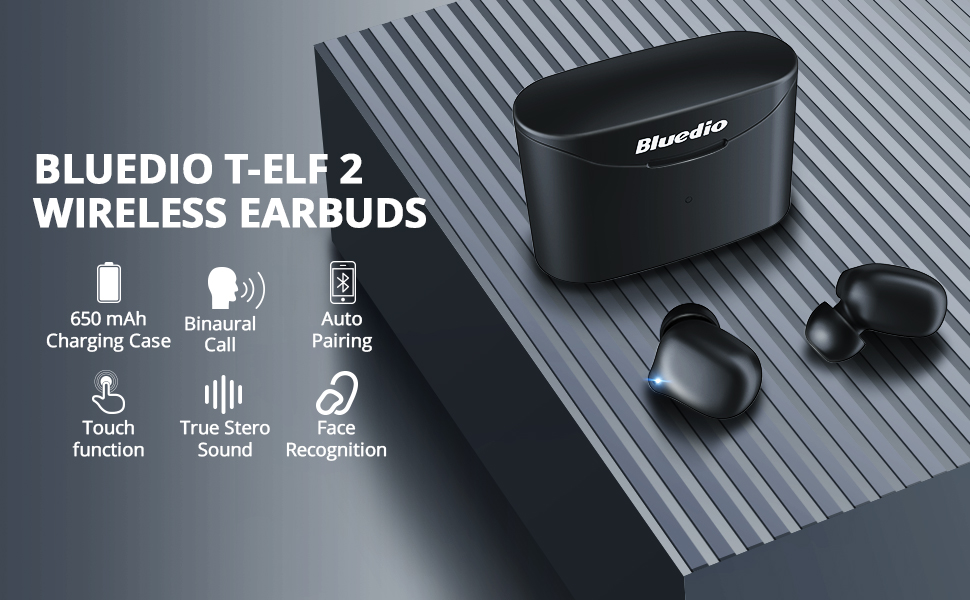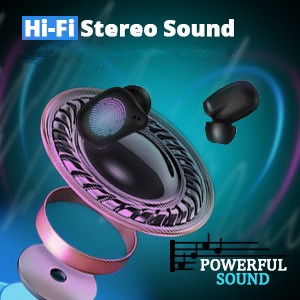 Clear Sound Quality
Bluedio T-Elf2 Bluetooth earphones adopted 6mm driver bigger than before, and built-in and advanced patented technology VFT of Bluedio(patent No: ZL20160848544.8), which bring you a better and clear sound quality.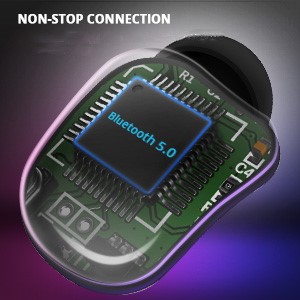 Rock Solid Connection
Adopt the most advanced Bluetooth 5.0 technology. Bluedio T-Elf2 Support A2DP, HSP, HFP, AVRCP. Provides in-call stereo sound. Also own fast and stable transmission without tangling.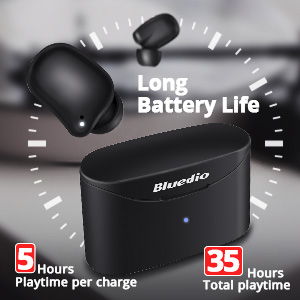 Extended Play Time
With a 650 mAh charging case, you can use earphones for about 5-6 hours(data from Bluedio laboratory) for a single charge, and the charging case can provide another 35-hour playtime, giving you persistent energy. Note: charger for charging case must be limited as 5V output.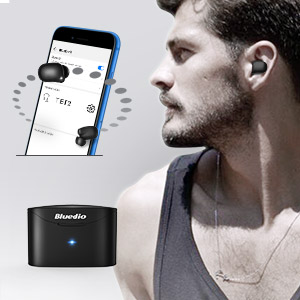 One Step Pairing
An automatic system gives you a hassle-free experience when pairing and connecting to your devices. All you need to do is just take them out from the case and turn on the left and right earbuds, two earbuds will connect automatically, put them on and you are ready to immerse in your music world.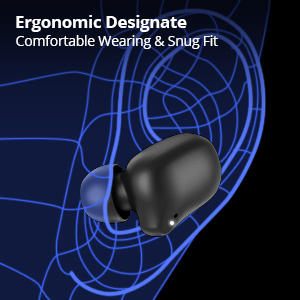 Comfortable Wearing
Wireless earbuds are lightweight, weighing only at 0.11 oz, secure and ergonomic design, three different sizes of earcaps, which make them fit with most shapes of the ears comfortably. They won't fall out while you moving around or working out.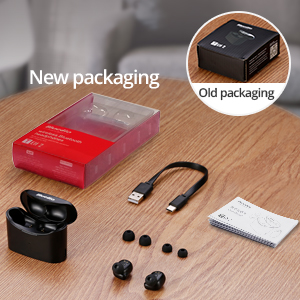 Package Included
1 x Bluedio T Elf 2
1 x Charging Case
1 x Charger Cable
1 x User Manual
3 Pairs of eartips with 3 different sizes (S, M, L)(The middle size ear tips are putting on the earphones)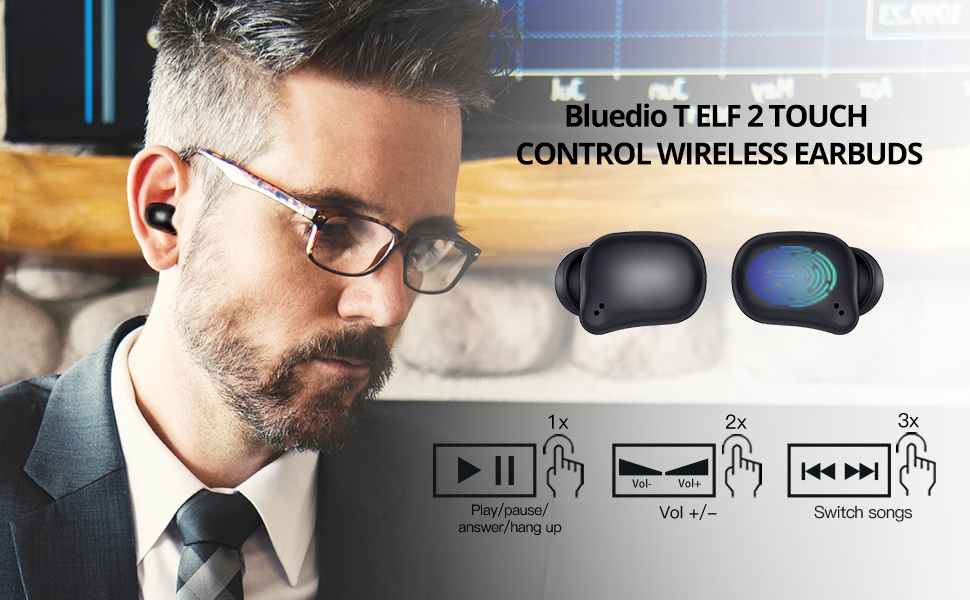 Premium Touch Control:
Single-click: Play/ Pause/Answer/Hang-up
Previous song: Press left earbud three times.
Next song: Press right earbud twice three times.
Voice assistant: Long Press about 1 second.
Volume +: Double press right earbud
Volume -: Double press left earbud
Clean matching record: long press for 10s
Last redial: Continuously press four times and redial a call
Auto Pairing
1. Turn off Bluetooth on your device firstly,
2. Open the charging box and you'll see LED light flashing on two earphones
3. Turn on Bluetooth on your device to search for "T Elf 2" and click it to connect.
Once initially paired with your device, the earbuds automatically turn on and connect with your device when taken out from the charging case; Automatically turn off and charge when returned and closed to the charging case.
---
Note: Earbuds will automatically turn on and connect back to your device when fully charged in the charging case, please turn off the Bluetooth of your device when you are not using the headset.
| | |
| --- | --- |
| Brand | bluedio |
| Model | T ELF2 |
| Type | TWS |
| Support Protocol | A2DP AVRCP HSP HFP |
| Working range | 10 meters |
| Frequency range | 2.4GHz-2.48GHz |
| Frequency Response Range | 20Hz-15kHz |
| Speaker size | 13MM*2 |
| Working temperature | - 10℃ -50℃ |
| Headphone/battery box capacity | 50MA*2/300MA |
| Impedance | 32Ω |
| Music/phone battery life | about 40 hours |
| Standby time | about 650 hours |
| Charging time of charging box | about 2 hours |
| Product size | 7.5*5.5*3.5cm |
| Packing size | 13.9*8.7*4cm |
| Product weight | 80g |
| Packing weight | 150g |
| Package Contents | Headphone*1, Charging Cable*1, Instruction Manual*1 |
For the Price? Incredible!
These were advertised right before Christmas for cheap cheap! I had already order $200 Bose for my wife for Christmas. I wanted something to hold me over until I could try hers. I received these and could not believe the quality of sound for $16.00. If you don't have buds and can't afford to spend $150.00 buy these!! They really are quite functional and sound great. Yeah yeah some audiophile is going to pick them apart…let's face you're going to lose the first couple pairs! Go for it.
20/03/2022
Nice but don't last a long time
It's really nice for the price, but I find after a few months of owning them people around me can hear my music, and they play out of sync sometimes
20/02/2022
Sound Quality & Battery Life Are Great
The sound quality for this product is superb! It has not background, lingering sounds that sometimes comes with low end ear buds. The volume can go so loud it will block out any outside noise and its the only thing you can hear but heads up that anyone closeby will be able to hear what you are listening to once the volume is at his highest on the devices it is connected it as well as the ear buds. Black means it never gets dirty :) it fits in my ears well and doesn't fall out when I am exercising, jumping jacks, ropes etc. The battery life can last for up to 6 hours or even more depending on how loud you play and whenever you put the buds back in the box it automatically charges it back up, which is an added bonus for me. Charge can take between 1 - 2 hours for the box when its dead dead :)
16/02/2022
Was good until it was a life hazard
I use headphones almost constantly and subject them to a lot of abuse. So, I've owned dozens - I go through 4 - 8 sets/year. Because of this, I've tried lots of low cost solutions like these 'Bluedios' and I set my expectations accordingly. Unfortunately, these are completely unusable with constant connection issues regardless of how close they are to your phone. One side or the other will drop a couple of times per minute. It will reconnect right away (usually within a second), but then will be out of sync with the other side for another second. And again, this happens a few times every minute - not occasionally. For me, this is completely unusable making them a bad deal even if free.
14/01/2022
Mo
We bought two pairs of these as they were on sale and came to about $11 each. We didn't expect a lot at that price but hoped to have some ear buds we didn't need to worry about as an additional pair.The first set we charged refused to pair with each other no matter how many times we followed the manual's steps. They paired fine with our phones though so if you only want to use one earbud at a time (we didn't) they would work for that. We decided to return that set.The second set paired with each other right out of the box and again paired easily with an iphone and Android tablet. The sound is "thin" with little bass. It would work for a podcast or audiobook but be disappointing for music. They are really small buds and actually nestle nicely once placed--however they would not stay in your ears if you were doing something active I'm pretty sure. Getting the correct touch to activate the controls is tricky, and it's about a 50/50 chance you will turn off the ear bud if you go to change the volume.We decided to keep the second set as we wanted to use for audiobooks and at $11, there wasn't much to lose. However in all honesty, a pair of Mbits earbuds I bought previously are now around $18 and have far better sound and easier controls. So if you can spend a few dollars more, they are a better value.
18/09/2021
Only one of the ear buds work
I got what I paid for. The "touch screen" type button is constantly being triggered by my ear not by my fingers. Can't maintain a stable connection to my phone while jogging which causes the earbuds to cut out. I was curious to see if it was my phone so I borrowed two other people's phones and received the same problem. If I could go back in time I would tell myself to just save up for the expensive brands.
05/09/2021
Best ear buds I have purchased!
I have purchased numerous ear buds as I have tinnitus and I really need sounds to distract my mind from the constant ringing during quite times of rest or sleep. These are the only buds I have purchased that last 8 hours, are comfortable, have great sound quality, easy to use, easy to set up and the best price for what you get. I have purchased more expensive buds that don't come close to the performance of these buds….not even close to a comparable timeframe of battery alone. Get these if you're looking for long lasting, comfort and sounds for a reasonable cost. Truly honestly best for money.
04/08/2021
Battery life and charging speed is awesome
Great battery life. I've literally worked a 10 hour shift and didn't even need to recharge them in the case at all.
29/07/2021
There are no faqs for this product.