70mm aperture astronomical refracting telescope (15X-150X) for adults and children, beginners in astronomy, 300mm portable telescope with mobile phone holder and adjustable tripod
Free shipping to eligible country
Buy KENTFAITH 70mm aperture astronomical refracting telescope (15x-150x) for adults and children, beginners in astronomy, 300mm portable telescope with mobile phone holder and adjustable tripod online, worldwide free shipping and 30 days return guarantee.

KF33.037

SKU:

KF33.037

84.99

https://www.kentfaith.com/GW50.0037_70mm-aperture-astronomical-refracting-telescope-15x-150x-for-adults-and-children-beginners-in-astronomy-300mm-portable-telescope-with-mobile-phone-holder-and-adjustable-tripod
Description
* 300 mm focal length and 70 mm aperture can collect more light, full multilayer coating, improve light transmittance, clearer and brighter vision, high-definition optical glass lens (non-resin lens), protect children's eyes;
* Equipped with a 1.5x orthoscopic mirror, the scene seen after installation is consistent with the actual scene, and it will not be upside down from left to right. You can watch the celestial body or the scenery, which is more convenient and practical;
* Upgrade a variety of accessories to bring a better experience: add a moon mirror, use for observing the moon, filter part of the light so that the picture will not be overexposed, 1.5X erect mirror and 3X Barlow mirror increase the magnification of the stargazing telescope, making it easier Focusing on the moon and stars, the 5X24 star finder with mounting bracket can easily help you find the observation target, and the mobile phone bracket makes the stargazing telescope easier to observe, take pictures and share with smart phones;
* The aluminum alloy tripod is stable and durable, and provides a stable support for the observation of the landscape and the sky. It can be adjusted freely from multiple angles, and the all-round observation allows you to better observe the sky and the earth;
* Easy to assemble and disassemble, easy to carry, very suitable for camping. Can be used as a birthday, Christmas, Halloween, Thanksgiving gift for children, adults and amateur astronomers to explore the sky and scenery; Perfect Christmas gifts for children, beginners
Shipping
Free shipping to eligible country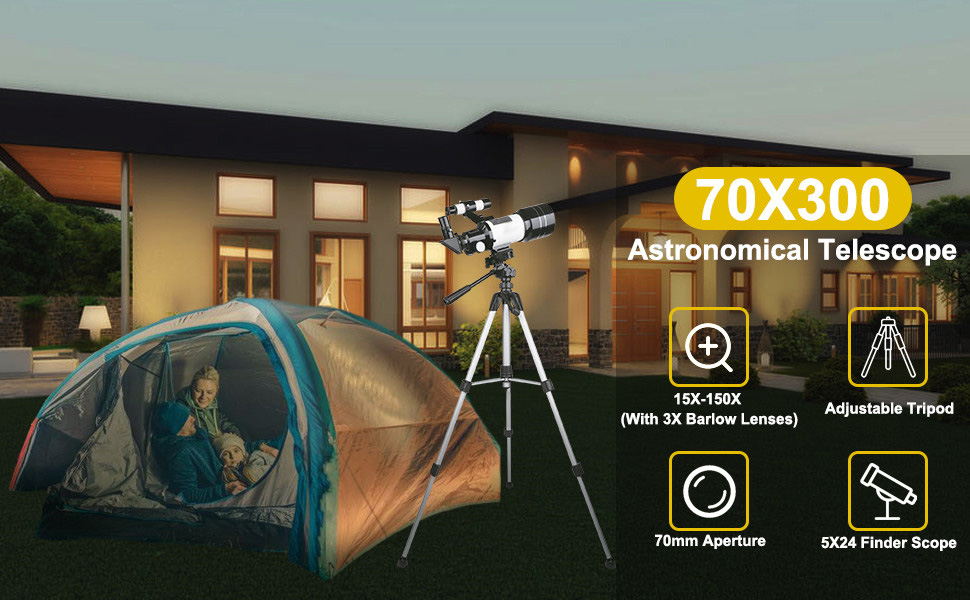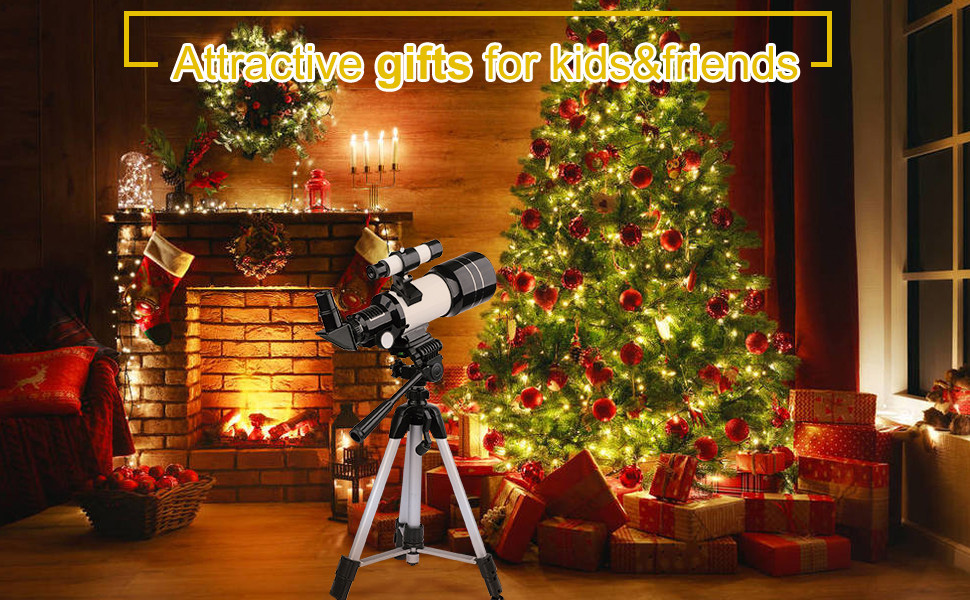 70AZ Refractor Telescope
70mm Telescope is a compact and portable telescopes with bright image quality and high magnification power. Very suitable for beginners to explore the vast sky, like the moon, the planet and star clusters, etc. As a terrestrial telescope, the refractor telescope delivers great views of mountains, valleys, and many other features of the world around.
70AZ is the perfect telescope for adults and kids to use together with its fully-coated, high-quality glass optics, including a refractor-style 70mm objective lens. The aperture allows high-resolution viewing, without adding a lot of extra weight. Added coating on the 70mm lens allows light to enter, providing sharper, crisper viewing of celestial and terrestrial objects during the day or at night.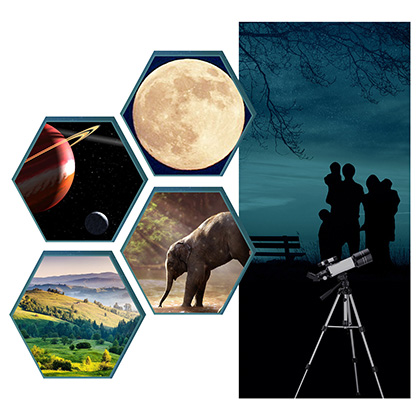 (1) Target users: Kids, teenagers, adults as starter of astronomy.
(2) Positive image for day time and evening.
(3) To observe the Moon, planets, birds and animal, or live performance.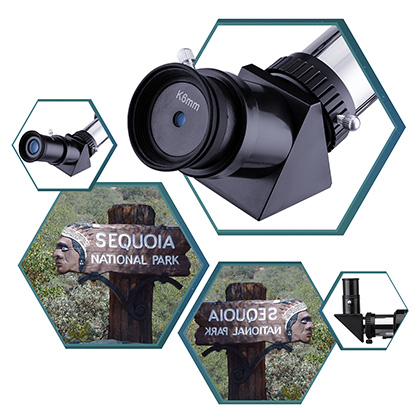 (4) 45 Degree Angle: Comfortable viewing experience for users. Positive image for day and night use.
(5) 70mm Larger Objective Lens: More sufficient light for a brighter image.
(6) High quality optics: Professional blue film FMC coating optical glass. Higher light transmission for clear and sharp image.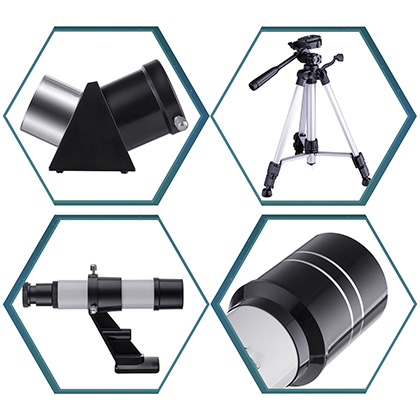 (7) Reasonable magnification for 15x and 150x with three eyepieces.
(8) Perfect size for kids and adults.
(9) Equipped with 3-section adjustable standard tripod.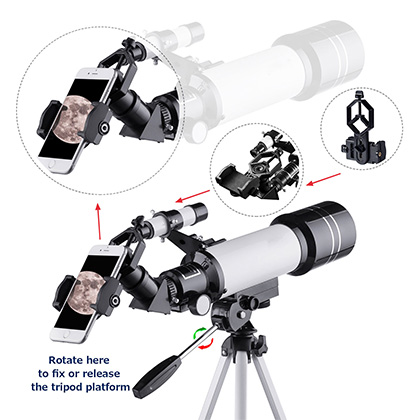 Accessible to Phone Camera
Install adapter on eyepiece, then set up the phone and aligh the camera.
Please check and ensure the tripod is stable before installation in case of balance issue.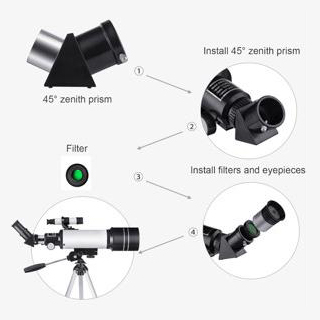 With Moon Filter
When watching full moon, this filter can reduce eye fatigue caused by strong light.It also reduces stray light and clarifies the image.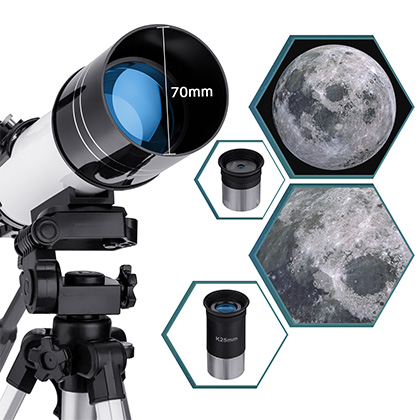 Upgrade Blue Coating Lens
70mm objective lens with sufficient light for a brighter image in day time and night.
Professional FMC Coating with higher transmission.