70mm aperture astronomical refracting telescope (15X-150X) for adults and children, beginners in astronomy, 300mm portable telescope
Free shipping to eligible country
Buy KENTFAITH 70mm aperture astronomical refracting telescope (15x-150x) for adults and children, beginners in astronomy, 300mm portable telescope online, worldwide free shipping and 30 days return guarantee.

KF33.037

SKU:

KF33.037

74.99

https://www.kentfaith.com/GW50.0037_70mm-aperture-astronomical-refracting-telescope-15x-150x-for-adults-and-children-beginners-in-astronomy-300mm-portable-telescope-with-mobile-phone-holder-and-adjustable-tripod
Description
* 300 mm focal length and 70 mm aperture can collect more light, full multilayer coating, improve light transmittance, clearer and brighter vision, high-definition optical glass lens (non-resin lens), protect children's eyes;
* Equipped with a 1.5x orthoscopic mirror, the scene seen after installation is consistent with the actual scene, and it will not be upside down from left to right. You can watch the celestial body or the scenery, which is more convenient and practical;
* Upgrade a variety of accessories to bring a better experience: add a moon mirror, use for observing the moon, filter part of the light so that the picture will not be overexposed, 1.5X erect mirror and 3X Barlow mirror increase the magnification of the stargazing telescope, making it easier Focusing on the moon and stars, the 5X24 star finder with mounting bracket can easily help you find the observation target, and the mobile phone bracket makes the stargazing telescope easier to observe, take pictures and share with smart phones;
* The aluminum alloy tripod is stable and durable, and provides a stable support for the observation of the landscape and the sky. It can be adjusted freely from multiple angles, and the all-round observation allows you to better observe the sky and the earth;
* Easy to assemble and disassemble, easy to carry, very suitable for camping. Can be used as a birthday, Christmas, Halloween, Thanksgiving gift for children, adults and amateur astronomers to explore the sky and scenery; Perfect Christmas gifts for children, beginners
Shipping
Free shipping to eligible country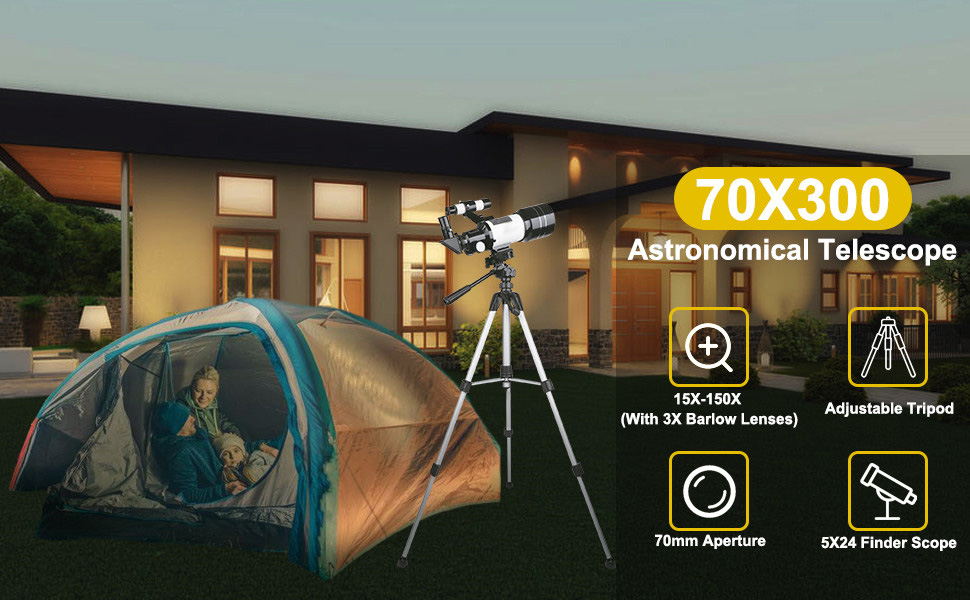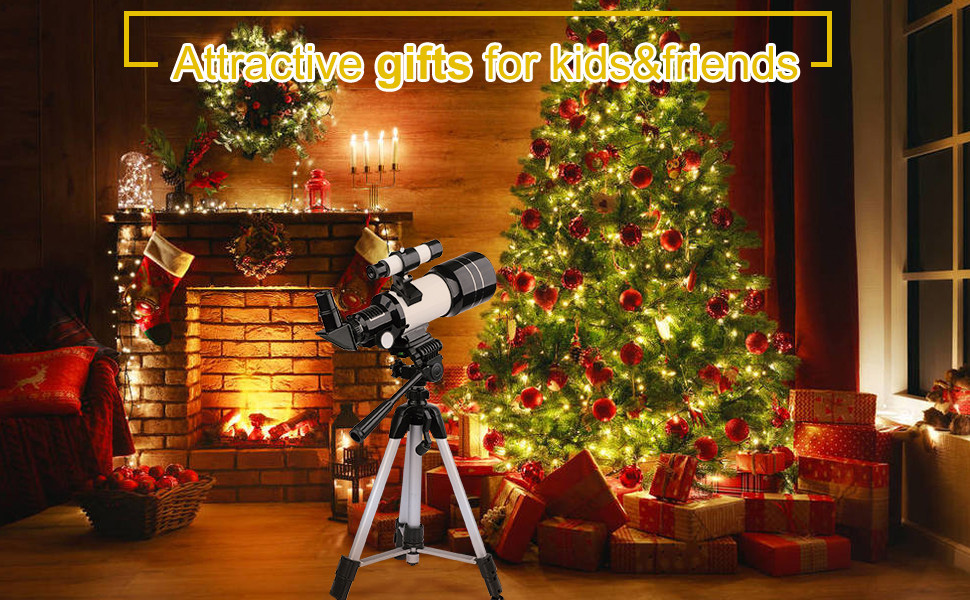 70AZ Refractor Telescope
70mm Telescope is a compact and portable telescopes with bright image quality and high magnification power. Very suitable for beginners to explore the vast sky, like the moon, the planet and star clusters, etc. As a terrestrial telescope, the refractor telescope delivers great views of mountains, valleys, and many other features of the world around.
70AZ is the perfect telescope for adults and kids to use together with its fully-coated, high-quality glass optics, including a refractor-style 70mm objective lens. The aperture allows high-resolution viewing, without adding a lot of extra weight. Added coating on the 70mm lens allows light to enter, providing sharper, crisper viewing of celestial and terrestrial objects during the day or at night.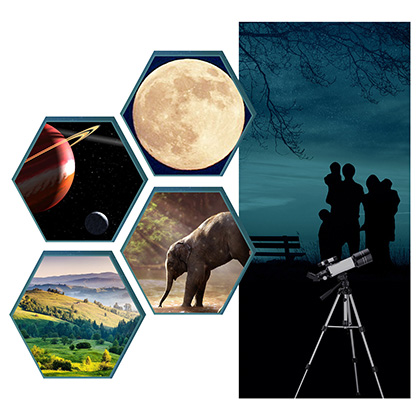 (1) Target users: Kids, teenagers, adults as starter of astronomy.
(2) Positive image for day time and evening.
(3) To observe the Moon, planets, birds and animal, or live performance.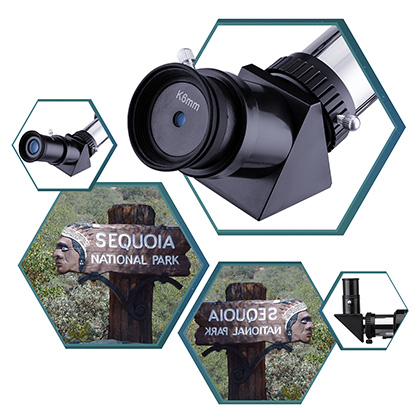 (4) 45 Degree Angle: Comfortable viewing experience for users. Positive image for day and night use.
(5) 70mm Larger Objective Lens: More sufficient light for a brighter image.
(6) High quality optics: Professional blue film FMC coating optical glass. Higher light transmission for clear and sharp image.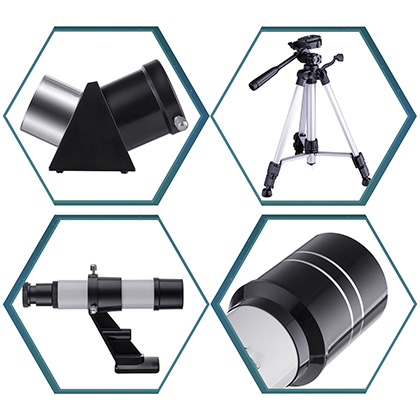 (7) Reasonable magnification for 15x and 150x with three eyepieces.
(8) Perfect size for kids and adults.
(9) Equipped with 3-section adjustable standard tripod.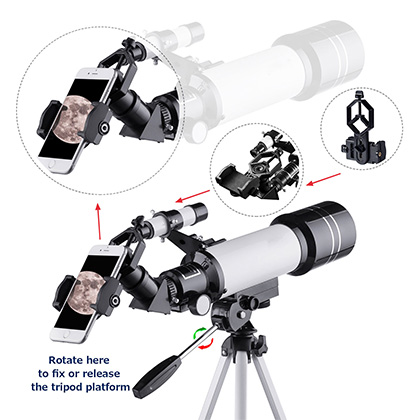 Accessible to Phone Camera
Install adapter on eyepiece, then set up the phone and aligh the camera.
Please check and ensure the tripod is stable before installation in case of balance issue.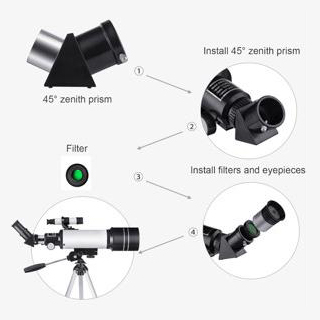 With Moon Filter
When watching full moon, this filter can reduce eye fatigue caused by strong light.It also reduces stray light and clarifies the image.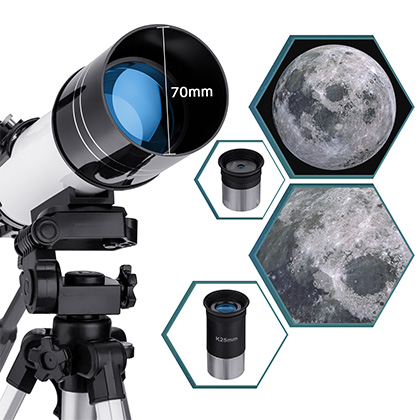 Upgrade Blue Coating Lens
70mm objective lens with sufficient light for a brighter image in day time and night.
Professional FMC Coating with higher transmission.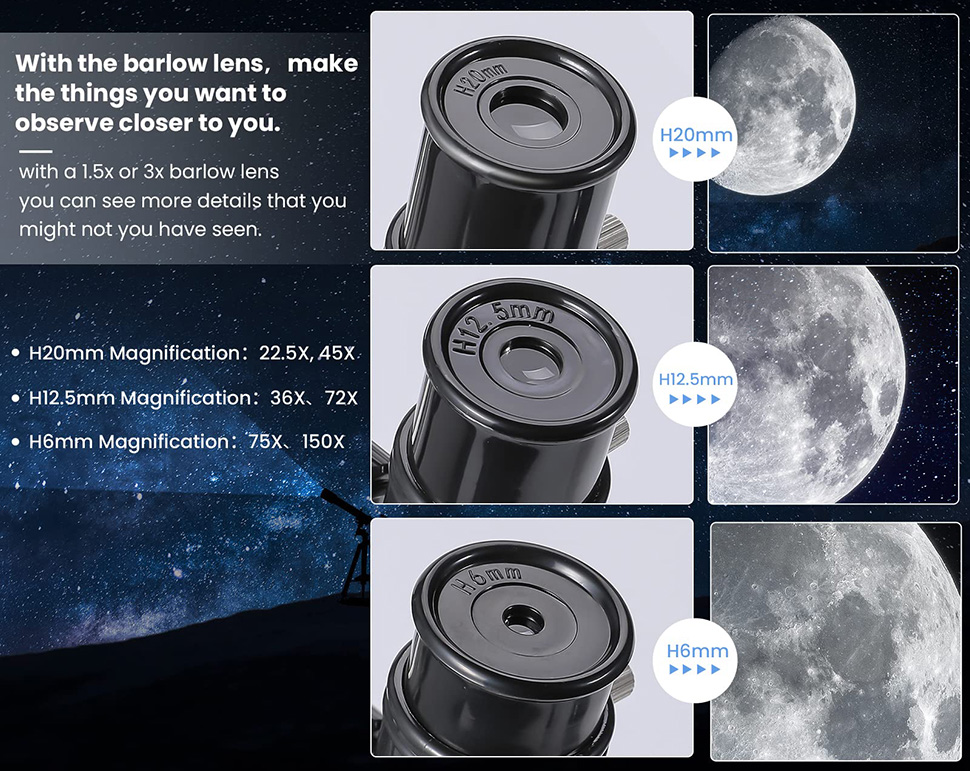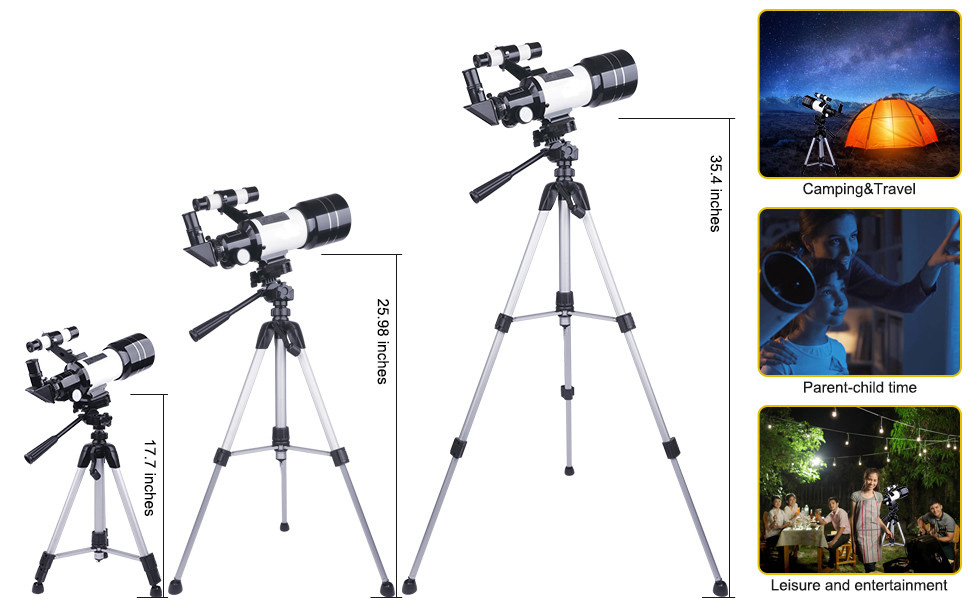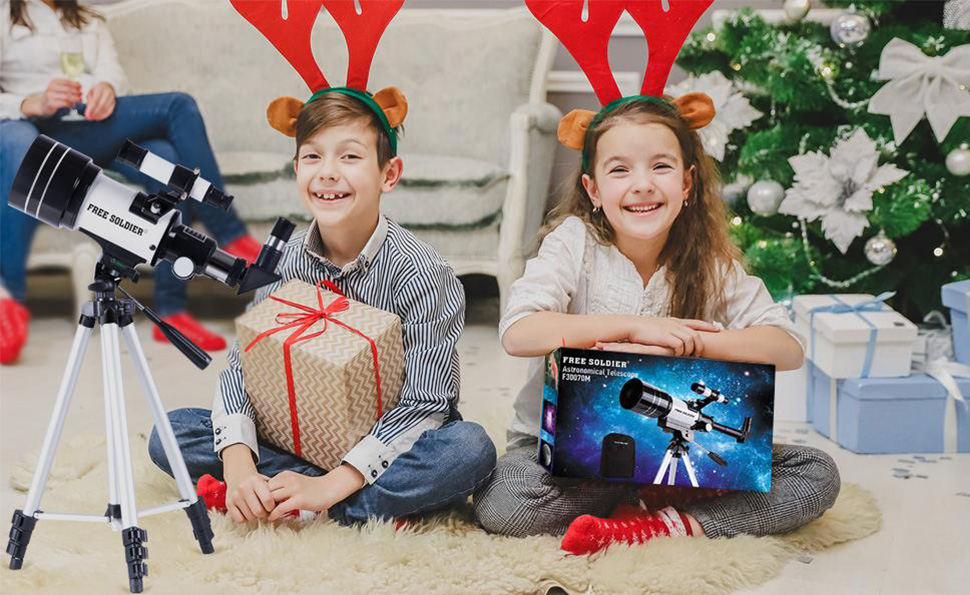 Excellent télescope pour débutants.
Excellent télescope de démarrage. Je l'ai utilisé pour mon fils qui a 4 ans et qui est vraiment dans le système solaire. Nous avons regardé la lune et avoir la capacité d'utiliser la pièce jointe téléphonique signifiait vraiment qu'il pouvait partager en voyant ce que je pouvais. La configuration était si simple et c'est un plaisir à utiliser. Je le recommanderais.
28/03/2021
Superbe télescope.
Mon fils demande un télescope depuis très longtemps car il adore utiliser le mien alors il a décidé de dépenser l'argent de son anniversaire pour celui-ci. Je n'étais pas certain de ce à quoi m'attendre compte tenu du coût de l'article, mais je peux honnêtement dire que je suis super impressionné par la qualité de celui-ci. Je savais qu'il comprenait un sac à dos pour tout ranger, mais je m'attendais à ce que cela soit bon marché et qu'il fallait le remplacer. Il est en fait de très bonne qualité et dispose de sangles et de poches à l'intérieur pour que le contenu ne se déplace pas dans le sac. Vous pouvez dire par le sentiment qu'il va être vraiment durable, cela me donne beaucoup de confiance que le télescope ne sera pas endommagé en transit quand mon fils sera parti en voyage avec.
Les instructions sont très simples et très claires, elles sont très faciles à assembler. Chaque élément du télescope est bien conçu et je m'attends à ce qu'il durera très longtemps.
J'ai recommandé à 100% ce télescope pour les débutants comme pour les experts.
08/04/2021
Bon télescope une fois installé
Un télescope décent pour le prix. Une fois que vous l'avez mis en place et que vous l'avez mis en marche, c'est vraiment bien. Configurez-le pendant la journée et prenez le temps de le connaître avant de passer à regarder la lune car il est beaucoup plus zoomé que prévu. Il est d'un bon rapport qualité-prix et est livré avec un trépied, un support de téléphone et un sac à dos ainsi que tous les éléments dont un débutant aura besoin.
22/09/2021
J'adore la facilité avec laquelle il est facile d'utiliser un excellent produit !
Facile à utiliser, c'est un excellent début pour les débutants.
26/06/2021
Au-dessus de la lune
Absolument ravi de ça ! Je l'ai acheté pour mes filles à utiliser sur la plage lorsque nous partons faire des promenades le soir. Je suis au-dessus de la lune avec le sac à dos car ils peuvent aussi aider à le porter. Il dispose d'une gamme d'objectifs et je suis très enthousiaste à l'idée d'essayer le support de téléphone pour obtenir des images de ce que nous avons découvert. Tellement de fonctionnalités brillantes, mais je suis particulièrement impressionné par sa compacité, mais ses jambes s'étendent jusqu'à la pleine hauteur adulte ! Ils vont être tellement enthousiastes à ce sujet lors de notre prochaine sortie. Je ne peux pas dépasser le prix non plus. Je suis vraiment content de mon achat. Je le recommande absolument !
11/04/2021
Great gift for beginner!
This telescope is good for beginner. As my kid is in 4th grade, it is always excited with new toy. It draw the interesting to read more book about galaxy and stars.
14/09/2021
Arrived in perfect condition and in plenty of time. Many thanks
I like the Telescope and thanks for a truly great service. Many thanks.
10/09/2021
Love my telescope
Very easy to assemble, with extra scopes just in case you want to see the stars closer. Love that it comes with a bag so you can keep all parts organized. I may buy another in the future for my son so we can both look the dark skies together
25/08/2021
My kids love it!
I've been looking to get my kids one of these for awhile. If you're looking for a beginner's telescope for kids, this is perfect. The stand is on the short side so it's ideal for kids, not adults. That did not stop me from star gazing though. Put a few days of practice in testing it out and you'll be pretty happy with what you can observe for the price. Start the kids off with viewing the moon and work your way up to more distant things. My kids are enjoying this telescope so don't hesitate to buy this for your kids!
22/08/2021
Nice for begginers.
As i am a beginner for this telescope for viewing. It was pretty easy to assemble. Good viewing experience. Very good quality and focal length.
20/08/2021