64G micro SD card U3/V30/A1 with adapter memory card suitable for home surveillance camera hunting camera and driving recorder memory card K&F CONCEPT
To
United States
Expedited Shipping
3-5
business days
Buy KENTFAITH 64g micro sd card u3/v30/a1 with adapter memory card suitable for home surveillance camera hunting camera and driving recorder memory card k&f concept online, worldwide free shipping and 30 days return guarantee.

KF42.0012

SKU:

KF42.0012

16.99

https://www.kentfaith.com/KF42.0012_kf-64g-micro-sd-card-u3-v30-a1-with-adapter-memory-card-suitable-for-home-surveillance-camera-hunting-camera-and-driving-recorder-memory-card-kf-concept
Description
* 【Security Surveillance Card】Designed for home surveillance cameras or driving recorders, hunting cameras, it can reliably record video, take pictures smoothly and continuously, and record important information.
* 【With Adapter, Stable Data Transfer】Micro SD Card 64GB includes SD adapter, you can insert the micro sd card into the adapter, it can be used on any SD card interface. K&F CONCEPT memory cards are made of high-quality chips that provide reliable performance, ideal for write-intensive applications and ensure clear recording of evidence in high-definition without dropped frames.
* 【High Endurance】In order to provide the best performance and stability, the K&F CONCEPT 64GB memory card has been tested to withstand extreme conditions. They are heat resistant, waterproof, shockproof, X-ray and antistatic.
* 【Fast Transfer】K&F CONCEPT 64GB SD card has a fast reading speed, up to 95MB/S, which can be viewed and transferred instantly, with enough space to store thousands of snapshots and hours of full HD video, saving you no longer worry about running out of storage space .
* 【4K HD Video】: V30's speed standard, ideal for shooting 8K UHD video and burst mode photography, video support may vary depending on host device, file attributes and other factors
Shipping
To
United States
Expedited Shipping
3-5
business days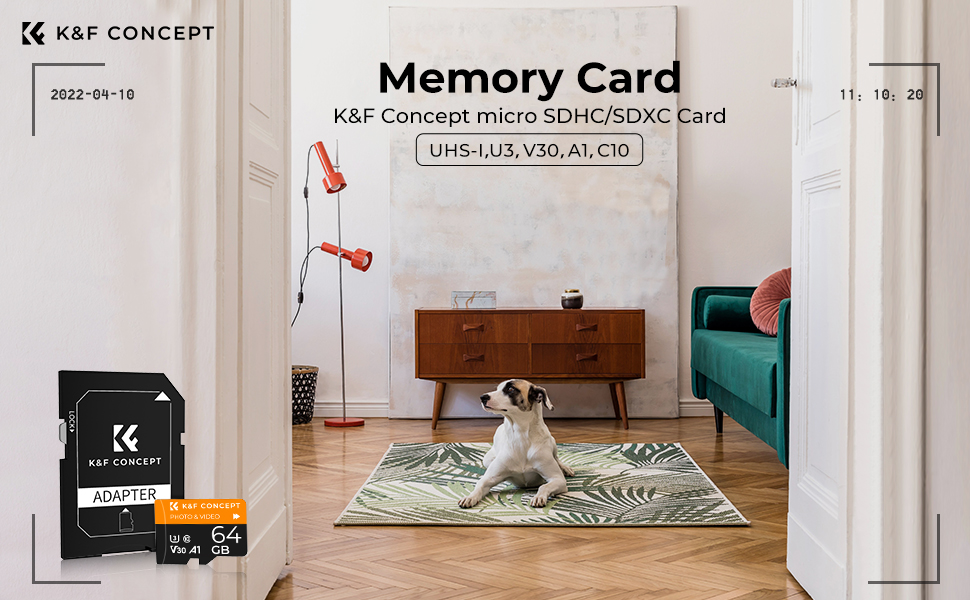 K&F Concept Micro SD memory card (With SD memory card holder)
Designed for home surveillance cameras or driving recorders, hunting cameras, etc.
Reach UHS-1 U3 V30 A1 speed standard, support shooting 4K and full HD video, data reading speed up to 95MB/s, continuous video recording, easy recording, very suitable for home surveillance cameras, driving recorders, smartphones, tablets, etc.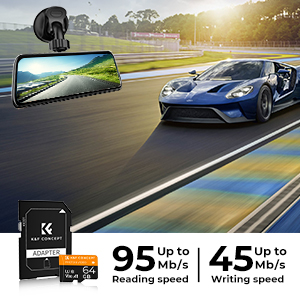 Worry-free continuous recording
It is suitable for continuous recording and overwriting data, with a maximum read speed of 95MB/S and a maximum write speed of 45MB/S, enabling fast data transfer.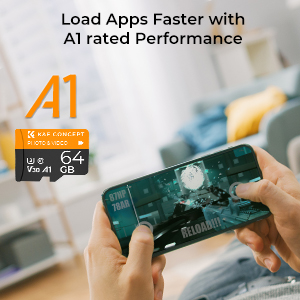 A1 performance class
For applications, the A1 performance class supports a minimum random read speed of 1500IOPS and a random write speed of 500IOPS.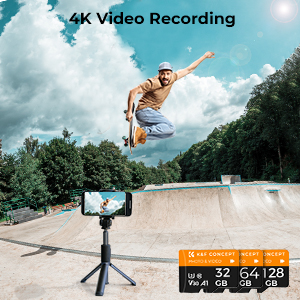 Support 4K video recording
Capture fast-action photos or videos in 4K UHD at up to 95MB/s write speed. Perfect for capturing outdoor activities, weekend trips or sporting events without losing frame rate of course.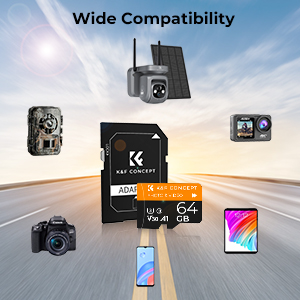 Compatible Devices
With an SD adapter, K&F Concept's memory cards are compatible with all Micro SD and full-size SD devices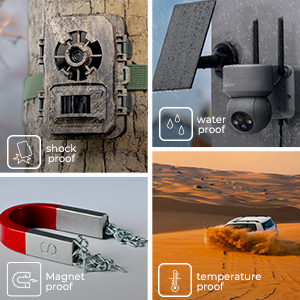 Durable
Extreme temperature-resistant, waterproof, shock-resistant design, well built to withstand extreme weather and more harsh environments.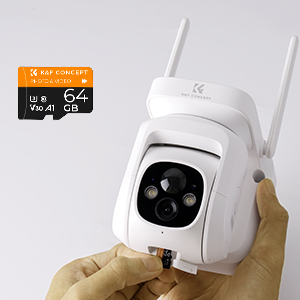 Suitable for surveillance camera & driving recorder
Plug in the device and use it, it can record 4K ultra-high-definition video and FHD time 7/24, without missing the events that need to be recorded, it is very suitable for K&F Concept solution monitoring equipment.
There are no reviews for this product.
There are no faqs for this product.