Handheld Digital Microscope, Portable Adult and Pediatric Microscope with 4" LCD Screen, 8 Dimmable LED Lamps, Electronic FHD Video Microscope, Windows Mac Compatible Black
New customer gift package
Free shipping to eligible country
Buy KENTFAITH handheld digital microscope, portable adult and pediatric microscope with 4" lcd screen, 8 dimmable led lamps, electronic fhd video microscope, windows mac compatible black online, worldwide free shipping and 30 days return guarantee.

GW45.0015

SKU:

GW45.0015

87.99

https://www.kentfaith.com/GW45.0015_handheld-digital-microscope-portable-adult-and-pediatric-microscope-with-4-quot-lcd-screen-8-dimmable-led-lamps-electronic-fhd-video-microscope-windows-mac-compatible-black
Description
* 【4-inch rotatable FHD screen】4-inch screen, 1080FHD image quality, 80x magnification, built-in 8 adjustable LED lights, which can provide enough magnification to meet your daily needs, allowing you to present more clearly and intuitively the microscopic world in front of you;
* Rechargeable Microscope】Built-in 2000mAh battery, can be used for about 3 hours after fully charged, and can also be charged by a power bank, you can take it anywhere with confidence;
* 【Light and Portable Microscope】 With a new design concept, one-handed operation is fully realized. The body weighs about 220g and comes with a wrist strap and a carry bag, so even children can easily put it in their pockets and take it to outdoor adventures;
* 【Easy Connection to Windows & Mac Computers】 Compatible with Windows system, you can connect to PC via USB cable to share with your family and friends. You can download our software or just run Windows 10's default application "Windows Camera" to use;
* 【Wide Applications】Easy to operate, suitable for educational purpose inspection, circuit board repair, printing industry inspection, insect inspection, coin/jewelry/stamp collection. This digital microscope can be used by the whole family and is the perfect gift for adults, children, hobbyists and other users, enhancing the interaction between people and the microscopic world.
Shipping
Free shipping to eligible country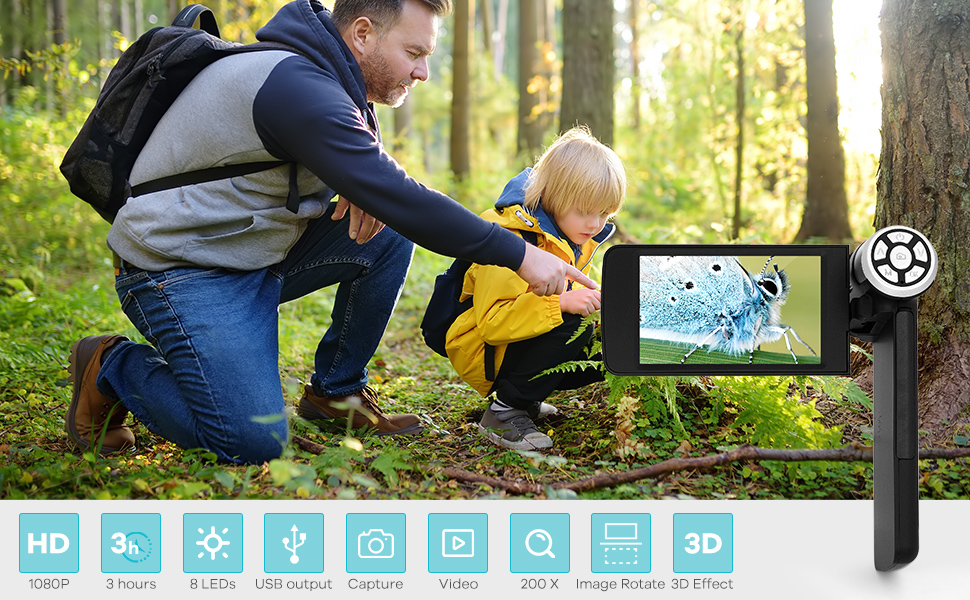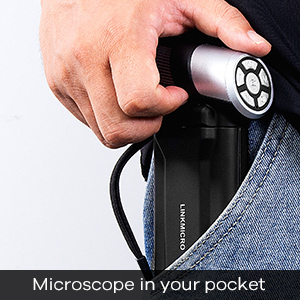 Pack Light, Explore Free
Adopt a new design concept to create a unique new appearance, and fully realized one-handed operation. At less than 215g, newly shaped LM203 weighs about as much as an apple and fits in the palm of your hand. Truly Portable and Pocket, this pocket microscope is your ideal explore companion, transforming how you observe the micro world.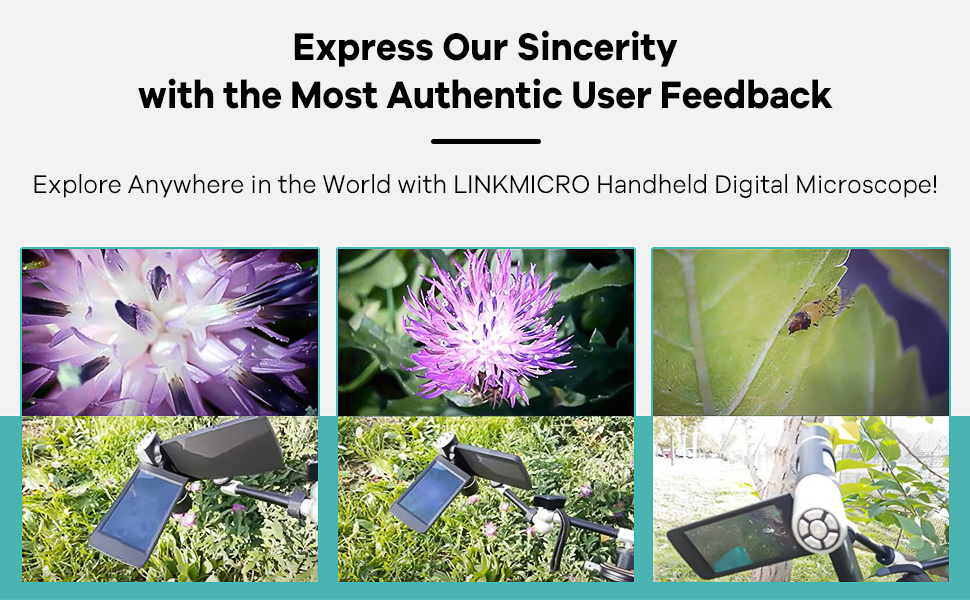 All Reviews
Image

All Star

5 Star

4 Star

3 Star

2 Star

1 Star
Good but difficult to stabilize
For the price, this small microscope camera has good resolution and a very decent image. I had used the WiFi model but the price difference was too big so I ended up going for the basic version even though I had to remove the SD card from the device to recover the photos.
On the other hand, the stabilization is not ideal. Of course, at this price you can't need a stabilizer, but what this camera is made for, that is, going on an adventure and observing the miniature world, is a bit complicated. I wanted to take a small insect on a leaf even though it was moving, but I never managed to take a clear photo.
However, for the price we have a very good microscope with a good quality screen. I recommend this purchase to anyone who has children and wants to show them the miniature world.
16/12/2022
Works perfectly
I love the microscope it works perfectly for what I need it for. I would definitely recommend it to anyone who needs a product of this nature
13/12/2022
Awesome little microscope!
This is an amazing little microscope that far exceeded my expectations - especially for something of its size and portability. I bought this for my kid thinking it would be a fun little tool for him to explore the house and the outdoors - to see how things are really put together, beyond what we normally see. He loves to! We went on a hike and it was amazing all the little things we found. We now have photos and videos of things like the face of a ladybug up close going about its business. As I said, it was bought for my child, but I also used it quite a bit. The other day I had a small spot on my skin that really hurt and I couldn't figure out why. Under the microscope it turned out to be a rather ugly puncture wound with a tiny foreign body. Also... Andonstar's email customer service response is fantastic - honestly one of the best I've ever experienced. I can't recommend this enough. :)
07/12/2022
Trichomes are easy to see!
So easy to use! Maturity levels are clearly visible, the thing is cool.
24/11/2022
Nice magnifying glass
Nice magnifying glass, easy to use. Bought to use with coins
13/11/2022
It was a gift purchase.
I would like to rate but it was a gift.
06/11/2022
Cool toy to introduce kids to microscopes
I love when companies come with everything you need so you can get started as soon as you get it!

Can't wait to use this to explore things with my 3 year old grandson! He loves to take a good look at everything, so this is perfect. Also, I give it up after that and let them use it for homeschooling over the years. It won't be easy though, because I personally love taking photos of things magnified. It can make amazing art!

This is great for STEM or STEAM learning, in school or homeschool. Or for coin or stamp collectors or science lovers in general.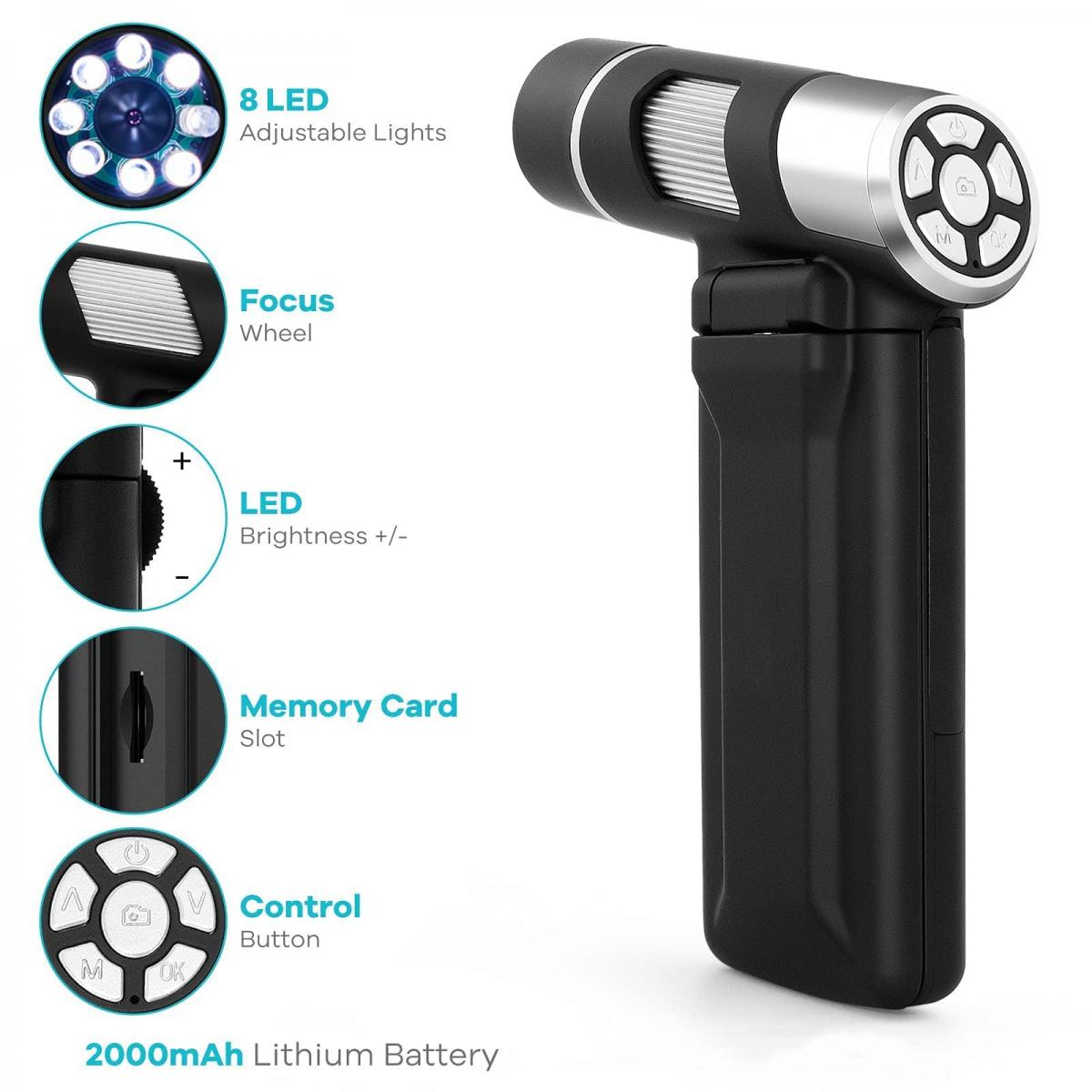 30/10/2022
Gives you the close-ups you need
Tried 2 of the cheaper scopes and they failed miserably. Paid a little more for it and it's 10x the quality and works great. Buy, worth every penny.
18/10/2022
The perfect gift!
Our 12 year old absolutely loves this gift!! It's an easy-to-use microscope and very portable! She has checked everything from hair, fingernails, snowflakes, plant leaves etc. Now our 7 year old wants one for her birthday!!
23/09/2022
Very useful and practical
I'm very satisfied because I think it's a useful product to visualize the increasingly microscopic components mounted on the circuits.
The image quality is more than adequate for this purpose (good in fact), it is kept practical, the display is bright and tilt-adjustable, the focus adjustment (which allows the magnifier to be held more or less close to the subject and then the magnification varied ) is convenient to use, as well as the brightness adjustment wheel of the LEDs that illuminate the frame.
We recommend.
04/09/2022