DM9 7" LCD Digital Microscope 1200X, 1080P Coin Microscope with 12MP Camera Sensor, Wired Remote Control, 10 LED Lights, Welding Electron Microscope for Adults, Compatible with Windows/Mac OS

Buy KENTFAITH dm9 7" lcd digital microscope 1200x, 1080p coin microscope with 12mp camera sensor, wired remote control, 10 led lights, welding electron microscope for adults, compatible with windows/mac os online, worldwide free shipping and 30 days return guarantee.

GW45.0009

SKU:

GW45.0009

105.99

https://www.kentfaith.com/GW45.0009_dm9-7-quot-lcd-digital-microscope-1200x-1080p-coin-microscope-with-12mp-camera-sensor-wired-remote-control-10-led-lights-welding-electron-microscope-for-adults-compatible-with-windows-mac-os
Description
* 【7-inch rotatable screen】LCD digital microscope with 1080P high resolution, 12MP camera technology and precise focus, support to display stunning images and videos for easy and accurate observation and welding. Adopt rotatable (90 degree) high-definition screen design, which is more convenient for users to watch from different angles;
* 【Continuous 10X-1200X magnification】Supports viewing incredible observation details in the magnification range of 10X to 1200X, and the actual magnification varies with the distance between the camera and the observation point. It is not only a microscope, but also a camera, which can take pictures and videos, and you can save the images and videos obtained during the observation process to the memory card;
* 【Designed with 10 LED lights】8 adjustable LED lights ensure your specimens are clear and bright, with 2 additional auxiliary lights, providing better detail and best clarity, and allowing to take photos in some dark places or video;
* 【Connect PC for a larger view】PC view supports Windows and Mac OS, so you can make larger-scale observations for easy data sharing and analysis. No need to download additional software, just run the default application "Windows Camera" for Windows 10 and "Photo Booth" for iMac/MacBook;
* 【Wide Applications, Suitable for Adults and Children Gifts】This digital microscope is ideal for circuit board testing, clock repair, textile industry, wrong coin identification, educational testing for children, biological observation (not suitable for cells), researchers, jewelry, stamps, plants , QC inspection, is a popular and meaningful gift for children, students, lovers.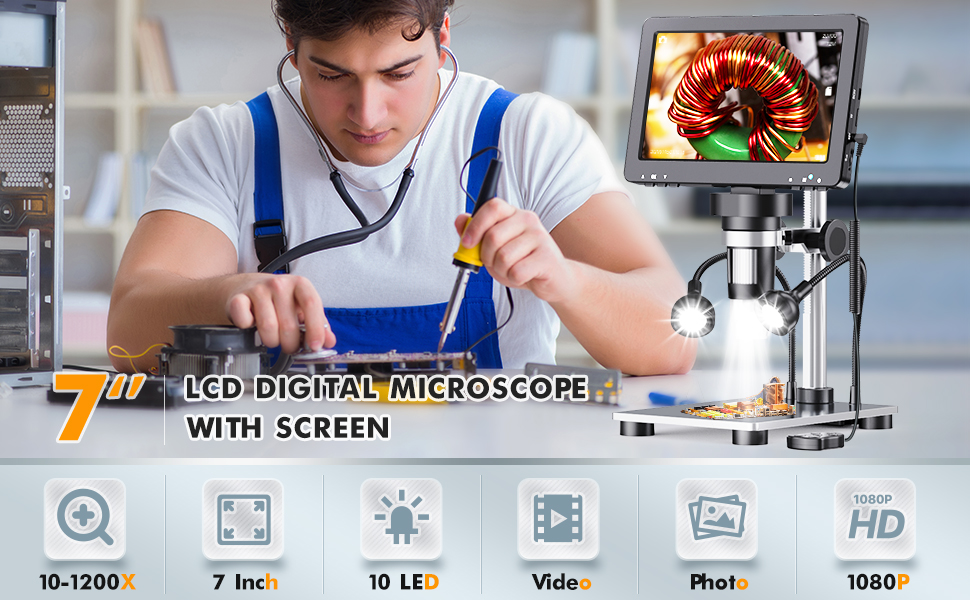 Are you looking for a digital microscope camera that gives you good image, allows you to work more ergonomically, and is cost-effective?
---
Then the DM9 Digital Microscope is the right choice for you.

Easy-To-Use, Save time and effort with stand-alone operation.
No need for a PC/Wifi/Bluetooth. Adjust and operate the camera, view images directly on the microscope with a 7-inch color screen.
High Quality Microscope, have hours of fun for the entire family to enjoy.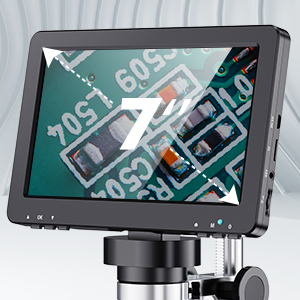 7 Inch LCD Sreen
FHD 1080P display, 7-inch large screen and 12MP high-precision camera sensor. Give you a clear visual experience.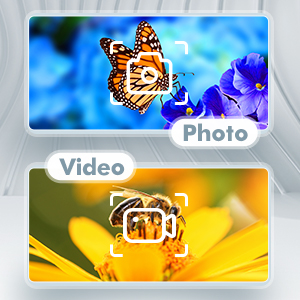 Photo/Video Recorder
Support high-definition photo and video recording functions, can record every moment that surprises you.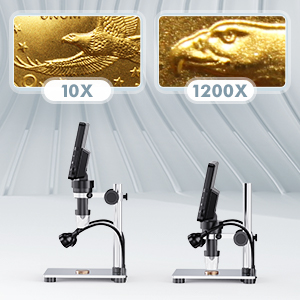 10-1200X Magnification
10-1200X magnification, will not let you miss any details.
---
With the metal base, it will greatly reduces any jitter. Make you better enjoy the micro world.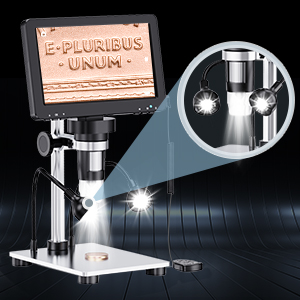 10 LED Lights Adjustage
Except 8 LED fill lights surrounded by the camera, we add two extra adjustable lights. Let most of the part have enough lights even in darkness environment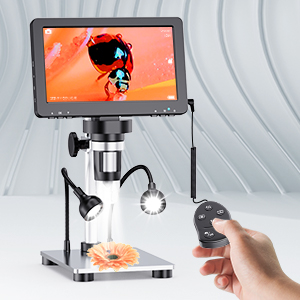 Convenient Wired Remote
The remote can be used to Snap Image, Record Videos/Menu Settings. Plug and play.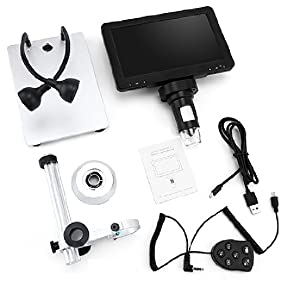 Package Include
1X Digital Microscope
1X Aluminum Base, Holder
1X Wired Remote
1X USB Cable
1X User Manual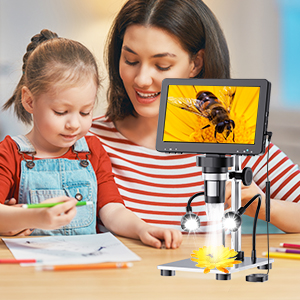 Interest Exploration
Research on hobbies
Animals observation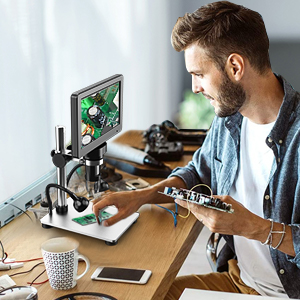 Mechanical Maintenance
Watch & Clock Repair
Circuit board maintenance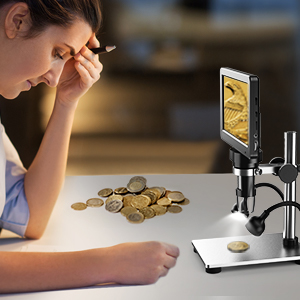 Coin Identification
Coins appreciation
Antique identification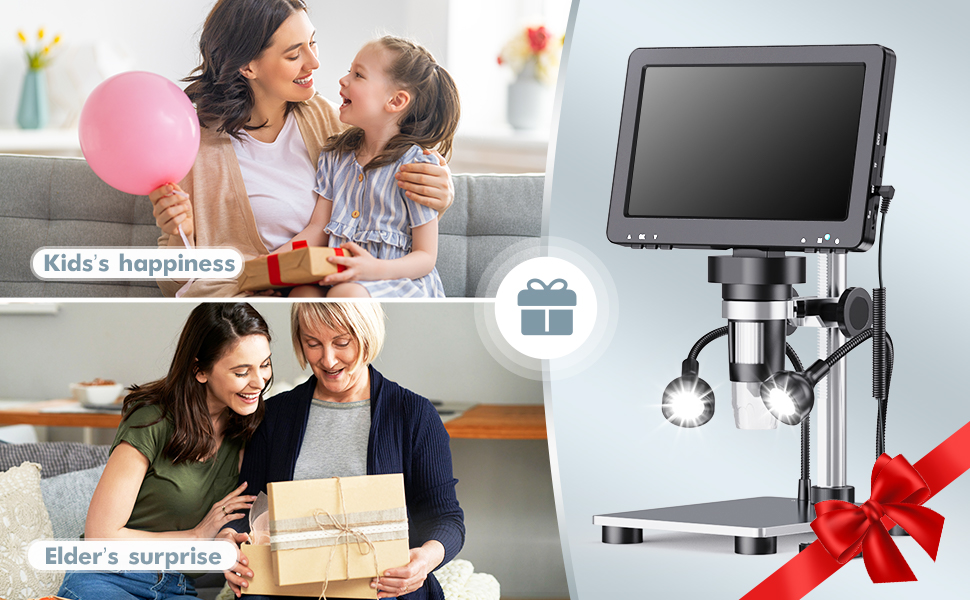 | | |
| --- | --- |
| Product name | DM9 |
| Video maximum pixel | 1080FHD |
| Lens Optical Size | 1/4" |
| Photo resolution | 12M, 10M, 8M, 5M, 3M |
| Video resolution | 1080FHD, 1080P, 720P |
| Video format | AVI |
| Focus Mode | Manual |
| Image format | JPG |
| Magnification | 1200X |
| Digital zoom | support |
| Light source | 8 LED lights (adjustable brightness) |
| Focusing range | 10~40mm (view the distant view) |
| PC resolution and image transmission rate | 1280*720/30fps |
| White Balance | Auto |
| Exposure | Auto |
| PC operating system | Windos xp, win7, win8.1, win10, Mac OS x 10.5 or higher |
| Supported languages | 12 languages |
| Lens structure | 2G+IR |
| Aperture | F4.5 |
| Camera angle | 16° |
| Interface and signal transmission mode | Micro/usb1.1 |
| Operating temperature | -20°C ~ +60°C |
| Working humidity | 30%~85%Rh |
| Working current | 700mA |
| Power consumption | 3.5W |
| Packing size | 24.4*20.4*8.1cm |
| Packing weight | 1103g |
| Packing list | Microscope body*1, bracket*1, manual*1, calibration ruler*1, reflector*1, wire-controlled remote control*1, USB data cable*1, installation CD*1 |
All Reviews
Image

All Star

5 Star

4 Star

3 Star

2 Star

1 Star
This is a fine, inexpensive digital microscope
I was satisfied assembling and using this little scope. I've been using a small stereo dissector scope for years but needed a camera so I tried this small digital scope. It's fine for the low magnification I need, it's not as good at the extreme 1200x it claims, but it's serviceable at the higher magnification. It can be an advantage that the device has a rechargeable battery that will power the lights and display for at least an hour without being plugged in.

The focus is a bit finicky to use, isn't a rack and pinion knob like on an ordinary scope, it's a knurled ring that is turned directly. And it's not a true "zoom" scope as advertised, as it needs to be refocused when the head is moved up or down to adjust the magnification.

But it can be sharply focused and it has adjustable magnification. I think it's excellent value for someone who wants to get good videos or photos of biological specimens or the coins in the headline.
29/01/2023
great illustration of double stamp coins
This digital microscope facilitates the search for double embossing and mis-embossing. Very clear picture. The only thing I would improve is to make the distance from the lens to the adjustment rod longer. So far I am very happy with this device and would recommend it to any coin cherry picker looking for error or miss coins.
17/10/2022
Good picture quality, absolutely top for jewelery making
We've needed a good microscope for a long time, but one that transmits images very clearly. Because I make jewelry every once in a while and these are real handcrafted pieces that require a lot of accuracy. We brought a few microscopes with us and are always very negatively surprised by the poor quality. You can see a lot - no question, but the picture is blurry, which is important to me, especially when I want to do hand engraving or connect 2-3 wires of different colors in a certain order. So we bought a microscope and needed it the next day until we got this one. First, it's modern and the HDMI port in particular is pretty cool - allowing me to stream images straight to the TV. Second, although it looks complicated at first glance, it turns out to be easy to use, but only if you already have some experience with it. Because from scratch you need some time to use it. The battery is ok, lasts longer, but it doesn't matter anyway because I can't stand to work longer - my eyes hurt. As a result, I find the battery life on this microscope to be a bit shorter than on previous devices, which I personally am absolutely fine with. Well, for hobbyists like me, this device is a big help. I can now keep everything to a minimum without maxing out the overall lighting in the room. That alone saved me a lot of energy and reduced my costs. Very satisfied. Clear 5 stars. Also clear purchase advice.
06/10/2022
Fantastic product
High quality product. Can look closely at details you didn't know existed. Would definitely recommend. Thanks.
28/09/2022
Works very well for my needs!
I bought this to help me with my watch repairs, it will work very well for oiling and diagnosing problems. The picture quality is perfect for my needs! We recommend!
06/09/2022
Excellent device
The microscope is very useful for soldering work. The HDMI output as well as the large screen make it an indispensable tool. It has very good resolution. I had a small technical problem but the seller responded promptly to solve the problem. Recommend the seller.
23/08/2022
Best for the price:
Picture is nice and clear and it's super easy to use. The setup is minimal and I've been able to use it for lots of different things. I use to check old coins but my girlfriend uses it to check on the dogs ear wax to make sure they don't have ear mites. She's pre-vet so it's a great little tool without having to pay hundreds of dollars for other microscopes. The screen is good too.
13/08/2022
A really really good microscope
And I really have to say that this device perfectly meets all my requirements. The microscope is already delivered in a very valuable and stable packaging. The device is also very stable due to its structure and the heavy base plate, and makes a very valuable impression. The adjusting screws for fixing and adjusting the focus are very stable and do not move. The built-in (replaceable) battery easily lasts a few hours, unfortunately the two additional lights have to be operated by an external power source, which makes outdoor use a bit difficult, you have to take a power bank with you if you plan to do something like that, but the internal one is enough Illumination of the tube actually also completely off. The service / menu is really very well done and self-explanatory. I find the HDMI output very practical, with which even larger monitors and/or projectors can be connected. The storage on a (supplied) SD card is also very good. Conclusion the price is absolutely OK for this microscope. And I would buy this part again and again. It's awesome for schools and classrooms. The only thing it could still have would be a WLAN transmission then it would be perfect. Still a brilliant piece
04/08/2022
Not perfect, but good
I take photographs and video for a living, though not usually on the microscopic scale. For the price, this is a pretty great deal. I've included some video from a bougainvillea flower and a still of the flower as well as of my thumbnail. I wish it had better resolution on the images, but it still does a decent job for being an affordable microscope/camera kit. The adjustable lights are a nice touch, though they don't always hold the position I want. they really help the quality of the photographs.

The monitor is also the power source for everything, so once charged, you can take the whole kit with you anywhere and be using this outside. Could pack it up in a little box - it's easy to assemble.

Takes a minute to figure out the controller, but it's pretty basic. You can also choose to have timestamps or turn off the time stamp option on both video and photo.

Hoping to make some fun micro photography projects during this quarantine where doing my usual work isn't so easy and I'm stuck inside a lot.
03/08/2022
gw45.0009 LCD Digital Microscope usage instructions
gw45.0009 LCD Digital Microscope usage instructions
Microscope
Screen Size
7 Inches
Magnification Range
50x-1200x
Resolution
1280*720/30fps
Light Source
10 LEDs
Specificities
/