DM101 Digital USB Microscope Camera, 500X Magnification, Can View Whole Coin, Support Photo/Video, Inspection Endoscope with Adjustable LED Light, PC Compatible
Buy KENTFAITH dm101 digital usb microscope camera, 500x magnification, can view whole coin, support photo/video, inspection endoscope with adjustable led light, pc compatible online, worldwide free shipping and 30 days return guarantee.

GW45.0028

SKU:

GW45.0028

44.99

https://www.kentfaith.com/GW45.0028_dm101-digital-usb-microscope-camera-500x-magnification-can-view-whole-coin-support-photo-video-inspection-endoscope-with-adjustable-led-light-pc-compatible
Description
* 500X magnification: Built-in 8 adjustable LED fill lights ensure you can see tiny details clearly and brightly in any environment. You can zoom in and see the finest details from 10X to 500X magnification;
* Plug and play, no setup required: just connect the microscope to the USB port of the laptop, the webcam will detect the device, turn the knob to focus and adjust the focus distance;
* All-aluminum material, strong and durable: This USB microscope is made of aluminum alloy base, stand and lens, which can be used for a long time and can be micro-soldered or repaired printed circuit boards;
* Detachable: It can be separated from the stand, so you can hold it freely, so it can also be used as an otoscope or endoscope, which is convenient for you to explore all kinds of unknowns;
* Versatile, Great Gift: Ideal for Circuit Board Inspection, Insects, Coins, Jewelry, Anatomy, Gemstones, Trichoids, Rocks and Stamps, Watch/Watch Repair, Skin Testing, Children's Educational Inspections, Textile Industry, Biological Observation, QC Inspection (Not for cellular and medical use), ideal gift for children and adults.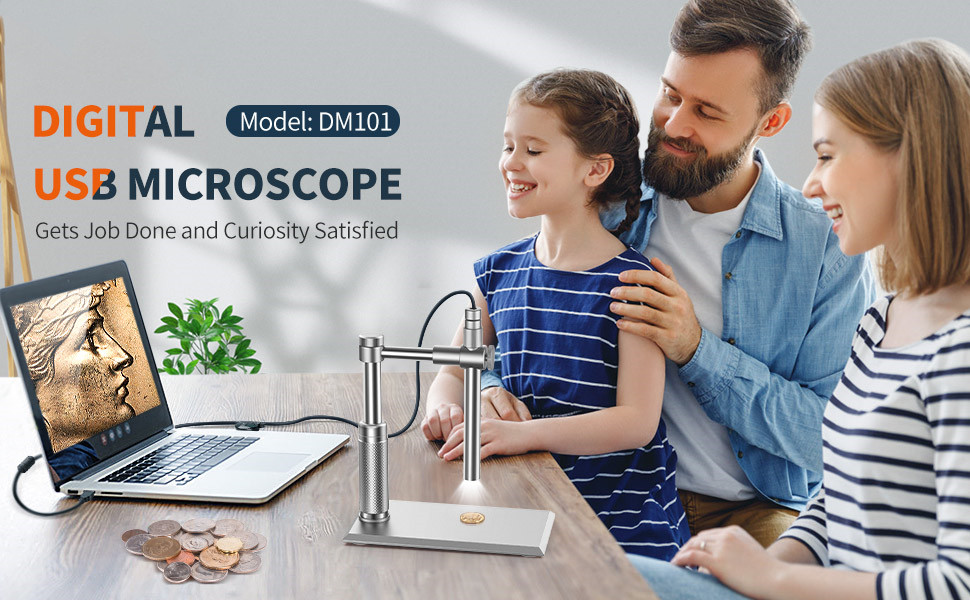 Why Choose This Model?
1. All metal construction - Made to last
2. Watch entire coins - Best for coin collectors
3. Take pictures and videos - Save and share
4. Wide compatibility - Windows and Mac OS compatible
5. Broad applications - Check error coins, rocks, plants, jewelry, PCB and many more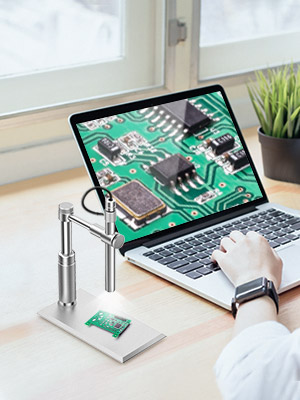 10X-500X Magnification
Windows Mac OS Linux Compatible
Image Resolution 1600*1200
5MP CMOS Image Sensor
Also Used As Otoscope or Endscope
All-Aluminum Solid Constructed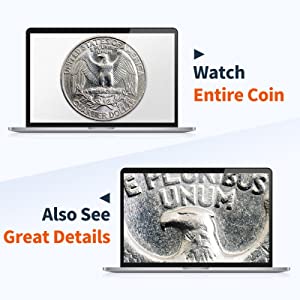 Captures Whole Coin
Best to examine coins for errors as this microscope is not only capable of magnifying tiny details but also capturing the entire coin.
---
Simply move the end closer or farther away from the object being observed.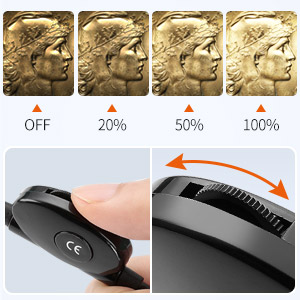 Proper Lighting For Best Result
The LED lights can be controlled from off too bright - pretty bright. Adjust the dimmer for better result.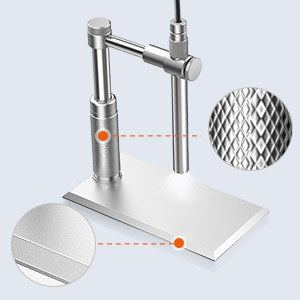 All-Aluminum Well-built Construction
Utilizes aluminum alloy to build the base, bracket and lens, this USB microscope offers a long term use and allows doing micro soldering or repairing printed circuit board.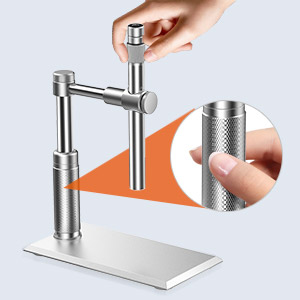 Plug And Play
Just attach the microscope to your notebook's USB port then the webcam detects the device. Rotate the knob to focus and adjust focusing distance.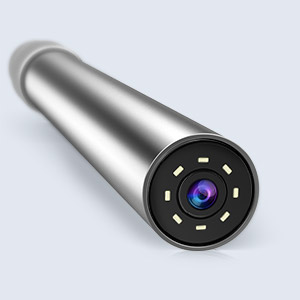 Up To 500X Magnification
Allows you to zoom in and see the tiniest details at magnification range from 10X to 500X in a full lighted view with 8 LED fill lights.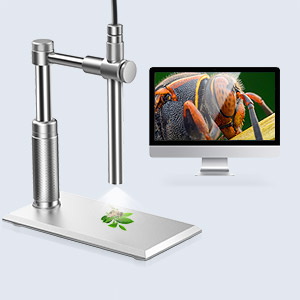 Enjoy Exploring The Miniature World Around Us
An ideal learning tool for observing coins, stamps, stones, plants and tiny living creatures, bringing tons of fun and great time sharing all these new found knowledge with your friends and families.

All Reviews
Image

All Star

5 Star

4 Star

3 Star

2 Star

1 Star
Bust
or should I say busted. The lens fell out and the camera came lose. customer support wanted me to glue it back together?!?!
So at what distance, what PASTE or .... how am I to gauge how to fix a lens to this.

19/05/2023
Great microscope, just what you need to explore the world!
I bought the microscope for my 10 year old niece hoping she would be interested in exploring the world... and she loved it! She puts a lot of random things underneath and has so much fun! The quality of the magnifying camera is very good and totally satisfying for a younger teenager to be happy and show off to all their friends. The microscope came on time, fast delivery, very happy with it. Highly recommend if you're trying to buy something for a kid who has everything!
15/01/2023
Perfect addition to the USB microscope
The right microscope stand for the K&F Concept USB microscopes. Very stable, can be perfectly adjusted despite the simple assembly. A great accessory. Also easy to dismantle for on the go. recommendation from me.
29/12/2022
goods as expected
Everything in order and usable as described in the sales ad - could not find any defects.
16/12/2022
Perfect addition to the digital microscope
The K&F digital microscope and similar fit perfectly into the holder. High quality material and precise manufacturing. The additional LED lighting is very helpful with reflective objects. The supplied bag is practical, in which the dismantled stand can be stored dust-free - the digital microscope and other accessories also fit in.
07/12/2022
Microscope
That part is really cool.
For the price it's great.
23/11/2022
Recommended for the price.
Microscope itself quite good...clean image...but the gooseneck...mount...is not suitable for my purpose...as it is very difficult to adjust. A millimeter of work until you get the picture sharp...and once you come up against it...the picture is blurred.
I then bought a fixed tripod...that's much better for setting...and finding out.
08/11/2022
Fits perfectly
Fits very well for the microscope. Assembling is easy. The light is super bright. I can only recommend it.
31/10/2022
We recommend
Great product and the bag also fits the microscope
17/10/2022
surprisingly good
I wasn't expecting too much for the price and was pleasantly surprised. Magnification very good, image quality very good, setup very good, app very good, handling very good. All in all, clear purchase recommendation.
04/10/2022
Microscope
Screen Size
×
Magnification Range
10x-500x
Resolution
640*480P
Light Source
8 LEDs
Specificities
Removable/Full Metal Body