4" USB Powered Ring Multi-Functional Fill Light with Clip and Tripod Video Conference Lighting Kit for Laptops, Dual Color Temperature Adjustable, for Live Streaming, Video Recording, Makeup
Buy 99$-15$, 199$-30$, 299$-50$, 599$-120$(autumn sale Price)
Free shipping worldwide
Brand:

KENTFAITH

Buy KENTFAITH 4" usb powered ring multi-functional fill light with clip and tripod video conference lighting kit for laptops, dual color temperature adjustable, for live streaming, video recording, makeup online, worldwide free shipping and 30 days return guarantee.

GW51.0078

SKU:

GW51.0078

20.49

https://www.kentfaith.com/GW51.0078_4-quot-usb-powered-ring-multi-functional-fill-light-with-clip-and-tripod-video-conference-lighting-kit-for-laptops-dual-color-temperature-adjustable-for-live-streaming-video-recording-makeup
Buy 99$-15$, 199$-30$, 299$-50$, 599$-120$(autumn sale Price)
Description
* 【Dual color temperature】The 4-inch LED video conference light adopts 48 LED light beads, including 24 white light beads and 24 yellow light beads, the illumination angle is 120°, and it can provide 3 different light colors (cool white/warm white/ nature).
* [Supports stepless dimming] At the same time, it can also be adjusted to stepless dimming, CRI≥95, color temperature range 3200k-6500k, no shadow, no glare, to meet your various needs, it is your daily life video call, online conference, remote Excellent choice for study;
* 【Ring Light for Laptop with Lightweight Clip and Tripod】This selfie ring light comes with a small clip and a sturdy tripod. The clip is lightweight and won't cause any damage to your monitor, suitable for clipping on monitors smaller than 0.6 inches, such as laptops. Also equipped with a tripod for your choice, more flexible use;
* 【Simple USB Plug Light and Convenient Controller】Powered by a USB cable, you can use this LED ring light on your desktop computer, laptop, power bank, USB charger or any other device with a USB port. Just plug it in and press the ON button on the remote to turn it on. You can also change the light settings through the wire controller, and the USB cable length can be up to 2m/6.56ft, which can meet your various needs;
* 【Multiple Application Scenarios】This video LED light is specially designed for multiple tasks that require extra light source. You can use this video light for remote video conferencing, online teaching/learning, video chat, live streaming, YouTube video shooting, TikTok, selfie, reading, makeup, crafting, night light and more. Small in size and easy to store or carry.
Shipping
Free shipping worldwide
Sale
Buy 99$-15$, 199$-30$, 299$-50$, 599$-120$(autumn sale Price)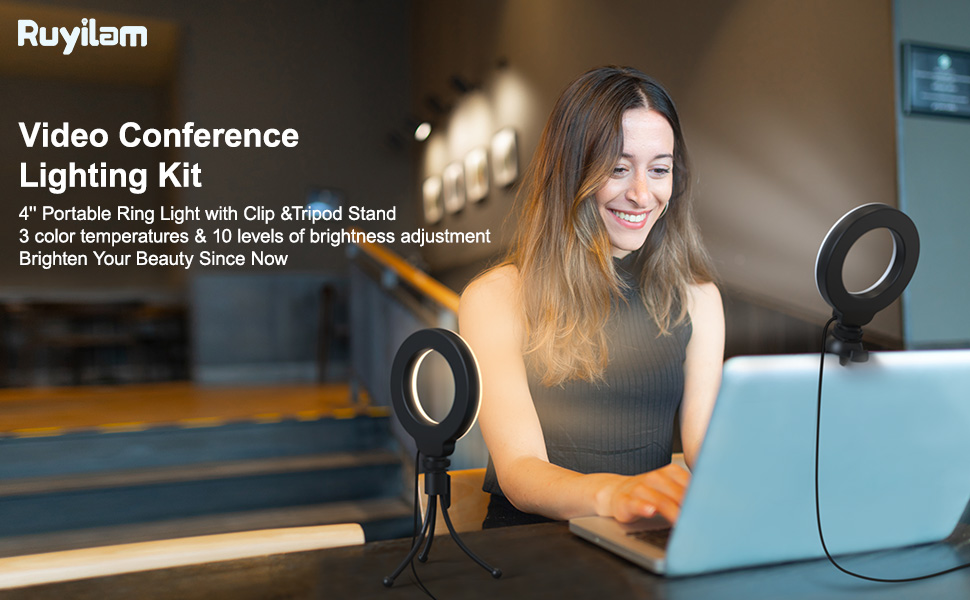 Improving Your Video Conferencing Experience
This Video conference light is the ultimate extra light source for Zoom meetings, Tiktok, Youtube Videos, Instagram selfies and more.
---
The ring light design, the light illuminates the face more evenly than solid lights, no glare, no shadow, soft light is not harsh. Easily change your ideal lighting with the switch to perfect your skin and fit your environment.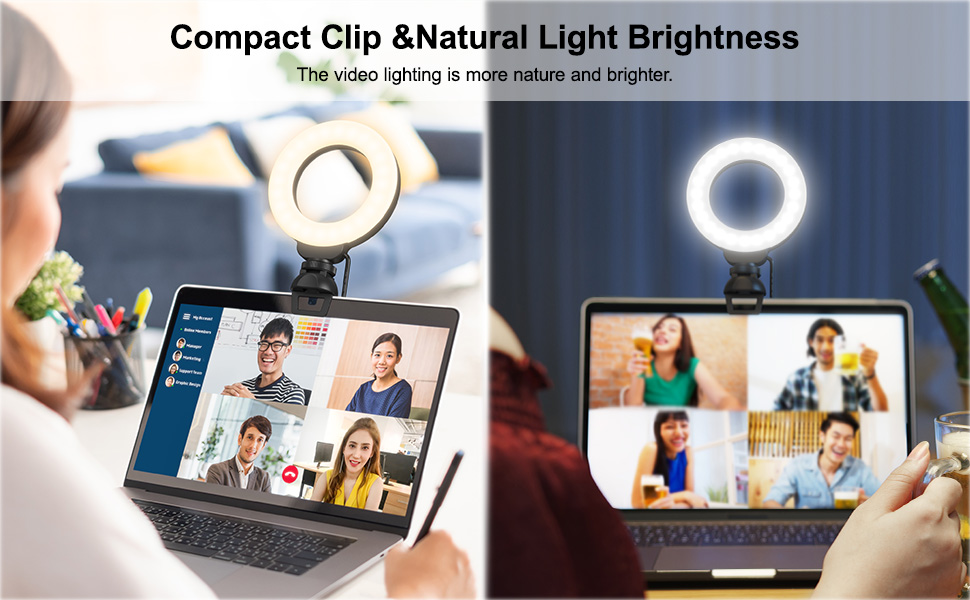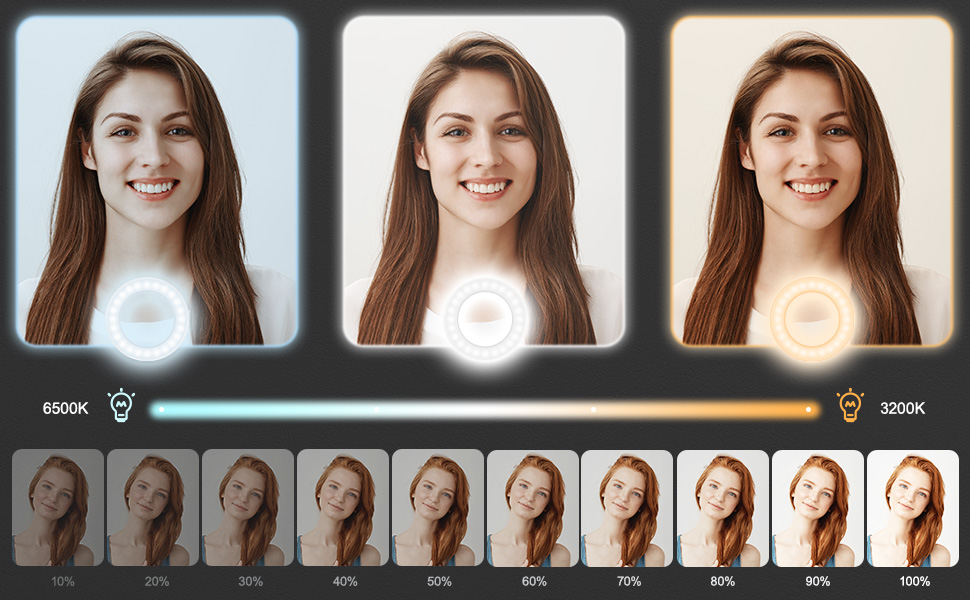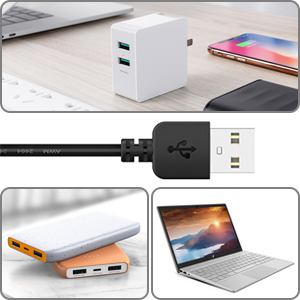 USB Powered,Plug&Play
The USB power design allows you to shoot a variety of scenarios.
---
PC, power banks, USB chargers, AC adapters and any other USB port can provide power for this ring light.
---
USB cable is about 6 feet, long enough to make it convenient to use.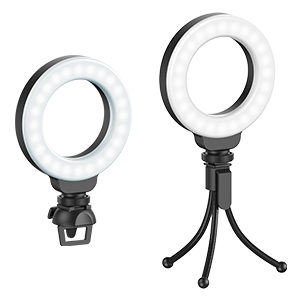 Powerful Clip & Tripod Stand
The video comference lighting kit includes 1*Ring Light, 1*Superior Clamp, 1*Flexible Tripod, 1* Manual.
---
By using the clip or tripod stand, you can either clip your ring light on your PC or put it next to the desktop.
---
The clip is also user-friendly, and will not cause any harm or obscure the screen of your device.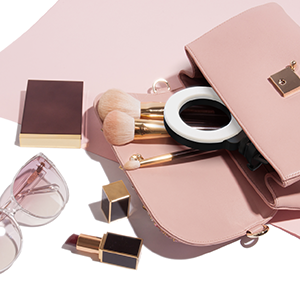 Portable: easy to carry everywhere
The size of this ring light is about 4". The features of lightweight and sturdy let you can take your ring light to different places with ease.
---
And it is also easy to carry in your luggage for traveling.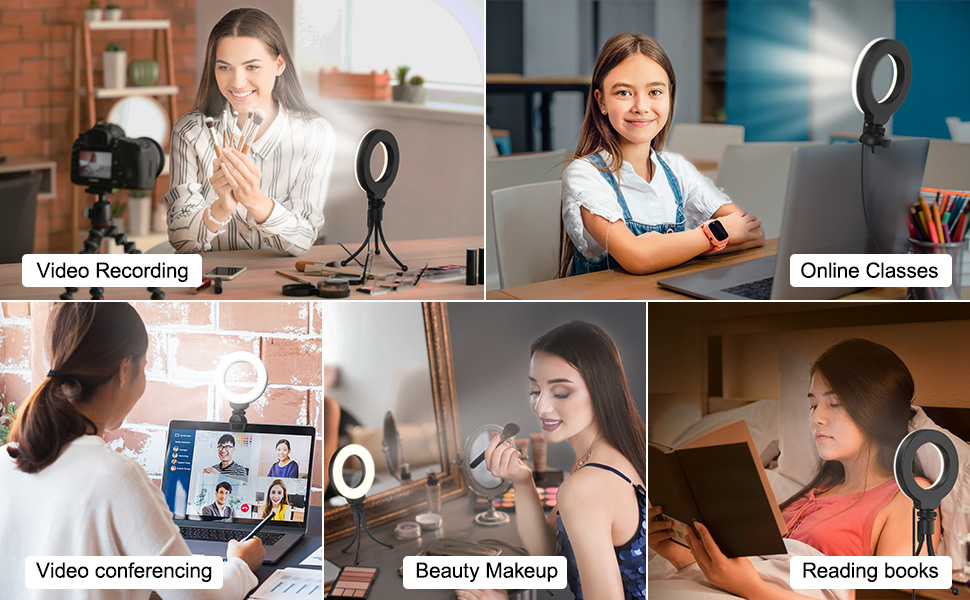 | | |
| --- | --- |
| Model | WS-R4 |
| Lamp beads | white 24pcs yellow 24pcs |
| Power supply mode | 5V USB direct input |
| CRI | ≥95 |
| Illumination | 320LUX/0.5M |
| Control mode | wire control |
| Line length | 2 meters |
| Color temperature | 3200-6500k |
| Power | 4.5w |
| Lighting angle | 120° |
| Working environment temperature | -10°C-50°C |
| Product weight | 103g |
| Product size | 12.6*10.1*1.9cm |
| Packing weight | 180g |
| Packing size | 17*12*7cm |
| Packing List | Ring Light*1, Clip*1, Tripod*1, Instruction Manual*1 |
All Reviews
Image

All Star

5 Star

4 Star

3 Star

2 Star

1 Star
Simple to install and very effective.
I needed a light to go with my webcam and chose this as I liked the flexibility of having a tripod as well as a separate clamp to fix on top of the monitor. The lamp has natural and other light types which allows you to choose whatever works best with your skin colour. You can also dim the loght as required with the built in on/ff and dimmer switch built into the lead.

Super easy to install and use.
11/05/2022
Affordable and does what it says
This ring light is amazing! I bought it for work as I am always on video calls. My room is quite dark naturally so when I am on camera I always used to look grainy and dull but with this ring light I look way better. There is a power on button, with the ring light offering 3 different tones of light which you adjust with the mode button, and also 2 other control buttons to adjust the brightness of each tone of light. Very straight forward and easy to use at an affordable price that is actually good quality! Comes with a mini tripod but also a separate clip on component so you can slot it easy on your laptop over the camera. Would highly recommend
11/05/2022
Choice of illumination level and useful colour tint. Well pleased.
With the nights drawing in I realised that we could do with some lighting for the webcam. This was an Amazon choice and the reviews seemed good so I won't repeat a lot of the reviews. The ability to vary the strength of the lighting was great and when you change the colour to yellow it seems too much but it adds a great soft tint to the image. The tripod is useful as you can then use the light it to illuminate the keyboard on a laptop without having to have the room lights on. A very useful device
09/05/2022
Versatile piece of kit
The thing with a video light is that you will need to adjust it to the light conditions at the time you are recording or presenting and this easily adjustable bit of kit does the job well.
Plenty of easy adjustment with easy to follow buttons for brightness and 3 light modes gives you all you need.
Love the little springy/bendy adjustable stand and it also has a laptop clip for those that prefer that. Personally I preferred the stand as you can move it around to suit.
Quality wise it feels very light and I think it should just be a little heavier.
To summarise this Video Light gives great results and is a versatile much needed bit of kit.
08/05/2022
Surprisingly Effective
I was sceptical that this would work.
However, I have a multiple monitor setup on my laptop which is located in such a position that video calls suffer from backlighting coming from a window opposite. This often meant that the video was in silhouette.
The simple addition of this light has totally transformed the image.

The kit comes with two mounting options - a clip that fits nicely onto the frame of a laptop screen and a more traditional little tripod.
That makes the light useful for other scenarios too - although I doubt I'll ever use it for anything else.

Overall, this was a great purchase for my particular use case.
07/05/2022
Bright light, great for video calls!
I didn't really think I'd need this at first but having been in video calls in the evenings, I wanted to check it out. The light is really bright, really helpful for the video calls. It is also soft on the face not like hard un-natural light.
The mounting clip along with a small tripod so I could place it on the table or clip it over the laptop as required.
The option to have set colour mode is great - option to have white or warm tones, also was pretty easy to change as and when required.
Definitely recommended for someone who uses video calls for work or personal communication.
06/05/2022
Very user-friendly and very useful.
I bought this Ruyilam Ring Light as it was recommended to me along with a webcam.
It's very easy to use, and works right out of the box - no issues with USB2 or 3 ports at all.
There is plenty of cable, with a control panel in the centre, housing very intuitive user-friendly buttons.
There are three modes or 'colours' - a default brilliant light, a warm light and a normal enough light. Each mode can be adjusted up to ten times I think, so you can have it really low or really bright or somewhere in between.
I teach a lot online so it is a brilliant addition to any situation involving a webcam and online conferencing or whatever.
In the first photo above the light is clipped on to my laptop which is a fairly normal scenario. Next, there is a photo of how it clips on to the screen. The clip is not quite wide enough for a desktop computer screen and may spring off due to strain if it fits at all. I suppose it is designed more for laptops, although it does come with a very convenient tripod, so it doesn't always have to be fitted onto a screen.
In the other photos above, from left to right, there is a picture with no light, warm light, normal light and lastly the brilliant light. I'm sure it would be easy to get a little bit creative with positioning too.
I would highly recommend this device as it is reasonably priced and it is actually very helpful in providing a lighting solution that you may not have even realised was an issue. Very nice indeed.
05/05/2022
Brilliant little light
It can be a pain in the neck getting the lighting right for Zoom meetings etc, and this brilliant light enables studio-quality Zooming instead of sitting in the gloom. You can choose from three different light colours and fade up and down between ten light intensities, all controlled easily from a four-button switch. The only drawback that I can see is that if you wear glasses, you probably already have problems with reflections from the screen, and the light just adds to that. The light is the shape of a ring doughnut, so if the frames of your glasses reflect the light from the laptop screen, that reflection will now have a small circle in each lens, which looks a bit weird. That said, you can play around with positioning. The light clips neatly on to the top of the laptop but there is also a mini-tripod, so with any luck you can achieve the needed light without the pesky reflection. There is a decent length of cable, so positioning is very flexile. And there's more to life than Zoom - this light will come in handy for anything where a burst of local light is what you need.
05/05/2022
Great lighting where and when I need it!
I decided to get this light kit as at certain times of the day, my face would be in shadow or lit from the side during Zoom meetings. This video conference light is excellent. It comes with a handy clip for mounting on your laptop. It also has a small tripod for desk mounting. The inline remote has a power button, a mode button and brightness up and buttons. There are 3 modes (colours) of lighting - warm, neutral and cool. And there are 10 brightness levels for each mode, so you can easily find the perfect setup regardless of ambient lighting or time of day. The laptop clip is excellent but I should note that it wouldn't fit on my desktop monitor so keep that in mind. If it helps, the laptop clip extends to about 11mm maximum. It is USB powered and is ready to go once you plug it in. The light comes in a plain, eco-friendly box. Please see my attached photos showing packaging, contents, mounted on my laptop and example Zoom screenshots showing the scene lit and unlit. I am giving this light 5 stars as it means I can have my video conference wherever I like and I don't have to hunt around for a good lighting location.
15/04/2022
Convenient light and filler.
Got a few surprises with this - good ones. I'm very pleased with the screen mounting bracket, very verm and so easy to fit and remove. I can see this having a use for other items as well. The mini tripod is also better than expected. Again, it's firm and stable so I can also use it for mounting the phone during video calls. The light itself is very bright and can be useful as a shadow filler light where main light is to one side. I can be useful for lighting up your working area rather than using main lights. The varying shades can enhance the skin tone - maybe the ladies will find more use for this facility. The 2m USB lead has an on/off switch, up/down brightness buttons and a toggle colour variation button.
14/04/2022
There are no faqs for this product.