9 Inch LCD Digital Microscope, 1000X Magnification Coin Microscope with 12MP Camera, Micro Welding Microscope for Adults, Wired Remote Control, Windows/Mac OS Compatible
Buy KENTFAITH 9 inch lcd digital microscope, 1000x magnification coin microscope with 12mp camera, micro welding microscope for adults, wired remote control, windows/mac os compatible online, worldwide free shipping and 30 days return guarantee.

GW45.0034

SKU:

GW45.0034

149.99

https://www.kentfaith.com/GW45.0034_9-inch-lcd-digital-microscope-1000x-magnification-coin-microscope-with-12mp-camera-micro-welding-microscope-for-adults-wired-remote-control-windows-mac-os-compatible
Description
* 【9" HD LCD Display】The upgraded MS3 9" LCD digital microscope provides a 29% larger field of view than the previous 7" microscope, making it more efficient to observe. The large screen lets you quickly adjust images and see instantly. In addition, this screen can be rotated 90°, allowing you to easily explore the wonderful world of microscopy!
* 【Easy to see the whole coin】The latest MS3 coin microscope has a longer 8.5" stand, the maximum distance between the lens and the base is increased to 6.3", and the field of view is up to 30mm in diameter, so there is no need to install any extension tubes or raise the display The entire coin can be easily captured;
* 【12MP HD Camera】Equipped with 12MP HD camera, the camera can capture optimized vivid images. Thanks to the high frame rate provided by the CMOS chip, it can also record smooth 1080*1920P video without stuttering. The most important thing is that the microscope can easily achieve 50X to 1000X magnification;
* 【Extraordinary Brightness】8 adjustable LED lights and 2 extra auxiliary lights, these 2 extra lights are flexible enough to illuminate from different angles to keep all areas bright and let you see in dark spaces clearer without glare or shadows;
* [Multi-purpose, full-featured] Supports observing objects outdoors, suitable for children's learning and exploration, observing flowers, insects, etc., improve children's curiosity, and bring children a wonderful microscopic world. Also great for PCB soldering, wrong coins, watch/clock repair, biological observation, researchers, jewelry, stamps, QC inspections, great as a meaningful gift for adults, kids, students, hobbyists.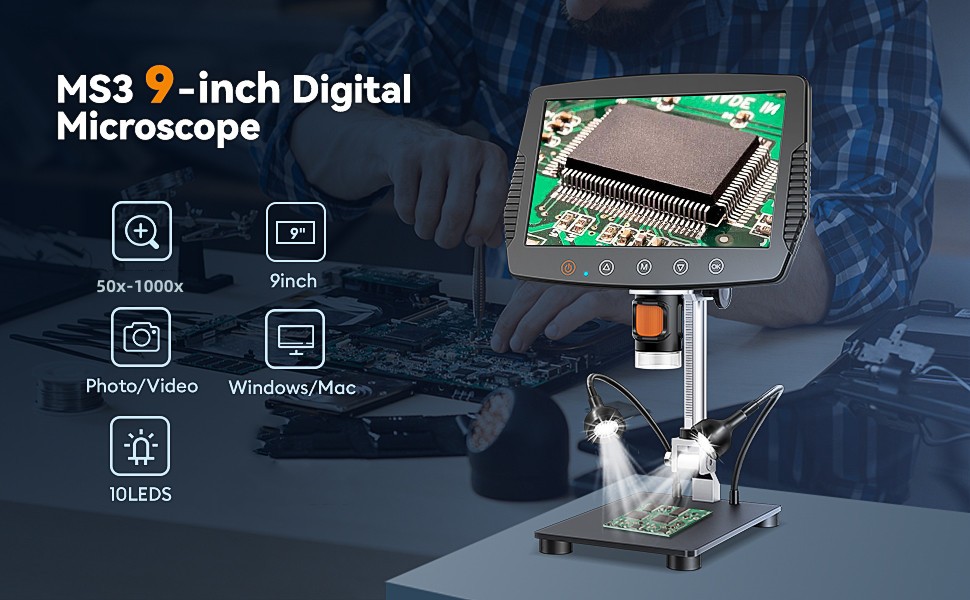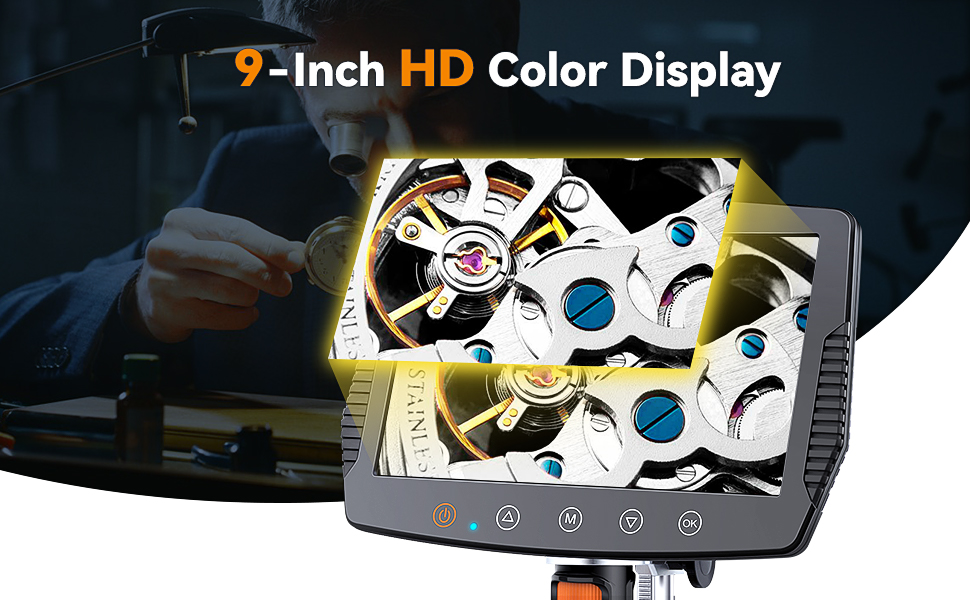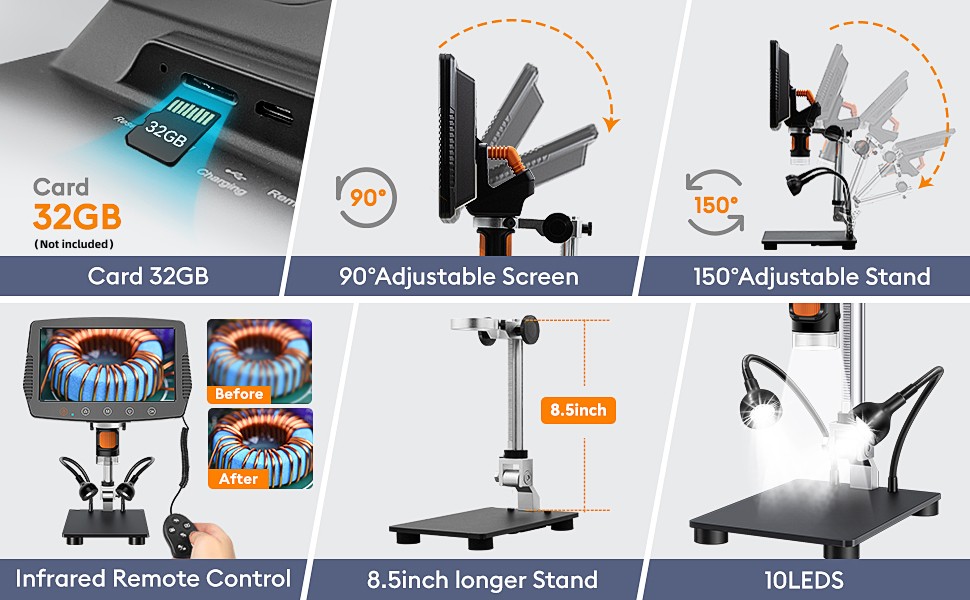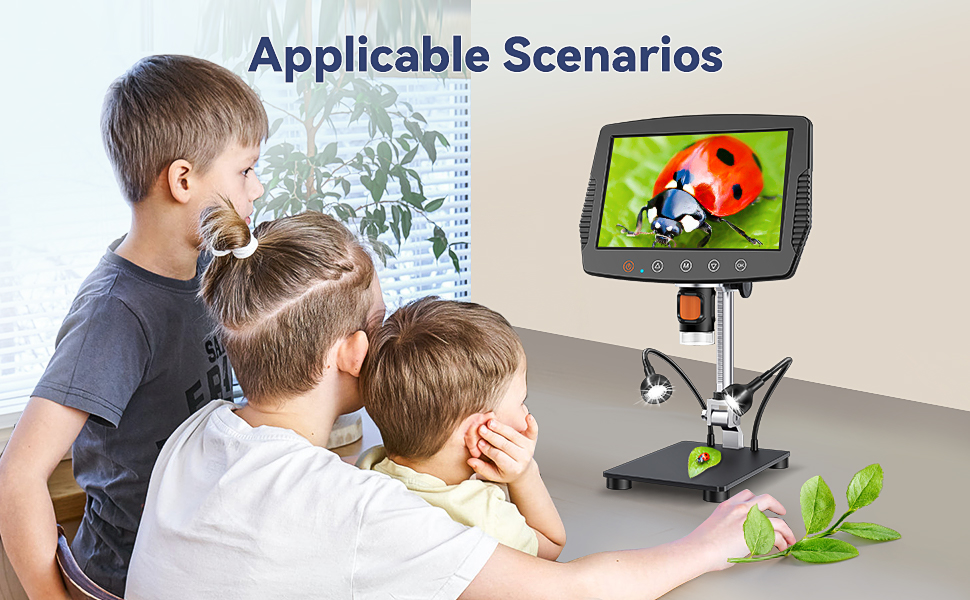 All Reviews
Image

All Star

5 Star

4 Star

3 Star

2 Star

1 Star
Like the Screen Size
Product arrived in great shape and was fast shipping. Communication was very good as far as shipping history. Would liked to have had user manual or instructions included. Do like the size of the screen; prefect for viewing coins.
19/03/2023
Love the screen size
Product arrived in great shape; fast shipping. Screen size is perfect for viewing coins. Only issue is that there is no user manual or instructions.
19/03/2023
Amazing quality microscope for the money
I've been using this for a few weeks now mainly for repairing/testing/troubleshooting circuit boards. It's my first decent microscope as I've mainly been using my now failing eyes (it's an age thing).
It was absolutely superb whether I use it on the monitor or the scope screen. The picture quality is really fantastic.
I find these are ideal for someone who has not used a trinocular microscope for this type of work. I got used to looking at the screen or monitor very easily without having to look at my hands and easily finding my way around the board while soldering.
I would say the only 2 negatives are the small base which isn't very heavy and really quite small. The biggest issue for me was the fact that you can't adjust the position of the lens back and forth horizontally towards and away from you. This can be a problem for larger boards if the vertical stand is in the way, there is a partial workaround in that You can tilt the lens backwards, but that only helps so much that I'm already finding a solution to fix this myself with a McBushFix (as my wife would say). As for the base, I'll just get a bigger one myself and make heavier ones big enough to mount my solder mat.
26/01/2023
Very good functionality
A very well thought-out device in all functions. Very good to use for my numismatic work.
I would have wished that the operating instructions had also been available in German. So I had to translate the English text. All done, and can work well with the microscope.
13/01/2023
Really good pictures
You get an impressive looking digital microscope, everything you need is included.

The screen feels a bit plasticky, as does the connection to it.

Includes a few lights that are really useful.

I've worked and repaired audio for 30+ years and circuitry is getting harder and harder to see and everything seems so small maybe because I'm getting older but I'm struggling to see surface mount bits.

This could be a useful addition to the workbench, the circuit board can go under the lens and it magnifies superbly, really clear, I can just about get an amp base underneath which is good, but there's not much working room when I'm doing this .

This is good for a lot of other things too, I'm a coin collector and it's amazing what I can see under the scope.
06/01/2023
good for the money
I couldn't have asked for more for the money spent. It is easy to use and offers a clear picture with many customization options. My only complaint is that the stand is a little unconventional, but it doesn't bother me enough not to recommend this microscope.
29/12/2022
Excellent quality digital microscope!
I got this microscope because I have three elementary school age children who are interested in science. I was thinking about buying a traditional microscope but didn't want them fighting over it (who gets to see etc.). So when I saw this type of microscope I was very interested to see how it would work.
First of all this is a real scientific instrument, it would be well suited in a school or laboratory setting or anywhere a microscope might be helpful.
The microscope is well designed, everything feels high quality (no issues). Overall the setup wasn't that bad, but the instructions could have been written a bit better.
Premade slides are included (which is a nice bonus). The design allows slides to be viewed via an included mount, or you can simply place an object on the platform itself (very versatile - see images). The screen is of good quality (like a tablet).
Considerations: My only issue is that once assembled it's pretty much stationary and not very portable. So if you're buying it for a home (like me) you'll want to be sure you have a place to leave it set up.
4 stars!
14/12/2022
Solder like a pro?
Well packed box with everything well protected, the assembly instructions are simple and very clear. The unit once set up is a good looking device. This thing is amazing...easy to use, both from the on-screen control panel and the remote control. The display is clear and has good viewing angles. I can't stress enough how much easier this makes soldering. Surface mount is now so much easier where I used to dread. It's great value for money, simple but functional...it's a tool I'll never be without, can't believe how good it is. Highly recommended if you are looking for a digital microscope.
03/12/2022
Very nice microscope suitable for soldering SMDs
I use the microscope for detaching small circuit boards. Even SMD components can be easily displayed and soldered in or out.
It's a bit stupid that the microscope turns on immediately when plugged into a socket, even without using the switch, but then doesn't turn off anymore. If you forget to switch off, the battery can run out and all settings will be lost.
30/11/2022
Pretty awesome digital microscope camera
Great image quality and overall quality. Comes with additional lenses, slide kit and remote control. What else do I need to use? lol But I've spent hours looking at stuff with it and fixing a few little things. It's pretty easy to use, but the assembly instruction sheet skips a few key steps. The manual is pretty easy to follow and has links to video tutorials. So this is helpful. I definitely love it
10/11/2022
There are no faqs for this product.
gw45.0034 LCD Digital Microscope, 1000X Magnification Coin Microscope, Effect Observation Showcase
gw45.0034 LCD Digital Microscope, 1000X Magnification Coin Microscope, Assembly Video
gw45.0034 LCD Digital Microscope, 1000X Magnification Coin Microscope, Usage Demonstration
Microscope
Screen Size
9 Inches
Magnification Range
50x-1000x
Resolution
1280*720/26fps
Light Source
10 LEDs
Specificities
/