LCD Digital Microscope, 7" IPS Display, 1080P, 50x-2000X Magnification Biological Microscope, with Dual Lenses, 11 Adjustable LED Lights, 12MP Camera, Compatible with Windows/Mac OS
99$-15$ / 199$-30$ / 299$-55$ / 599$-120$
New customer gift package
Free shipping to eligible country
Buy KENTFAITH lcd digital microscope, 7" ips display, 1080p, 50x-2000x magnification biological microscope, with dual lenses, 11 adjustable led lights, 12mp camera, compatible with windows/mac os online, worldwide free shipping and 30 days return guarantee.

GW45.0029

SKU:

GW45.0029

159.99

https://www.kentfaith.com/GW45.0029_lcd-digital-microscope-7-quot-ips-display-1080p-50x-2000x-magnification-biological-microscope-with-dual-lenses-11-adjustable-led-lights-12mp-camera-compatible-with-windows-mac-os
99$-15$ / 199$-30$ / 299$-55$ / 599$-120$
Description
* 7-inch IPS large LCD screen: Up to 2000X magnification, 1080P high-definition 7-inch large display screen, showing exquisite details and delicate pictures. The LCD digital microscope has a large viewing area, and it is easy to focus and zoom in on the desired object, making your observation more intuitive. Adopt rotatable (90 degree) screen design, which is more convenient for users to watch from different angles;
* Size Multiples Dual Lens: Equipped with a digital lens and a microbe lens, using the 50-500X range digital lens ("Lens 1") allows you to observe the details of macro objects such as coins, printed circuit boards, insects, plants. Using the 100-2000X microbiological lens allows you to observe cells, microorganisms and glass slides, only one set can meet your requirements in different fields, which is very practical and convenient;
* Image and video saving output: built-in 12MP digital microscope camera, 1080P high-definition imaging. It can shoot 4032*3024P images and 1920*1080P videos, and supports a maximum expansion memory of 64G (memory card not included);
* Dual power supply mode & dual light source: Support USB DC charging and battery power supply, adapt to more scenarios. 10 high-brightness LED lights on the upper light source to observe the object, and a super-bright LED light for the lower light source to observe the specimen, the imaging is more three-dimensional, sharp and clear, and the adjustable LED lights allow you to set the required brightness to meet your different lighting needs;
* Compatible with Windows and Mac OS: Compatible with Windows XP/Vista/7/8/10 or Mac 10.5/above. And provide a wide field of view for easy viewing. Can be used for circuit board testing, clock repair, textile industry, wrong coin identification, educational testing for children, biological observation (suitable for cells), researchers, jewelry, stamps, plants, QC inspection, is for kids, students, collectors, testing The best gift for personnel and anyone interested in exploring the microscopic world.
Shipping
Free shipping to eligible country
Sale
99$-15$ / 199$-30$ / 299$-55$ / 599$-120$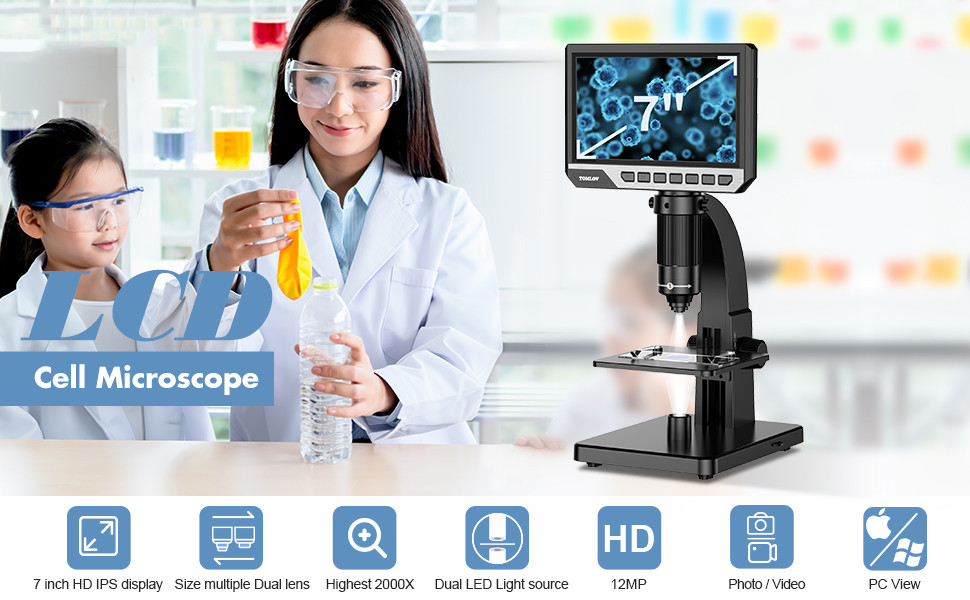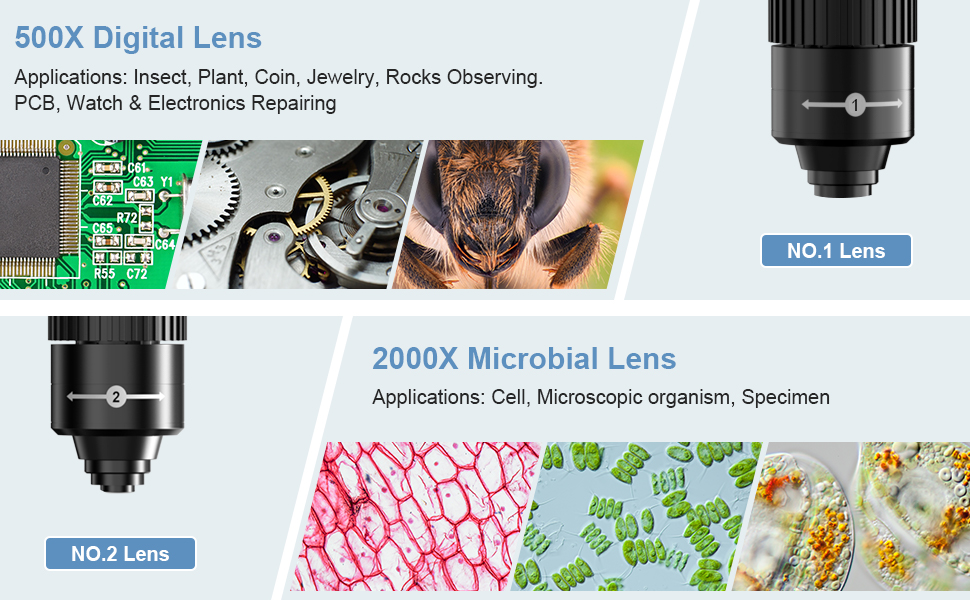 Install The Lens And Adjust The Stage
1. Screw the NO.1 digital lens. Rotate the stage knob to adjust the distance between stage and lens.
Note: The stage shall be adjusted within the below range(marked by the bidirectional arrow 1)
---
2. Screw the NO.2 microbial lens. Rotate the stage knob to adjust the distance between stage and lens.
Note: The stage shall be adjusted within the below range(marked by the bidirectional arrow 2)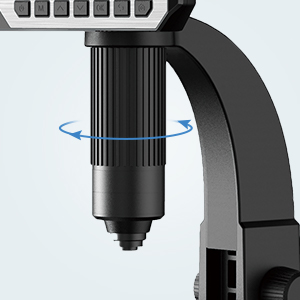 Ease Of Use
Rotate the Lens knob to zoom in and focus on the desired object so you can see the tiniest details with two lenses.
10+1 LED Fill Lights
There are 10mini LED fill lights around the lens and one light at the bottom, allowing you to set them to the desired level of illumination and illuminating specimens from both the top or bottom.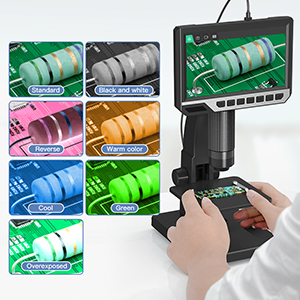 Good Color Display
Color Modes: Standard∣Black and white∣Reserve∣Warm color∣Cool∣Green∣Over exposed
---
Sharp resolution together with 12MP camera sensor make the image is clear and precise. Different color modes are available to meet your needs.

All Reviews
Image

All Star

5 Star

4 Star

3 Star

2 Star

1 Star
Science like U never seen before.
My granddaughter is over the moon with this.
15/08/2022
How I stopped my ds eating his own booger.
After showing what my 3 year old ds how his booger looks like, he stopped eating it.
03/08/2022
User friendly
Works extremely well
29/07/2022
Pictures are amazing! Super fun for grandkids!
Great purchase, great value! Spent two weeks with the grandkids looking at everything imaginable: flies, bark, coins, etc. I was even able to discover some 19k jewelry that I thought was just costume jewelry until I was able to zoom in on the numbering. Easy to assemble, easy to use and the kids loved it!!! Took it in our RV for deeper explorations with the grandsons.
03/07/2022
Decent
This is actually awesome. Though I wish they had one battery source for both the lights. The frame seems a bit light, I think if it was a bit heavier it would give the feel of a higher end my digital microscope. I am ok with it though, it's not like I will be throwing this around like a football.
03/07/2022
Amazing color views and it's rechargeable can take anywhere
My son and daughter are very into science and I didn't want the learning to stop just because it's summer time .So we decided to invest in their own microscope. It's so much fun finding things to examine and research under a microscope ! This one we chose has strong magnification at 500x digital and 2000x microbial. We really like the huge 7 inch display screen. It's so easy even my younger nephew who visits could adjust the zoom just by twisting the knob left or right. The bracket is easy to raise and lower with one knob as well. I can charge up this microscope and take it anywhere as it has a 2600 mah battery. It comes with two different lens Andreas 20 differ Led lights to make sure we can see out item clearly. We decided to pay a little more and get the best microscope we could find. The features colors and detail are amazing and we are very satisfied!
25/06/2022
Good quality microscope with two optical lenses.
Overall good. Lens changing is bit difficult. Lens is too tight.
Could you please provide a lens for 1000X?
25/06/2022
Better than I expected
This is a Great microscope for the money. Switching for one lens to another is a little tricky lining up. Other than that I have no problems with it at all.
16/06/2022
MICROSCOPE
A little complicated to operate, but quality was OK
16/05/2022
my kid loves it
my 6 year old love to explore every element .
this was worth every penny.
thank you
15/04/2022
There are no faqs for this product.