2 in 1 Wireless WiFi Camera Microscope for Kids, Portable Handheld USB Digital Microscope 8 LED Lights with Slides
Free shipping to eligible country
Brand:

KENTFAITH

Buy KENTFAITH 2 in 1 wireless wifi camera microscope for kids, portable handheld usb digital microscope 8 led lights with slides online, worldwide free shipping and 30 days return guarantee.

GW45.0030

SKU:

GW45.0030

99.99

https://www.kentfaith.com/GW45.0030_2-in-1-wireless-wifi-camera-microscope-for-kids-portable-handheld-usb-digital-microscope-8-led-lights-with-slides
Description
* [2-in-1 Portable Design] 2-in-1 split design, the single unit is as light as 100g, the size of a child's hand, and the intimate hand strap design makes it easy to carry when playing outdoors; combined with the base, it becomes an upright microscope in seconds, making observation more professional. It is very convenient to observe at home or outdoors;
* [High-definition imaging, long-term viewing without fatigue] High-definition optical lenses create a professional imaging system, just to give children a better exploration experience. Turn the knob to zoom in and out, reject traditional complex operations, and focus quickly and easily;
* 【It has its own light source, which is more convenient to use】 Unlike traditional microscopes, the single unit has its own LED light source, which can be adjusted in multiple levels, and can be observed in dark places. The lens comes with an LED diffuser, and the buttons on the top panel support multi-level brightness adjustment; there are two rotary switches on the right side of the base, which can adjust the brightness and color by rotating;
* 【Wifi & USB Function】This microscope can not only connect to your smartphone through wifi function, but also connect to your computer through USB cable for viewing, not only suitable for children, but also suitable for adults for skin detection, Jade identification, personal collection identification;
* [Long battery life] Built-in 2700mah lithium battery, the base can be used continuously for up to 10 hours, and the single unit can be used continuously for 2 hours. Type-c interface charging, say goodbye to the shackles of power cords and assembled batteries, and stay away from the trouble of disconnection. It supports the direct charging of the power bank, which perfectly meets the exploration needs.
Shipping
Free shipping to eligible country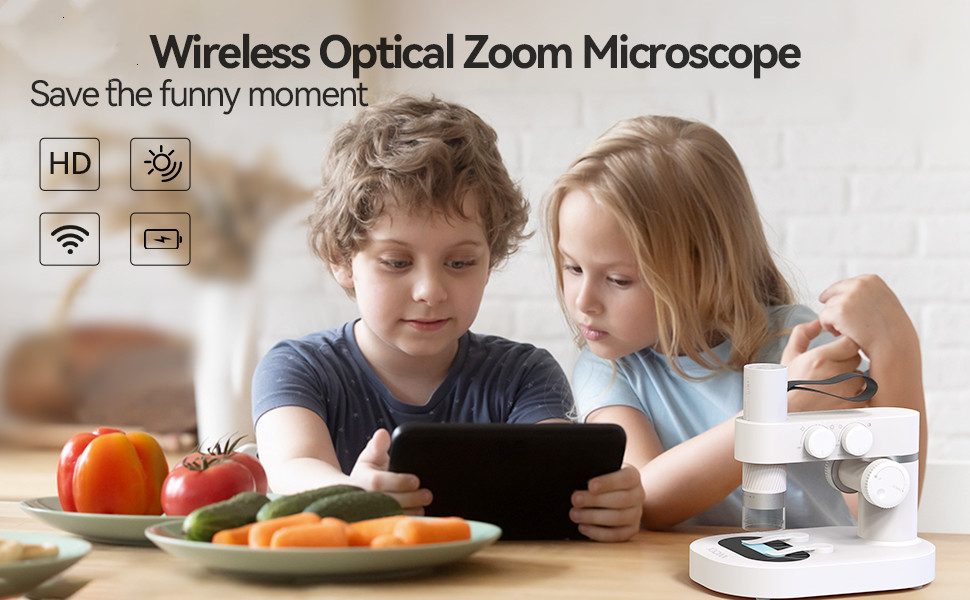 The intelligent microscope simplifies the tedious steps of traditional microscopes , without too many data parameters and instrument name, makes it easier and convenient for children to use, and allows more children to learn scientific knowledge happily. Widely used in classroom teaching, interest cultivation and family education.
Meet a variety of usage scenarios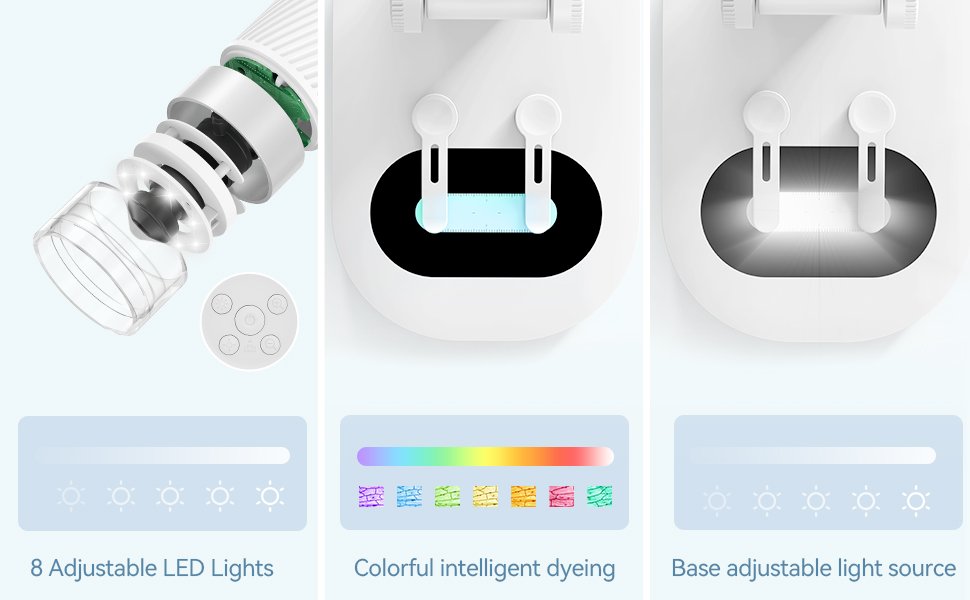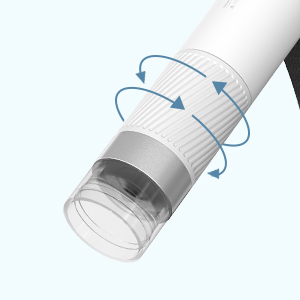 Rotary focus
Manually rotate the focus according to the sample size to obtain the desired angular detail.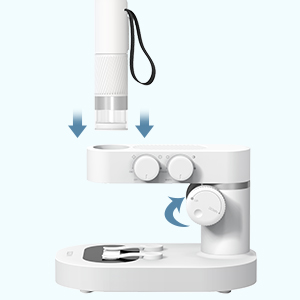 Removable
2 in 1 split design, hand straps design, easy to carry outdoors; Vertically adjustable base for more stable viewing. A simple microscope suitable for both home observation and outdoor use.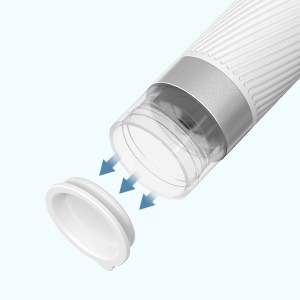 Lens protection cover
Note: please remove the plastic protective cover before use.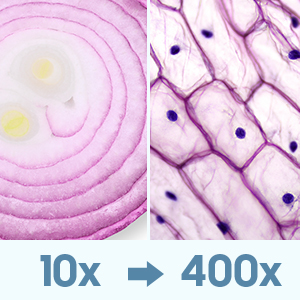 Adjustable magnification
This wifi microscope supports 10X-400X magnification, which can magnify and observe leaves, insects, coins, PCBs, etc., and support photo or video storage to meet your daily needs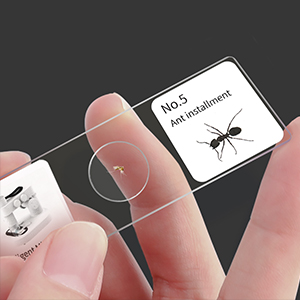 10 Biologic slides
The built-in slides are designed with a protective case, with 5 blank slides, which can be used for preparation of specimens.
---
There is also a specimen box, which contains 5 finished slides, which contain different kinds of animal and plant specimens, which can be directly used for observation.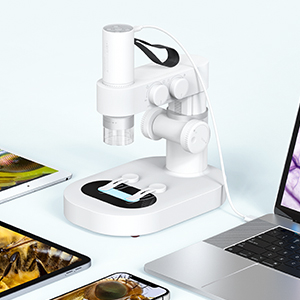 Multiple support
Use the mobile APP to connect to the WiFi under the microscope. Of course, you can also connect your Windows PC to the smart microscope USB for use.
Suitable for different devices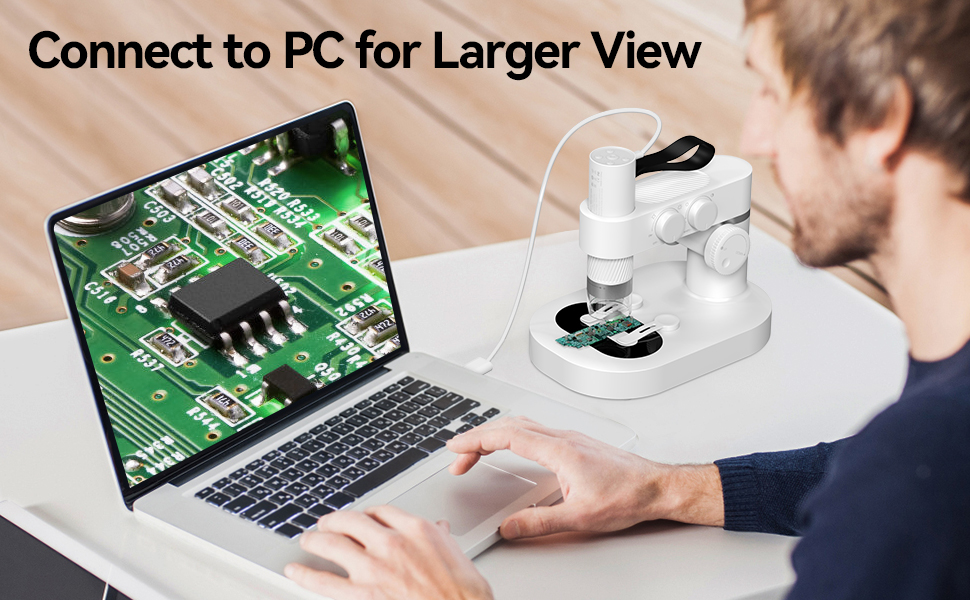 Accessories introduction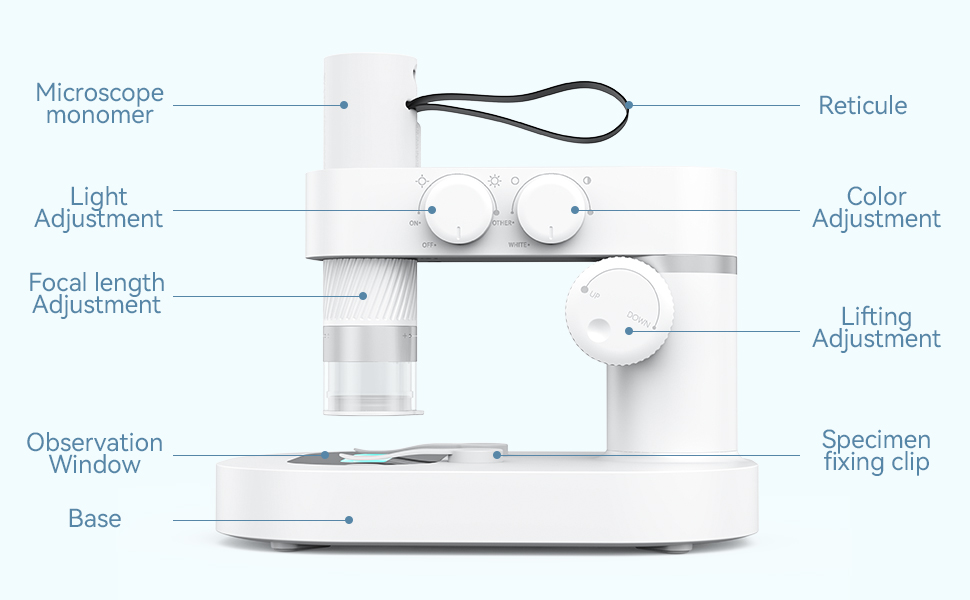 Very Fun to use, Simple design, Great for Bug and Rock Enthusiasts
This was a very fun buy!

I want to start off with a bit of information on setting up:

The directions need to be a little more clear, it is obvious that the instructions were originally in Mandarin Chinese and translated to English, but in general, they were understandable. I also did not have a hard time setting up the app on my phone and on my Laptop. The app on the phone is a lot more simplistic in design than the PC counterpart. They both generally work the same way though.

There is not a lot of assembling to do in this product, but keep in mind that when placing in your Microscope on the stand, be VERY careful. There is a rubber piece at the end of the microscope that really makes the stand a tight fit. If you are not careful, you might accidentally push too hard and shatter the glass protector. My recommendation is that you place a hand under the microscope while you push the scope down into the stand, that way you don't risk breaking the product.

I also noticed that the PC App has a 1 star review, I tried the app myself and I did not have any problems with it. The reviewer wrote that the app does not have enough options, which was odd since I felt like it had all the options I needed and it was very simple to use. If I had to rate the App, I would give it 4 stars at the very least. With that in mind, don't worry about the PC App, it works perfectly and with no issues.

Other than the App, I believe the microscope works perfectly, the images are crystal clear, its portable and you can take it anywhere, but most of all, I think its just great for people who are plain curious.

Now... dont expect to be able to see Cells with this microscope, but you can see things so closely, that it really will surprise you! In this Review, you will see a set of some of my Favorite Pictures I have taken with this Device. One will look like a white rock with Craters (That's Coral), there is another of a Ant Wing, a small chunk of Spider Webbing, A actual piece of poop, an Ant (around 200x zoom), the tip of a WWI Combat Blade, and finally, a pink petal from a hibiscus plant (You can see the cells on this one, I think?)

I have already taken over 70 pictures, but those were my favorite. Overall, I loved using this product, and I will keep using it! I have a plan of setting some slides with prepared specimens to show my students in school. I'm sure they would love to see the world around them in a microscopic level.

I definitely recommend this to anyone who loves to collect rocks, bugs, or anything that you would want to see up close. Ultimately, I think anyone who is just curious in general would love this. It is a bit pricey, but I think you'll definitely enjoy the product regardless.
12/08/2022
Surprised of the overall quality
Fascinating product. My first impression depends on how well the manufacturer packed its product. In this case, I was very much impressed, as the images will show. It tells me the manufacturer cares about their product and it will arrive fully intact. Good job! I was surprised by the weight of the product, it feels solid and durable.

Included was a user manual, microscope monomer and base, charging cable, five sample specimen slides, five blank slides and two magnetic specimen fixation clips. You're required to download the DL Scope app for IOS/Android devices. App is also available for PC.

The User Manual was easy to read/understand. Installation was simple, I was up and running in no time, there were no hiccups.

Once I installed the app I turned on the unit and connected to the microscope Wi-Fi and was set, the microscope image appeared. I couldn't wait to use one of the sample specimen slides. I was amazed the way I could zoom into the specimen with clarity. I experimented with several of my own specimens and I was not disappointed in the least.

I spent a lot of time with this product and I have no negative comments.
18/07/2021
Great fun for my teenage boys and me(Dad). Surprising image quality!!
Great fun and easy to use for my 12 & 14 yr old boys and I. The camera part is easily used by itself and we ended up looking at everything we could grab. The camera has light +/- control buttons and focus control right on it. The kit comes with blank glass slides and a set of prepared slides with different specimens. The camera and stage both have their own battery and the lighting on the stage is great! Very bright and RGB full color changing to highlight different slides. The app is straight forward, I use it on an Android phone, but it also says it can connect to PC and Apple. The 3 photos were taken from the app on my phone. My boys never knew about micro printing on US bills, so that was fun. The other two were from the included slides. We keep thinking of more things to look at close up.
03/08/2022
Perfect microscope to get the kids interested in science
This little microscope is great to get the kids interested in Science. My 6 year old was marveled at all the things we put under the lens. Setting it up wasn't very straightforward, even though it includes instructions. You have to download an app from the Appstore and pair your phone to the microscope. A downside to this is that it requires a dedicated wifi connection between your phone and the device, which means that if you're using the microscope, you will lose your wifi connectivity in order to connect directly to the microscope. The kit includes some empty slides for you to create your own samples, but it also comes with 6 prepared slides, including an ant, a cross section of a pumpkin seed, a cross section of a corn kernel, and others. Pretty cool to see things up so close. Would make a great gift for kids in elementary or middle school.
29/07/2022
Lots of fun and very educational
Easy to put together and set up. This microscope comes with 5 sample slides so you can get busy looking at specimen right away. The only slow down is that when you first pull it out of the box you may need to charge it for a few hours. But honestly other than that this cool device lets you see the tiniest of things that you can find. Cross sections of ants, stems, leaves, etc. Experiment with bacteria growth and find sand grains. Do it all.
This would make a cool gift for a science minded child or adult and would even be great in a classroom.

We are having fun finding all the cool things we can in nature and in our home that we want to see up close. Wanna know what fizzy drinks look like 1000x zoomed in on? Then get this!
29/07/2021
Better than my previous microscope!
Some background on what I use digital microscopes for:
I'm an artist and I make digital textures and brushes for art programs. Everyday items can have very unique surfaces so in 2018 I purchased a smaller microscope to try out. It was a Monoprice and had a magnification range of 60x to 250x. It came with a simple suction cup stand and observation pad.
I enjoyed it immensely but it was always a little lackluster in the image department. The maximum resolution of images it could handle was 640x480. So the quality was rather grainy.

So when I saw this device was available I decided to try it as an upgrade.
And it is definitely an upgrade.
The max resolution image it puts out is 1280x720. While that's not huge it's still much better than the resolution of images I was getting before.
I was thrilled to open the box and find premade slides of things like ant bodies or cross sections of corn seeds. It made me nostalgic for my first old microscope as a kid which was a chunky metal thing that required watch batteries to run the light.
The base for this is sturdy but lightweight, it has a pair of magnetic slide holders, the height can be adjusted and it can backlight slides in a variety of colors and light levels.
I've used a couple of the slides here to show the difference in quality between the two microscopes. The images on the left of each of these were taken with my older microscope, the ones on the right are with this microscope for comparison.

My only concerns thus far are that the actual microscope does have some resistance when being pushed into the stand. It can be a little tough to actually mount it as a result. So, if you're interested in getting this device go slow and steady when mounting the microscope into the base. It fits very snugly and you don't want to risk breaking anything by shoving too hard at it.

The only things I could ask for with this device would be 1) An even higher resolution. 2) A holder of some sort for items that aren't mounted on slides.
But those are more specific to the things that I use the microscope for not what the average user would be using it for.

For what it is, a children's microscope or a microscope for basic viewing of small items, it's fantastic.
20/08/2022
Easy installation, easy to use!
Wireless Digital Microscope 10X-400X, 10DM USB Handheld Microscope Camera with 8 LED Lights, Portable Brightness Adjustable Microscope for Adults/Kids 8+ Compatible with Android, iPhone and PC. This microscope is a lot of fun and can be used with the base or can be detached and can use it anywhere. It syncs wirelessly to my cell phone so my phone screen is the image the microscope is looking at. This has gotten to be both fun and not because of all the things I keep looking at with it until I started looking at my face and oh god! the amount of impurities and hair that my naked eye can't see is bad! lol. So look at your own risk, but definitely it's worth buying it and would buy again. 5 out of 5 stars. I recommend this item.
03/07/2022
Great digital microscope
I ordered this microscope for my son who loves science. I am hoping that he will enjoy it as much as I did while testing it out. The microscope connects to an application on your phone, which allows video recording and still images of whatever subject you are viewing.

Connecting the scope to the application took a bit of time because the microscope actually uses a private wifi network to connect to the application. Once that is established, everything else is a breeze.

Great product!
06/05/2022
Removable microscope from base stand.
The microscope itself is detachable to view more than just slides. Carrying strap for take along, buttons to press for zooming and lighting. Calibration ruler.
Great for young teens as a beginner microscope.
03/01/2022
Great MACROscope for children or for adults who want to see or capture images at 400x or lower.
Microscope
This product can be used in two ways, both of which project their image ONLY on the screen of a computer, smart phone, or electronic pad. It can be used more or less in a typical microscope configuration, or the viewing tube can be removed from the base and used in a free-hand way.

It is a very attractively designed product and seems to be well made. Any child who can work a smartphone or a computer game will quickly catch on to how to make use of this device. Not only can the child display a specimen on a video screen, but photos and videos of the specimen can be captured in living color! Moreover, who knows what art dwells on the wing of a fly?

While it is called an "intelligent microscope", I think it might better be called a MACROscope, since its claimed magnification is only 400x – substantially less than is necessary to see the small organisms and objects that are typically viewed by microscopes. It has two magnetic arms that very nicely hold slides or specimens in place.

It is a great way to introduce an elementary school child to the scientific methods of observation and collection of small specimens. The product comes with five slides that include a small ant and items of vegetation, and another five blank slides for the user to mount specimens.

The product can also be used for such purposes as to read small print on antiques or examine the quality of a weave, or search a coin for imperfection's, etc.

I am sure that most children and many adults would be happy to have this device.

The manual could be better organized. You can download a copy from the internet.

There are some videos. about this and similar devices, on youtube that can be found on a search for "intelligent microscope".
19/08/2022
There are no faqs for this product.