Professional 35mm Metal Tripod Ball Head 15kg/33lbs Load 360 Degree Rotating Panoramic with 1/4 inch Quick Release Plate K&F Concept-35 Series
To
United States
Expedited Free Shipping
3-5
business days
Free Shipping. 30 Day No Reason Return. K&F tripod ball head features stable support, quality material, sturdy construction, wide compatibility, with quick release plate.

KF31.035

SKU:

KF31.035

44.99

https://www.kentfaith.com/KF31.035_professional-35mm-metal-tripod-ball-head-15kg-33lbs-load-360-degree-rotating-panoramic-with-1-4-inch-quick-release-plate
Description
* Compact &Portable Design - Easy to Carry - K&F Concept KF-35 series ball head features a compact design, with a total height of 80mm and a 360° panorama base diameter of around 44mm. The compact design makes it easy to carry around for work, travel, vlog, etc.
* 35mm Large Ball Head for Stable Shooting & Greater Load Capacity of 15kg/33lbs - Large spheres are more stable. This tripod head is made of highly resistant, lightweight aluminum, so it is both portable and strong enough to cope with a payload capacity of up to 15kg/33lbs.
* Wide Compatibility - K&F Concept KF-35 series ball head uses 3/8" screw to connect tripods, while 1/4" screw for cameras, mobile phones mounts, VCR, ring light. It is compatible with mirrorless cameras with zoom lenses and DSLRs on the market.
* 360° Panorama Shooting - With a 360-degree scale at the bottom of ball head, it's easier to take panoramic photos and give more stunning effects.
* Durable Metal Body Construction - Superior Aluminum-Alloy Construction, CNC Precision Finishing, Superb Craftsmanship
Shipping
To
United States
Expedited Free Shipping
3-5
business days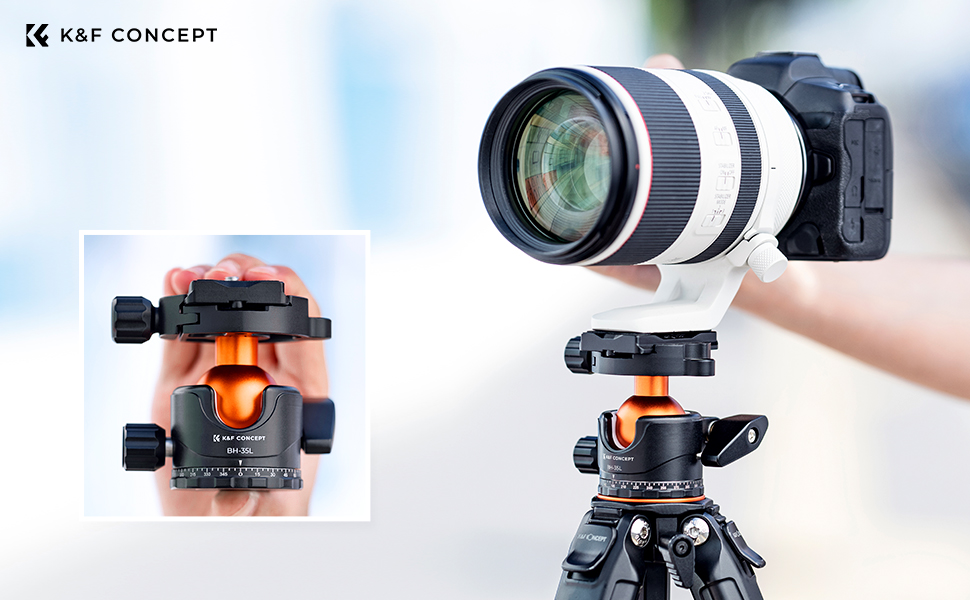 K&F Concept Professional 35mm Metal Tripod Ball Head 15kg/33lbs Load 360 Degree Rotating Panoramic with 1/4 inch Quick Release Plate K&F Concept-35 Series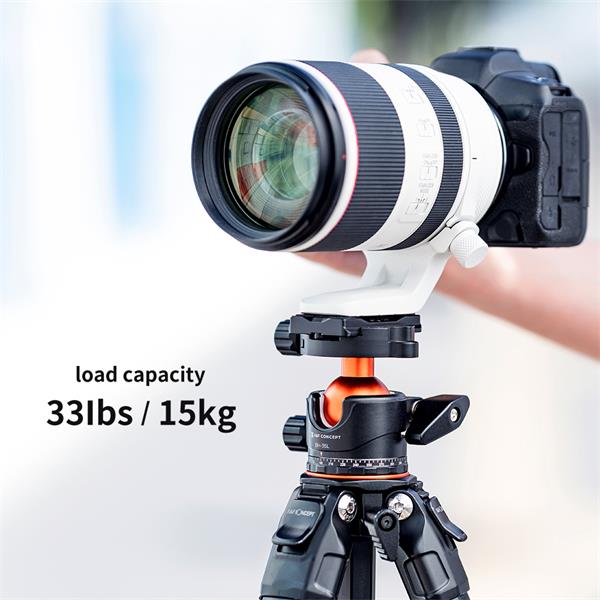 Portable and Lightweight
Ball diameter: 1.4" ( 35 mm )
Overall length: 3.2" ( 82 mm )
Overall width: 2.4" ( 60 mm )
Overall height: 3.1" ( 78 mm )
Load capacity: 33lb / 15kg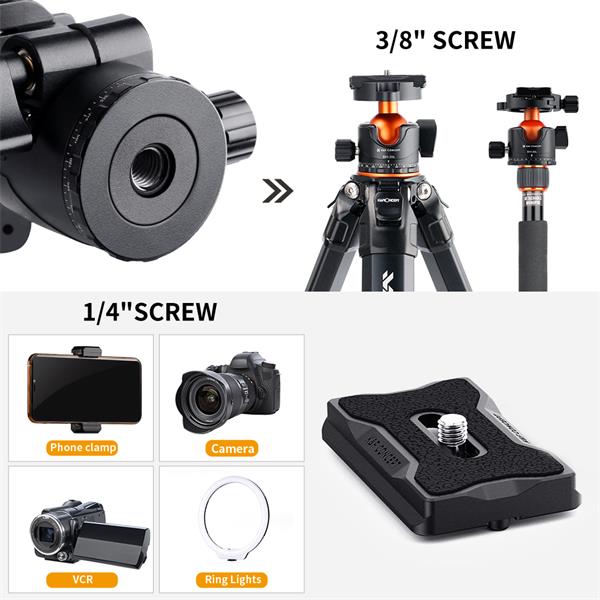 Multifunctional and Universal
Composite material - Aluminum alloy (main component) and other elements with forged technology, it can elevate its use life cycle.
3/8" Screw - Suitable for most of the release plates on the market.
1/4" Screw - Ideal for other items, e.g.: phone clamp, camera, vcr, light ring (beware of limited weight load).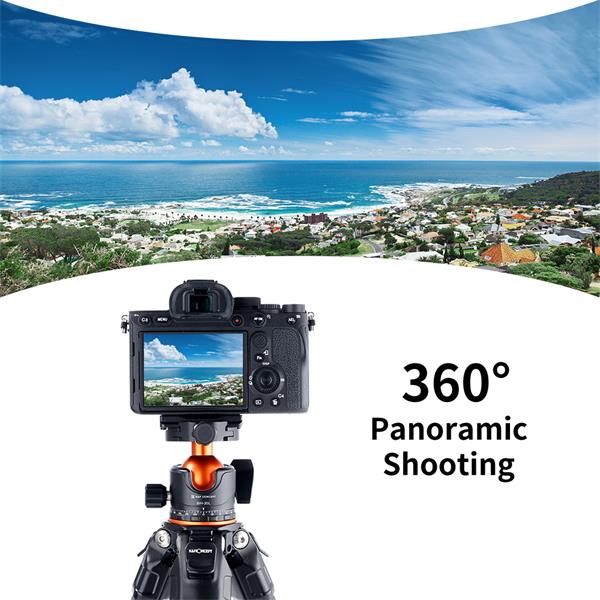 360° Panoramic Shot
2 ball screw knobs - An approximate range of +90° to -55° can be quickly controlled.
1 plate screw knob - You can get an accurate view after making minute adjustments with the release plate and bubble level before shooting.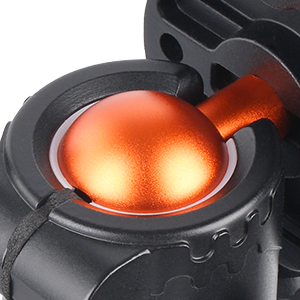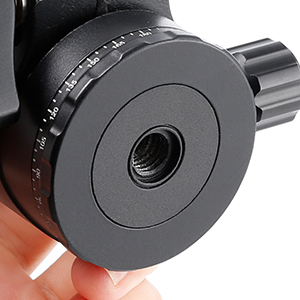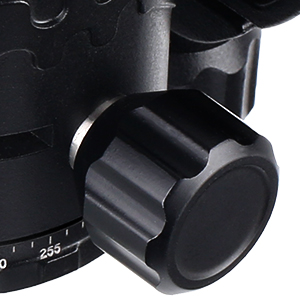 A good solid Tripod Head!
It's a good, solid tripod head! It replaced the head of my Opus OT-1018BH tripod! The extra screw adapter allowed it to fit the tripod perfectly!
01/09/2022
Quality Construction
I'm using this ball head for a rifle mount, for coyote hunting. The all metal construction makes it sturdy and durable. The thumb locks for swiveling function very smoothly and holds everything in place, when locked. I mounted this ball head on a Bogpod Deathgrip tripod and it holds a 14# rifle with no issues.
29/08/2022
Can recommend as a V Good Quality piece of mounting kit.
As a straight forward Ball Head Mounting piece this is very well made and everything about it says it's a quality made item. It functions exactly as it should & I'm getting a lot of use out of it, It turns beautifully on the rotation collar, very smooth and not at all sloppy.. you can undo the locking knob right off and it will not suddenly go slack and lose the position you were at - it still turns very slowly.. good positive hold ( in a horizontal position ).
04/09/2022
Excellent tripod head
It's really easy to use and adjust. Very robust and it perfectly holds my Nikon D810 with a heavy telephoto lens. I'm glad to find this and the tripod/monopod.
06/08/2022
Strong and Sturdy
This K&F ballhead is sturdy and stable. Ivwas worried that it would not be at this price point. It holds my 400mm lens without droop. The panorama swivel locks without pushing the ball out of position. Happy with product. NOTE: The plate does mot match the plates I use but it is removable and accepted the plate from my old ballhead,
26/07/2022
Great price for a sturdy ball head
Ball head turns smoothly and locks in place. Holds the camera steady. Had three differnt heads on tripods. Ordered two of these to allow quick change from one system to the next.
23/07/2022
Good size for monopod.
I'm using this ball head on a monopod. Size is great for the monopod but using it with a heavy lens you'll have to really tighten the knobs.
Better used with smaller lenses.
19/07/2022
K&F is no joke
I bought this because my old ball head on my travel tripod began to fail and while I contemplated buying a whole new tripod, I thought this might do the job. I am very happy with this purchase. While I am not a photography gear snob, I often invest in better gear because there is usually a reason that something is cheap. That being said I photograph waterfalls and do long exposure photography and I cannot have my camera slip at all. I'm happy with this company (check out their filters) and purchase. The controls are smooth and easy. Recommend.
25/06/2022
Easy to use tripod head
Compact and easy to use. A great complement to the K&F tripod. Ideal for travelling!
24/06/2022
Great addition to my monopod and gimbal
Fits on my monopod in which I mount my gimbal.
03/05/2022
There are no faqs for this product.