K&F XV37 58mm Fader ND Filter Neutral Density Variable Filter ND2 to ND32
To
United States
Expedited Shipping
3-5
business days
Brand:

K&F Concept

K&F XV37 58mm Fader ND Filter Neutral Density Variable Filter ND2 to ND32 【Material】 ND Filter: Made by Completed Professional Optical Glasses instead of Optical Resin. filter reduces the intake of light without affecting the overall color balance.

KF01.1059

Availability:

In Stock

35.99

https://www.kentfaith.com/KF01.1059_58mm-nd2-nd32-variable-nd-filter-18-layer-multi-coated-glass
Features
• 【Material】 ND Filter: Made by Completed Professional Optical Glasses instead of Optical Resin. filter reduces the intake of light without affecting the overall color balance.
• 【No "X" cross on images】Say goodbye to the "X" cross on images, K&F utilize cutting edge technology you're going to say goodbye to this common issue with wide angle lenses and variable ND filters.
• 【NANOTEC】Our optical engineers developed new Nano coating layer technology, Waterproof, scratch-resistant, anti-reflective green coating, effectively prevent from oil, fingerprint, scratch, protect valued lens.
• 【Professional Design】Ultra slim rim design preventing wide angle vignetting. Extra tough aviation aluminum frame ensuring durability and jamming prevention.
• 【NOTE】This Filter kit is compatible with all 58mm lenses. Please verify your camera's lens thread size(usually marked somewhere on the lens barrel or printed underneath the lens cap) before ordering. The number is always preceded by a "ø" (diameter) symbol.
Frequently Bought Together
ND FILTER
Reduces the amount of light entering the lens, thus decreasing camera shutter speed. Useful for situations where motion blur needs to be created (rivers, waterfalls, moving people) or large apertures must be used with flash to avoid overexposure.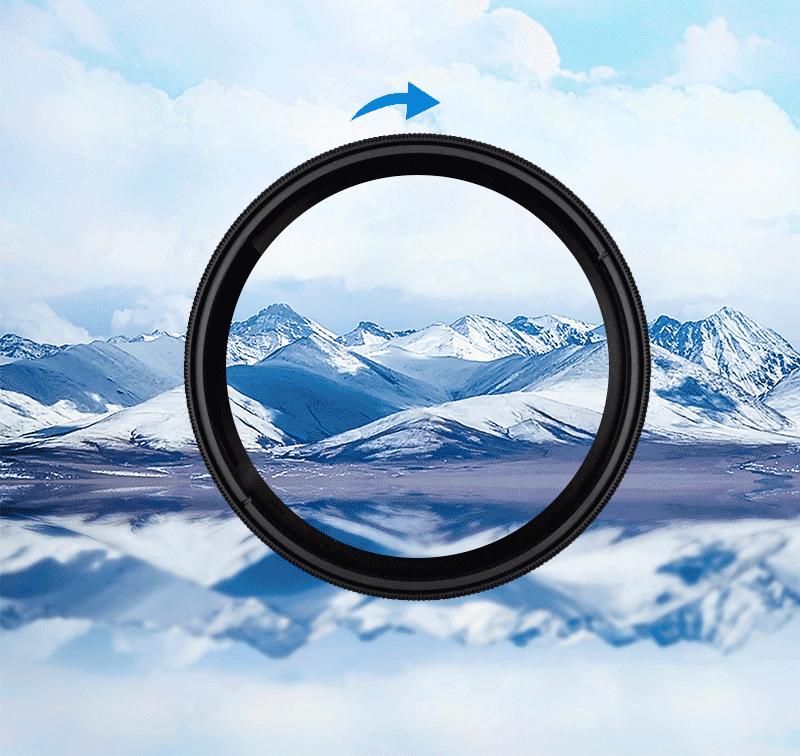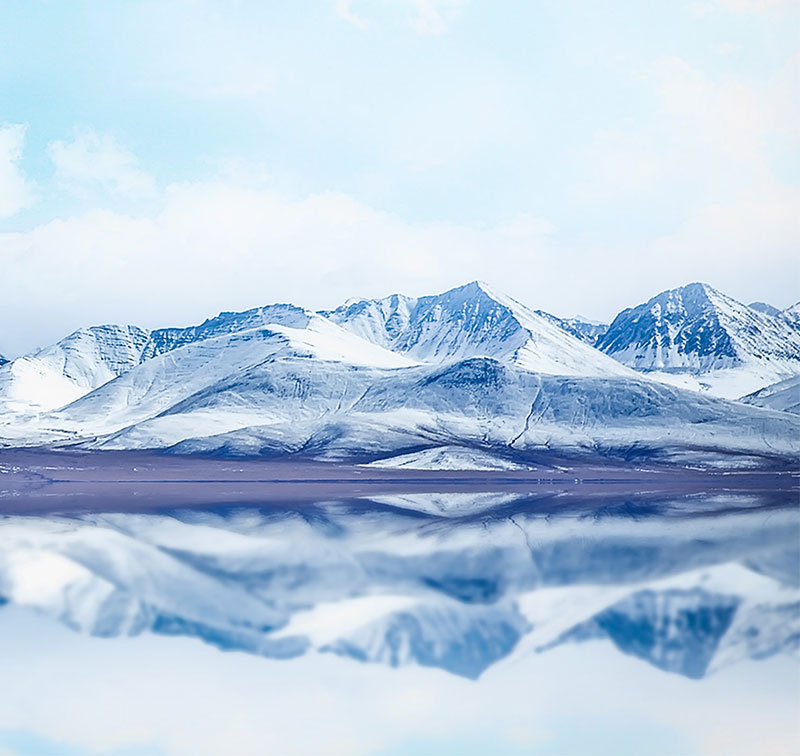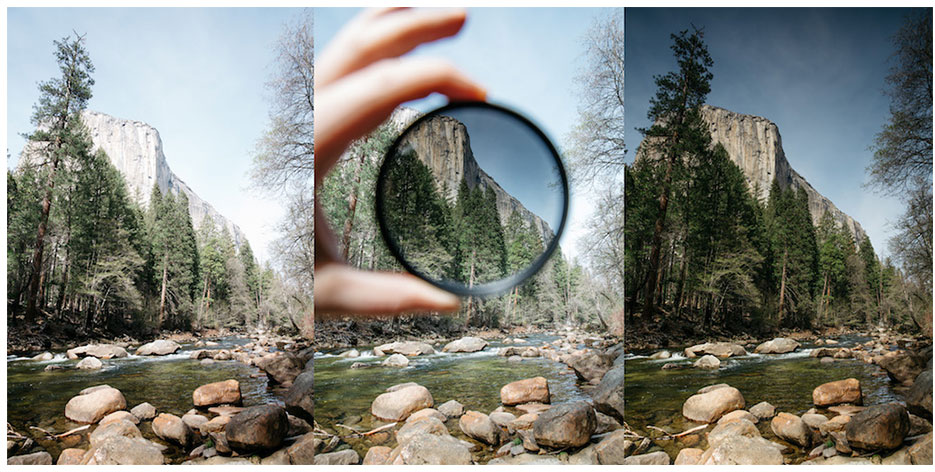 Without ND Filter
Use Contrast
With ND Filter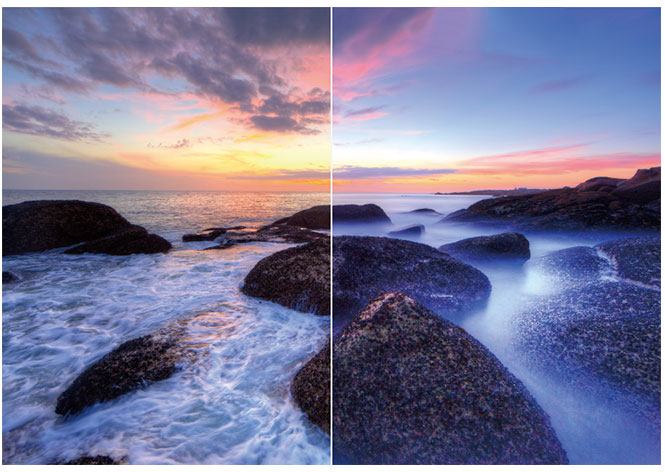 Without ND Filter
With ND Filter
Enables slow shutter speeds to be used to record movement in subjects such as waterfalls, providing a silky smooth affect to flowing water.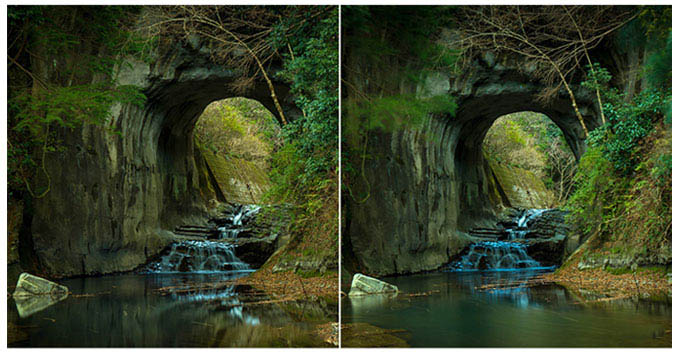 Without ND Filter
With ND Filter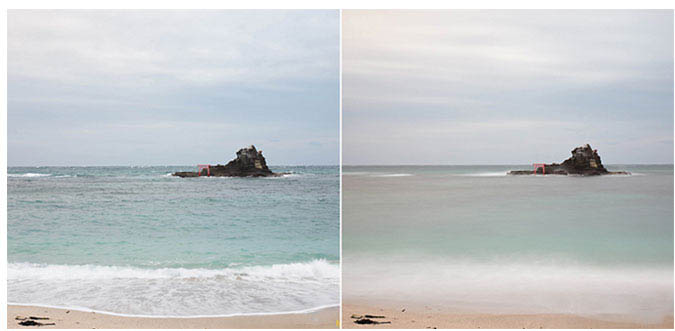 Without ND Filter
With ND Filter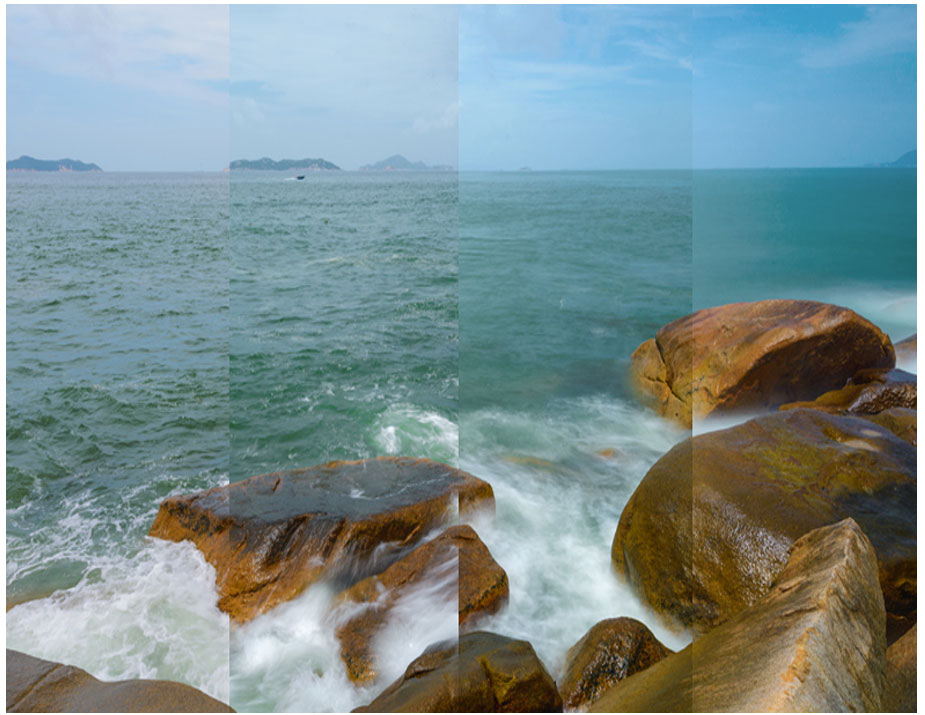 NO ND
ND8
ND64
ND1000

No Filter
ND2
ND4
ND8
ND16
ND32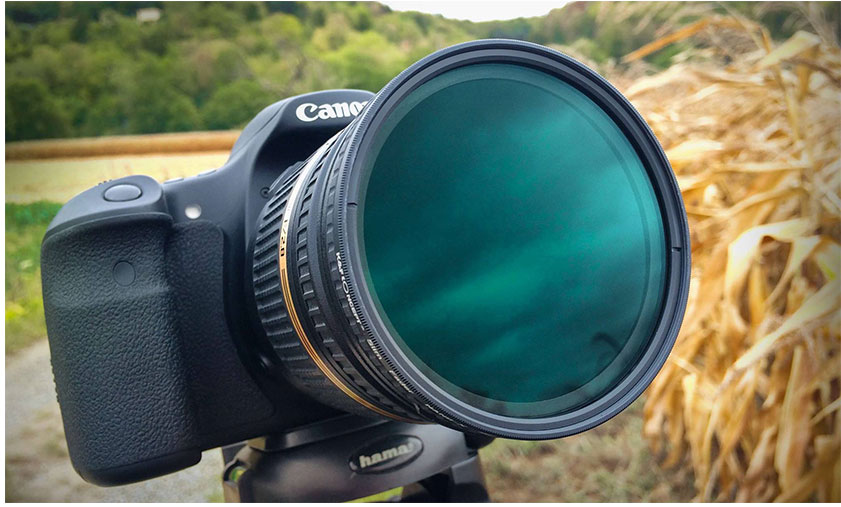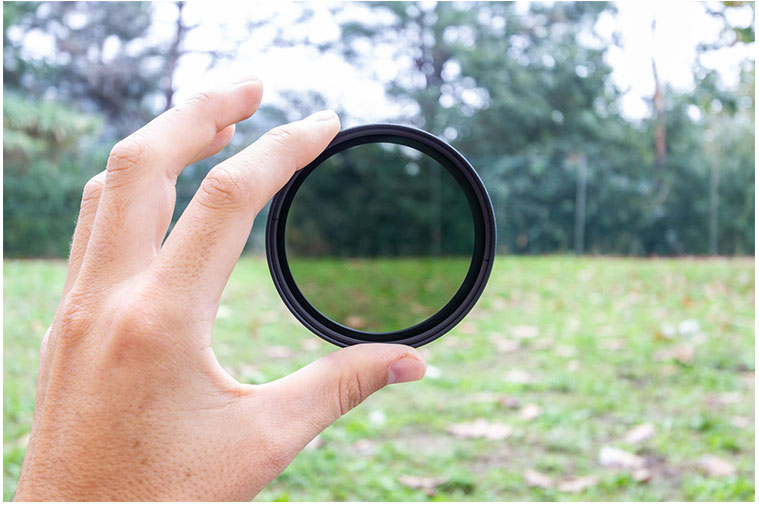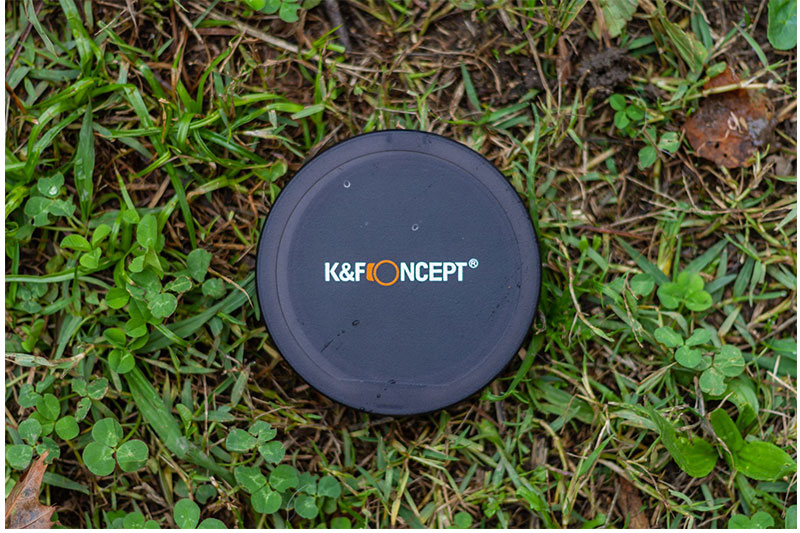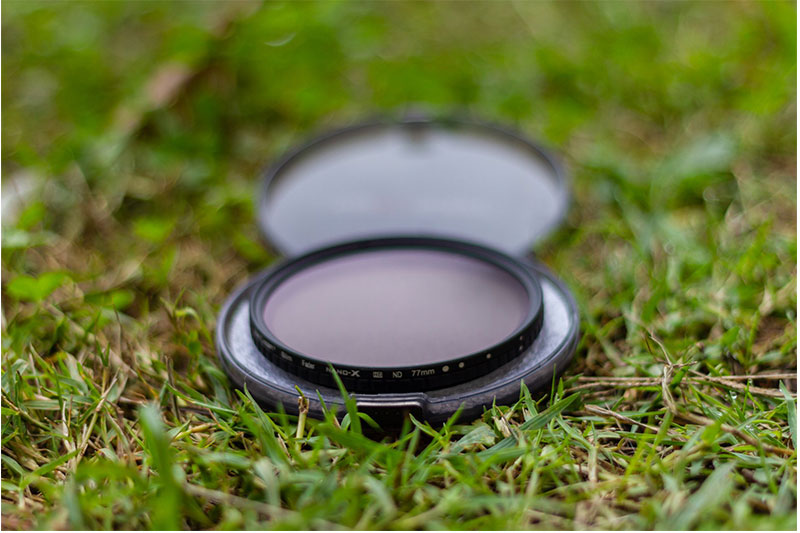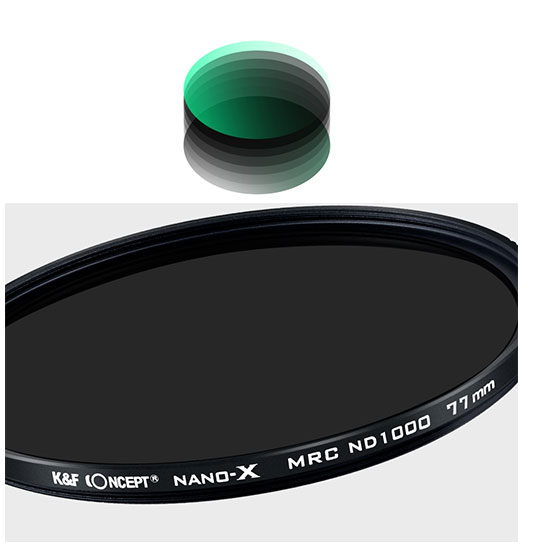 Multiple layer nanometer coating
Reduction of reflection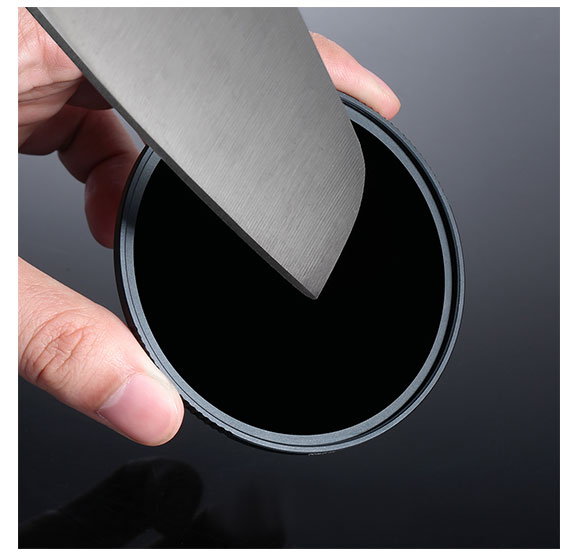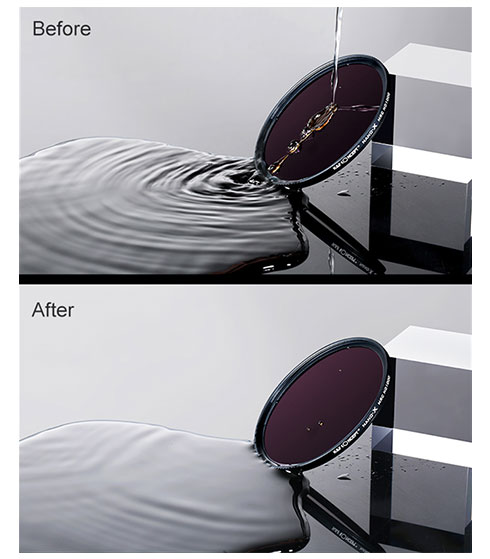 Nanometer Coating
Enables slow shutter speeds to be used to record movement in subjects such as waterfalls, providing a silky smooth affect to flowing water.
| | | | |
| --- | --- | --- | --- |
| NDnumber | Optical density | f-stop reduction | Fractional transmittance |
| | 0 | 0 | 100% |
| ND2 | 0.3 | 1 | 50% |
| ND4 | 0.6 | 2 | 25% |
| ND8 | 0.9 | 3 | 12.50% |
| ND16 | 1.2 | 4 | 6.25% |
| ND32 | 1.50 | 5 | 3.13% |
| ND64 | 1.8 | 6 | 1.56% |
| ND100 | 2 | 62⁄3 | 1% |
| ND128 | 2.1 | 7 | 0.78% |
| ND256 | 2.4 | 8 | 0.39% |
| ND400 | 2.6 | 82⁄3 | 0.25% |
| ND512 | 2.7 | 9 | 0.20% |
| ND1024/ND1000 | 3 | 10 | 0.10% |
| ND2000 | 3.3 | 11 | 0.05% |
| ND4000 | 3.6 | 12 | 0.025% |
| ND8000 | 3.9 | 13 | 0.0125% |
| ND32000 | 4.5 | 15 | 0.003% |
Overall very good quality for the price!
Product: 58mm Variable ND2-ND32Description: The rim of the filter is made out of what I'd assume is aluminum, coated matte black, (which has a nice weight to it, and has hard stops at ND2 & ND32). The rim itself is actually fairly nice. It's easy to put on, and easy to take off due to the wide ridged design around the base of the filter. The high index optical glass is indeed nano coated to protect against water/oils from fingerprints, rain, & etc. Which are easily removed without struggle in my testing with a clean micro fiber cloth (not included). The glass itself has a slight yellow tint to it (which you can see from the photo comparison), which can also easily be corrected through your cameras auto white balance, or lightroom. The filter also doesn't loose to much detail if adjusted properly which is nice as you will see from the photos, and their description in the next section.Photos: The first four photos of the product were taken without any filters. Though the next two of the black & red mouse pad were to show detail comparisons. These two photos were taken about 1-2ft away, but are cropped to show detail. Which were slighty adjusted to be as equal as possible.Without the filter: F4.0 1/15s. ISO 400ND32: F4.0 1s ISO 400The next 6 photos of the flowers next to the bird bath were taken without adjusting any settings to show the darkness of the filter (F5.6 1/320s ISO 100), in this order: No Filter, ND2 1st, 2nd, 3rd, 4th, & ND32 5th stop.Overall: The produce works well, and is well made! I would highly recommend picking one of these up, along with a circular polarizer. Though only notable things I found with the product is that it has a slight yellow tint of the filter, the front thread size of the filter in bigger then 58mm, and the top of the filter very slightly wiggles. Otherwise it gets a solid A from me!Extra: I used a 49mm-58mm step up ring for the filter to fit my Canon 50mm F/1.8Camera/Settings: Shot on a Canon Rebel SL3, with custom white balance settings set to +/-0,+/-0 for raw color quality.
I bought this to go on my 58mm adapter for my Sony HX99
I like this filter and it performs well although I'm not sure if it's the filter or what but at some strengths there is a vignette in one of the corners.
Good product and excellent customer service.
The filter works as described and has a quality feel beyond what is expected in this price range.
Craftmanship
Photography is a hobby for me and this filter worked very well for the cost. I was most pleased with the results I achieved with this product.
The answer to all my researches!
I have used this filter on my Fuji X-T3 with my 18-55mm f2.8-4. Shot outdoors/sunny, overcast, at noon, at 6pm summer time still lots of sun (back lit). and it is the best for your buck.i researched at least other 3 products before buying this one.the thing is a beast, super sturdy, the ring flows nicely as you adjust your exposure, none of that dry spin like other "affordable" filters, feels expensive and you can shoot in totally sunny situations with low aperture and low shutter speed with no problemo!!!
Filter
size
58mm
Transmittance
∕
Multi-Coating
Antireflection
√
waterproof
√
scratch-resistant
√
HD
√
Filter Material
Optical glass
Pattern
√
Filter Thickness
7.3mm
Shape
Circle
Ring Material
Aviation aluminum alloy
These images belong to K&F Concept end users.
| Image | Lens | Filter Size (mm) |
| --- | --- | --- |
| | Access P-MC 35-70mm f/ 2.5-3.5 | 58 |
| | Angenieux 35-70mm f/ 2.5-3.3 | 58 |
| | Asahi SMC Takumar-Zoom 85-210mm f/ 4.5 | 58 |
| | Auto Mamiya / Sekor SX 21mm f/ 4.0 | 58 |
| | Auto Revuenon MC 300mm f/ 5.6 | 58 |
| | Auto Universar PC HI-D 35mm f/ 1.8 | 58 |
| | Baltar 100mm f/ 2.3 | 58 |
| | Beroflex -8°- 300mm f/ 4.0 | 58 |
| | Canon 100mm f/ 2 | 58 |
| | Canon 17-102mm f/ 2.0 TV Zoom V6x17 | 58 |