4K adult night vision binoculars, 3-inch display, 7-stop infrared night vision adjustment, 5x digital zoom, support video recording and photo shooting, suitable for day and night hunting, camping, surveillance
Free shipping to eligible country
Brand:

KENTFAITH

Buy KENTFAITH 4k adult night vision binoculars, 3-inch display, 7-stop infrared night vision adjustment, 5x digital zoom, support video recording and photo shooting, suitable for day and night hunting, camping, surveillance online, worldwide free shipping and 30 days return guarantee.

KF33.061

SKU:

KF33.061

83.99

https://www.kentfaith.com/KF33.061_4k-adult-night-vision-binoculars-3-inch-display-7-stop-infrared-night-vision-adjustment-5x-digital-zoom-support-video-recording-and-photo-shooting-suitable-for-day-and-night-hunting-camping-surveillance
Description
* 3-inch large high-definition display: Equipped with a 3-inch LCD screen, the digital screen is directly displayed, the picture is stable, and the display effect is clear and intuitive, allowing you to obtain a more comfortable and broader visual experience. 5x digital zoom, which can magnify distant objects in the dark, it can help you capture and record the most exciting moments of the day or night;
* Full HD 4K video and 36MP pictures: Night vision binoculars can achieve 4K full HD video and 36-megapixel photo shooting. The captured video and photos can be exported to a computer for viewing using a data cable, or stored in a memory card. Support 32GB expansion memory, so you can review the wonderful moments at any time. (Note: memory card not included).
* Motion Detection Stabilization: This day and night night vision binoculars capture clear photos and videos in 100% darkness. When shooting videos of running animals, you can turn on the motion detection function, and there is also an anti-shake function when shooting photos;
* 7-speed infrared lighting night vision function: 7-speed infrared night vision adjustment, you can choose the suitable gear according to the ambient light, see farther and clearer;
* A variety of power supply methods: built-in 4000mah rechargeable battery power supply, mobile power supply or DC power supply. Don't worry about changing batteries all the time, saving and environmentally friendly. It can be your good helper for hunting, camping, fishing, outdoor adventure, search and rescue, wildlife observation, bird watching, and taking landscape photos.
Shipping
Free shipping to eligible country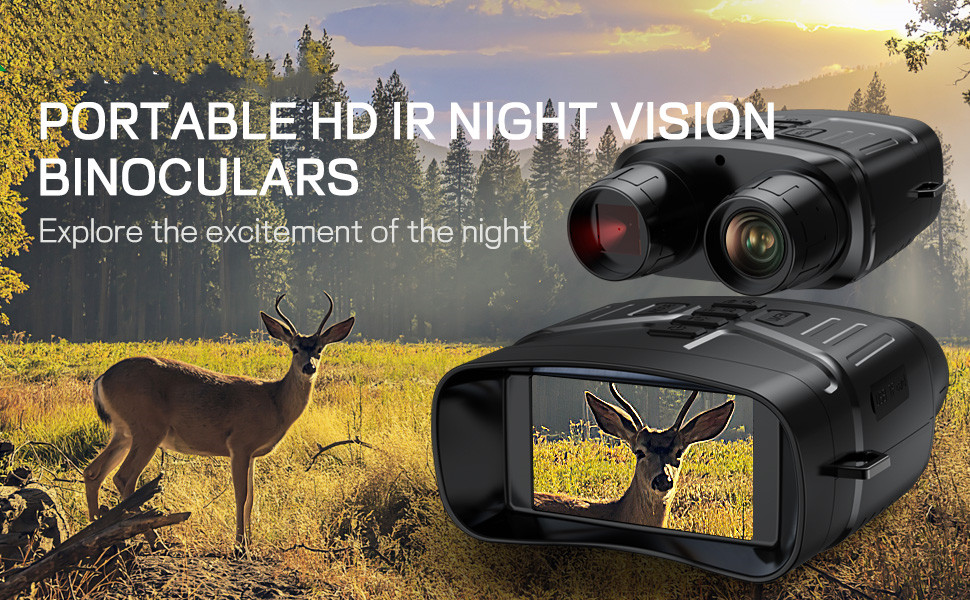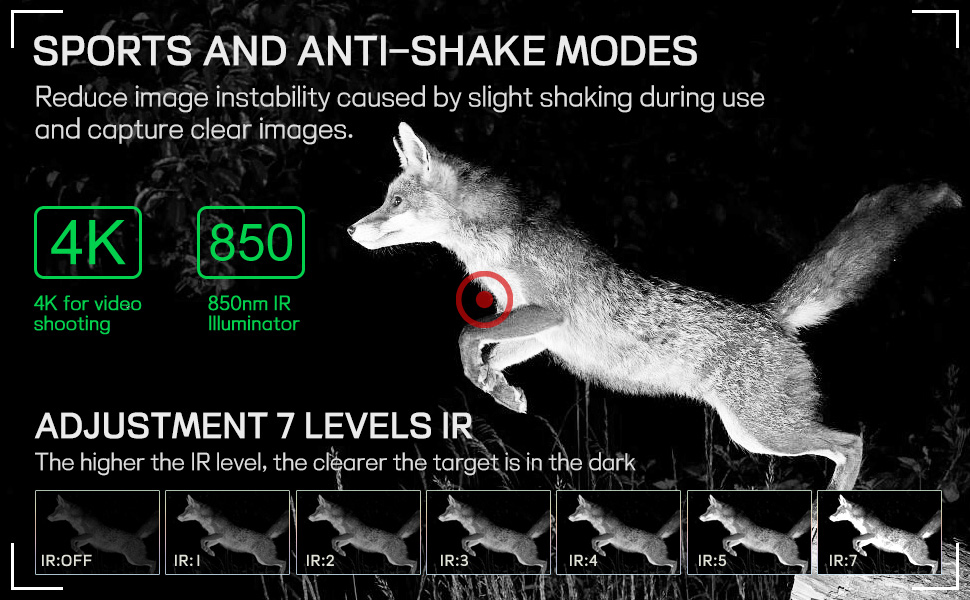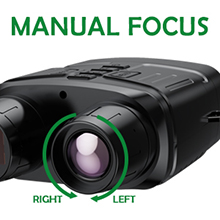 Manual Focus
Take a easy rotate to adjust the best focal length according to the actual observation distance till target is clear.
If the observation distance is far, please rotate the lens to left. If the distance is near, rotate the lens to right.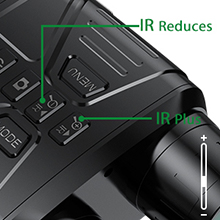 7 Levels IR Illumination
Short press IR+ button to turn on. Short press the IR+ or IR- button to adjust the infrared intensity level.
Note: If the battery voltage is not enough, the IR LED level will down automatically. IR level can up to 7 levels when the battery power is full.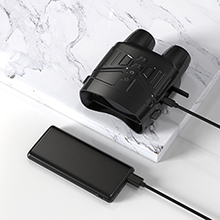 4000mAh Rechargeable Battery
Support mobile power or car charger charging, no longer worry about the problem of battery power.
Use the MODE button to easily switch between photo and video modes. Can download to computer to save and share your best moments.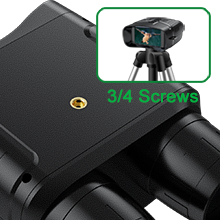 Screw Thread for a Tripod Hole
The base of the night vision device has a standard tripod slot so as to fix the night vision device on the tripod.
These night goggles work great on a tripod or when laying still, observing wildlife.

recommended companion for night time camping, backpacking trip
I have a line of big trees and bushes in front of my apartment. Over the winter, I could see the activities of squirrel moving on the trees and fox nearby from my balcony. I was then interested to get this night vision googles to observe their night activity more closely if possible. Over the limited time I have used this product, I am pretty impressed with the clarity offered by its IR vision and also its zooming capabilities.
For comparison, I have shared a picture of a branch of a tree across a parking lot from my balcony taken during daytime, night time through surrounding ambient light, and through IR camera. The clarity in IR vision is impressive which cannot be observed by naked eye. Due to thick foliage in trees during summer, I am still to capture any wildlife activity, but I am hopeful. :)
The shortcomings if I can highlight is that when we take the photo, it is not that clear as compared to what we can see through video (as shared). This is likely due to motion blurring while pressing the capture button on top. Having the buttons on side could likely help to reduce the effect. And also mounting the googles on tripod while taking pictures, videos will provide more stability, so even providing a small tripod as accessories could also add to its value.
Nevertheless, I feel this will be a great companion for night camping, backpacking, and even hunting if taken along.
14/08/2022
Rechargeable for the win!
The night vision goggle works great! I like how fast it turns on, probably 3-4 seconds top. This is important when I need to catch the raccoon that visits my yard. The goggle also uses rechargeable battery. This is much better than burning through AA batteries. The night vision works pretty well. I can see stuff in color with just a bit of ambient light. When I flip on IR mode, I can see everything clearly in black and white. The front have a strong IR light, kinda reminds me of the terminator. It's pretty awesome looking at night. It's small and portable. I'm very happy with it.
28/01/2020
These Night Vision Binoculars are awesome
I received the night vision binoculars quicker than estimated. Package was in great shape. Binoculars are awesome and work as described. Actually much better than I imagined. I will be using them to scout pigs at night before using my night vision scope. Battery life is much better than expected. Only down side was the carrying case was not in the package as described in the offer. Other than that I would recommend to anyone in the market for night vision. A great plus is the picture/video feature so I can capture other great sights at night.
07/07/2022
nice vision
These binoculars are an amazing way for me to see wildlife when I am out camping as I can clearly see with the 5x digital zoom capabilities! I also like that hese high-tech binoculars have a neck strap for portability. I also like that I can view things in dim conditions near dawn and dusk or for astronomy purposes. The 4K Video resolution delivers excellent light transmission that allows for a very crisp and clear viewing.

The tough material that it is made of provides protection and prevents any kind of long term oxidizing which can ensure the durability to withstand the various elements like rain or fog. It also has a built-in 850nm IR illuminator that allowed me to observe targets that were yards away clearly in complete darkness without any ambient light. It also has 7 levels of adjustable IR brightness that provide optimal visibility at night. Also, I like the long battery life lasting with hours of working time using this rechargeable cell of 4000mAh.

I also like that the night vision goggles comes with a 34GB card which enables me to video shoot and image capture thousands of photos. I also like that the video and photo files saved in the internal memory can be transferred to a computer via wired connection or to a phone via an SD card adapter. The instructions were easy to follow and after a few minutes of trying out the different features I have to say I am really impressed with this product.
25/06/2022
Don't wait buy the Best binoculars You will ever own!!!
First the quality of the picture is Amazing and crystal clear. And, how deep into the woods you can see with it pitch black. They are so easy to use for any and all ages easy. They are extremely light weight to where most binoculars are heavy. If you have been looking for night vision binoculars then these are definitely a must buy! Love the display screen and that they are rechargeable and even comes with micro sd card for taking pictures and recording 4k quality videos. Plus they also work during the day as well as night. You will never come across a steal/deal like this again!
24/06/2022
Clear vision
I haven't had a chance to fully use all the features but when I turned them on I was quite impressed with the clarity of the view. I am quite old school and used to putting my eyes directly in the lens to see but the view of whatever you are looking at is on the screen . I'm looking forward to actually getting a chance to use all the functions.
03/07/2022
Impressive value for the cost.
I was a bit skeptical when I ordered this product, but figured I could return it if it didn't live up to the hype. I ended up being quite impressed with the features, ease of use, and quality of video it captures. The night vision emitter illuminates objects at 100 yards even on the lowest setting. I find it amazing to get a night vision camera of this quality for such a reasonable price.
06/05/2022
Love these Fvtga Night Vision Goggles
I bought these because I wanted to try out the night vision. They were just as I expected and wanted. They take clear pictures and videos in both night vision and day vision. The battery stayed strong and I had no problem switching to different modes. The Zoom is great for what I wanted. They come with a 32g sd card but will take up to 128 g. I wish they came with a case but that would not keep me from recommending them to someone else. GREAT product, easy to use, and well worth the price. For the price I paid I thought I would be getting something that was cheap or wouldn't work but these Fvtga Night Vision Goggles work just fine for me. Highly recommend and will buy from this seller again. Very easy to watch your videos or pictures on the goggles or upload them to a computer. I used a power bank to charge the battery fully, used them for about 2 hours doing different things and the battery is still above half. I love them.
20/08/2022
Really great value for checking out night vision technology
have been wanting to check out some night vision gear for at least twenty years, but even entry level gear has been way too expensive. I checked in again recently, however, and found that the cost is REALLY low to check out basic gear. These exceeded my expectations by a mile, and are really fun and functional. I use to check out wildlife in the back yard and they do the job great. They gather much more light, even without the IR turned on, than I expected and I can see things that just aren't visible to my own eyes even in the late evening with a bit of light remaining. I recommend checking these out, very cool and a great value!
19/08/2022
Call it a camera
This is more of a camera than goggles, a camera like your cell phone, but with infrared capability. That said, it is a very good digital camera, with excellent night vision, and at a fabulous price. When I received mine, it was missing the user's manual. I contacted the seller, and they responded immediately. The next day I was emailed the user manual in pdf format. Meanwhile, I experimented with it and figured out how to use most of the features on my own. In fact, it will do more than the instructions address, although most of those features are only for experienced photographers. The device has three modes: video, still photo, and playback. Either of the first two can be used like binoculars by pointing the device at the object and looking at the screen. Either mode can also be used in standard (color) view, or in infrared (black and white). You can digitally zoom up to 5X in either standard or IR, and in IR you can adjust the brightness of the IR illuminator from 1 to 6. The menus allow you to make expert adjustments like over and under exposure, wide dynamic range, resolution from 4K to VGA, ISO, white balance, sharpness, and image quality. It has anti-shake, notion detection, and loop recording, but while all these features are listed in the user manual, there is no explanation of how they work or when you might want to use them. Most users, like me, will simply go with the default settings. The lens of the device, in the left barrel, must be manually adjusted to get the proper focus, which changes with distance and zoooming.
In standard mode, you see the same picture you would in a cell phone camera, but it allows digital zoom, and it has very good low-light amplification. In semi-darkness, the screen image was about twice as bright as it looked to my naked eye. It's the IR I was interested in, and it works extremely well. In full darkness, you get a clear B&W picture that is sharp and has good depth. I haven't taken the device to the country yet, where the distances are greater, but I believe the IR will easily illuminate an object at over 200 yards.
The device comes with a mini-SD card of 36MP, so you can record still photos or video simply by pressing a button. You can review the images on the device and delete those you don't want. You can transfer the images to a computer using the including USB cord, or take the mini-SD card out and plug it into a reader connected to your computer or printer.
This device is not really practical for nighttime surveillance, if that is your objective. You must hold it away from your face to see the image, which will illuminate your face, and the IR illuminator is a visible red light on the front. It would be great, however, for observing wildlife at night, or just inspecting your back yard.
The device has a tripod socket on the bottom, so you can mount it for greater stability if you're taking photos or video. There is probably a connector that would let you mount the device on a rifle, but I don't see how you could properly zero it and use it as a night sight.
It takes a while to learn the various functions of the buttons, and they're not easy to identify at night, but at this price point, you can't have everything. One of the main selling points for me is that it is rechargeable with a standard USB connector, and the per cent of charge is shown on the screen. You can even use it with an auxiliary power pack or a long USB cord plugged into a charger.
Considering all this device does, its price is just ridiculously low. The higher priced units I looked at don't really do any more than this one, and they often require six to eight AA batteries that have to be replaced often. I am very pleased with this purchase, as it does more than I expected, and better than I expected.
15/08/2022
There are no faqs for this product.