DL201 16MP 1080P Trail Camera with 32GB SD Card 0.4s Trigger Time HD Outdoor Waterproof Game Camera Infrared Night Vision
Free shipping to eligible country
Brand:

K&F Concept

Free Shipping. K&F trail camera features high-resolution image & video, 0.4s fast trigger speed, IP65 waterproof, high sensitivity passive infrared sensor, easy to use and install.

KF35.021

SKU:

KF35.021

59.99

https://www.kentfaith.com/KF35.021_16mp-1080p-hunting-camera-0-4-second-trigger-time-hd-outdoor-waterproof-hunting-infrared-night-vision-mini-game-camera-free-sd-32gb-memory-card
Buy $100+ Save $10, Buy $200+ Save $25
Description
• [High-resolution image and video] This off-road camera uses a high-performance chip, which can shoot up to 16MP clear and vivid images and high-definition video during the day, with ultra-clear sound, bright colors, and black and white photos at night. The 90-degree camera lens provides a wide viewing angle to help you observe a wider wildlife world.
• [Fast trigger speed and long working time] Our track camera has an impressive 0.4 second trigger speed, which can record every exciting moment of the detection location. In addition, the camera has an incredibly long standby time, up to 3 months when powered by 4 AA batteries, and even longer when connected to a solar panel (not included).
• [IP65 Waterproof, Rugged Shell] Using IP65 waterproof, dustproof, and drop-proof plastic shell, our hunting and reconnaissance cam is strong enough to withstand harsh working environments such as deserts or tropical rain forests with temperatures of -20-70°C. This is a long An indispensable guarantee of service life.
• [High Sensitivity Passive Infrared Sensor] The hunting camera can capture every exciting moment with a detection range of up to 90 degrees and a detection range of 65 feet/20 meters. 22 infrared LED invisible light technology allows you to record incredible videos and photos to avoid disturbing or frightening your hunting targets.
• [Easy to operate and install] The tracking camera is easy to set up and operate. Just insert 4 batteries and an SD card (up to 32G) to use. Then you can set your personal needs on the user-friendly menu. Finally, use a fixing strap or a tripod to complete the setup.
Mini HD Trail Camera
Catch every fantastic wildlife moment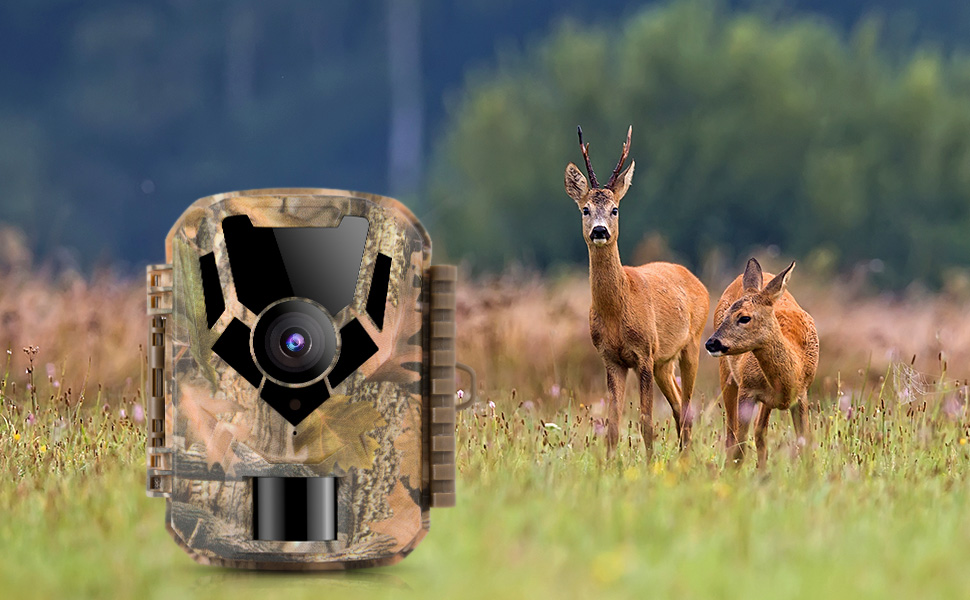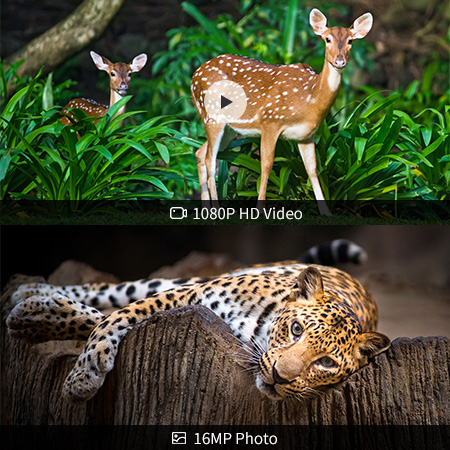 1080P Video and 16MP Image
This hunting camera captures 1080P vivid video and 16MP clear images each time motion. You will not miss any detail on your wildlife expedition.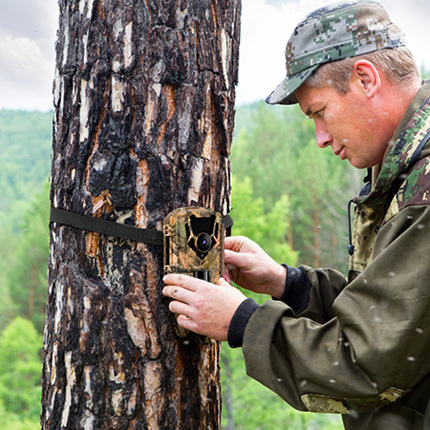 Easy to tie and install
Provides a wider field of view and more precise vision, captures more details, does not miss any points, and has an excellent concealment effect.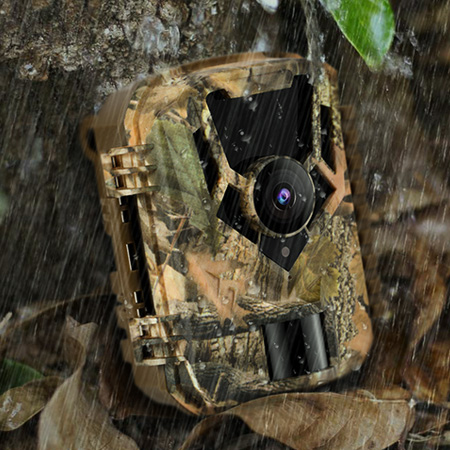 IP65 Waterproof & Sturdy
The hunting cam case has passed the waterproof test up to IP65, protecting it from rain and dust damage.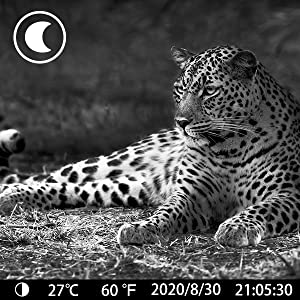 Super Clear Night
With one upgraded PIR and 22 pcs infrared no glow LEDs, this trail camera offers you a super clear night vision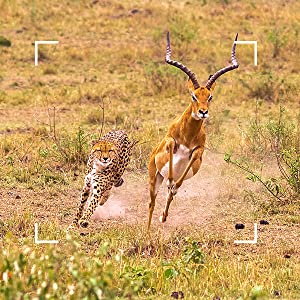 0.4S Trigger Speed
it allows you to record every exciting moment and offers a complete details of various animals that you want.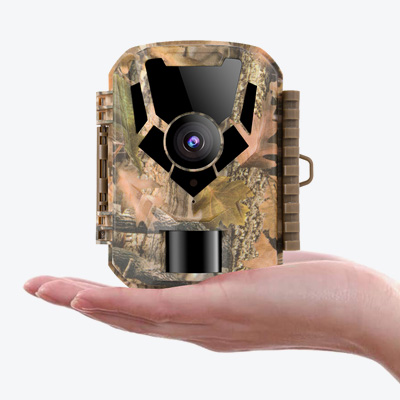 Mini Trail Camera
You can install it in any place and would not be found. Smaller than regular hunting cams though, the advanced function still.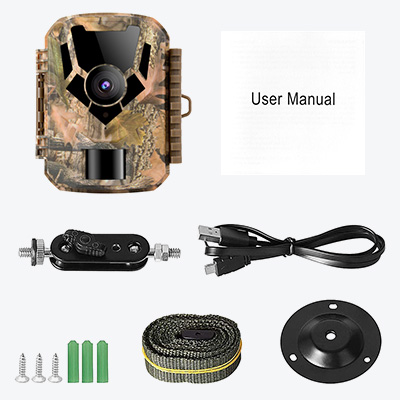 What's included in the box
1xTrail Camera 1x Strap 1x USB Cable 1x Tree Mount 1x User Manual 3× Screws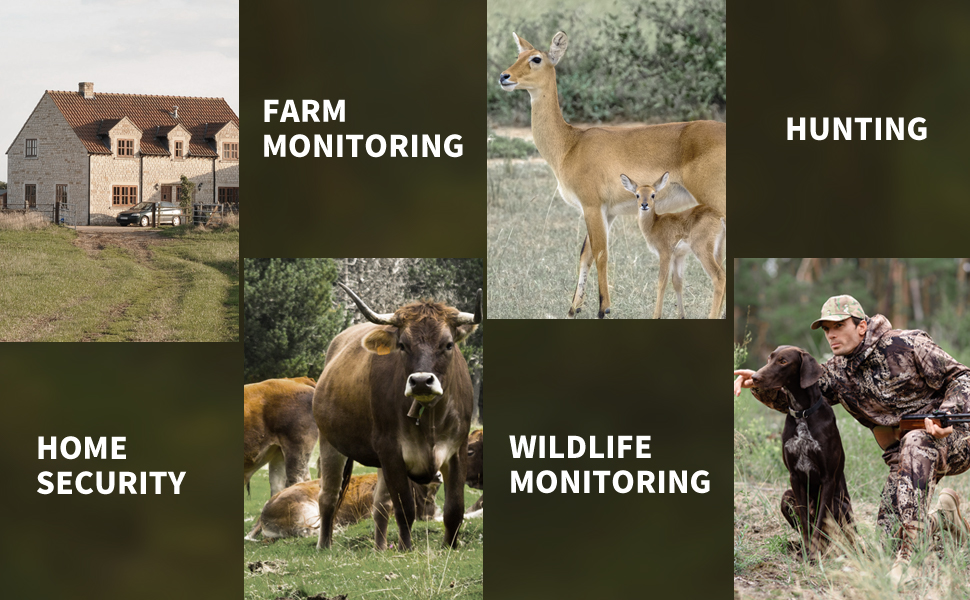 It could not only monitor the wild animals, scout the prey, but also gurad your house and protect your farm from burglar. with a super long standby, it is unnecessary to replace the battaries frequently and gives you a long-term and reliable guard.
Product specifications:
* Image sensor: 5.0 megapixels, 1/4 inch CMOS sensor
* Lens: f=4.0 mm; F/NO=2.6; FOV=90°
* Storage: SD or SDHC card, maximum capacity 32GB (category 6 or Higher)
* Trigger time: 0.4s
* Infrared lamp/PCS: 850 nm/22 pieces, adjustable brightness
* PIR distance: 0~20M
* PIR angle: 90°
* PIR delay: 5S~60min
* Screen: 2.0 inch TFT -LCD
* Working mode: shooting/video/photo+video/time decay
* photo resolution: JPEG, 1M/3M/5M/8M/12M/16M
* video resolution: AVI 1920X1080P/1280X720P/848X480P/640X480P
* video length: available Optional, 5s~10 minutes
* Working voltage: DC 6V
* Battery type: 4 AA Battery type LR6(AA); 4 NIMH power battery, LR6(AA) Low self-discharge capacity
* External power supply: 6V/1.5A
* Waterproof rating: IP65
* Connection: Mini USB 2.0
Rating

33 reviews.

0 reviews.

27 reviews.

13 reviews.

32 reviews.

103 reviews.
Price
$59.99

$109.99

$69.99

$59.90
$49.99
$69.99

$419.99

$199.99

Model
KF35.021
KF35.041
KF35.037
KF35.001
GW50.0028
KF35.034EU

Max. Storage

32GB
32GB

Image Resolution

16MP
24MP

Screen Size

2.0"
2.0"

Video Resolution

1080p
1080p

WIFI+Bluetooth

NO
NO

Amount of infrared lamps

22pcs (850nm)
36pcs (850nm)

Amount of PIR SENSORS

1pcs
3pcs

Detection Range of PIR sensors

80°
120°

Trigger Distance

20m (65ft)
20m (65ft)

Trigger Speed

0.4s
0.5s

Waterproof IP Rating

IP65
IP65
Nice trail cam
For an inexpensive camera, it's actually pretty good. I have several more expensive cameras and the quality of this one rivals the more expensive cameras. The only complaint I have is it doesn't display date and time on the videos. That's something that really needs to be added.
26/07/2021
great trail cam
so far so good does everything it's supposed to
28/06/2021
Mixed feelings
It stops recording after a bit,then resumes? There are gaps in recordings. Hours long gaps. ?? Excellent photo video quality. Good range if detection.
21/04/2021
The wrong card for the camera is advertised to buy with this camera
I'd give it a higher review except I ended up ordering the wrong card for it because you have advertised the wrong card to purchase with this camera. I see another customer complained about this to the manufacturer and yet the wrong card is still on this site for this camera. Please remove this misinformation as people will continue to purchase the wrong card. Thank you!
13/02/2021
Better than expected
Bought this to monitor wildlife at the back of our property. Didn't expect so much from a <$40 camera.Plenty of options on photo, video, length, resolution, schedule, etc.Seems to pickup even small critters like squirrels and rabbits even at night. Good color during daylight hours. Am on the original (eight) AA batteries after two months and still showing three of three bars on power.No issues with weather (wind, rain, snow, cold) so the seal around the front cover is good and tight. Secured by two strong clips.Slight drawback is the microSD card is a bit difficult to get in/out of the unit so I have to unmount it to recover the card. But that is a small gripe.At 10sec, 1080p video clips I have yet to fill a 32gb memory card leaving the unit for two weeks.This camera fits my needs.
28/12/2020
There are no faqs for this product.