16MP 1080P Trail Camera with 32GB SD Card 0.4s Trigger Time HD Outdoor Waterproof DL201 Game Camera Infrared Night Vision
Free shipping to eligible country
Free Shipping. K&F trail camera features high-resolution image & video, 0.4s fast trigger speed, IP65 waterproof, high sensitivity passive infrared sensor, easy to use and install.

KF35.021

SKU:

KF35.021

64.99

https://www.kentfaith.com/KF35.021_16mp-1080p-hunting-camera-0-4-second-trigger-time-hd-outdoor-waterproof-hunting-infrared-night-vision-mini-game-camera-free-sd-32gb-memory-card
Description
* [High-resolution image and video] This off-road camera uses a high-performance chip, which can shoot up to 16MP clear and vivid images and high-definition video during the day, with ultra-clear sound, bright colors, and black and white photos at night. The 90-degree camera lens provides a wide viewing angle to help you observe a wider wildlife world.
* [Fast trigger speed and long working time] Our track camera has an impressive 0.4 second trigger speed, which can record every exciting moment of the detection location. In addition, the camera has an incredibly long standby time, up to 3 months when powered by 4 AA batteries, and even longer when connected to a solar panel (not included).
* [IP65 Waterproof, Rugged Shell] Using IP65 waterproof, dustproof, and drop-proof plastic shell, our hunting and reconnaissance cam is strong enough to withstand harsh working environments such as deserts or tropical rain forests with temperatures of -20-70°C. This is a long An indispensable guarantee of service life.
* [High Sensitivity Passive Infrared Sensor] The hunting camera can capture every exciting moment with a detection range of up to 90 degrees and a detection range of 65 feet/20 meters. 22 infrared LED invisible light technology allows you to record incredible videos and photos to avoid disturbing or frightening your hunting targets.
* [Easy to operate and install] The tracking camera is easy to set up and operate. Just insert 4 batteries and an SD card (up to 32G) to use. Then you can set your personal needs on the user-friendly menu. Finally, use a fixing strap or a tripod to complete the setup.
Shipping
Free shipping to eligible country
Mini HD Trail Camera
Catch every fantastic wildlife moment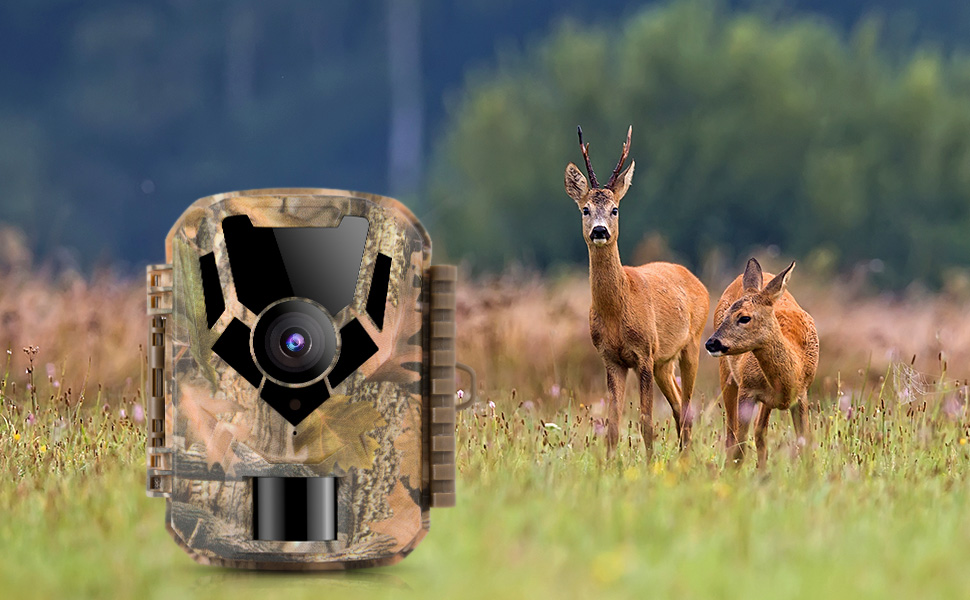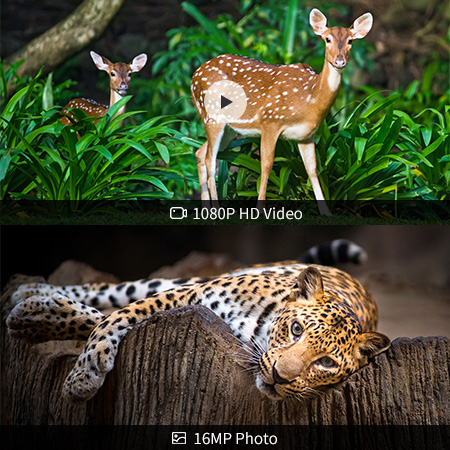 1080P Video and 16MP Image
This hunting camera captures 1080P vivid video and 16MP clear images each time motion. You will not miss any detail on your wildlife expedition.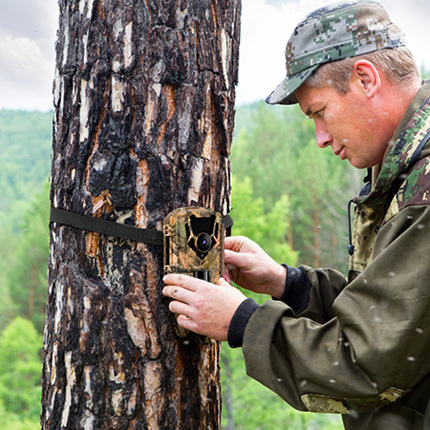 Easy to tie and install
Provides a wider field of view and more precise vision, captures more details, does not miss any points, and has an excellent concealment effect.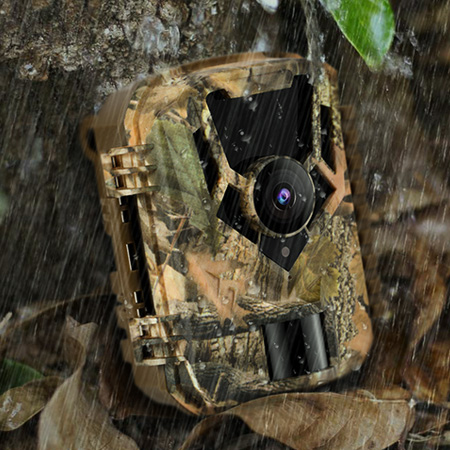 IP65 Waterproof & Sturdy
The hunting cam case has passed the waterproof test up to IP65, protecting it from rain and dust damage.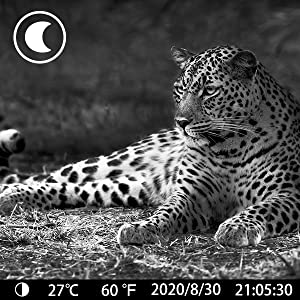 Super Clear Night
With one upgraded PIR and 22 pcs infrared no glow LEDs, this trail camera offers you a super clear night vision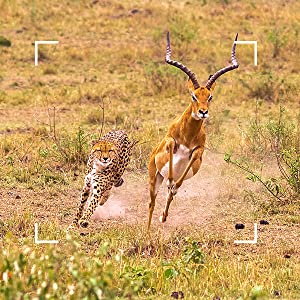 0.4S Trigger Speed
it allows you to record every exciting moment and offers a complete details of various animals that you want.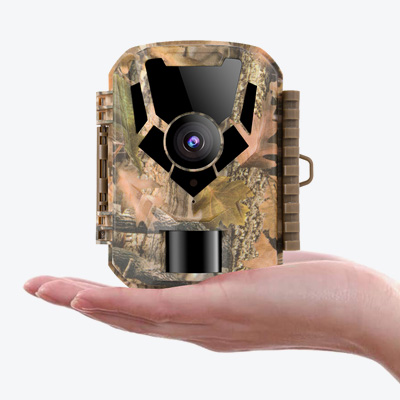 Mini Trail Camera
You can install it in any place and would not be found. Smaller than regular hunting cams though, the advanced function still.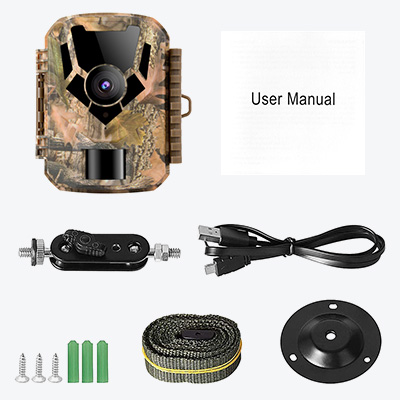 What's included in the box
1xTrail Camera 1x Strap 1x USB Cable 1x Tree Mount 1x User Manual 3× Screws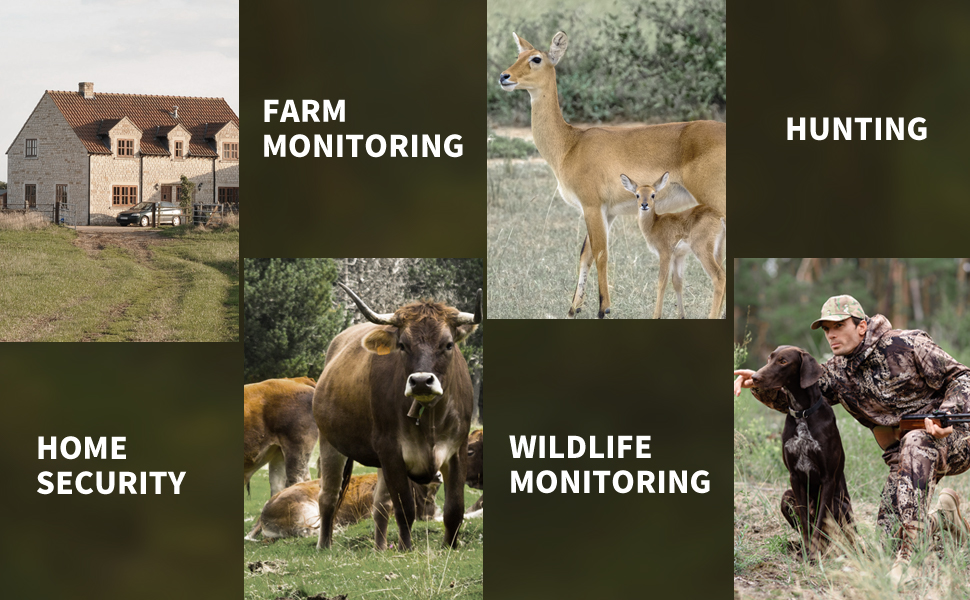 It could not only monitor the wild animals, scout the prey, but also gurad your house and protect your farm from burglar. with a super long standby, it is unnecessary to replace the battaries frequently and gives you a long-term and reliable guard.
Product specifications:
* Image sensor: 5.0 megapixels, 1/4 inch CMOS sensor
* Lens: f=4.0 mm; F/NO=2.6; FOV=90°
* Storage: SD or SDHC card, maximum capacity 32GB (category 6 or Higher)
* Trigger time: 0.4s
* Infrared lamp/PCS: 850 nm/22 pieces, adjustable brightness
* PIR distance: 0~20M
* PIR angle: 90°
* PIR delay: 5S~60min
* Screen: 2.0 inch TFT -LCD
* Working mode: shooting/video/photo+video/time decay
* photo resolution: JPEG, 1M/3M/5M/8M/12M/16M
* video resolution: AVI 1920X1080P/1280X720P/848X480P/640X480P
* video length: available Optional, 5s~10 minutes
* Working voltage: DC 6V
* Battery type: 4 AA Battery type LR6(AA); 4 NIMH power battery, LR6(AA) Low self-discharge capacity
* External power supply: 6V/1.5A
* Waterproof rating: IP65
* Connection: Mini USB 2.0
Rating

102 reviews.

23 reviews.

28 reviews.

414 reviews.

100 reviews.
Price

$139.99

$64.99

$169.99

$72.99

$149.00

$64.99

$239.99

$121.99

$159.99

$64.99

Model
KF35.021
KF35.036
KF35.037
KF35.038
KF35.044

Max. Storage

32GB
32GB
32GB
256GB
256GB

Image Resolution

16MP
20MP
16MP
30MP
20MP

Screen Size

2.0"
2.4"
2.0"
2.0"

Video Resolution

1080p
2.7K
1080p
4K
1080P

WIFI+Bluetooth

NO
NO
NO
WIFI
NO

Amount of infrared lamps

22pcs (850nm)
42pcs (940nm)
22pcs (850nm)
44pcs (940nm)
2pcs (940nm)

Detection Range of PIR sensors

80°
120°
80°
120°
120°

Trigger Distance

20m (65ft)
26m (82ft)
20m (65ft)
22m (65ft)
15m~20m

Trigger Speed

0.4 s
0.2s
0.4s
0.2s
0.2s

Waterproof IP Rating

IP65
IP66
IP65
IP65
IP66
Works great
Well worth the price!!
22/02/2022
Takes CLEAR Day/Night Photos, Inexpensive and Waterproof
I have been dabbling around the deer hunting and trail camera world for over three decades. I am a retired Air Force and Law Enforcement veteran. I have finally settled down in the Panhandle of Northwest Florida. Five years ago, I purchased 43 acres in southern Alabama. The property is located just across the Florida/Alabama state line. I have been searching for a good replacement trail camera for my older Stealth cam PX14 and PX10 trail camera models that I have been using since 2018. I absolutely LOVE these two particular trail camera models. HOWEVER, these trail camera models are now a bit dated. Stealth cam no longer sells these two trail camera models and I can no longer find them for sell anywhere. I have been looking/searching for months at various trail camera models on Sportsman's Guide, Amazon and numerous other hunting websites. I finally settled on trying out this particular model. My wife purchased a twin pack for my birthday and I immediately placed them out in the front yard in order to conduct a field test. My PRIMARY concern, was whether or not this particular trail camera model was water/moisture proof? After the first day/night, I checked my scan disks and boy was I pleasantly surprised. Both, the day and night time photos images were very CLEAR. In fact, the night photo image details were unlike anything I have ever previously viewed/experienced. The next two days, my local area experienced frigid temperatures. The temperature plummeted from mid 60's to mid 20's with freezing rain and a solid frost all the way down to the coastline. FIRST, most important to me, both trail cameras remained water proof. SECOND, the day/night photo images remained very CLEAR. All of the photo image details are truly impressive. I think I have FINALLY found a solid replacement trail camera for my aging Stealth cams. IN FACT, I am so impressed about this particular trail camera model's photo images, I immediately ordered three more twin packs which are scheduled to arrive on Monday (24 Jan 2022). I hope someone finds this information useful. Good Luck on your remaining deer hunting season and future deer hunts! Respectfully, Avid Deer Hunter!!!
22/01/2022
night
This was a replacement for one that went bad after 2 years.
17/01/2022
This is a great camera for the price.
It takes very good pictures both during the day and at night.Easy to setup and operate. I bought two.There are a couple of downsides to this camera.First, it only takes 10 seconds of video and there is no way to increase the video time.It would be nice to be able to increase the time to at least 30 seconds of video.Second, it would be nice if the "off" switch were on the outside of the camera instead of the inside.Opening the door to turn of the camera always results in a video/picture being taken.For the price, I would buy this again and recommend it to those who need and inexpensive trail camera.
10/12/2021
Works rather well
I actually bought these to get evidence for small animal control that my neighbor was letting his aggressive dogs roam freely, but getting wildlife is an added benefit. As you can see from the pictures these work quite well night or day, my only complaints are that sometimes they're a second too slow and I only get a tail, and leaves blowing/wind/rain can trigger them. But I am quite satisfied with them so far.
10/11/2021
There are no faqs for this product.
Trail Camera
Max. Storage
32GB
Image Resolution
16MP
Screen Size
2.0"
Video Resolution
1080p
WIFI+Bluetooth
NO
Amount of infrared lamps
22pcs (850nm)
Amount of PIR SENSORS
1pcs
Detection Range of PIR sensors
80°
Trigger Distance
20m (65ft)
Trigger Speed
0.4 s
Waterproof IP Rating
IP65