M42 Lenses to Sony E Mount Camera Copper Adapter
99$-15$ / 199$-30$ / 299$-55$ / 599$-120$
New customer gift package
To
United States
Expedited Shipping
3-5
business days
Buy KENTFAITH m42 lenses to sony e mount camera copper adapter online, worldwide free shipping and 30 days return guarantee.

KF06.305

SKU:

KF06.305

22.99

https://www.kentfaith.com/USKF06.305_m42-screw-to-sony-nex-e-mount-copper-adapter
99$-15$ / 199$-30$ / 299$-55$ / 599$-120$
Description
* Allow M42 Screw mount lenses used on Sony E NEX/Alpha camera body.
* Compatible with Sony E NEX/Alpha camera includes: Sony NEX-3, NEX-3C, NEX-3N, NEX-5, NEX-5C, NEX-5N, NEX-5R, NEX-5T, NEX-6, NEX-7, NEX-C3, NEX-F3, NEX-VG10, a7, a7R, a9, a3000, a3500, a5000, a5100, a6000, a6300, a6500, a7S, a7 II, a7S II, a7R II, a7R III etc.
* Made of 100% brass. Stable, precise and durable construction. Manually operated. Infinity focus allowed.
* For heavy medium format lenses, we suggest to use with a telephoto bracket and a tripod to balance its weight when shoot.
* 30 Days No Reason Return, 12 months quality guarantee, 100% satisfaction assurance.
Shipping
To
United States
Expedited Shipping
3-5
business days
Sale
99$-15$ / 199$-30$ / 299$-55$ / 599$-120$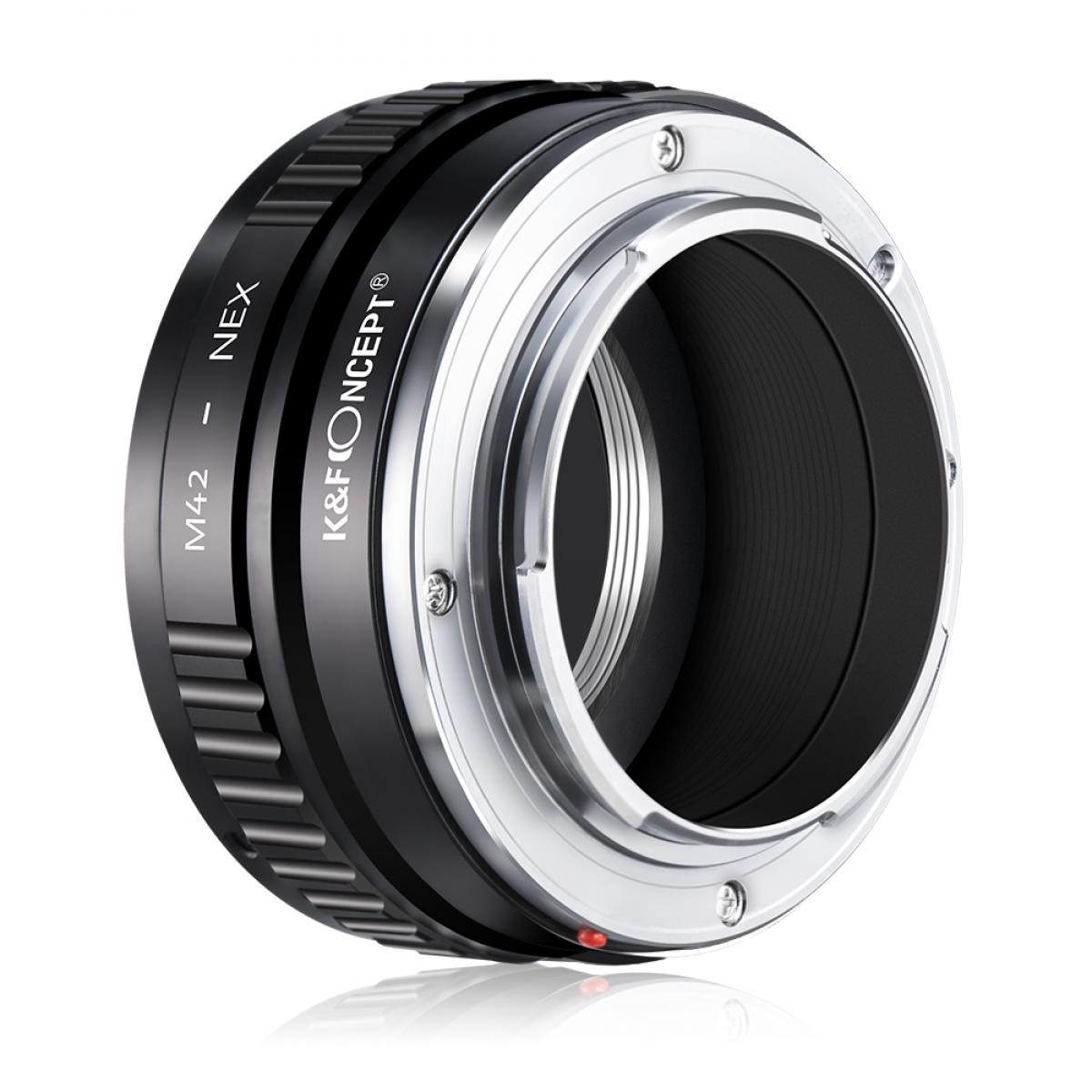 K&F Concept design and produce full range of lens adapters to fit lenses of Canon, Nikon, Pentax, Olympus, Leica, Contax Yashica, Minolta, Tamron, T2, C mount, Exakta, M39, M42, Pentacon etc used on Camera bodies of Canon, Nikon, Sony, Fujifilm, Pentax, Micro 4 3, Leica, M42, Cinema C mount.
All Reviews
Image

All Star

5 Star

4 Star

3 Star

2 Star

1 Star
Great quality adapter
Is a bit price but have metal ending in both sides so it will last forever.
28/04/2019
Highest quality construction.
The product worked exactly like I expected but the quality was unexpected. It was a precision piece of photographic equipment. Extremely well made.
22/08/2018
Well made adapter for old lenses.
This adapter works well. I hadn't used an M42 lens before. Just a tip for others, when the lens was mounted on the adapter, it was upside down. After some confusion, I noticed on my lens there were 3 set screws that, when loosened, I was able to rotate the lens right side up. Just to be clear, the adjustment screws are on the lens, not the adapter. I hope this tip helps others with any confusion like I had.
14/01/2018
There are no faqs for this product.
Adapter
Camera
NEX
Lens
M42
Ring Material