4K Trail Camera WiFi Wildlife Camera 120° Flash Range 0.2s Trigger Clear Night Vision with 64G SD Card and Quick Install Tree Spike Combo Set
Buy 99$-15$, 199$-30$, 299$-50$, 599$-120$(Black Friday Price)
Free shipping worldwide
Buy KENTFAITH 4k trail camera wifi wildlife camera 120° flash range 0.2s trigger clear night vision with 64g sd card and quick install tree spike combo set online, worldwide free shipping and 30 days return guarantee.

KF35.096

SKU:

KF35.096

129.99

https://www.kentfaith.com/KF35.096_4k-trail-camera-wifi-wildlife-camera-
Buy 99$-15$, 199$-30$, 299$-50$, 599$-120$(Black Friday Price)
Description
* [4K resolution and 30MP] Tracking camera provides 4K HD video recording. Video recording speeds up to 3840 x 2160 and frame rates up to 30 frames per second. Photography with a maximum pixel count of 30 MP ensures sharp images whether shooting or recording
* 【0.2S Triggering and Motion Detection】The tracking camera is equipped with a mid-side dual PIR motion monitoring system. The center detection angle is 60° and the sides are 30°. This enables wildlife cameras to capture images as soon as an animal is detected within view, with shutter response times as short as 0.2 seconds and up to 10 bursts
* Night Vision and 36 IR Lights] Equipped with 36 IR lights to distinguish animals clearly at night, the tracking camera provides clear night vision even in dark conditions. Effective night vision range up to 66ft/20m
* [IP66 Waterproof & 120°Wide Angle] The main body adopts camouflage, waterproof and strong sealing, which makes it IP66 waterproof, no need to worry about bad weather such as wind and rain; in sleep mode, the standby time is up to 6 months. Can shoot horizontally at 120°
* Using 8 alkaline AA1.5V environmentally friendly and energy-saving batteries, you can buy it anytime, anywhere, don't worry about running out of power, work longer, with KF dedicated SD and quick installation tree nails to make your camera more convenient to use
Shipping
Free shipping worldwide
Sale
Buy 99$-15$, 199$-30$, 299$-50$, 599$-120$(Black Friday Price)
4 million resolution sensor
Catch every fantastic wildlife moment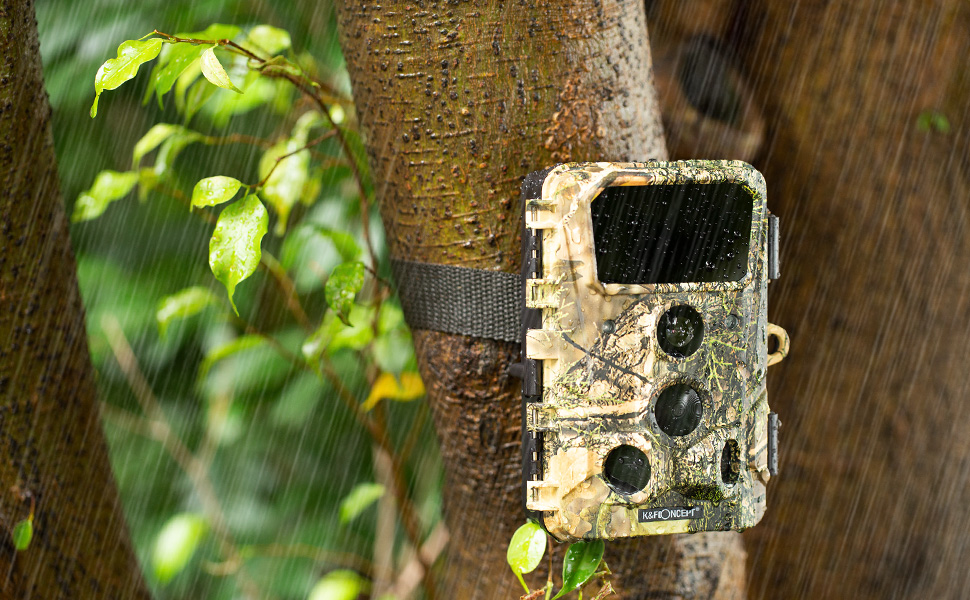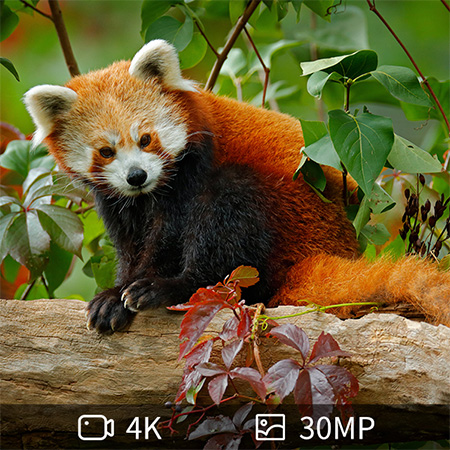 4K Video and 30MP Image
This hunting camera captures 4K vivid video and 30MP clear images each time motion. You will not miss any detail on your wildlife expedition.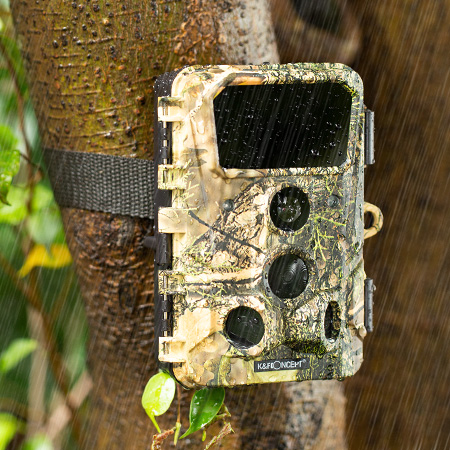 IP66 Waterproof & Sturdy
The hunting cam case has passed the waterproof test up to IP66, protecting it from rain and dust damage.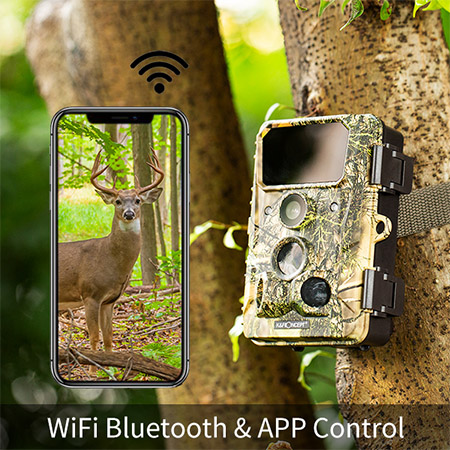 Wifi and bluetooth function
Within 15 meters, manage the recorded pictures and videos in real time via the APP software.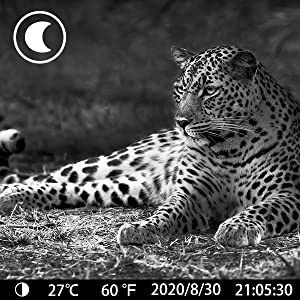 Super night vision
With three upgraded PIR and 36 pcs infrared no glow LEDs, this trail camera offers you a super clear night vision.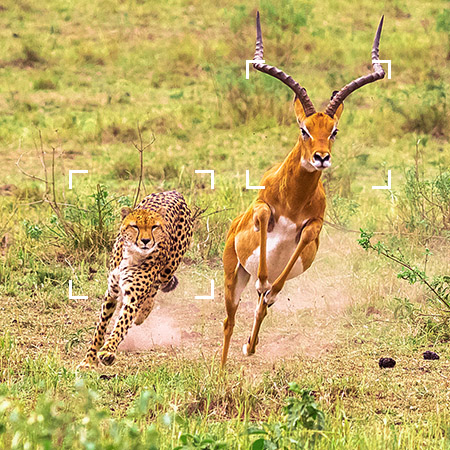 0.3S Trigger Speed
it allows you to record every exciting moment and offers a complete details of various animals that you want.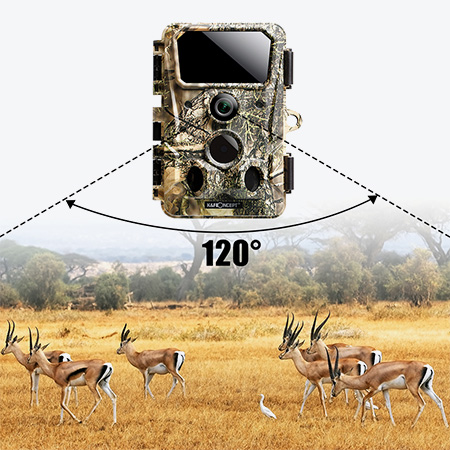 120° Detection Angle
Excellent Optics lens, encompassing distortion correct technologies provides a wider view and more precise vision.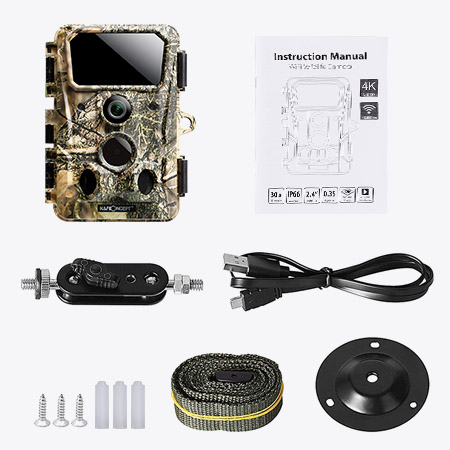 What's included in the box
1xTrail Camera 1x Strap 1x USB Cable 1x Tree Mount 1x User Manual 3× Screws.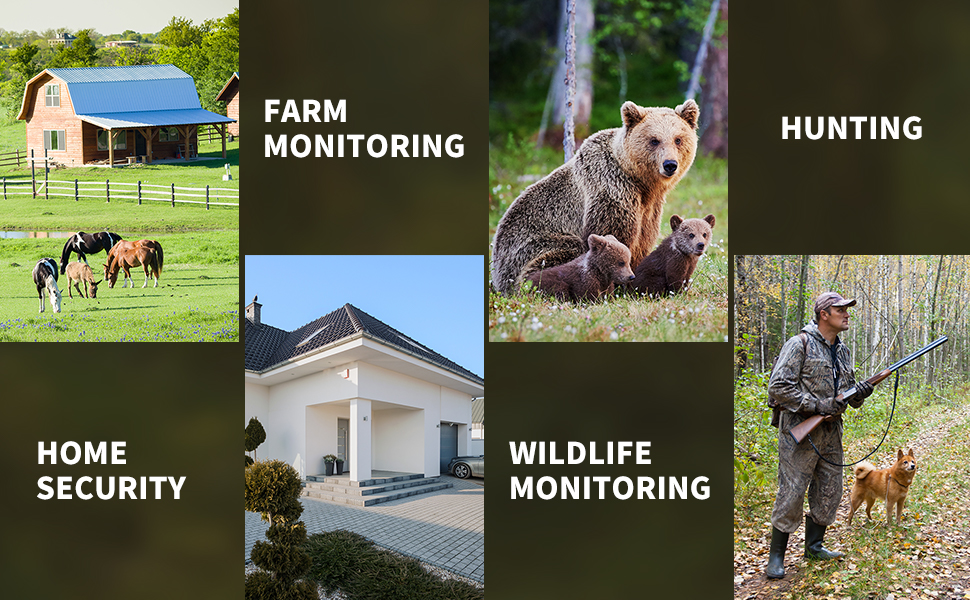 It could not only monitor the wild animals, scout the prey, but also gurad your house and protect your farm from burglar. with a super long standby, it is unnecessary to replace the battaries frequently and gives you a long-term and reliable guard.
All Reviews
Image

All Star

5 Star

4 Star

3 Star

2 Star

1 Star
Pretty cool camera
I finally had a chance to set this up. I didn't set it up too deep in the woods so I was able to use the wifi setting. There are some settings you'll need to play around it first to see what works best for you.
04/01/2022
Great Quality Pictures but need some training for the device usage
Appears to be all around fabricated and strong. I put it on time-pass mode (erroneously) the main evening and it took almost 500 pics. Great picture quality at the cost and simple set up. Likewise love the way that you can audit the photos from one or the other right on the camera its self and ready to utilize the WiFi camera survey to ensure I have the ideal picture sight.I enjoyed the nature of development, brilliant picture quality and the night vision mode at last assist me with distinguishing who for sure was eating the organic product off of my pear tree! A groundhog!! I had no clue they could climb a treeThe movement identification and the night vision combo makes this an extraordinary expansion in your hunting tool stash. You can utilize battery-powered batteries to be considerably more nature agreeable. The case is water safe which makes it an all climate apparatus. The image quality is likewise nice.
13/12/2021
Pretty good affordable trail camera
Small size is perfect hiding among trees. Pictures are clear and easy to see. Comes with everything for a quick and easy installation. Very pleased.
02/12/2021
Great buy for this trail cam!
I recommend setting it up at home and getting used to all the connection settings + the "Game Camera Pro' app before taking it out. It doesn't come w/ memory cards so you'll have to purchase your own. The camelflouge finish is a nice touch.
29/11/2021
The 4K 30MP sensors produce nice images.
The app is uploaded to my husband's phone and he loves it! Unfortunately we haven't seen any game yet lol! Happy Hunting
28/11/2021
This device captures anything that comes in range!
This is probably about as easy to use as they could make it. Seems well-built and solid. I put it on time-lapse mode (mistakenly) the first night and it took nearly 1000 pics and used up 75% of the batteries. THe one caveat is that there is a QR code on a sticker inside the camera (and the same one in the manual) -supposed to take you to a site where you can download an app for wifi feature. But the URL is no good. Can probably find it if I try hard enough, but not cool to have a dead link.Also, one more big flaw: It can take an AC adapter (obviously a good idea for time-lapse!), but it's not included! I have a number of adapters floating around but none that qualified. 6V @ 2A (2 amps is a tall order). It would be fine if it was standardized (i.e. USB), but to require a specific current and not provide an adapter loses another star.
23/11/2021
Nice camera, just one caveat (okay, 2)
These cameras are not perfect but this one works just fine. I've had mixed results pretty it this one is very good.
20/11/2021
Finally - a decent trail camera
It works as described
08/11/2021
good battery life and nice visual at night
Bought it for the WiFi connection…App was downloaded & cannot get it to connect.
26/10/2021
Security camera alternative
I use this unit as security camera in my front yard where there is no power access. It did the job also the camouflage well in the woods.I wish it could have power adapter plug that I don't have to replace battery. Really wanted to give 4 star but I used it in a way not designed to be. It's my issue not the camera
02/09/2021
There are no faqs for this product.
How to use Tracking Camera bracket
Multi-function Card Reader