K&F M17141 Pentax K Lenses to Canon EOS M Lens Mount Adapter
Free shipping to eligible country
Brand:

K&F Concept

K&F M17141 Pentax K Lenses to Canon EOS M Lens Mount Adapter Allow Pentax K mount lenses used on Canon EOS M mirrorless camera body.

KF06.123

Availability:

In Stock

21.99

https://www.kentfaith.com/KF06.123_pentax-pk-to-canon-eos-m-mount-adapter
Buy 2+ items get

10% off

!
Features
• Allow Pentax K mount lenses used on Canon EOS M mirrorless camera body.
• Compatible with Canon EOS M camera includes: Canon EOS M, M2, M3, M5, M6, M10, M100 etc.
• Made of brass and aluminum. Stable,precise and durable construction.Manually operated.Infinity focus allowed.
• For heavy medium format lenses, we suggest to use with a telephoto bracket and a tripod to balance its weight when shoot.
• 30 Days No Reason Return,12 months quality guarantee,100% satisfaction assurance.
Frequently Bought Together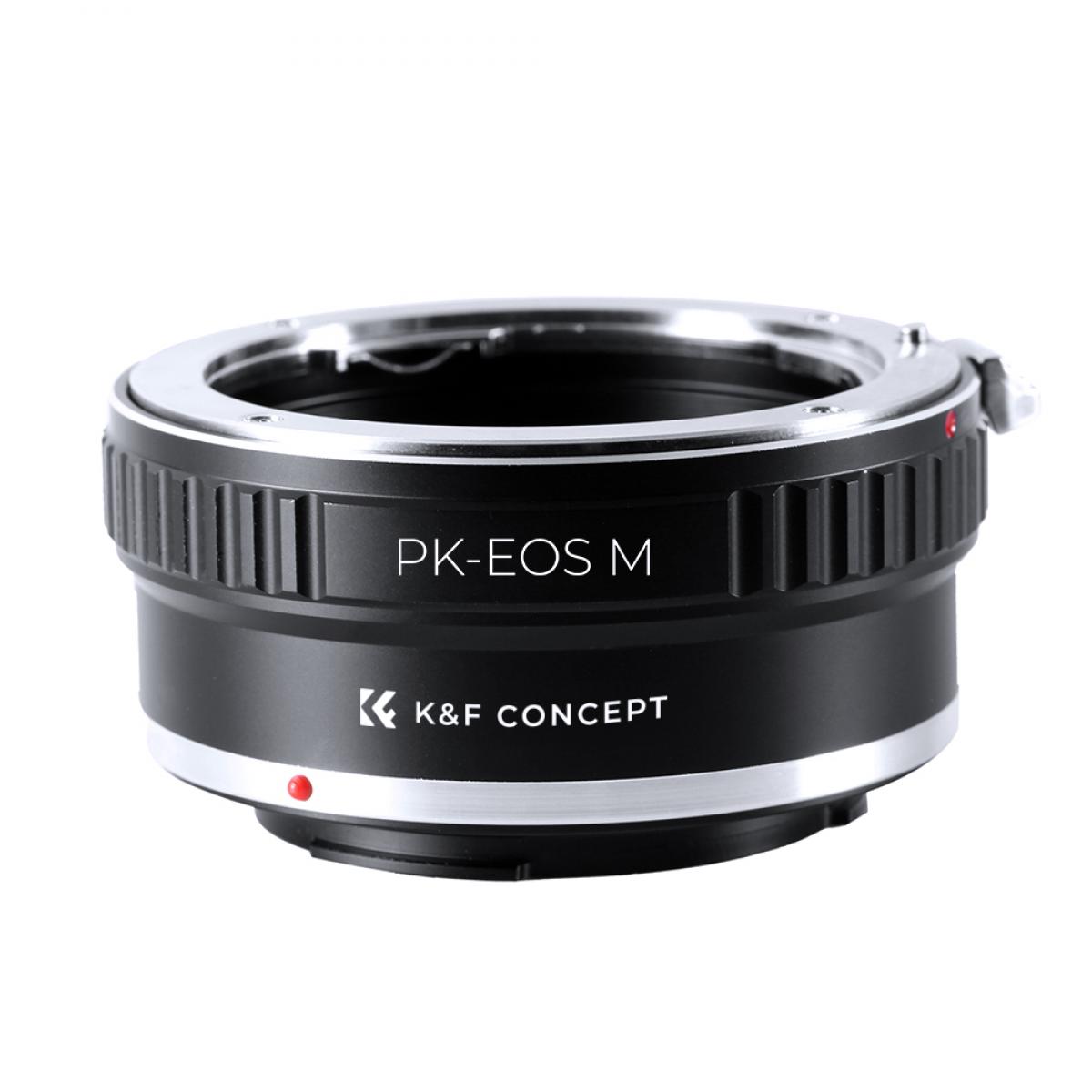 K&F Concept design and produce full range of lens adapters to fit lenses of Canon, Nikon, Pentax, Olympus, Leica, Contax Yashica, Minolta, Tamron, T2, C mount, Exakta, M39, M42, Pentacon etc used on Camera bodies of Canon, Nikon, Sony, Fujifilm, Pentax, Micro 4 3, Leica, M42, Cinema C mount etc.

High quality workmanship and flawless fit! My 50mm never looked so good!
This is a very well made adapter that mates smoothly and firmly between my old Pentax K lenses and my new Canon M50. It is completely passive with no glass or electronics. My 50mm 2.0 never looked so good. Multiply your lens focal length (mm) by 1.6 to get the effective length on the M50 cropped sensor (50mm = 80mm). NOTE: To use on the M50, you must enable Release Shutter Without Lens AND turn off the Lens abberation correction (both Peripheral illum and Chromatic aberr). If you forget to disable the correction, an "err 70" may occurr if you use the focus zoom aid function (magnifying glass) and you'll need to remove the camera battery to reset it. I've since turned the corrections back on and the issue has not happened again.
Perfect Adaptor
Have an old k-1000 35mm and it works great with my old manual lens on the Canon M series
Ottima costruzione e rapporto qualità/prezzo eccellente
Ottimo adattatore, utilizzato per convertire il mio corredo vintage Pentax alla eos-m che uso come videocamera di backup.Ho scelto questa marca al posto di altre piiù conosciute per risparmiare un po', ma sono rimasto sorpreso dalla qualità costruttiva!L'adattatore è tutto il metallo ed aderisce perfettamente sia al corpo macchina che agli obiettivi, non ci sono differenze di resa rispetto ad adattatori più cpstosi che pure ho provato in passato.L'ho testato sa con ottiche leggere (28mm f 3.5, 50 f1.7, 135 f2.8) che con obiettivi ben più pesanti (ad esempio il Pentax 70-210 f4 che pesa quasi 1 kg) e non presenta strani giochi.Consigliatissimo.
Anello Adattatore Perfetto
Ottimo acquisto con un ottimo rapporto qualità/prezzo.L'anello è di buona fattura, realizzato tutto in metallosi innesta nella fotocamera perfettamentecosì come le ottiche K si agganciano senza alcun problema!Peccato solo sia sprovvisto di tappi (problema di poco conto)CONSIGLIATISSIMO !!!
Canon M5 (EF-M) nicht ganz ok
Artikel wieder zurückgesandt.Im Prinzip rein optisch nicht schlecht verarbeitet, einziges Manko - die Bajonettverbindung zur Kamera hin nicht fest (genug), d.h. jedes drehen an Entfernung oder Blende am Objektiv ruckelt, weil sich der Adapter an der Kameraseite x/10mm mitdreht. Optisch schien sich das aber nicht auszuwirken, aber das fotografieren machte mir haptisch so keinen Spass.Artikel von der Konkurrenz (KECAY - ich hoffe der ist nicht baugleich, hatte sie nicht zeitgleich da, in dem Fall gäbe es aber andererseits ordentliche Fertigungstoleranzen) passte "stramm" an beiden Seiten.
Adapter
camera
EOS M
lens
PK
Ring Material
These images belong to K&F Concept end users.
| Image | Lens | Mount | Filter Size (mm) |
| --- | --- | --- | --- |
| | 3M-5SA 500mm f/ 8.0 | Pentax K | 72 |
| | 3M-7 300mm f/ 5.6 | Pentax K | 67 |
| | Access P-MC 35-70mm f/ 2.5-3.5 | Pentax K | 58 |
| | Access P-MC 70-210mm f/ 3.5 (one ring) | Pentax K | 62 |
| | Access P-MC 70-210mm f/ 3.5 (two rings) | Pentax K | 62 |
| | Admiral G.M.C. 135mm f/ 2.8 | Pentax K | 55 |
| | Admiral MC Automatic 28mm f/ 2.8 | Pentax K | 52 |
| | Aetna Rokunar MC Auto Zoom 35-200mm f/ 3.8-5.6 | Pentax K | 67 |
| | Agfa Color 135mm f/ 2.8 MC | Pentax K | 52 |
| | Agfa Color 50mm f/ 1.9 Coated | Pentax K | 49 |
| Camera | Mount |
| --- | --- |
| Canon EOS M | Canon EF-M |
| Canon EOS M10 | Canon EF-M |
| Canon EOS M100 | Canon EF-M |
| Canon EOS M2 | Canon EF-M |
| Canon EOS M3 | Canon EF-M |
| Canon EOS M5 | Canon EF-M |
| Canon EOS M50 | Canon EF-M |
| Canon EOS M6 | Canon EF-M |