XN25 46mm ND1000 (10 Stop) Fixed ND Filter Neutral Density Lens Filter Multi-Coated Optical Glass, for DSLR Camera
Buy 99$-9$, 199$-25$, 299$-39$, 599$-100$
New customer gift package
To
United States
Expedited Shipping
3-5
business days
Neutral density filters restrict light entering a camera lens. It is often used for photography of landscape subjects such as waterfalls, running water, waves, mountains and rivers.

KF01.1000

SKU:

KF01.1000

21.99

https://www.kentfaith.com/KF01.1000_k-amp-f-concept-46mm-nd-filter-nd1000-10-stops
Buy 99$-9$, 199$-25$, 299$-39$, 599$-100$
Description
* 【Premium Quality】Solid ND Lens filter (NOT a variable nd)Made of high quality optical glass, no colour cast while providing solid 10 f-stop reductions and enabling longer exposures to capture the beauty of time and movement.
* 【Keep Real colors】Adopted 28-Layer multi-resistant coating technology, the green coating helps effectively reduce filter surface reflection and the ghosting while making the filter anti-scratch, water repellent, oil and dust resistant.
* 【Ultra Slim and Lightweight】Super slim and lightweight aluminum frame, maximum reduce impact on light and effectively avoid dark corner for wide-angle shooting.
* 【Functions】ND1000 Filter Enables slow shutter speeds to be used to record movement in subjects such as waterfalls, providing a silky smooth affect to flowing water.
* 【Choose the right size】This K&F ND1000 is compatible with all 46mm lenses. Please verify your camera's lens thread size before ordering. Your camera's lens thread size will be marked somewhere on the lens barrel or printed underneath your lens cap. This number is always preceded by a "Ø" (diameter) symbol. For example: Ø77=77mm lens thread size.
Shipping
To
United States
Expedited Shipping
3-5
business days
Sale
Buy 99$-9$, 199$-25$, 299$-39$, 599$-100$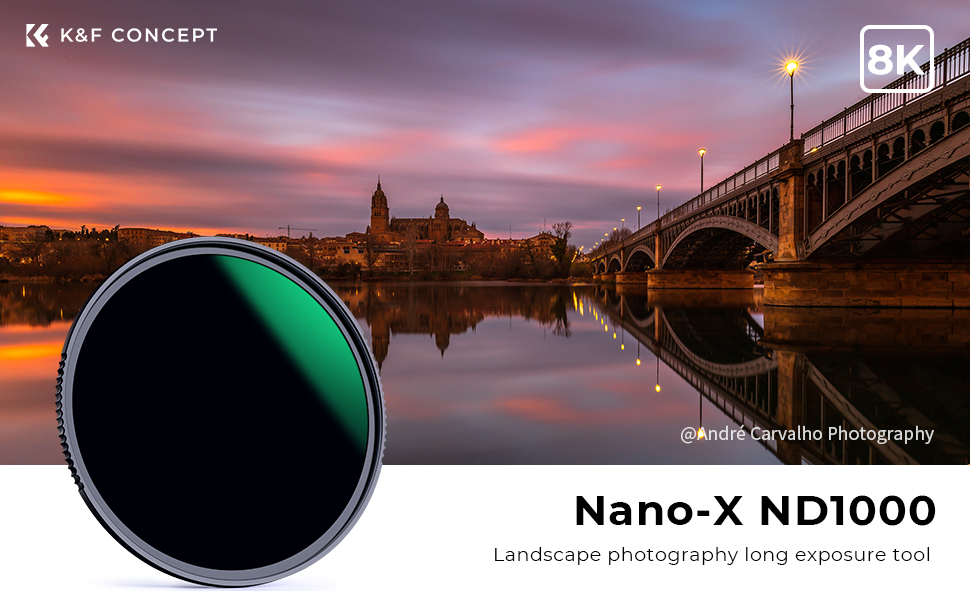 K&F Concept ND1000 Filter (10 stops) Fixed Neutral Density Filter with 28-layer Coating Waterproof and Scratch Resistant
• K&F Concept professional fixed 10 stops Nano-X neutral density ND1000 filter helps you get better shots in bright light as well as assists you with some special effect images.
• The fixed ND1000 neutral density filter enables the shooter to provide 10 stops of exposure light reduction without affecting color balance.
• Recommend using it in extreme sun days when recording the water movement on a slow shutter.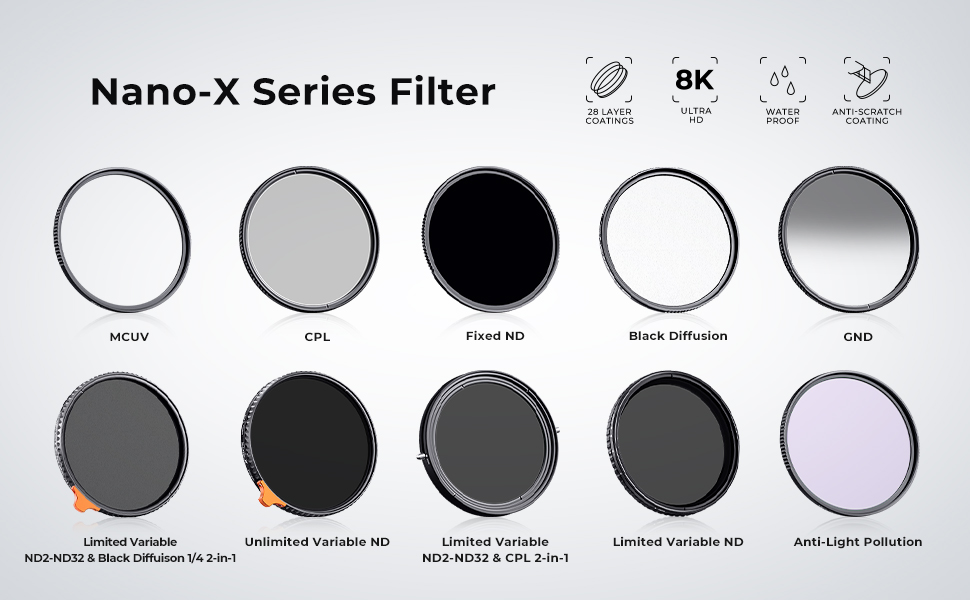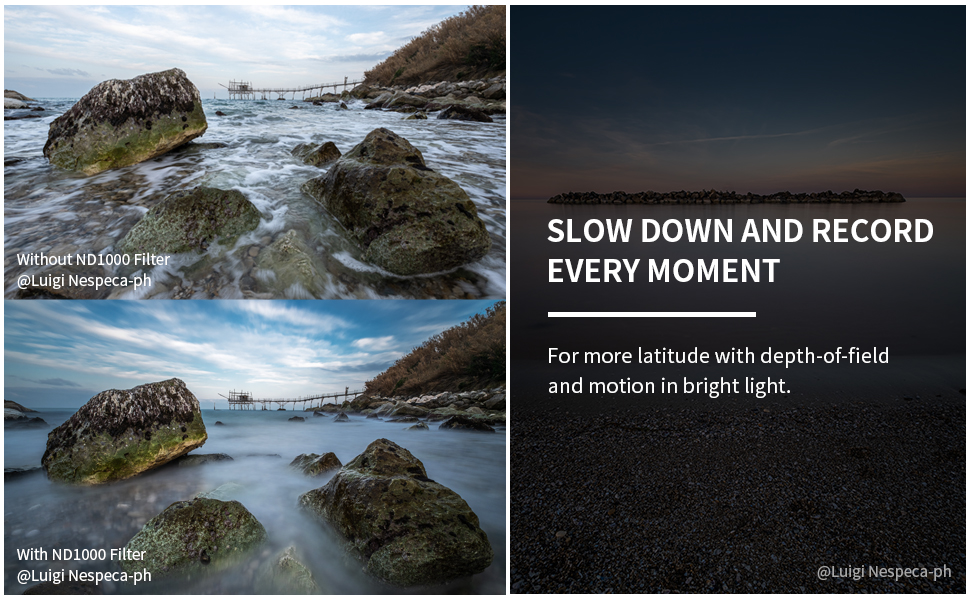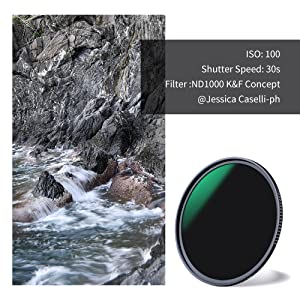 Main Benefits
Slower shutter, better exposure ND filter K&F Concept fixed ND1000 for long exposure landscape photography and motion blur effects without overexposure of the image in bright light.
A fixed 10 f-stop light reduction allows you to use wider apertures for a shallower depth of field or slower shutter speeds for blur, or a combination in high light conditions.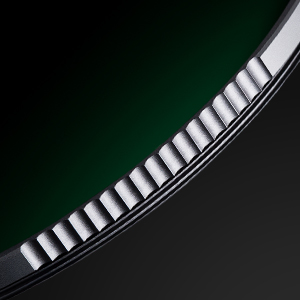 3.3mm Ultra-Slim Frame
• Aviation aluminum alloy frame, ultra-thin and lightweight enough, suitable for wide-angle telephoto without vignetting
• Note: This K&F Concept neutral density filter is only compatible with the same size lens. This number is always preceded by a "Ø" (diameter) symbol. For example. Ø77mm = 77mm thread size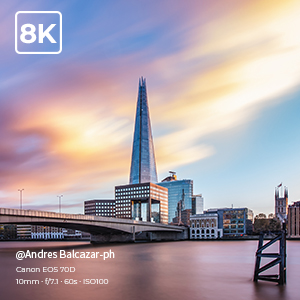 Import Japanese AGC Glass
• Made by import Japanese optical glass with 28-layer coatings offers the excellent anti-reflective ability, is scratch-resistant, waterproof, high definition, and outstanding protection.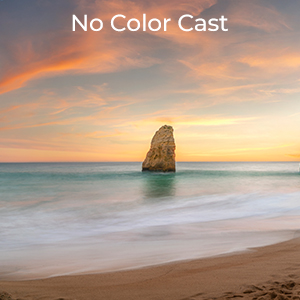 Better Control, Wider Aperture
• Get the stunning depth of field with wider apertures even in bright light with the K&F Concept ND1000 neutral density filter.
• For best results use a tripod, as long exposures are enhanced by the contrast between the silky blur and the sharpness of still objects.

| | | |
| --- | --- | --- |
| | | |
| | | |
| | | |
| Rating | 58 reviews. | 33 reviews. |
| Price | $21.99 | $35.99 |
| Model | KF01.1000 | KF01.1165 |
| Reflectivity | 0.2% | 0.2% |
| Size | 46mm | 46mm |
| Series | Nano-X series | Nano-X series |
| Recommended Scenes | Landscape Photography | Video Shooting/Landscape Photography |
| Function | Light reduction effect | No X cross/Light reduction effect |
| Stops | 3.0(10 Stops) | 0.3 to 1.5(1 to 5 Stops) |
| Filter Material | Japanese AGC Glass | Japanese AGC Glass |
| Multi-Coating | 28 layers | 28 layers |
| Waterproof | √ | √ |
| scratch-resistant | √ | √ |
| HD | √ | √ |
| Transmittance | 0.001 | ∕ |
| Antireflection | √ | √ |
| Filter Thickness | 3.3mm | 7.3mm |
| Ring Material | Aviation aluminum alloy | Aviation aluminum alloy |
All Reviews
Image

All Star

5 Star

4 Star

3 Star

2 Star

1 Star
My best pictures I have ever taken
Easy to use. Watch a couple of your tube videos on how to use and this picture made it worth the purchase.
15/05/2023
10 second exposure on the Gulf of Mexico
This 10 stop ND filter is a lot of fun. No vignetting that I could see, although the edge of the filter is visible at the widest lens setting, likely because I'm using it with a step-up ring glued to the front of my Canon G7X mk.ii!
14/05/2023
ABSOLUTELY AMAZING!
This filter is absolutely amazing! Quality for a fraction of the price! I used today and it worked flawlessly! Totally worth it!

I was using a Canon 6D w/ 24-105 F4
13/05/2023
Great - but cover your viewfinder!
I just received this (52mm, for a Nikon 50mm f/1.8 on a D600) and it looks solid.
Initially, I had some trouble with the exposure. In a setting where aperture priority gave me 1/100s (w/o filter), I expected to get 10s shutter speed with the ND1000. However, the camera came up with ~1/5s - and the photo was almost black. It took me a while to figure out that the metering was affected by light coming in from the viewfinder. Once I covered that, the images were well-exposed (and I got the 10s, as expected).
I hope this saves others some time and worries (one hour in my case, plus the fear of having wasted $28 and not being able to understand my camera...)
25/04/2023
Great little filter
Note much to say great quality
25/04/2023
Good
Very good does its job
24/04/2023
Good
Look forward to using it this spring
24/04/2023
How to check your lens size
Gimbal Stabilizers
Reflectivity
0.2%
Filter
Size
46mm
Series
Nano-X series
Recommended Scenes
Landscape Photography
Function
Light reduction effect
Stops
3.0(10 Stops)
Filter Material
Japanese AGC Glass
Multi-Coating
28 layers
Waterproof
√
scratch-resistant
√
HD
√
Transmittance
0.001
Antireflection
√
Pattern
√
Filter Thickness
3.3mm
Shape
Circle
Ring Material
Aviation aluminum alloy