XN25 95mm ND1000 (10 Stop) Fixed ND Filter Neutral Density Lens Filter Multi-Coated Optical Glass, for DSLR Camera
Buy 99$-9$, 199$-25$, 299$-39$, 599$-100$
New customer gift package
Free shipping to eligible country
Neutral density filters restrict light entering a camera lens. It is often used for photography of landscape subjects such as waterfalls, running water, waves, mountains and rivers.

KF01.1365

SKU:

KF01.1365

62.99

https://www.kentfaith.com/KF01.1365_kf-concept-95mm-neutral-density-lens-filter-10-stops-nd-1000-filter-hd-18-layer-neutral-grey-nd-lens-filter-with-multi-resistant-nano-coating
Buy 99$-9$, 199$-25$, 299$-39$, 599$-100$
Description
* 【Premium Quality】Solid ND Lens filter (NOT a variable nd)Made of high quality optical glass, no colour cast while providing solid 10 f-stop reductions and enabling longer exposures to capture the beauty of time and movement.
* 【Keep Real colors】Adopted 28-Layer multi-resistant coating technology, the green coating helps effectively reduce filter surface reflection and the ghosting while making the filter anti-scratch, water repellent, oil and dust resistant.
* 【Ultra Slim and Lightweight】Super slim and lightweight aluminum frame, maximum reduce impact on light and effectively avoid dark corner for wide-angle shooting.
* 【Functions】ND1000 Filter Enables slow shutter speeds to be used to record movement in subjects such as waterfalls, providing a silky smooth affect to flowing water.
* 【Choose the right size】This K&F ND1000 is compatible with all 95mm lenses. Please verify your camera's lens thread size before ordering. Your camera's lens thread size will be marked somewhere on the lens barrel or printed underneath your lens cap. This number is always preceded by a "Ø" (diameter) symbol. For example: Ø77=77mm lens thread size.
Shipping
Free shipping to eligible country
Sale
Buy 99$-9$, 199$-25$, 299$-39$, 599$-100$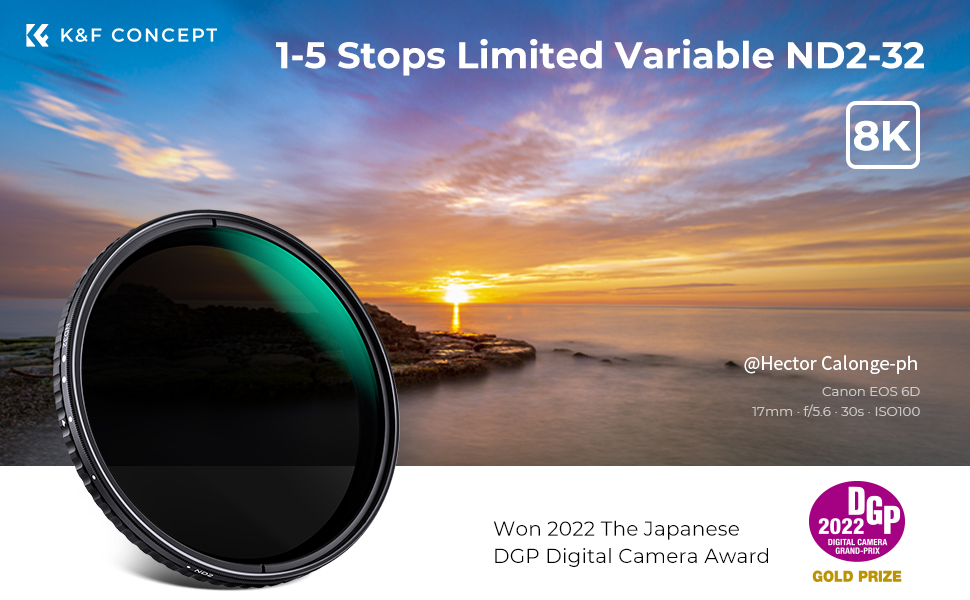 ND-------Extend exposure time. Try an ND or neutral density filter. ND filters reduce the amount of light entering the lens. This makes it easier to achieve effects such as a shallower depth of field or blurred motion.
• The neutral density filter can be adjusted from 1 to 5 stops, easy to create different light reduction effects by rotating the ring.
• The front diameter is larger than the back diameter of this filter, which is specially designed to avoid vignetting at a wide-angle lens.
• Allows the use of slow shutter speeds, with high-speed films or digital cameras, to record movement/image blur in subjects.
• Decrease the depth of field by using wider apertures, which helps separate subjects from their background.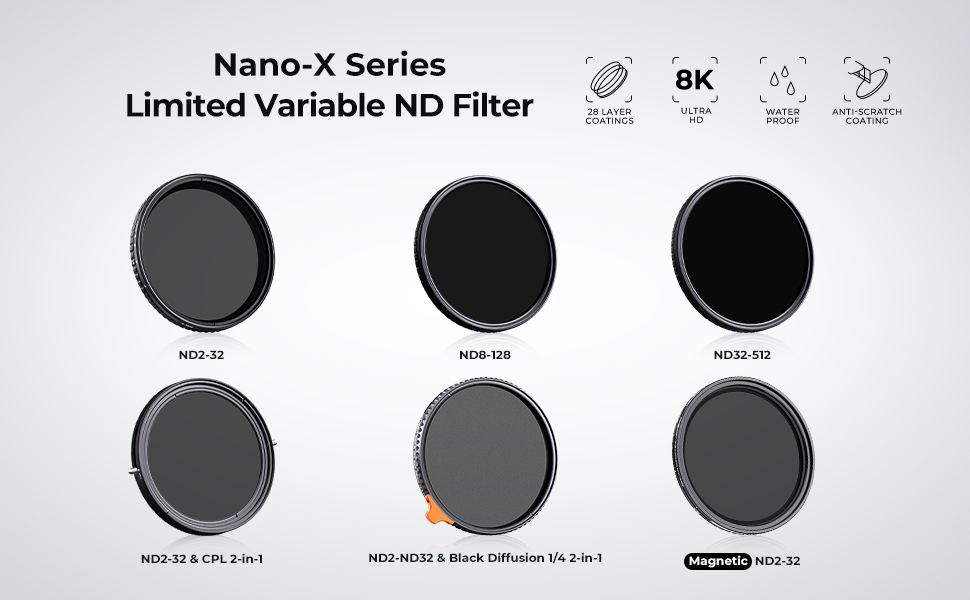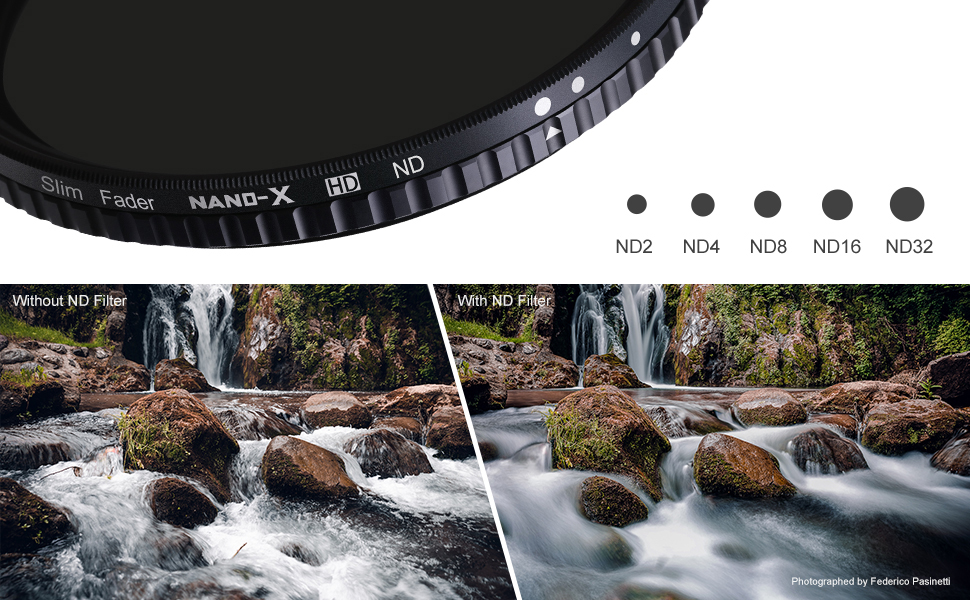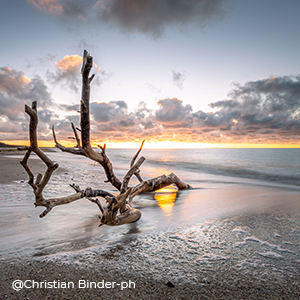 28 Multi -Layer Nanometer Coatings
In addition to state-of-the-art MRC, our optical engineers developed new nano-coating layer technology, called nanotech, from the ground up to repel dirt, water, and other elements by beading rather than absorbing and smearing. To withstand extreme wind, saltwater, dust, and other abrasive conditions and elements.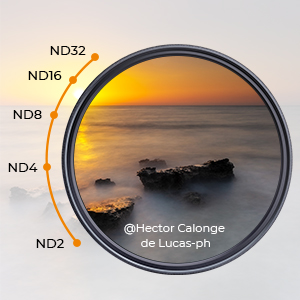 No "X" Cross on Images
K&F utilizes cutting-edge technology you're going to say goodbye to this common issue with wide-angle lenses and variable ND filters.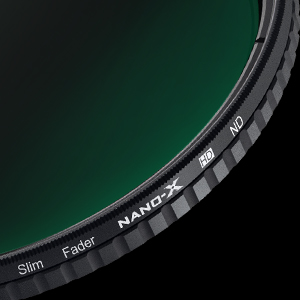 Hydrophobic & Scratch Resistant
The ND filters are made with premium Japan AGC optical glass, which could resist scratch, protecting your camera lens well.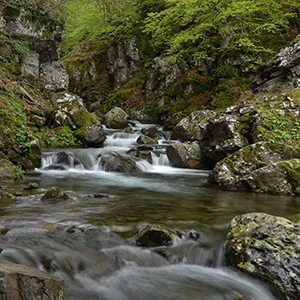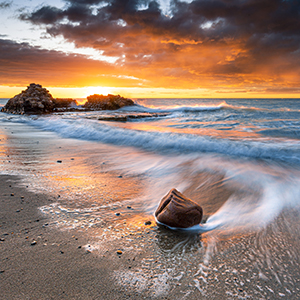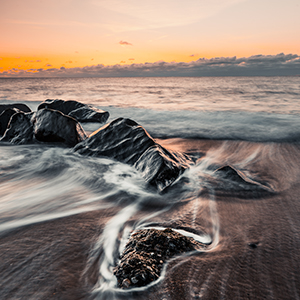 All Reviews
Image

All Star

5 Star

4 Star

3 Star

2 Star

1 Star
day and night
A great little piece of kit, fantastic for silky smooth water shots. Excellent quality glass and threads and an item that is essential for any serious photographer.
04/12/2022
Image quality is convincing with long exposure
An ND1000 filter is particularly interesting for landscape photography. This can be used to draw waterfalls softly, for example. For this I used this filter a few times on vacation and was not disappointed. I've attached a sample photo. (River with lateral water drainage) The image quality is consistently the same over the entire photo. The darkening is also even. Have fun taking pictures!
03/12/2022
As described above
This filter makes the colors of my photos more vivid and saturated. I would 100% recommend this filter.
02/12/2022
Recordings during the day as if it were night!
This filter enables me to get dark picture effects when the sun is shining. Often times, stopping down does not produce the desired effect and the shutter speed is simply too short despite all efforts. With this filter it is possible to take long exposures with a reasonable aperture in bright light conditions. I am very satisfied with this filter and have no complaints whatsoever. At dusk the filter darkens too much and I would use a less intensive ND filter. This filter is my recommendation for hobby photographers! ... no idea whether a professional needs something else !?
01/12/2022
Great value for money
I bought this filter for my EF S 55-250 IS STM. Fits perfectly.
23/11/2022
Great filter!
I am very satisfied with the ND filter. Can't see any color cast and the price is right too.
20/11/2022
Great on Nikkor 50mm 1: 1.8
I tried the ND1000 58mm on my Nikkor 50mm 1: 1.8G. It was really very bright and you can see what came out of it in the photos. :) I can only recommend.
19/11/2022
Very nice color rendering
Camera wide angle
19/11/2022
Now I can see eclipses without melting my retina.
I took some long exposures and I was fine. I gave it 5 stars because I'm not an expert on ND filters, so I don't know if the quality is the highest there is. But it seems good to me
17/11/2022
Do You Know How Your K&F Concept Filters be Produced? | One-day Tour in Production Line
How to check your lens size
Gimbal Stabilizers
Reflectivity
0.2%
Filter
Size
95mm
Series
Nano-X series
Recommended Scenes
Landscape Photography
Function
Light reduction effect
Stops
3.0(10 Stops)
Filter Material
Japanese AGC Glass
Multi-Coating
28 layers
Waterproof
√
scratch-resistant
√
HD
√
Transmittance
0.001
Antireflection
√
Pattern
√
Filter Thickness
3.3mm
Shape
Circle
Ring Material
Aviation aluminum alloy