4.3 inch digital microscope, coin microscope, 50X-1000X magnification, with 8 adjustable LED lights, suitable for adults and children outdoor and home use
Buy 2 get 5% off, Buy 3 get 10% off, buy 6 get 20% off
Free shipping to eligible country
Brand:

KENTFAITH

Buy KENTFAITH 4.3 inch digital microscope, coin microscope, 50x-1000x magnification, with 8 adjustable led lights, suitable for adults and children outdoor and home use online, worldwide free shipping and 30 days return guarantee.

GW45.0008

SKU:

GW45.0008

70.99

https://www.kentfaith.com/GW45.0008_4-3-inch-digital-microscope-coin-microscope-50x-1000x-magnification-with-8-adjustable-led-lights-suitable-for-adults-and-children-outdoor-and-home-use
Description
* 50-1000X Digital Magnification: Provides 50X-1000X magnification (the magnification corresponds to the size of the monitor), allowing you to clearly see the smallest details, such as plants, coins, diamonds, rocks, etc.;
* 4.3-inch LCD screen: Display stunning images and videos directly on the 4.3-inch high-definition screen, the LCD digital microscope allows you to view your observations in detail and make quick adjustments immediately, more convenient and accurate for your eyes to observe compared to traditional microscopes will no longer be weary;
* Connect to PC for a bigger view: Supports connecting to a PC or laptop via USB cable and viewing objects on a larger display, no additional software downloads required, just run the Windows system's default application "Windows Camera". Note: Not compatible with Mac OS;
* 8 Adjustable LED Lights: The microscope has 8 adjustable LED lights built into the microscope that can be dimmed from dim to bright with a slide switch, ensuring you can see tiny details clearly and brightly in a variety of environments. A video microscope is not just a microscope, but a camera that can take pictures and record videos. It is convenient for you to save new discoveries during the observation process (maximum support 32GB TF card, excluding TF card);
* Versatile, Great Gift: Easy to assemble and focus, ideal for circuit board inspection, insects, coins, jewelry, anatomy, gemstones, trichomes, rocks and stamps, watch repair, skin testing, educational inspections for children, textile industry, biology Observation, QC inspection (not for cellular and medical use), ideal gift for children and adults.
Shipping
Free shipping to eligible country
Sale
Buy 2 get 5% off, Buy 3 get 10% off, buy 6 get 20% off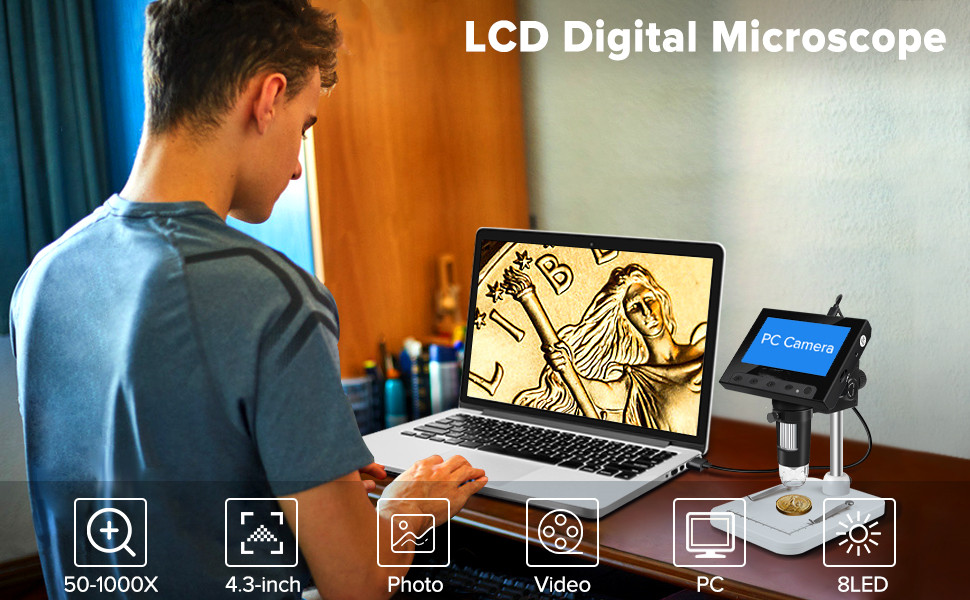 What's the advantage of 4.3 inch digital microscope
4.3 inch 720P HD Screen
50-1000X Magnification
8 Adjustable LED Lights
Photo and Video Capabilities
Easy to Install and Use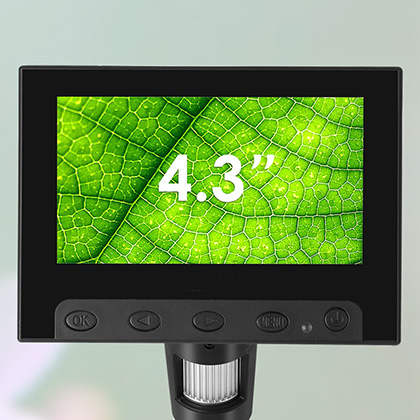 Amazing Images on 4.3" Screen
electronic microscope utilises a built-in 4.3 inch screen which allows you to view directly,which is more convenient for adjust and accurate observation,also your eyes and neck will be no tired comparing with traditional microscope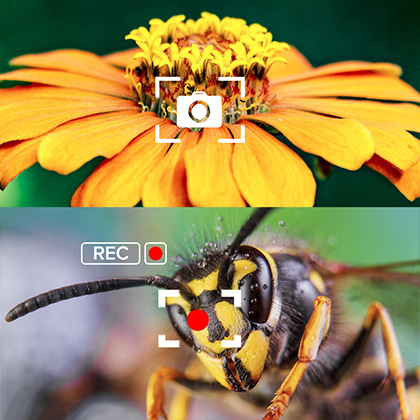 Video and Photo
Built in video and photo modes allow you to snap good quality photos and record videos of the tiniest details or new discovery and share to your friends
---
NOTE: use this function need insert tf card first (tf card not included in our package)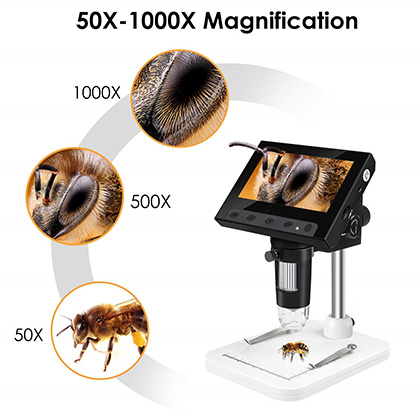 50X - 1000X Digital Magnification
Raise or lower the microscope to adjust the distance between camera and objective,easy to zoom in and out and focus by adjusting the knob to view the incredible details at a magnification range from 50X to 1000X
---
The actual magnification differs due to the screen size, the distance between camera and observations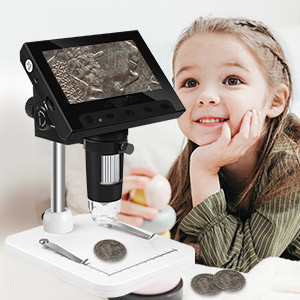 Explore the Micro World for Kids
Designed to encourage a curiosity and a strive to learn more, this versatile video microscope is easy-to-use and powerful enough for any kids who shows mild interest in science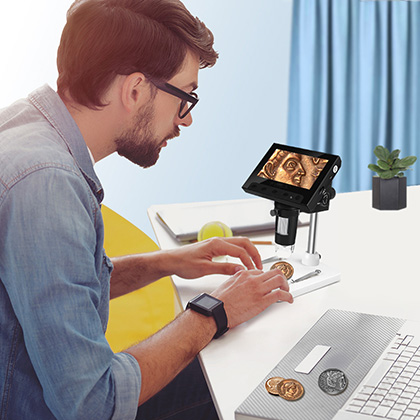 Ideal gift for coin collector
Coin microscope for error coins is the perfect gift for coin collectors,which will let your coin collector interest to a new level. No need struggling to use a magnifying glass or peer through a tiny jeweler loupe!
---
Note: Due to the limited height of the stand, only the part of the coin can be seen, not the entire coin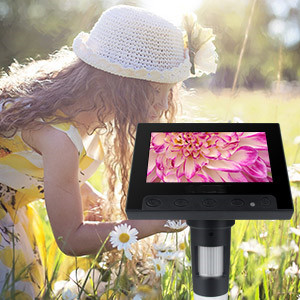 Outside Use
This Handheld microscope can be used without holder. It's perfect for observing little living things outside.
---
Supporting power bank charging makes outdoor exploring much easier.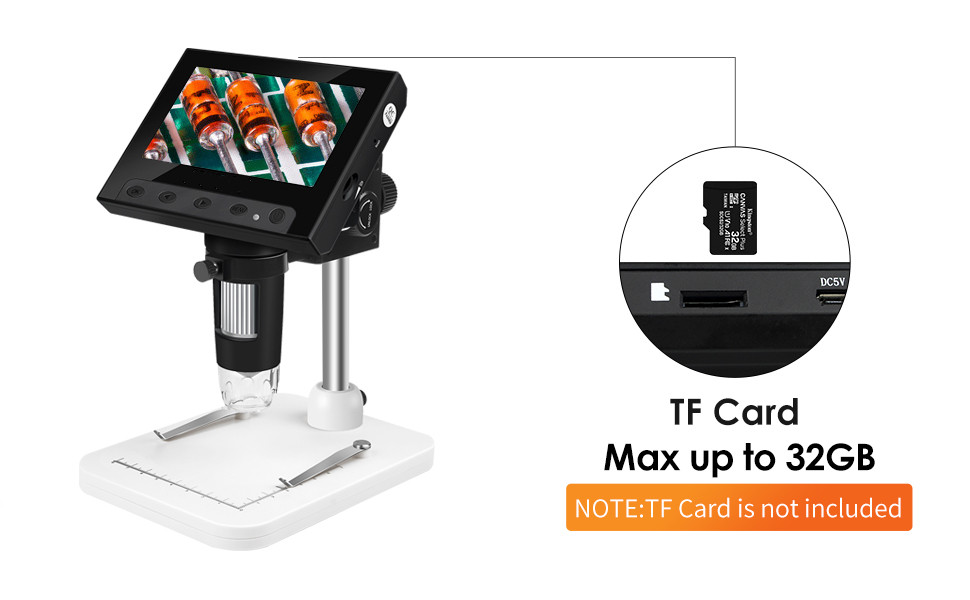 Specification:
Screen Size: 4.3 inch
Resolution: 720P
Magnification: 50X-1000X
Adjustable Brightness: 8 LED lights
Support PC System: Windows XP,win7, win8.1,win10,or higher,don't support Mac
For Focus Range: 10~40mm
For Focus mode: Manual operation
Interface:Micro/usb2.0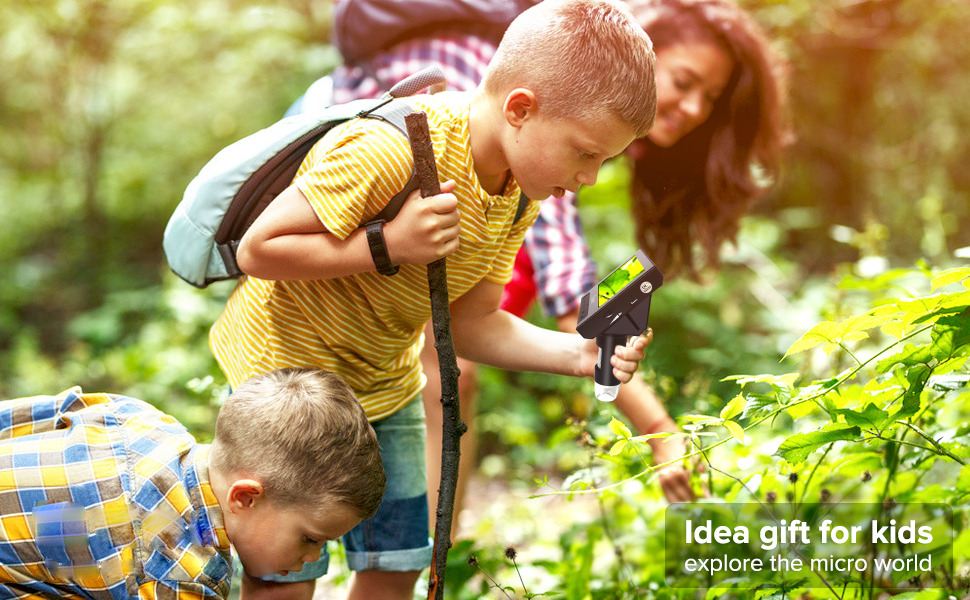 | | |
| --- | --- |
| Product name | DM4 |
| Video maximum pixel | 720P |
| Lens Optical Size | 1/6.5" |
| Photo resolution | VGA 1.3M 2M 3M |
| Video resolution | VGA 720P |
| Data format | JPG/AVI |
| Focus Mode | Manual |
| Image format | JPG/BMP |
| Magnification | 500/1000 |
| Light source | 8 LED lights (adjustable brightness) |
| Focusing range | 10~40mm (view the distant view) |
| PC resolution and image transmission rate | 640*480/26fps, 1280*720/26fps |
| White Balance | Auto |
| Exposure | Auto |
| PC operating system | Windows, xp, win7, win8.1, win10 or higher |
| Supported languages | 12 languages |
| Lens structure | 2G+IR |
| Aperture | F4.5 |
| Camera angle | 16° |
| Interface and signal transmission mode | Micor/usb2.0 |
| Operating temperature | -20°C ~ +60°C |
| Working humidity | 30%~85%Rh |
| Working current | 330mA |
| Power consumption | 1.65W |
| Packing size | 21.8*18*8.5cm |
| Packing weight | 640g |
| Packing list | microscope body*1, bracket*1, manual*1, USB data cable*1, installation CD*1 |
There are no reviews for this product.
There are no faqs for this product.