EF to E Mount Adapter Auto Focus EF-NEX Electronic Adapter Ring for Canon EOS EF EF-S Mount Lens to Sony E NEX Mount Cameras
Out Of Stock
Product Unavailable
No Cancellation Fee
99$-15$ / 199$-30$ / 299$-55$ / 599$-120$
New customer gift package
Free shipping to eligible country
Free Shipping. 30 Day No Reason Return. K&F Concept Auto Focus EF-NEX Electronic Adapter Ring features quality material, sturdy structure, wide compatibility, high precision, long service life.

KF06.433

SKU:

KF06.433

106.99

https://www.kentfaith.com/KF06.433_ef-e-electronic-adapter-ring
99$-15$ / 199$-30$ / 299$-55$ / 599$-120$
Description
* Small Body, Big Function - Auto-focus function;Aperture Adjustment: aperture exactly being adjusted via the mount adapter;Integrated built-in aperture iris with selectable clicked / de-clicked aperture faster.
* Auto Focus & Aperture Control - K&F Concept EF-E adapter comes with the Gold-Plating Contact, perfectly support high-speed Auto Focus and can achieve rapid detection and accurate tracking images to realize greater photography effect, it greatly enhances conductivity and effectively transports EXIF Info
* Wide Compatibility - Allow you to mount Canon EOS EF EF-S mount D/SLR Lenses to Sony E-mount mirrorless cameras such as Sony E mount are A7/A9/A7S/A7 II/A7S II/A7R II/A7R/A5300/A6000/A6300 A6500; infinity focus or beyond allowed
* Support Lens Image Stabilizer - Support IS lens stabilization function. It makes your pictures great sharpness in most situations, whichever is moving, weak light, and night light.
* Suitable Cameras - compatible with Sony E mount are A7/A9/A7S/A7 II/A7S II/A7R II/A7R/A5300/A6000/A6300 A6500. While suitable for Sony Camera models are PXW-FS5M2/NEX-7/NEX-FS100.More compatible models in the Description list
Shipping
Free shipping to eligible country
Sale
99$-15$ / 199$-30$ / 299$-55$ / 599$-120$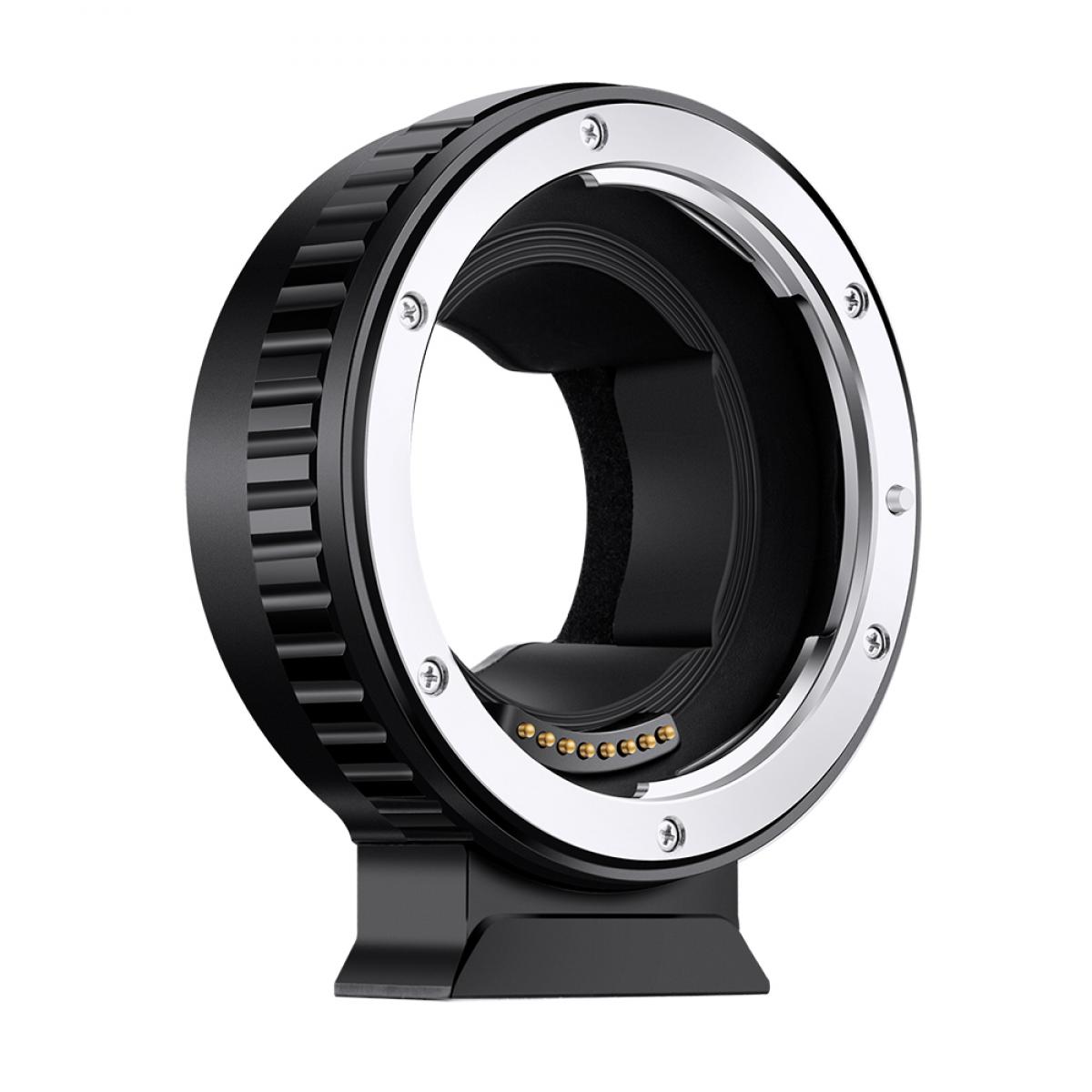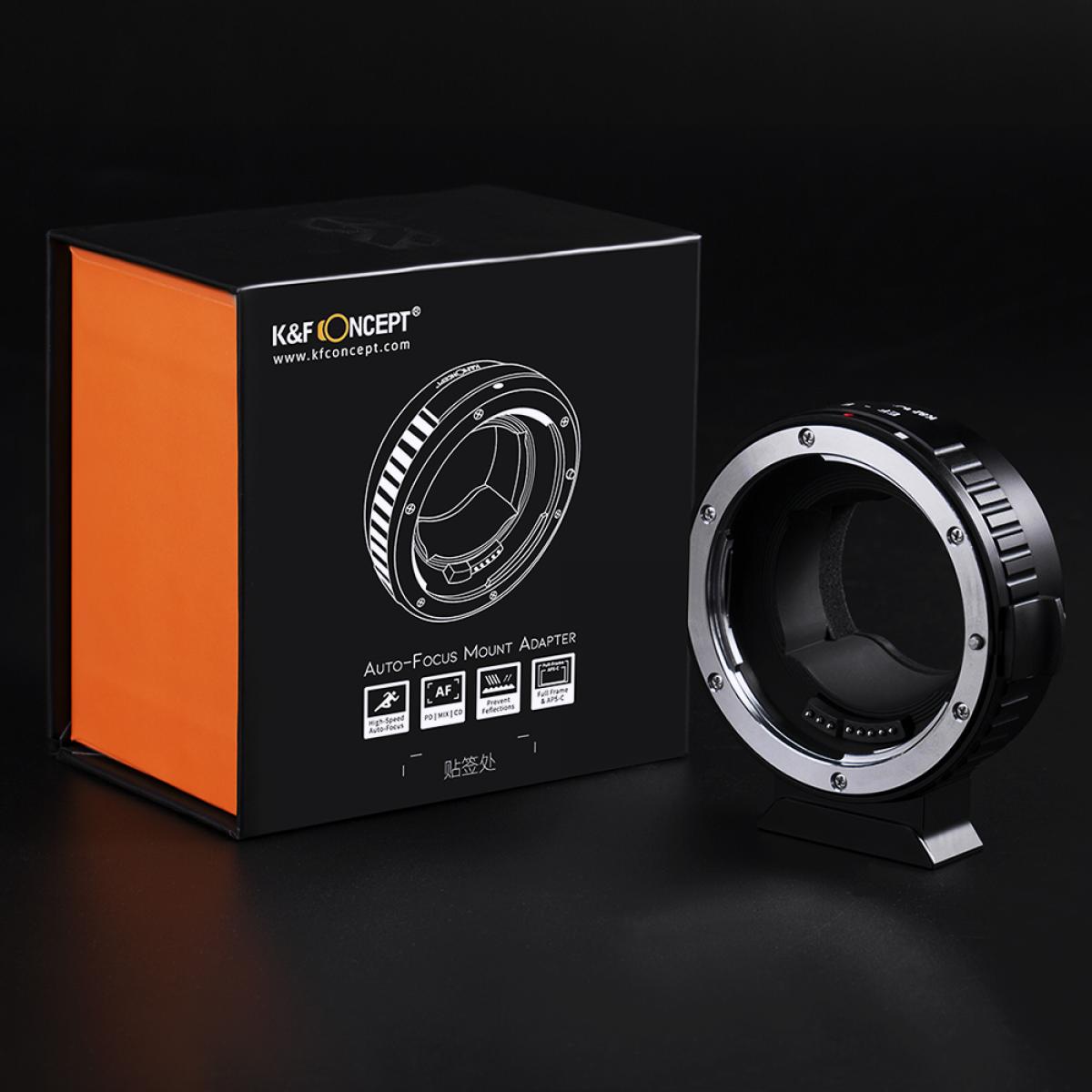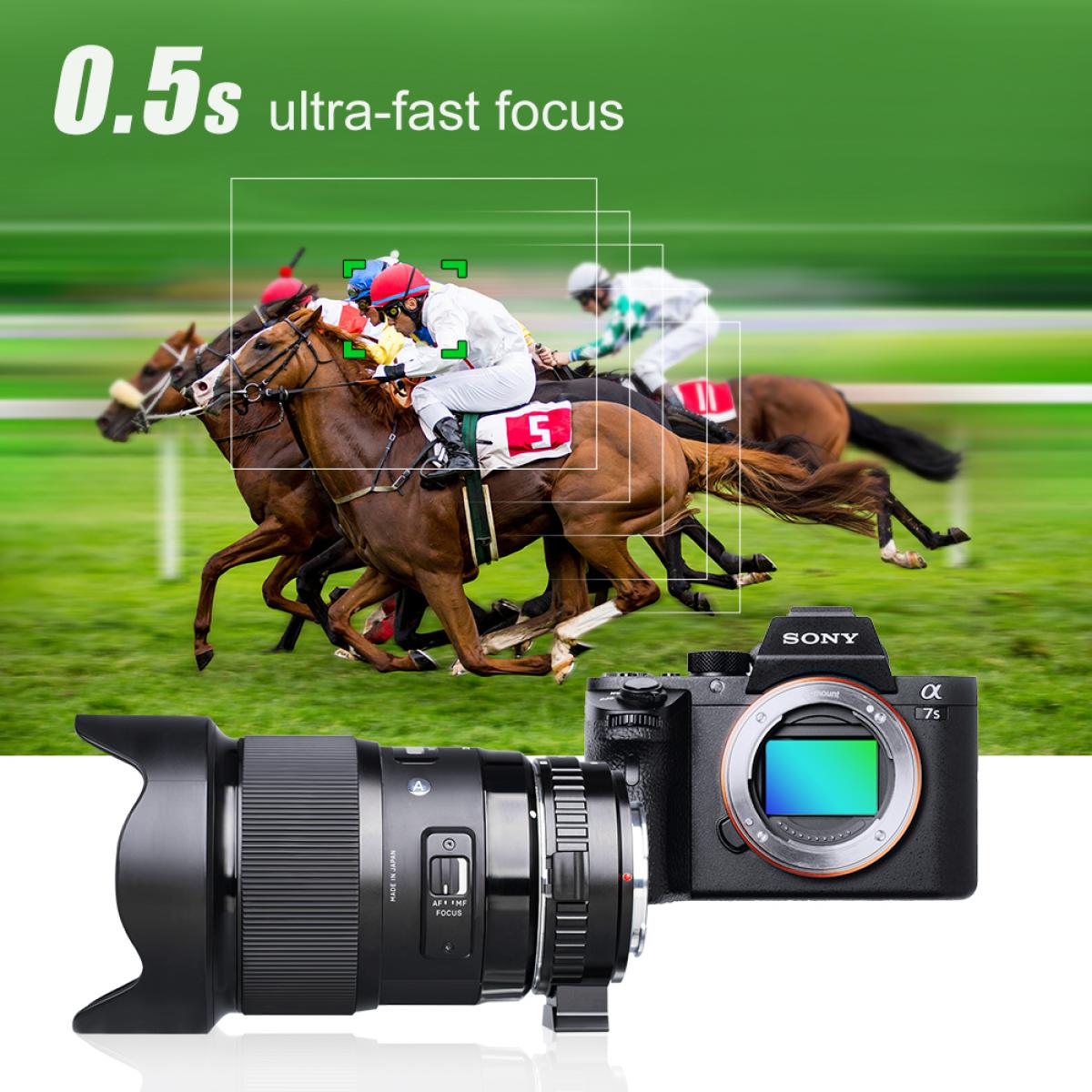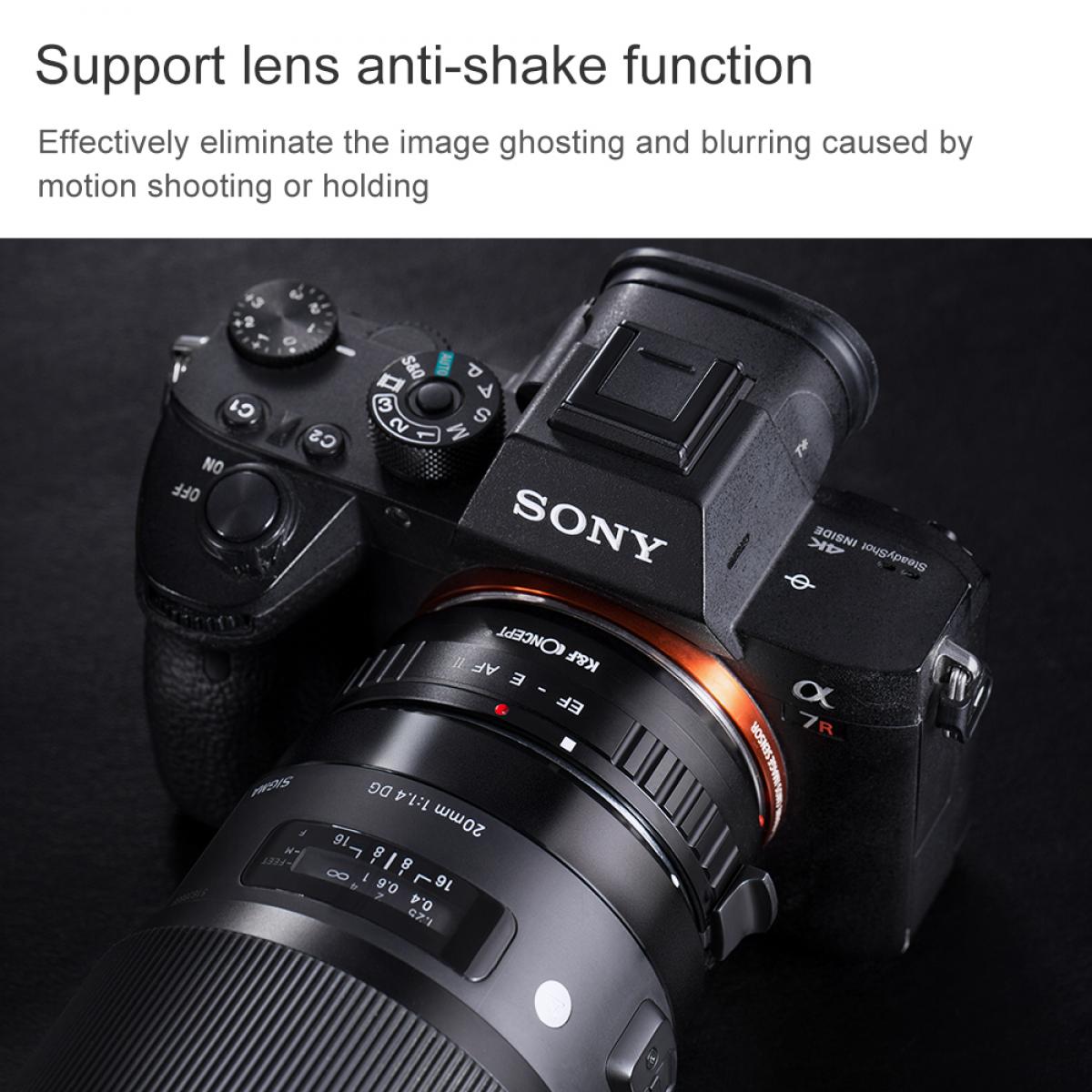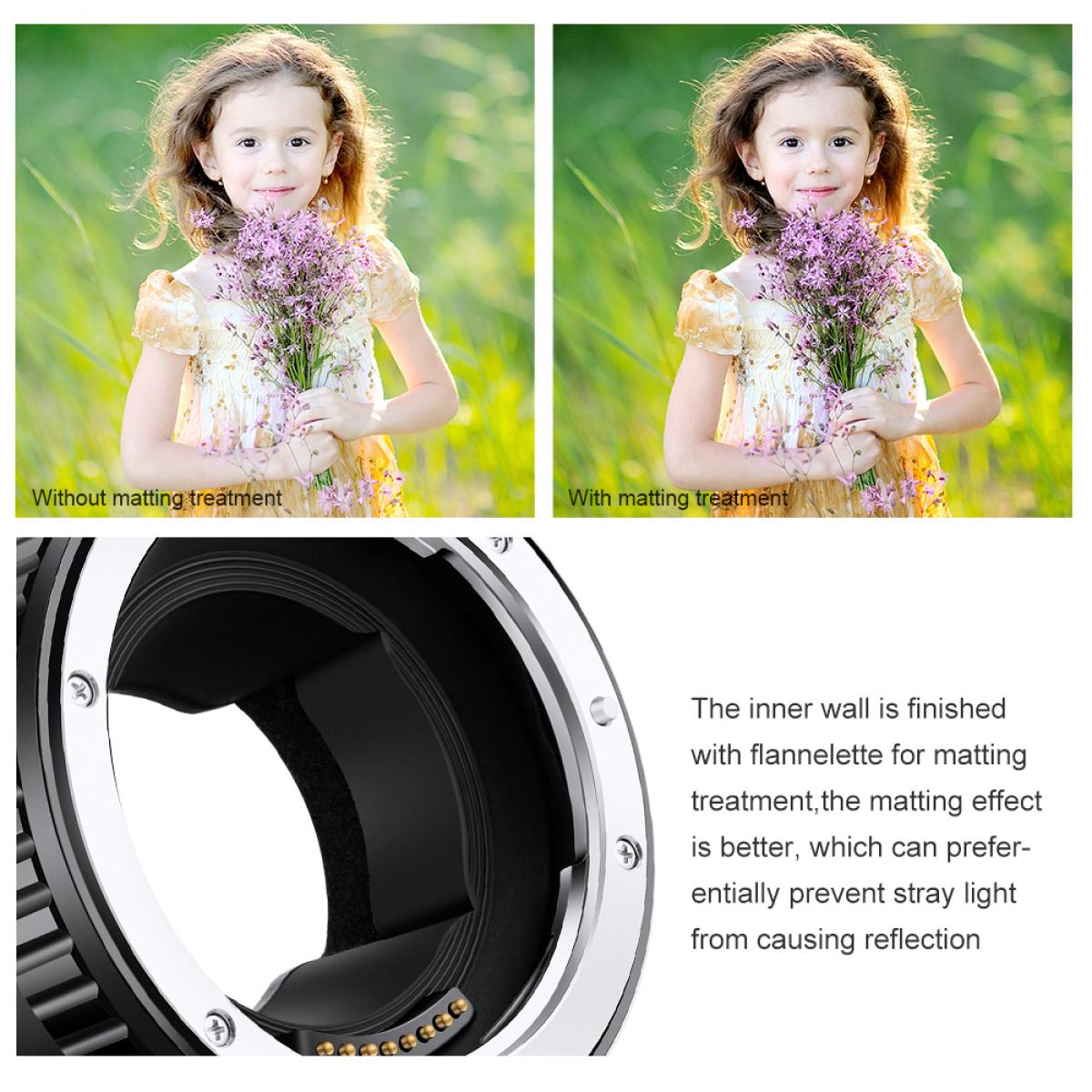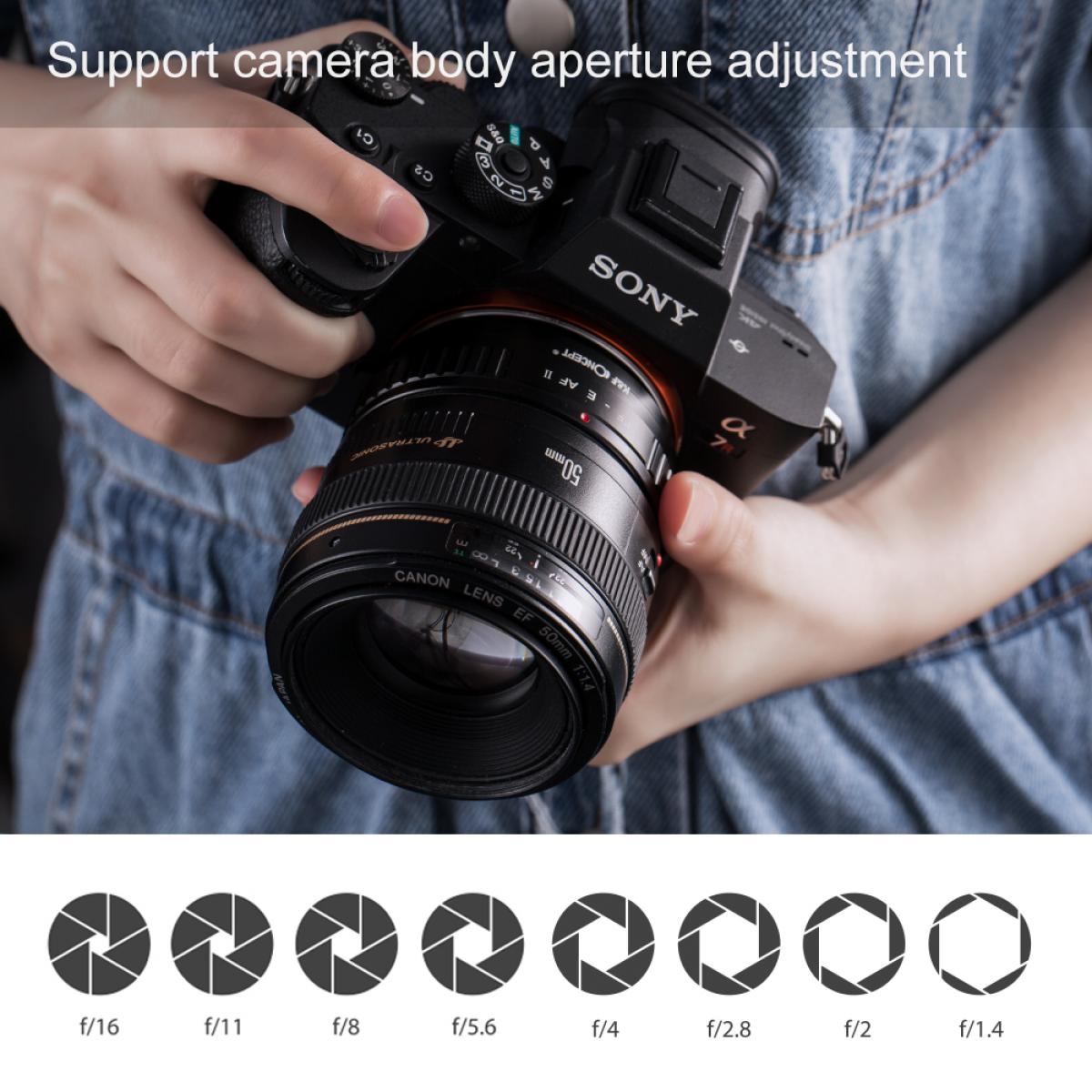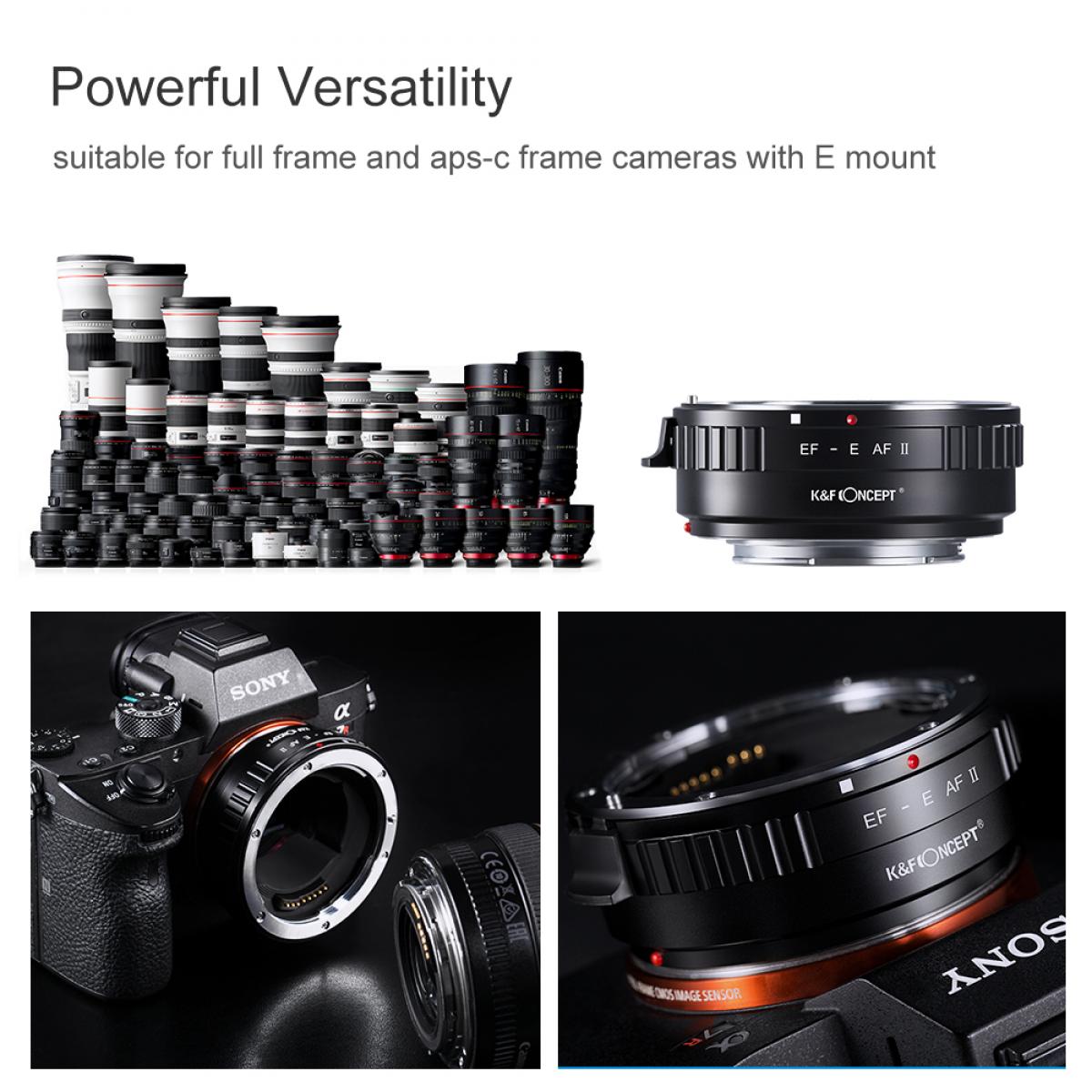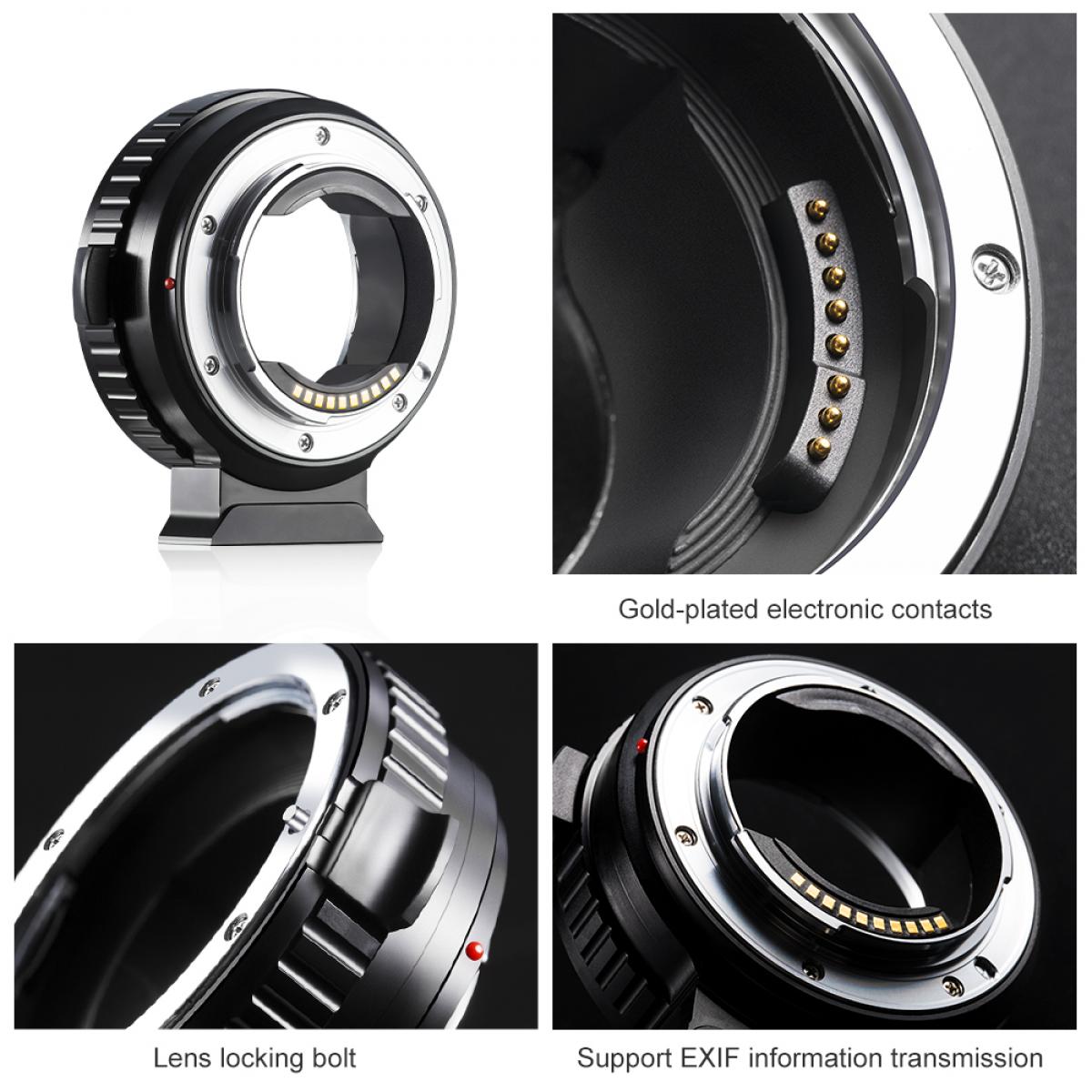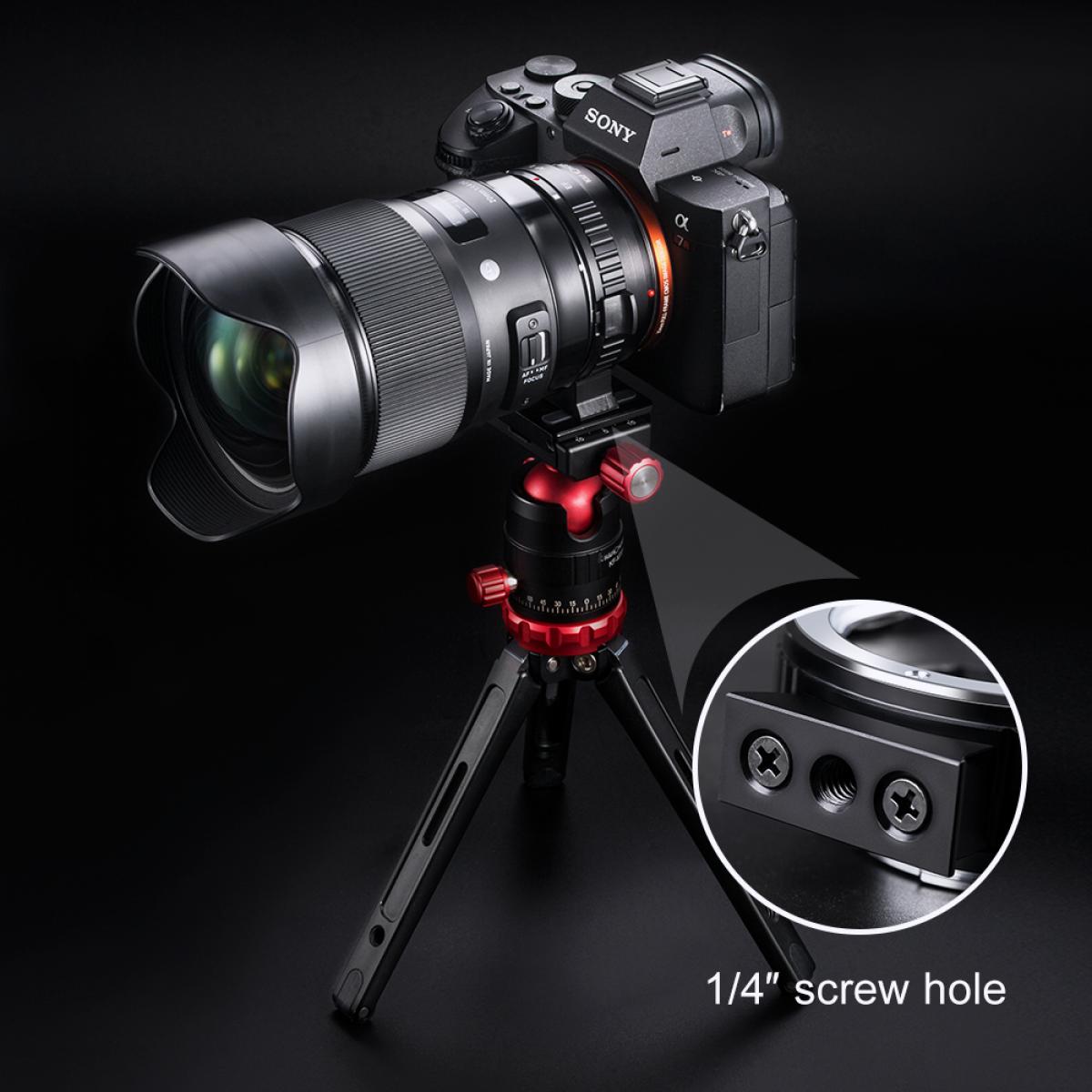 All Reviews
Image

All Star

5 Star

4 Star

3 Star

2 Star

1 Star
F mount adapter allows full aperture range for Nikkor 200mm f4 to Sony A7
The adapter for the Nikon G mount does not allow the 200mm f4 lens to stop down all the way. It stops at about f11. The default state of the lens is stopped down, so with the F mount adapter, one can control the aperture from f4 down to f32.
The connection of the lens to the adapter and the connection of the adapter to the camera are both solid. The adapter appears to be well made.
29/06/2021
Solid adapter for FL -> Sony E
I attached this (FD edition) to a Canon FL 55mm f1.2 on a Sony A7iii - works exactly as described, attaches and detaches to the camera body cleanly, feels hefty/solid. I do wish the "lock" functionality would lock a little harder because it sometimes un-twists during use, but nothing that compromises the seal (basically, the adapter's lock functionality comes slightly un-done, but then you would still need to manually detach the lens from the adapter for there to be a problem). Glad I got this one.
31/10/2020
Comparable to lens adapters that are more than twice the price.
I ran a few tests with this adapter and here is what I have found.On the Sony a6000 it works for OK for taking photos.On the Sony a6500 it works well for both photos and videos.Note that your camera body and lens will render different results. This is due to the cameras and lenses. I compared this lens adapter to the Sigma MC-11 adapter and this worked just as well (and in at least one case better). Unfortunately I was only able to test on the aforementioned camera bodies so you will definitely want to do your research on which camera body you have to see if a lens adapter will work for you or not.If I were to give general advice it would be this: You can expect a lens adapter to work pretty well for taking photos but it will be hit or miss (probably mostly miss) for taking video.With my Sony a6000 I used this with the Canon 50mm 1.8 lens. The autofocus worked pretty well for photos. It didn't really work for video; too much focus breathing. I also tried with a Tamron 18-200 zoom lens. Autofocus worked ok for a zoom level of about 18 - 80; beyond that it really struggled. I didn't bother with video.With the Sony a6500 I tried a Sigma 18-35 f/1.8 lens. Both photo and video worked flawlessly. The Canon 50mm worked great for photos but not as well for video.Ultimately what I concluded is that this lens adapter works about as well as you can hope for a lens adapter. If this is your first time using a lens adapter though, you should not be under the false impression that this will work flawlessly for all camera bodies and lenses. In general, it will probably work better with newer bodies and newer lenses. For me it, it allows me to take photos with some of my older Canon lenses so I get great value out of this.
03/03/2020
These images belong to KENTFAITH end users.
There are no faqs for this product.
Adapter
Camera
NEX
Lens
EOS
Ring Material