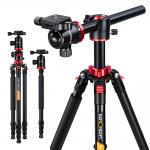 TM2534T Professional Camera Tripod Aluminium Portable Travel Tripod 76"/1.9m 22lbs/10kg Load with 360° Ball Head Quick Release Plate for DSLR
SKU: KF09.015
Q
I want to purchase additional quick release plates for this tripod. where can i get those so i get an exact fit for this tripod?
A
We care about our customers, any questions, you can ask us directly at service@kentfaith.com. All emails would be replied in 24 hours, no exception.
A
I believe the manufacturer should answer this question. Amazon should alkso have an answer. I do not know.