Yongnuo YN 50mm f/1.8N Standard Fixed Focus Lens Autofocus for Nikon F-mount Digital SLR Cameras
Buy KENTFAITH yongnuo yn 50mm f/1.8n standard fixed focus lens autofocus for nikon f-mount digital slr cameras online, worldwide free shipping and 30 days return guarantee.

GW21.0007

SKU:

GW21.0007

103.99

https://www.kentfaith.com/GW21.0007_yongnuo-yn-50mm-f-1-8n-standard-fixed-focus-lens-autofocus-for-nikon-f-mount-digital-slr-cameras
Description
* A compact normal-length fixed-focus lens designed for Nikon F-mount DSLRs, pairing a classic 50mm focal length with a bright f / 1.8 maximum aperture for a variety of situations.
* The metal bayonet lens mount is designed to be compact and lightweight to ensure a strong, long-lasting connection between the camera and the lens, and the gold-plated contacts allow operation in all exposure modes and transfer of lens information to EXIF data.
* Multi-coated glass elements reduce the effects of lens flare and ghosting to improve contrast and maintain color accuracy.
* The seven-blade diaphragm helps achieve smooth out-of-focus quality when using selective focus technology.
* The AF / MF switch on the barrel allows for quick switching between focusing methods, and the lens can focus up to 1.5 feet to accommodate shooting close-up subjects. note: Because the lens uses a DC motor, there is a motor-driven sound when focusing, so the ability to shoot video is slightly weaker.
Shipping
Free shipping worldwide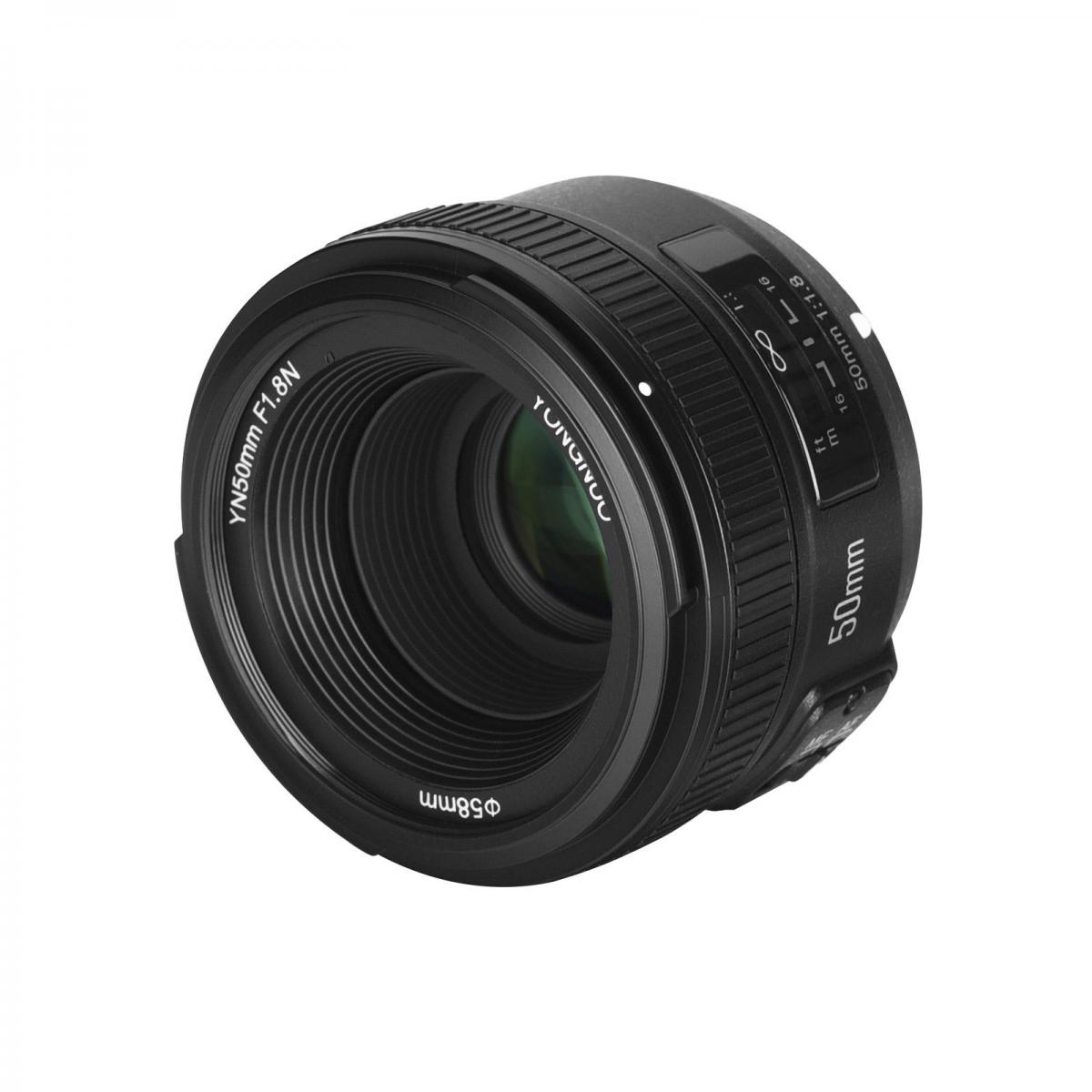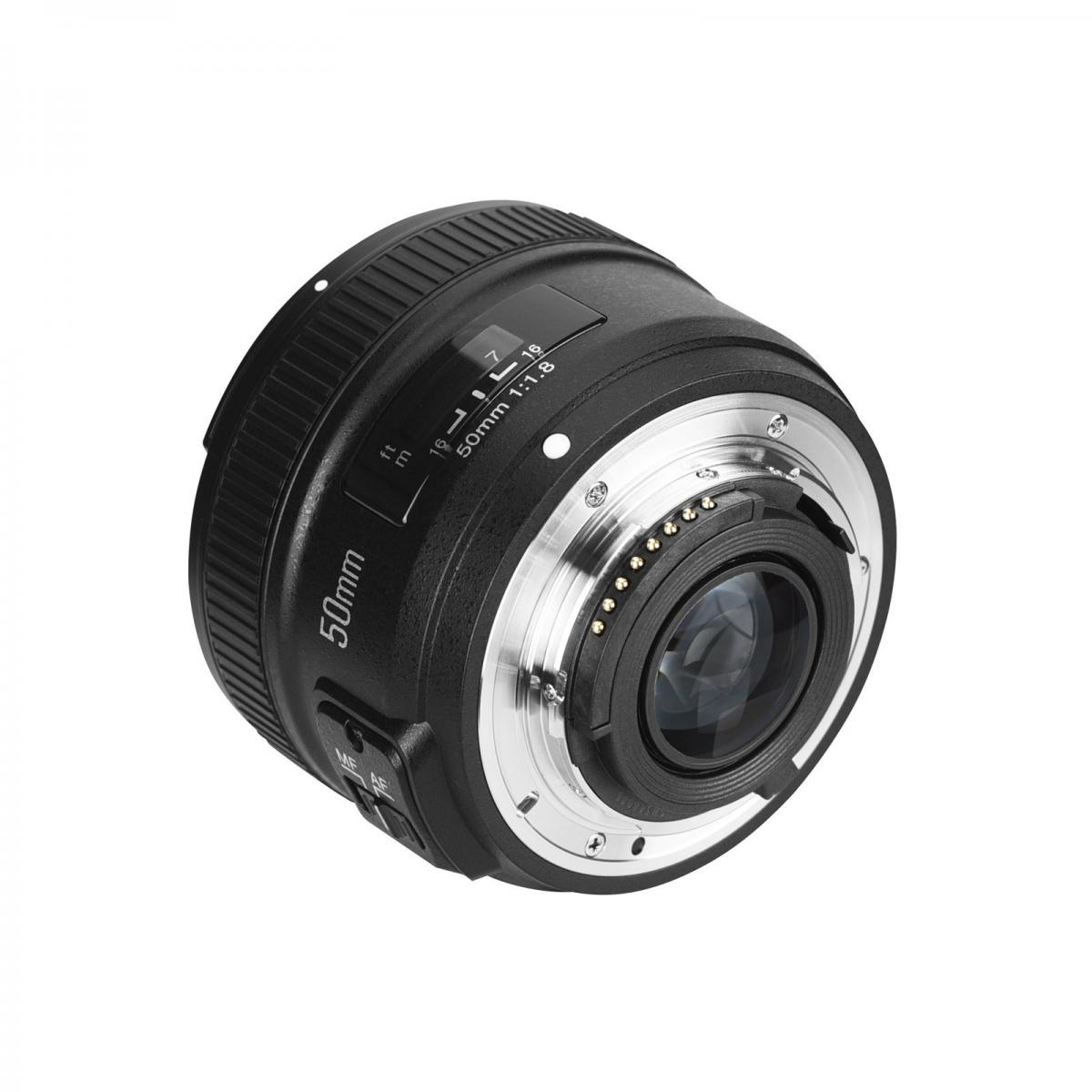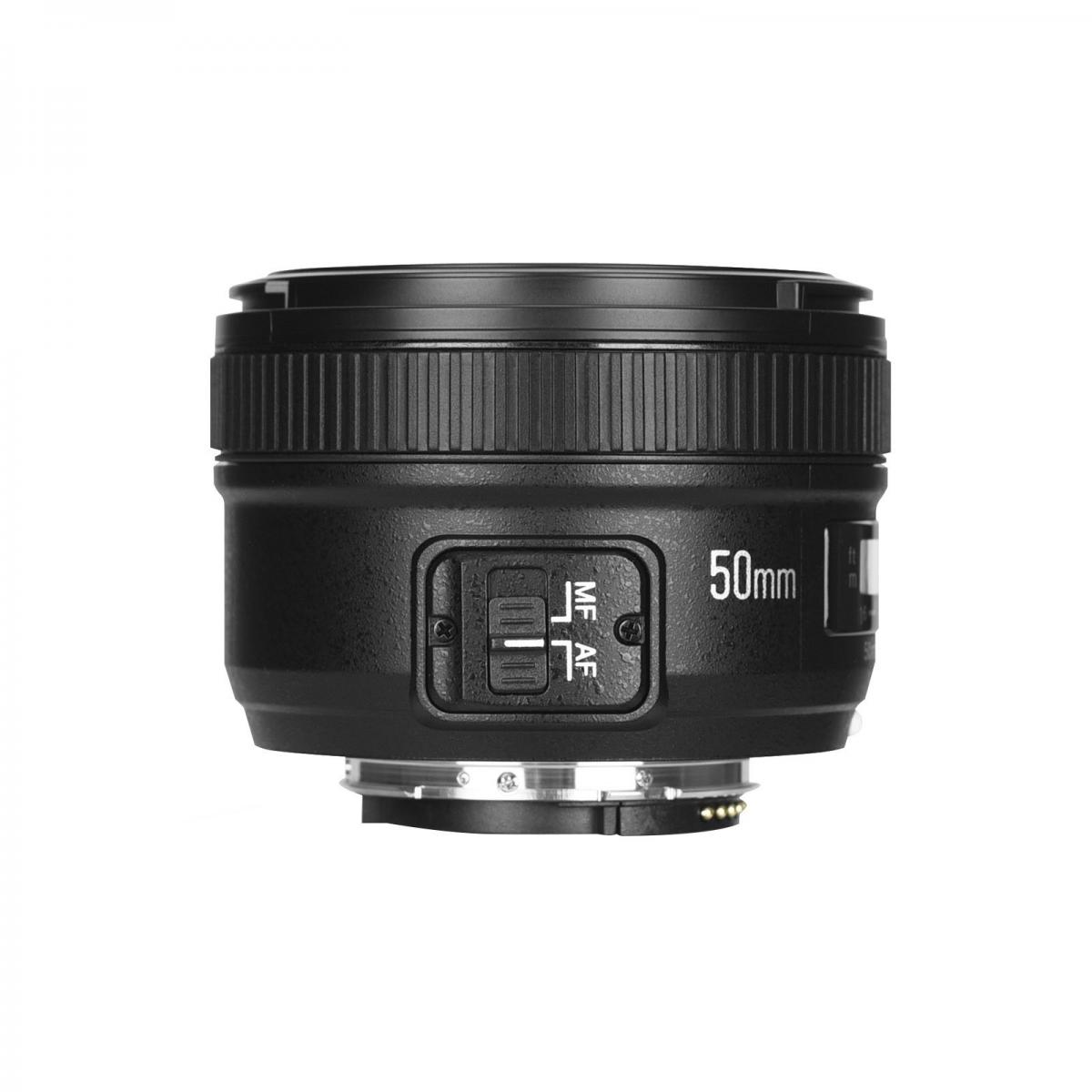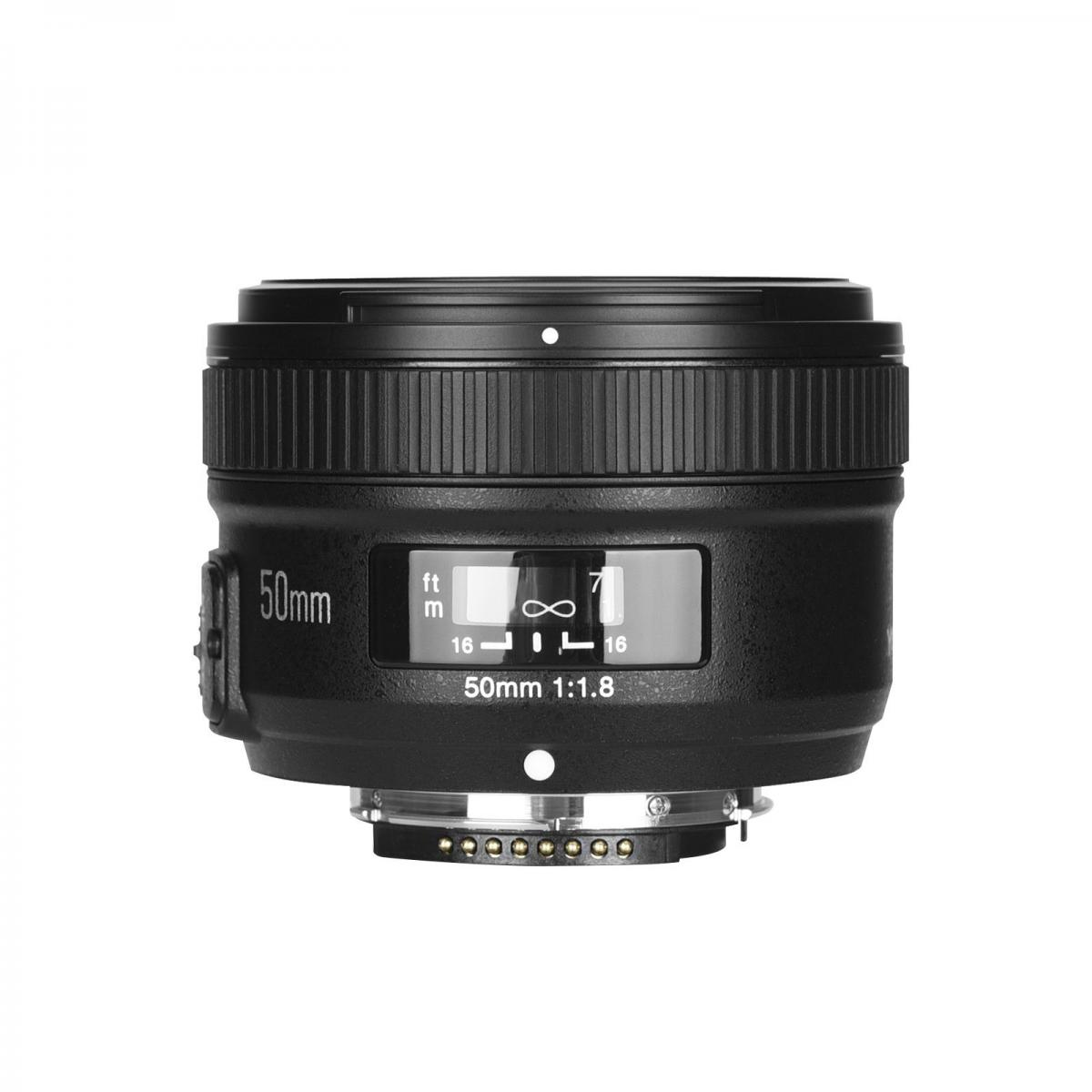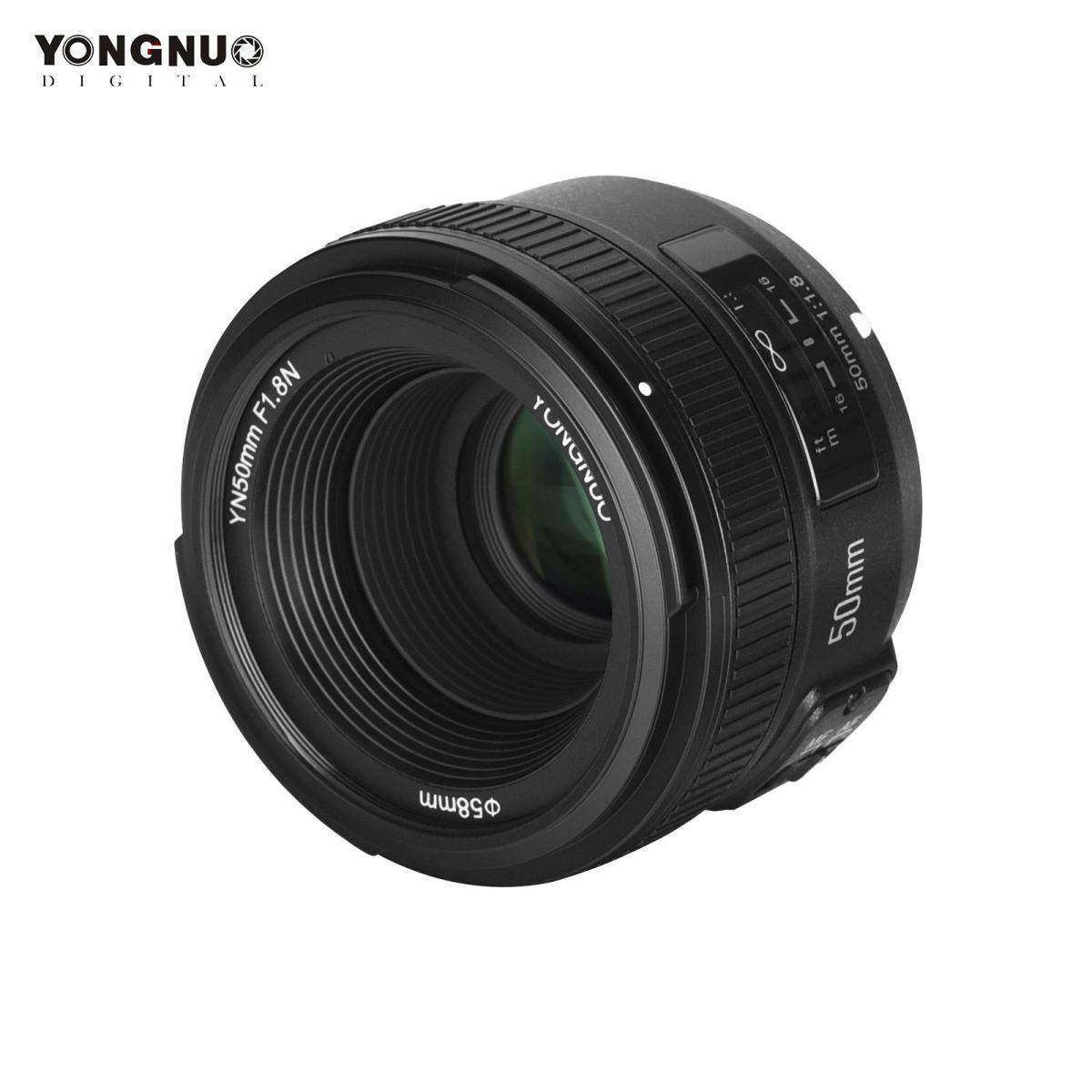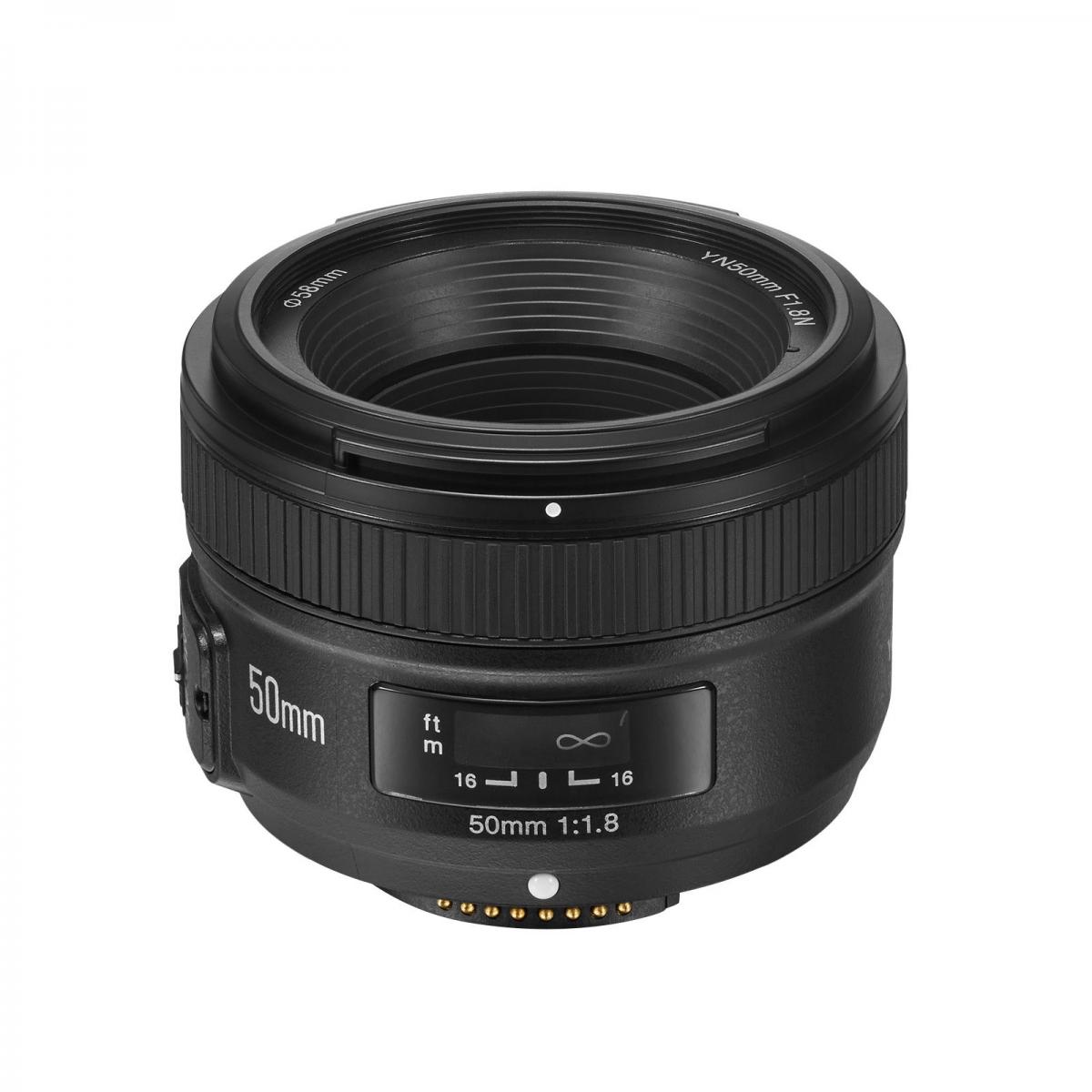 All Reviews
Image

All Star

5 Star

4 Star

3 Star

2 Star

1 Star
Good lens for the price. Highly recommended.
This lens is fully compatible with NIKON D3100 and D7500 (both DX format cameras) just like a Nikon original AF-S 50mm f/1.8G lens with one small difference; with the original Nikkor you can intervene directly in the AF mode and correct the sharpness manually, but not with this one; With the YONGNUO, the lens must first be switched to M (manual) mode. Autofocus works fairly quickly and reliably and isn't too loud, as some others have complained about. I'm not entirely satisfied with the sharpness (only at large apertures), but ok, I accept it. Since the 50mm focal length is built for FX format, in DX format it means a focal length of 75mm, so it's a light telephoto and the risk of camera shake is quite high. The camera must therefore be held very still! Otherwise this lens is a very good lens in terms of value for money, with beautiful, realistic colors and (in my opinion) soft and pleasant bokeh. I uploaded some photos here; they were made in "A" mode - aperture priority with an aperture of f1.8. Only the last photo of Schönbrunn Palace was made with f11. Maybe these pictures can help someone with their purchase.
19/03/2023
Good quality purchase for the price
A goal that does its job. Mounted on a Nikon D3400 it takes almost professional photos
17/03/2023
Top price/performance
Curiosity was too great, so I bought a Yungnuo 50 after all. I already had the Nikon variants Nikkor 50f1.8n / Nikkor 50f1.8D / Nikkor 50f1.8G and kept getting rid of them. I will keep the Yungnuo because the price and performance are very good. Of course, the Yungnuo can't keep up with the Nikkor G, be it in terms of optical performance or AF, but it's only 1/4th the price. The Yungnuo is very well made and looks very similar to the Nikkor G version. The autofocus is a little louder and not as accurate, but it's OK and not as loud as the Nikkor 50f1.8D rod autofocus variant. The optical performance is quite good if you stop it down a bit and the bokeh is also pleasing. Open at 1.8 the corners are quite soft, but at 2.8 it's ok. For someone who only uses it occasionally and doesn't demand performance like a Sigma 50 F1.4 Art, it's a good idea.
15/03/2023
Very happy with Yonguno's 50mm
I learned a lot about this lens, it's the first lens I've bought since I started in this world of photography, I just took a few photos to test it, I had heard that the AF was great is loud and a lot of history of this lens and it impressed me, it's fantastic and it hardly makes a laugh when focusing, I'm satisfied with this product I RECOMMEND IT 100%
14/03/2023
Good gate at a good price
It is a lens with very good image quality. Allows both automatic and manual focusing. Good accuracy. Compatible with Nikon 3300
12/03/2023
Price/performance/packaging
I keep coming back to this lens and comparing it to Nikon and the corresponding reviews. At some point I said fuck it, for the money I'll test it, although I like taking photos at night and it's just my hobby. That's what the lens is for Great. I can't say anything negative. The workmanship is also fine for me. If you can handle your camera well, you can get a lot out of it. In my case, the Nikon D 5200. The 5000 series from Nikon is the best for me anyway :-) Attached are two pictures. Einmsl night mode A. Long-term recording and a snapshot of my cat. Without putting in much effort. I am satisfied. Clear purchase recommendation for the product.
11/03/2023
Unbeatable!
I am more than satisfied with this lens. Bright, light, relatively fast, great bokeh, the only small point of criticism is perhaps the somewhat loud noise when focusing and the design - which is absolutely unimportant for me. Value for money unbeatable. I am uploading two sample images to illustrate. Shipping and packaging excellent.
10/03/2023
Good and cheap, ideal for hobby photographers
am a hobby photographer and was looking for a cheap, fast lens for portraits. I can really recommend this, for the price it really can't be beat. You can play with the blur and get a nice bokeh. Packaging and shipping were impeccable. Don't expect too much from the build for the price, it doesn't feel high quality, it's made of plastic, and the focus ring has quite a bit of play. I would buy it again. Pro - low price (therefore only plastic, fully sufficient for hobby) - good image quality - automatic focus negative - lots of plastic - auto focus is not always correct right away
08/03/2023
Short and sweet
Price performance is ok. it does what it should I'm satisfied, also tested by my neighbor, who is very critical of the country of origin, with a thumbs up. Still, I can't say anything about longevity, I'll be happy if it lasts half as long as Nikon's. Why, because I don't need the lens often, I can't always do without it, but I don't need one that costs three times as much.
07/03/2023
Good, inexpensive camera lens
I bought the lens (Nikon 50/1.8) because I read a lot about "yongnuo" on the internet, both positive and negative, so I thought we'd just try it. From this point of view I can only report one negative point and that is that I get a message from time to time that no lens is connected, but I took a photo in the dark and attach it here to show what the lens can do.
06/03/2023