77mm Magnetic Black Mist Filter 1/8 Special Effects Filter HD Multi-layer Coated, Waterproof/Scratch-Resistant/ Anti-Reflection, Nano-X Series
Buy 99$-15$, 199$-30$, 299$-50$, 599$-120$(autumn sale Price)
To
United States
Expedited Shipping
3-5
business days
K&F Concept magnetic 1/8 Black Mist Filters feature 1 Second Swap & Install, 28 Multi-Layer Coatings, Ultra Slim Frame, Professional Filter for Portrait Photography.

SKU.1841

SKU:

SKU.1841

92.99

https://www.kentfaith.com/SKU.1841_77mm-nano-x-1-8-black-soft-magnetic-suction-filter-high-definition-coated-with-waterproof-scratch-resistant-and-anti-reflection-green-film-with-magnetic-attachment-ring-and-magnetic-metal-upper-cover
Buy 99$-15$, 199$-30$, 299$-50$, 599$-120$(autumn sale Price)
Description
* 【1 Second Swap & Install】K&F Concept magnetic lens filter could finish installed in less than one second compared with conventional thread filter. Avoided frozen hands in cold weather and never miss any wonderful moment.
* 【28 Multi-Layer Coatings】All filters are made of import AGC High Definition Premium Optical glass, double-side multicoated, no chromatic aberration (color shift) hydrophobic,scratch-resistant, oil proof. Provides you a perfect photography experience, protecting your lens from all around.
* 【Ultra Slim Frame】1.9mm-3.5mm ultra-slim frame ensures no vignetting and dark corner on 16mm wide-angle focal length. CNC non-slip system frame, easy to install and remove. Equipped with aviation-grade aluminum alloy material magnetic lens cover, both magnetic and threaded, can be installed on the lens, two-in-one function
* 【Professional Filter for Portrait Photography】 This black soft 1/8 filter could soften the wrinkles, freckles, and pores of facial skin, making it more delicate, plump, and gorgeous. The hazy film effect can be better realized, showing dreamily film effects. In order to ensure the ultra-high-definition image quality, the double polishing process is adopted to ensure the high definition within 550mm focal length. Recommending use it in video shooting.
Shipping
To
United States
Expedited Shipping
3-5
business days
Sale
Buy 99$-15$, 199$-30$, 299$-50$, 599$-120$(autumn sale Price)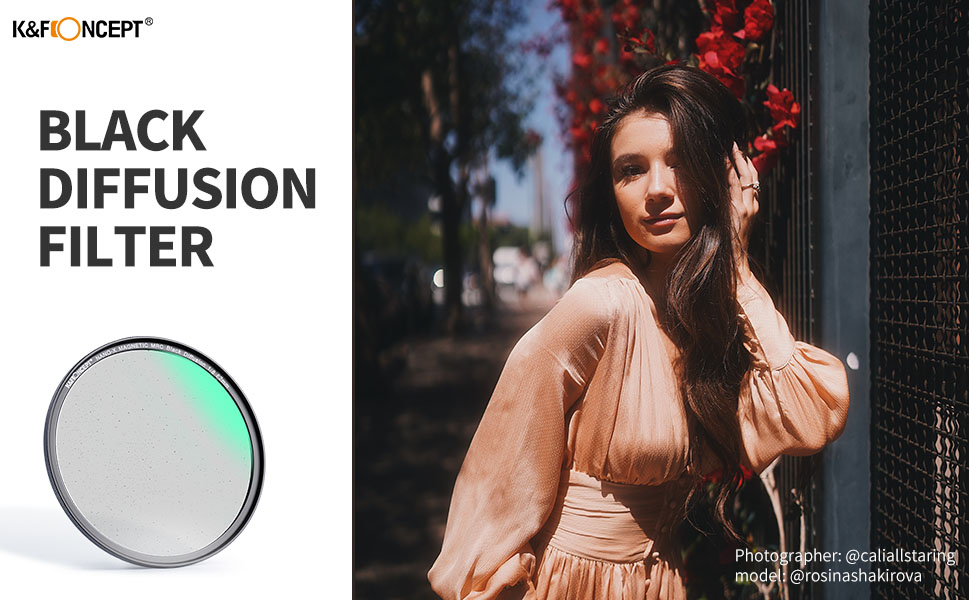 K&F Concept Magnetic Black Diffusion 1/8 Filter Cinematic Effect for the Image & Video with 28 Multi-Layer Coatings
Features:
1. Magnetic filter ---quick installation and disassembly in 1 second.
2. Reduces highlights and lowers glare.
3. Surface high-tech film waterproof, scratch resistant and oil proof.
4. Optical glass double-side polishing technology ensuring the HD image quality.
5. Soften wrinkles, blemishes and pores while maintaining skin tone values.
6. Creates a soft quality of light and pastel effect, delicate and hazy cinematic effect.
7. Uses K&F Concept Multi-layer Coating process to protect the filter effect between two pieces of glass, doesn't effect image quality.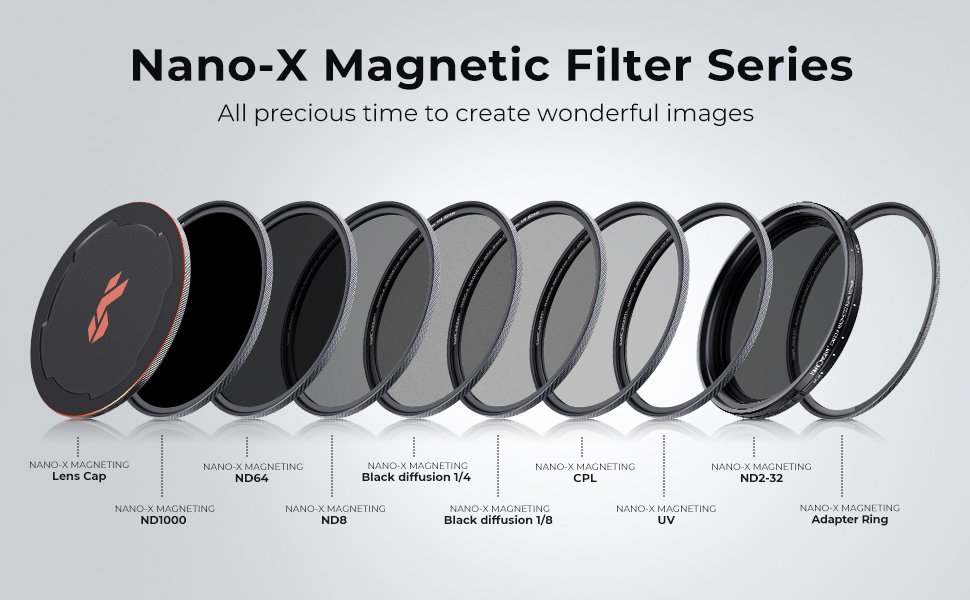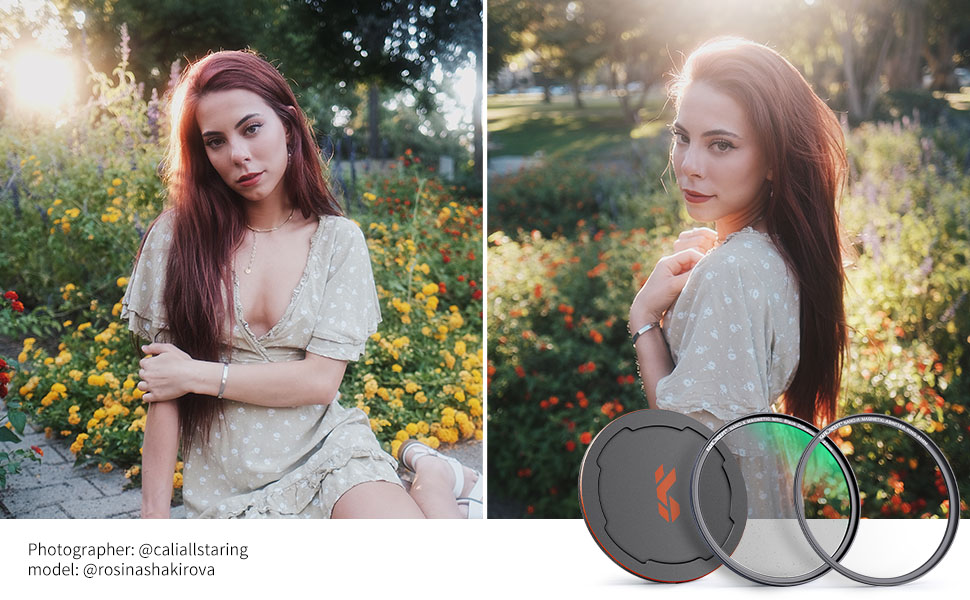 | | | | | | | |
| --- | --- | --- | --- | --- | --- | --- |
| | | | | | | |
| | | | | | | |
| | | | | | | |
| Rating | 50 reviews. | 57 reviews. | 29 reviews. | 37 reviews. | 66 reviews. | 103 reviews. |
| Price | $92.99 | $92.99 | $71.99 | $71.99 | $71.99 | $112.99 |
| Model | SKU.1841 | SKU.1823 | SKU.1743 | SKU.1761 | SKU.1707 | SKU.1626 |
| Series | Nano-X series | Nano-X series | Nano-X series | Nano-X series | Nano-X series | Nano-X series |
| Recommended Scenes | Video Shooting/Landscape Photography | Video Shooting/Landscape Photography | Video Shooting/Landscape Photography | Landscape Photography | Landscape Photography | All Scenes |
| Function | 1 Second Switch/Soft highlight | 1 Second Switch/Soft highlight | 1 Second Switch/Light reduction effect | 1 Second Switch/Light reduction effect | 1 Second Switch/Eliminate stray light/Improve colo | 1 Second Switch/Protect Lens/Enhance Color & C |
| Filter Material | Japanese AGC Glass | Japanese AGC Glass | Japanese AGC Glass | Japanese AGC Glass | Japanese AGC Glass | Japanese AGC Glass |
| Multi-Coating | 28 layers | 28 layers | 28 layers | 28 layers | 28 layers | 28 layers |
| Waterproof | √ | √ | √ | √ | √ | √ |
| Scratch-resistant | √ | √ | √ | √ | √ | √ |
| HD | √ | √ | √ | √ | √ | √ |
| Transmittance | 0.87 | 0.84 | 0.0156 | 0.5 | 0.5 | |
| Size | | | | | 77mm | |
| Antireflection | | | | | √ | |
| Filter Thickness | | | | | 5.5mm | |
| Ring Material | | | | | Aviation aluminum alloy | |
| Reflectivity | | | | | | 0.2% |
All Reviews
Image

All Star

5 Star

4 Star

3 Star

2 Star

1 Star
Great Experience
The filter is great. The shipping was ultra fast. About 5-6 days to EU. I was not charged with additional VAT.
I reccomend you to buy from here, not the AliExpress or any other platforms. Here is price is much, much better.
29/08/2023
Excellente diffusion à un excellent prix
Les filtres Black Mist sont conçus pour donner un aspect rêveur aux images et en particulier aux vidéos en créant un « effet de lueur » à l'ensemble de l'image. Les bords durs de l'image seront atténués, mais le contraste des zones sombres sera principalement conservé. Pour un effet optimal, vous souhaitez utiliser ce filtre en particulier autour des sources lumineuses. Un éclat subtil sera ajouté autour des points lumineux.

Dans la boîte, vous trouverez le filtre et un étui de transport astucieux qui peut également contenir d'autres filtres de différentes tailles. Ce filtre produit de superbes photos et il est comparable à de nombreux autres filtres qui coûtent plus cher que celui-ci.
La force de l'effet de ce 1/8 varie en fonction de la scène, bien qu'il puisse être assez dramatique dans certaines situations par rapport à celles des autres filtres 1/4. Mais avec tout ce qui a été dit et fait, cette force particulière est à peu près au milieu. Ce n'est jamais trop et il n'est jamais trop petit. Excellent filtre.
21/05/2023
Nice soft diffusion filter.
J'ai commandé le filtre d'effets 1/8 Black Soft Diffusion de 55 mm à utiliser avec mon Nikon D5600. Je suis un utilisateur novice mais j'apprécie les effets de ce filtre, surtout en plein jour. L'effet est subtil mais efficace. Il y a une belle floraison et un changement de couleur minime. Aucune perte de qualité d'image n'a été observée. Les filetages du filtre permettent de le visser facilement sur l'objectif de mon appareil photo. Bien emballé. Filtre utile à avoir sous la main pour une variété de paramètres.
12/05/2023
Fits Sigma 150-600mm perfectly
Both lenses are Sigma lenses with 2 different brands of UV filters on them. The lens on the left is my 150-500mm with a filter made by another brand. The right is my 150-600mm lens with the K&F filter. The lens on the left looks a little hazy, while the K&F filter does not.

Does not decrease image quality that I can tell. You can feel that it is weather sealed.

Comes in a plastic case
01/05/2023
Make photos softer and less vibrant.
Includes: case, and filter.
Tested with my nikon kit lens. (see my sample photos)
Each Top photo was taken on a tripod with a 10 second timer.
Each Bottom photo, the black mist pro filter was added.
This really does work as the name suggests!
Side by side you can see the colors and focus in the original without filter.
Then after applying the filter to the front of the lens,
you get a black mist. This calms down the color saturation and the sharpness.
Just a small amount.

The case.
Top twists off from the bottom and is made of a smoked plastic. The edges have a nice groove set.
Makes opening and closing easy. Branding on top.
The bottom is made of the same plastic and has the same grooves on the side.
The highlight is the 2 gray silicone pads that are glued down inside.
(These grooves will hold you filter) You could also use with smaller and larger filters.
That's a plus.

The filter.
Is slim line and made of aluminum.
Sides have really nice grooves, makes using the filter very smooth.
Great glass. Actually scratch resistant.
Took out my keys and hey no scratches. Thumbs up.
Waterproof.
Filter weighs only .5 ounces. Both the case and filter weight 2.7 ounces.

Overall very pleased with the filter.
Great quality.
I picked up the 52mm version.
Used 2 of my kit lens and no issues. Very smooth to install and remove from lens.
Easy to clean. Should last a very long time.

I prefer to shoot with filters verse going into software and spending extra time to get a similar effect.
Hope this was helpful.
26/04/2023
Good value, 3mm thin, hard case
Great filter with nice features at a decent price. About 3mm thick. Screws on fine. Hard case.
06/04/2023
Great filter!
The KF has nothing to be afraid from the Tiffen one.
03/04/2023
solid filter
Works great for the price and is a solid filter
02/04/2023
Beautiful Case and Filter
The filter and case is top notch. The filter itself if you look at it closely has tons of little dots/specks on it. It has the effect of softening the photo a bit, adding more contrast. I'm not sure I love keeping it on my lens, for some landscape photos it's not as ideal (unless trying for a darker, more arty one).
02/04/2023
Best Price/Performance diffusion filter.
No need for expensive Hollywood Blackmagic nor Tiffen filters. This is a very clean filter with zero color shifts that does the job like any other expensive diffusion filter at much lower price point.
01/04/2023
There are no faqs for this product.
Do You Know How Your K&F Concept Filters be Produced? | One-day Tour in Production Line
How to check your lens size
Filter
Series
Nano-X series
Recommended Scenes
Video Shooting/Landscape Photography
Function
1 Second Switch/Soft highlight
Filter Material
Japanese AGC Glass
Multi-Coating
28 layers
Waterproof
√
Scratch-resistant
√
HD
√
Transmittance
0.87