72mm Magnetic Black Mist Filter 1/8 Special Effects Filter HD Multi-layer Coated, Waterproof/Scratch-Resistant/ Anti-Reflection, Nano-X Series
Buy 99$-9$, 199$-25$, 299$-39$, 599$-100$
New customer gift package
Free shipping to eligible country
K&F Concept magnetic 1/8 Black Mist Filters feature 1 Second Swap & Install, 28 Multi-Layer Coatings, Ultra Slim Frame, Professional Filter for Portrait Photography.

SKU.1840

SKU:

SKU.1840

76.99

https://www.kentfaith.com/SKU.1840_72mm-nano-x-1-8-black-soft-magnetic-suction-filter-high-definition-coated-with-waterproof-scratch-resistant-and-anti-reflection-green-film-with-magnetic-attachment-ring-and-magnetic-metal-upper-cover
Buy 99$-9$, 199$-25$, 299$-39$, 599$-100$
Description
* 【1 Second Swap & Install】K&F Concept magnetic lens filter could finish installed in less than one second compared with conventional thread filter. Avoided frozen hands in cold weather and never miss any wonderful moment.
* 【28 Multi-Layer Coatings】All filters are made of import AGC High Definition Premium Optical glass, double-side multicoated, no chromatic aberration (color shift) hydrophobic,scratch-resistant, oil proof. Provides you a perfect photography experience, protecting your lens from all around.
* 【Ultra Slim Frame】1.9mm-3.5mm ultra-slim frame ensures no vignetting and dark corner on 16mm wide-angle focal length. CNC non-slip system frame , easy for install and remove. Equipped with aviation-grade aluminum alloy material magnetic lens cover, both magnetic and threaded, can be installed on the lens, two-in-one function
* 【Professional Filter for Portrait Photography】 This black soft 1/8 filter could soften the wrinkles, freckles and pores of facial skin, making it more delicate, plump and gorgeous. The hazy film effect can be better realized, showing dreamily film effect. In order to ensure the ultra-high definition image quality, the double polishing process is adopted to ensure the high definition within 550mm focal length.Reconmending use it in video shooting.
Shipping
Free shipping to eligible country
Sale
Buy 99$-9$, 199$-25$, 299$-39$, 599$-100$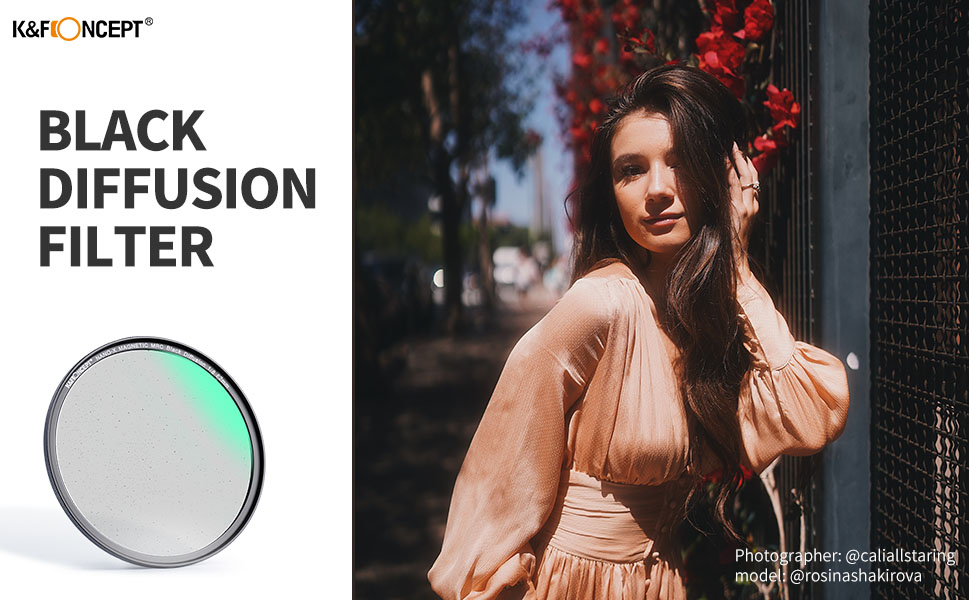 K&F Concept Magnetic Black Diffusion 1/8 Filter Cinematic Effect for the Image & Video with 28 Multi-Layer Coatings
Features:
1. Magnetic filter ---quick installation and disassembly in 1 second.
2. Reduces highlights and lowers glare.
3. Surface high-tech film waterproof, scratch resistant and oil proof.
4. Optical glass double-side polishing technology ensuring the HD image quality.
5. Soften wrinkles, blemishes and pores while maintaining skin tone values.
6. Creates a soft quality of light and pastel effect, delicate and hazy cinematic effect.
7. Uses K&F Concept Multi-layer Coating process to protect the filter effect between two pieces of glass, doesn't effect image quality.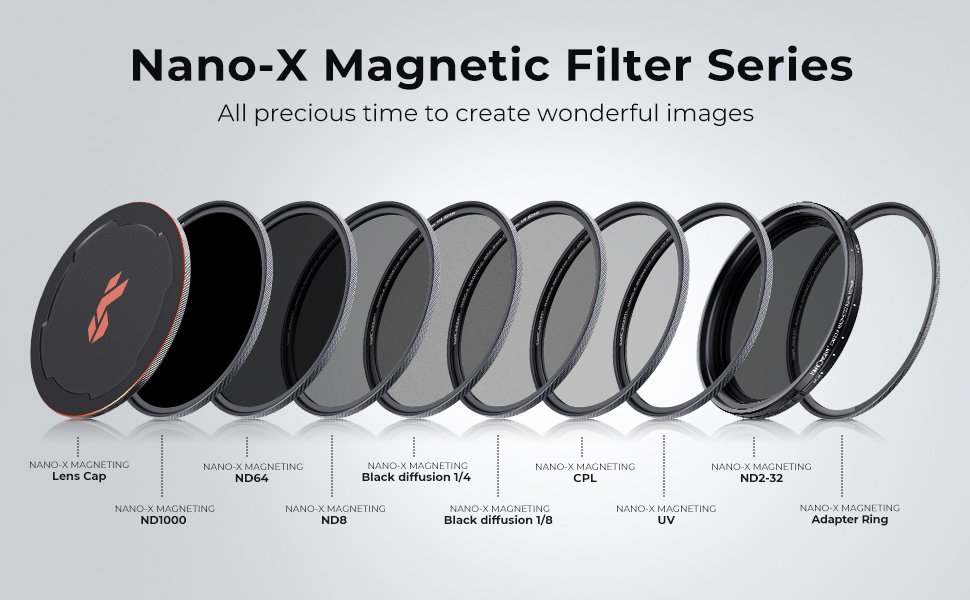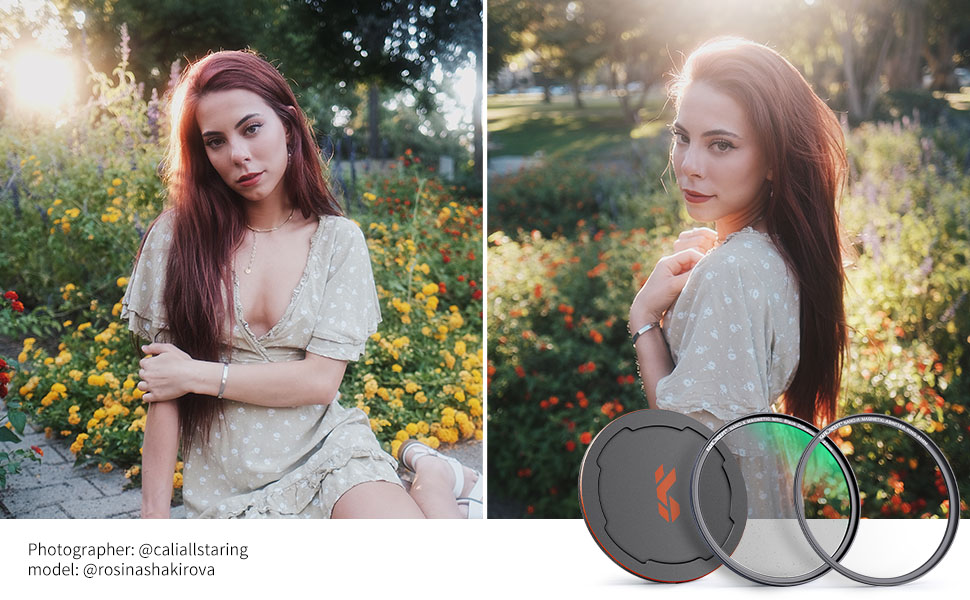 | | | | | | | |
| --- | --- | --- | --- | --- | --- | --- |
| | | | | | | |
| | | | | | | |
| | | | | | | |
| Rating | 17 reviews. | 45 reviews. | 0 reviews. | 0 reviews. | 22 reviews. | 84 reviews. |
| Price | $76.99 | $76.99 | $62.99 | $62.99 | $65.99 | $103.99 |
| Model | SKU.1840 | SKU.1822 | SKU.1742 | SKU.1760 | SKU.1706 | SKU.1625 |
| Series | Nano-X series | Nano-X series | Nano-X series | Nano-X series | Nano-X series | Nano-X series |
| Recommended Scenes | Video Shooting/Landscape Photography | Video Shooting/Landscape Photography | Video Shooting/Landscape Photography | Landscape Photography | Landscape Photography | All Scenes |
| Function | 1 Second Switch/Soft highlight | 1 Second Switch/Soft highlight | 1 Second Switch/Light reduction effect | 1 Second Switch/Light reduction effect | 1 Second Switch/Eliminate stray light/Improve colo | 1 Second Switch/Protect Lens/Enhance Color & C |
| Filter Material | Japanese AGC Glass | Japanese AGC Glass | Japanese AGC Glass | Japanese AGC Glass | Japanese AGC Glass | Japanese AGC Glass |
| Multi-Coating | 28 layers | 28 layers | 28 layers | 28 layers | 28 layers | 28 layers |
| Waterproof | √ | √ | √ | √ | √ | √ |
| scratch-resistant | √ | √ | √ | √ | √ | √ |
| HD | √ | √ | √ | √ | √ | √ |
| Transmittance | 0.87 | 0.84 | 0.0156 | 0.5 | 0.5 | |
| Size | | | | | 72mm | |
| Antireflection | | | | | √ | |
| Filter Thickness | | | | | 5.5mm | |
| Ring Material | | | | | Aviation aluminum alloy | |
| Reflectivity | | | | | | 0.2% |
All Reviews
Image

All Star

5 Star

4 Star

3 Star

2 Star

1 Star
Excellent distribution at an excellent price
The black fog filter is intended to give pictures, in particular videos, a dreamlike appearance by creating a "glow effect" for the entire picture. The hard edges of the image are softened, but the contrast in the dark areas is largely retained. Use this filter for best results, especially near the light source. A subtle halo is added around the point of light.
20/08/2022
A great soft diffusion filter
The 1/8 thickness makes for a nice subtle scattering of your footage. It helps to highlight your shadows slightly while maintaining a little bit of contrast, and gives the highlights a subtle bloom. I would place this right there with the Tiffen Black Pro Mist Filter.
15/08/2022
Quality filter (although expensive)
The 1/8 filter is perfect for those looking to soften their image a bit without creating the "dreamy" look
15/08/2022
That's a great little filter
Well done and add a very subtle change to your photos and videos to make them feel more real. Adds a slight smoothness and keeps the sharpness well Great product that is sold with a sturdy protective case.
12/08/2022
Excellent filter, gives highlights a more natural feel
Excellent filter, gives highlights a more natural feel, especially when used with digital cameras. It's not a magic button that makes the highlights play like a movie, but it certainly helps in a lot of scenarios.
12/08/2022
Nice equivalent to Tiffen filters.
This K&F black diffusion filter is a great kit. It reduces contrast, makes blacks slightly grayer, and provides a soft bloom around highlights. This 1/8 filter is the weakest, but it still makes a noticeable difference to the look of the images you take with it. . I was able to test it side by side with a Tiffen Black Pro Mist filter, and the results from each filter are extremely similar to the point where I don't really see a difference in the image, and I certainly couldn't say that the one or the other is better than the other. Both frames are made from aluminum alloy, and I think any aluminum frame can benefit from a little grease, even if it's just grease from the skin of your fingers that you rub on the nets. More expensive filters have brass frames which tend to be much smoother and don't stick. The K&F filter has approximately 1.25" deep machined grooves on each side of the filter, which provides excellent grip for your fingers when screwing/unscrewing the filter. One aspect in which K&F is the clear winner is that the K&F filter housing is far superior to the Tiffen housing; the Tiffen case is a square case in which the filter is loose on a piece of polystyrene, while the K&F case is superbly designed to hold the filter in place very securely thanks to a clever system of rubber grooves which can accommodate different sizes of filters. There is a filter thread at the front so you can stack another 77mm filter on top. Overall I find this to be an excellent quality filter that is roughly on par with the quality of Tiffen filters. It's a useful tool to have in a camera kit and well worth investing in.
05/08/2022
Great help in making digital video a little smoother and more enjoyable for storytelling
I really like this filter, it works well and softens the camera image to make it look a little nicer at least in my opinion. 1/8 is also great for all types of lighting and doesn't give as much artifacting when pointed directly at the light source.
05/08/2022
An excellent soft diffusion filter
1/8th power provides a nice subtle spread to your footage. It helps bring out your shadows slightly while maintaining some contrast and provides a subtle bloom to the highlights. I would just put it up there with the Tiffen Black Pro Mist filter.
03/07/2022
I wonder why I never bought this before...
I can't believe I've never heard of it. Adds a subtle but great effect to your videos/photos - might even have a slightly stronger effect next time - really useful for all videographers as it takes away a bit of the contrast/clarity of modern digital images...
06/05/2022
Make photos softer
Overall very satisfied with the filter, great quality, I bought the 52mm version, used 2 of my kit lenses and no problems. Very easy to install and remove from the lens. Easy to clean. Should last a long time.
16/04/2022
There are no faqs for this product.
Do You Know How Your K&F Concept Filters be Produced? | One-day Tour in Production Line
How to check your lens size
Filter
Series
Nano-X series
Recommended Scenes
Video Shooting/Landscape Photography
Function
1 Second Switch/Soft highlight
Filter Material
Japanese AGC Glass
Multi-Coating
28 layers
Waterproof
√
scratch-resistant
√
HD
√
Transmittance
0.87