67mm MCUV+CPL+ND1000+Adapter Ring Magnetic 4 in 1 Lens Filter Kit Waterproof Scratch-Resistant Anti-Reflection with Filter Pouch
Terms
Coupon Terms
Terms and Conditions:
Coupons are valid for a limited time only. Kentfaith reserves the right to modify or cancel coupons at any time.
You must purchase the qualifying items added to your Cart when the coupon is in effect for the discount to apply.
If you later modify or cancel the subscription or delivery date for the qualifying item, the discount will not apply.
The coupon applies only to qualifying items displaying the coupon offer.
If you buy more than one item from the same coupon, the maximum discount amount of the coupon will be equal to either the percentage discount off or the face value of the coupon on one eligible item. The coupon may only be used on www.kentfaith.com.
The promotion is limited to one coupon per customer.
If you return any of the items purchased with a coupon, the coupon discount or value may be subtracted from the return credit.
Buy 99$-9$, 199$-25$, 299$-39$, 599$-100$
Free shipping to eligible country
Free Shipping. 30 Day No Reason Return. K&F magnetic filters feature optical glass, high definition, waterproof, scratch-resistant, sturdy structure.

SKU.1624

SKU:

SKU.1624

94.99

https://www.kentfaith.com/SKU.1624_kf-67mm-magnetic-filter-mcuv-cpl-nd1000-waterproof-scratch-resistant-anti-reflection-green-film-with-magnetic-attachment-ring-and-case-bag
Buy 99$-9$, 199$-25$, 299$-39$, 599$-100$
Description
* 【Kit Includes】This filter kit includes MCUV+CPL+Neutral Denstiy ND1000+ Magnetic Adapter Ring + Filter Pouch.
* 【1 Second Swap & Install】 This magnetic lens filter kit could finish installed in less than one second compared with conventional thread filter. Avoided frozen hands in cold weather and never miss any wonderful moment. Combination Way 1:Magnetic Adapter Ring + CPL+ ND1000. Combination Way 2; MCUV+CPL+ND1000.
* 【28 Multi-Layer Coatings】 All filters are made of import AGC High Definition Premium Optical glass, double-side multicoated, no chromatic aberration (color shift) hydrophobic ,scratch resistant , oil proof. Provides you a perfect photography experience, protecting your lens from all round.
* 【Ultra Slim Frame】1.9mm-3.5mm ultra slim frame ensures no vignetting and dark corner on 16mm wide-angle focal length. CNC non-slip system frame , easy for install and remove.
* 【Filters Function】Circular Polarizer (CPL) filter helps reduces glare from non-metallic surface enhance color saturation & contrast. ND1000 filter. ND1000 (10 f-stops) filter helps shoot stunning mesmerizing long exposure. MCUV protection filter with 99.6% transmittance, effectively reduces the reflection came from both the ground and filter itself, ensuring the true color of photos and protect lenses.
Shipping
Free shipping to eligible country
Sale
Buy 99$-9$, 199$-25$, 299$-39$, 599$-100$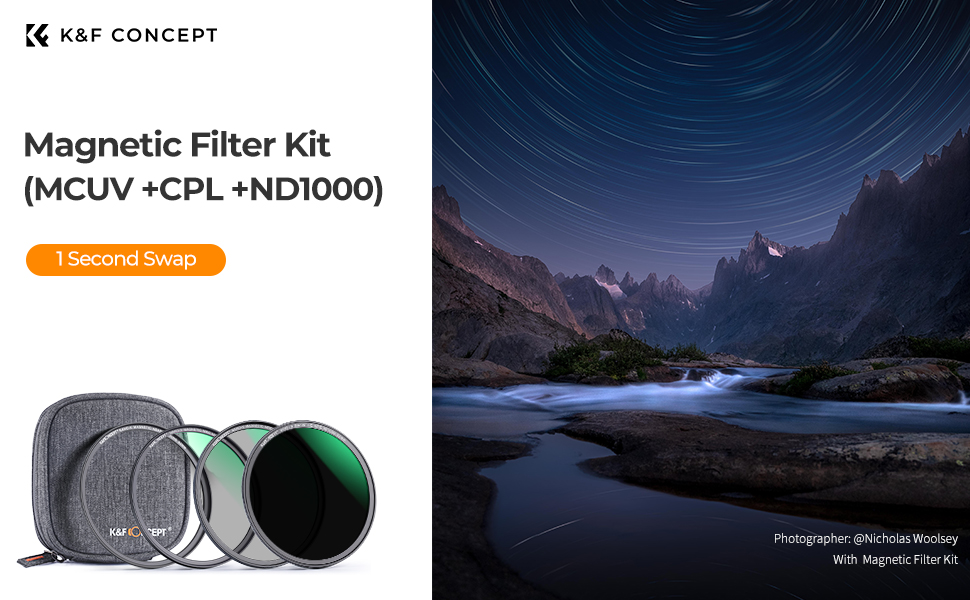 K&F Concept 4-Pack Magnetic ND/CPL/UV / ND1000 Filter Adapter Ring Kit with 28 Multi-Layer Coatings for Camera Lens
How does it help?
---
Now switch your filters in the seconds with K&F Concept Magnetic Quick-Swap Kit.
---
As a photographer, you know all about the waiting game: those times when utmost patience is required to capture that once-in-a-lifetime image. Every second is important to you, meanwhile, your heart is racing because you know you have just milliseconds to win your race against time or tide.
---
K&F Concept has announced a magnetic camera filter kit system to reduce the time it takes to swap out lens filters literally in seconds, a 1second swap, never missing any wonderful moment.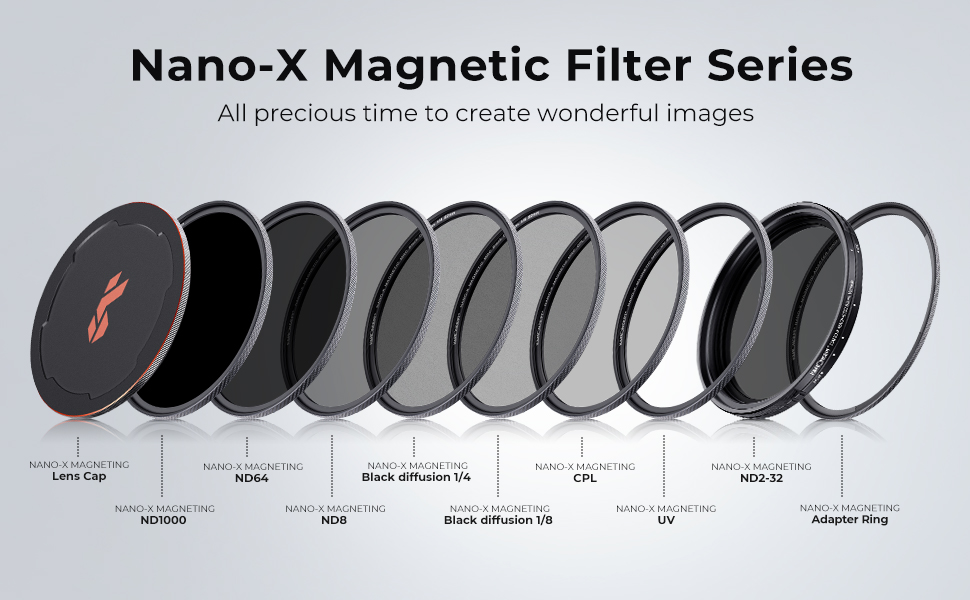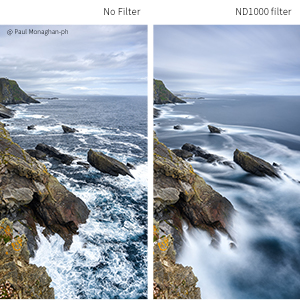 ND1000 Filter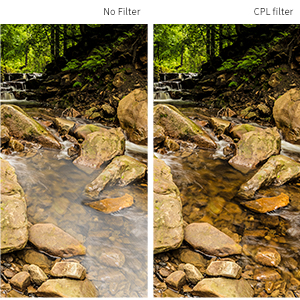 CPL Filter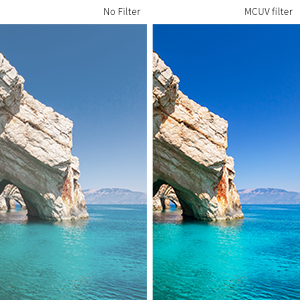 UV Filter

| | | | | |
| --- | --- | --- | --- | --- |
| | | | | |
| | | | | |
| | | | | |
| Rating | 91 reviews. | 1 reviews. | 22 reviews. | 0 reviews. |
| Price | $94.99 | $80.99 | $58.99 | $59.99 |
| Model | SKU.1624 | SKU.1633 | SKU.1663 | SKU1550 |
| Reflectivity | 0.2% | 0.2% | 0.2% | 0.4% |
| Series | Nano-X series | Nano-X series | Nano-X series | Nano-D series |
| Recommended Scenes | All Scenes | Video Shooting/Landscape Photography | All Scenes | Video Shooting/Landscape Photography |
| Function | 1 Second Switch/Protect Lens/Enhance Color & C | Light Reduction Effect | Protect Lens/Remove Glare/Enhance Color & Contrast | Improve color contrast/Light reduction effect |
| Filter Material | Japanese AGC Glass | Japanese AGC Glass | Japanese AGC Glass | Japanese AGC Glass |
| Multi-Coating | 28 layers | 28 layers | 28 layers | 24 layers |
| Waterproof | √ | √ | √ | √ |
| scratch-resistant | √ | √ | √ | / |
| HD | √ | √ | √ | √ |
All Reviews
Image

All Star

5 Star

4 Star

3 Star

2 Star

1 Star
Filter Kit
Everything arrived well packaged and as expected.
Great quality and the carry pouch is awesome.
17/03/2023
Magnetic ring adapteru
This is the 3rd set i bought and find it very useful. Also using adpating rin, I can use those set with other lens diameter . Excellent produtc and easy to operate
03/03/2023
Molt bé
Van molt bé. A veure si aviat oferiu filtres gnd magnetics.
21/01/2023
Imprescindible
honestamente creo que es genial he tomado algunas fotografías increíbles y no soy profesional, pero yo diría que algunos son la fotografía digna de alguna manera creo que su abajo a la forma en que se ha utilizado no la mía no es muy grande con larga distancia, pero eso es sólo porque no he ordenado la lence más grande aparte de que normalmente funciona muy bien la única cosa que me molesta es a veces no lo hará el enfoque completo por lo que a veces el flash toma las edades y ciega a la gente en el proceso, pero sobre todo si en la habitación oscura o así sucesivamente este tomó cerca de la mía.
21/01/2023
Bonito
si vas a dar un paseo sácalo yo tiendo a mirar a mi alrededor ver la belleza visualizarlo luego instantánea y yo tomo mucho y voy a través de ver lo que veo
16/01/2023
Buenos filtros hasta ahora
Funcionan perfectamente, como todos los productos KF que he utilizado en el pasado, y me complace patrocinar su reputación y recomendar este juego.
11/12/2022
Easy to use filters
►This is something that I never expected to see since I use DSLR and lenses.
Honestly now, it makes a massive difference.
I am not talking about the filters because you can find these any time, I am saying here about the system itself which I find to be absolutely brilliant!

How easy is now? Very very easy and I explain why.
I use filters for filming outside which sometimes can be challenging because of the light, the sun comes up from the clouds, manual settings, everyting over exposed which is very bad for video.

►My lens diameter is 67mm so I got those. You have to screw the ring and then based on what you want to get you just have to attach the filters.........you DONT have to screw them one by one which saves you a lot of time.
20/11/2022
K&F magnetic filters - CPL, UV, ND1000 - Excellent choice!
K&F magnetic filters - CPL, UV, ND1000 - Excellent choice !
Packaging : 6,5 / 10
Nice case that keeps the filters together and protected. With velcro and ring to attach it to a belt or backpack.
I don't particularly like the plastic box, I would have preferred something ecological like for other brands, but it's not something important in use so it weighs less on the judgment of the packaging.

Handling: 9,5/10
Excellent workmanship, the filter is metal, threaded which fits well into every lens in my possession.
Great that they are magnetic. In some conditions, screwing on a filter is very difficult and time consuming as well as the risk of it slipping out of your hands. In the case of the K&F magnetic filters, you just have to leave the holder mounted. If necessary, simply move the filter closer to the lens and it will attach itself powerfully and precisely.
This feature is the main reason to buy these filters.

Optical quality: 8/10
ND filter: Excellent sharpness: there is no loss of quality in high contrast areas. As with most ND filters, the filter has a purple/magenta cast, nothing that can't be corrected in post-production (see photos - doesn't work on PC just to show the quality of the filters). Slight vignetting, but really slight, nothing major. Score : 8/10

Polarizer / CPL Filter: Very very sharp filter, no loss of quality when editing. It tends to slightly "warm up" the images, but again nothing that can't be corrected with a touch in post-production. Excellent reduction of reflections on water and leaves affected by bright light. I don't like the effect of the sky being too intensified towards the Blue color (which also happens with all the other CPL filters I've tested). Important note in this case, it does not produce any additional flare compared to a use without filters

UV filter: I never use UV filters because I find them useless except in case of danger for the lens (salt / water splashes / resins, sand). I must say however that this one has a good performance, it does not lose sharpness or worsen the flare compared to the lens without filter.

Quality/Price: 9/10
For the general quality of the filters in question the price is LOW.
Such a kit is suitable for both demanding amateurs and professionals because the weak points of these filters are few and in any case surmountable, while the strong points (speed of use and sharpness) are more important.
19/11/2022
Do You Know How Your K&F Concept Filters be Produced? | One-day Tour in Production Line
How to check your lens size
Gimbal Stabilizers
Reflectivity
0.2%
Filter
Series
Nano-X series
Recommended Scenes
All Scenes
Function
1 Second Switch/Protect Lens/Enhance Color & C
Filter Material
Japanese AGC Glass
Multi-Coating
28 layers
Waterproof
√
scratch-resistant
√
HD
√