AD012 Portable Children's Microscope, Children's Microscope with 2 Inch LCD Screen, Windows PC Compatible Educational Toy, Suitable for Indoor, Outdoor Use, Age 5+ (Grey)
New customer gift package
Free shipping to eligible country
Buy KENTFAITH ad012 portable children's microscope, children's microscope with 2 inch lcd screen, windows pc compatible educational toy, suitable for indoor, outdoor use, age 5+ (grey) online, worldwide free shipping and 30 days return guarantee.

GW45.0017

SKU:

GW45.0017

55.99

https://www.kentfaith.com/GW45.0017_ad012-portable-children-s-microscope-children-s-microscope-with-2-inch-lcd-screen-windows-pc-compatible-educational-toy-suitable-for-indoor-outdoor-use-age-5-grey
Description
* 【High Resolution】1080p FHD image quality, can be magnified 300 times, built-in 8 adjustable LED lights, provide enough magnification and light conditions to fully meet the needs of children;
* 【Lightweight and Safe】The body only weighs 135g (0.29lbs), kids can easily put it in a pocket or hang it around their necks and take it to explore outdoors. Built-in 2-inch high-definition display, no need for children to stick their faces and eyes on the lens barrel, protecting children's delicate eyes and skin;
* 【Rechargeable Portable Microscope】Built-in 900mAh rechargeable battery, so children can take it anywhere to observe cute little animals, plants, or go camping, climbing, increase children's interest in the natural world;
* 【Support Storage and Video Recording】With Micro SD card (not included), kids can easily take and store images or videos of the microscopic world they observe, making it a fun educational toy;
* 【Easy connection to Windows computer】 Not only can you take pictures and videos, but also connect to Windows computers to display real-time images. Children can easily operate the computer to take pictures and videos, making it easier for children to discover the fun of nature and science and share them with friends.
Shipping
Free shipping to eligible country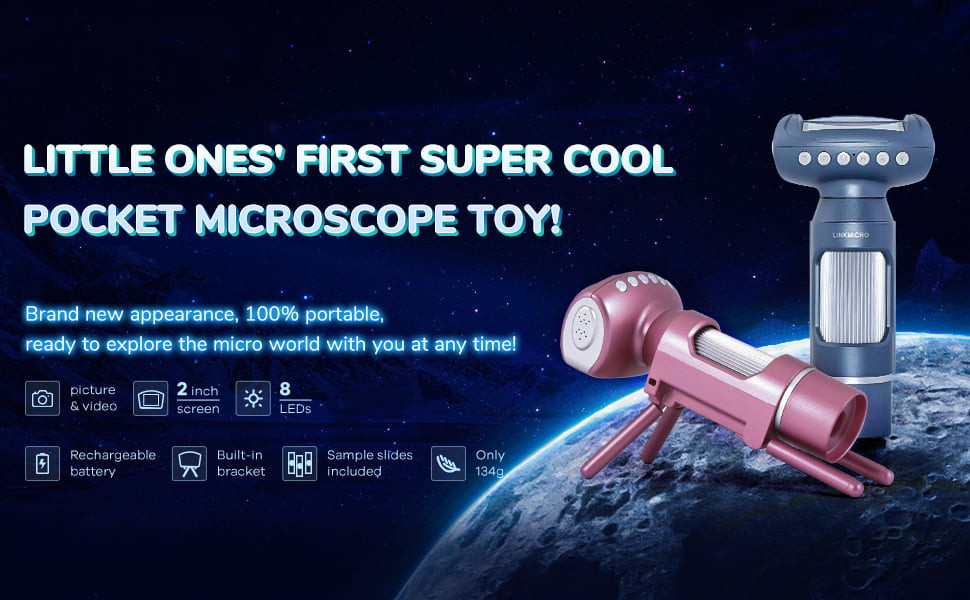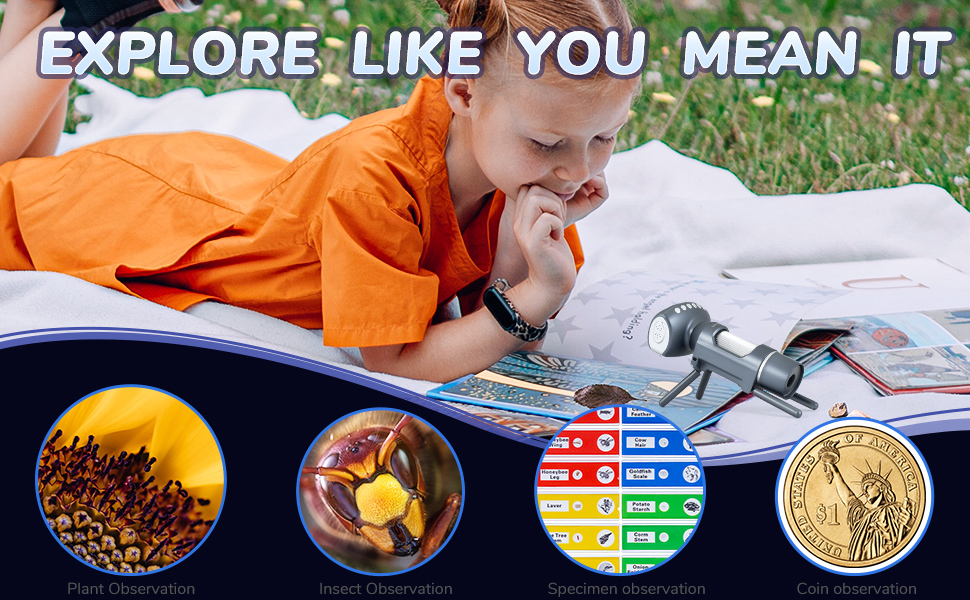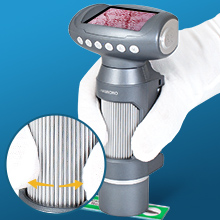 Slides observation
Place the biological slide(included) on a white bottom plate (such as a piece of tissue), stand the microscope vertically above the slide, adjust the focus wheel to get a clear picture.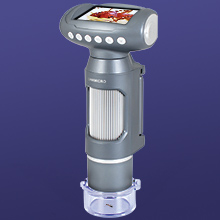 Insect observation
Put the insects caught into the observation box(included), stand the microscope vertically above it, and adjust the focus wheel to get a clear picture.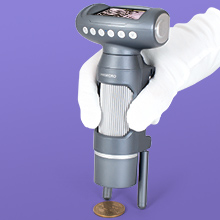 Coin/stamp observation
Observing coins/stamps often requires a larger field of view. You can unfold the two legs under the microscope to increase the object distance.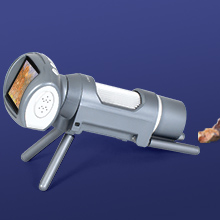 Irregularly shaped objects observation
The tilt microscope can be used to observe irregularly shaped objects, such as rocks. The microscope legs can be adjusted as needed to reduce screen jitter.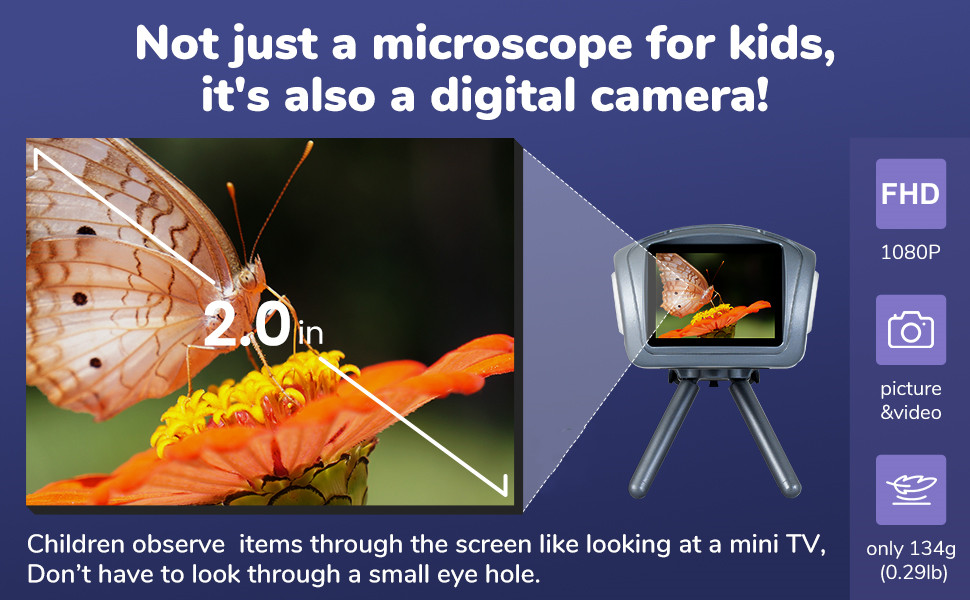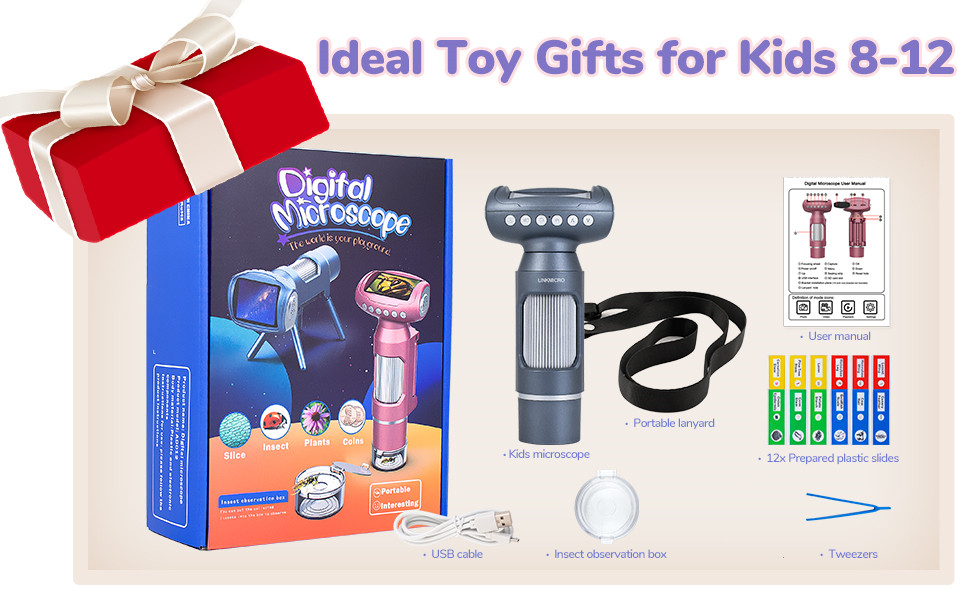 There are no reviews for this product.
There are no faqs for this product.