K&F Concept Multifunctional Large DSLR Camera Backpack for Outdoor Travel Photography 31*24*46cm
Free shipping to eligible country
Brand:

K&F Concept

Buy K&F Concept k&f concept multifunctional large dslr camera backpack for outdoor travel photography 31*24*46cm online, worldwide free shipping and 30 days return guarantee.

KF13.119

SKU:

KF13.119

93.99

https://www.kentfaith.com/KF13.119_kf-concept-multifunctional-large-dslr-camera-backpack-for-outdoor-travel-photography-31-24-46cm
Description
* 【Large Capacity】 31*24*46cm, approx. 23L. Holds 2 DSLR cameras + 2 lenses + tripod +14 inch laptop and other photography accessories.
* 【Expandable Capacity】 Featured with adjustable velcro multi-section dividers system that allows for many configurations. The detachable dividers for free combination. Protective foam dividers are fully customizable for your gear.
* 【Suspension system】 It has straps around the waist and back, high-quality ice-feel breathable mesh on the back/waist straps, good heat dissipation and ventilation effect. Rear-opening cache, rear-opening anti-theft, the main compartment is equipped with a coded lock slider, double anti-theft. Double slider design, open up and down arbitrarily, so that you can get equipment without putting down your luggage, and grab the wonderful moment anytime, anywhere.
* 【Quality Material】Ventilate and shockproof design, make you feel comfortable. Waterproof zipper design and 900D waterproof nylon material protects against spills and splashes. Equipped with a nylon rain cover (dust-proof, rain-proof, dirt-proof), removable for cleaning.
* 【Easy Travel】Breathable air-mesh widened and thickened shoulder strap and back ,and adjustable chest buckle to work together to distributing the weight evenly and reducing the burden of your pack. Also can easy mounting onto a draw-bar box through the back part when travel.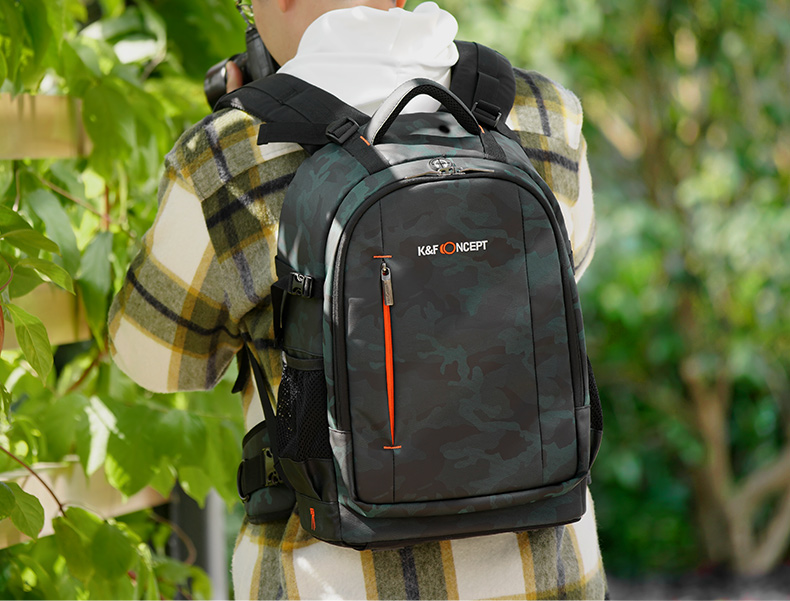 K&F large capacity camera backpack
Outer size 31*24*46cm / Inner size 29*18*44cm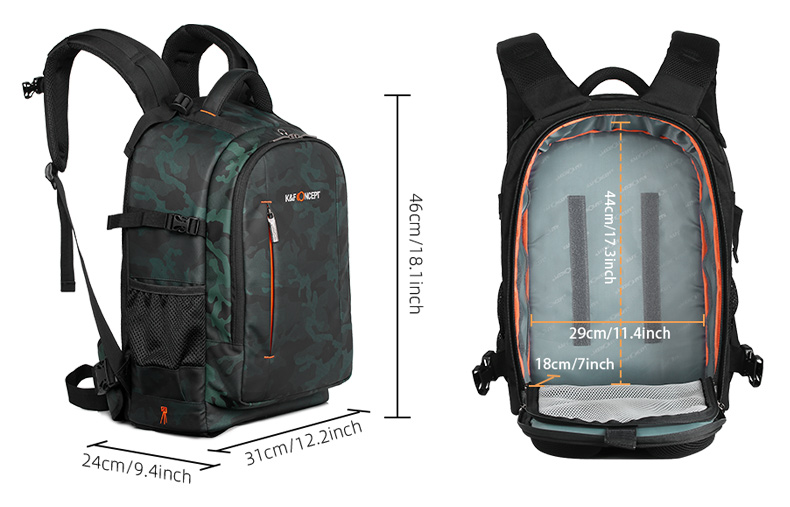 Nore safety
Antitheft back-open design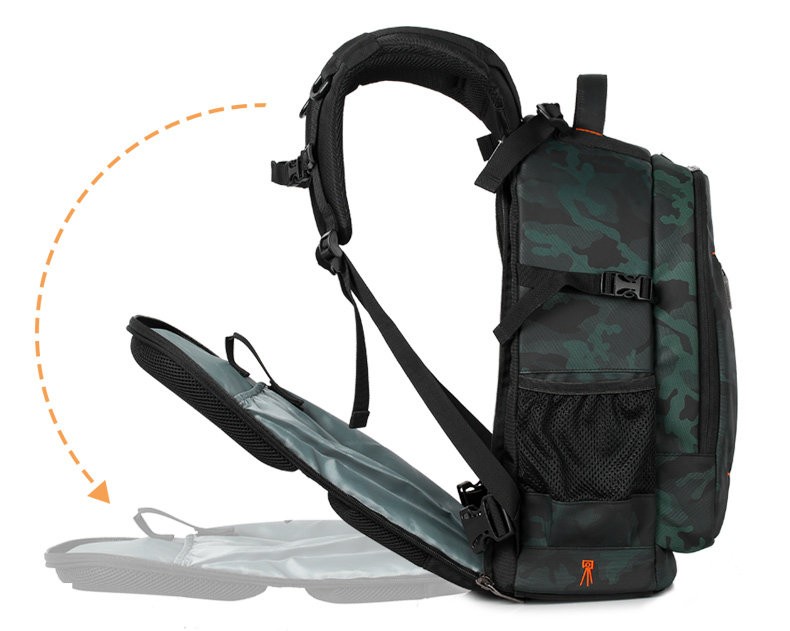 Designed for photography
Pack all the equipment you need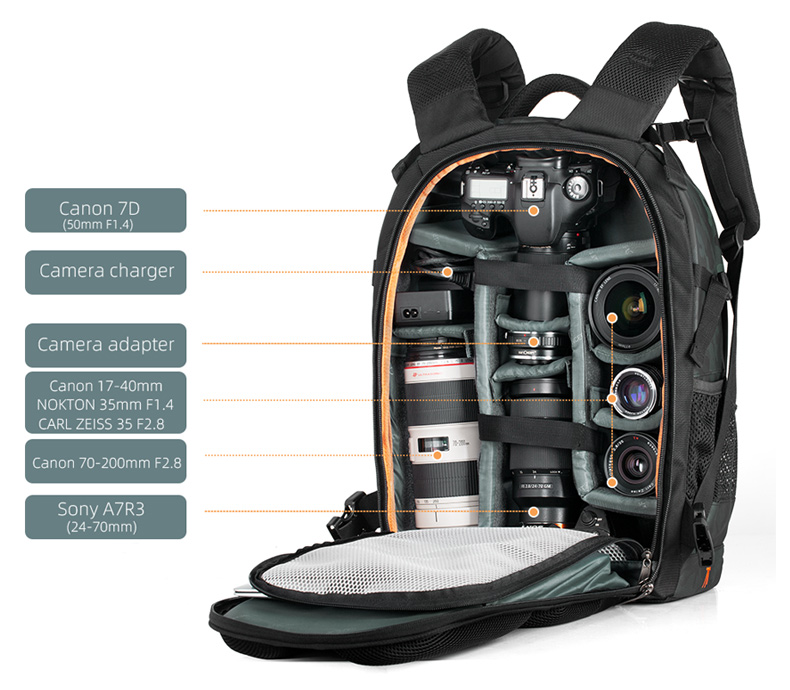 Waterproof and durable
Use 900D waterproof nylon material and high density 230T twill fabric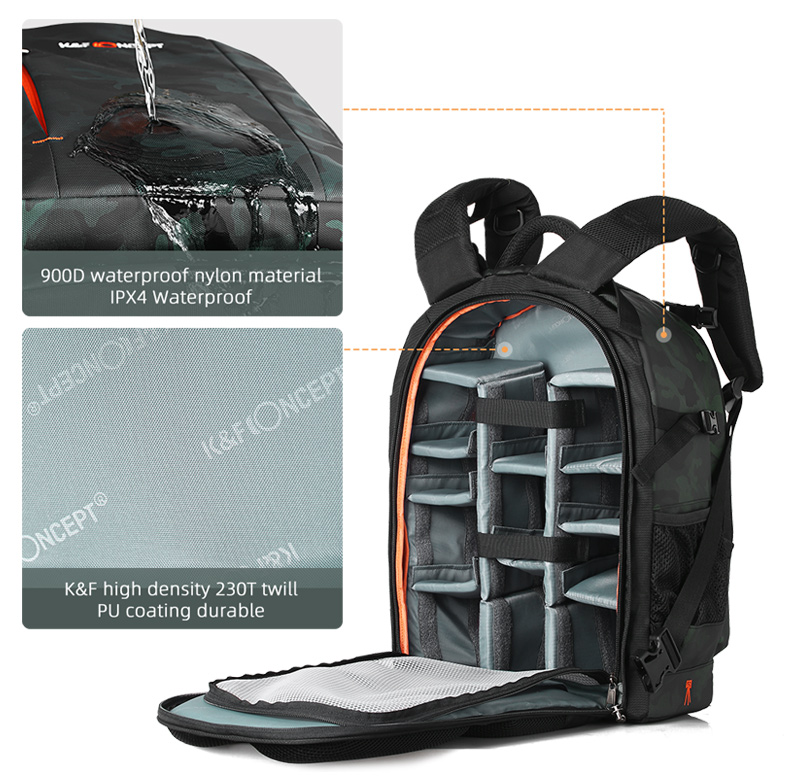 Super protection
17 mm removable high-density EVA foam Effectively protect the photographic equipment
Feature design
More small details make your use more convenient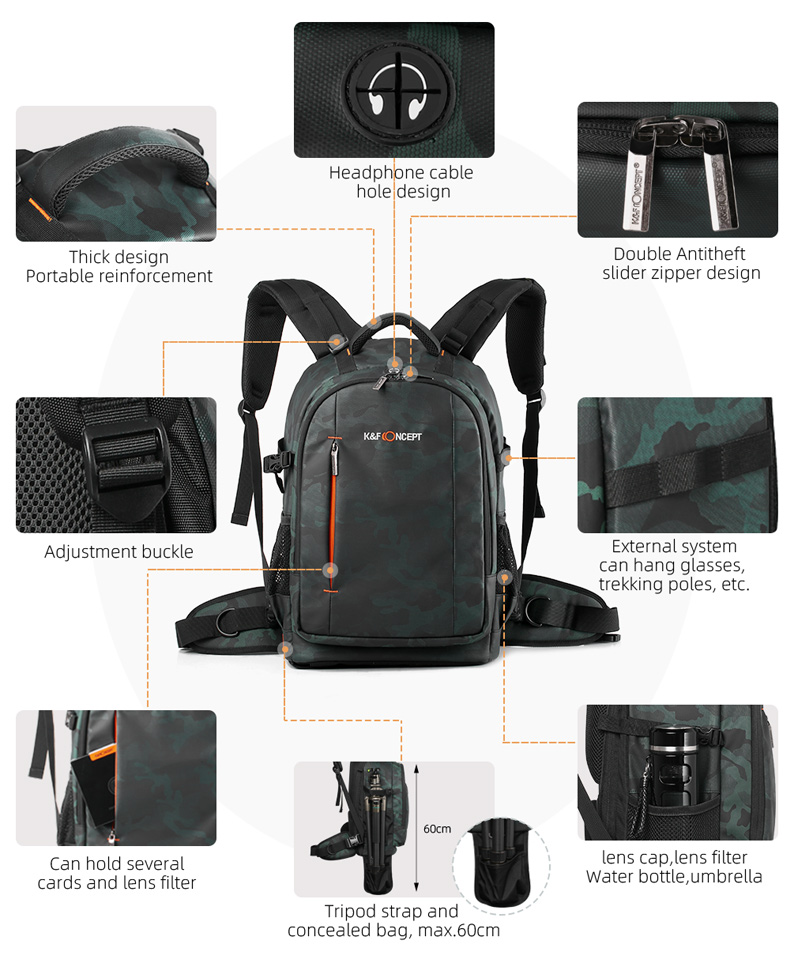 Storage capacity
Separate storage to accommodate more devices, and a 14-inch laptop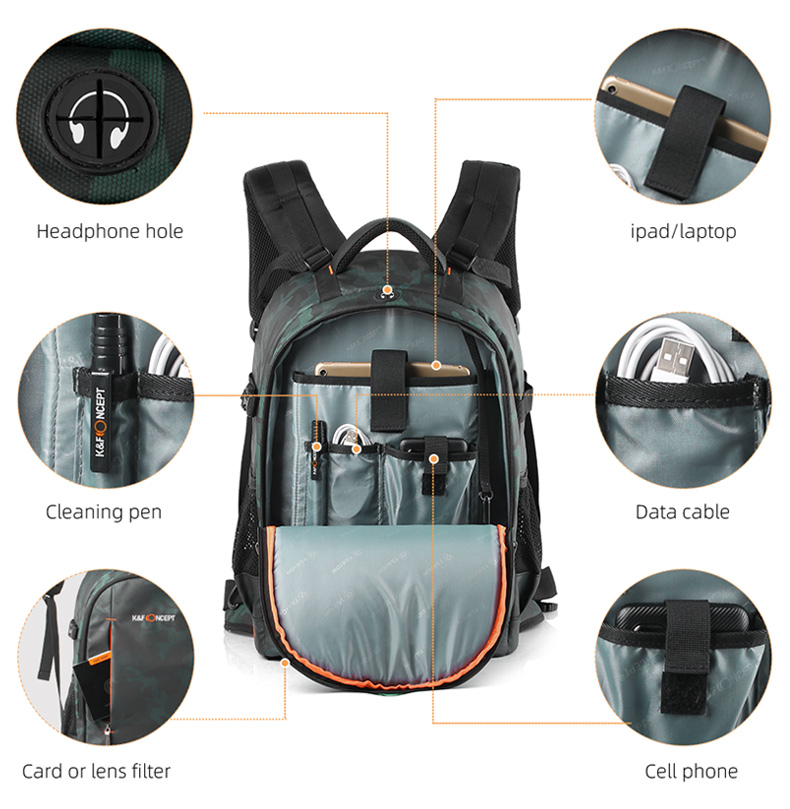 physiological curve design
Breathable, reduce weight, easy to carry over long distances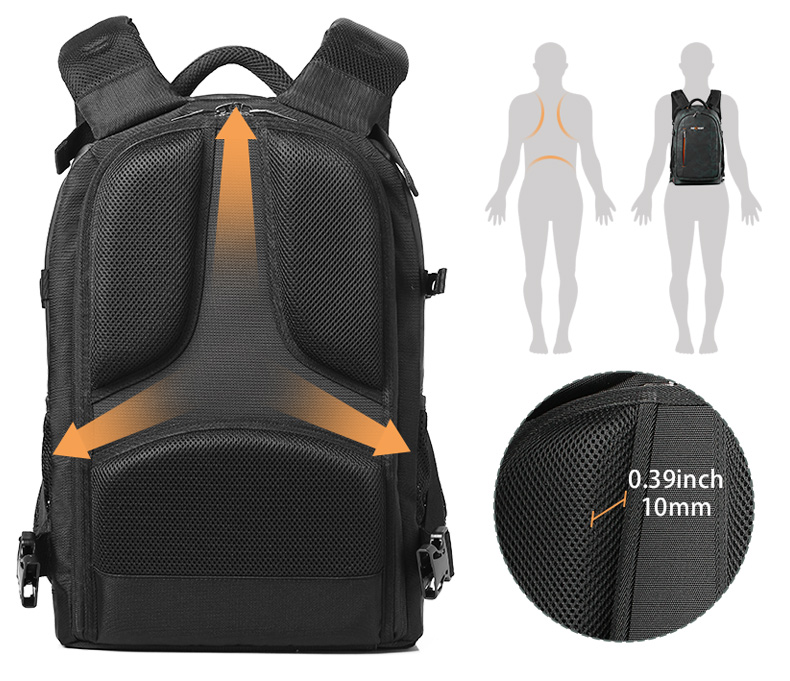 7.5cm width shoulder strap
Designed to fit the human body, equipped with shoulder strap hooks, adjustable chest strap, and detachable waist belt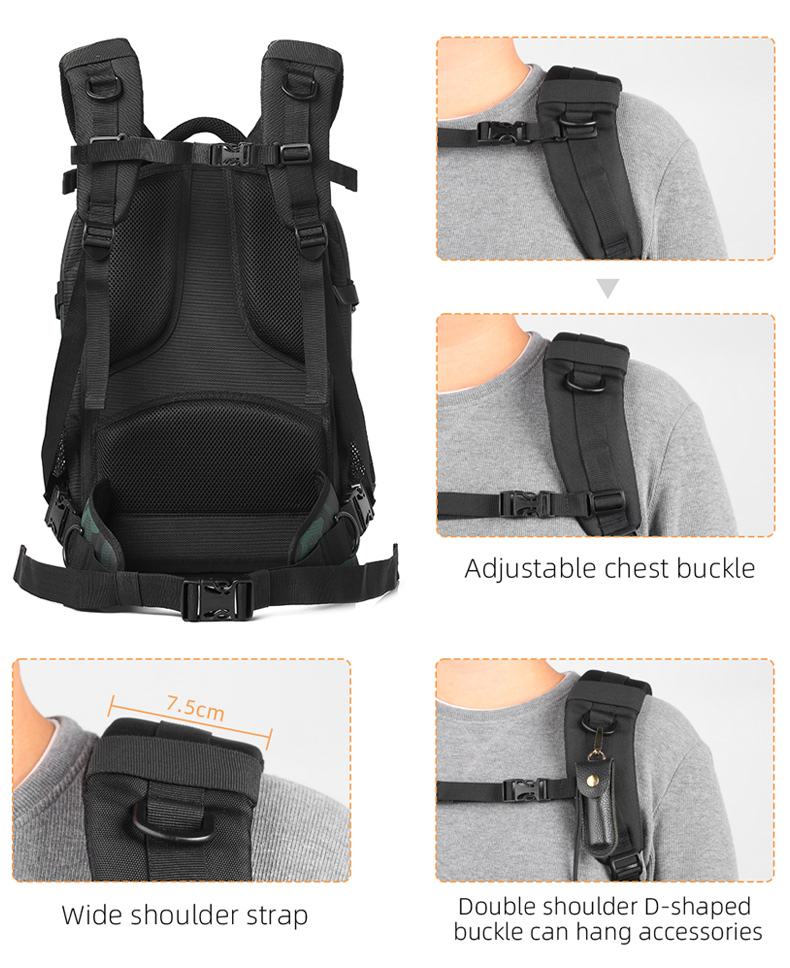 Anti-skidding mat
design at the bottom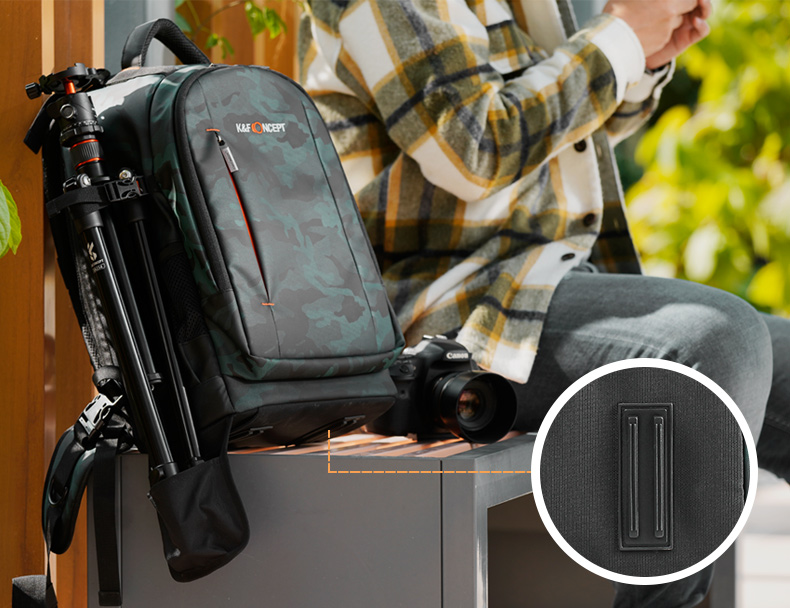 Rating

25 reviews.

1 reviews.

13 reviews.

285 reviews.

410 reviews.

10 reviews.
Price

$179.99

$93.99

$47.99

$89.99

$49.99

$139.99

$82.99

$139.99

$60.99

$99.99

$45.99

Model
KF13.119
KF13.088
KF13.090
KF13.044
KF13.037
KF13.079

Camera Support Strap

Yes
No
No
Yes
Yes
No

Camera Compartment

2
1
1
1
1
1

Lens Compartment

8
2
1
6
3
2

Laptop Compartment Screen Size

<14 inch
15.6 inch
None
14 inch
13 inch
No

Exterior Dimensions

30*22*46cm
42.5*12*58cm
41*27*13cm
28*15*43cm
27*12*43cm
30*24*16cm

Exterior Material

Nylon
Nylon
Nylon
Polyester
Polyester
Nylon

Type of Closure

Buckle
Buckle
Buckle
Buckle
Buckle
Metal magnetic button

Rain Cover

Yes
No
No
No
No
Yes

Maximum Volume

21L
30L
10.7L
13L
18L
11L

Weight

1.7kg
1.1kg
0.8kg
1.23kg
1.73kg
0.913kg

Interior Dimensions

28*18*42cm
40.5*10.5*56.5cm
39*25*11cm
26*13*41cm
28*22*14cm
Brilliant all purpose backpack
Brilliant size and feels well made, great for walks with a good strap system to help carry heavy kit! Multiple pockets and rain cover included, brilliant choice
04/06/2021
Good quality. Comfortable to wear.
Bought this for a trip to Glacier and Yellowstone. Did many hikes. This backpack was well supported and carries well. Could use a few more zipper pockets, but overall very satisfied. You do have to take it off to access anything in it, but my stuff was pretty well protected. The tripod carry pocket sticks down below the bottom of the pack so it won't stand up or allow you to lean it up against anything and it makes it hard to open and access when the tripod is secured on the back flap. They should move the tripod foot pocket up about 4 or 5 inches or have the tripod secured to a side instead of the back. you can't sit when you are wearing the backpack with a tripod.
29/09/2020
A great camera backpack! I highly recommend it.
Very flexible and easy to adjust for different venues. Any unused dividers I place in the laptop slot for future use. I use different equipment depending on the assignment and the bag is easily rearranged for different assignments.
25/02/2020
Great camera bag, works good for BMPCC 4k/6k
Bought this recently for a Blackmagic 6k and accessories. I've managed to cram A LOT into this bag – the camera (with a full cage AND side handle attached), monitor, batteries, chargers, lenses, shotgun mic, an iPad, 15" laptop and cables! It felt fairly sturdy with all that weight, though I don't plan on putting that much stress on the shoulder straps all the time as I can't tell how well they'll do. My one caveat with the bag is that there are few pockets for personal effects. If there isn't an empty divider inside the bag and all the pockets are filled (iPad, laptop) then there's little space for things like keys, phone charger, laptop power brick, etc. There are two tall but skinny pockets on the outside that can hold a few small things (I stuffed the rain cover into one of them) and two water bottle pockets, but that's about it, I only mention that in case you want to use this as your sole carry on on a plane (and yes this does fit in the overhead). The waist strap is removable though it can also be used to secure it to rolling luggage instead. I did appreciate the included cleaning kit and zipper bag as well as the rain cover. And a shout out to the manufacturer who was very responsive when I had an issue (mine was missing the orange velcro straps) and quickly shipping me my replacement items. Definitely recommended!
06/12/2019
There are no faqs for this product.
Bag Compartment
Carrying/Transport Options
Backpack
Camera Support Strap
Yes
Camera Compartment
2
Lens Compartment
8
Laptop Compartment Screen Size
<14 inch
Bag Exterior
Exterior Color
Camouflage
Exterior Dimensions
30*22*46cm
Exterior Material
Nylon
Type of Closure
Buckle
Rain Cover
Yes
Bag Interior
Maximum Volume
21L
Weight
1.7kg
Interior Dimensions
28*18*42cm