Multifunctional Large DSLR Camera Backpack for Outdoor Travel Photography 31*24*46cm
New customer gift package
Free shipping to eligible country
Buy KENTFAITH multifunctional large dslr camera backpack for outdoor travel photography 31*24*46cm online, worldwide free shipping and 30 days return guarantee.

KF13.119

SKU:

KF13.119

83.99

https://www.kentfaith.com/KF13.119_kf-concept-multifunctional-large-dslr-camera-backpack-for-outdoor-travel-photography-31-24-46cm
Description
* 【Large Capacity】 31*24*46cm, approx. 23L. Holds 2 DSLR cameras + 2 lenses + tripod +14 inch laptop and other photography accessories.
* 【Expandable Capacity】 Featured with adjustable velcro multi-section dividers system that allows for many configurations. The detachable dividers for free combination. Protective foam dividers are fully customizable for your gear.
* 【Suspension system】 It has straps around the waist and back, high-quality ice-feel breathable mesh on the back/waist straps, good heat dissipation and ventilation effect. Rear-opening cache, rear-opening anti-theft, the main compartment is equipped with a coded lock slider, double anti-theft. Double slider design, open up and down arbitrarily, so that you can get equipment without putting down your luggage, and grab the wonderful moment anytime, anywhere.
* 【Quality Material】Ventilate and shockproof design, make you feel comfortable. Waterproof zipper design and 900D waterproof nylon material protects against spills and splashes. Equipped with a nylon rain cover (dust-proof, rain-proof, dirt-proof), removable for cleaning.
* 【Easy Travel】Breathable air-mesh widened and thickened shoulder strap and back ,and adjustable chest buckle to work together to distributing the weight evenly and reducing the burden of your pack. Also can easy mounting onto a draw-bar box through the back part when travel.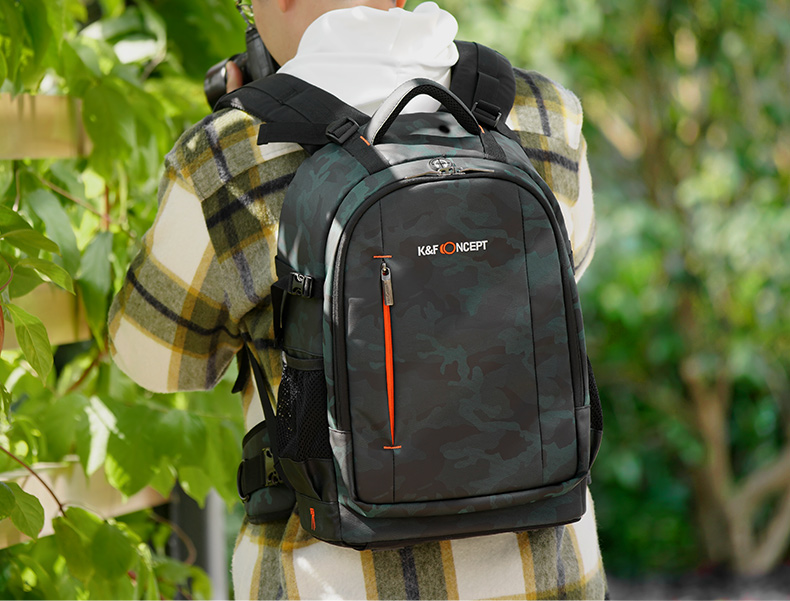 K&F large capacity camera backpack
Outer size 31*24*46cm / Inner size 29*18*44cm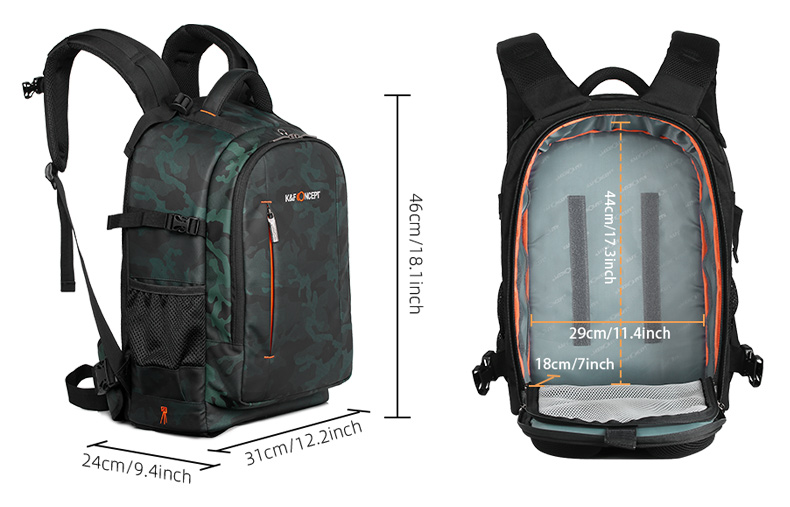 Nore safety
Antitheft back-open design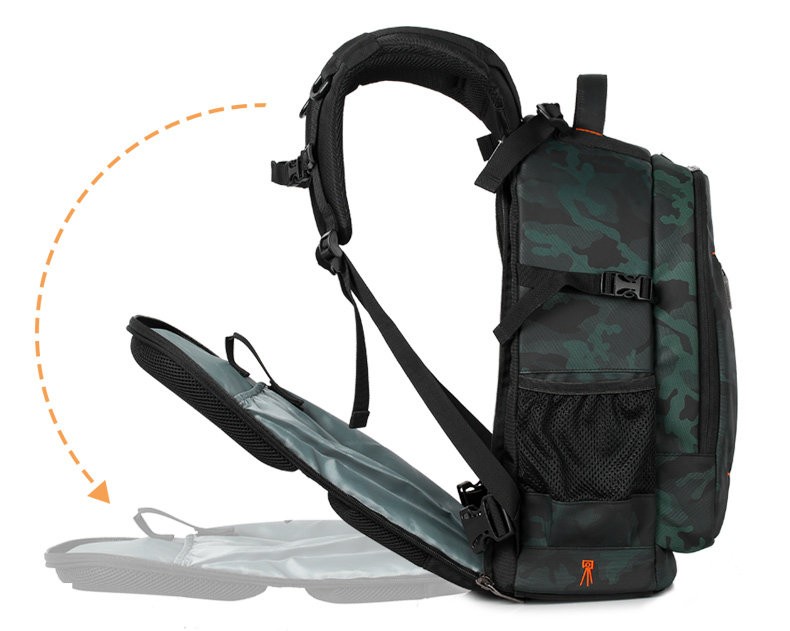 Designed for photography
Pack all the equipment you need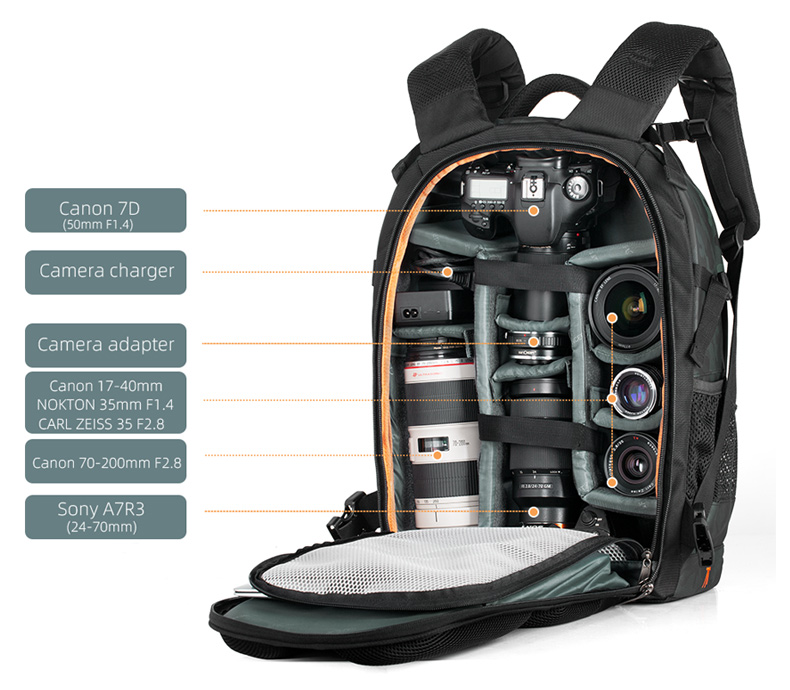 Waterproof and durable
Use 900D waterproof nylon material and high density 230T twill fabric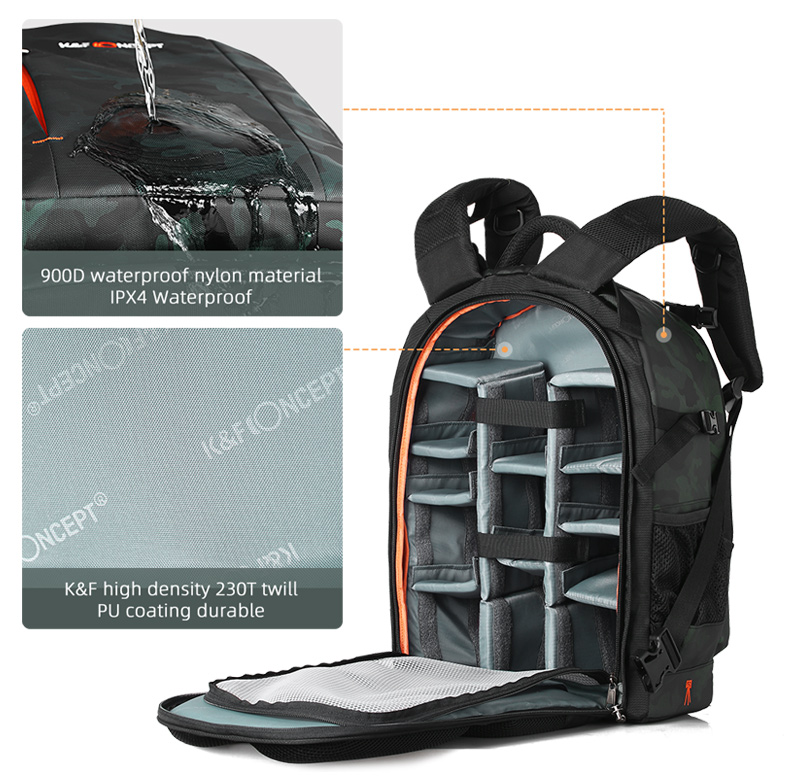 Super protection
17 mm removable high-density EVA foam Effectively protect the photographic equipment
Feature design
More small details make your use more convenient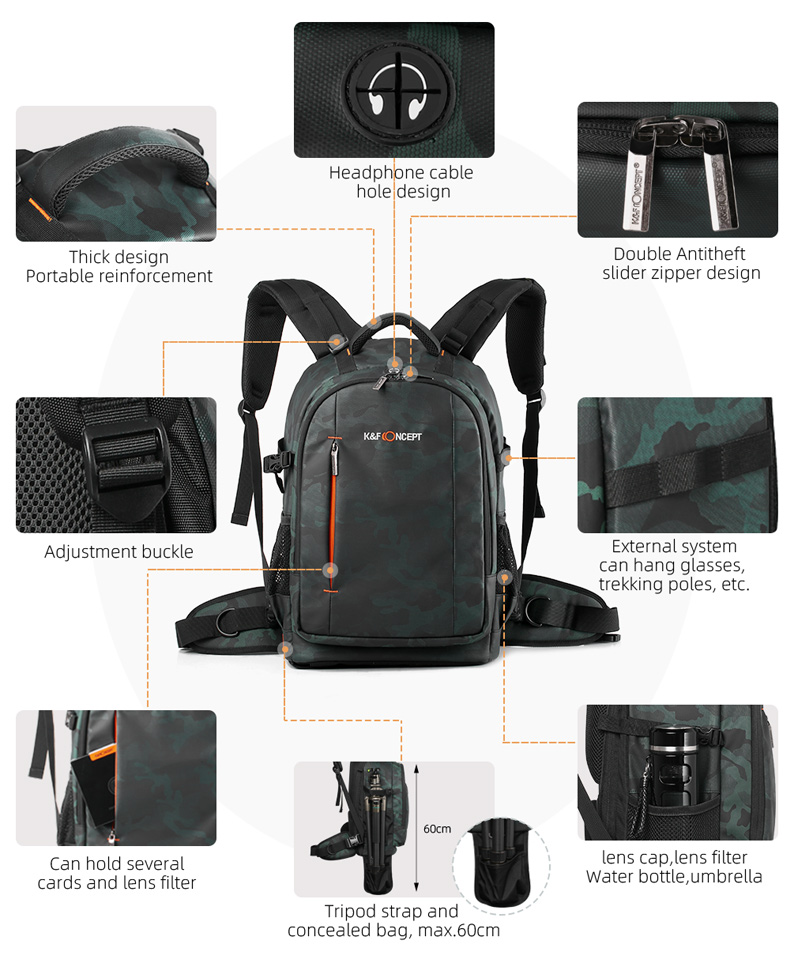 Storage capacity
Separate storage to accommodate more devices, and a 14-inch laptop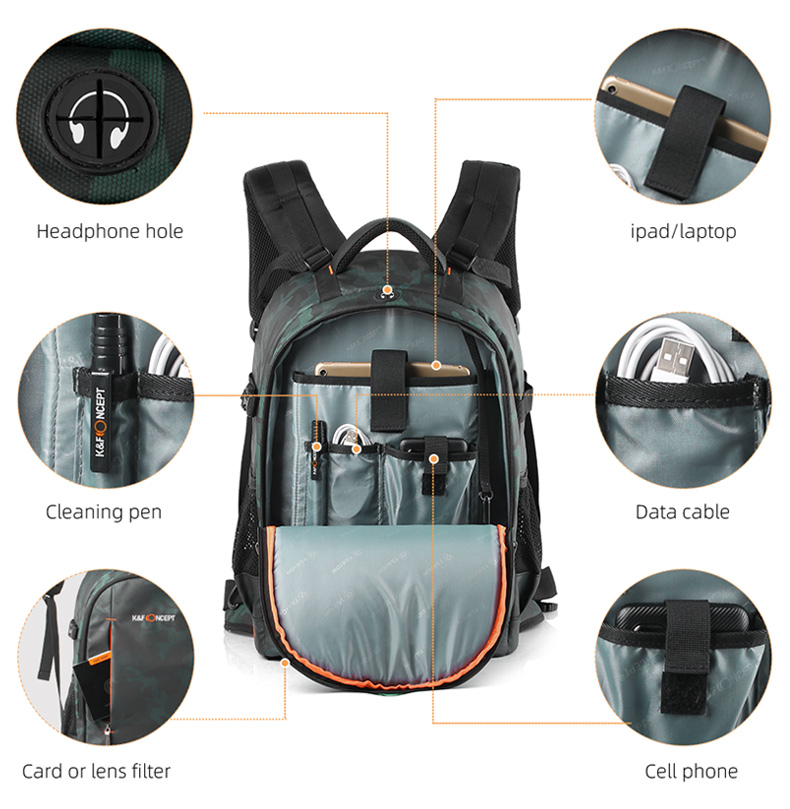 physiological curve design
Breathable, reduce weight, easy to carry over long distances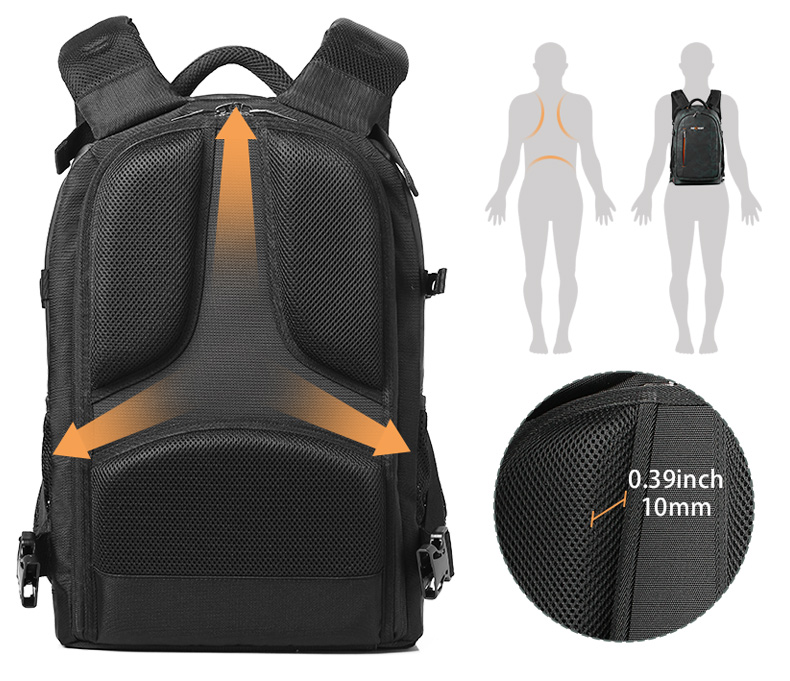 7.5cm width shoulder strap
Designed to fit the human body, equipped with shoulder strap hooks, adjustable chest strap, and detachable waist belt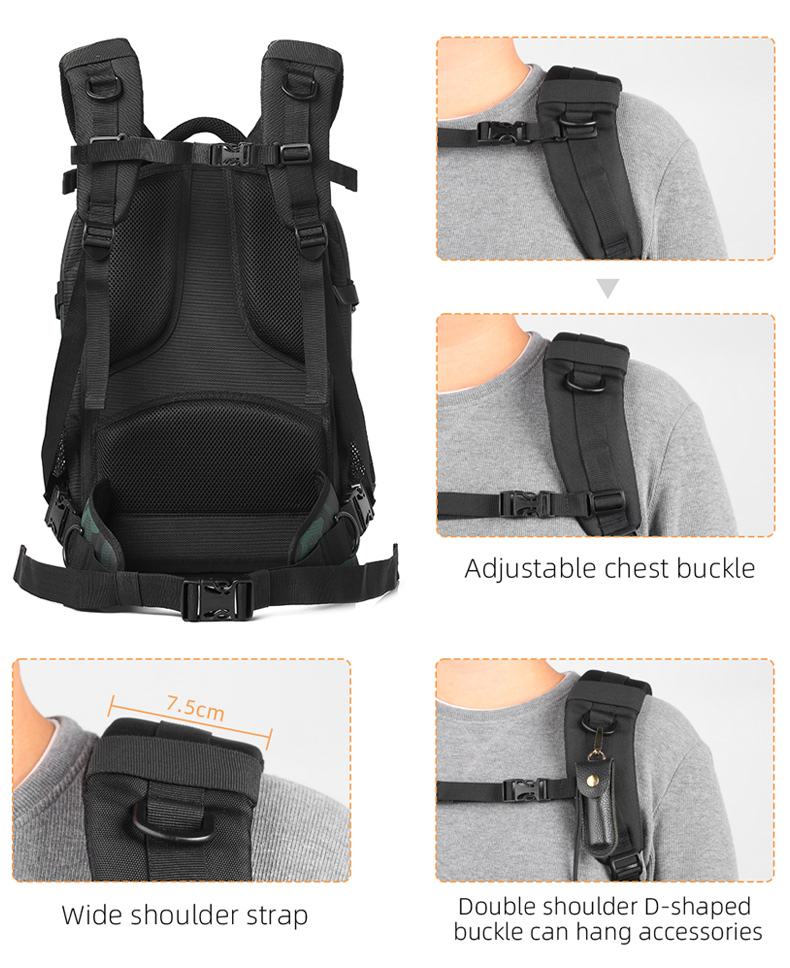 Anti-skidding mat
design at the bottom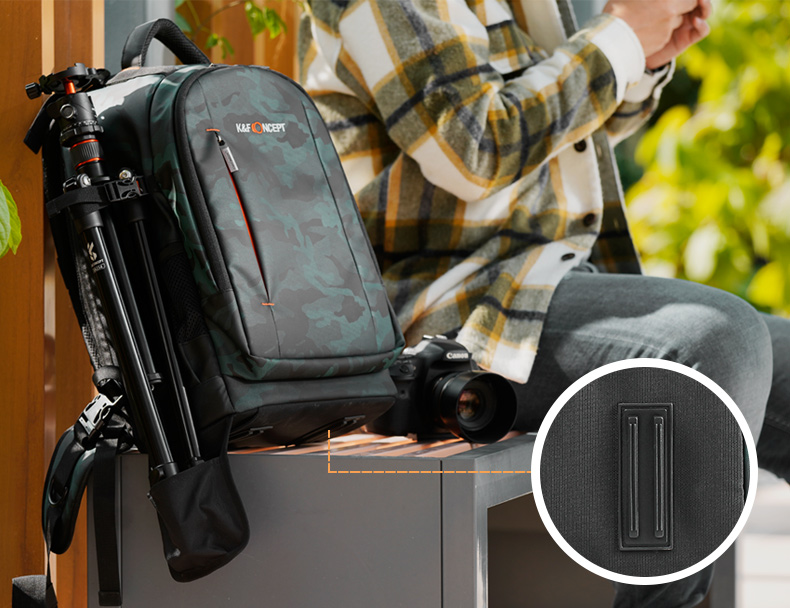 Excellent product
I am very happy with my camera backpack. It has a lot of space, is very comfortable and the quality of the materials is excellent. It arrived in perfect condition and quite fast. I would definitely recommend purchasing this backpack....
03/11/2022
Multifunctional Large DSLR Camera Backpack
This bag seems well made and functional. It is light and well padded.
09/09/2022
Grande y espaciosa, por una oferta
Esta es una GRAN BOLSA. Para un tipo que dispara con dos DSLR y tiene múltiples cámaras GoPro y equipo de audio. esta cosa es un MUST. Puedes jugar al Tetris y configurar tu propio espacio: ya sea para un concierto de cámara lejana y las lentes son la prioridad, o si ya quieres una variedad de opciones con tu equipo. Las cremalleras pueden atascarse con facilidad, pero una vez que te acostumbras, te encantará el espacio que tiene. El kit de limpieza de los objetivos es una ventaja, pero lo que me convenció de esta bolsa fue la ranura para el portátil. Ahora puedo viajar con todos mis aparatos electrónicos en un solo lugar.
03/08/2022
Una gran mochila para cámaras. La recomiendo encarecidamente.
Muy flexible y fácil de ajustar para diferentes lugares. Los divisores que no se utilizan los coloco en la ranura para el portátil para utilizarlos en el futuro. Utilizo diferentes equipos dependiendo de la asignación y la bolsa se reorganiza fácilmente para diferentes asignaciones.
17/06/2022
hasta ahora todo bien
Esta mochila tiene mucho espacio. Hasta ahora se ha mantenido muy bien con un montón de equipo en ella. Cuerpo de cámara, 3 objetivos y muchos extras.
01/04/2022
Mochila para drones perfecta.
La compré para albergar mi dron Mavic 2 pro y todo su equipo. De momento me encanta y hay tanto espacio que no sé qué hacer con él. Otro punto a favor es que tiene el bolsillo para el portátil en la parte trasera, por lo que el portátil queda pegado a la espalda por así decirlo de forma agradable y segura. Tengo un amigo que es fotógrafo y se le cae la baba con esta mochila.
14/01/2022
Buena calidad. Cómoda de llevar.
Lo compré para un viaje a Glacier y Yellowstone. Hice muchas caminatas. Esta mochila tenía un buen soporte y se lleva bien. Podría utilizar algunos bolsillos con cremallera más, pero en general muy satisfecho. Hay que quitársela para acceder a cualquier cosa, pero mis cosas estaban muy bien protegidas. El bolsillo para llevar el trípode sobresale por debajo de la parte inferior de la mochila, por lo que no se mantiene en pie ni permite apoyarlo contra nada y dificulta su apertura y acceso cuando el trípode está asegurado en la solapa trasera. Deberían mover el bolsillo para el trípode hacia arriba unos 4 o 5 centímetros o tener el trípode asegurado a un lado en vez de a la espalda. no puedes sentarte cuando llevas la mochila con un trípode.
27/12/2021
Funciona muy bien
Lo compré para llevar los accesorios de mi equipo de vídeo (guardo las cámaras en un estuche rígido). Tenía pensado comprar algo similar en el sitio en línea donde compro la mayor parte de mi equipo. Sin embargo, ésta costaba la mitad de precio pero se parecía a las piezas más caras que ofrecía el otro sitio. Es robusto y bien acolchado... no hay decepciones. Tiene un compartimento específico para el portátil en el que cabe mi portátil de 15 pulgadas.
11/11/2021
Brilliant all purpose backpack
Brilliant size and feels well made, great for walks with a good strap system to help carry heavy kit! Multiple pockets and rain cover included, brilliant choice
04/06/2021
There are no faqs for this product.
Gimbal Stabilizers
Axis
28*18*42cm
Bag Compartment
Carrying/Transport Options
Backpack
Camera Support Strap
Yes
Camera Compartment
2
Lens Compartment
8
Laptop Compartment Screen Size
<14 inch
Bag Exterior
Exterior Color
Camouflage
Exterior Dimensions
30*22*46cm
Exterior Material
Nylon
Type of Closure
Buckle
Rain Cover
Yes
Bag Interior
Maximum Volume
21L
Weight
1.7kg