Lightweight Travel Tripod Camera Tripod 63.8''/162cm 10kg/22lbs Load Capacity 360° Panorama Ball Head for Canon Sony Nikon SLR DSLR B234A1+BH-28 (TM2324)
To
United States
Expedited Shipping
3-5
business days
Free Shipping Worldwide. 30 Day No Reason Return. K&F TM2324 Lightweight Travel Tripod for Canon Nikon DSLR Camera 62" suit for outdoor travel photography.

KF09.007

SKU:

KF09.007

79.99

https://www.kentfaith.com/KF09.007_tm2324-lightweight-travel-tripod-62-inch-aluminum-ball-head-4-sections
Description
* 【Strong Stability】 K&F Concept camera tripod has a 23mm large diameter aluminum alloy tube, the load capacity can reach 22.04lbs (10kg), provide security and stability support for your DSLR camera.
* 【28mm Large Ball Head】 Large ball head ensures the stability of the cloud platform; The non-oil damping new design allows the camera to rotate smoothly and accurately; With a 360-degree scale at the bottom of cloud platform, it's easier to take panoramic photos and give more stunning effects than the ultra wide-angle lenses.
* 【Compact & Portable】 The compact camera tripod is made of quality military magnesium-aluminum alloy, featuring corrosion resistance. The tripod with ball head weighs only 2.79 lbs, it can be 180°reflexed and folded to 16.5'', easy to put in a backpack or the provided suitcase when travel.
* 【360° Shooting Angle】- The camera tripod is designed with a metal ball head and a transverse center column so it enables 360° shooting angle and realizes panorama shooting and macro photography.
* 【Wide Height Ranges】- 4 sections leg can adjust the height from 18.1'' to 63.8'', making standing shooting easier and meet various shooting environment and photographic needs.
Shipping
To
United States
Expedited Shipping
3-5
business days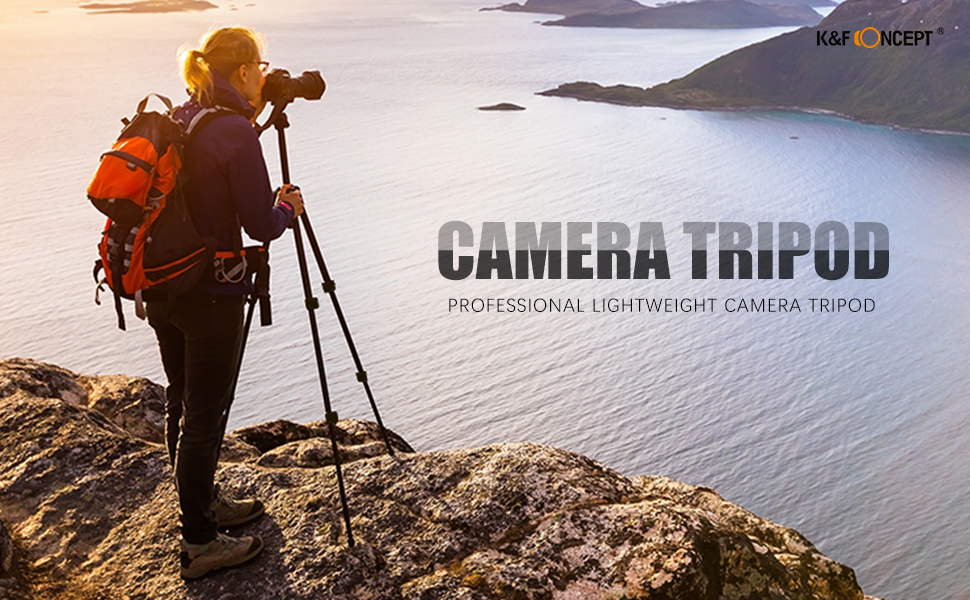 Highlight Features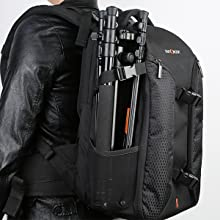 Compact Tripod
The tube is made of quality magnesium alloy, light and stable, can be reversed 180 degrees, easy for outdoor carrying.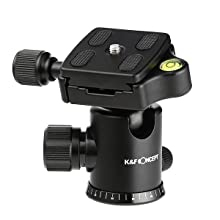 360 degrees ball head
The ball head can be rotated 360 degrees, then helps to improve camera activity range when panoramic shooting.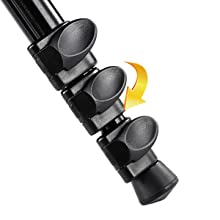 Quick Flip Leg Lock
Pull button tube lock, to achieve rapid release lock, simple operation reducing set the time of the tripod to meet the needs of outdoor photography in a variety of scenes.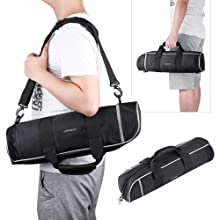 Portable tripod bag
This high-quality tripod bag offers protection against dust, dirt, moisture, and the bumps and knocks encountered when moving your gear.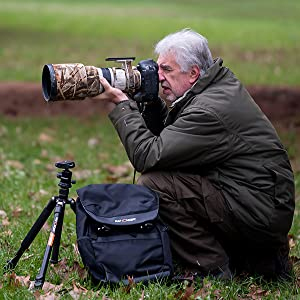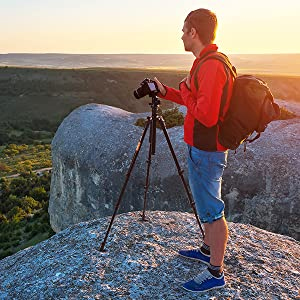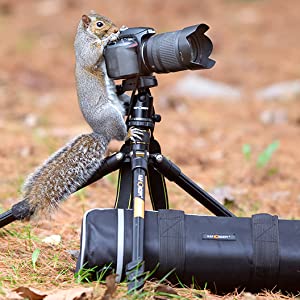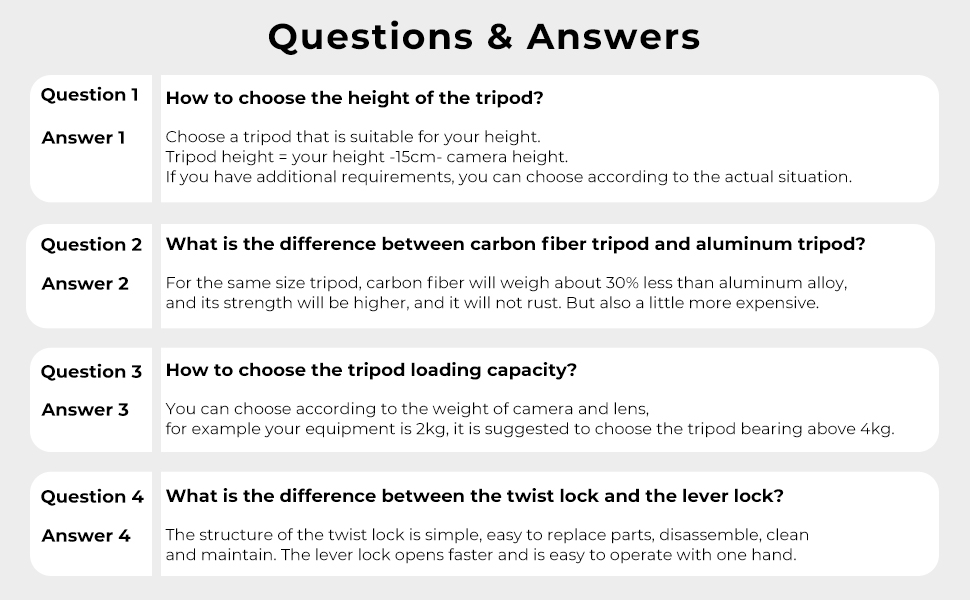 Rating

945 reviews.

25 reviews.

35 reviews.

50 reviews.
Price

$169.99

$79.99

$259.99

$129.99

$253.99

$175.99

$119.99

$79.99

Model
KF09.007
KF09.109
KF09.103
KF09.084

Load Capacity

10kg/22.05lbs
10kg/22.05lbs
15kg/33lbs
10kg/22.05lbs

Maximum Working Height

1620mm/63.8"
1600mm/63"
1560mm/61.4"
1580mm/62.20"

Minimum Working Height

550mm/21.7"
535mm/21.06"
480mm/18.9"
510mm/20.08"

Folded Length

470mm/18.5"
410mm/16.14"
490mm/19.3"
410mm/16.14"

Weight

1270g/2.8lbs
1346g/2.97lbs
1323g/2.9lbs
1547g/3.41lbs

Materials

Magnesium aluminum alloy
Carbon Fiber
Carbon Fiber
Magnesium aluminum alloy

Leg Lock Type

Flip Lock
Flip Lock
Twist Lock
Flip Lock

Leg Diameter

14-23mm/0.55-0.91"
16-25mm/0.63-0.98"
13-25mm/0.5-0.98"
16-25mm/0.63-0.98"
All Reviews
Image

All Star

5 Star

4 Star

3 Star

2 Star

1 Star
Sturdy, easy to connect my camera, and can be used in multiple configurations!
Great tripod so far! Its a bit larger than what i need but it is fully adjustable. The legs have 3 snap in locations to adjust their outward angle. The screw mount that connecrs into my camera is removeable from the tripod. This makes it easy to get my camera on and off. The tripod head also has adjustments to get my camera pointed at the right angles that ill need.The tripod also comes with a travel bag and strap. Its a tight fit in the bag and the tripod is easy to set up and take down. The head of the tripod was covered in a small soft bag that can be used to protect the head while its in the bag. Ill likely use this small pouch to carry misc. items.The construction of the tripod is really nice. It feels sturdy and is well built. The head connections are almost all metal. Im really pleased so far and with proper care i think this tripod will last a long time.
04/11/2023
Very light and nice quality
 I can't believe how light this tripod is, a lot lighter then the one I had which I lost a part and needed a replacement. It is so light that came with a carrying bag for ease of carry tripod. Love the idea. Not only you can carry by hand but also a strap to carry with shoulder. Tripod is very easy to assemble and legs does do 360° which means either hang your camera below in between legs or above. Very nice. Overall I'm happy with my purchase.
03/11/2023
Great to carry in the car
I have a best selling top rated travel tripod already, but it's much too flimsy even for my Point And Shoot. Especially in uneven surfaces, or windy areas. I needed something for sturdy for road trips and astrophotography. This K&F does everything I need. Without the case, it's 2.81 pounds, 23 inches long when folded. Deployed to maximum height, it's taller than I need, and I'm taller than the average person. The quick release legs are fast, easy, and solid to deploy. I'd say it's even faster than the twist lock legs found in other tripods. In my experience with these flip latches, they'll last very long. The rubber tipped leg ends are good gripping. Horizontal pan and the ball joint are both smooth, easy to operate, and the different sized knobs make it easy to figure out in the dark. The quick release camera attachment is easy to use in the dark and holds tightly, even when shooting portraits sideways.
31/10/2023
one of the best Tripod I owner
 I like this Tripod. this is my second one. The tripod is lightweight EZ to carry. I attended to my camera bag It was EZ to hook up. work great with my setup. Check out my picture to see the setup.I Definitely recommend this Tripod.
16/10/2023
Very Very good tripod
I can say that even after a year of treating it quite badly it works just as well as the day I bought it. Very lightweight and comfortable to carry around. 1010 on all aspects.
03/10/2023
Use to mount my pochade
I use this for plein air painting, mount my pochade on top. Works as it should, light weight-I strap it to my backpack, easy to set up.
30/09/2023
Well made!
Well made, sturdy, easy to use, not too heavy!
28/09/2023
So far, so good.
I am happy with the construction but have yet to use it. I have attached a rifle and pistol case catcher net to it and like the result so far. I will review this again after I have used it on both indoor and outdoor ranges.
26/09/2023
Good Product
The K&F Concept 64''/162cm DSLR Tripod is an excellent choice for anyone looking for a reliable and high-quality camera tripod. This tripod is made from lightweight and durable aluminum, making it both sturdy and easy to transport.

One of the standout features of this tripod is its height, which can be adjusted to a maximum of 64 inches, providing plenty of flexibility and range for different shooting angles and situations. The tripod also has a maximum load capacity of 22 pounds, making it suitable for use with larger DSLR cameras and lenses.

The tripod is easy to set up and features a quick-release plate and flip-lock leg locks for added convenience and stability. The rubber feet also provide a stable base and prevent slipping on smooth surfaces.

Overall, the K&F Concept 64''/162cm DSLR Tripod is an excellent choice for anyone looking for a high-quality and reliable camera tripod. With its lightweight and durable aluminum construction, adjustable height, and convenient features, this tripod is sure to provide the stability and flexibility you need for all your photography needs.
22/09/2023
Unbelievable quality for the price. Highly recommend!
Unbelievable quality for the price. Highly recommend!
20/09/2023
These images belong to KENTFAITH end users.
三脚について!ポートレート撮影での三脚を使う撮影&作例 / K&F Concept 三脚使用 / 星空・夜景ポートレート・長時間露出 / 初心者でも使えるコツ【イルコ・スタイル#074】
Best-selling K&F Concept® Tripods Comparison TM2324 Vs TM2534T
Tripod General
Load Capacity
10kg/22.05lbs
Maximum Working Height
1620mm/63.8"
Max Height without Center Column
1330mm/52.36"
Minimum Working Height
550mm/21.7"
Folded Length
470mm/18.5"
Weight
1270g/2.8lbs
Materials
Magnesium aluminum alloy
Tripod Head
Ball Head
Color
Gold/Black
Bubble Level
Tripod Legs
Leg Lock Type
Flip Lock
Leg Positions
3
Independent Leg Spread
Leg Sections
4
Leg Diameter
14-23mm/0.55-0.91"
Feet Features
Can be reversed 180° and folded
Tripod Center Column
Center Column Features
Center Column Inversion
Center Column Sections
1