K&F M11184 Nikon F Lenses to Nikon Z Lens Mount Adapter
Free shipping to eligible country
Brand:

K&F Concept

K&F M11184 Nikon F Lenses to Nikon Z Lens Mount Adapter Allow Nikon F mount lenses used on Nikon Z mount camera body.

KF06.372

SKU:

KF06.372

48.3

https://www.kentfaith.com/KF06.372_nikon-f-lenses-to-nikon-z-mount-camera-adapter
Buy 2+ items get

10% off

!
Description
• Allow Nikon F mount lenses used on Nikon Z mount camera body.
• Compatible with Nikon Z mount mirrorless camera includes: Nikon Z6, Z7 etc.
• Made of brass and aluminum. Stable, precise and durable construction. Manually operated. Infinity focus allowed.
• For heavy medium format lenses, we suggest to use with a telephoto bracket and a tripod to balance its weight when shoot.
• 30 days no reason return, 12 months quality guarantee, 100% satisfaction assurance.
Frequently Bought Together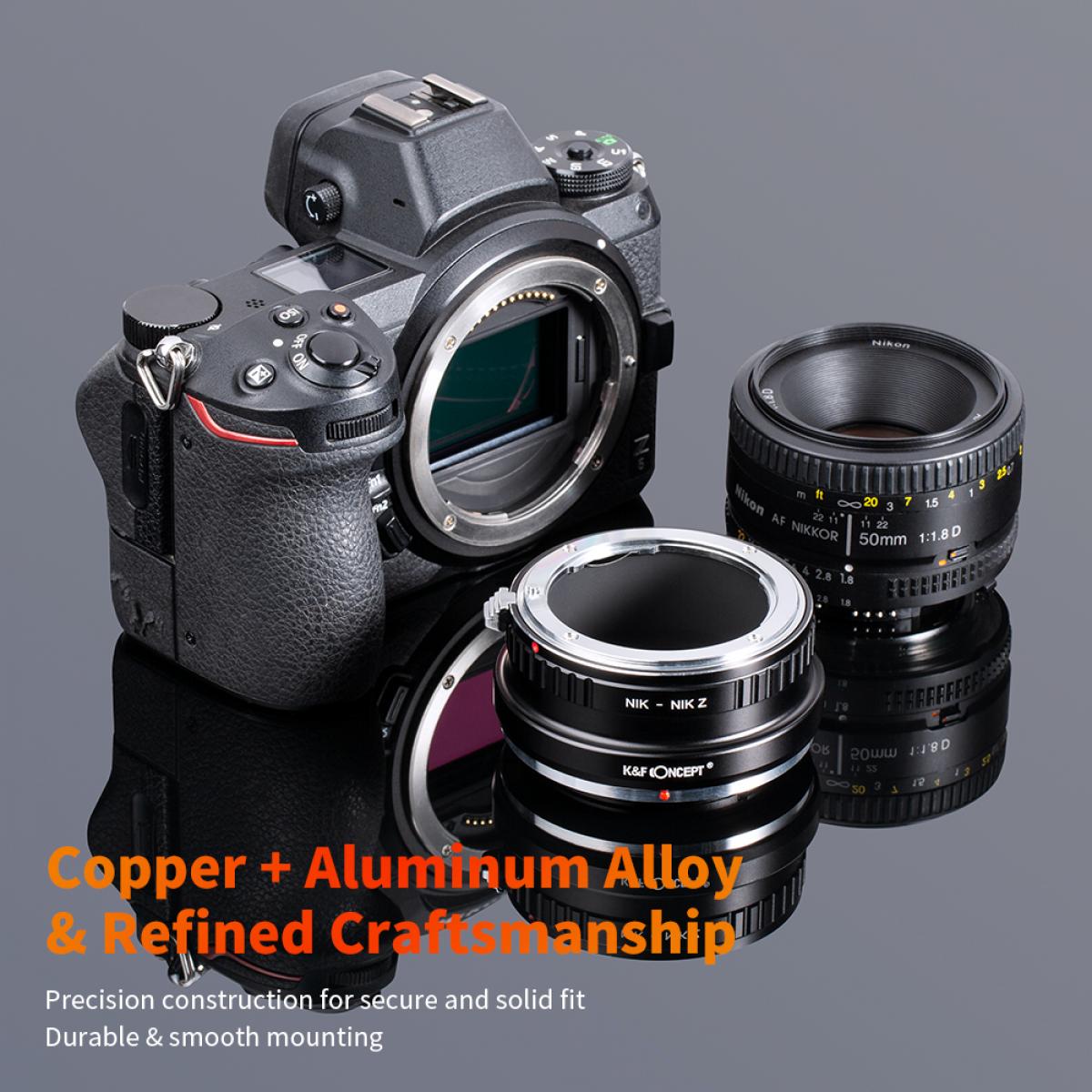 K&F Concept design and produce full range of lens adapters to fit lenses of Canon, Nikon, Pentax, Olympus, Leica, Contax Yashica, Minolta, Tamron, T2, C mount, Exakta, M39, M42, Pentacon etc used on Camera bodies of Canon, Nikon, Sony, Fujifilm, Pentax, Micro 4 3, Leica, M42, Cinema C mount etc.
Not Perfect, But Pretty Good
I got this adapter to adapt my Nikon AI-S lenses onto my Nikon Z 7 since it is much cheaper than the FTZ adapter and these lenses do not require electronic contacts. One thing that I immediately noticed was that the Nikon Z lens cap did not fit snugly on the adapter, which led me to suspect that there might be some play when attached to the body.Sure enough, I attached it to the body and there was just the slightest bit of play between the adapter and the camera body (something not present at all with my FTZ adapter). It wasn't enough to get me concerned, but it would have been nice if it snugly with no movement at all.On the lens side, my Nikon 28mm f/2.8 AI-S fit snugly and there was no movement at all so no complaints on that end.I did, however, notice one odd issue that popped up on the Z 7 with both this adapter and the FTZ adapter. Neither adapter will display the aperture setting of the lens. That's annoying, but you can work around it. Something that might be a deal breaker, however, involves the camera body itself. As of right now, I cannot get a meter reading on the camera body with either lens. This is not to say that the meter does not work as I've found Aperture Priority Mode to be accurate, but I like to shoot in Manual Mode with the LIVE EFFECT setting off and this is simply not reasonable on the Z 7 right now unless you are going to "Sunny 16" it. So just know that as of this writing (unless there's some setting I'm missing in the menu), you will have to either shoot in an Automatic/Semi-Automatic mode or rely on the Live View exposure in your EVF (or your In-EVF Histogram) as your actual meter reading will disappear in all metering modes. This applies to both this adapter and the FTZ so it's just a camera thing at this point that you'll have to consider.The 1-Star off is really just for the play between the camera body and the adapter.
16/02/2019
Adapter
Camera
NIK Z
Lens
NIKON
Ring Material
Comparison of similar products
| | | | | | | |
| --- | --- | --- | --- | --- | --- | --- |
| | | | | | | |
| | | | | | | |
| | | | | | | |
| Rating | 1 reviews. | 312 reviews. | 10 reviews. | 57 reviews. | 3 reviews. | 4 reviews. |
| Price | $48.30 | $26.99 | $29.99 | $29.99 | $29.99 | $21.99 |
| Model | KF06.372 | KF06.109 | KF06.437 | KF06.145 | KF06.173 | KF06.441 |
| Camera | NIK Z | FX | | M4/3 | NIKON | |
| Lens | NIKON | NIKON | | OM | LM | |
| Ring Material | | | | | | |