K&F Concept Lens Mount Adapter Compatible with Nikon F/AF AI AI-S Mount Lens to Nikon Z6 Z7 Camera
Free shipping to eligible country
Shop Best Lens Adapter/Lens Converter Ring Made by K&F Concept. Find Top-Rated Canon EF, RF, EOS-M, Fujifilm X-mount, Fujifilm G-mount, Leica L-mount, Nikon F, Nikon Z mount, etc. Enable the use of camera and lens combinations from otherwise incompati

KF06.372

SKU:

KF06.372

30.99

https://www.kentfaith.com/KF06.372_nikon-f-lenses-to-nikon-z-mount-camera-adapter
Description
* Smooth surface for effortless mount, Made of copper.
* This adapter is compatible with Nikon F/AF AI AI-S Lens to Nikon Z6 Z7 mount camera body.
* Full manual operation, manual focus, infinity focus allowed.
* Red dot identification, precise alignment, easy to install and disassemble.
* If your camera indicated "lens is not properly installed", please modify the camera menu settings. Usually called the release the shutter the lens is not installed", you can modify the settings to allow. Specifically refer to the camera manual.
Shipping
Free shipping to eligible country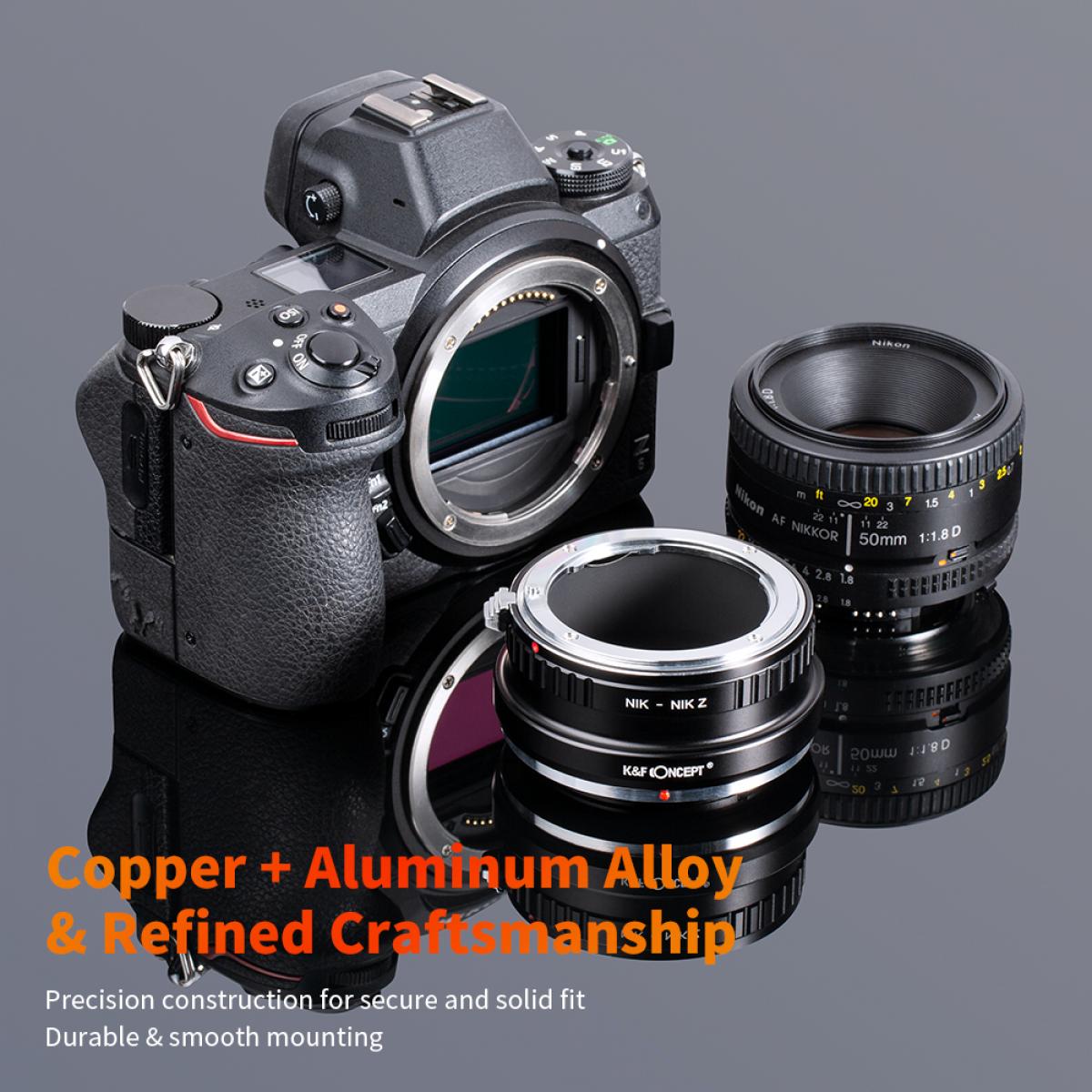 K&F Concept Lens Mount Adapter for Nikon F/AF AI AI-S Mount Lens to Nikon Z6 Z7 Camera
This adapter gives you the ability to use your irreplaceable prime lens and saves you the cost of purchasing new lenses.

The adapters are precision made to ensure the perfect fit.

Allows focus infinity.

Diaphragm control of the lens is set manually.

High quality and compact.

Made of brass and aluminum (not plastic).
Not Perfect, But Pretty Good
I got this adapter to adapt my Nikon AI-S lenses onto my Nikon Z 7 since it is much cheaper than the FTZ adapter and these lenses do not require electronic contacts. One thing that I immediately noticed was that the Nikon Z lens cap did not fit snugly on the adapter, which led me to suspect that there might be some play when attached to the body.Sure enough, I attached it to the body and there was just the slightest bit of play between the adapter and the camera body (something not present at all with my FTZ adapter). It wasn't enough to get me concerned, but it would have been nice if it snugly with no movement at all.On the lens side, my Nikon 28mm f/2.8 AI-S fit snugly and there was no movement at all so no complaints on that end.I did, however, notice one odd issue that popped up on the Z 7 with both this adapter and the FTZ adapter. Neither adapter will display the aperture setting of the lens. That's annoying, but you can work around it. Something that might be a deal breaker, however, involves the camera body itself. As of right now, I cannot get a meter reading on the camera body with either lens. This is not to say that the meter does not work as I've found Aperture Priority Mode to be accurate, but I like to shoot in Manual Mode with the LIVE EFFECT setting off and this is simply not reasonable on the Z 7 right now unless you are going to "Sunny 16" it. So just know that as of this writing (unless there's some setting I'm missing in the menu), you will have to either shoot in an Automatic/Semi-Automatic mode or rely on the Live View exposure in your EVF (or your In-EVF Histogram) as your actual meter reading will disappear in all metering modes. This applies to both this adapter and the FTZ so it's just a camera thing at this point that you'll have to consider.The 1-Star off is really just for the play between the camera body and the adapter.
16/02/2019
Adapter
Camera
NIK Z
Lens
NIKON
Ring Material