Canon EF Mount Lens to Nikon Z6 Z7 Camera K&F Concept Lens Mount Adapter Lens Adapter
To
United States
Expedited Shipping
3-5
business days
Shop Best Lens Adapter/Lens Converter Ring Made by K&F Concept. Find Top-Rated Canon EF, RF, EOS-M, Fujifilm X-mount, Fujifilm G-mount, Leica L-mount, Nikon F, Nikon Z mount, etc. Enable the use of camera and lens combinations from otherwise incompati

KF06.367

SKU:

KF06.367

23.99

https://www.kentfaith.com/KF06.367_canon-ef-lenses-to-nikon-z-mount-camera-adapter
Description
* Smooth surface for effortless mount, Made of copper.
* This adapter allows you to use the Canon EF mount lens to the Nikon Z6 Z7 mount camera body.
* Full manual operation, manual focus, infinity focus allowed.
* Red dot identification, precise alignment, easy to install and disassemble.
* If your camera indicated "lens is not properly installed", please modify the camera menu settings. Usually called the release the shutter the lens is not installed", you can modify the settings to allow. Specifically refer to the camera manual.
Shipping
To
United States
Expedited Shipping
3-5
business days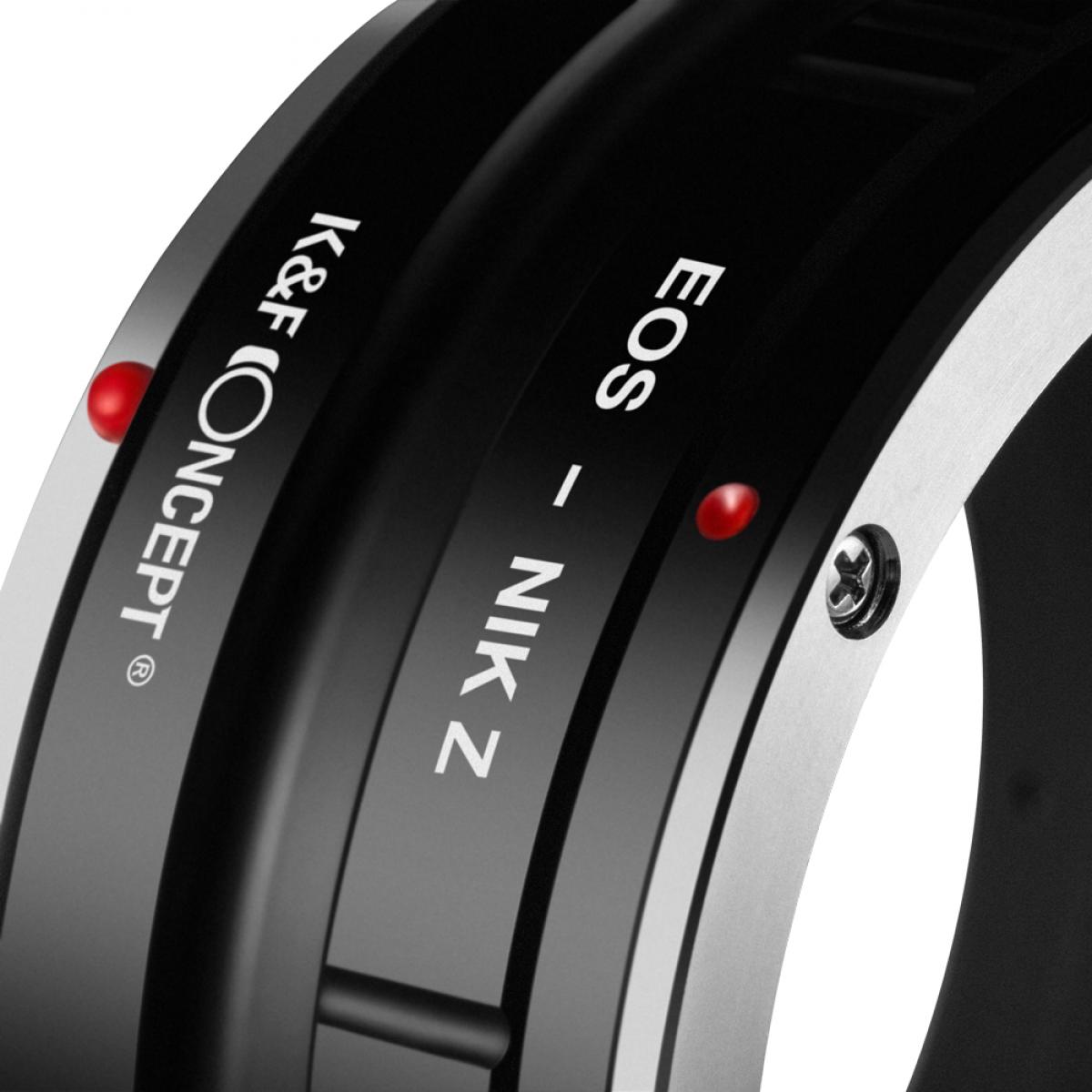 K&F Concept design and produce a full range of lens adapters to fit lenses of Canon, Nikon, Pentax, Olympus, Leica, Contax Yashica, Minolta, Tamron, T2, C mount, Exakta, M39, M42, Pentacon etc used on Camera bodies of Canon, Nikon, Sony, Fujifilm, Pentax, Micro 4 3, Leica, M42, Cinema C mount, etc.
Notices before purchasing:
Canon STM series lenses don't work with our EOS adapters.

STM lens (such as EF 50mm f/1.8 STM, EF 18-135 IS STM) requires to be powered to drive the motor to focus, so cannot achieve focus with manual adapters.

Manual adapters have no electronic contacts, which therefore don't support auto-focus or aperture control. K&F Concept lens mount adapters are all manual ones.

Please figure out the mount of your camera and lens in case of buying the wrong adapter.
All Reviews
Image

All Star

5 Star

4 Star

3 Star

2 Star

1 Star
Good value, works great for manual lenses.
It works great. I bought 2 of these to keep on a couple of my EF Mount lenses to use with my z7. The thing you have to know about this type of adapter is that if it's not a manual aperture lens, the lens will be wide open all the time. For this reason, these cheaper adapters are best used with manual aperture lenses. I use mine with a couple of Laowa manual aperture macro lenses and it works beautifully for that. Otherwise if you were planning on using an auto aperture lens wide open and don't need to record lens data to the exif file, this would work well for you too. If you do need all those features there's another company that just came out with an electronic adapter that makes your Electronic EF lenses work like a native lens on the Z mount. But it'll cost you about 20x more than this. So, in short. This is a good product with good value but is nevertheless limited in its capabilities.
09/01/2020
There are no faqs for this product.
Adapter
Camera
NIK Z
Lens
EOS
Ring Material