K&F M27131 Pentacon 6 Kiev 60 Lenses to Canon EF Lens Mount Adapter
Free shipping to eligible country
Brand:

K&F Concept

K&F M27131 Pentacon 6 Kiev 60 Lenses to Canon EF Lens Mount Adapter Allow Pentacon 6 Kiev 60 mount lenses used on Canon EOS Rebel series camera body.

KF06.065

Availability:

In Stock

24.99

https://www.kentfaith.com/KF06.065_pentacon-six-kiev-60-to-canon-eos-mount-adapter
Buy 2+ items get

10% off

!
Features
• Allow Pentacon 6 Kiev 60 mount lenses used on Canon EOS Rebel series camera body.
• Compatible with Canon EOS Rebel camera includes: Canon 300D, 350D, 400D, 450D, 500D, 550D/T2i, 600D/T3i, 650D/T4i, 700D/T5i, 750D/T6i, 760D/T6s, 800D/T7i, 100D, 200D, 1000D, 1100D/T3, 1200D/T5, 1300D/ T6,Canon 77D, D30, D60, 10D, 20D, 20Da, 30D, 40D, 50D, 60D 60Da, 70D, 77D, 80D, 7D, 7D Mark II, 5D, 5D Mark II, 5D Mark III, 5D Mark IV, 5Ds, 5Ds R, 6D, 6D Mark II,-1D,-1Ds,-1D X,-1D C etc.
• Made of brass and aluminum. Stable,precise and durable construction.Manually operated.Infinity focus allowed.
• For heavy medium format lenses, we suggest to use with a telephoto bracket and a tripod to balance its weight when shoot.
• 30 Days No Reason Return,12 months quality guarantee,100% satisfaction assurance.
Frequently Bought Together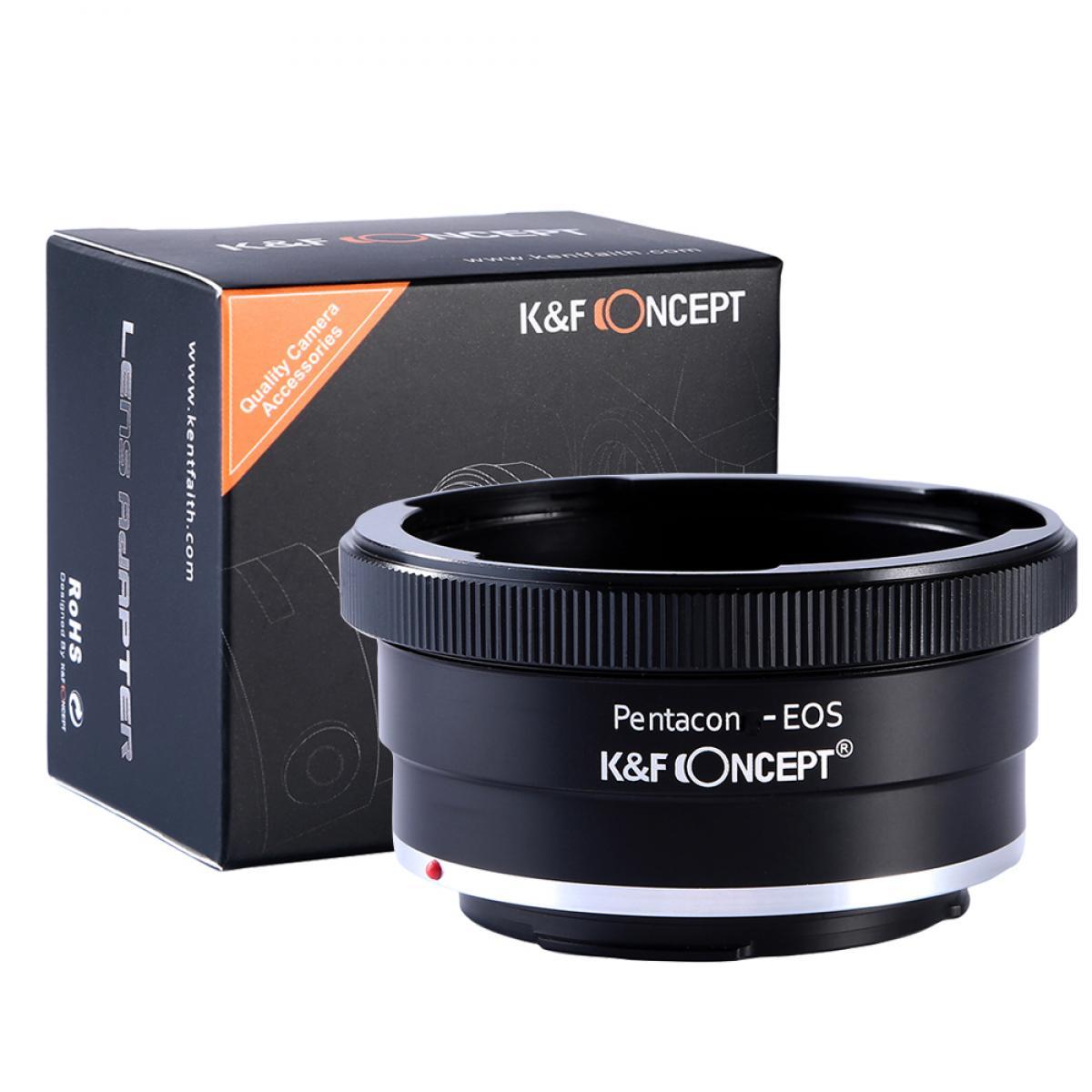 K&F Concept design and produce full range of lens adapters to fit lenses of Canon, Nikon, Pentax, Olympus, Leica, Contax Yashica, Minolta, Tamron, T2, C mount, Exakta, M39, M42, Pentacon etc used on Camera bodies of Canon, Nikon, Sony, Fujifilm, Pentax, Micro 4 3, Leica, M42, Cinema C mount etc.

Passt
Kurz und knapp: Mein Zeiss 90mm 2.8 findet sich dank dieses Adapters nun wieder vermehrt an meiner Canon. Der Adapter macht also genau das, was er soll. Kein Spiel, nix wackelt. Alles passt.
BUONO
Non è pregiatissimo come materiali ma fa molto bene il suo dovere.Non dò 5 stelle solo perchè secondo me manca un fine corsa nell'attacco Kiev, se non fai attenzione e vai oltre con qualche spostamento rischia di rimanerti in mano la macchina e se non sei più che veloce rischia anche di andarti per terra. SI, c'è una ghiera che aiuta a serrare ma dovè? visto che non ci sono riferimenti? Cmq ripeto facendo attenzione a questo il resto è OK!!!5 stelle x amazon che ha consegnato in anticipo.
Ottima
Spedizione molto veloce, è arrivata nei tempi previsti. L'imballaggio protegge bene la lente che, appena presa in mano, dà subito un senso di solidità. Ben fatta, precisa e stabile. Nel complesso sono rimasta molto soddisfatta del mio acquisto, credo che comprerò ancora da questo venditore.Consiglio vivamente questo acquisto.
Genau wie erwartet
Gut verarbeitet und paßgenau. Wackelt und klappert nicht. Kann ich empfehlen. Nun zwingt mich dieser Computer noch mehr zu schreiben. Man könnte sich auch auf weniger einlassen denn: in der Kürze liegt die Würze.
Sweet spot
I ordered this adapter to be able to use the "sweet spot" of large-format lenses on a full-frame digital camera. Some of that old glass is GOOD.I had the opportunity to try this, and have to say, this adapter fulfills what it promises. No problems whatsoever concerning finish and fit, infinity focus is perfect, it is sturdy enough to carry the weight of my camera body. I'm using very heavy old tele lenses on a tripod. A winner.
Adapter
camera
EOS
lens
Pentacon,Kiev60
Ring Material
| Image | Lens | Mount | Filter Size (mm) |
| --- | --- | --- | --- |
| | Arax 80mm f/ 2.8 MC | Pentacon Six | 62 |
| | Arax PCS 55mm f/ 4.5 MC Shift | Pentacon Six | 72 |
| | Astro-Berlin Pan-Tachar 125mm f/ 2.3 | Pentacon Six | - |
| | Carl Zeiss Jena Biometar 120mm f/ 2.8 | Pentacon Six | 67 |
| | Carl Zeiss Jena Biometar 80mm f/ 2.8 | Pentacon Six | 58 |
| | Carl Zeiss Jena Biometar 80mm f/ 2.8 (silver) | Pentacon Six | 58 |
| | Carl Zeiss Jena Biotar 100mm f/ 2 | Pentacon Six | - |
| | Carl Zeiss Jena Flektogon 50mm f/ 4 | Pentacon Six | 86 |
| | Carl Zeiss Jena Flektogon 65mm f/ 2.8 | Pentacon Six | 86 |
| | Carl Zeiss Jena MC Sonnar 180mm f/ 2.8 | Pentacon Six | 86 |
| Camera | Mount |
| --- | --- |
| Canon EOS 1000D/Rebel XS/Kiss F | Canon EF EF-S |
| Canon EOS 100D/Rebel SL1/Kiss X7 | Canon EF EF-S |
| Canon EOS 10D | Canon EF EF-S |
| Canon EOS 1100D/Rebel T3/Kiss X50 | Canon EF EF-S |
| Canon EOS 1200D/Rebel T5/Kiss X70 | Canon EF EF-S |
| Canon EOS 1300D/Rebel T6/Kiss X80 | Canon EF EF-S |
| Canon EOS 1500D/EOS 2000D/Rebel T7/Kiss X90 | Canon EF EF-S |
| Canon EOS 200D/Rebel SL2/Kiss X8 | Canon EF EF-S |
| Canon EOS 200D/Rebel SL2/Kiss X9 | Canon EF EF-S |
| Canon EOS 20D | Canon EF EF-S |