67mm Circular Polarizer Filter with 24 Multi-Layer Green Coatings HD/Hydrophobic/Scratch Resistant CPL Filters
Buy 99$-15$, 199$-30$, 299$-50$, 599$-120$(autumn sale Price)
Free shipping worldwide
Buy now in the K&F Concept Circular Polarizer Filter ► 30 Day No Reason Return ► 24 Multi-Layer/Green Coatings HD ► Fast Shipping From US Free ► Nano D Series

KF01.1790

SKU:

KF01.1790

28.99

https://www.kentfaith.com/KF01.1790_67mm-circular-polarizer-filter-with-24-multi-layer-green-coatings-hd-hydrophobic-scratch-resistant
Buy 99$-15$, 199$-30$, 299$-50$, 599$-120$(autumn sale Price)
Description
* 【Import Japanese AGC Glass】CPL filters is made of Japan imported glass, 24 multi-layer coated. Protect your lens from dirt, scratches, fingerprints, and accidental damage.
* 【24 Multi-Layer Coatings】24 layer green coatings to help repel water and dust, reducing the amount of light that hits your camera sensor, giving you the chance to experiment different creative possibilities.
* 【Function】Hydrophobic, scratch-resistant, anti-reflective green coating, effectively prevent oil, fingerprint, scratch, protect the valued camera lens.
* 【Super Slim & Lightweight】Super slim and lightweight aluminum frame, maximum reduce the impact on light and effectively avoid dark corner for wide-angle shooting. The super lightweight CNC nonslip frame helps install and take off the filter quickly.
* 【Note】This size nd filter is compatible with all 67mm lenses. Please verify your camera's lens thread size before ordering. This number is always preceded by a "ø" (diameter) symbol.
Shipping
Free shipping worldwide
Sale
Buy 99$-15$, 199$-30$, 299$-50$, 599$-120$(autumn sale Price)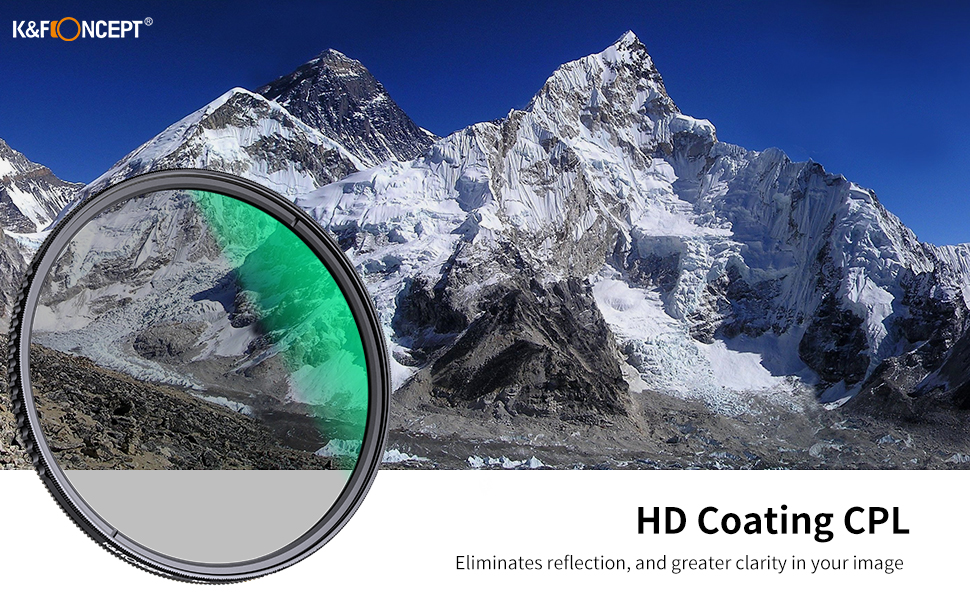 K&F Concept D-Series Circular Polarizers Filter with 24 Multi-Layer Coatings for Camera Lens
Polarizers provide color and contrast enhancement. Reflected light often shows up as whitish glare that washes out color in an image. A Polarizer corrects this problem producing deep, dramatically blue skies. It also removes glare from non-metallic surfaces, such as galss and water. Color saturation in general, especially outdoors, can be improved significantly. Think of it as sunglasses for your camera.
A Circular Polarizer has the same effect as a Polarizer and is used on cameras with beam splitting metering systems commonly found on auto focus SLR's (for most 35mm auto-focus cameras see your camera manual).
Area of sky most effectively polarized with a Circular Polarizer: Point your index finger at the sun. With your thumb extended at a right angle (90°), rotate it around the axis of the index finger. It will point out the band of deepest blue from horizon to horizon.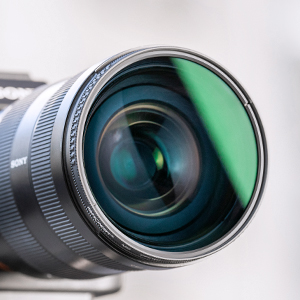 Double Sides Nanometer Coatings
The K&F Concept Polarizers Filter has 24 multi-layer of coatings helps to repel water, dust & grease, while also preventing ghosting.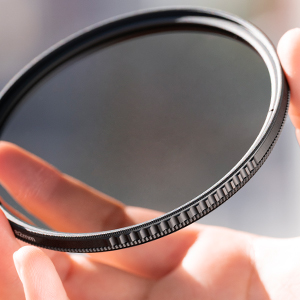 Filter function
Polarizers provide color and contrast enhancement. Especially used in blue sky, white clound and outdoor photography
Also removes glare from non-metallic surfaces, such as glass and water. Think of it as sunglasses for your camera.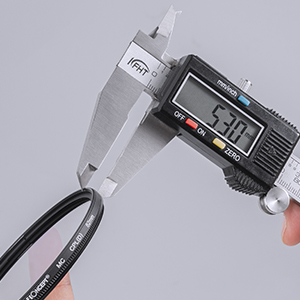 Ultra-Slim & CNC-Non Slip Frame
Ultra slim filter to help avoid vignetting on wide angle lens.
The CNC-Non Slip frame can remove and install the filter eaily.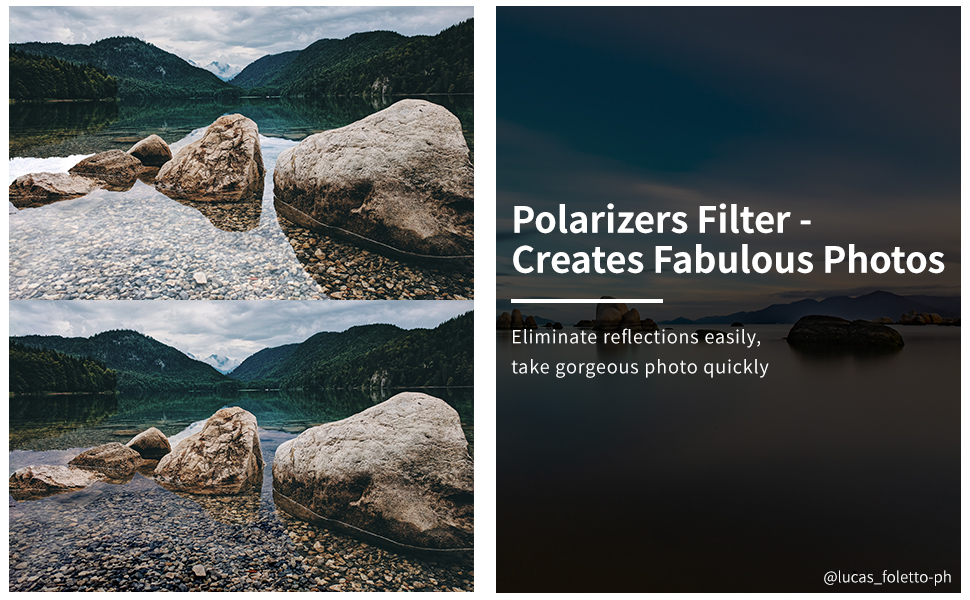 | | | | | | | |
| --- | --- | --- | --- | --- | --- | --- |
| | | | | | | |
| | | | | | | |
| | | | | | | |
| Rating | 42 reviews. | 59 reviews. | 126 reviews. | 50 reviews. | 46 reviews. | 51 reviews. |
| Price | $28.99 | $58.99 | $57.99 | $23.99 | $26.99 | $12.99 |
| Model | KF01.1790 | SKU.1663 | KF01.972 | KF01.1777 | KF01.968 | KF01.1315 |
| Size | 67mm | | 67mm | 67mm | 67mm | 67mm |
| Series | Nano-D Series | Nano-X series | Nano-X series | Nano-D Series | Nano-X series | Nano-K series |
| Recommended Scenes | Landscape Photography | All Scenes | Landscape Photography | All Scenes | All Scenes | Landscape Photography |
| Function | Eliminate stray light/ Color contrast enhancement | Protect Lens/Remove Glare/Enhance Color & Cont | Eliminate stray light/ Color contrast enhancement | Protect Lens | Protect Lens/Absorb UV Ray | Remove Glare/Enhance Color & Contrast |
| Filter Material | Japanese AGC Glass | Japanese AGC Glass | Japanese AGC Glass | Japanese AGC Glass | Japanese AGC Glass | Japanese AGC Glass |
| Multi-Coating | 24 Layers | 28 layers | 28 layers | 24 Layers | 28 layers | 18 layers |
| Waterproof | √ | √ | √ | √ | √ | / |
| Scratch-resistant | √ | √ | √ | √ | √ | / |
| HD | √ | √ | √ | √ | √ | / |
| Transmittance | ∕ | | ∕ | 98,30 % | 0.995 | ∕ |
| Antireflection | √ | | √ | √ | √ | |
| Filter Thickness | 5,3 mm | | 5.5mm | 3,3 mm | 3.3mm | 5.5mm |
| Ring Material | Optical Glass | | Aviation aluminum alloy | Optical Glass | Aviation aluminum alloy | Aviation aluminum alloy |
| Reflectivity | | 0.2% | 0.2% | | 0.2% | 0.6% |
All Reviews
Image

All Star

5 Star

4 Star

3 Star

2 Star

1 Star
Does what it should
Fast delivery, typical CPL packaging in a plastic box, nothing special until then.

Very good anti-reflective coating without loss of sharpness with the CPL 55mm diameter D-series. I've always lacked that little bit of sharpness, even that was remedied by, among other things, more contrasting images.
The picture uploaded here shows in 100% Cropp left without filter and right with filter, I was talking about the sharpness image, taken with Sony a7ii and kit lens on 65mm with 1/100 f5.6 ISO 800.
The second picture shows left without reflection and right with reflection.
I don't want to test whether it is scratch-resistant.
15/05/2023
Makes a Significant Difference!
This is the first lens filter I've ever used. I've always read/heard that a good filter can make a significant difference, but I never ended up getting one until now. This polarizing filter is very nice! It's easy to see the quality construction of glass and metal. In my pictures, you can see that the filter is attached to my camera, but I was also able to attach my lens hood directly to the front of the filter. It has front receiving threads in addition to the rear threads. A really nice feature is that the front of this filter freely rotates. This now allows me to easily rotate the tulip hood to the best position without any risk of the filter or hood loosening. I couldn't do this when the hood was connected directly to the camera. Does the filter make any difference though? I'm pleased to say that it works very well! I often take pictures through a window, and it's very common for the picture to have a certain "haze" to them that wasn't there if I took the same picture outside. I took a picture through the window with this filter in place, and I was pleasantly surprised to see a picture that looked like I had taken it outside. I don't know exactly how this works, but it does. Just like polarized sunglasses, this filter "controls" the light in a way that improves what you see. I'm impressed!
13/05/2023
Good quality filter for reducing reflections
These are well made filters, the ring is very small so they won't cause any vignetting even on fairly wide angle lenses. These threaded onto my lens smoothly and stayed on securely. These circular polarizers reduce the light only a little, and once they are screwed on there is an outer ring that lets you rotate the polarizer to get the best effect.

You can use these to reduce reflections from things like water, glasses and windows. Because it reduces reflections, you can see down into water making it look clearer and cleaner. It also helps deliver a clearer sky image when taking photos outside.

This is the "D" series filter, they also have a "K" series. I'm not sure the exact difference between the two as K&F's own website doesn't really explain it. As near as I can tell the "D" series ones (this one) are a slightly more expensive design with more layers of coating, including water/oil repellant coatings on both sides. They describe these as "waterproof".

In any case, well made filters that do the job.
05/05/2023
Excellent circular adjusting Polarizer! True Multilayer construction. Superb Value at the price!
I acquired this 82mm Circular adjusting Polarizer Filter for use on both my Sigme 24-70 f/2.8 E mount as well as my Canon 24-70 f/2.8L II lenses. It's simply a perfect polarizer for these highly versatile zooms.

The lens is extremely well-made and circular action is smooth as silk when attached to the lens. High-level multi-coating assures detail in photos and videos without artifacts or hazing, and maintains outstanding focus accuracy.

Polarizing filters have multiple uses, including deepening color enhancements of sky and landscapes, especially in bright conditions. Additionally, the circular adjustments can be used to shoot through windows clearly without reflection, as well as taking pictures or video through water. For example, this filter can be used to take perfect pictures of Koi (Japanese Colorful Carp) in a pond without having light bounce-back from the water surface. There are other uses as well.

To operate, it only takes pointing a camera at the subject and turning the outer level of the filter until the desired effect is seen through the viewfinder...or on a display screen. Easy peasy.

I own a number of K&F filters of different types including UV, ND and Diffusers. I have come to trust the company's products. This one is a superb value at the price as compared to much more expensive Polarizer filters like those from B+W and Hoya, while providing virtually equivalent performance. Awesome!

It's an unequivocal high FIVE STARS from me, along with my honest and very hearty recommendation. Up your photography and vlogging! Get this!

*If you found my review helpful to you, PLEASE let K&F Concept know by clicking the "HELPFUL" button below!
04/05/2023
Excellent value and quality. Identical function to more expensive brands but priced right
I just came back from vacation where I used this CP frequently since we were at the beach and near water all the time. Previously I got another K&F UV/protection filter and was impressed by the quality, so I decided to get this CP filter as well before our trip. It arrived just in time and just like another one I have - it is definitely a great value for the quality you are getting. Usually I shop used market for photo accessories and good quality CP filters of this size (B+W, etc.) cost more sometimes, unless you are lucky to get one in new condition in this price range. This filter seems to be very well made, good quality glass and coating, and I did not notice any artifacts while pixel-peeping on my Sony 7R III using Tamron 28-75mm f2.8 lens with this filter. Definitely recommend checking out this CPL if you are in the market.
02/05/2023
Good quality and good value
I do mostly landscape and "street" photography. I don't use a lot of filters, but I sometimes use neutral density (ND) and graduated neutral density filters for special situation.

However, I often use a polarizer in bright sunlight. It can help tame unwanted reflections, and it is particularly useful for increasing saturation and contrast in skies.

This filter threads smoothly onto my 77mm Nikon SLR lenses. The outer filter ring rotates smoothly. (You need to orient the filter to get the best results.)

Like any polarizer I've used, this one reduces the light reaching the camera sensor. This one reduces incoming light by about a stop-and-a-half.

Mechanical and optical quality are good as far as I can discern.

This vendor offers wide variety of filters. Pricing seems very reasonable
30/04/2023
Good for water and reflections shots
Worked well with my ND filter.
29/04/2023
Superior quality polarizing filter
I ordered this polarizing filter for use on my Sigma 30 mm F1.4 DC DN Contemporary lens (my prime lens, not included); polarizing filters eliminate non-metallic reflections, thus enhancing scene detail and contrast. This is a superior quality polarizing filter whose polarizing action is easily verified by rotation while viewing an LCD monitor through the filter. The filter incorporates multiple coatings to prevent distracting optical reflections appearing within photographs. The filter machining is excellent: the threads attach cleanly; the filter rotates smoothly when lens-mounted. And the foam-lined filter plastic sturdy container effectively protects the filter while it sits in a camera bag.
29/04/2023
Works great and doesn't affect picture quality
It's a nice pair of sunglasses for my Olympus
28/04/2023
K&F Concept D Series 67mm Slim Circular Polarizing Filter Polarizing Filter CPL Filter Circular Polarizing Filter
The filter is very well packaged and makes a high-quality impression. I've only been able to test it so far. It is easy to screw onto the lens and is easy to operate.
28/04/2023
There are no faqs for this product.
Do You Know How Your K&F Concept Filters be Produced? | One-day Tour in Production Line
How to check your lens size
KF01.1780 MC UV Protection Filter with 24 Multi-Layer Green Coatings Production process details show
Filter
Size
67mm
Series
Nano-D Series
Recommended Scenes
Landscape Photography
Function
Eliminate stray light/ Color contrast enhancement
Filter Material
Japanese AGC Glass
Multi-Coating
24 Layers
Waterproof
√
Scratch-resistant
√
HD
√
Transmittance
∕
Antireflection
√
Pattern
√
Filter Thickness
5,3 mm
Shape
Circle
Ring Material
Optical Glass