67mm MC UV Protection Filter with 24 Multi-Layer Green Coatings HD/Hydrophobic/Scratch Resistant Ultra-Slim UV Filter
Buy 99$-9$, 199$-25$, 299$-39$, 599$-100$
New customer gift package
Free shipping worldwide
Buy now in the K&F Concept MCUV Protection Filte ► 30 Day No Reason Return ► 24 Multi-Layer/Green Coatings HD ► Fast Shipping From US Free ► MCUV - D Series

KF01.1777

SKU:

KF01.1777

21.99

https://www.kentfaith.com/KF01.1777_67mm-mc-uv-protection-filter-with-24-multi-layer-green-coatings-hd-hydrophobic-scratch-resistant-ultra-slim-uv-filter
Buy 99$-9$, 199$-25$, 299$-39$, 599$-100$
Description
* 【UV Filter Function】MCUV filter has two functions, one is to prevent UV ray and weakens the blue tone in images caused by UV, ensuring clarity and color. Another is to protect the lens away from dust and scratches.
* 【Import AGC Glass】Made by importing AGC optical glass with a CNC-Non-Slip design frame for easily remove and installation, 98.3% transmittance ensures HD image quality, no negative effect restores true color.
* 【24 Multi-Layer Nanometer Coatings】Double side multi-layer coating, waterproof, oil-proof, protecting the lens also at the same time to reduces reflection came from filter self.
* 【Wide Angle Lens No Vignetting】K&F Concept D-series UV filter only 3.3mm thickness with double side polishing technology ensures no vignetting the images still clear enough even on the telephoto lens.
* 【Note】This UV filter only fit 67mm camera lens, please verify your lens size before ordering it. The number beside the "Ø" (diameter) symbol represents your lens size, please choose the same size filter.
Shipping
Free shipping worldwide
Sale
Buy 99$-9$, 199$-25$, 299$-39$, 599$-100$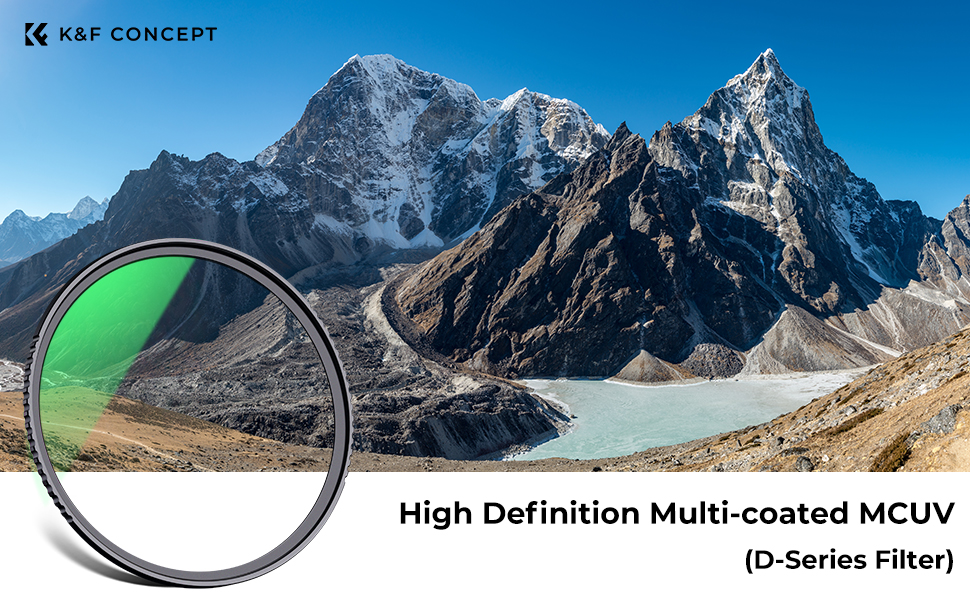 K&F Concept D-Series MCUV Protection Filter with 24 Multi-Layer Coatings for Camera Lens
The main function of K&F Concept MCUV filter is to absord the harmful effect of UV rays and eliminates atmospheric haze that causes a bluish cast and makes distant subjects such as mountains in scenic photos less sharp. Via using K&F Concept UV filters you will be eliminated the negative effect came from uv rays and your photos will be get more accurate sharper and color .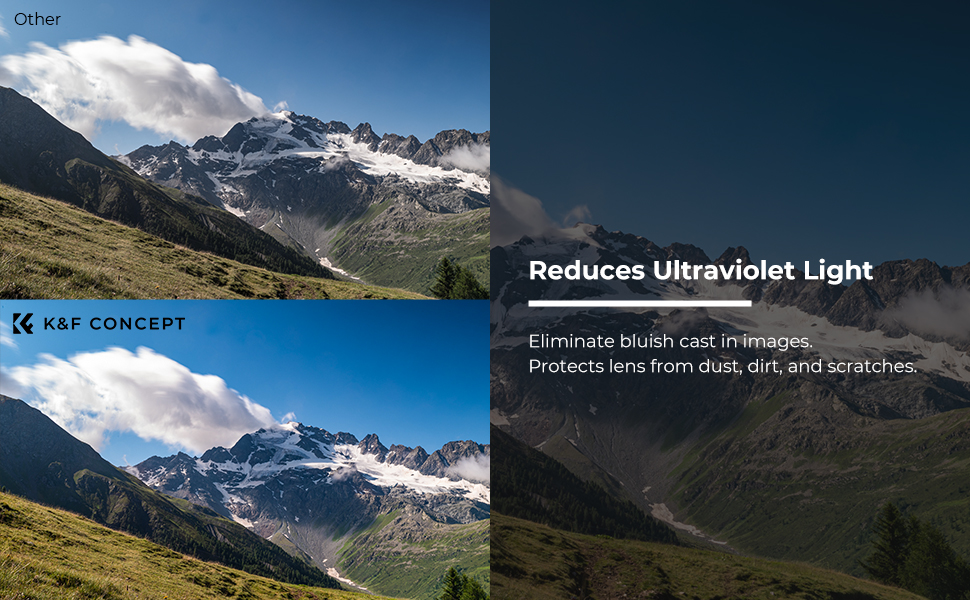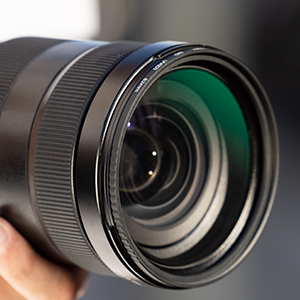 24 Multi-layer Coatings
Both sides of glass with nanometer coatings , waterproof , oil-proof , protect your lens from all around.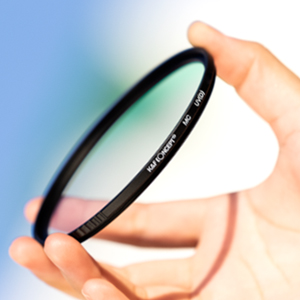 Protect Lens & Absord UV Ray
With waterproof coatings , protect the lens away from the water well and extend the filter service life.
Absord uv ray to ensreu the clarity and color of the images.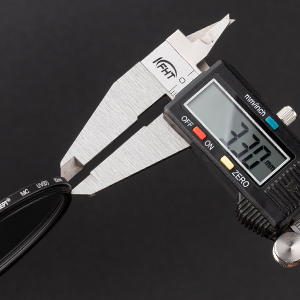 Ultra-Slim & CNC-Non slip Frame
Ultra slim filter frame only 3.3mm with CNC non-slip design supporting easily to install and remove the filter, no vignetting on wide-angle lens.

| | | | | | | |
| --- | --- | --- | --- | --- | --- | --- |
| | | | | | | |
| | | | | | | |
| | | | | | | |
| Rating | 50 reviews. | 45 reviews. | 42 reviews. | 123 reviews. | 53 reviews. | 174 reviews. |
| Price | $21.99 | $26.99 | $26.99 | $39.99 | $58.99 | $14.99 |
| Model | KF01.1777 | KF01.968 | KF01.1790 | KF01.972 | SKU.1663 | KF01.K67 |
| Reflectivity | | 0.2% | | 0.2% | 0.2% | 0.6% |
| Size | | 67mm | | 67mm | | 67mm |
| Series | | Nano-X series | | Nano-X series | Nano-X series | Nano-K series |
| Recommended Scenes | | All Scenes | | Landscape Photography | All Scenes | All Scenes |
| Function | | Protect Lens/Absorb UV Ray | | Eliminate stray light/ Color contrast enhancement | Protect Lens/Remove Glare/Enhance Color & Cont | Protect Lens |
| Filter Material | | Japanese AGC Glass | | Japanese AGC Glass | Japanese AGC Glass | Japanese AGC Glass |
| Multi-Coating | | 28 layers | | 28 layers | 28 layers | 18 layers |
| Waterproof | | √ | | √ | √ | / |
| scratch-resistant | | √ | | √ | √ | / |
| HD | | √ | | √ | √ | / |
| Transmittance | | 0.995 | | ∕ | | 0.94 |
| Antireflection | | √ | | √ | | × |
| Filter Thickness | | 3.3mm | | 5.5mm | | 3.3mm |
| Ring Material | | Aviation aluminum alloy | | Aviation aluminum alloy | | Aviation aluminum alloy |
All Reviews
Image

All Star

5 Star

4 Star

3 Star

2 Star

1 Star
A Must Have for Every Lens
If you look at the photos you can see my Canon lens with major scratches. This is what happens when a guest hits your camera with a big ring! The lens still works but the value is gone. This is why you need a little extra lens protection when shooting. I can't believe I never purchased a filter for this lens. Just like driving, it's the other guy that will cause an accident and you end up paying the price. In the other photos, you can see a side angle of the new filter. It is thin and fits this, Sony, 24-105 just fine. The Lens hood fits over the filter and the lens cap works without any issues. The filter itself looks like very high-quality glass.
15/05/2023
Excellent affordable UV filter
This is a well built UV filter. I got this to put on a non weather proofed lens with an internal zoom mechanism. Having a UV filter on the front will give that little extra protection from rain for an upcoming trip. The anodization on the metal ring seems to be of good quality. That, and the knurling on the outside ring offers very nice grip for installing or removing. The threading matches up with the threading on the lens well.

The filter glass is crystal clear. I found no noticeable degradation between shots taken with and without the filter mounted. When taking the same shot, in the same lighting, my camera did not adjust exposure values between having the UV filter on or off. This is a good UV filter for those of us that like having a little extra protection for our lenses.
15/05/2023
Save your expensive lens, buy yourself one of these
I have the 67mm on my Sony a7iii on my 85mm sony lens. It's so clear you don't even know it's on. The picture quality is the exact same without any issues. It blends in with the camera, yet saves your expensive lens from damaging. To assemble it, you turn it many times in a circle to tighten it on. No directions come with it, but pretty self explanatory. More information on their website. There's also a 1 year warranty period covered when you register the lens from the date of purchase. These can be replaced at a lot cheaper cost than having to repurchase your expensive lens!
14/05/2023
Good filter to protect the lens. No distortion and no flare noticed yet. Well made
Filter arrived well protected and seems to be a really good quality. I usually use Marumi, Hoya, and B+W filters, but this seems to be a great and more affordable alternative (at the time of this writing). Feels light but good construction. Nice ridges on the size to grab on for installation/removal.

Installed it on my Tamron 28-75mm lens that I use on Sony 7R III and after a few test shots I did not notice any distortion, flare, or other negative effects. Sharpness was not impacted either. Very happy with this filter so far. Will protect the lens and doesn't seem to have any impact on image quality. Will definitely check out other K&F filters.
14/05/2023
Beautiful Performance, Photos Look Great!
I noticed no difference in quality of my photos after I took this. I did take a lot of great photos after it was installed but I'm not sure if this cover would have much to do with that as I'm using it to simply better protect my lens.

I really love the quality, this screwed on my camera lens just fine (the very tip) without issue and I appreciated finding out the size was based on that little 0 symbol on the front of my lens. That's how I figured out I needed 67 mm.

Overall, really happy.
14/05/2023
Great price, poor quality
I purchased the 77mm version of this filter to protect my Olympus 300mm Pro lens. While in Ecuador doing bird photography I was having issues using this lens. All of the photos were out of focus. I had used the lens 2 weeks earlier and the images were tack sharp. I had to throw out an entire days worth of work because every image was bad. I put the lens away for the rest of the trip thinking then lens went bad. Well I got home and started testing the lens. I discovered that with the filter all of the images were fuzzy. So I removed the filter and all of the images were tack sharp. So be very careful using this filter at least on Olympus cameras and lens. I have since put on a B+W filter and it works perfectly.
14/05/2023
Better than I expected for the price
I put something on all my outdoor lenses to protect them, and I like to use a UV filter to cut a little of the normal haze shooting in beachlike settings. I usually use something pricier, but decided to try the K&F Concept 52mm MC UV Protection Filter.

It arrived in a slightly wider than normal filter box. The box was slightly larger because the filter was packed in a latching plastic box with foam protecting the filter from damage. I looked at the filter under a magnifying light, and it was flat and smooth with no scratches or oddities. It fit my 45-150mm lens perfectly, and it really is a low profile filter. It doesn't seem to affect lens sharpness, doesn't affect clarity, and I'm pleased with it.

I'm quite happy with this UV filter. Is this filter as good quality as one of my $50 B+Ws? Possibly not, but on the other hand, the B+Ws cost over twice as much, and you'd have to be a pixel peeper to notice the difference in image quality. Viewing my pics at 100%, I'm satisfied.
14/05/2023
Great
Thin, light and no interference with af. Protects my expensive lens from careless mistakes and improves picture sharpness on hazy days. Mounted on a telephoto zoom, so can't say if there's any vignette problems on wide angle or not. Threads are aluminum, be aware of that if you don't like aluminum threads on filters.
13/05/2023
Good protection for your lens
While UV filters can improve your picture in some situations, most people buy them to protect their lens from splashes and dust without changing the image. This one seems good for that, it fits nicely on my sony 24-70 zoom lens and doesn't interfere with using either the lens hood or the original lens cap.

There is hardly any change in the amount of light that gets through to the camera and the UV filter can help to reduce atmospheric haze in long scenic shots and make the image a bit sharper.

This filter also has a water repellant coating, I haven't had to test this yet but if it works like the one on my glasses you won't have to wipe it if it gets wet. Any water that doesn't fall off immediately can be blown off with a hand blower so you don't have to touch the filter with a cloth.
13/05/2023
Great filter at a great price!
This filter fits perfectly and works amazingly well. Great filter for a great price.
12/05/2023
There are no faqs for this product.
Do You Know How Your K&F Concept Filters be Produced? | One-day Tour in Production Line
How to check your lens size