67mm MCUV Filter Brass Frame MultifunctionalHD Ultra-Thin Brass Frame 36-Layer Anti-Reflection Green Film Nano-X PRO Series
Buy now in the K&F Concept Brass Frame 36-Layer filter ► 30 Day No Reason Return ► MCUV ► Fast Shipping From US Free ► Nano-X PRO Series

KF01.1982

SKU:

KF01.1982

62.99

https://www.kentfaith.com/KF01.1982_67mm-mcuv-filter-hd-ultra-thin-copper-frame-36-layer-anti-reflection-green-film-nano-x-pro-series
Description
* 【Ultra-thin Brass Frame】The frame is made of brass material with an ultra-thin design. CNC integrated molding has both hardness and flexibility, smooth and durable installation, 0.01mm-level processing accuracy, the frame is highly fitted and fixed to the lens, and there is no vignetting when installed on wide-angle and telephoto lenses.
* 【Ultra-high light transmittance】The lens uses K&F Concept's exclusive coating technology, and the reflectivity as low as 0.15% guarantees 99.9% light transmittance. Ensures zero color cast and zero quality loss, reduces flare and ghosting that can occur when filters are attached to the lens, and has virtually no impact on the original performance of the lens
* 【Double-sided 36-layer nano-coating】Super waterproof, anti-smudge, anti-scratch, providing excellent durability for your filter
* 【Handmade genuine leather filter bag】Equipped with genuine leather material specially designed by K&F Concept for photographers, pure handmade storage bag
* 【10-year warranty】Each filter has a unique identification code, which supports 10-year warranty replacement
Shipping
Free shipping worldwide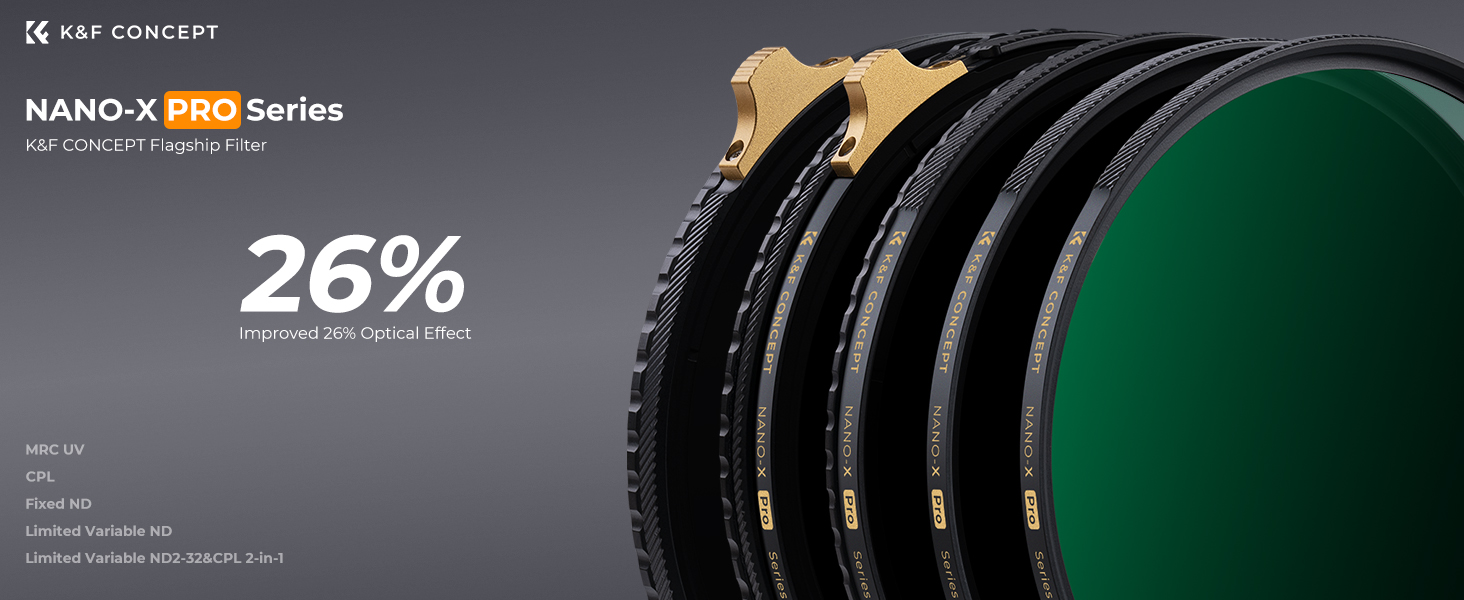 1-5 Aperture Size
Controls the size of the aperture from 1 to 5 stop and how much light can pass through the camera lens for exceptional versatility
Flexible Adjustment
See more clearly with flexible adjustment of light intensity and effects
Storage Bag
Storage bag: large space, easy to carry and store
Two Handles
Flexible control with two handles
Previous
Next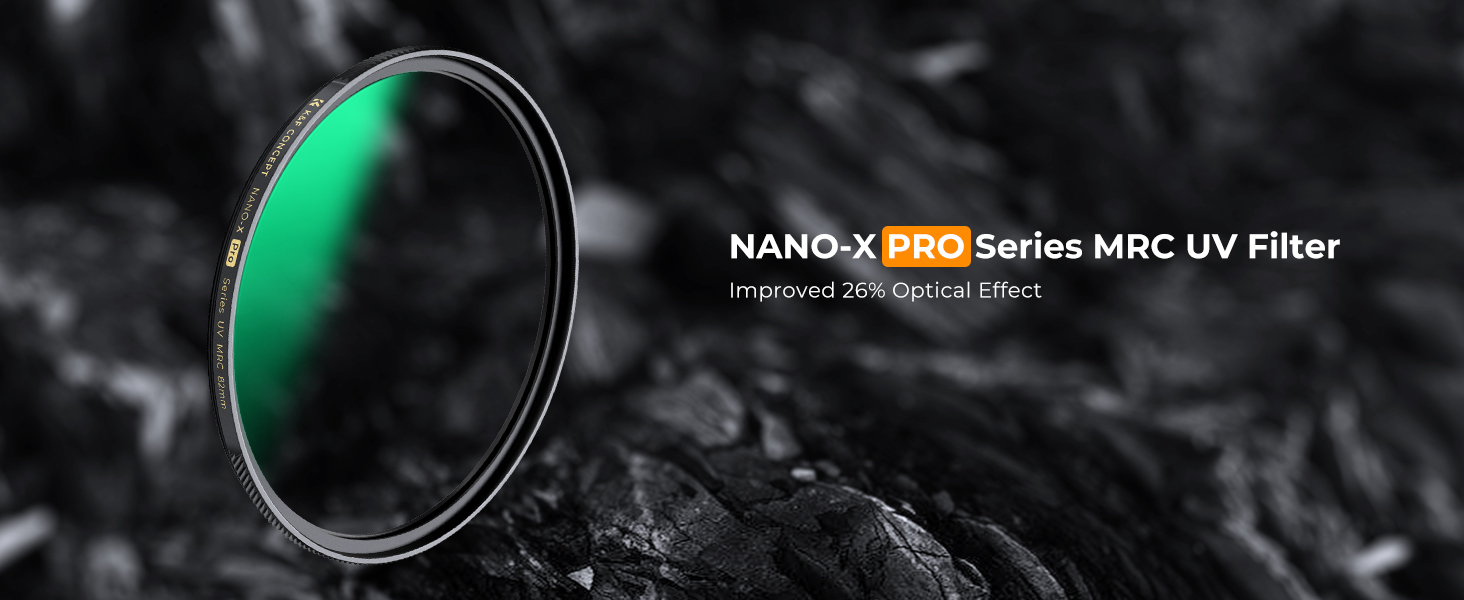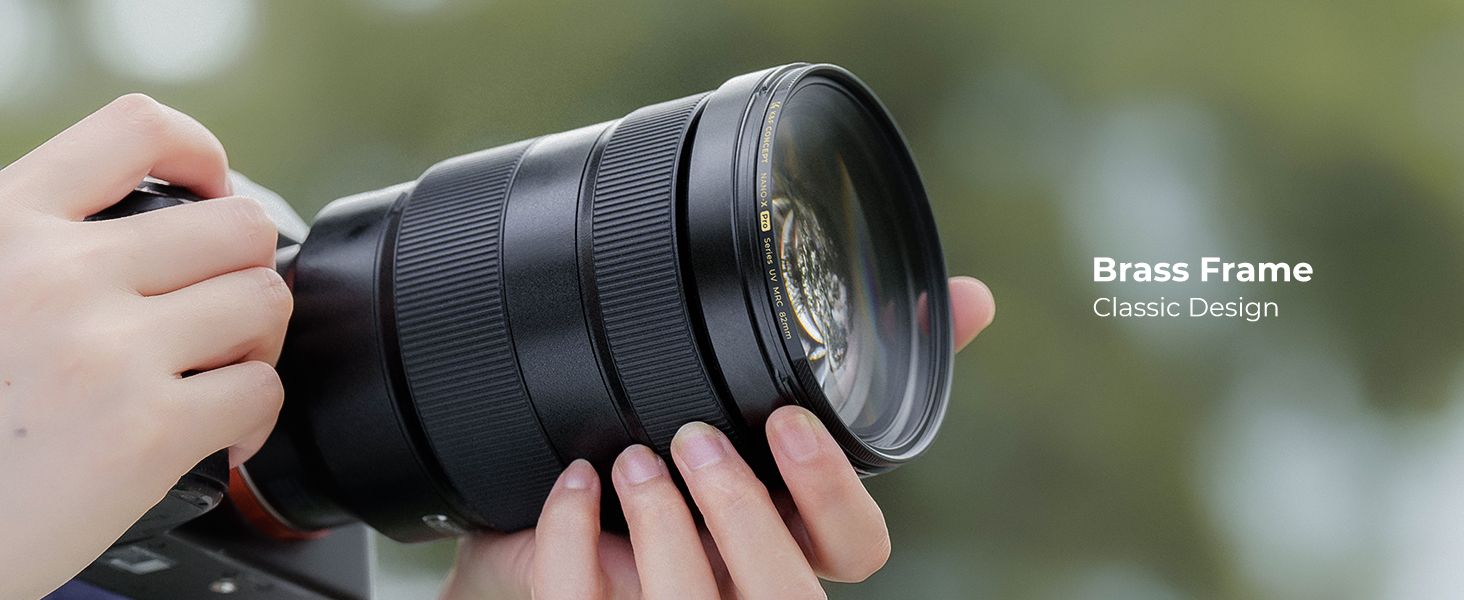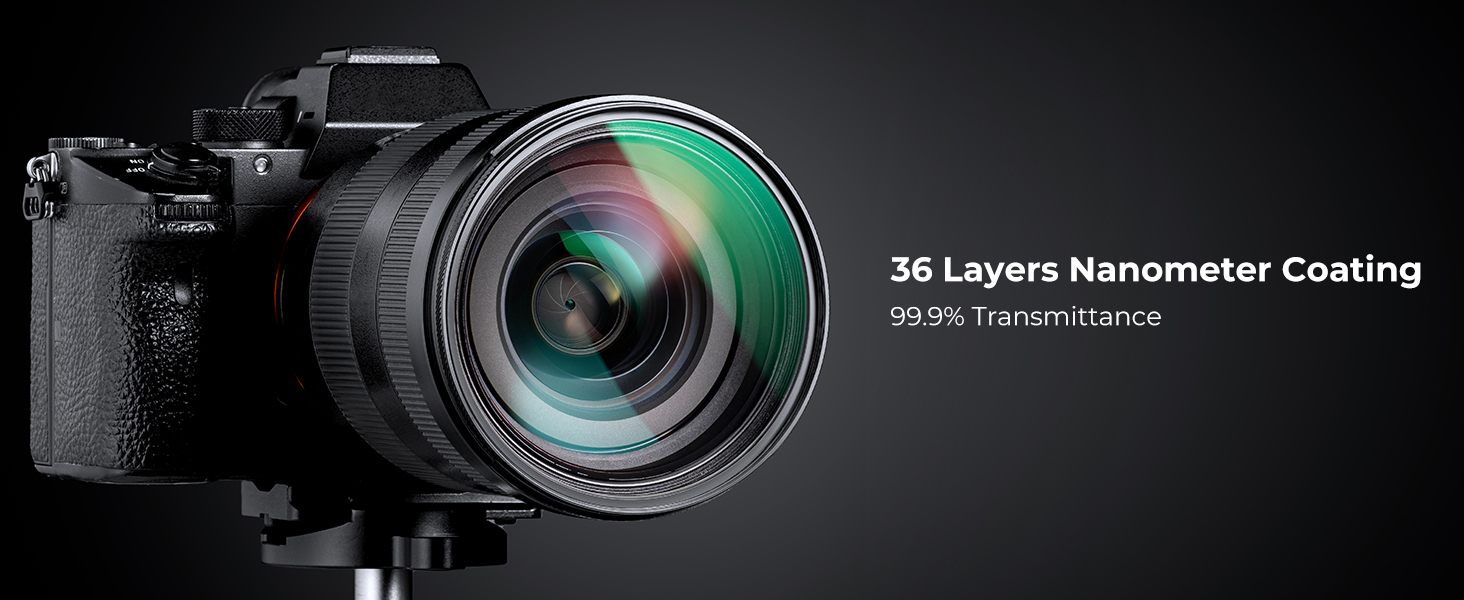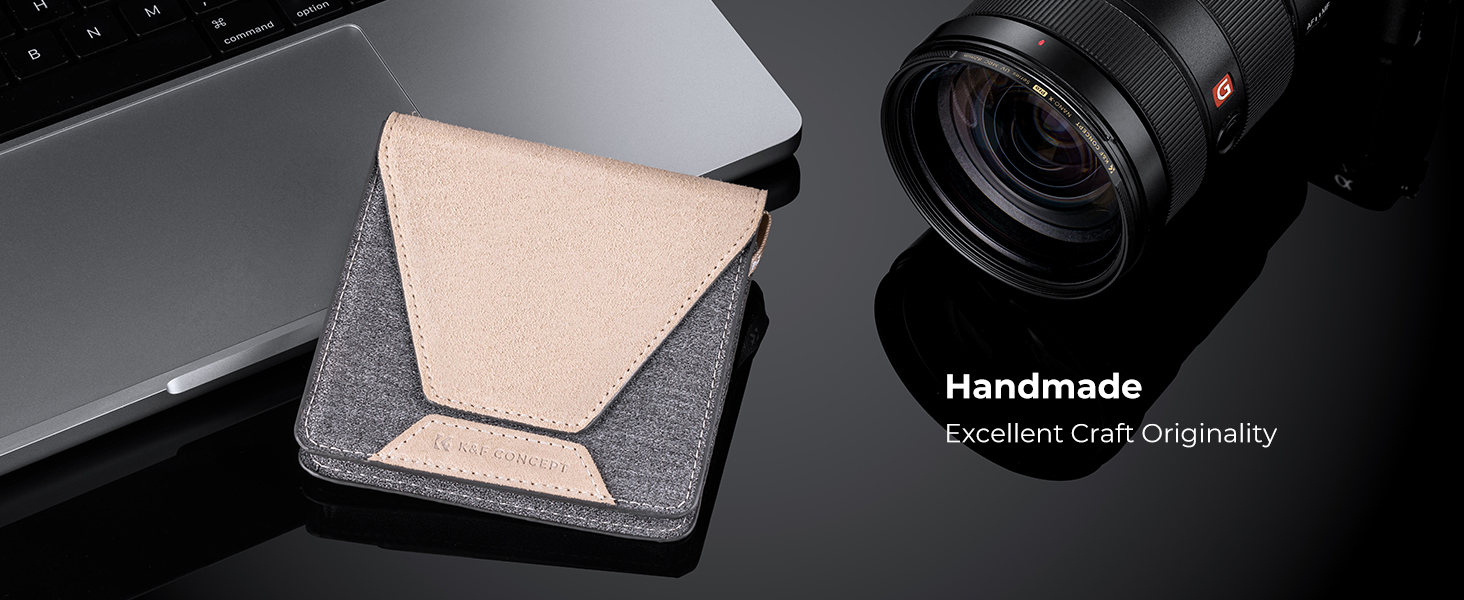 All Reviews
Image

All Star

5 Star

4 Star

3 Star

2 Star

1 Star
La confezione è fantastica tanto quanto l'obiettivo! Degno di nota!
Questo è un ottimo filtro e si adatta perfettamente al mio obiettivo Sigma con attacco E! La confezione è fantastica e la custodia del filtro è davvero ben progettata! Mi piace tutto di esso!
06/09/2023
Worth the price
I've heard varying opinions on the benefits of keeping a UV filter on the end of a camera lens. Many people say it's smart because if you drop the camera, replacing a filter is much cheaper than repairing an expensive lens. I've heard others (particularly professionals) say it doesn't make sense to buy an expensive lens and then put a cheap piece of glass in front of it that will just degrade the image. Those folks say keeping the hood on the lens will provide plenty of protection and if you have an expensive lens, it should be insured against damage anyway.

I've invested in some good Canon L-series lenses so I'm torn on the best approach. I've been leaning towards going without the UV filter, but I still want one if I'm somewhere like the beach and sand or dirt is blowing. So if I'm going to put another piece of glass on the lens, I want to make sure it's high quality and this filter meets that requirement. You can tell when a vendor has put a lot of thought and care into a product and it shows throughout the process. This filter comes in very nice packaging and they provide a high quality case that has a magnetic latch and a nifty ribbon on the side that you pull to extract the filter from the case. This keeps you from having to reach in and possibly get fingerprints on the filter. Great design!

As to the quality of the filter itself, I don't see any aberrations in the image when I use it. This line of filters from K&F aren't cheap so they won't be for everyone, but if you are taking your photography seriously, you should consider this product.
17/05/2023
Packaging is just as great as the lens! Wow!
This is a great filter and fits my sigma e-mount lens perfectly! The packing is fantastic and the case to carry the filter is designed so nicely! Love everything about it!
17/05/2023
Crystal clear protection filter.
This new line of pro grade filters from K&F Concept is truly fantastic.

These filters are super slim, with smooth threads that attach easily to my lens.

The UV filter doesn't have any color cast or produce any optical aberrations in general.

Just a crystal clear filter to keep your lens safe.

Comes with a padded case for safe storage.
17/05/2023
Solid UV filter
K&F concepts. They've been around for awhile now, so I trust them and their camera gear.
As far as their UV filter, it's awesome.
The packaging itself is beautiful. The box it comes with actually turns into a frame for a photo that you can place into the center of it.
The filter case is also beautifully made. Really premium feel. The package also includes a cleaning cloth.
But the filter. First off, putting it onto my lens was pleasant. The partially texture/knurled surface of the ring makes it putting it on and off easy. You can really get a grip onto the filter.
The clarity is way better than my previous cheap Hoya. This might be due to the different coatings this filter has but it's been noticeable.
I mainly use UV filters for protecting my lenses. I've had a few drops and I'm always happy that I've had a UV filter on.
You don't want to cheap out on a UV filter because it may affect image quality and I'm glad I've got this one from K&F. I'll be leaving this on this lens forever!
16/05/2023
Clear & High Quality
I have had many UV filters from multiple brands. This is now one of my favorites. It is exceptionally clear, light weight, and well built. The included storage case is also top notch. I'm going to have the leather flap labeled with a laser. The box converts into a picture frame which is oddly cool.
16/05/2023
Ideal for sharp lenses, no image degradation!
I'm comparing this item KF's regular Nano filter. At the same settings on my Panasonic 85mm f/1.8, I can see more detail coming out of my lens on this Pro filter versus the regular Nano Filter.

Since I love the sharpness of the 85mm, I'd much rather use the sharper filter. It's probably not a big deal to those who aren't pixel peeping but I can definitely see a difference in the hairs and I really like this filter.
16/05/2023
Awesome lens
The lens looks and feels nice. It seems to be of good quality and would last longer. The storage case looks elegant and comes with a wipe to clean the lens. The few pictures I have taken seem reasonable, and the lens doesn't cause any issues with the quality.
16/05/2023
Great lens cover, adds protection to my lens.
I got this UV protection filter for my dslr lens after scratching another one. This lens is slim and fits well. It is great for adding a layer of protection to your lens. This filter comes in a very nice case for storage. I don't notice a huge difference in my photos with and without, but the added protection for my lens is worth it.
16/05/2023
Protection for your lens
There are people that claims that when you use an UV filter on your lens, the resulting picture quality is degraded. Maybe my eyes are not that sharp but I cannot tell the difference. This one can be used to protect your lens from dust and the accidental touch with your fingertips. You can clean with included cloth or buy some of these wipes for lenses. Better destroy or damage this one and not your $2,500 lens.
15/05/2023
K&F Concept HD Ultra-Thin Brass Frame Filter - ND/VND/CPL/MCUV Nano-X PRO-Serie
Filter
Size
67mm
Series
Nano-X Pro Series
Recommended Scenes
All Scenes
Function
Protect the lens
Filter Material
Japanese AGC Glass
Multi-Coating
36 Layers
Waterproof
√
Scratch-resistant
√
HD
√