4.3 Inch LCD Digital USB Microscope, 8MP, 1-1000X Magnification Handheld Digital Video Recordable Microscope, 8 LED Lights, Rechargeable Microscope for Circuit Board Repair, Soldering PCB Coin Observation
Free shipping to eligible country
Brand:

KENTFAITH

Buy KENTFAITH 4.3 inch lcd digital usb microscope, 8mp, 1-1000x magnification handheld digital video recordable microscope, 8 led lights, rechargeable microscope for circuit board repair, soldering pcb coin observation online, worldwide free shipping and 30 days return guarantee.

GW45.0032

SKU:

GW45.0032

59.99

https://www.kentfaith.com/GW45.0032_4-3-inch-lcd-digital-usb-microscope-8mp-1-1000x-magnification-handheld-digital-video-recordable-microscope-8-led-lights-rechargeable-microscope-for-circuit-board-repair-soldering-pcb-coin-observation
Description
* 【4.3-inch high-definition LCD screen】4.3-inch high-definition LCD display, provides a good field of vision, easy to watch. High-definition 8 million pixels, 1-1000 times continuous magnification, powered by rechargeable lithium-ion battery (4 hours working time) or USB, truly portable and independent;
* 【Excellent lighting effect and image and video storage and output】The microscope has 8 built-in adjustable LED lights, when the light source is insufficient, the light wheel of the screen can be adjusted to control the strength of the LED fill light, helping you to obtain better details and best clarity. Equipped with a Micro SD card slot, you can save images and videos obtained during observation to the card and output. (excluding Micro-SD card)
* 【Height and Adjustable Angle Stand】This angle adjustable stand supports 30° free adjustment, which solves the reflection problem of upright microscopes. It not only reduces the reflection problem of objects, but also makes maintenance-related operations more convenient;
* 【Support connection with PC】This 4.3-inch digital microscope also supports connecting with your computer via USB cable and viewing objects on the PC monitor, the larger the connected monitor, the higher the magnification;
* 【BEST GIFT】Perfect for circuit board inspection, QC inspection, clock repair, textile industry, educational inspection for children, biological observation (not suitable for cells), medical professionals, scientific researchers, insects, coins, jewelry and stamps. It is the best gift for children, students, hobbyists and other users
Shipping
Free shipping to eligible country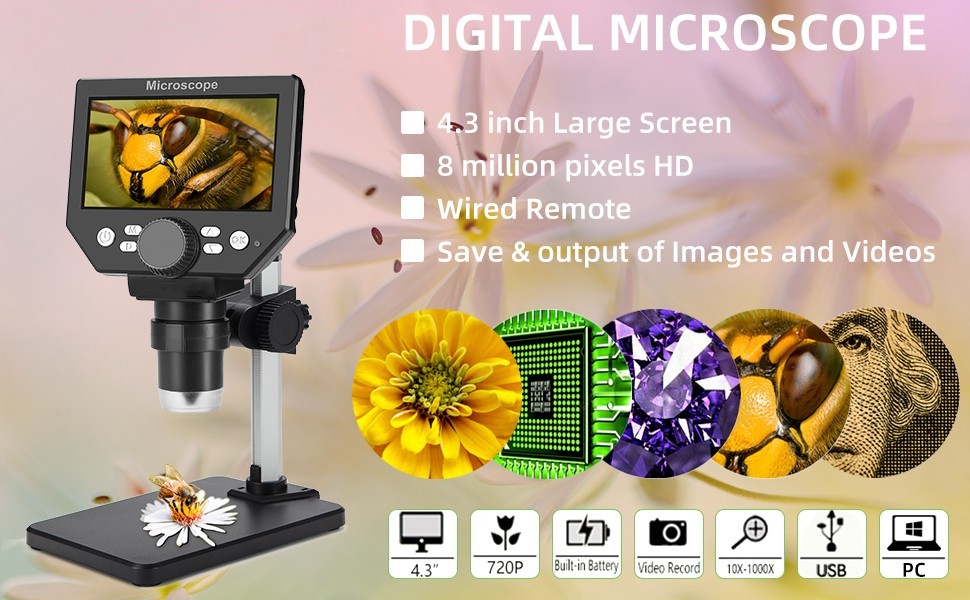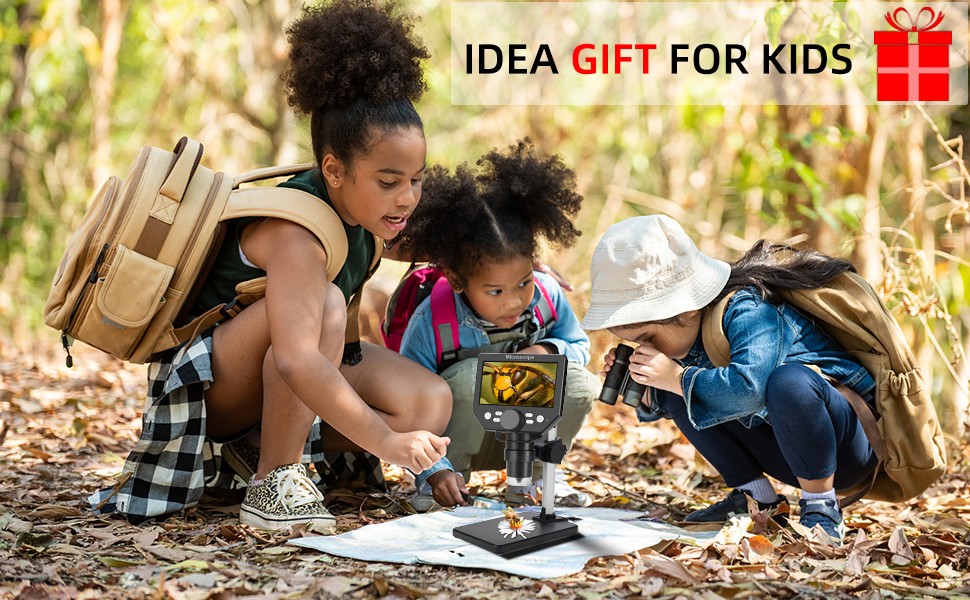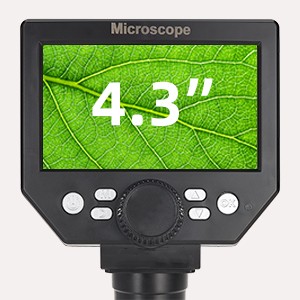 4.3 inch High Definition LCD Screen
The built-in 4.3 inches large LCD screen allows you view instantly and adjust the picture fast, making your observation straightforward.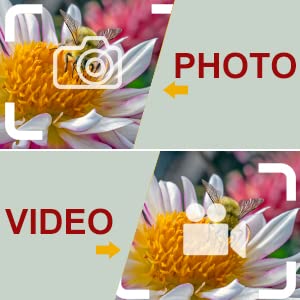 Save/Output Images and Videos
You can save the images and videos obtained during your observations to the card and output.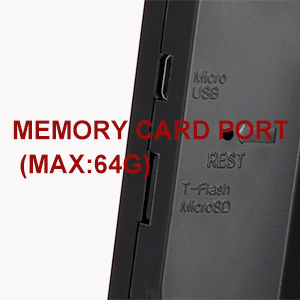 Memory SD Card Slot
Equipped with Micro SD card slot . (Micro-SD card is not included, Maximum support for 64G Micro SD cards)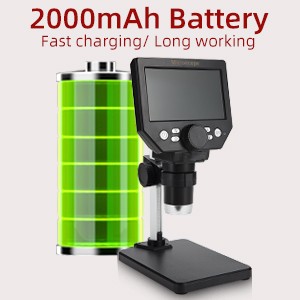 Rechargeable Li-ion Battery
Powered by rechargeable Li-ion battery (2.5hrs work time) or USB. Truly portable and independent. It very convenient for outdoor use.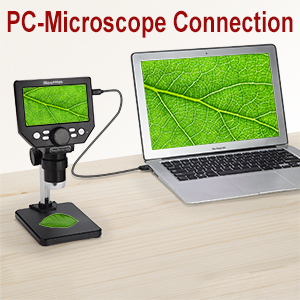 Observe objects from PC
Produced images may also be easily transferred to a PC monitor. After installed and start the software and The microscope can connect with PC to observe. (The larger the connected monitor, the higher the magnification)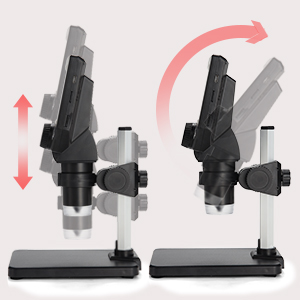 Angle Adjustable Screen & Height Adjustable Stand
The bracket can be adjusted up and down freely, more convenient and free for any observations.
The screen can be adjusted up to 30°, The angle adjustable screen makes users can choose the most comfortable and suitable angle from the display
There are no reviews for this product.
There are no faqs for this product.