Wireless Digital Microscope, 50x-1000x Portable Handheld USB Microscope Camera, Mini Pocket Microscope for Children and Adults, Microscope for iPhone, iPad, Android Phone, Windows, Mac OS
99$-15$ / 199$-30$ / 299$-55$ / 599$-120$
New customer gift package
Free shipping to eligible country
Buy KENTFAITH wireless digital microscope, 50x-1000x portable handheld usb microscope camera, mini pocket microscope for children and adults, microscope for iphone, ipad, android phone, windows, mac os online, worldwide free shipping and 30 days return guarantee.

GW45.0007

SKU:

GW45.0007

29.99

https://www.kentfaith.com/GW45.0007_wireless-digital-microscope-50x-1000x-portable-handheld-usb-microscope-camera-mini-pocket-microscope-for-children-and-adults-microscope-for-iphone-ipad-android-phone-windows-mac-os
99$-15$ / 199$-30$ / 299$-55$ / 599$-120$
Description
* High-definition display: 200 pixels, true high-definition 1920*1080P video and 2MP image display, wireless high-speed transmission, no image delay after full charge. 50x-1000x magnification, 360-degree contact focusing, easy to use;
* wifi digital microscope: wireless wifi connection, get rid of the shackles of cables, use the provided app, and also take pictures and record videos like a camera, for iOS and Andriod, also compatible with Windows and Mac OS (requires USB port).
* Easy to carry: 800mah built-in battery, easy to charge and long service life. The compact size allows you to observe plants, minerals, and insects on the go.
* Built-in adjustable LED lights: There are 8 built-in adjustable LED lights, which can adjust the light according to different environments, even in dark environments.
* Wide range of applications: Can be used for circuit board repair, coin collecting, jewelry and stamp collecting, insect and plant observation, industrial inspection and biological inspection. Suitable for children, children, students, engineers and others. A great Christmas or birthday gift for family and friends.
Shipping
Free shipping to eligible country
Sale
99$-15$ / 199$-30$ / 299$-55$ / 599$-120$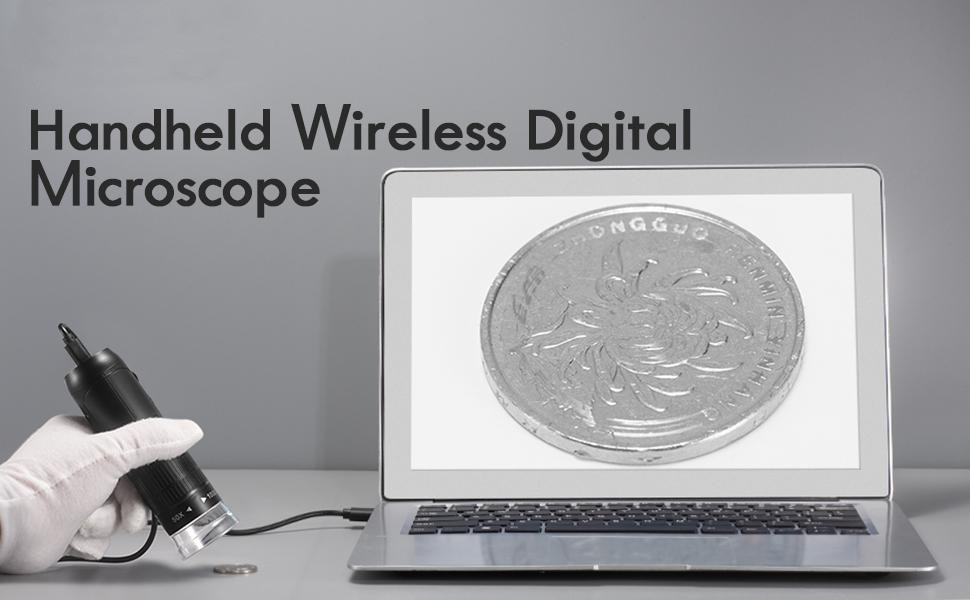 Perfect for Microworld: digital microscope with WiFi connection perfect for skin, hair, and industrial inspection (PCB, material, print), or educational purpose. Also excellent for textile, jewelry, and stamp (collections) observation.
The use of "+" and "-" Buttons: "+" and "-" buttons is an auxiliary function, which zooms in from 1.0 to 2.0 on the original basis (adding 0.2 units at a time). The zoom function is mainly realized by the focusing wheel.
Wide Compatibility
1. iPhone.
2. Andorid phone.
3. Windows 7/8/10 Laptop and PC.
4. MacBook Mac OSX 10.6+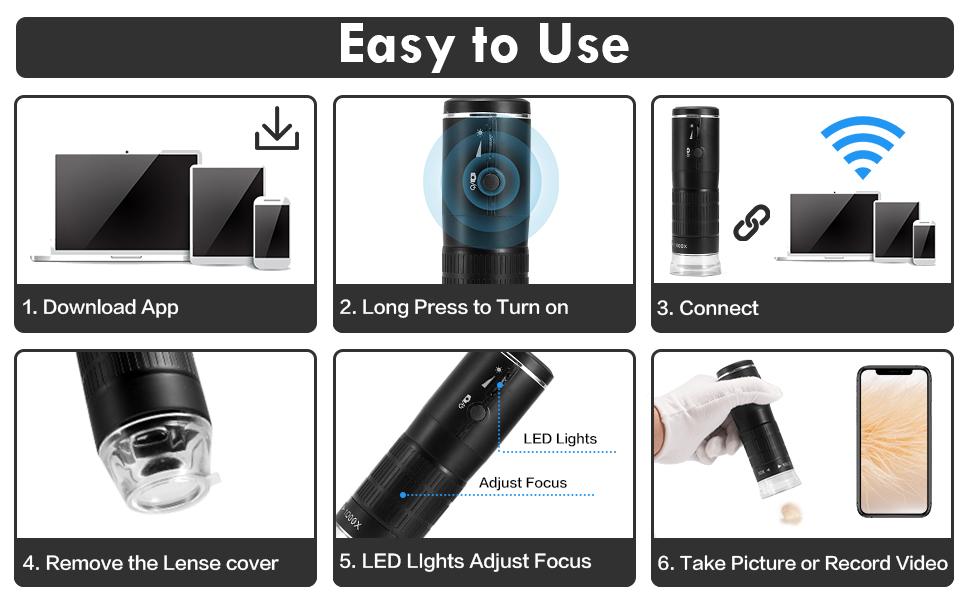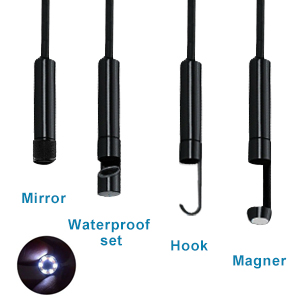 For Your Phone:
1. Download the APP "DM WiFi" by scanning the QR code on the user manual, or directly download it in your app store.
---
2. Turn on the microscope and connect your phone to the Wifi.
---
3. Open the app to see the zoomed image of the object.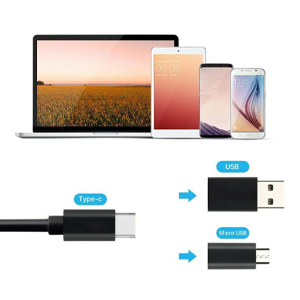 For Windows System:
1. Download the app ViewPlayCap.
---
2. Connect the microscope to your computer by the cable.
---
3. Turn on the microscope and open the app.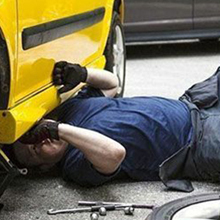 For the Mac System:
1. Turn on the microscope and connect it to MAC by the cable.
---
2. Open the "Photo Booth" or "Quick Time Player".
---
3. Open the Camera and select the GENERAL-UVC#2(default).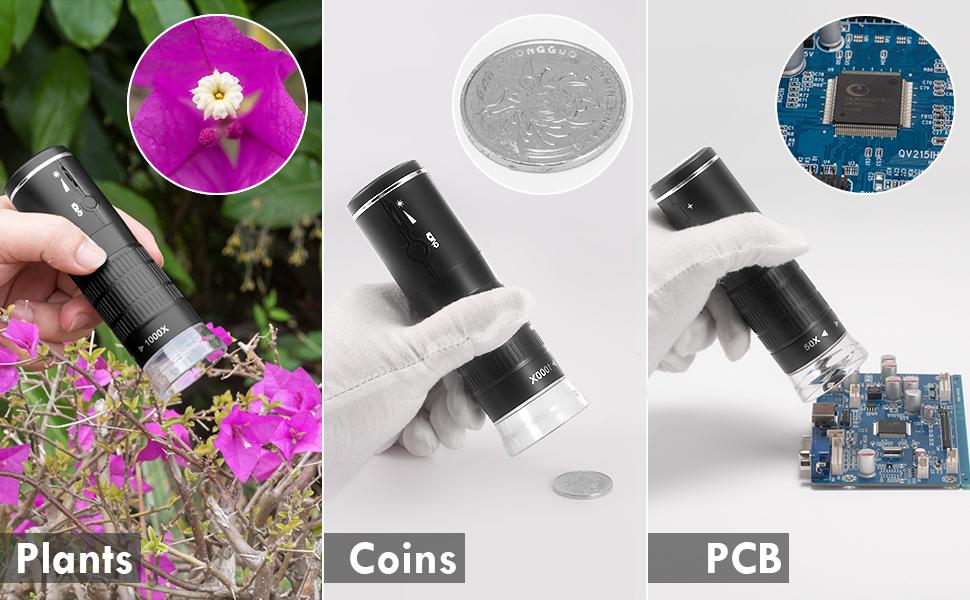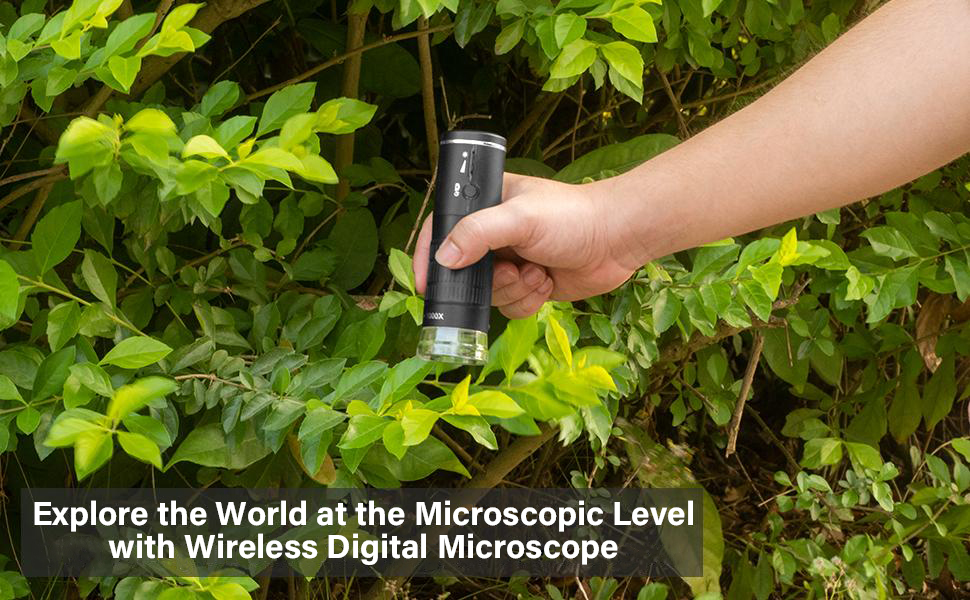 | | |
| --- | --- |
| Model | F210 |
| Image sensor | high performance photosensitive wafer |
| Sensor size | 1/4 |
| Magnification | 50-1000 times |
| Lens structure | 2G+1P |
| Camera light source | 8 adjustable LED lights |
| Operating Temperature | 32 to 113 degrees Fahrenheit (0-45 degrees) |
| Battery | 800mah lithium battery |
| Working time | 1H |
| Power input | DC 5V/1A |
| Focal length | 0-infinity |
| Camera resolution | 1920*1080 |
| Image format | PNG |
| Video format | MP4 |
| Packing list | Microscope host*1, charging cable*1 |
| Packing size | 14*7.3*4.3cm |
| Packing weight | 160g |
All Reviews
Image

All Star

5 Star

4 Star

3 Star

2 Star

1 Star
Great little magnifyer
This is a great "gadget" to have. Magnifies really well. Just a bit fiddly to connect to Bluetooth and get pictures, but once you figure it out, it's a godsend to those of us with less than stellar eyesight.
07/04/2022
Best quality low-cost microscope around...
I've had many many usb and wireless microscope/cameras. Some costing nearly $100. This one is different and better than all previous types I've owned.(Only exception is the wireless type with dongle, those worked with PCs. But, they were lower quality than this one)This is a new design which has the manual zoom/focus wheel all the way around the exterior of the unit. Not a little section your thumb can fit on to. Does it make a difference? For sure in ease of use and comfort. This microscope/camera is 1 7/16" in diameter, which I find much easier to use for longer periods of time. The zoom/focus action is super precise and smooth which allows for making the tiniest of adjustments compared to any other I've owned. This makes getting the best possible image fast and easy when compared to the same old design that had stiff and jerky adjustment wheels.It "feels" like higher quality materials, fit and finish. I don't know if that's a fact yet, time will tell.It's certainly a newer design and in my estimation, a better design too.
05/04/2022
Turning the knob with 1 hand is tricky
The camera is great! Pretty clear picture when you get used to focusing it and perfect to view those pretty trichomes. The knob to adjust the focus is a little stiff so it can be tricky to focus in on one hand while holding your phone in the other. But overall, this is exactly what I needed.Read instructions before trying to connect it yourself. Makes it much easier
01/04/2022
I like the way I can see the insects in my grow box.
It works
31/03/2022
Great hand held.
I haven't seen other microscopes so I can't compare this one to others. What I do know is I really like how easy it is to use and the quality of the image. It is very nice to be able to capture an image with your phone. Great hand held for a great price.
26/03/2022
Extremely hard to keep still
I'm I'm a professional artist tattoo and abstract painting I have an extremely Steady Hand and it was extremely hard because it's so dialed down to find what I was looking for in the coin and also to keep it there to inspect it if that makes sense I was a little bit bummed but it's a good product and it's a really good picture and I love that it comes up on your phone that makes it a lot better but it's really hard to do everything backwards steadily and cuz if you want to go right you have to go left and if you want to go left you got to go right it's going to go up you got to go down I know that sounds crazy but everything's backwards so it was really really hard to keep it where I wanted it to be able to look at what I wanted to look at so that was the only thing it was bummer other than that it's a really good product and I didn't return it I kept it but I will unfortunately be looking for one that is connected to like a stand or something or if you guys sold some sort of stand for it I would buy it I don't know anyway good product and sorry I wasn't able to give you 5 stars all the way around good luck with your guys's product sending you good vibes
20/03/2022
Nice way to see the small things!
Good view of thing you see at a MAX level. Connecting to device was ez and works great between. Good Device for the money.
05/03/2022
Works well at a good price point.
Easy-to-use
16/02/2022
Great magnification!
I was looking for something to help examine coins for a coin collection. This does the job! It allows magnifying the coin (or other object) and seeing results on your PC/tablet/phone where you can easily see the details and even take a picture if so desired.This is a must have tool for any collector or repair.
15/02/2022
Alright for the price
For the price of it, it's alright. Would have preferred it to be a Bluetooth microscope rather than go through the WiFi connection. But it's better than the one I was using before.
10/02/2022